Sander Gillé & Joran Vliegen win STO Doubles Final in convincing fashion, for their 5th ATP Tour title!
by Circle News, on Feb 28, 2021 4:38:05 PM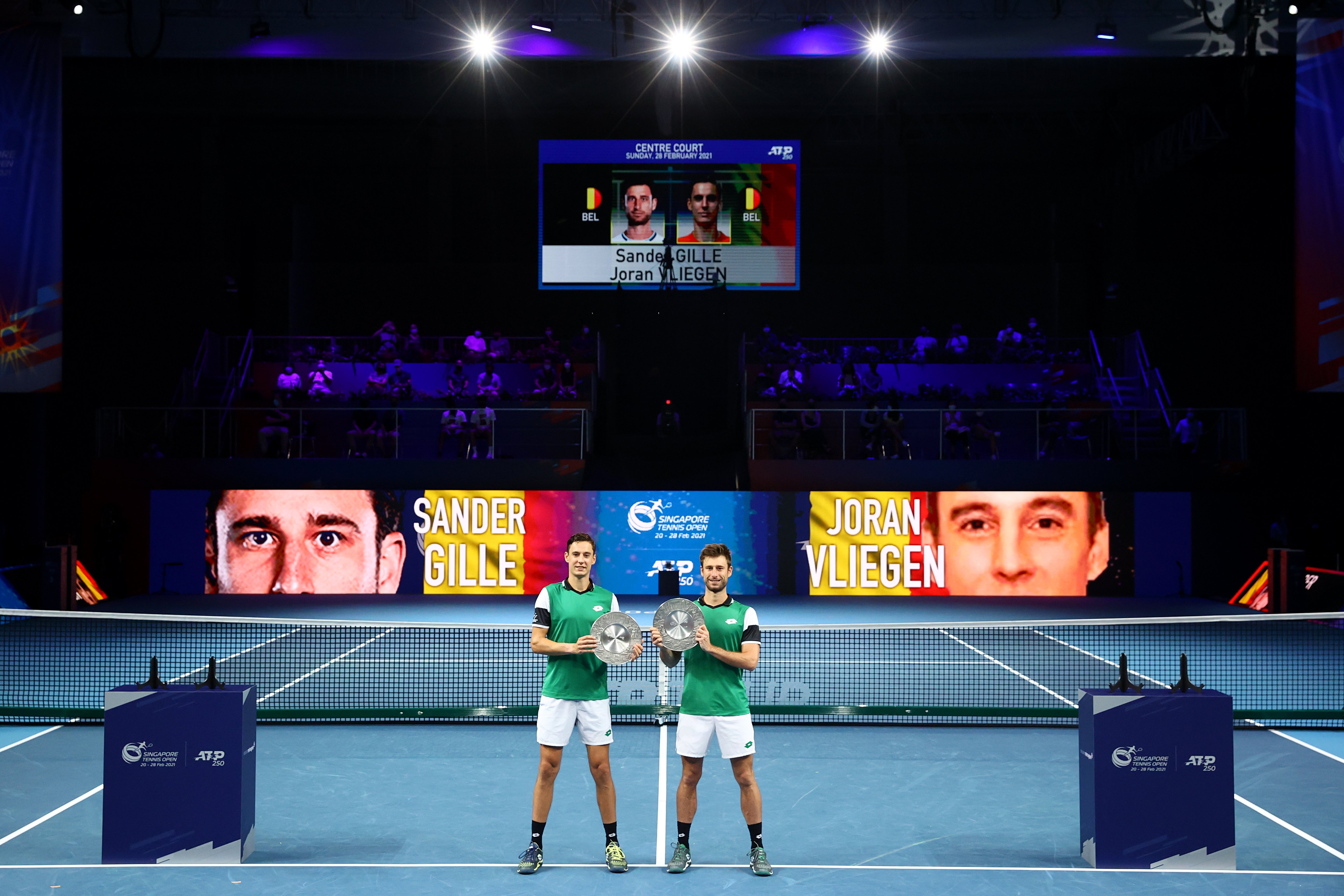 (Sander Gillé and Joran Vliegen)
By Dillon Lim
After nearly a week of intense action, it was time for the Men's Singles and Men's Doubles finals on Day 7 of the Singapore Tennis Open. The opening match of the afternoon saw top seeds, Joran Vliegen and Sander Gillé from Belgium, go up against Australian duo and 4th seeds, Matthew Ebden and John-Patrick Smith. Both pairs looked to put on a strong showing in front of a crowd of only 250 fans allowed in the OCBC Arena, due to strict safety measures in place.

The action started right from the get go. Ebden and Smith started strong with a break point in the first game, but Vliegen played a superb point with a beautiful lob and finished off with a smash to hold. In the next game, Vliegen hit two good returns from 30-30 that caused Smith to find the net. The Belgians took the early break and got off to a 2-0 lead. Gillé then followed up by holding to love to consolidate the break. Ebden held his serve in a close service game to put the 4th seeds on the scoreboard. Vliegen responded with a straightforward hold and pulled 4-1 ahead. Smith and Gillé hit some decent serves to get a hold each for 5-2 in favour of the Belgians, which meant that the Aussie duo had to serve to stay in the set.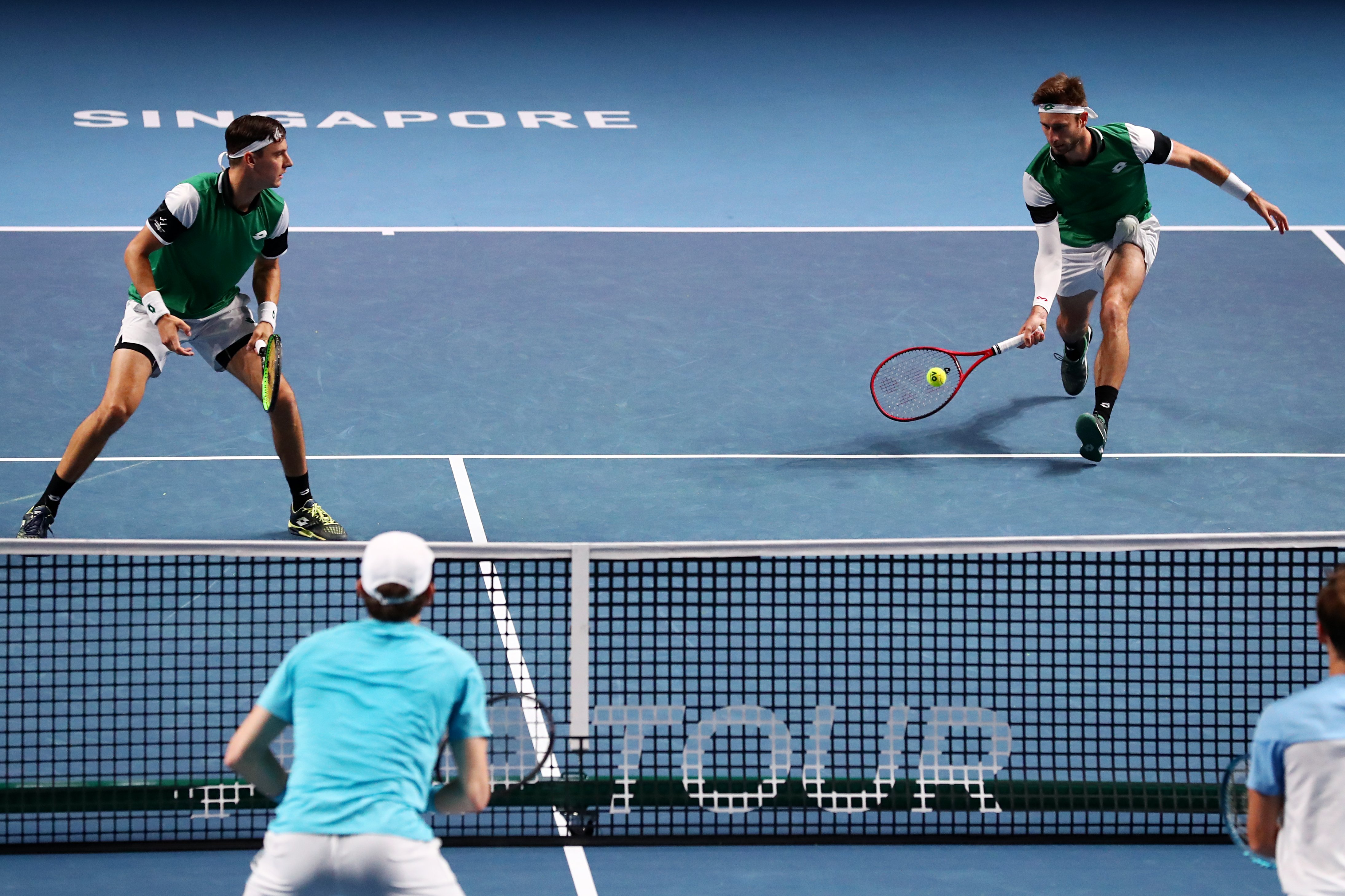 The top seeds displayed solid ground strokes and volleys to go up 0-30 on Ebden's serve, before a double fault from the Australian handed the Belgians 4 set points. Wasting no time, Vliegen ripped a forehand crosscourt winner to seal the first set 6-2 in just under half an hour. The number 1 seeds produced strong stats. They hit 3 aces, won 75% of points behind their first serve and converted 2/2 break points. On the other hand, the Australians will have to step up their game. They only won 57% of points behind their first serve and 33% behind their second serve.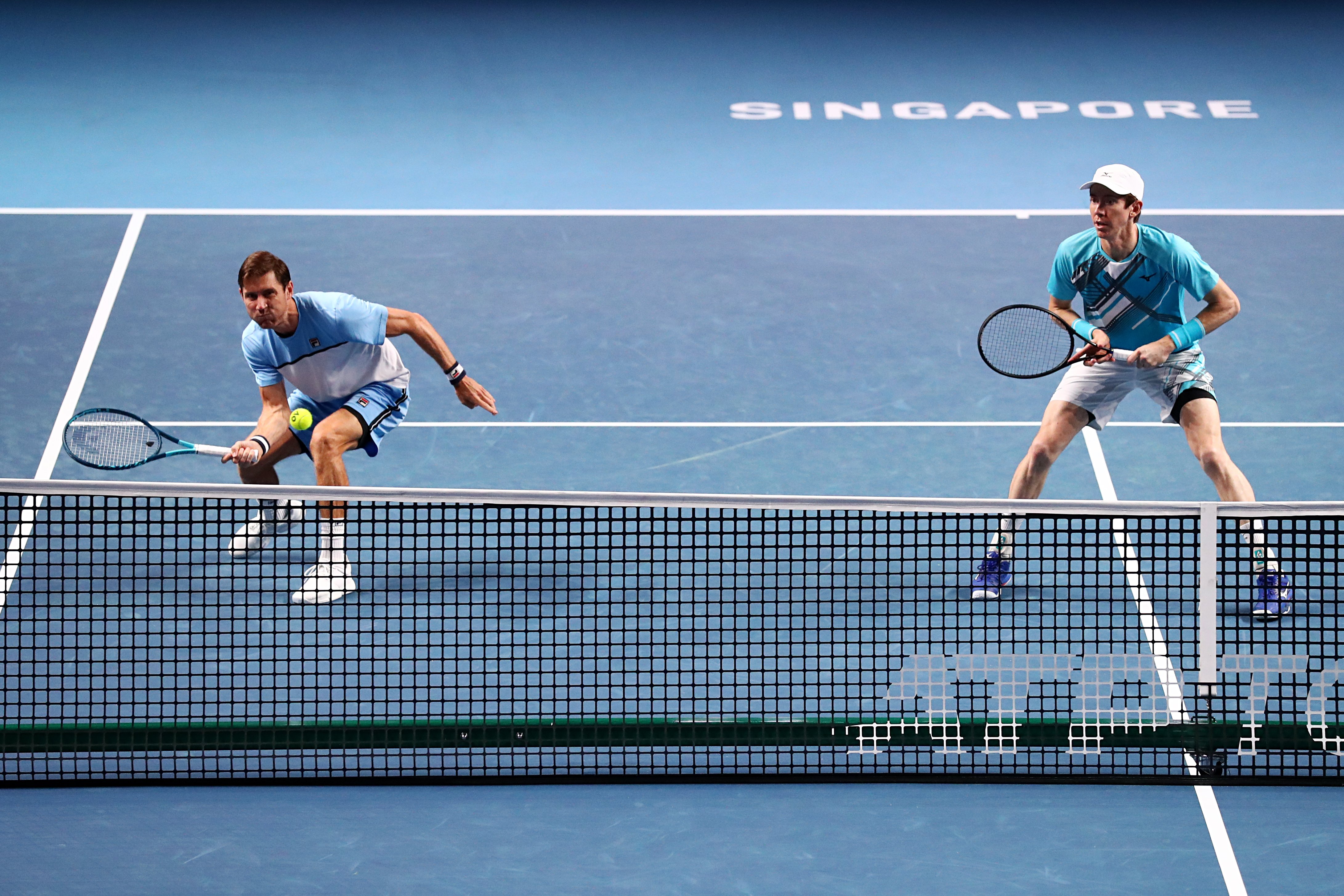 (Matthew Ebden and John-Patrick Smith)

The opening game of the 2nd set was similar to that of the opener when a miscommunication from the Belgians, brought the game to 40-40, giving their opponents another break point. However, Vliegen's lefty serve out wide on the ad court (left side) got them out of trouble to lead 1-0. A mistake at the net from Ebden and a superb return from Vliegen gave the Belgians 3 break points. Gillé hit couple of forehands directed towards Smith, before the latter eventually volleyed into the net to give his opponents another early break. The point of the match came at 2-0 (0-15) on Gillé's serve when all 4 players were at the net exchanging volleys before the Belgian's volley past Ebden landed just on the line to end the point. The top seeds held serve and raced ahead to lead 3-0. The next game saw another 40-40 deciding point on Ebden's serve and after an exciting rally, Smith missed a volley just wide to give his opponents the break and a 4-0 lead.
The top seeds continued their dominant display and won 4 straight points, after going down 0-30 on Vliegen's serve, to go 5-0 up and reach one game from victory. Smith then served an ace to close a love game to put him and his partner on the scoreboard in the second set. Despite being down 1-5, Ebden produced a magical passing shot while moving backwards, before an excellent return from Smith put them 0-30 ahead on Gillé's serve.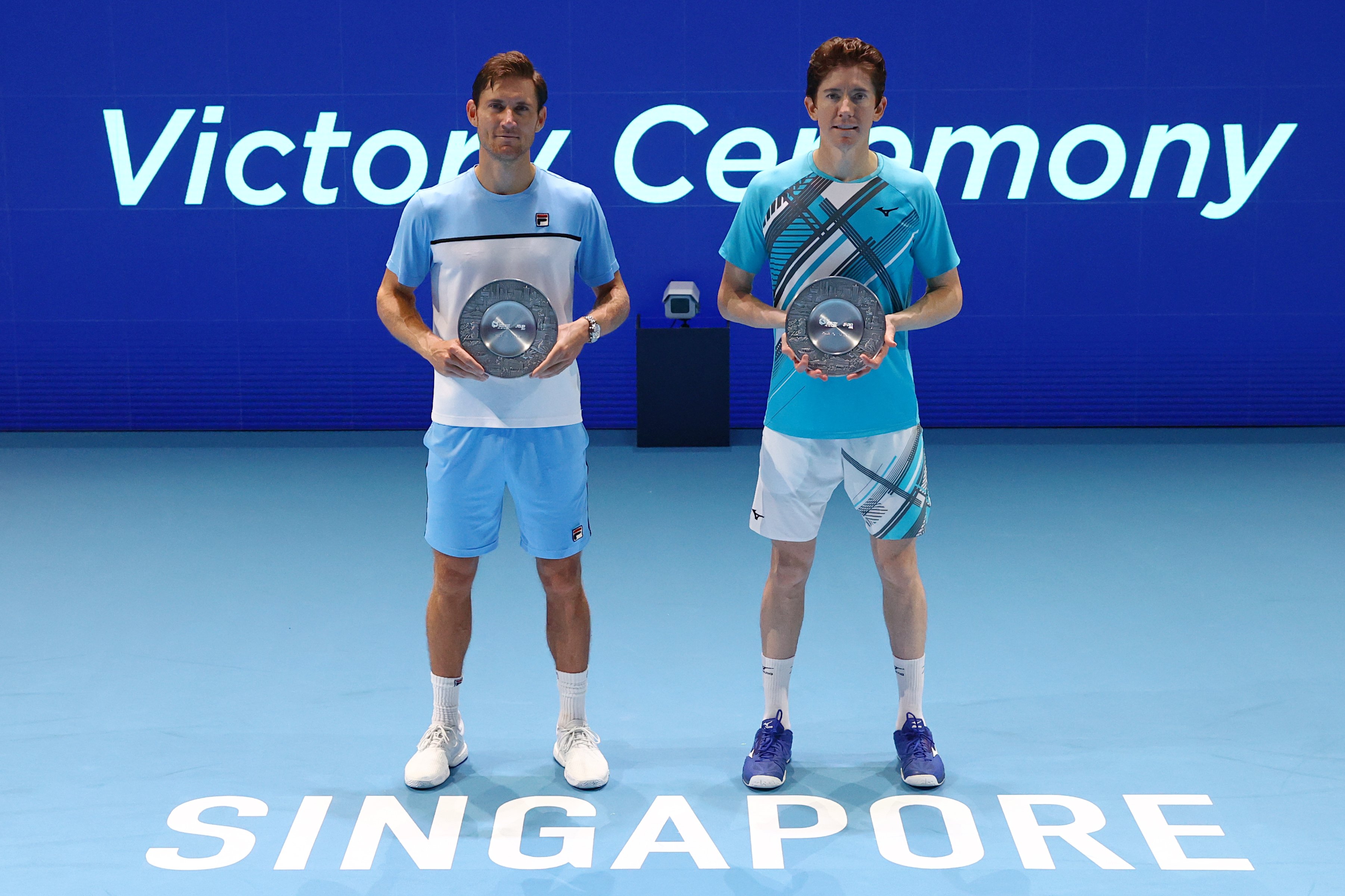 The 4th seeds fought hard and an unforced error from Gillé gave them one break back to trail 2-5. The momentum seemed to shift to the Aussies. Ebden whipped a passing shot down the middle between his opponents, before serving an unreturned serve to hold to love for their third consecutive game. Serving for the title for the second time, the Belgians did not waste anymore chances as Vliegen raced to a 40-0 lead on his serve for 4 match points. Gillé put away the return from the net to close out the match 6-2 6-3 in just 1 hour and 6 minutes. The top-ranked pair won 79% of points behind their first serve and converted 4/5 break points to capture their 5th ATP Tour title together.

The newly crowned Singapore Tennis Open Doubles champions, Joran Vliegen and Sander Gillé, didn't drop a single set in their 4 matches played at the OCBC Arena. And they now head to Rotterdam, hoping to continue their strong start to the 2021 season.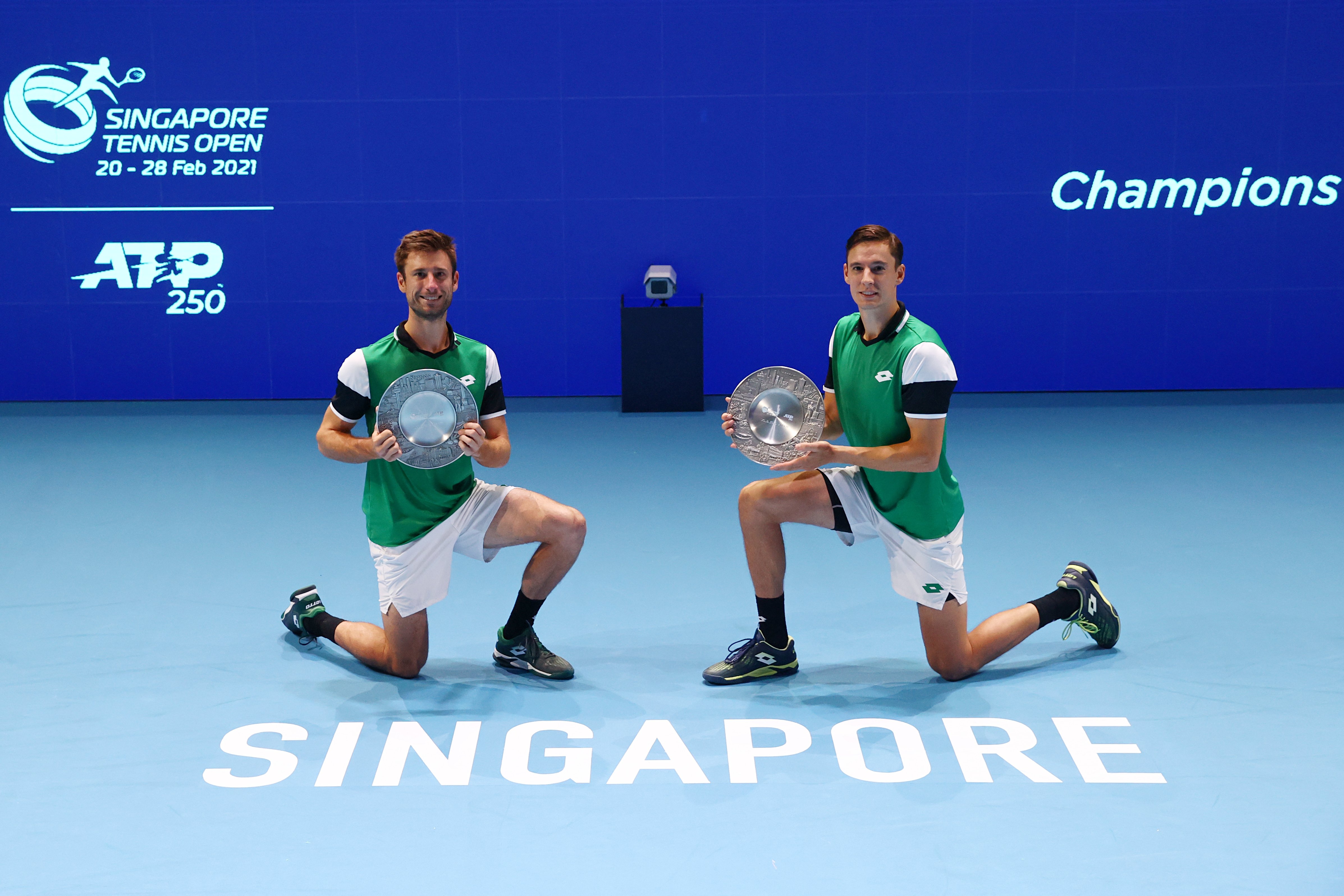 (Edited by Raj Kumar)
Dillon Lim is in his final year of university. He enjoys playing tennis and has been in love with the game since he was a kid. The 23 year old used to play competitively for Raffles Institution and was in the junior national training squad before leaving to study in the UK. And he still plays for his current university. Off the court, Dillon enjoys watching tennis matches and always keeps up with the very latest tournaments.
For encore (repeat) match streaming weblinks, and more stories from the Singapore Tennis Open 2021, visit hub.tennis
For the latest Singapore Tennis Open updates on the go, follow us on Telegram