What is AEP
AEP supports innovative, ground-up /community-oriented initiatives that encourage everyone to celebrate National Day through sport, demonstrating sports as a "force for good".
Interested applicants can apply for one of the following grant categories:
| Grant Category | Funding Quantum |
| --- | --- |
| Project Grant | Up to 90% of the qualifying costs or up to $10,000, whichever is lower |
| Mass Event Grant | Up to 90% of the qualifying costs or up to $50,000, whichever is lower |
| Endorsement | Nil. However, the event will be marketed as part of the GASG 2022 |
Eligibility
Mandatory Criteria for all grant categories
Applicants must meet the following to qualify for consideration:
Event/project consists of a Sporting and/or Physical Activity element
Event/project that is organised and completed in Singapore during the GetActive! Singapore 2022 period

18 April - 31 August 2022 for Walk/Run projects and events
23 July - 31 August 2022 for other types of events

Event/project exhibiting sustainability in line with the Green Plan 2030 (Refer to MSE environmentally friendly event guidelines)
Event/project incorporating National Day celebratory elements (For events held from July onwards)
Event/project incorporating the Active Health warm up (For events held from July onwards). Download your Active Health warm up here.
Compliance with prevailing SMM measures. You may refer to the Latest Safe Management Measures for Sport and Physical Exercise & Activity

for more information.
Additional Mandatory Criteria specific to individual grant categories
Grant Category
Mandatory Criteria
Project Grant

Event to target at least 50 participants



Mass Event Grant - Walk/Run

Event to target at least 200 participants



Mass Event Grant - Sports other than Walk/Run

Event to be open to public
Event to target at least 200 participants


We will be looking out for proposals that demonstrate:
Acts of care which include, but not limited to, offering volunteering platforms to give back to the community, rallying participation and contribution behind a good cause, implementing sustainable green initiatives for the event
Outreach to a large audience to "Bring Sports back"
Comprehensive event management plan and relevant experience to execute the plan
Cost effectiveness
Amplification of project on social platforms by doubling your outreach with views/likes/shares
To qualify for funding support, all proposals must be non-profit in nature. In addition, cost items funded via other grants/sponsorships will not be supported. Applicants are reminded to specify the breakdown of each line item in the AEP budget proposal document.
Funds for project and mass event grants will be given in 2 tranches:
1st tranche: 50% upon approval
2nd tranche: Up to 50% upon verification and meeting target no. of participants (KPI) and submission of all required documents (post event report, statement of accounts and all relevant supporting documents)
Applicants should note that if KPI is not met in full or there is underspending of grant amount, then a clawback of disbursed funds (1st tranche) may be required.
Qualifying cost items include:
Fee and Materials
Professional Services
Direct operating costs
Marketing and Publicity
Non-qualifying cost items include:
Expenses incurred outside of Singapore
Expenses incurred for crowdfunding events
Expenses incurred for personal transport, food and beverages
Expenses incurred for any form of religious/political activities
Event/project prize(s), including cash, vouchers, and other equivalents
Photography and videography
Capital expenditure
Insurance
This list is non-exhaustive, with examples detailed in the FAQs. Sport Singapore reserves the right to reject cost items that do not meet the objective and eligibility criteria of the grant.
Application Details
Application Period: 31 March to 29 May 2022
Please apply through the OurSG Grants Portal (OSG), which allows applicants to apply for government grants for arts, community, heritage, sports and youth in one place. Applicants need to register with either SingPass or CorpPass.
For more information on the OSG, please refer to either the "Help" section within the OSG, or the user guide here.
Want to know more about AEP or have questions for us? Sign up for a session now!
How to Apply
The 'Active Enabler Sports Expertise' aims to support you in your organisation of a fitness activity (e.g. Zumba, Yoga, etc.) through the provision of instructors or curated programmes at either your own venue or SportSG's proposed venues.
'Make Every Move Count workshop by Active Health'
Measure up and assess how well you move! Learn how incorporating a variety of movements through a 4Q model can improve your physical fitness and movement competency in a fun way.
The Make Every Move Count workshop by Active Health features simple movement assessments and strategies to improve movement competency through the concept of 4Q and interactive activities using the Active Health Play Mat. Regardless of age and ability, you will benefit from moving more! Movement assessments such as the Y-Balance would be introduced to test how well you are moving as you work towards the recommended physical activity guidelines. This assessment challenges your upper and lower body mobility and stability within multi-directional movement and provides a holistic indication of your movement competency and how you move.
'Moving more' is not uncommon to all, yet not many know the key to maximising the benefits. A 4Q model will be introduced to create awareness of your movements and improve competency through movement variation. This 4Q model categorises your movement based on single or multi-directional and whether it's solely bodyweight or using any external resistance. Each quadrant has its unique benefits and mixing your activities up offsets the repetitiveness of activity, decreasing your potential of any pains and injuries.
Intrigued to find out more? Sign up today and experience these movements for yourself and weave them into your routines to make every move count!
Application Details
Application Period: 9 May to 7 July 2022
Please apply through the link below
Mandatory Criteria for all application
Applicants must meet the following to participate in the Active Enabler Sports Expertise:
You may refer to the Sport Expertise FAQ for more information.
Your questions answered
We put together some commonly asked questions to give you more information about the Active Enabler Programme and Sports Expertise.
If you have a question that you can't find the answer to, please contact the Active Enabler Secretariat here.
Active Health Make Every Move Count Warm Up - GetActive! 2022 Edition
Suitable for all ages and abilities, this 3-5 minutes warm up that focusses on muscle activation, mobility, and cardiorespiratory elements is designed to prepare you before engaging in sport or physical activity.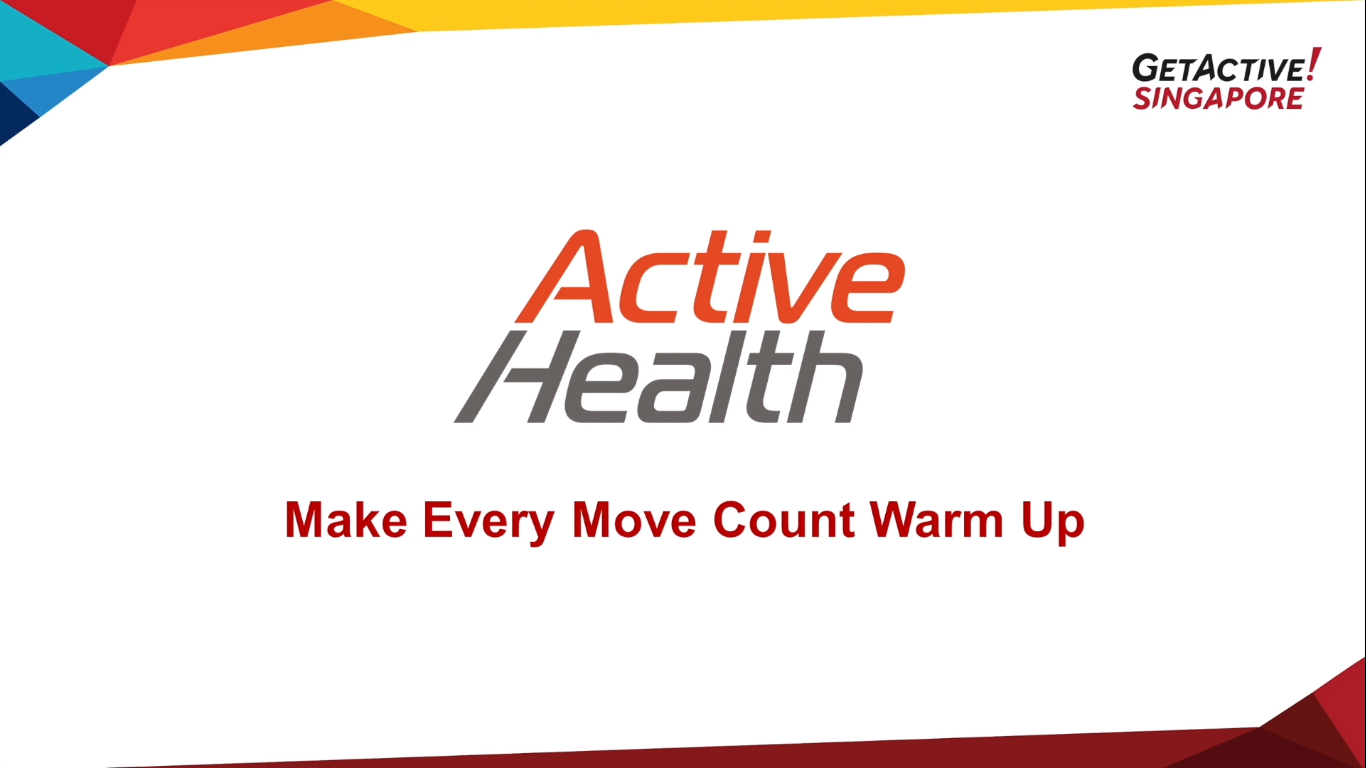 Click here to download the Active Health Warm Up and get moving!
Need a senior or disability-friendly version? Download it here!
Partnering GetActive! Singapore 2022
Come celebrate National Day through Sport with us! Our national week of sports, GetActive! Singapore will see an array of sporting competitions, festivals and activities taking place around the island in the lead-up to our nation's birthday.
For more information on GetActive! Singapore, please visit GetActive! Singapore
For enquiries on possible partnership and sponsorship opportunities during GetActive! Singapore, please fill up the form below.
Our Partners
An Initiative by

Partner in Sport

Supported by

Venue Partner

Partner in Sport

Play on, Play Together
This year's GetActive! Singapore will offer something for everyone!
#GetActiveSG #PlayOnPlayTogether