What is Para Archery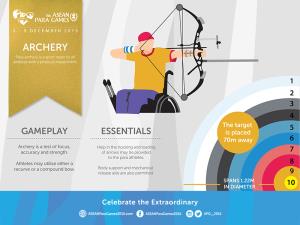 The very first archery competition for those with physical impairment was held at Stoke Mandeville Hospital, UK, in 1948. It is a sport that involves accuracy and shooting arrows from a distance at a target marked with 10 scoring zones.

Identification: ARW (Archery Wheelchair) or ARST (Archery Standing)

The eligible impairment types:

#
| | | |
| --- | --- | --- |
| Physical | Visual | Intellectual |
| | | |
Classification

Different forms of disability can influence people differently, the archers are required to undergo a set of specific tests, and the outcome of which will then decide which class the archer will compete in.

The sport consists of standing archers with disabilities or archers who compete on a wheelchair and they are divided into three different sport classes:
Sport Class ARST

Standing archers
Some standing support required
Have either limb deficiency, leg-length difference or impairments that affect their arms and trunk

Sport Class ARW 1

Compete in their wheelchairs
Tetraplegia archers with loss of leg and trunk functions
Arms show a loss of muscle strength, coordination or range of movement

Sport Class ARW 2

Compete in their wheelchairs
Paraplegic archers with limitations in leg and trunk functions
Arms show normal functions
Tournament Rules
The target is placed at a distance of 70 m and the men's and women's events consist of athletes shooting 2 sets of 36 rounds. The top 64 participants is subsequently decided, and will face each other in the knockout rounds during the 1/64, 1/32, and 1/16 eliminations. The resulting teams will compete in the quarterfinals, semifinals, and finals. The team tournaments are organized into single rounds or 70m doubles, where each team consists of 3 to 4 members.
The Singapore Archery Open 2018 will be happening from 23 to 25 November. Click here for more info.