What are track events in athletics?
Photo: Andrew Tan/ SportSG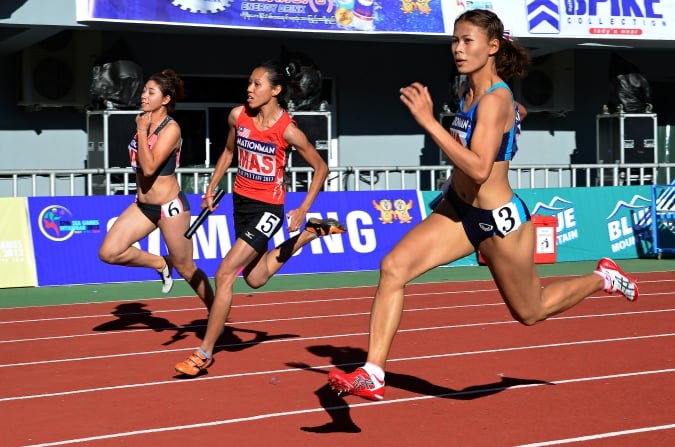 By Joey Tan
Track and field events are among the oldest of all sporting competitions, transcending cultures and civilisations. Historical evidence on the origins of athletics competitions are still sketchy, but it is generally agreed that these events have been present since the Ancient Olympic Games in Greece, which date back to 776 BC.
The first Games featured a limited number of events, such as a 180m sprint across the length of the stadium, but have since expanded to encompass at least 12 track events, 8 field events and three events combining track and field components. Most athletes tend to specialise in just one event, aiming to achieve perfection.
Combined Track & Field Events
However, some athletes would take part in combined track and field events, also known as the decathlon, heptathlon and pentathlon. They would earn points in each event which adds up to a total score.
Here's a summary of these combined events,
Men's Decathlon
Track Events: 100m - 400m - 1500m - 110m Hurdles
Field Event: Long Jump - High Jump - Pole Vault - Shot Put - Discus Throw - Javelin Throw
Women's Heptathlon
Track Events: 200m - 800m - 100m Hurdles
Field Events: Long Jump - High Jump - Shot Put - Javelin Throw
Men's Heptathlon
Track Events: 60m - 1000m - 60m Hurdles
Field Events: Long Jump - High Jump - Pole Vault - Shot Put
Women's Pentathlon
Track Events: 800m - 60m Hurdles
Field Events: Long Jump - High Jump - Shot Put
Track Events in Athletics: Types, rules & fun facts
Track events can be divided into three main categories: events that require running on a track over a defined distance, running events with obstacles placed on the track, and relay events. While track events generally refer to events held within the stadium, other distance events that require running on roads have been included in the roster.
Track events are generally not complicated - you run from point A to point B in the quickest time possible. However, those not familiar with athletics may wonder what the difference is between the events, other than the distance involved.
Hence, here's a general lowdown of the basic things you should know about track events.
Photo: Siong San/ SportSG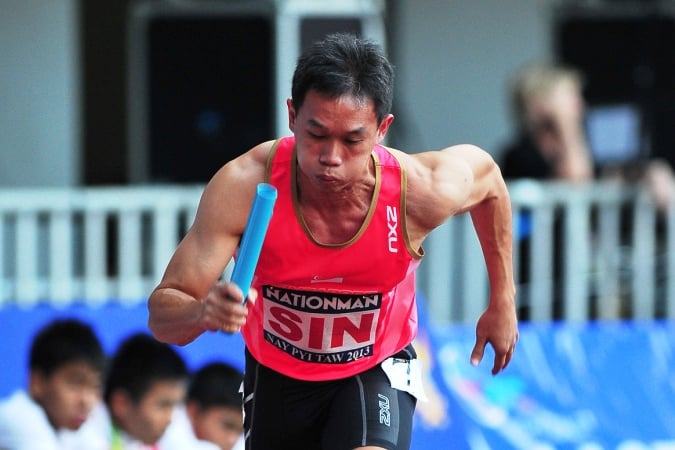 Types of track events
Sprints: Sprints refer to explosive bursts of speed over short distances. As such, sprinters generally require more muscle mass than their long-distance counterparts due to the anaerobic nature of the event.
List of sprint events:
Famous sprinters and World Records
Usain Bolt, world record holder in the 100m (9.58s), 200m(19.19s) as well as 4 x 100m (37.04s) relay. The nine time Olympic gold medalist won the 100m, 200m and 4 x 100m relay at three consecutive Olympic Games.
Middle distance: Middle distance events are longer than sprints and up to 3000m. They are frequently referred to as the hardest of the running events as it requires both endurance and strength. Middle distance runners look leaner than the sprinters, and slightly more muscular than the long-distance runners.
List of middle distance events:
800m
1500m
1600m
2000m
3000m
Long distance: These races are generally of an aerobic nature. That is to say, it requires the runner to process oxygen in low-intensity activity over a long period of time. Long distance runners have strong cardiovascular systems, enabling them to last through races ranging from 15min to 2 hours.
List of Long distance events:
10,000m
20,000m
30,000m
42,195m (Marathon)
Eliud Kipchoge, the 2016 Olympic marathon gold medalist attempted to break the 2-hour mark for running 42,195m in May 2017. After 3 years of preparation, Kipchoge came in shy of 25 seconds. Read more about this inspiring story here.
Hurdles and steeplechase: The steeplechase is an obstacle race, which was derived from horse racing. Both men and women race over the most common distance - 3000m - though the steeplechase for women has lower barriers. Steeplechase usually comprises of a water jump as well. Likewise, hurdles events consist of obstacles placed in regular intervals over the distance of the race. Failure to pass over or intentionally knocking over the hurdles will result in disqualification.
Format of a Steeplechase race
The 3000m steeplechase race has a total of 28 barriers and seven water jumps, while the 2000m steeplechase race has 18 barriers and five water jumps.
Steeplechase barrier height
There's a difference when it comes to the height of the barriers in the steeplechase for men and women. The barrier heights for men are 0.914m (36in) and the barrier heights for women are 0.762m (30in).
Relays: Four runners make up a relay team. Each runner must hand off the baton to the next runner within a certain zone, usually marked visibly on the track. Failure to pass the baton properly, or losing the baton may result in disqualification.
Disqualification Criteria
Here are some rules where a team can get disqualified in a relay in athletics
Baton dropped and not recovered by the athlete who dropped it
Improper passing of the baton, especially when not passing in the exchange zone
Causing an obstruction to other athletes
False starting
List of Relay Events
4 x 100m
4 x 200m
4 x 400m
4 x 800m
Indoors vs Outdoors Tracks: Indoor track competitions are generally more limited compared to outdoor track competitions due to space limitations; indoor tracks are 200m long, with four to six lanes while outdoor tracks are 400m with eight lanes.
Indoor tracks are unique as they can have banked turns and this banking is useful for athletes who usually compete on a flat track.
To receive the latest updates on the happenings in the Singapore sports scene, or to find out more about some of the latest programmes on offer at ActiveSG, like our Facebook page here.
Are you a youth interested in athletics? Or perhaps a parent with young children with a capacity and talent for running? Join us at the ActiveSG Athletics Club today by registering here.

It is the ideal platform to fulfil athletic potential through courses, clinics and championships. Beyond inculcating sporting values, the training also focuses on developing character and inculcate life values such as integrity, perseverance and teamwork. Training not just to be a better athlete, but a better individual.

So whether at an entry level or embarking on a pathway to excel in it, the ActiveSG Athletics Club is your first choice!