How do I choose a bowling ball?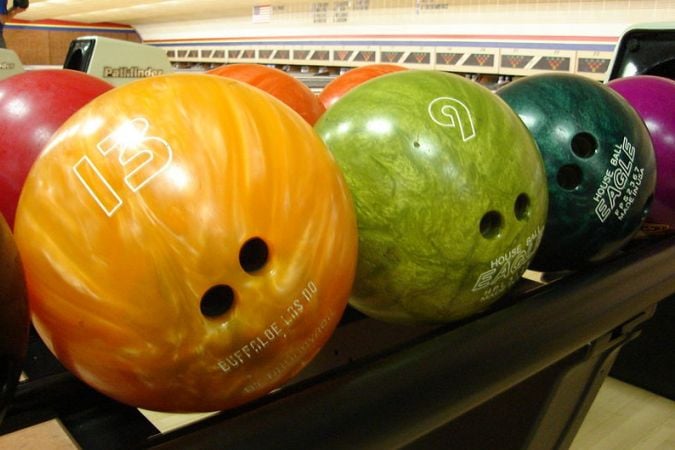 File photo credit: Wikimedia
The bowling ball is the most important equipment you need to play the sport. If you want to bowl well and avoid injuries, it is important to pick the right bowling ball – be it a house ball at the alley or purchasing one on your own.
Although most bowling balls may look similar, varying only in colour or design, there are minor differences that play a role in your game.

Choosing A Ball At The Bowling Alley

Nearly all of the house balls at a commercial bowling alley are made from polyester (or plastic) and come with a conventional grip. Polyester balls roll straight with almost no hook, and are great for spare shooting.

At the alley, the balls will come in a variety of weights, normally ranging from 6 pounds (2.7kg) to 16 pounds (7.3kg). There is no hard-and-fast formula on what weight you should use, so you should pick a weight that is comfortable for you. The good thing is that because a bowling alley usually comes stock with every single weight class, you can try each of them out and decide on what's most comfortable.

Besides ball weight, another important criteria to selecting a ball at the alley is the size of the finger holes. Each bowling ball has holes for the thumb, middle finger and ring finger. Pick a ball with holes that allow your fingers to be inserted and removed freely, but not so freely that you can't grip the ball.

Finally, depending on the selection at the alley, pick a colour or design that you like the best. The cosmetics of course not supposed to affect your game, however as bowling requires some mental focus, picking a colour you like may help your pre-game routine.

Buying Your Own Bowling Ball

If you bowl on a regular basis, owning a ball is an advisable option because the ball is personalised to suit your hand. You're more likely to have a ball with the appropriate fit and weight if you purchase one. The right weight and fit facilitates proper grip pressure, leading to a better swing and better overall performance.

A custom bowling ball can be made from three different compositions:

Polyester and plastic ball
• Recommended for beginners and entry-level players
• Ideal if you roll a straight ball and just want a ball that fits the same every time

Urethane balls (Performance: Low)
• Recommended for bowlers looking to improve their game
• Rolls with a smoother arching reaction
• Great for bowlers that want to hook the ball but don't have much ball speed

Resin, Reactive, and Particle balls (Performance: Medium-High)
• Offers a sharper hook with more carrying power and grip
• 100% of professional bowlers use this type of bowling ball. Note: 94% use a plastic ball for shooting spares.

When you go to a reputable pro shop, they will measure your hand and fingers for the correct span and hole size. The angle of each hole, called pitch, is contoured to compliment both the length and flexibility of the hand. Correct pitches not only provide better comfort but also aid in your attempt to apply only sufficient, not excessive, grip pressure.
To receive the latest updates on the happenings in the Singapore sports scene, or to find out more about some of the latest programmes on offer at ActiveSG, like our Facebook page here.