Top 5 Bowling Alleys in Singapore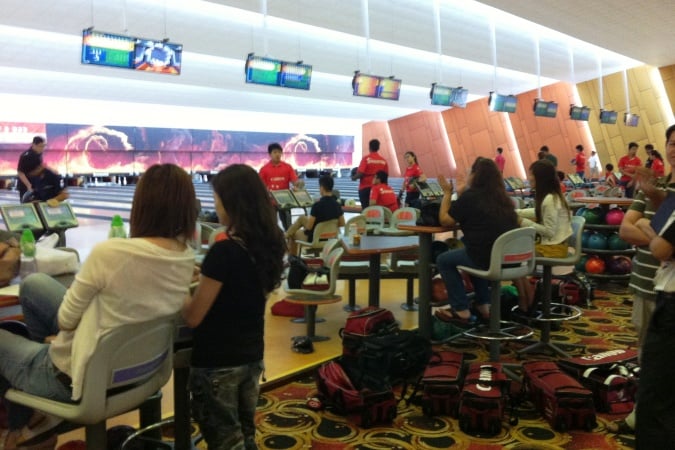 File photo credit: SportSG
From the 1970s to the early 2000s, some of the most iconic bowling spots in Singapore included Jackie's Bowl in Katong, Kim Seng StarBowl near Great World City, Super Bowl and Victor's SuperBowl in Marina South, as well as Plaza StarBowl in Jalan Sultan.

Although many these alleys have since closed down, the game is as popular as ever. They have been replaced by newer and more modernised places geared towards family entertainment.
Here are our top five bowling alleys in Singapore, listed in no order of preference.
1. Orchid Bowl @ E!Hub

Located at Downtown East, Orchid Bowl @ E!Hub is a popular choice among both youths and families with options such as miniature and cosmic bowling. This 32-lane bowling centre is also open late till the night, catering to revellers at the nearby resort and neighbourhood.

Recommended for: families, friends, fun, entertainment, relaxation, Eastsiders
Public rates: $4.30 per game (off-peak), $5.50 per game (peak)

Other Orchid Bowl outlets:
Chevrons, Safra Yishun, Safra Tampines, Orchid Country Club


2. SuperBowl

The SuperBowl remains a favourite among bowlers due to its nostalgic charm and convenience as the only alley in town. You can head to either of Toa Payoh, Mount Faber, Jurong and the latest outlet at HomeTeamNS-JOM, Balestier to satisfy your bowling crave.

Recommended for: families, friends, fun
Public rates: $4.20 per game (10am-6pm), $4.50 per game (6pm till close)


3. Kallang Bowl @ Leisure Park Kallang

When the old Kallang Leisure Park was closed down temporarily for renovations, the east lost another iconic bowling alley, which was extremely popular among both casual and professional bowlers. However in 2007, Kallang Bowl reopened with 22 lanes, newer equipment and modern amenities. Though it has lost some of its old charm (remember the old creaky wooden lanes?), Kallang Bowl remains a favourite thanks to its location and other nearby entertainment options.

Recommended for: location, after-activities, families
Public rates: prices range from S$2.50 - S$4.30 per person per game


4. SingaporeBowling@Rifle Range

With the opening of the state-of-the-art centre, Singapore Bowling Federation (SBF) has reached a milestone with the opening of SingaporeBowling's 38-lane brand-new bowling centre located within the premises of Rifle Range. The facility has been open to the public since October 2015 and it will also be home to the SBF's 60-strong national squad.

Recommended for: families, friends, fun, equipment
Public rates: $4.50 per game (off-peak), $5 per game (peak)

5. Westwood Bowl @ Civil Service Club

Modern, cheap and fairly quiet, Westwood Bowl is gradually gaining popularity among seasoned bowlers. This 24-lane bowling centre features high quality lanes and equipment that are maintained daily for top performance. The backdrop of the Civil Service Club, which seemingly appears to be carved out of a hillside, also makes for a picturesque environment for bowling.

Recommended for: Westsiders, cost, equipment
Public rates: $3.40 per game (off-peak), $4 per game (peak)


To receive the latest updates on the happenings in the Singapore sports scene, or to find out more about some of the latest programmes on offer at ActiveSG, like our Facebook page here.