Equipment needed in Boxing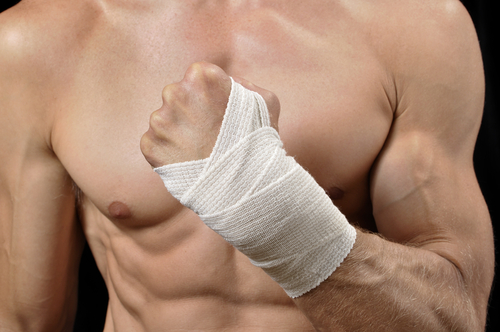 Image credit: Shutterstock.com
An intense, full contact sport, boxing requires participants to be properly protected during a match. Here are some common equipment that you should have.

Wrist Wrap

Usually just a simple strip of cloth that is wound around the hand and wrist of the boxer, the wrist wrap is very important as it helps to secure the bones and keep the joints in alignment. Wrapped around the wrist, palm and the base of the thumb several times, the wrist or hand wrap also allows the boxer to hit harder while feeling less pain from the impact of punching the opponent.

Another variation of the cloth wrist wrap is a fingerless glove that is worn inside and underneath the boxing gloves, which is more convenient as it doesn't require as much time to wind around the hand and wrist.

Boxing Gloves

Boxing gloves are different from normal gloves, as they are heavily padded. Worn by boxers during a match or while training, these boxing gloves provide protection for the boxer, as most hand injuries are caused by the force of punching.

Training gloves and competition gloves can sometimes differ, depending on competition regulations. For instance, boxers have to agree on the weight as well as the brand of the gloves to be used during the competition, as lighter gloves have traditionally been more useful for throwing punches that inflict more damage.

Boxing gloves used in amateur boxing are usually red or blue, with a white scoring area to help judges see the punches better. These can range from 230 grams to 460 grams.

Mouth Guard

As boxing allows blows above the belt, some of the punches will inevitably be aimed towards the head and face of the opponent. Hence, a mouth guard is very important as it protects the mouth and teeth of a boxer from any serious injury caused by a high impact blow. The mouth guard also supports the jaw and decreases the possibility of a knockdown by the opponent.

Footwear

Boxers are required to wear shoes with soft soles in order to prevent injuries when accidentally stepping on their opponents during a round. These shoes are usually high cut, to provide more support for the ankles. However, low cut shoes are sometimes favoured by boxers who need better mobility and speed during the round.


To receive the latest updates on the happenings in the Singapore sports scene, or to find out more about some of the latest programmes on offer at ActiveSG, like our Facebook page here.