Competition procedures for Traditional Boat Race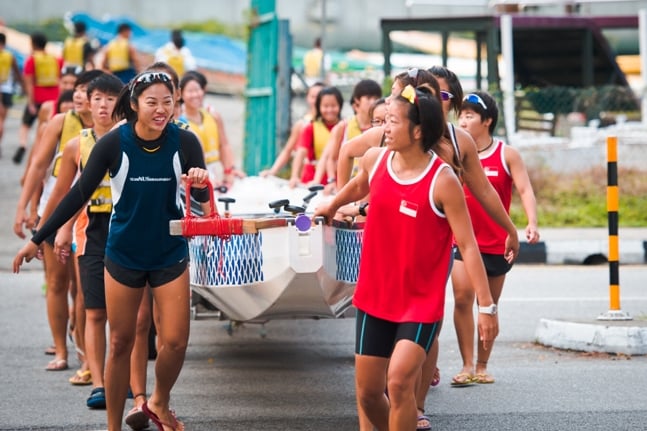 Image credit: Ng Chrong Meng/SportSG
The organising committee of the competition should make information such as race course details, start times, starting and finish line details, as well as allocation of lanes, available to competing crews at least 24 hours before the first race.
Race courses must be over a straight stretch of water that covers a distance of at least 1000m. Lanes must be at least 13.5m wide and the course must allow for a minimum of six lanes with that width or nine lanes with at least a 10m width. Start and finish lines must be marked by red flags and lanes should be highlighted with numbered buoys. Lane boundaries should also be marked clearly with buoys about 50m apart.
Turn buoys should be used to indicate where the turning point is for race distances over 1000m. Turning points must be at least 50m in radius and must be marked with at least six flags or buoys easily distinguishable from those used in other course markings.
Crews are divided into heats in accordance to their ranking (based on results of previous years and other competitions) or drawing of lots if the standards of crews are unknown. There should only be a maximum of six crews competing in a race.
Teams who do not compete in heats will not be allowed to race in the finals unless the final is the only race in that particular competition class. In the latter scenario, crews will race for lane allocations in heats leading up to the finals.
During heats, crews with identical times will progress to the next stage of competition. However, if there are insufficient lanes, then these crews will race each other for the right to proceed to the finals.
Crews must assemble at the start line three minutes prior to the start of race, and incomplete crews may be given a Did-Not-Start (DNS). Disqualified crews will be given the slowest time recorded for their race and a 5-second penalty, which will determine their final placing in their competition class.


To receive the latest updates on the happenings in the Singapore sports scene, or to find out more about some of the latest programmes on offer at ActiveSG, like our Facebook page here.