Crew positions and clothing regulations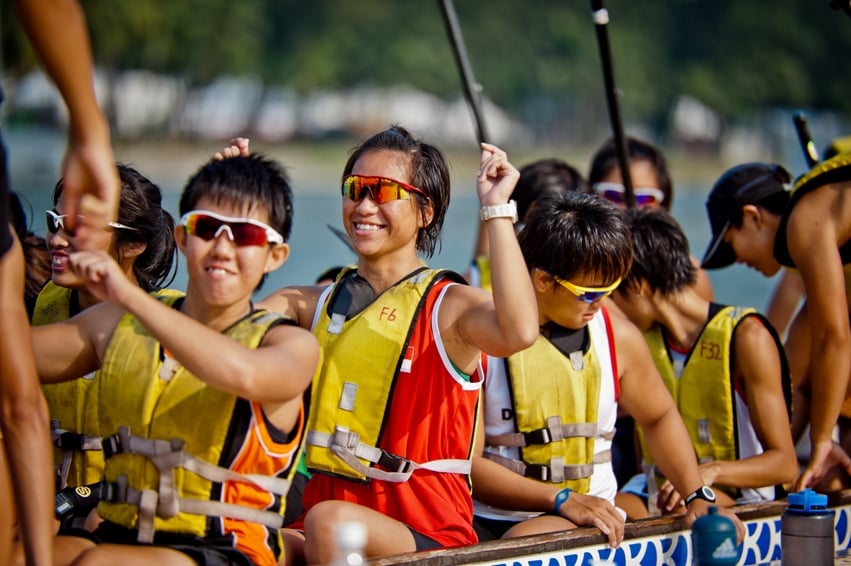 Image credit: Ng Chrong Meng/SportSG
In a 20-person crew, there should be a minimum of 18 and a maximum of 20 paddlers, one drummer, a steersperson and four reserve paddlers. In a 10-person crew, there should be 10 paddlers, one drummer, one steersperson and two reserve paddlers. In a 5-person crew, there should be five paddlers a drummer, a steersperson and a substitute paddler.
The steersperson is in charge of the overall operation of the boat when it is propelled forward. He is the only person who can issue paddling commands to the crew, and is responsible for the overall safety of the boat and crew. He must also be knowledgeable about water navigation as well as the regulations of water space usage and boundaries.
The drummer assists the steersperson with operations and safety. He must remain seated at all times when the boat is in motion and listen to the steersperson's instructions when providing the rhythm and speed that the crew paddles at.
For the sake of safety, paddlers must listen and follow the steersperson's instructions when paddling. They must maintain stability on the boat and inform the steersperson before changing positions on the boat.
The crew is broken up into three sections, and weight of the paddlers must be taken into consideration when placing them in each section. The heavier and stronger paddlers are placed in the middle of the boat while the lighter paddlers are placed at the front and back sections.
The front section should be occupied by paddlers with consistent long paddling strokes as they are the pace setters. As the paddlers are forward facing, the paddlers in the middle and back sections will use the front section's paddling strokes as a visual cue. The middle section is the "engine" of the boat, putting in the energy near the halfway mark in the race. The back section comprises of the strongest paddlers and they act like the "propellers" in the engine.
Each crew is allowed their own attire provided it is not transparent in any way. Crew attire may vary depending on weather, water and race conditions. Sponsors may advertise on the crew's race clothing and equipment but they must adhere to regulations. Any logos or advertisements should be positioned such that it does not disrupt, negate or hide the attire's original colour and design.


To receive the latest updates on the happenings in the Singapore sports scene, or to find out more about some of the latest programmes on offer at ActiveSG, like our Facebook page here.