Safety regulations in Traditional Boat Race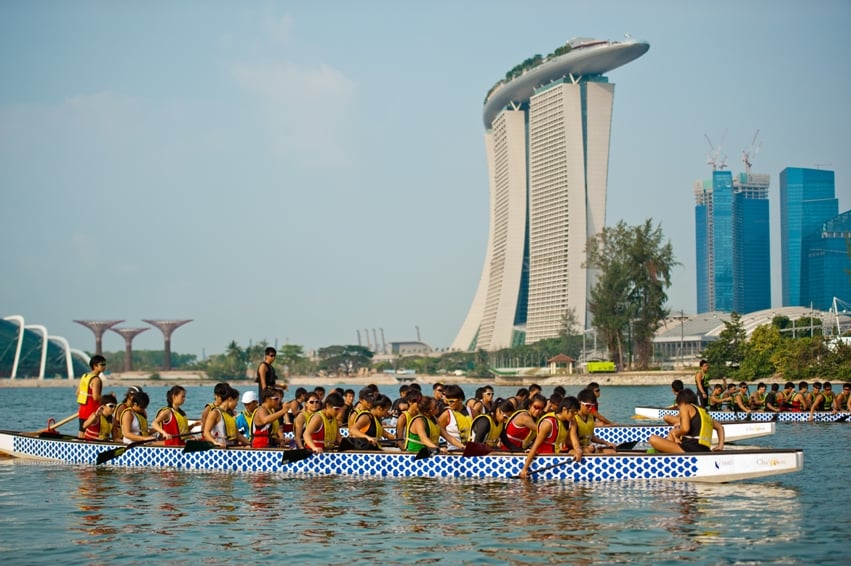 Image credit: Ng Chrong Meng/SportSG
The organising committee of the competition must provide a medical and rescue service throughout the duration of the competition. Qualified first aid personnel and a medical doctor must be on duty at all times. Additionally, races are not permitted to start unless there is at least one rescue vessel on duty, with the ideal ratio of rescue boats to competing boats being 1:3. Each rescue boat must be able to hold up to eight people and can be used as an umpire's boat if required.
The crew manager and steersperson are responsible for the primary safety of the boat crew and must attend a safety meeting organised by the competition organiser prior to the competition. They are in charge of ensuring the crew are suitably dressed depending on the weather, race and water conditions. They will also need to make sure the crew are not wearing any personal accessories or jewellery that may impede their ability to swim unaided in water after escaping from a capsized boat.
All crew members must be water-competent and able to swim at least 50m in wet clothes. They should be medically and physically fit during the competition. Crew lists must be submitted for registration 60 minutes before the first race of the day. This is to allow the organising committee to check for double rostering.
The safety officers are responsible for all safety issues during the competition, so they must ensure that there is an event safety/emergency plan to cover major incidents or emergencies. They must also ensure all medical and safety teams are properly certified and briefed about the event safety plan.
Besides that, they must arrange for Personal Floatation Devices / aids (PDF) for each competitor and competition personnel. They must also be on hand to advise the Chief Official to postpone, delay or cancel races according to changes in weather or water conditions.
All boats must carry two red flags, one at either end of the boat, which are waved by the drummer or steersperson as a distress signal to indicate man overboard or other emergencies. The safety officer is responsible for ensuring the headcount from a capsized boat is correct before the rescue boat returns to land.
To receive the latest updates on the happenings in the Singapore sports scene, or to find out more about some of the latest programmes on offer at ActiveSG, like our Facebook page here.