Equestrian Rules and regulations for Dressage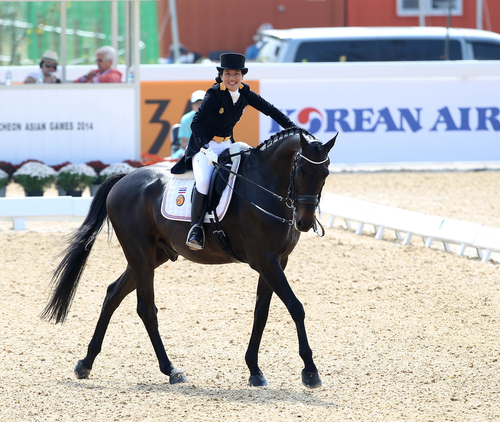 Image credit: Shutterstock.com

Dressage is often described as gymnastics on horseback or horse ballet because the rider and horse need to perform a series of predetermined moves to a panel of judges. The basic objective of dressage is to develop the sense of balance, flexibility, accuracy and strength in the horse, often used as a tool to improve the horse's performance in other events like jumping. At the highest level, the horse almost appears to be performing on its own, with little to no prompts from the rider.

Rider and horse are evaluated through a series of tests, which are predetermined movements the horse needs to perform. There are five basic levels of tests, so riders and horses of different ages and levels can compete at a plane appropriate to their abilities.

Judging for Dressage is sometimes deemed to be subjective, although Fédération Equestre Internationale (FEI) has a fixed criteria for judging each element in the tests. A panel of five judges are positioned around the perimeter of the performing arena and will give each element a score between 0 to 10. Then, each score is multiplied by the difficulty level of the element or coefficient to give a final score. At the end of the test, judges will also award the rider and horse a score (0 - 10) based on their general impression and overall performance.

Rules regarding penalties and faults are stringent and competitors can be disqualified if the infractions made are deemed serious. However, riders can improve their performance because the judges will include comments with their scores and these comments can be made available to the riders.


There are three other types of tests that rider and horse can compete in.

Musical Freestyle - This can be competed at various levels, during which competitors will perform a series of movements and choreography to their chosen piece of music. Scores will be awarded for artistic expression, technical accuracy and use of movements to the piece of music.

Pas de Deux - This is a duo test, where two sets of riders and horses perform together to a chosen piece of music. They will need to synchronise their movements and choreography while performing the moves at a high technical level.

Quadrille - This is similar to the Pas de Deux, only this is performed with four sets of riders and horses.




To receive the latest updates on the happenings in the Singapore sports scene, or to find out more about some of the latest programmes on offer at ActiveSG, like our Facebook page here.