Para Equestrian events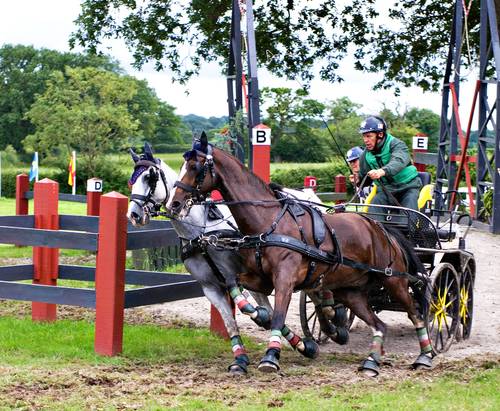 Image credit: Shutterstock.com
There are two events in Para-equestrian and both are governed by the Fédération Equestre Internationale (FEI). The events are para-equestrian driving and para-equestrian dressage, and they follow the same basic rules as combined driving and conventional dressage.
Athletes for the para-equestrian events are classified in various groups based on their level of disability.


Grade 1a

Athletes in wheelchairs with impairment of their limbs but are able to walk with an unsteady gait.
Athletes with severely impaired trunk and balance.

Grade 1b

Athletes in wheelchairs with moderate to severe impairment of their limbs.
Athletes with severe impairment, having no function in one to all of their limbs.
Athletes with moderate trunk balance but with severe impairment of all 4 limbs.

Grade 2

Athletes with good to mild limb function.
Athletes with severe impairment present in the trunk, severe arm impairment, slight leg impairment or severe unilateral impairment
Wheelchair users.

Grade 3

Athletes who are able to walk without support for short periods of time.
Athletes with severe arm impairments or moderate impairment with two limbs.
Athletes with total visual impairment.
Athletes who are intellectually impaired, with an IQ not over 70.
Athletes who use the wheelchair for moving over long distances due to the lack of stamina.

Grade 4

Athletes with impairment in one or two limbs, or mild visual impairment.

In para-equestrian dressage, athletes are scored based on their skill on the horse against other athletes in the same classification regardless of their disability.
Riders in the para-equestrian dressage discipline can compete in three categories - Individual, Team and Freestyle events. In the team event, groups of three riders will compete with each other. Tests will vary according to the athletes' para-equestrian (PE) grade.

Once athletes are divided into classifications, they are given a grade depending on the level of which they can compete and a profile number that indicates the nature of their disability. Para-equestrians will need to carry a PE ID card, and any specialist equipment that they may need will be listed on their PE card. All Para-equestrian dressage riders are judged in the same way as able-bodied dressage athletes. Riders can apply for an Exemption card if they require exemptions for modified equipment.


To receive the latest updates on the happenings in the Singapore sports scene, or to find out more about some of the latest programmes on offer at ActiveSG, like our Facebook page here.