Shots in floorball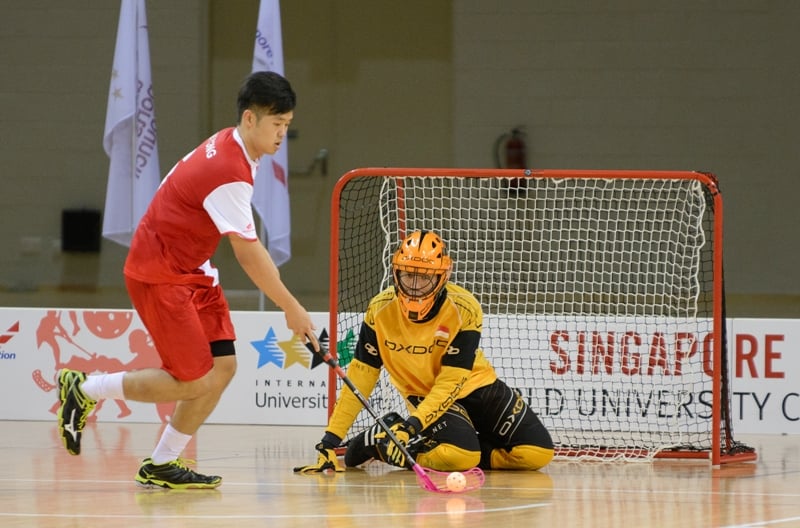 Image credit: Cheah Cheng Poh/SportSG
The aim of a shot is to score a goal. In order to score a goal, the ball must be placed at the back of the net, effectively passing the goalkeeper. The ball needs to be released quickly and at a high speed.

In floorball, there are different ways to shoot because a shot should not only be fast but also precise. A player that possesses a variety of shots is able to shoot more often from different positions. Added to this is an element of surprise, as the opponents cannot predict when an attacker is about to attempt to finish on goal.

Here are some of the basic ways to shoot and score a goal:

Wrist shot
The wrist shot is similar to playing a basic pass. The ball touches the blade all the time until it is released. It is swept along from behind the body and released next to the body or just slightly in front of it. As the stick is moved forward, the player pushes the stick down so that it gives the shot power. The wrist is used to control the ball, and give it the desired direction.

Dragged shot
The blade is dragged further backwards, before driving along the surface to hit the ball. The ball is released in line with the player's front foot and the blade should be pointing towards the goal at the end of the shot. The head is kept up all the time, to focus on the target. Once again, a blade with a more open face makes it easier to shoot high. Hitting the ball in front of the body will also make it travel higher.

Using a dragged shot has many advantages. It is more powerful than a wrist shot, making it ideal to shoot on goal. Since the stick is dragged from behind, it is also easier to hit the ball. This is an important point as players are always encouraged to keep their head up and not look at the ball as they shoot.

Hit shot (forward drive)
The hit shot is simple and preferred by beginners. The ball is hit next to the body or slightly in front. The players use a backswing to gain power, and the stick travels through the air to hit the ball. The shot produced is fairly straight. Great care must be taken not to raise the stick above waist level, especially while performing the backswing.


To receive the latest updates on the happenings in the Singapore sports scene, or to find out more about some of the latest programmes on offer at ActiveSG, like our Facebook page here.