When are indirect free kicks given in the penalty box?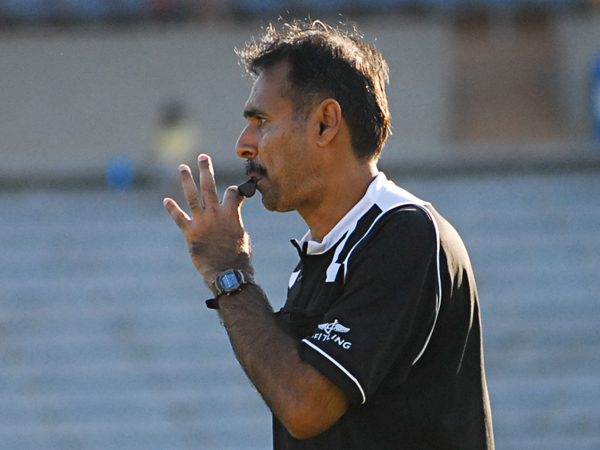 File Photo Credit: Samuel Lim
By Alan Yuen
LAWS OF THE GAME (2): INDIRECT FREE KICKS IN PENALTY AREA
"What? A Free Kick in the Penalty Area? Shouldn't it be a penalty kick?"
This is a common reaction from both football fans and players alike. Much to their bafflement, yes, some fouls committed within the penalty box will result in a free kick instead of a penalty!
When does it happen?
Free kicks awarded in the penalty area are always indirect free kicks. Unlike a poorly timed
slide tackle
which often times results in a more or less clear cut decision for a penalty kick, indirect free kicks are given when a player commits an infringement that is less serious in nature. It typically involves a foul without player-to-player contact.
As the name "indirect freekick" suggests, the ball must be passed to another player before the team can attempt to score. The referee will indicate an indirect free kick by raising his arm above his head. He will maintain this position until the kick has been taken and the ball has touched another player.
An indirect free kick is awarded to the opponent if a goalkeeper commits any of the following offences inside his own penalty area:
1. Takes more than four steps while controlling the ball with his hands, before releasing it from his possession.
2. Touches the ball again with his hands after it has been released from his possession without touching another player.
3. Touches the ball with his hand after is has been deliberately kicked to him by a teammate.
4. Touches the ball with his hand after he has received it directly from a throw-in by a teammate.
Here are two videos that illustrate some instances of an indirect free kick in the penalty area. These videos show how the free kicks were given, and how they are executed.
1. Infringement without contact
The above video is from a match played between Spanish La Liga giants Real Madrid and Sevilla. As Cristiano Ronaldo attempts to head in a cross, the Sevilla defender attempts to kick it away, barely missing Ronaldo's head in the process.
Here, the defender commits an offence of "dangerous play" – raising his boot above his chest without making direct contact with another player. Had the defender made contact, it would have resulted in a penalty kick.
As the players line up we can see an indirect free kick means you can't shoot directly from that spot. It starts off with a lay off to Ronaldo that allows him to attempt a shot on goal that eventually ricochets off the post.
2. Goalkeeping Offence
The second video clip is an excerpt from a game played between Argentina and Bolivia. After receiving a backpass from a Bolivian defender, the goalkeeper was pressured by the Argentinian attacker closing in on him to pick up the pass with his hands, and commits an infringement against the "backpass rule".

The resulting freekick was a clever lay off to an oncoming striker who proceeded to hammer the ball into the top corner.



To receive the latest updates on the happenings in the Singapore sports scene, or to find out more about some of the latest programmes on offer at ActiveSG, like our Facebook page here.
Interested in football and want to hone your skills with the best? Or perhaps you are a parent wishing to expose your child to the beautiful game?
If your answer to either of the above is yes, then ActiveSG Football Academy is the place for you to be at. Led by former Singapore international Aleksandar Duric, and five head coaches with experience from the highest level of football in Singapore: Richard Bok, Robin Chitrakar, Hyrizan Jufri, Mohamad Hairil Amin, Isa Halim, and Steven Tan, ActiveSG Football Academy has a holistic football programme designed to build character and impart the right skills while encouraging trainees to pursue their sporting passion with the right attitude.
To find out more or sign up for the academy, visit this link here.