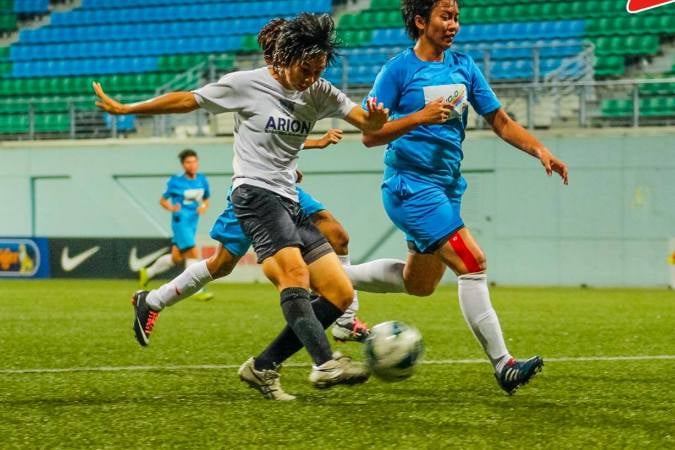 Yeong Sheau Shyan (left) in action in the FAS Women's League for Arion FA (photo credit: VOXSPORTS).
By Hevina Kaur
When one thinks of football, they usually think of two teams of rowdy men chasing after ball, elbowing each other and getting into fights. I don't blame you, that is the first image that pops into my head as well.
However, these days we see more and more women trying to change that image as they become more involved in the football scene here in Singapore. I for one, applaud them as it is definitely very difficult to start playing a sport that is so traditionally dominated by men. It is these women that are challenging the stereotype and wanting to get their voices heard and their skills noticed.
One of these brave women is Yeong Sheau Shyan who is an Asian Football Confederation (AFC) 'B' Certificate licensed coach. She used to play on the Team Singapore women's team and has coached both B and C Division school teams. Previously a Secondary School Maths and PE Teacher for 6 years, she is now actively involved in the development of women's football in Singapore. We had a chat with her to find out more about the Singapore community in Singapore.
Sheau Shyan's story
Sheau Shyan had a pretty late start in playing football, only starting when she was doing a football module while training to be a PE Teacher at the National Institute of Education (NIE). She began to play competitively and later decided to take up a career as football coach instead of a teacher. She started Arion Women's Football Club with her peers which later became Arion Football Academy.
Unlike girls today, Miss Yeong didn't have the opportunity to play football in school because the sport wasn't offered to girls in her day. She says it was a "very small and closed community" that was hard to break into unless you already knew the ins and outs of playing the game.
Fortunately for her though, she had a supportive family backing her. Although concerned about her decision to give up a stable job in teaching to start up her own venture in football, they continued to support her.
Sheau Shyan's view on girls playing Football in Singapore

Miss Yeong finds comfort in the knowledge that the population of girls playing football has seen steady increase in recent years, and people have a more positive view of female footballers. She also enjoys the community being tightly knit and once you've been in the scene for a while, you get to know a lot of people, and may even find friends on rival teams!

Her advice to girls who want to take up football is to find out more about the sport and realise how popular it is amongst girls the world over, regardless of what others might think. She feels that the media in Singapore hasn't been supportive in promoting women's football and the older generation is rather backwards thinking and ill-informed about the sport.

In her words, "Girls in Singapore deserve the freedom to play any sport they like and should not be restricted by discrimination. Nobody should be worried that they are not good enough to play football. Everyone needs to start somewhere and there are avenues for all to play recreationally, not just competitively."
It is this determination and courage in her that has driven her to follow her dreams and set up her own academy. So far, her efforts has already helped spread awareness for women's football in Singapore and increase the population of female football players here.
We salute her for her efforts.
To receive the latest updates on the happenings in the Singapore sports scene, or to find out more about some of the latest programmes on offer at ActiveSG, like our Facebook page here.
Interested in football and want to hone your skills with the best? Or perhaps you are a parent wishing to expose your child to the beautiful game?
If your answer to either of the above is yes, then ActiveSG Football Academy is the place for you to be at. Led by former Singapore international Aleksandar Duric, and five head coaches with experience from the highest level of football in Singapore: Richard Bok, Robin Chitrakar, Hyrizan Jufri, Mohamad Hairil Amin, Isa Halim, and Steven Tan, ActiveSG Football Academy has a holistic football programme designed to build character and impart the right skills while encouraging trainees to pursue their sporting passion with the right attitude.
To find out more or sign up for the academy, visit this link here.