Unexpected situations on the golf course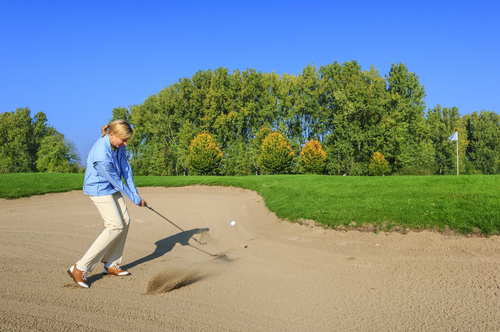 Playing on picturesque, sprawling golf courses may sound like an ideal, relaxing sport - that is, until your ball goes missing. There are many provisions within the rules of golf that cater to unexpected situations that may crop up during a game. Most commonly, these concern the whereabouts of errant balls.

Golfers may search for their balls anywhere on the course, even coming into contact with grass, water, and sand. However, this must only be done in search of a ball; players must not change the positions of their balls on purpose.

Should a player have reason to think that his or her ball is covered by sand or any loose impediments, a search may be conducted, and he or she is permitted to find the ball within these obstacles. Once spotted and determined to be his or her own, the ball must be replaced in its original position as accurately as possible. This includes replacing the sand or loose impediments that were previously covering the ball, although the player is allowed to ensure that a bit of its surface remains within sight to aid the shot.

If the ball is thought to be stuck in a water hazard, the player may embark on a search in the water, with or without the aid of a club. Should movement be caused unintentionally to the ball, the player will not be penalised.

Balls may also get lodged in depressions on the turf. In such cases, they may be picked up, cleaned, and dropped again without penalty. The ball has to be replaced as close as possible to its original position, but behind it rather than in closer proximity to the hole.

A ball must also never be hit while it is moving. However, there are special circumstances that permit this. These include the following:
When a ball falls off a tee while the player is making a hit, the stroke will be counted, and no penalty will be given.
If the club hits the ball twice during a shot, the stroke will be counted, but the player must also be penalised a stroke.
While searching for a ball in sand or any loose impediments, the ball may accidentally move. No penalty will be given for such a hit.
To receive the latest updates on the happenings in the Singapore sports scene, or to find out more about some of the latest programmes on offer at ActiveSG, like our Facebook page here.