Team Singapore
2 Gold medals from swimming and shot put on Day 4 of ASEAN Para Games
by Circle Stories, on August 3, 2022 7:22 AM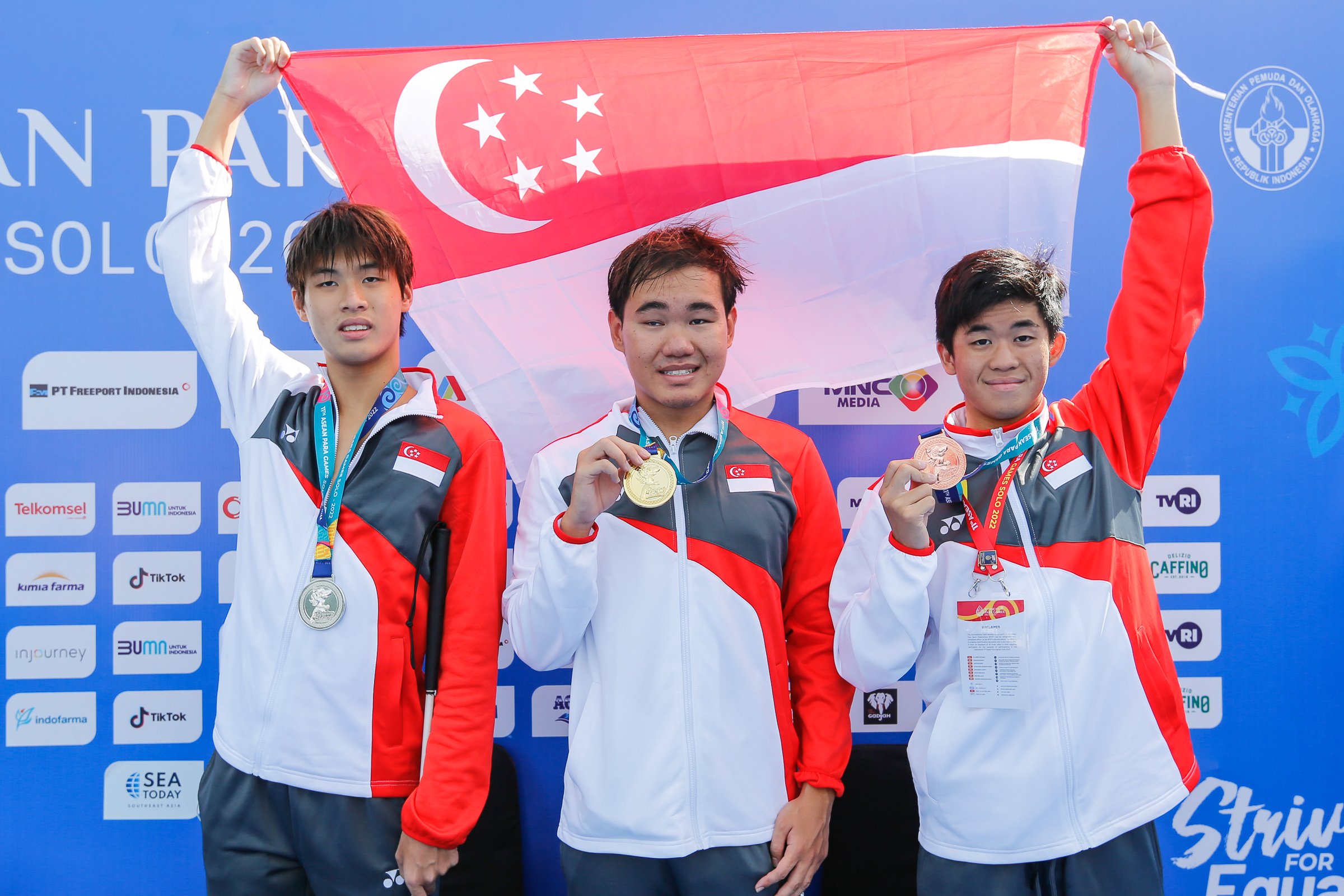 (From Left) Colin Soon, Wong Zhi Wei and Darren Chan each earning a medal on the third day of swimming competition. Photo Credit: SNPC/Andy Pascua
It's medals galore in the pool for Team Singapore on the third day of Swimming, with 4 medals added, bringing the tally to 8 in the sport.
With a time of 1:00.07 minutes, Wong Zhi Wei has set a new Games record, national record and personal best in the men's 100M Freestyle S13 Final.
After breaking those records, the gold medal must just be icing on the cake for the 20 year old, but there's more to look forward to. "I think the nerves are always there but with more experience you learn to control it better, but with this result it gives me more confidence for the final event which is the 50 free on Friday," said Zhi Wei.
After taking gold just two days ago, 17 year old Colin Soon now also has a silver medal added to his collection, as he finished second out of seven in the Men's 100M Freestyle S12 Final with a time of 1:03.10 minutes. But he says he is capable of going faster, "Today's swim felt pretty good but I didn't swim the time I wanted. But I felt it was a reasonable swim. My game plan was to focus on my own swim, on the technique and on what I need to do."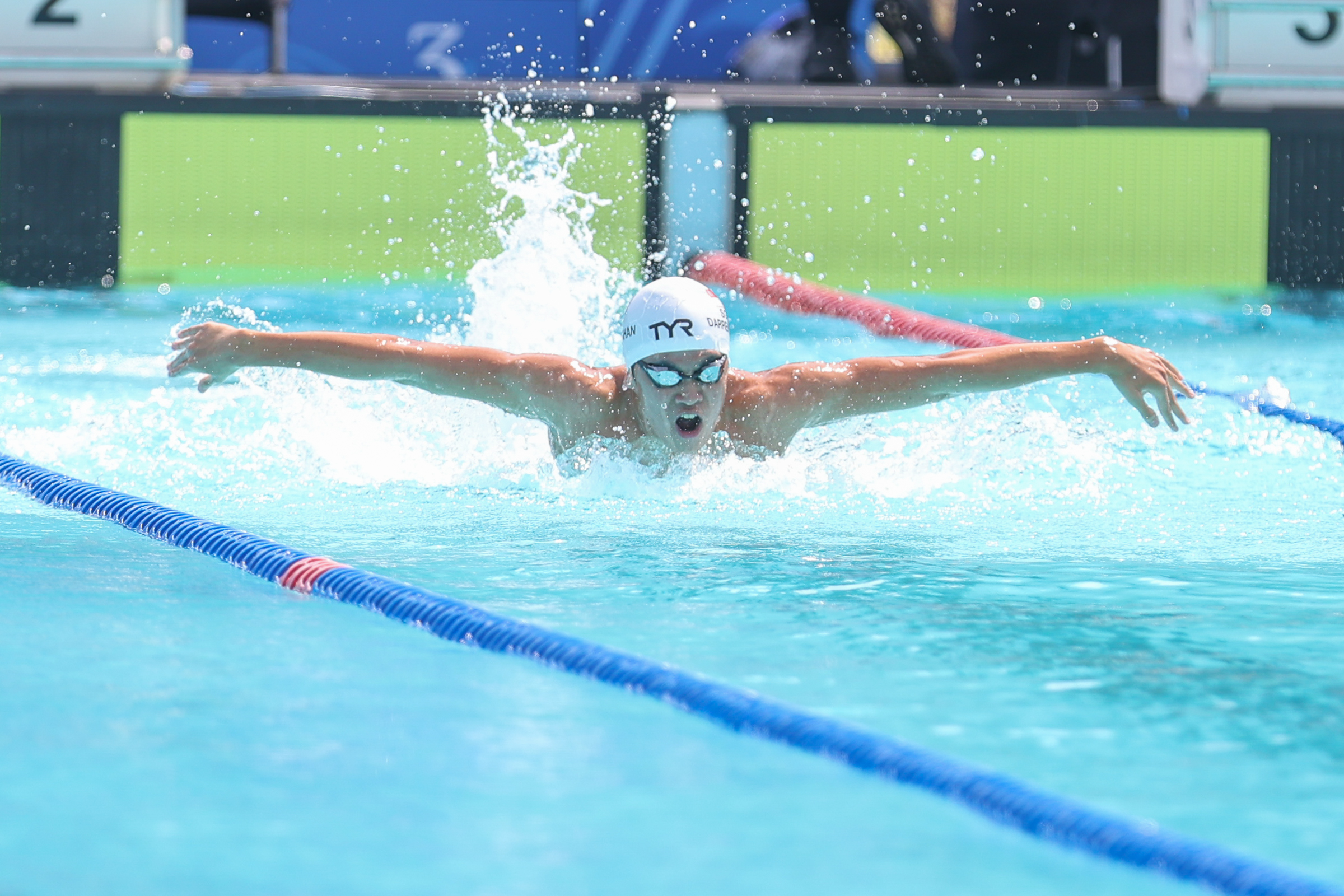 Darren Chan racing down the blocks in the Men's 100M Butterfly Final. Photo Credit: SNPC/Andy Pascua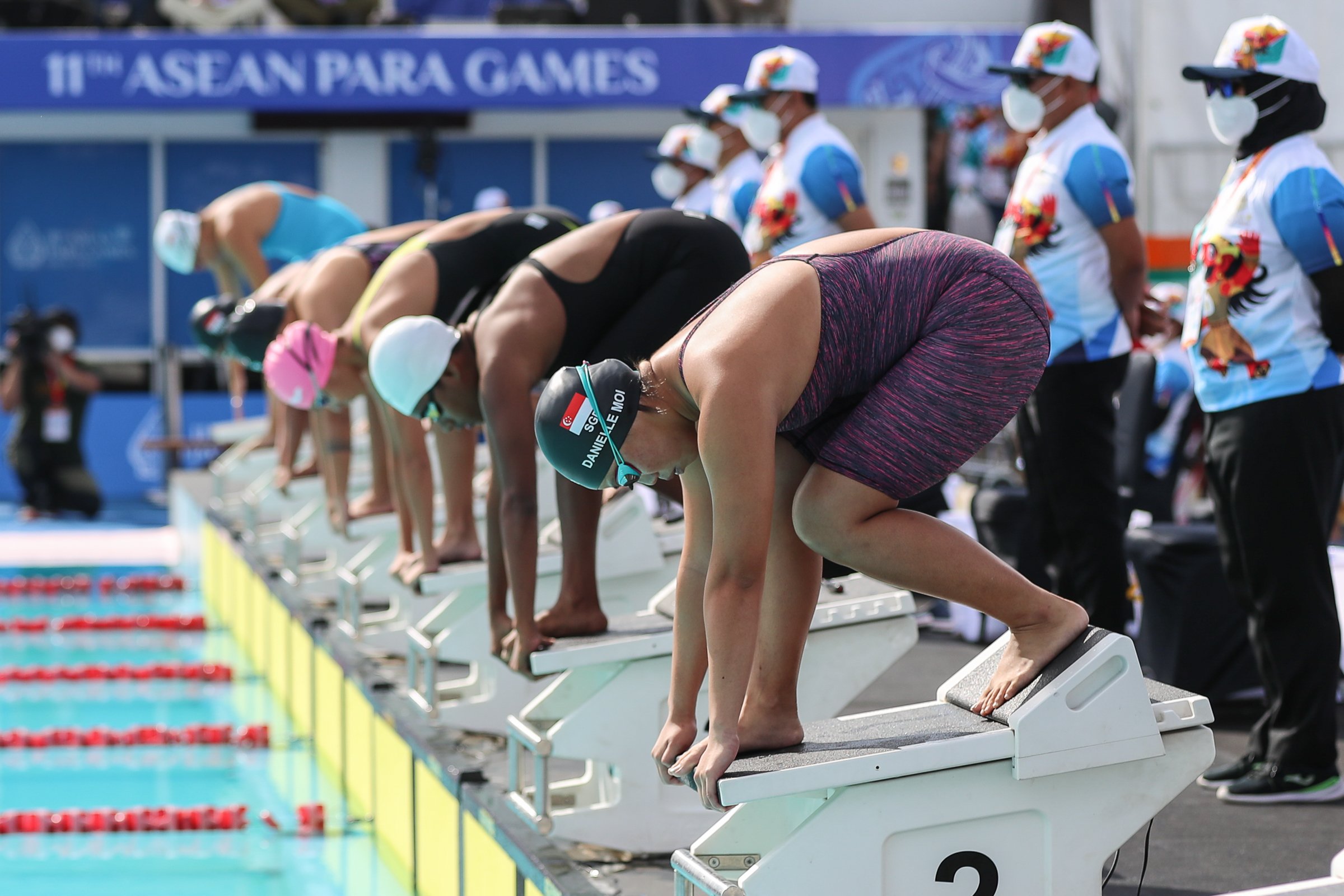 Danielle Moi finishes with an unexpected third place in the Women's 100M Freestyle Final. Photo Credit: SNPC/Andy Pascua
There were more medals to come from the Jatidiri Sports Complex pool in Semarang as Darren Chan (1:00.27 minutes) and Danielle Moi (1:07.49 minutes) each took bronze in the Men's 100M Butterfly S14 Final and Women's 100M Freestyle S14 Final respectively. This was Darren's second bronze medal, and last race at the Games.
23 year old Danielle has a few more races to go and will be looking forward to them after a great finish in this event, "I'm excited for my time and the bronze wasn't something we expected."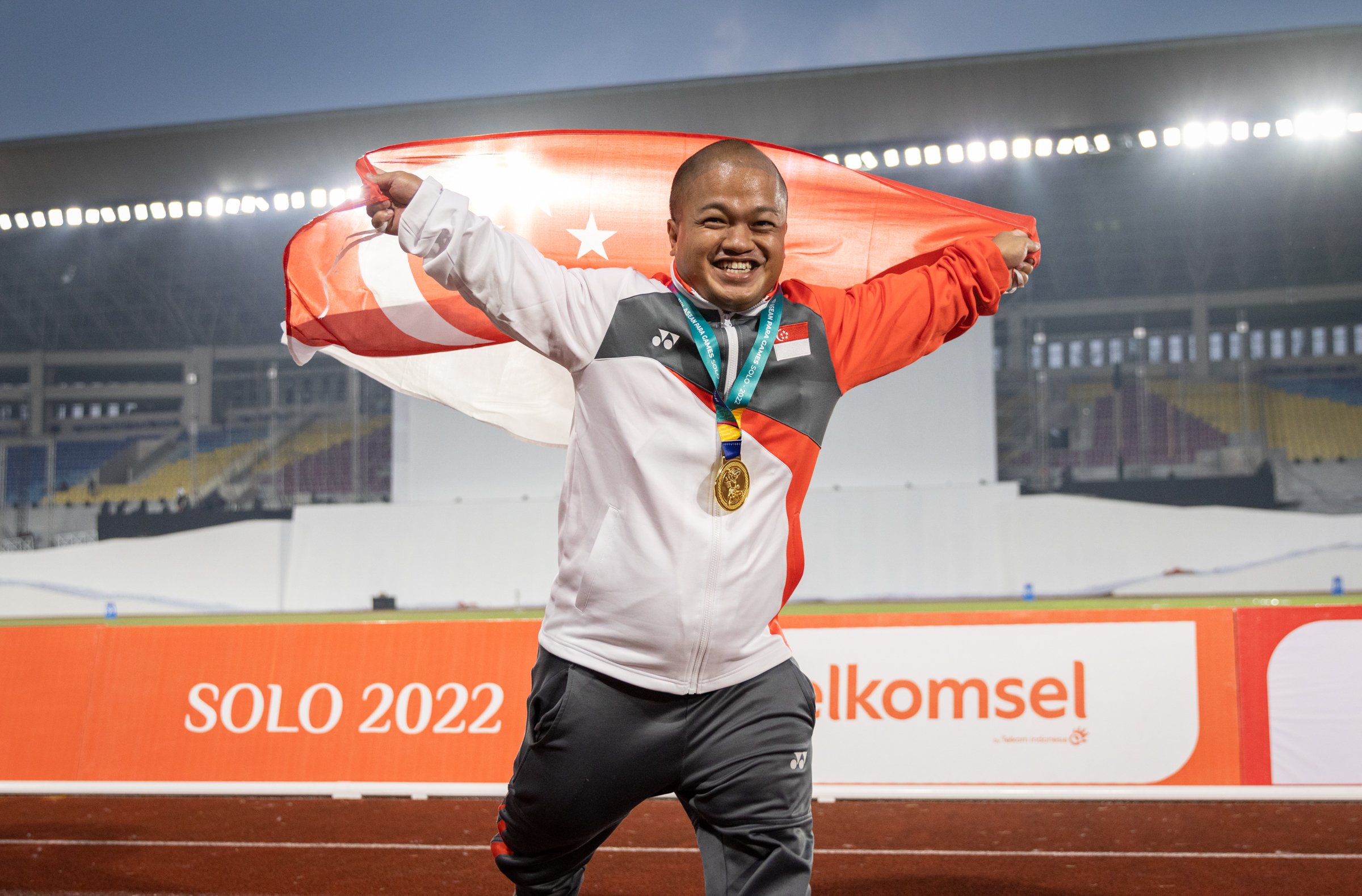 Diroy Noordin adds a Shot Put gold medal to his bronze in the Javelin. Photo Credit: SNPC/Goh Si Wei
When Muhammad Diroy Bin Noordin took bronze in the javelin event yesterday, he was quick to admit that he was pleased to have gotten a medal even though it wasn't in his pet event. That was only a sign of better things to come and Diroy proved it today on day 4 of the ASEAN Para Games.
In the men's shot put F40-41, the 30 year old grabbed the gold medal with a throw of 9.91 metres, just 0.01 metres short of his personal best set at the Tokyo Paralympics last year.
Maisarah Binte Mohamed Hassan also took bronze with a new national record and personal best of 37.23 seconds in the Women's 200M T36-37, capping off a fruitful day for Team Singapore.
The 11th ASEAN Para Games is held in Surakarta, Indonesia from 30 July 2022 to 6 August 2022. For the latest Team Singapore coverage and news, follow Team Singapore on their social media channels (Facebook, Instagram, TikTok) or visit the official Team Singapore website.
Related Events & Programmes