Team Singapore
A rousing send-off for Birmingham-bound Team Singapore athletes
by Circle Stories, on July 7, 2022 16:00 PM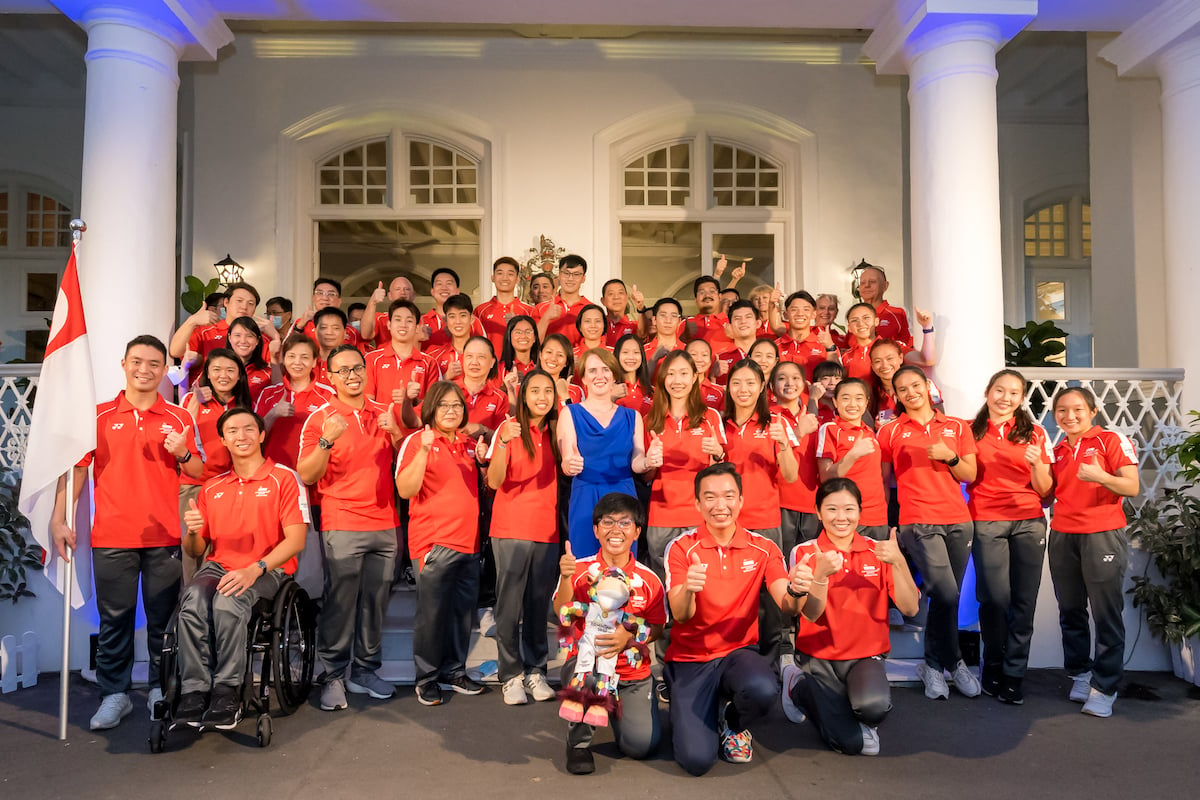 The Team Singapore contingent heading to Birmingham 2022 Commonwealth Games with Her Excellency Kara Owen (British High Commissioner to Singapore) (in blue). Photo Credit : Andy Chua / SNOC
7 July 2022 – Birmingham-bound Team Singapore athletes and officials were given a rousing send-off at the Commonwealth Games Flag Presentation ceremony held at the British High Commissioner's residence in Singapore.
The Birmingham 2022 Commonwealth Games will take place from 28 July to 8 August 2022. The Republic has participated in every edition in the Games since 1950, and will be represented by 67 athletes (34 women and 33 men) in nine sports this time round. At the last Commonwealth Games in Gold Coast, Team Singapore won 9 medals including 5 gold medals.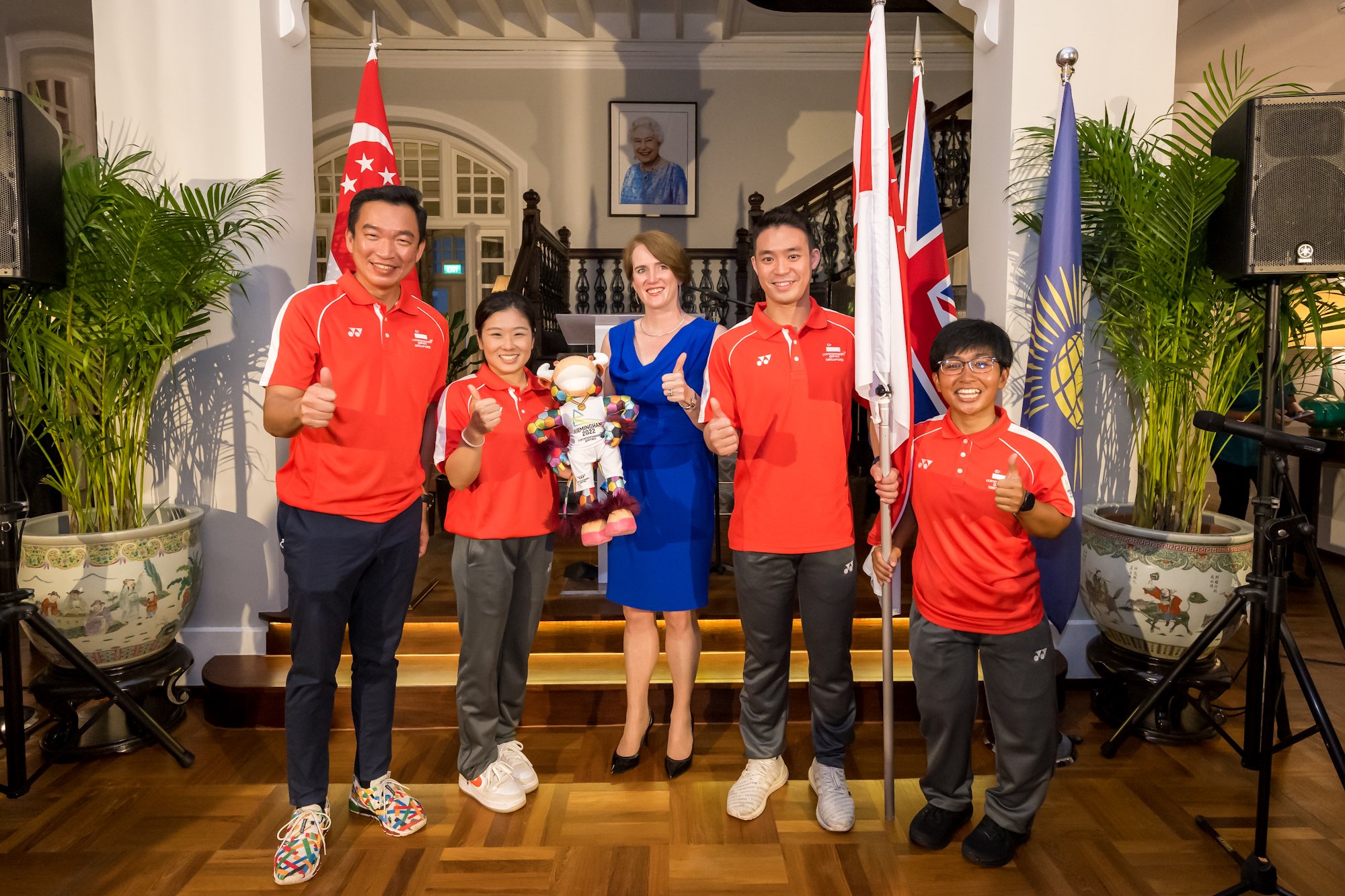 SG Flag Presentation. From L to R : Mr Eric Chua, Senior Parliamentary Secretary (MCCY), CDM Lim Heem Wei, Her Excellency Kara Owen (British High Commissioner to Singapore), Flag bearers Terry Hee & Nur 'Aini Mohamad Yasli. Photo Credit : Andy Chua / SNOC
Shuttler Terry Hee and para power lifter Nur 'Aini Mohamad Yasli were revealed as the flag bearers at the ceremony. They will both lead the contingent at the athletes parade of the Birmingham 2022 Commonwealth Games opening ceremony.
Said Terry, 26, "This will be my third Commonwealth Games and I'm really honoured and excited to be appointed as one of the two Team Singapore flag bearers at the Birmingham 2022 Commonwealth Games. I have been training hard and competing in tournaments leading up to the Games, I hope my preparations put me in good stead to perform and do well to stand a chance to be on the podium."
Said Aini, 30, "I'm extremely honoured to be given this opportunity to be a flag bearer in my Commonwealth Games debut. The competition level is going to be tough, nevertheless I'm going to give it my all and do the best I can to make Singapore proud."
The track and field athletes will form the biggest team within the contingent with 14 athletes, followed by the swimming team of 11 athletes. For the first time, Team Singapore will compete in wrestling. Eight Team Singapore paddlers have already embarked on their Commonwealth Games journey when they departed for Austria for a pre-Games training camp earlier this week. Team Singapore will also be represented in two para sports in powerlifting and swimming – a rare occasion where both able-bodied and para athletes compete as one contingent at a major Games. The shooters are noticeably absent from the line-up as shooting will not be featured as a sport in these Games.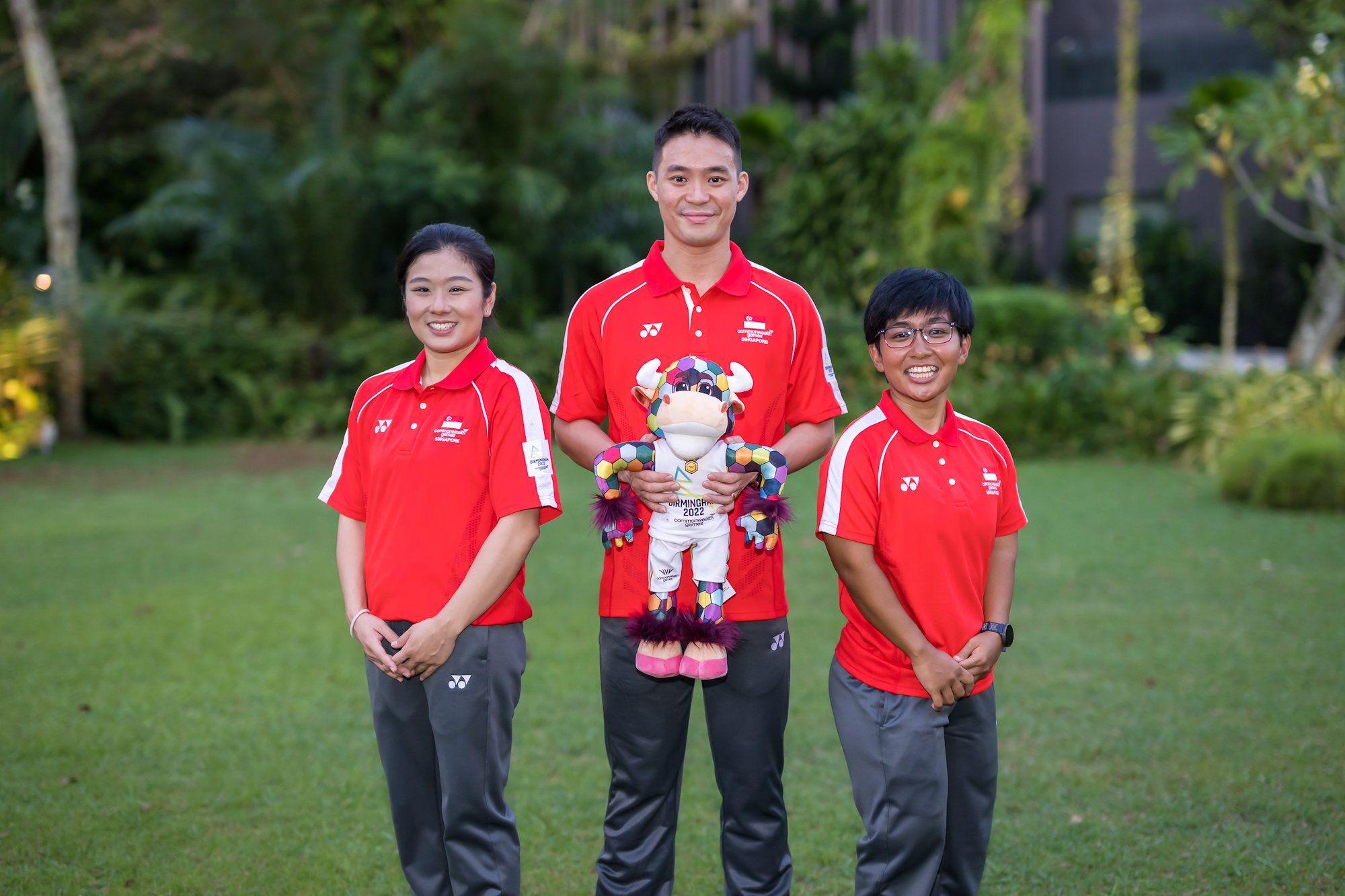 (SG Flag Presentation – From L to R : CDM Lim Heem Wei, Flag bearers Terry Hee and Nur 'Aini Mohamad Yasli. Photo Credit : Andy Chua / SNOC)
Chef de Mission Lim Heem Wei, 33, is looking forward to her fourth Commonwealth Games outing, her first as chef de mission. The former gymnast competed in the 2010 and 2014 Commonwealth Games and wore the hat of assistant chef de mission in 2018 said, "Our athletes are raring to go again on the back of a successful SEA Games campaign. The pandemic has halted many opportunities to compete, but it has not dampened the enthusiasm and motivation of our team who is eager to be on the same stage as some of the world's best athletes. We hope Singaporeans will come forth to cheer them on as they represent Singapore at the Commonwealth Games."
Related Events & Programmes