Team Singapore
AFF Suzuki Cup 2020 : Hosts Singapore kick off tournament with comfortable 3-0 win over Myanmar!
by Circle Stories, on December 5, 2021 16:00 PM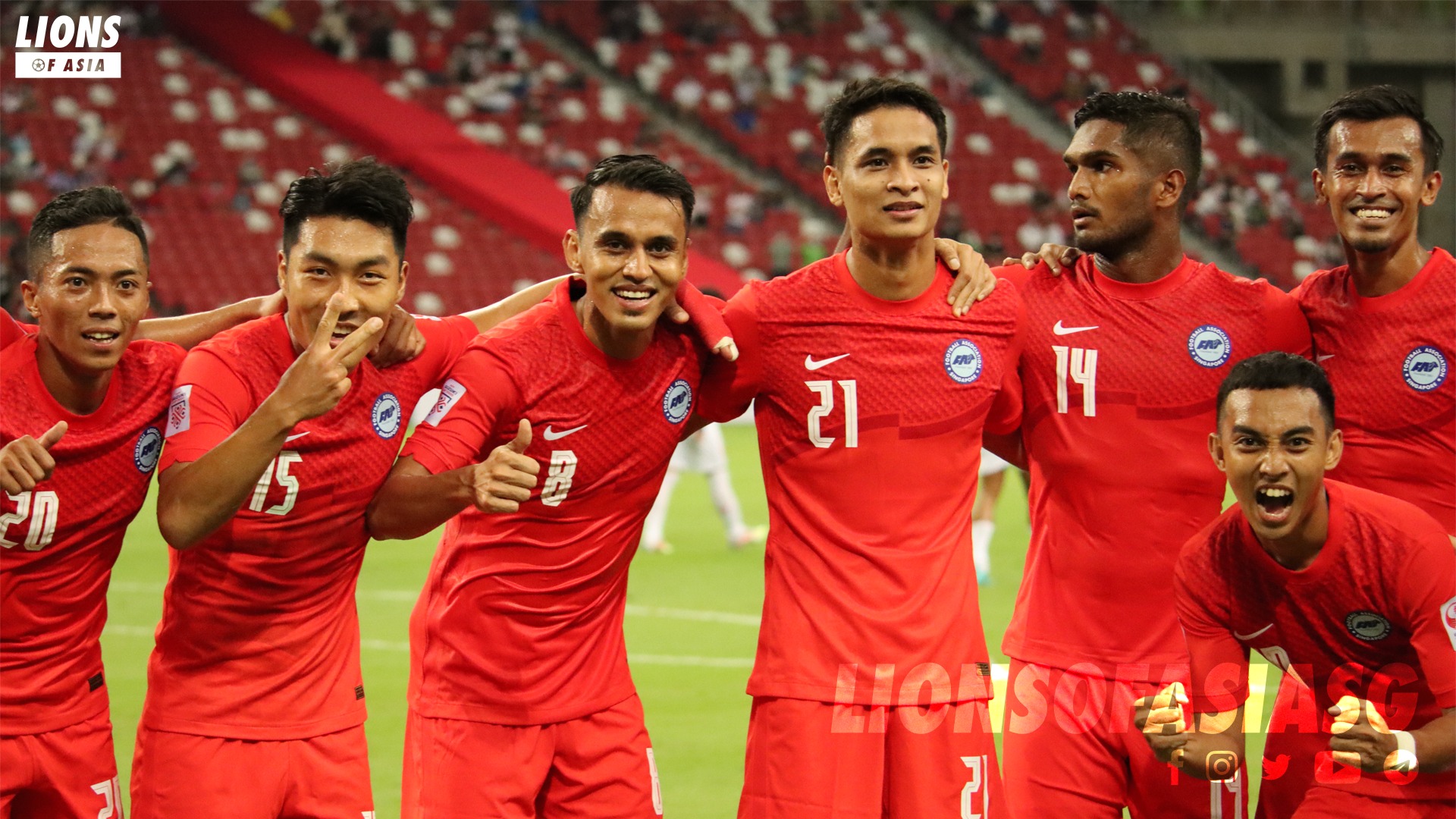 (TeamSG celebrates after opening goal against Myanmar. Photo Credit : Lions of Asia FB Page)
By Renald Loh
There was a great deal of anxiety, fear and nervousness for the Singapore team, coming into the AFF Suzuki Cup 2020 event. 5 straight losses, the lack of training with the entire squad either due to Covid-19 or the non-release from overseas clubs and the streak of their last 3 previous Suzuki Cup campaigns, which saw the team failing to progress beyond the group stages. But all of that changed, when TeamSG battled valiantly against Myanmar and came away 3-0 winners in their opening Group D encounter.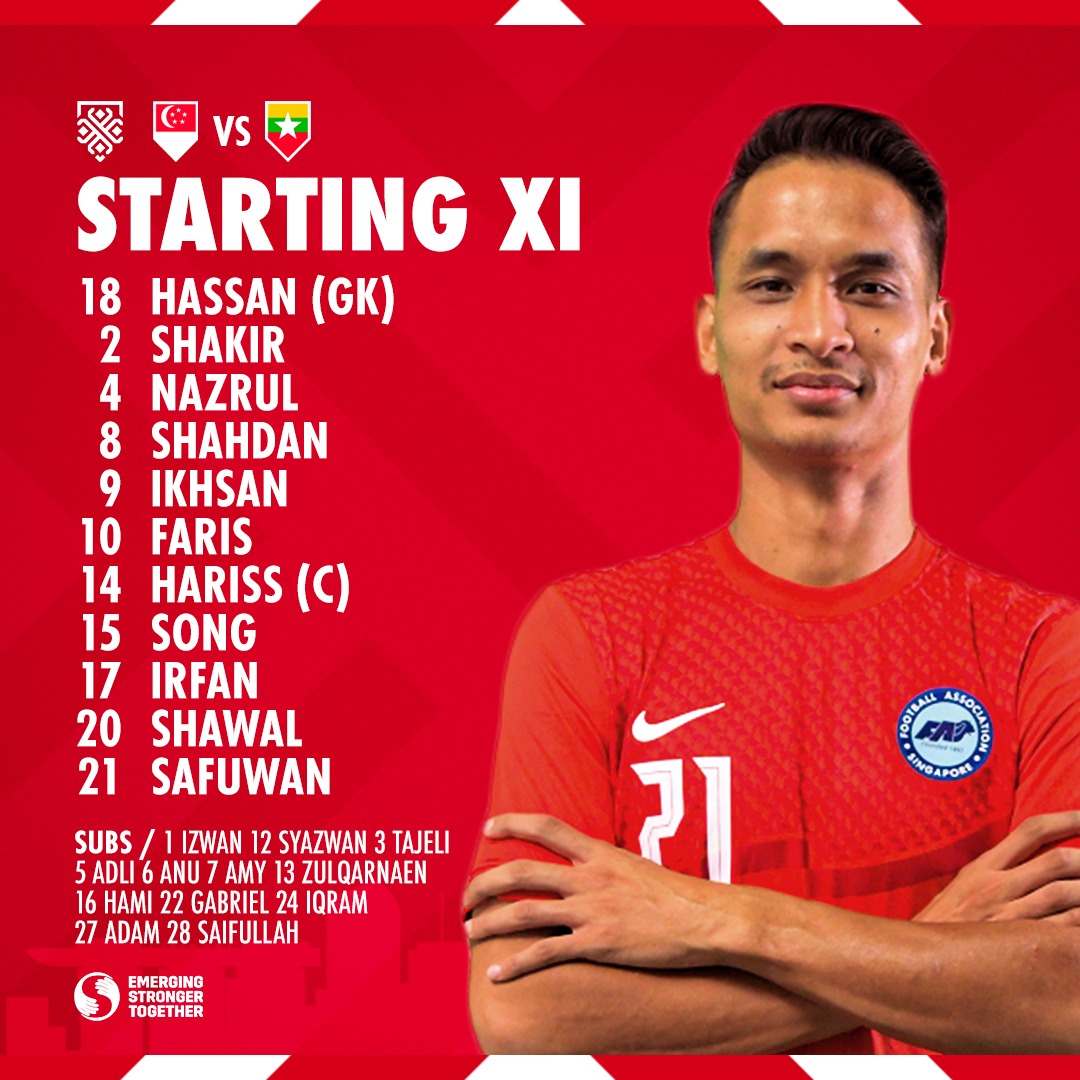 (Team Singapore's starting 11 against Myanmar. Lions of Asia FB Page)
The match started brightly with both teams showing their attacking intent in the opening minutes of the encounter. Newly naturalised Singaporean Song Ui-yong picked Myanmar's defence apart with several well-timed through balls, while captain Maung Mguang Lwin pulled the strings from the middle of the park for the opposition.
The first real chance of the game fell to the visitors in the 4th minute, with Suan Lam Mang's effort beating keeper Hassan Sunny. But the ball was cleared off the line by Safuwan Baharudin.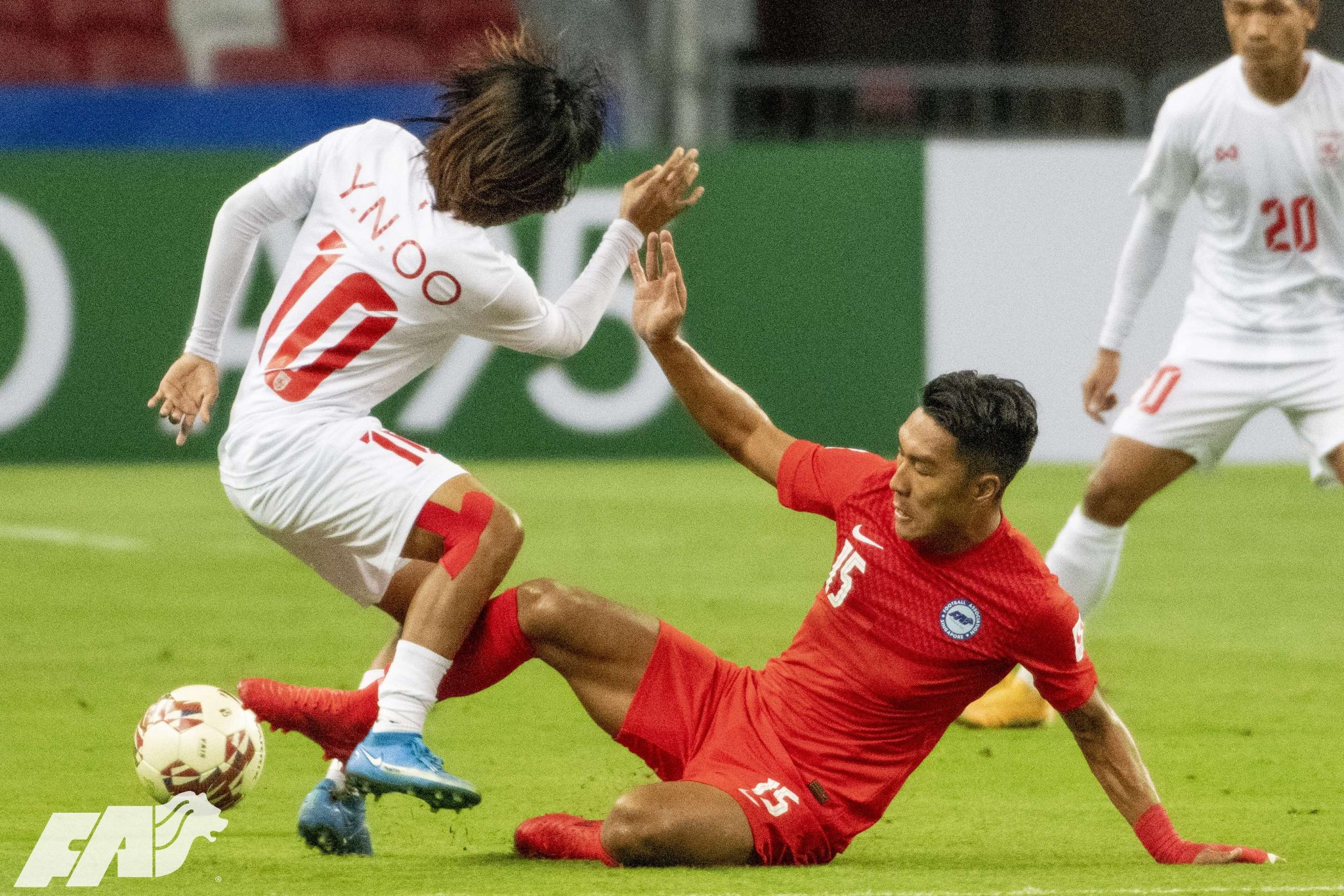 (TeamSG's Song Ui-yong with a tackle. Photo Credit : FAS)
Myanmar continued to retain possession of the ball and looked dangerous particularly on the right flank, with Hein Htet Aung and veteran defender David Htan linking up well. But the hosts created plenty of chances themselves. On the 13th minute, TeamSG's Faris Ramli found himself one-on-one with the keeper after a Song through-ball, but failed to side-step keeper Myo Min Latt, who managed to get a foot in. Ramli's resulting shot was tame and collected with ease.
Singapore showed a willingness to take on Myanmar's defenders throughout the first quarter, with Hariss Harun, Song, and centre-back Irfan Fandi making bursting runs into the final third. The latter almost resulted in a penalty in the 18th minute, but the referee deemed the striker's fall to be simulation and brandished a yellow card instead.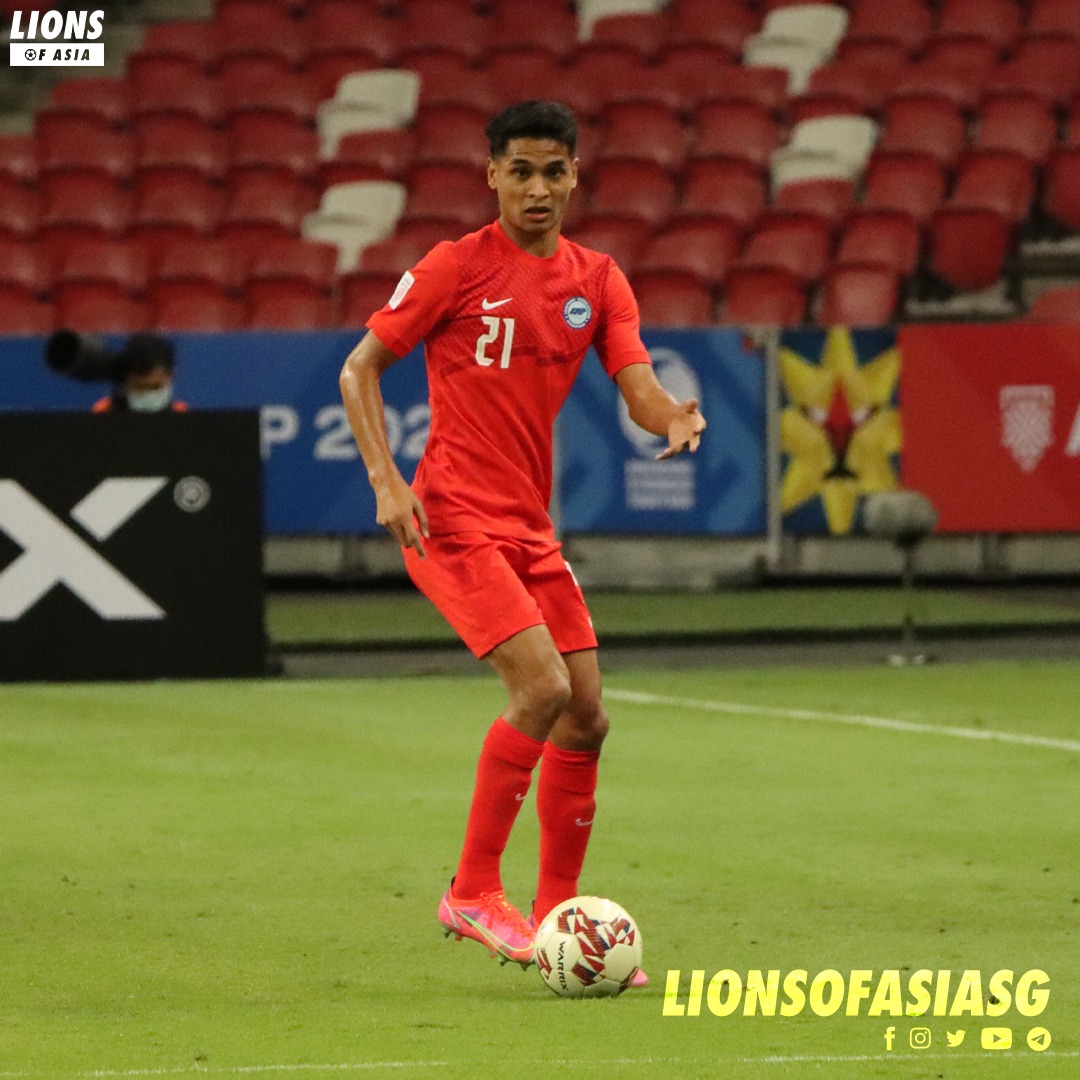 (TeamSG's Safuwan Baharudin scores 1st goal. Photo Credit : Lions of Asia Facebook Page)
The Lions' aerial advantage was apparent early on as well, with Irfan Fandi and Safuwan both registering shot-on-targets from direct corners. It was no surprise then that the deadlock was broken on the 34th minute from another corner; Shahdan Sulaiman's accurate in-swinger found an unmarked Selangor-based Safuwan, who headed home. 1-0 to Singapore.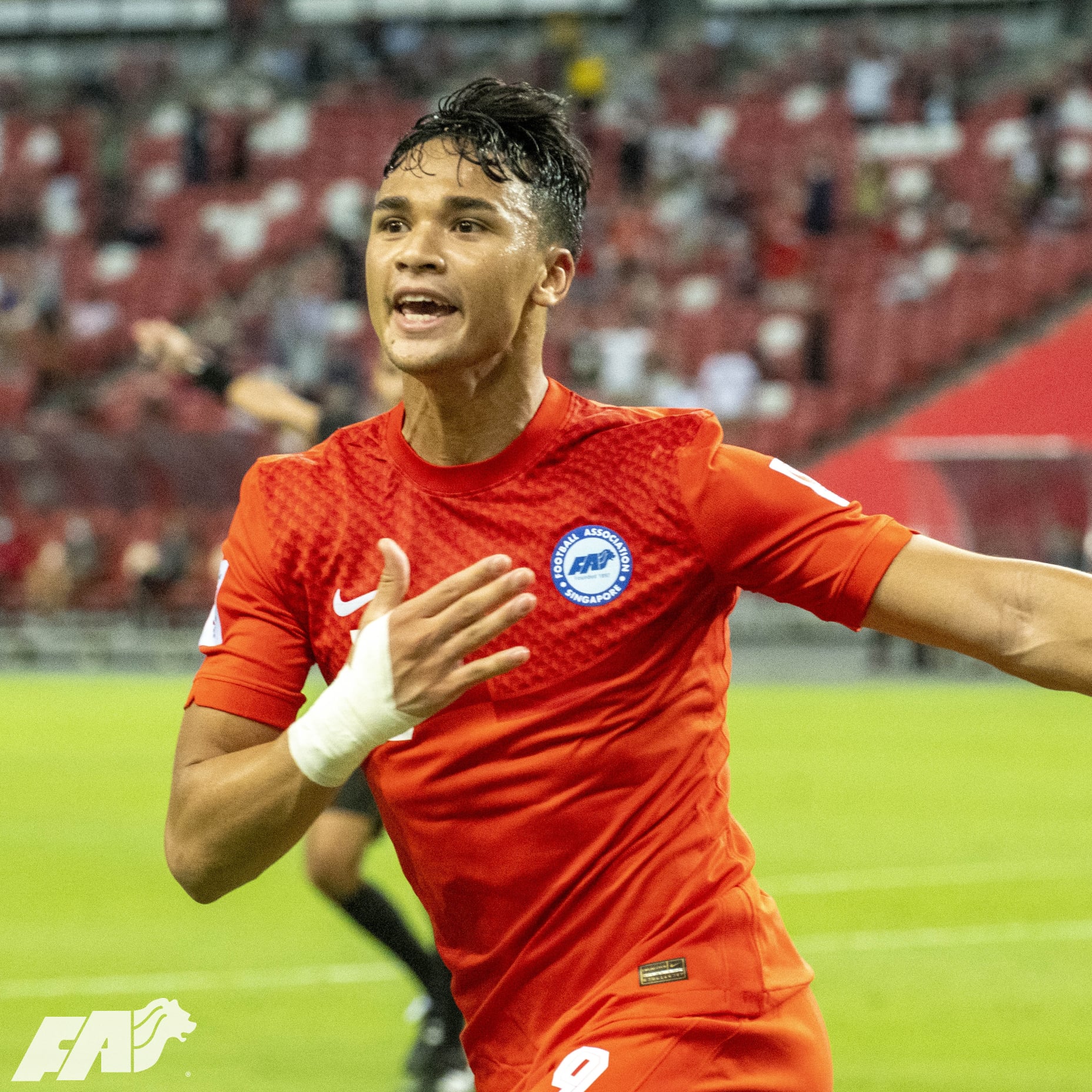 (TeamSG's Ikhsan Fandi scores 2nd and 3rd goals. Photo Credit : FAS)
The hosts capitalised on Myanmar's defensive naivety once more with a devastating counterattack just 5 minutes later. Song picked up the loose ball from a Myanmar throw-in and played in Ramli, who took his time with the ball and found Ikhsan Fandi on his right. The 22-year-old striker got past his defender with ease and fired the ball into the bottom left corner – composure personified. 2-0 to Singapore!
Myanmar's players were looking visibly frustrated at this point, and right on the stroke of half-time gave away a cheap foul on Shawal Anuar, whose pace made life difficult for the visitors throughout the game. Sulaiman's cross from the resulting free kick found the head of Ikhsan, who bagged his 2nd goal of the night, and Singapore's third. 3-0 to the hosts, and Myanmar had it all to do in the second half.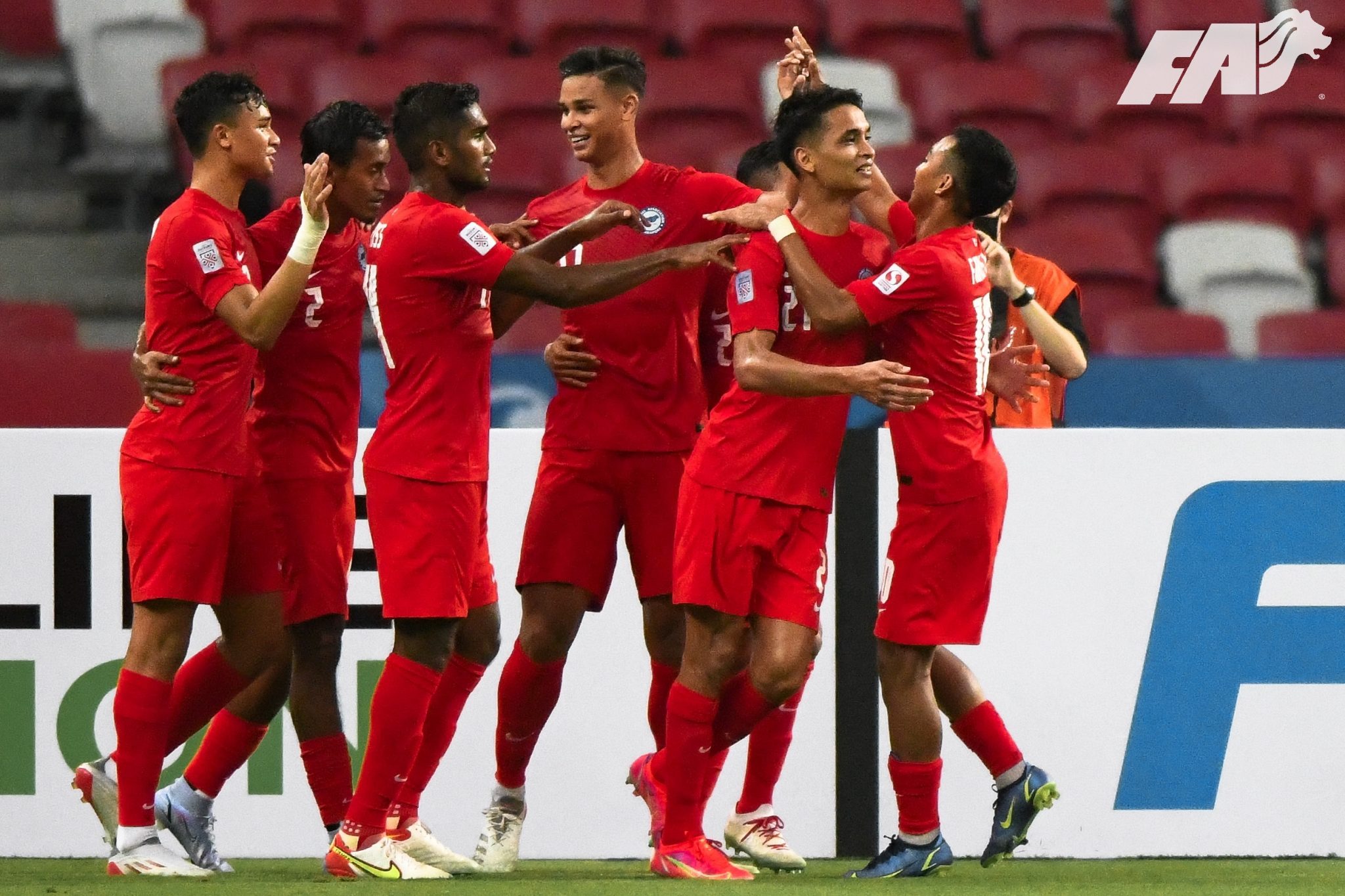 (TeamSG Celebrates. Photo Credit : FAS)
At half-time, coach Antoine Hey made 3 changes – with the ineffectual Aung Kaung Mann, Suan Lam Mang, and Zaw Ye Tun all coming off for Myanmar. Despite this, the 2nd half started just as it ended, with Singapore on the front foot right from the first whistle.
The pace did gradually fall off, and Myanmar managed to create several chances courtesy of some sloppy passing from Singapore. Substitute Win Naing Tun found himself with several half-chances but failed to make any of them count. In the 56th minute, Ikhsan thought he'd grabbed a hat-trick on his return to the Singapore squad, after missing out on the World Cup Qualifiers. But his well-placed header was quickly ruled offside!
Adam Swandi, Amy Recha, Ham Syahin, Zulqarneen Suzliman and Iqram Rifqi also made appearances off the bench for the hosts. And despite a flurry of goals in the first 45 mins, the 2nd half saw the Myanmarese almost scoring against the Lions. But Singapore held on for a famous opening 3-0 win!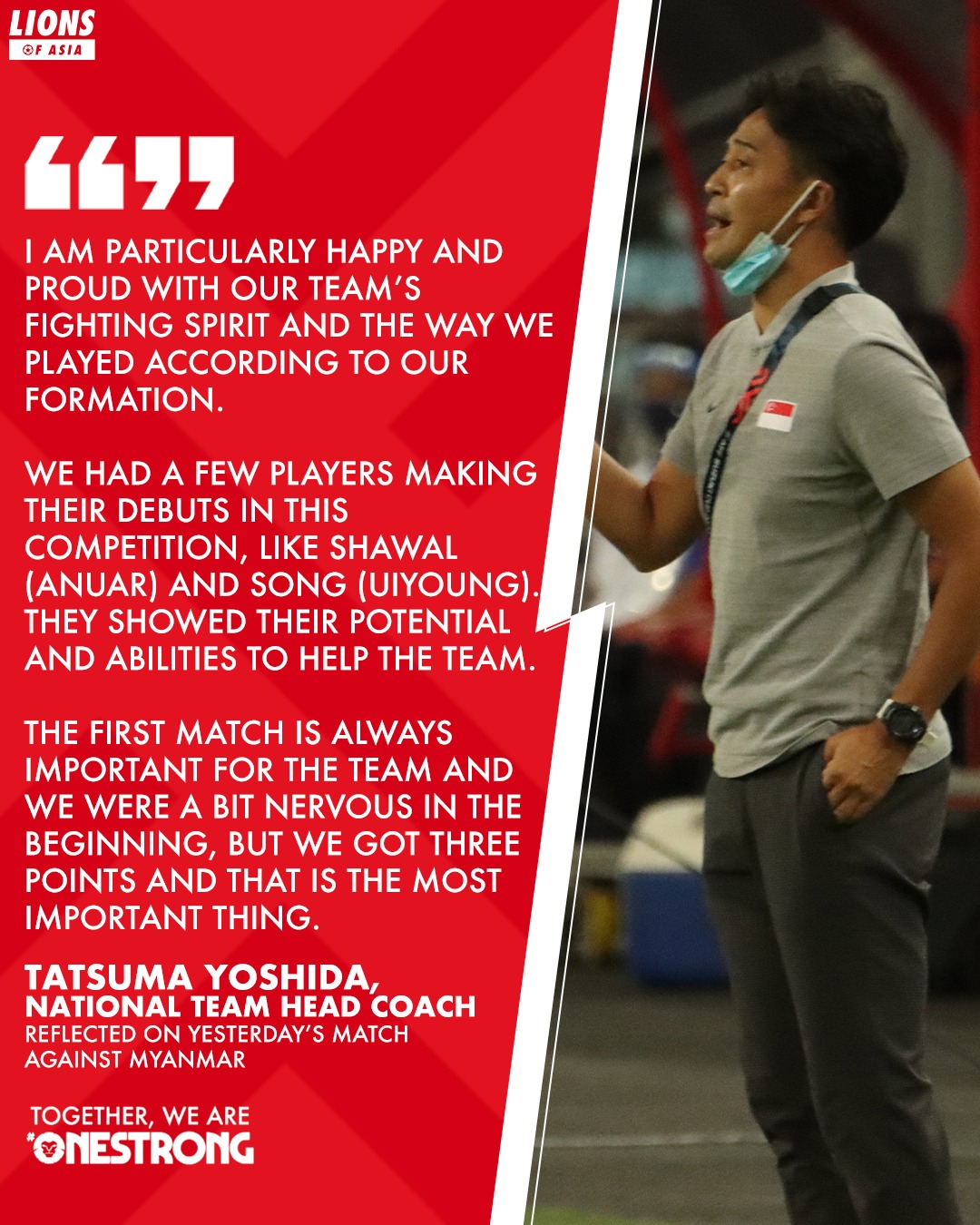 (Lions Head Coach, Tatsuma Yoshida. Photo Credit : Lions of Asia FB Page)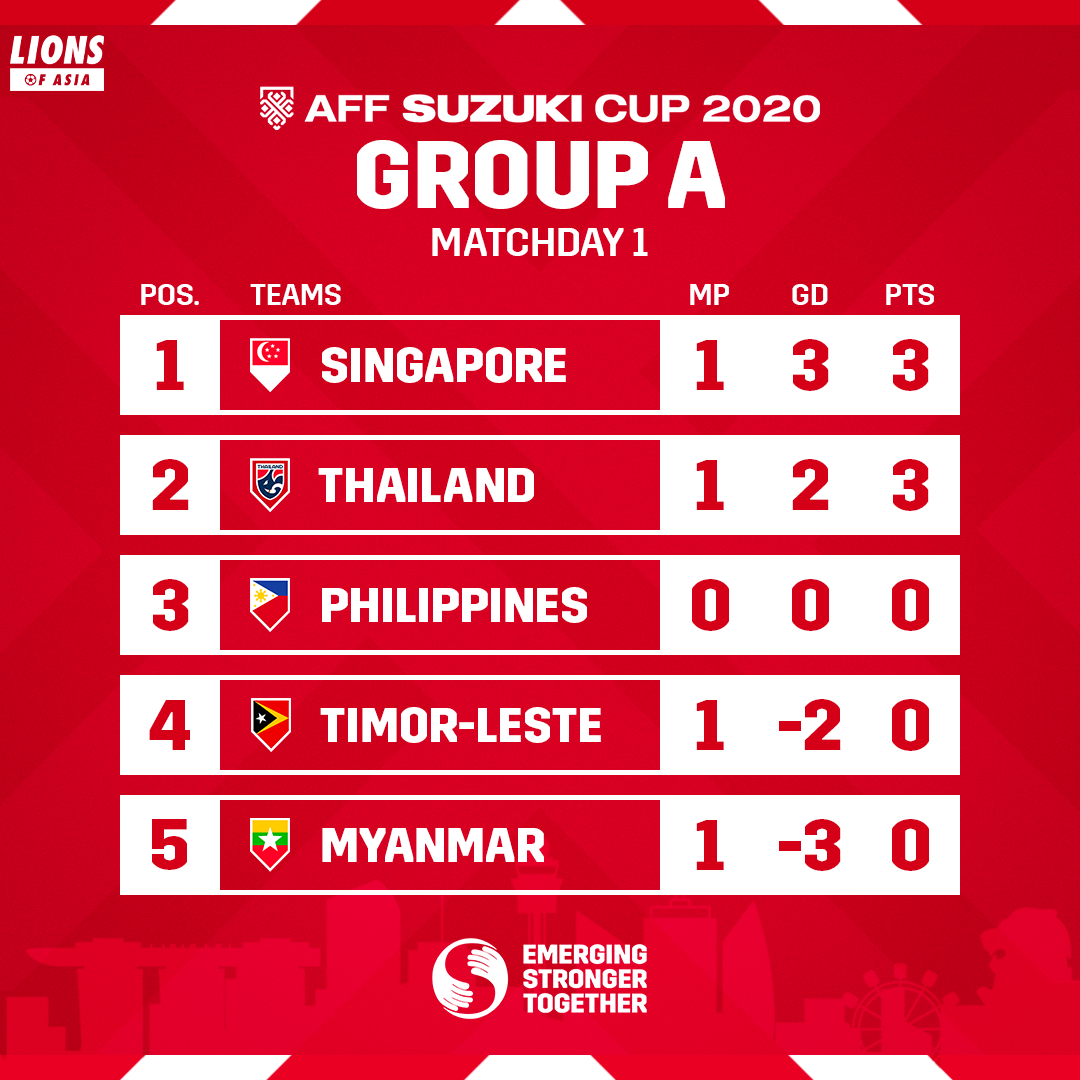 The win puts Singapore at the top of Group A, leapfrogging Thailand on goal difference. Earlier in the day, 5-time champions Thailand opened their campaign with a lackluster 2-0 win over Timor-Leste.
Matchday 2 will see Myanmar face Timor-Leste, while the tournament hosts play Philippines right after. Both games will be played on 8 Dec at the Singapore National Stadium
Singapore: Hassan Sunny (GK), Nazrul Nazari (Iqram Rifqi 89'), Irfan Fandi, Safuwan Baharudin, Shakir Hamzah, Shahdan Sulaiman, Song Uiyoung (Adam Swandi 81'), Hariss Harun (C), Shawal Anuar (Zulqarnaen Suzliman 66'), Faris Ramli (Hami Syahin 66'), Ikhsan Fandi (Amy Recha 89').
Unused subs: Izwan Mahbud (GK), Syazwan Buhari (GK), Tajeli Salamat, Amirul Adli, M. Anumanthan, Gabriel Quak, Saifullah Akbar.
Edited by Raj Kumar
Renald Loh is a freelance writer based in Singapore. As an avid supporter of Tottenham Hotspur and his country's national team, he has acquiesced to the fact that he will probably not celebrate any sort of legitimate football silverware in his lifetime.
Recent Events & Programmes