Team Singapore
Memorable outing for TeamSG athletes, as ASEAN Para Games makes long-awaited return!
by Circle Stories, on August 8, 2022 7:17 AM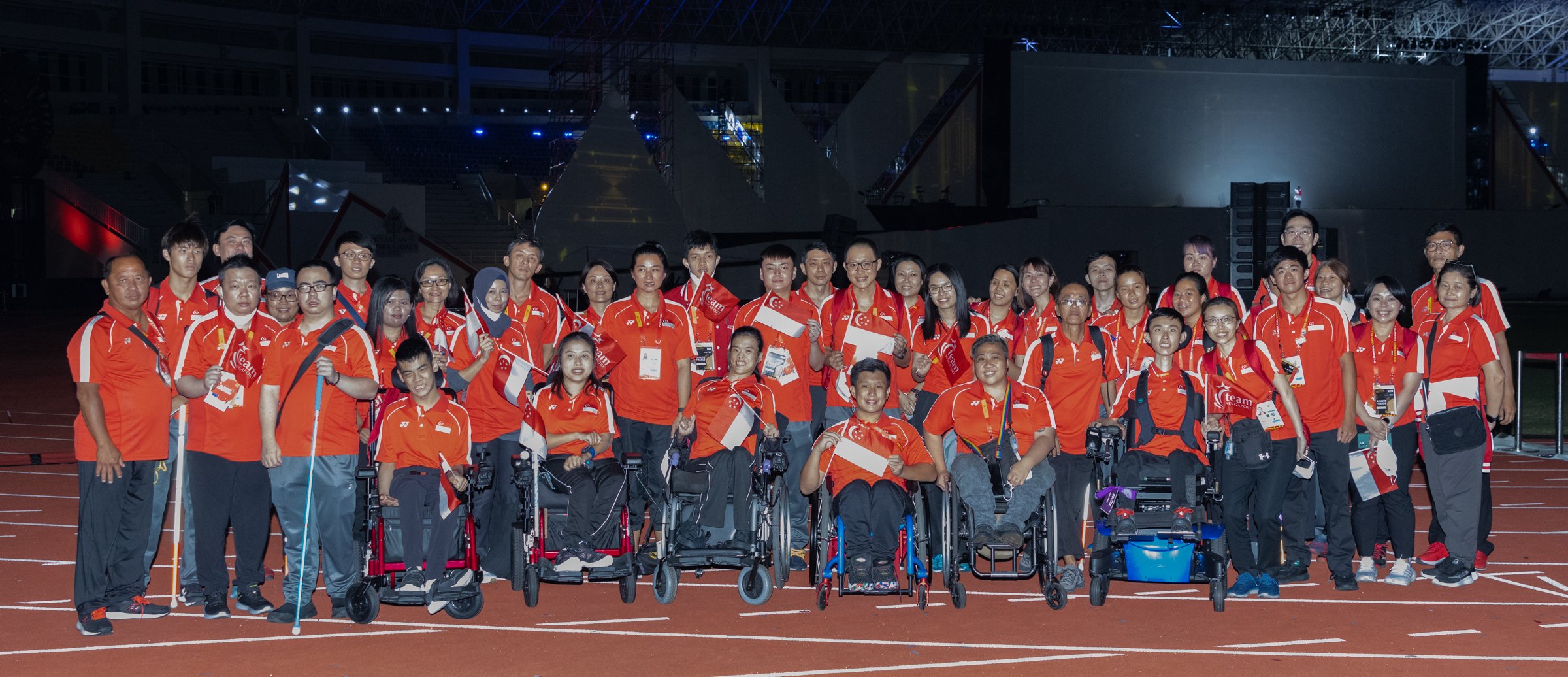 Team Singapore at the closing ceremony of the ASEAN Para Games in Indonesia. Photo Credit : SNPC / Calvin Teoh
Indonesia's Minister of Youth and Sport, Mr Zainudin Amali has hailed the athletes for "providing us with great lessons in overcoming challenges, being passionate and displaying courage" in his speech to close the Solo 2022 ASEAN Para Games on Saturday evening.
Proceedings opened with a performance by pop singer Andien which was followed by a parade of flag bearers for each of the 11 countries representing the athletes who took part in the 14 sports over the past week.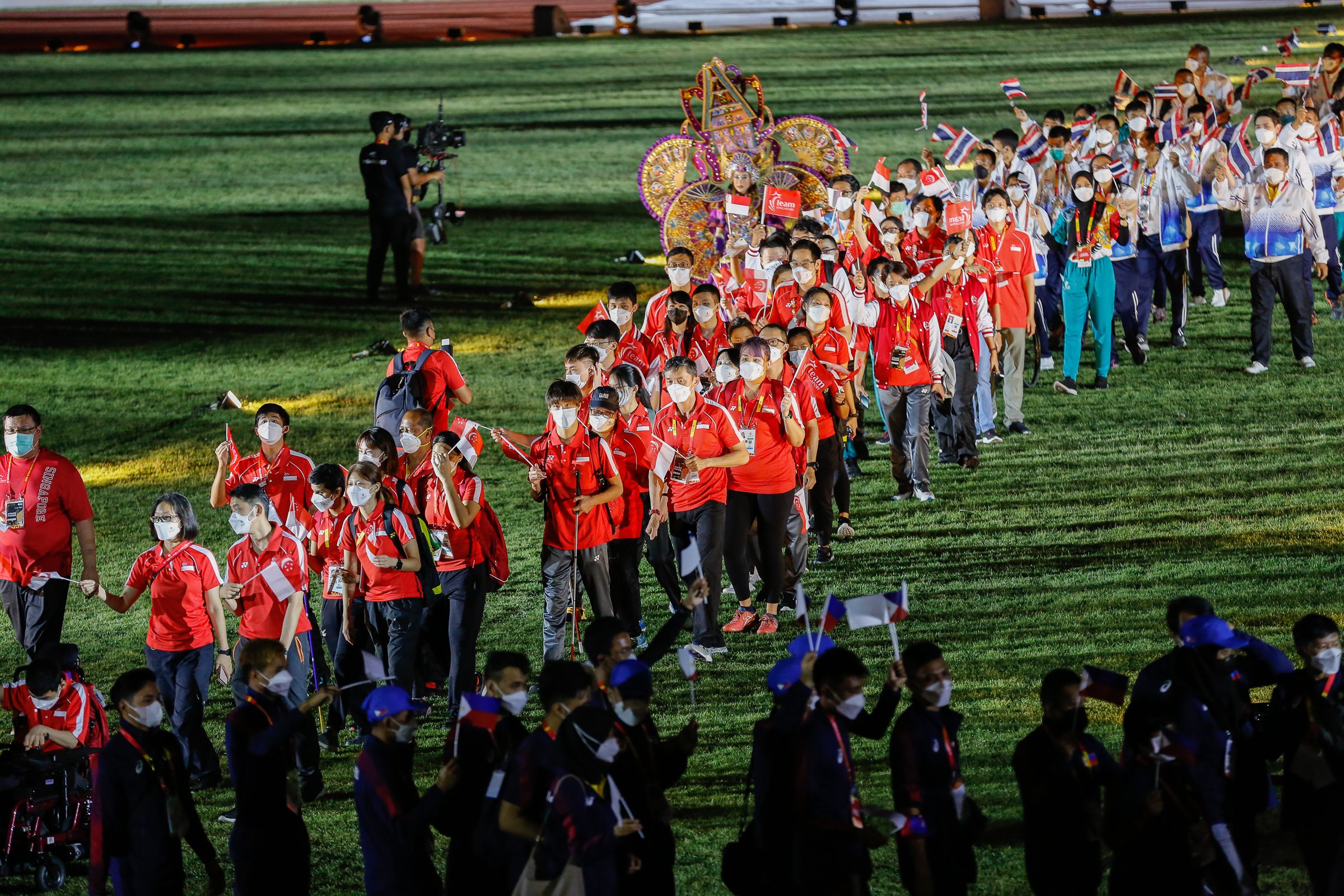 Team Singapore at the closing ceremony of the ASEAN Para Games in Indonesia. Photo Credit : SNPC / Calvin Teoh
Just as she did in the Opening Ceremony, the Singapore flag was carried into the Manahan Stadium by swimmer Sophie Soon. She had won a gold and a silver at these Games.
The Games were officially closed by Indonesian President Mr Joko Widodo.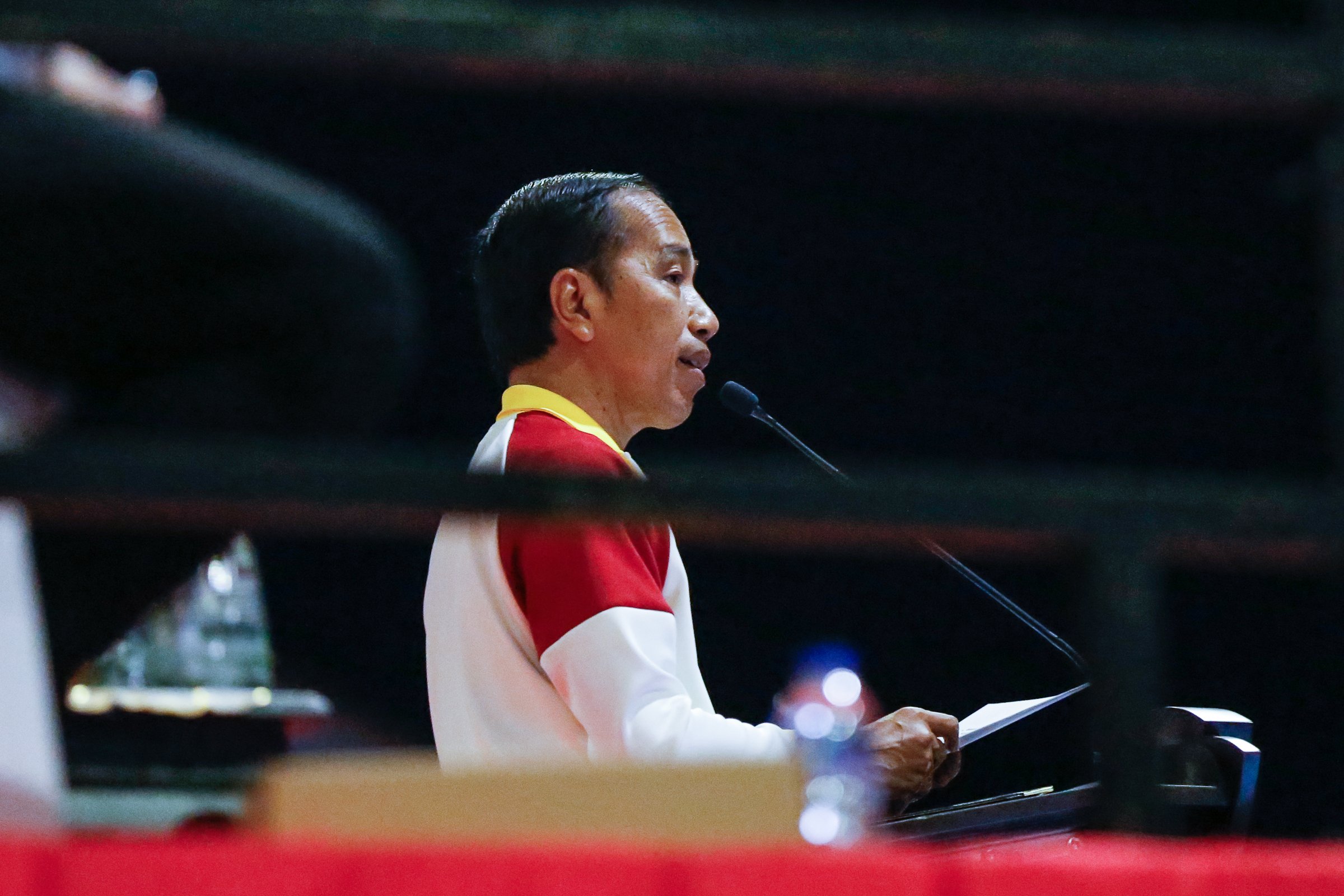 Indonesian President Mr Joko Widodo. Photo Credit : AP
GAMES REVIEW
Even before the pair of Toh Sze Ning and Aloysius Gan bravely held off Thai competition favourites Akkadej Choochuenklin & Ladamanee Kla-Han in their final boccia Mixed Pairs BC3 event to win Singapore's final gold medal in Solo, Team Singapore had already produced one of the most courageous and memorable campaigns in the history of the ASEAN Para Games.
Against unprecedented odds and the massive disruption caused by the COVID-19 pandemic over nearly two years leading up to Solo 2022 and with the last edition being the 2017 Games in Kuala Lumpur, Singapore's elite para athletes won a total of 28 medals – 7 gold, 9 silvers and 12 bronzes - to finish 7th on the overall medal tally, which was topped by hosts Indonesia.
Team Singapore competed in nine sports on the programme at the Solo Games. There were numerous highlights.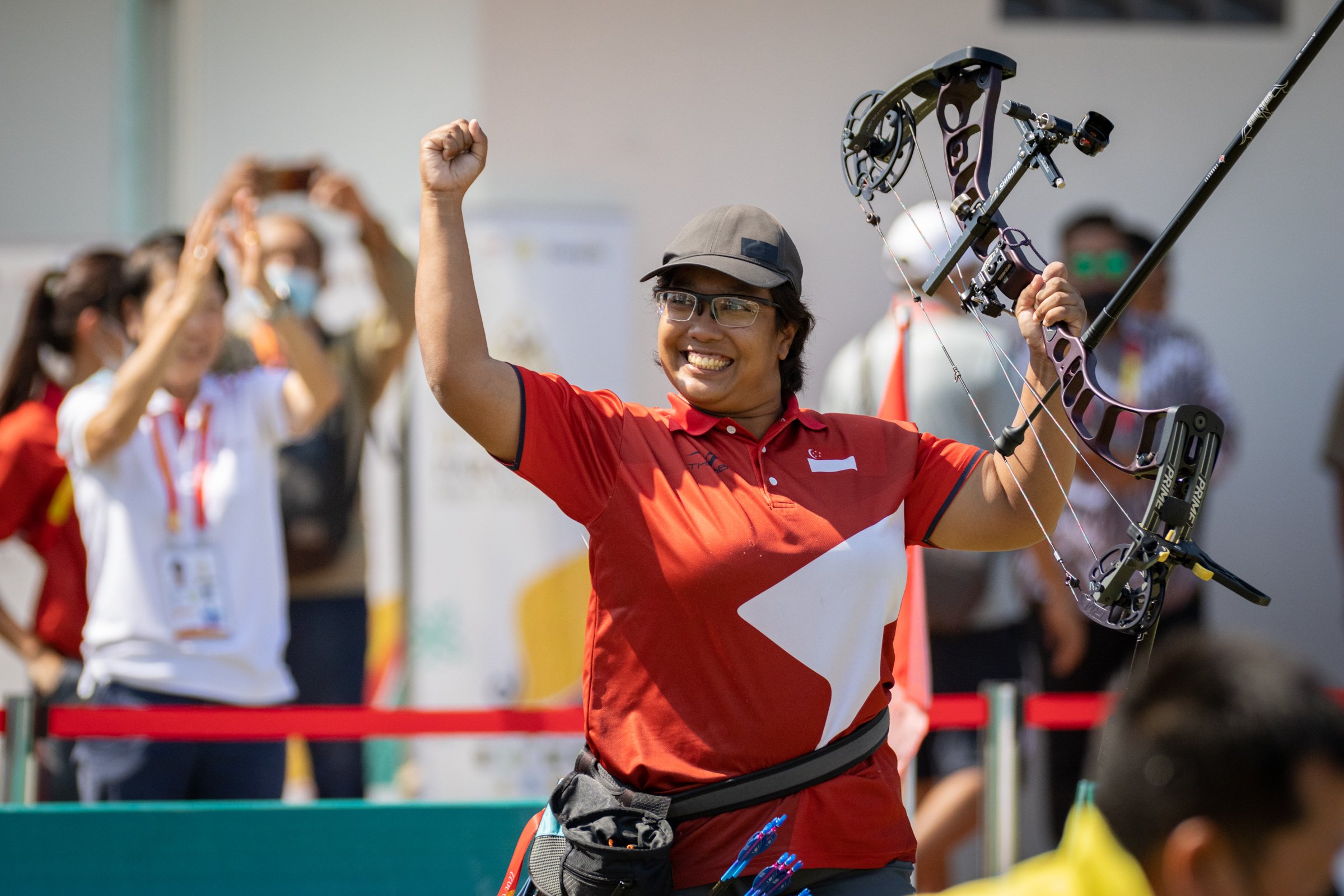 TeamSG's 3-time Gold medallist, Nur Syahidah Alim. Photo Credit : SNPC / Goh Si Wei
Archery
Nur Syahidah Alim successfully defended her Women's Compound Open gold from 2015 and 2017. After recording the highest score in the opening qualifying round, she was awarded a bye straight into the quarters and then played won tough matches in the same morning to book her spot in the final.

Syahidah beat her Thai opponent by nine points in the gold medal match.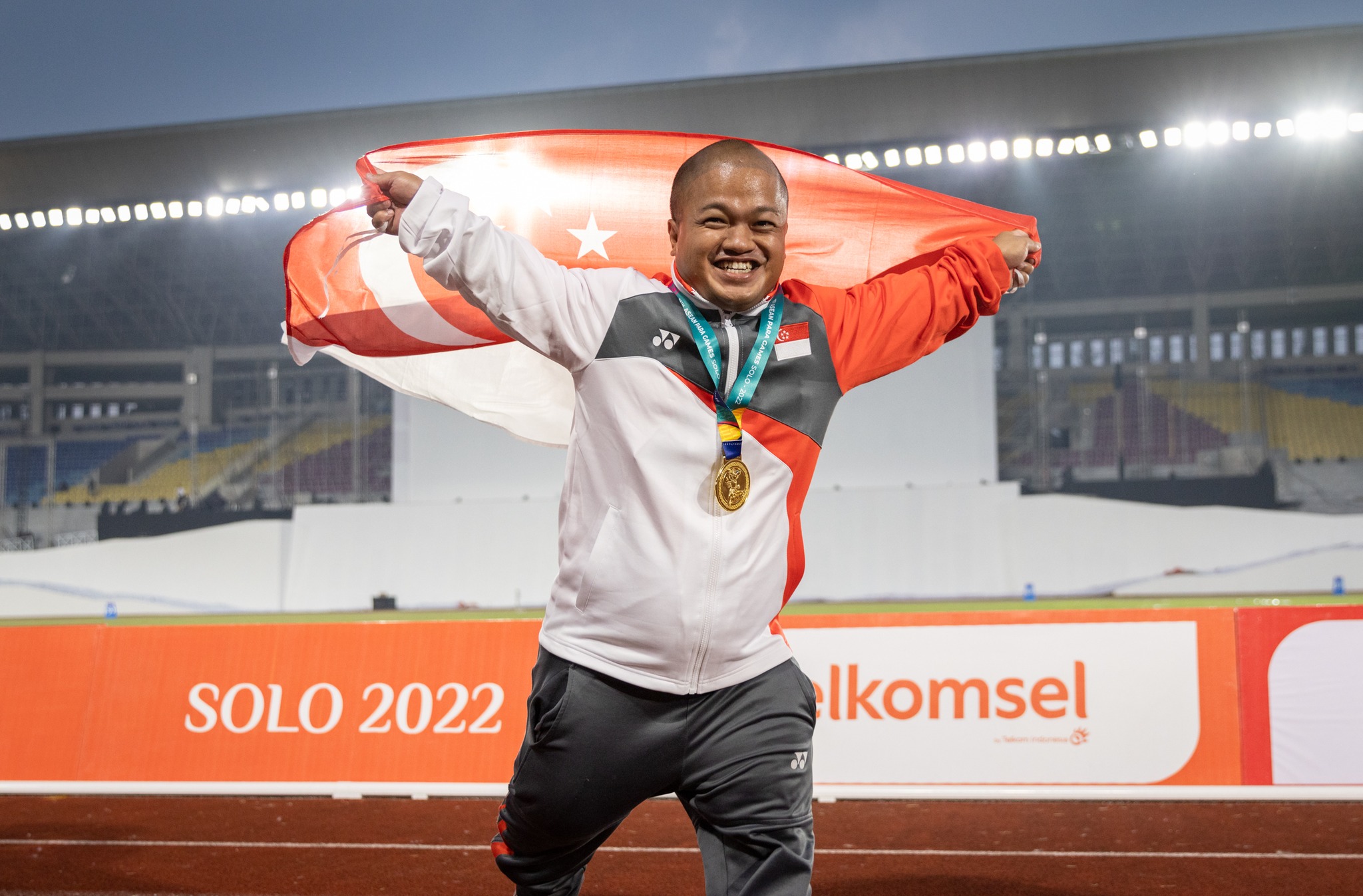 From bronze-medallist in 2017 to Gold in APG 2022, Md Diroy Noordin. Photo Credit : SNPC / Goh Si Wei
Athletics
Muhammad Diroy Noordin lived up to his tag as the favourite in the Men's Shot Put F40/41 event with a comfortable victory on the second day of the athletics programme. Diroy had won a bronze in the javelin F40/41 a day earlier.
Maisarah Md Hassan took home a bronze medal in the Women's 200m T36/37, recording a National Record time of 37.23 in the final.
Badminton
Ang Chee Hiong was Singapore's lone representative in badminton and was grouped in the Standing L4 event, where he lost both his matches.
He lost his first match against his Indonesian opponent but managed to stretch his Thai counterpart to a third set in his second match.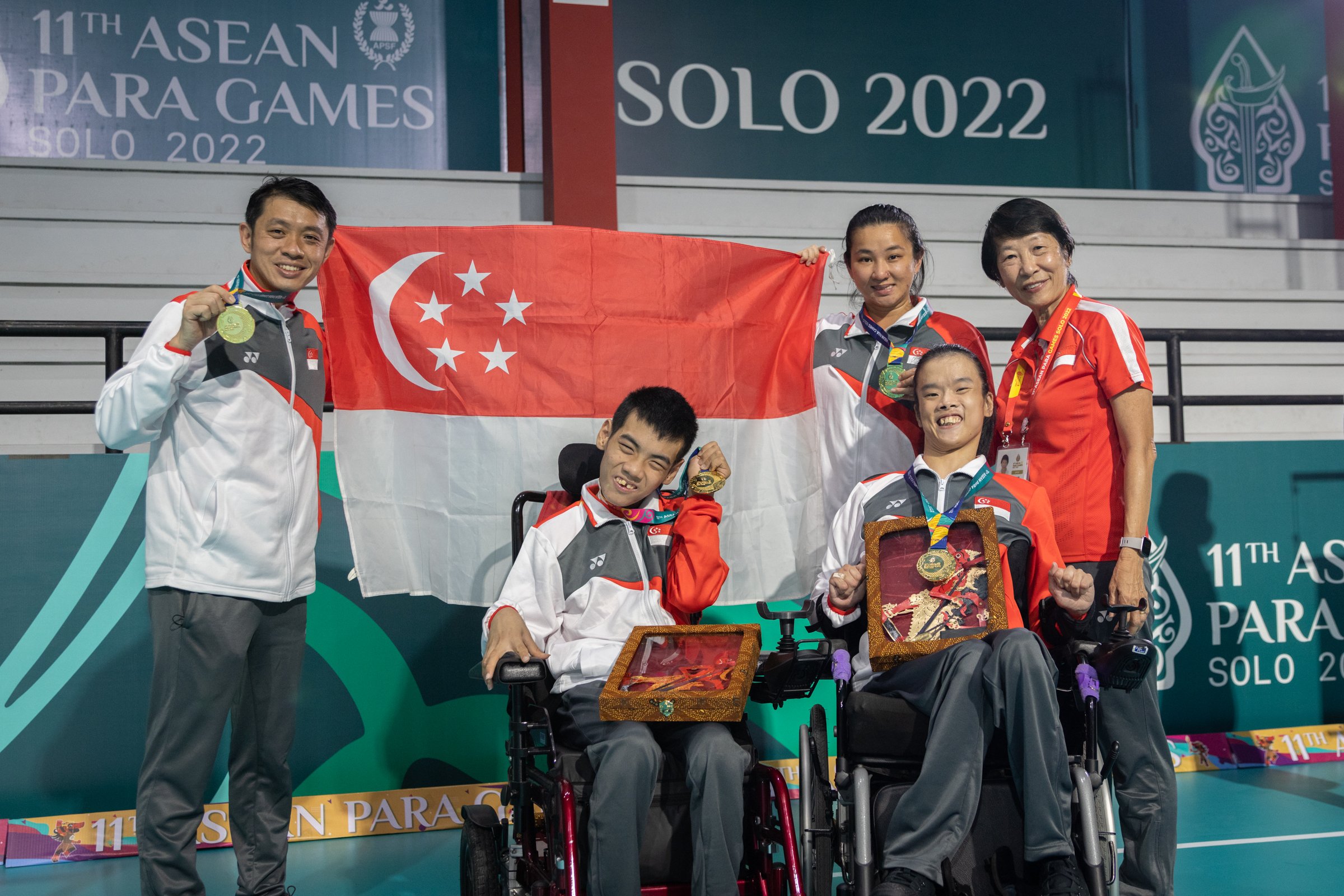 TeamSG's Aloysius Gan and Toh Sze Ning win Gold in Boccia. Photo Credit : SNPC / Goh Si Wei
Boccia
The eight year wait for a boccia gold medal ended on the final day of the Solo Games with Toh Sze Ning and Aloysius Gan's victory in the Mixed Pairs BC3.
There were silvers for Sze Ning and Aloysius in their respective Women's and Men's BC3 Singles categories. The remaining medal from boccia came from Jeralyn Tan who won a bronze in the Women's BC1 Singles.
Chess
Edwin Tan flew the Singapore flag in all three chess disciplines of Standard, Rapid and Blitz in Solo.
He departs the Games with the following placings: tenth in Standard, seventh in Rapid and ninth in Blitz.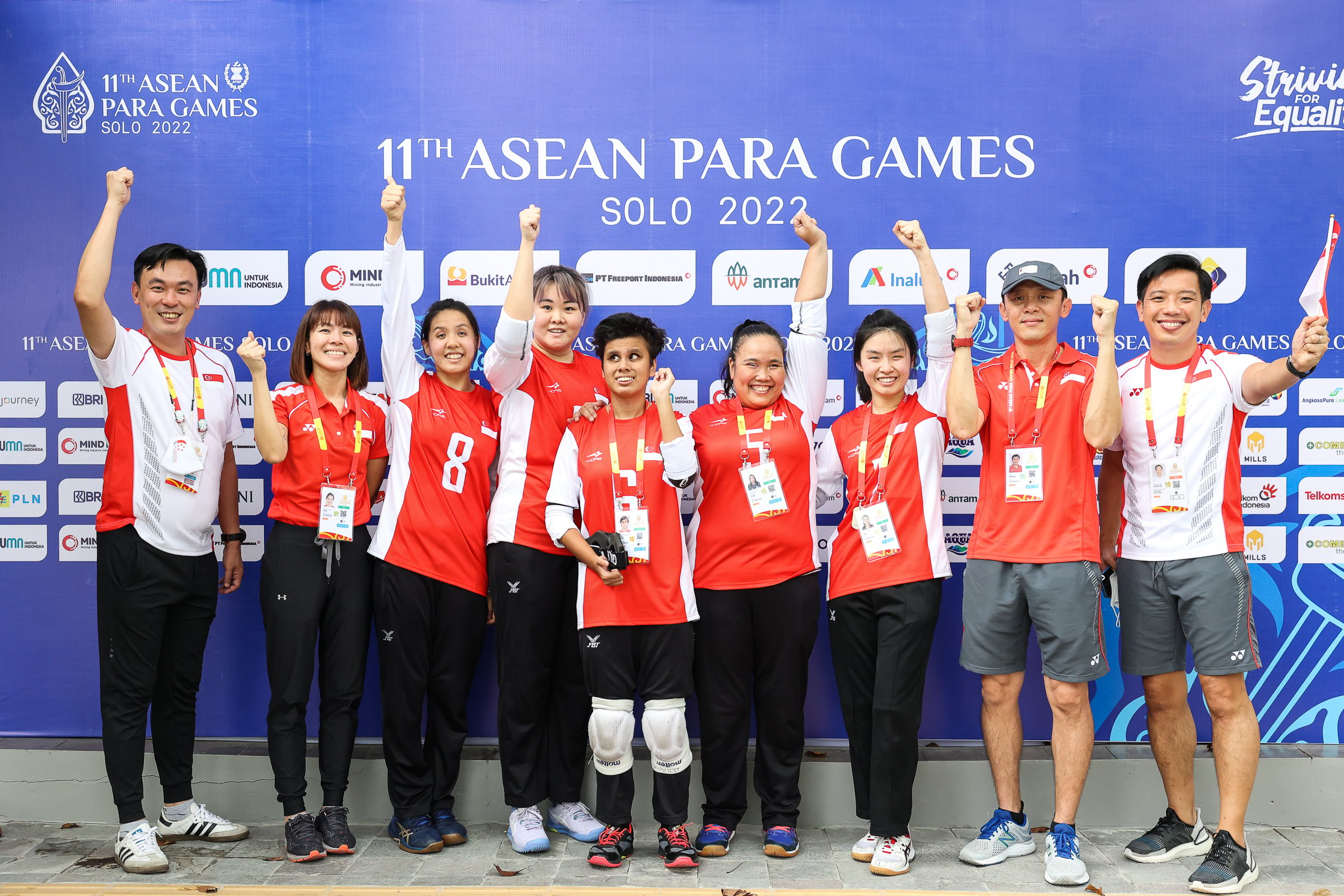 TeamSG's Goalball squad. Photo Credit : SNPC / Goh Si Wei
Goalball
There was another bit of history made on Friday with Singapore's silver medal by the women's team being the first APG medal of any colour in goalball. This was also only the second time the women's team was playing in the Games.
After a dramatic 4-3 extra time win over Indonesia in the semifinal, Singapore faced Thailand - who were the only team to beat them in the pool stage - in the final where they eventually went down 1-7.
Powerlifting
Debutant Lim Shuangchun was the country's only para powerlifter in Solo. He finished fourth in the 80kg category with his best lift being 100kg.
Swimming
Singapore's first gold of the Games was won by Colin Soon in the Men's 100m breaststroke SB12. Colin added another silver to his own tally in the 100m freestyle S12.
Wong Zhi Wei swam to a silver in the Men's 100m breaststroke SB13 on the opening morning, later adding golds in the Men's 100m freestyle S13 and the Men's breastroke SB12.
Team Singapore flagbearer and Tokyo Paralympian Sophie Soon won one gold and one silver.
It was also a memorable by 14-year-old debutant Janelle Tong who has one silver medal and set new National Records in all her races.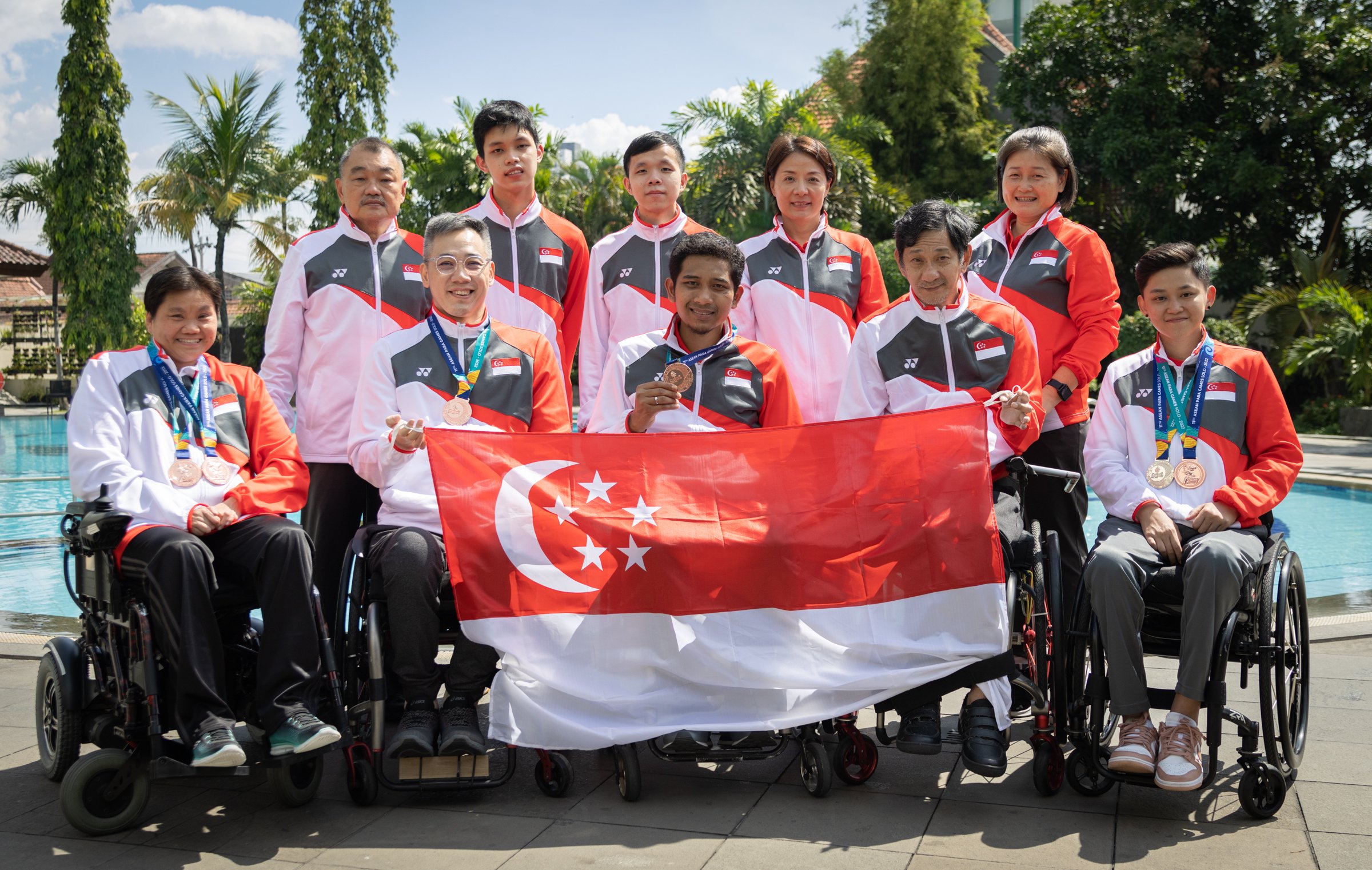 TeamSG's Table Tennis squad. Photo Credit : SNPC / Goh Si Wei
Table Tennis
The Singaporean paddlers recovered from a tough start in their respective team event round robin matches to hold their own in the singles events.
Claire Toh won silver in the Women's TT1-2 and a bronze in the Women's TT1-3 doubles with partner Christina Lau who was a late addition to the team.
Table tennis also contributed three bronzes to the final tally from Christina (Women's Singles TT1), Muhammad Dinie (Men's Singles TT3) and Eric Ting (Men's Singles TT1-3).
The 22nd Commonwealth Games is held in Birmingham, England from 28 July 2022 to 8 August 2022. For the latest Team Singapore coverage and news, follow Team Singapore on their social media channels (Facebook, Instagram or Tiktok) or visit the official Team Singapore website.
Related Events & Programmes