Team Singapore
Asian Netball C'ships : TeamSG Shooter Charmaine Soh makes her competitive return after giving birth!
by Circle Stories, on August 10, 2022 7:13 AM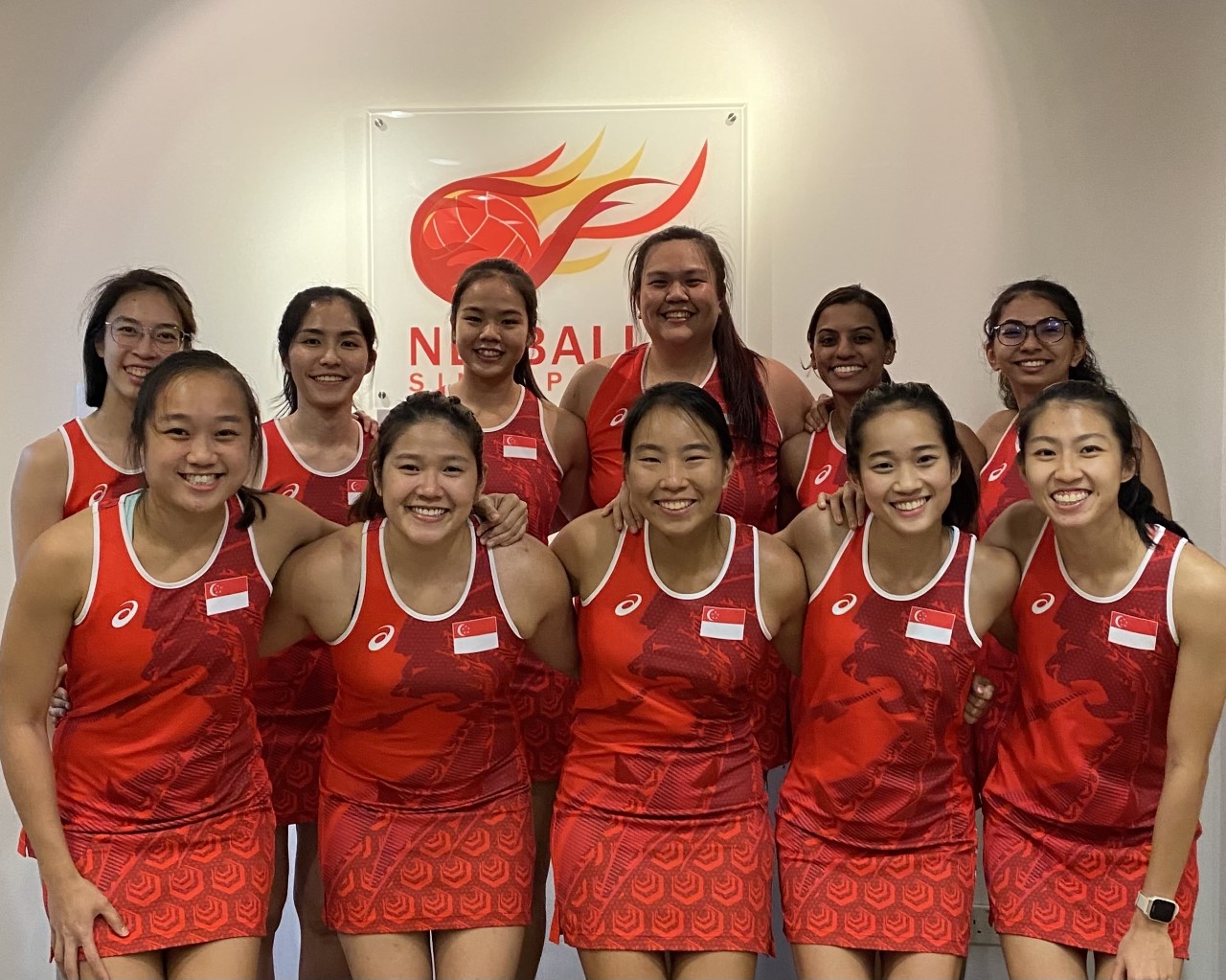 Back row (L-R): Miki Ng, Yew Shu Ning, Jamie Lim, Lee Pei Shan, Sindhu Nair, Amandeep Kaur Chahal. Front row (L-R): Toh Kai Wei, Kimberly Lim, Angelina Lim, Tan Yi Jie, Khor Ting Fang. (Not in picture: Charmaine Soh). Photo Credit : Netball Singapore.
10 August 2022 – The Singapore team at the Asian Netball Championships (ANC) 2022 next month will feature five players competing in a major international tournament for the first time, including co-captain Khor Ting Fang. The 26-year-old midfielder, whose international debut was in 2019 at the Singapore-Fiji Test Series, will lead the team with fellow co-captain Toh Kai Wei. The squad was finalised following a week-long training tour in Perth. The ANC will take place from 3-11 September at the OCBC Arena.
Among the 12 players, three – midfielder Tan Yi Jie, shooter Amandeep Kaur Chahal and defender Miki Ng – earned their first caps this year at the PacificAus Sports Netball Series in March, while defender Yew Shu Ning is set to make her international debut at the ANC 2022.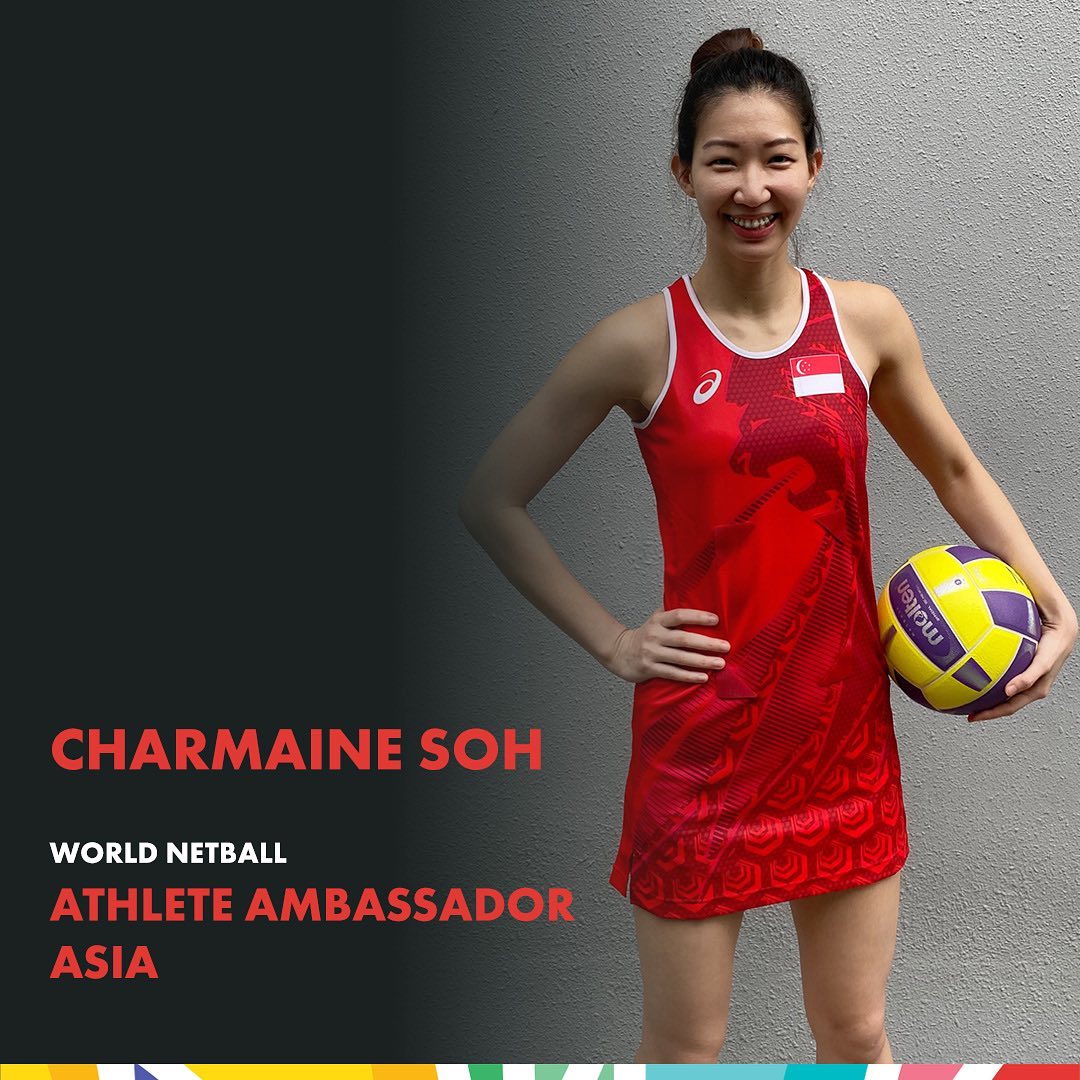 Image Credit : Charmaine Soh's Facebook Page
The Singapore line-up will also feature familiar faces in shooter Charmaine Soh and wing attack Kimberly Lim, who have 122 and 94 caps respectively. Soh, whose international experience includes three SEA Games and the 2015 and 2019 Netball World Cups, is returning to competition after having her baby in June. Lim, who also played in the 2015 and 2019 Netball World Cups, is making an appearance in her first major international tournament after injury. The 28-year-old was sidelined for two years due to a torn Achilles tendon and started her comeback at the PacificAus Sports Netball Series in March.
Soh, 32, said: "It's not often that we get to host major tournaments like the Asian Netball Championships. Experiences like these are so special, and this gave me the extra motivation to prepare as best as I could, so that I would be ready to compete at the championships. I've missed practising with the team, so it's been great to be back in training with them. Competing on home soil in front of your friends and family is an experience like no other, and I can't wait to walk out on court again, this time with a new addition to my family in the audience. The team is ready and we're really eager to compete."
The squad list, with number of caps denoted in brackets, is as follows:
Asian Netball Championships 2022 Team Singapore
Shooters
Toh Kai Wei – Co-captain (47)
Amandeep Kaur Chahal (4)
Lee Pei Shan (31)
Charmaine Soh (122)
Midfielders
Khor Ting Fang – Co-captain (6)
Kimberly Lim (94)
Angelina Lim (8)
Tan Yi Jie (4)
Defenders
Sindhu Nair (35)
Jamie Lim (11)
Miki Ng (4)
Yew Shu Ning (0)
Singapore head coach Annette Bishop said: "We've had some new faces join the Opens squad since the 2019 SEA Games, and for some players, this will be their first time competing in a major tournament of this scale. The team has been training hard, and we've spent the past few months finetuning our set plays and techniques while also continuing to improve our fitness. The newer players have impressed with their hunger and dedication, while those who have a bit more experience have really stepped up both on and off the court to guide their team-mates. It's all coming together quite nicely and we're ready to put up a good show at the Asian Netball Championships."
Defender Yew Shu Ning, who is set to earn her first cap next month, said: "This will be my first-ever competition representing Singapore at the Opens level, and it's such an honour to be in the team. I can't wait to experience the atmosphere of competing in front of a home crowd. There will be some nerves for sure, but the seniors in the team have been sharing advice on how to handle that and they've also been very encouraging. We've put in the work over the last few months and we hope to do Singapore proud at the ANC 2022."
Co-captain Toh was the youngest member of the Singapore team at the 2017 SEA Games, making her international debut just two months before those Games. The 26-year-old shooter said: "I remember how it feels to be preparing for my first major international competition – I was nervous and excited, but I had good guidance and advice from my seniors at the time and they helped me so much in coping with those nerves. It feels surreal that I'm now in that position myself, and it's a privilege to get to mentor the younger players and lead the team. We're also very happy to have experienced players like Charmaine and Kimberly back. We've all been working hard together to improve our techniques and our communication on court, and we've seen good progress throughout our training tours and friendly matches. We're all looking forward to playing at the OCBC Arena next month."
Singapore were runners-up at the last edition of the ANC in 2018. The other 10 teams competing in this year's edition of the biennial event are defending champions Sri Lanka, Malaysia, Thailand, Brunei, Hong Kong, Chinese Taipei, Japan, India, the Philippines and Maldives. The top 2 finishers will attain automatic qualification to the 2023 Netball World Cup in Cape Town. The 2020 ANC was cancelled due to the Covid-19 pandemic.
Tickets can be purchased online via ticketmaster.sg, by phone, or by going to Ticketmaster's outlets at Singpost or The Star Performing Arts Centre Box Office. Concession prices are available for students in Ministry of Education schools, as well as children aged between 5 to 12.
Related Events & Programmes