Team Singapore
Singapore to face unbeaten Sri Lankan team in Asian Netball Championships 2022 finale!
by Circle Stories, on September 11, 2022 8:19 AM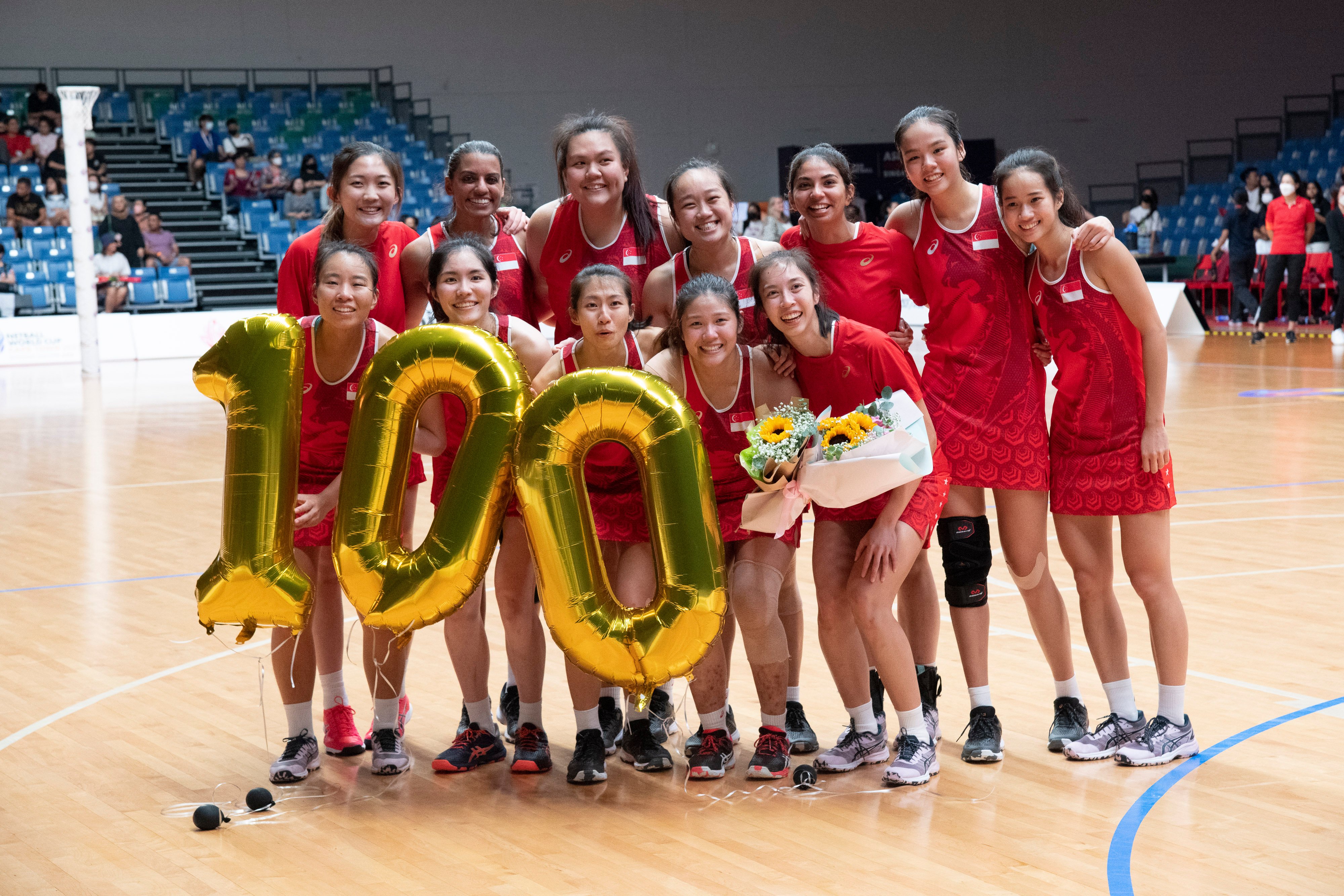 Team Singapore celebrated Kimberly Lim's (with bouquet) 100th international appearance. Photo Credit : Netball Singapore
10 September 2022 – Singapore's netballers gave the home fans lots to cheer for on Saturday (10 September) at the OCBC Arena, as they recorded a 54-41 victory over perennial rivals Malaysia in the semi-finals of the Asian Netball Championships 2022. With the win, Singapore have earned their spot in next year's Netball World Cup in Cape Town. Sri Lanka defeated Hong Kong 67-43 in the other semi-final to take the other spot. Singapore will face Sri Lanka in the final on Sunday, 11 September.
The results for 10 September are as follows :

The Causeway clash was intense from the starting whistle, with the crowd roaring in delight each time the hosts took possession and their cheers increasing in volume after every Singapore goal. Though Malaysia took the early lead at 7-5 in the first quarter, Singapore reeled off five consecutive goals to edge ahead, and stayed up 13-11 at the end of the first quarter. A fired-up Singapore side continued their fine form as they blazed through the second quarter to extend their advantage to 28-18. But Malaysia were inspired in the third quarter, tightening their defence and capitalising on errors from their Singaporean opponents to win the quarter 15-8 and narrow the score to 36-33. Singapore returned galvanised in the final 15 minutes, putting on a masterful display of seamless passing, solid defending and accurate shotmaking to take the win in emphatic fashion.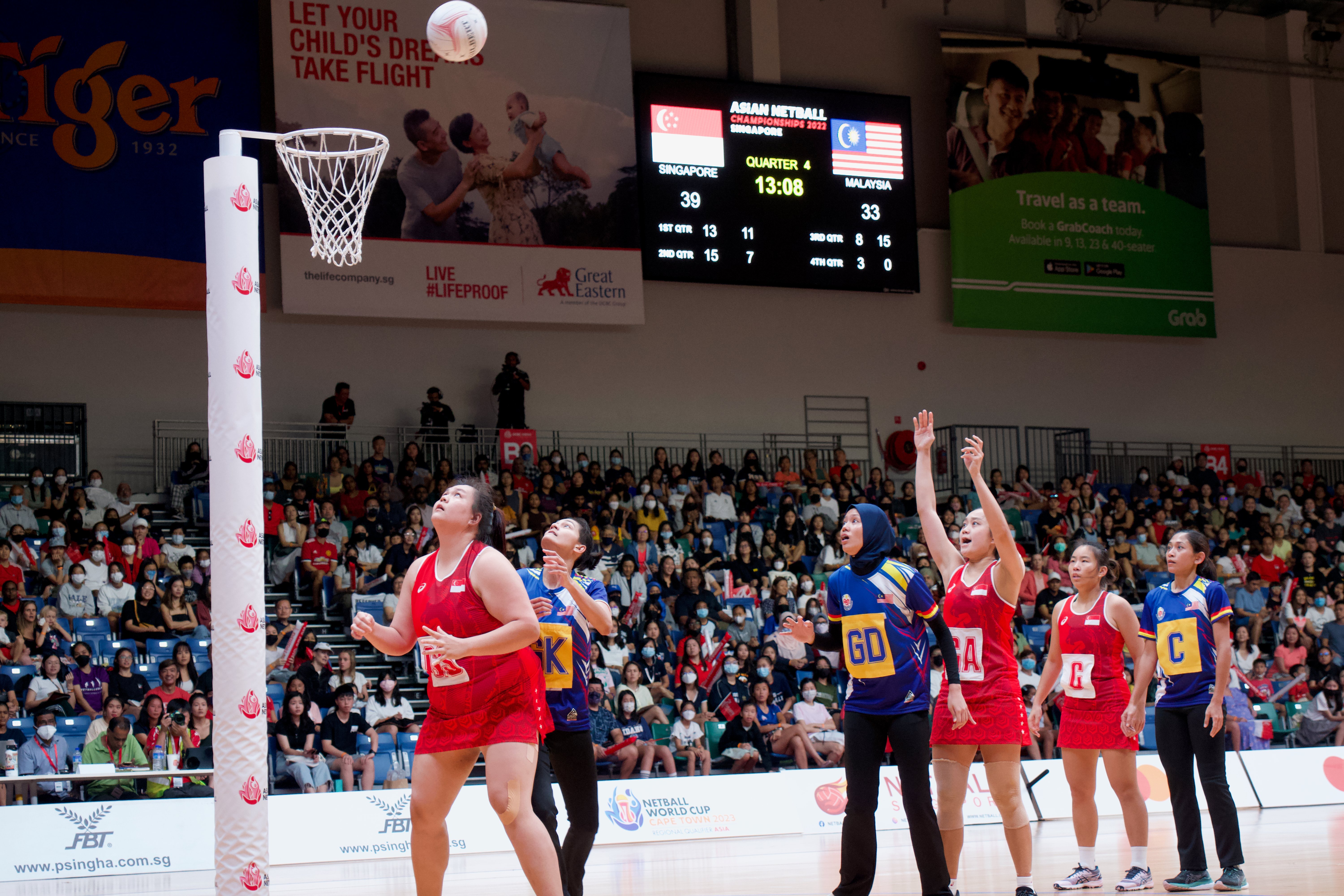 TeamSG's Toh Kai Wei shoots to score against Malaysia. Photo Credit : Team Nila Content Producer, Yan Paing
Wing attack Kimberly Lim, who earned her 100th international cap on Saturday, said: "All the emotions are coming back from the past 8 years, I'm very proud of the team, we're one of the youngest here but we've really grown a lot over the past two years and this is the result of our hard work. The Malaysian team came back really strong, they're known to be fighters and they wouldn't give up even with such a big score line, and I think on our part we shouldn't have eased off and we started to go off their game plan. But I think the team managed to gel back together and go back to what we were doing. We have a big battle tomorrow so our focus is fully on recovery right now and hopefully we'll come back stronger than what we did in round 2. One obvious advantage that they have on us is their height, but there are ways to work around that and that'll be something we look at when we do our game plan."
Goal shooter Lee Pei Shan, who converted 90% of her attempts to contribute 35 goals, said: "We had a lot of pressure on the shooters and the mid-court players to bring out the ball and shoot. In the third quarter we were losing a lot so we tried to stay composed until the end. When I saw (that time was up), that's when I felt more emotional, because we really fought hard throughout the four quarters. I wasn't very calm (during the game); I had a lot of thoughts … (but) I made a promise to my team that I will take the ball and shoot, and I told them to give me the ball so that every goal I shoot give them motivation to bring down the ball more."
Malaysia captain Nur Syafazliyana Mohd Ali was sad about the loss, but is looking ahead to the team's fight for bronze with Hong Kong on Sunday. She added: "We need to work on our passing accuracy as we are not very good at that. That's why the Singaporean defenders could defend us everywhere. It's okay as we'll come back stronger. Whatever happens, we must win tomorrow. From now on, we need to recover, eat and sleep well, because we are not going back with a 4th placing, we need to (finish) third."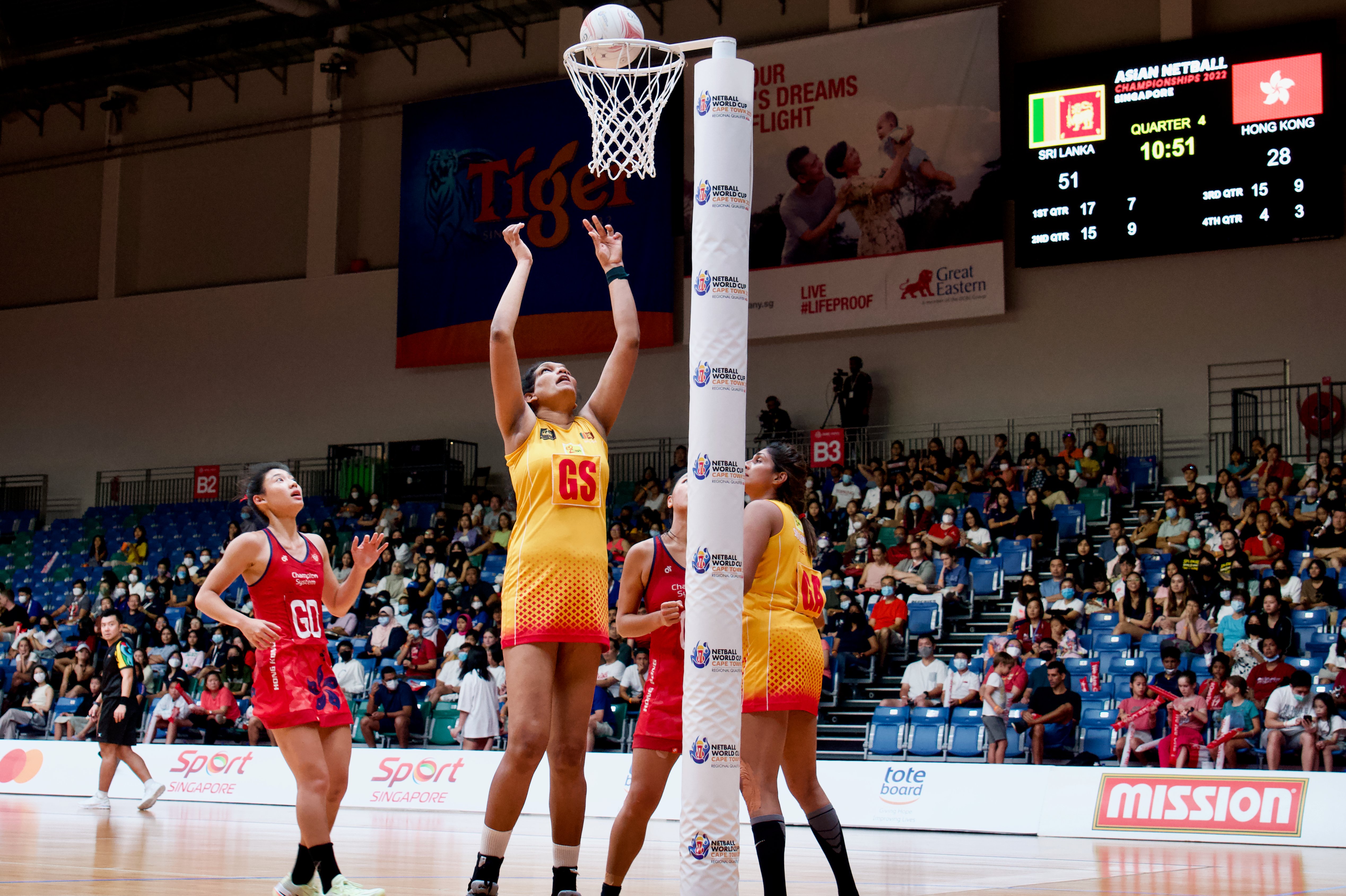 Defending Champions Sri Lanka maintain winning streak with semi-final victory over Hong Kong. Photo Credit : Team Nila Content Producer, Yan Paing
In the first semi-final, defending champions Sri Lanka extended their unbeaten run with a convincing 67-43 win over Hong Kong. Sri Lanka, the five-time Asian champions, never wavered as they kept momentum from start to end.
Sri Lanka coach Hyacinth Wijesinghe said: "I'm very happy because we are facing many problems back home. But when we came here, this is the place we got the exposure, this is the tournament. Despite all the problems, we are here. We are really happy we are getting all the facilities and I think all the teams are very good. Hong Kong, Singapore, Malaysia – those three teams are top teams. But we are very confident we are going to win (tomorrow)."
Hong Kong vice-captain Lo Fung Yee said: "We tried our best today, and we'll surely fight back in the next game. Today, we actually had a very different shooting circle, and I think that did give the Sri Lanka team a surprise. We tried out different combinations, especially in the defensive circle. We used all our players for today's semi-finals, to give our players exposure to different positions and play against Sri Lanka's goal shooter. It was a good experience for all our players."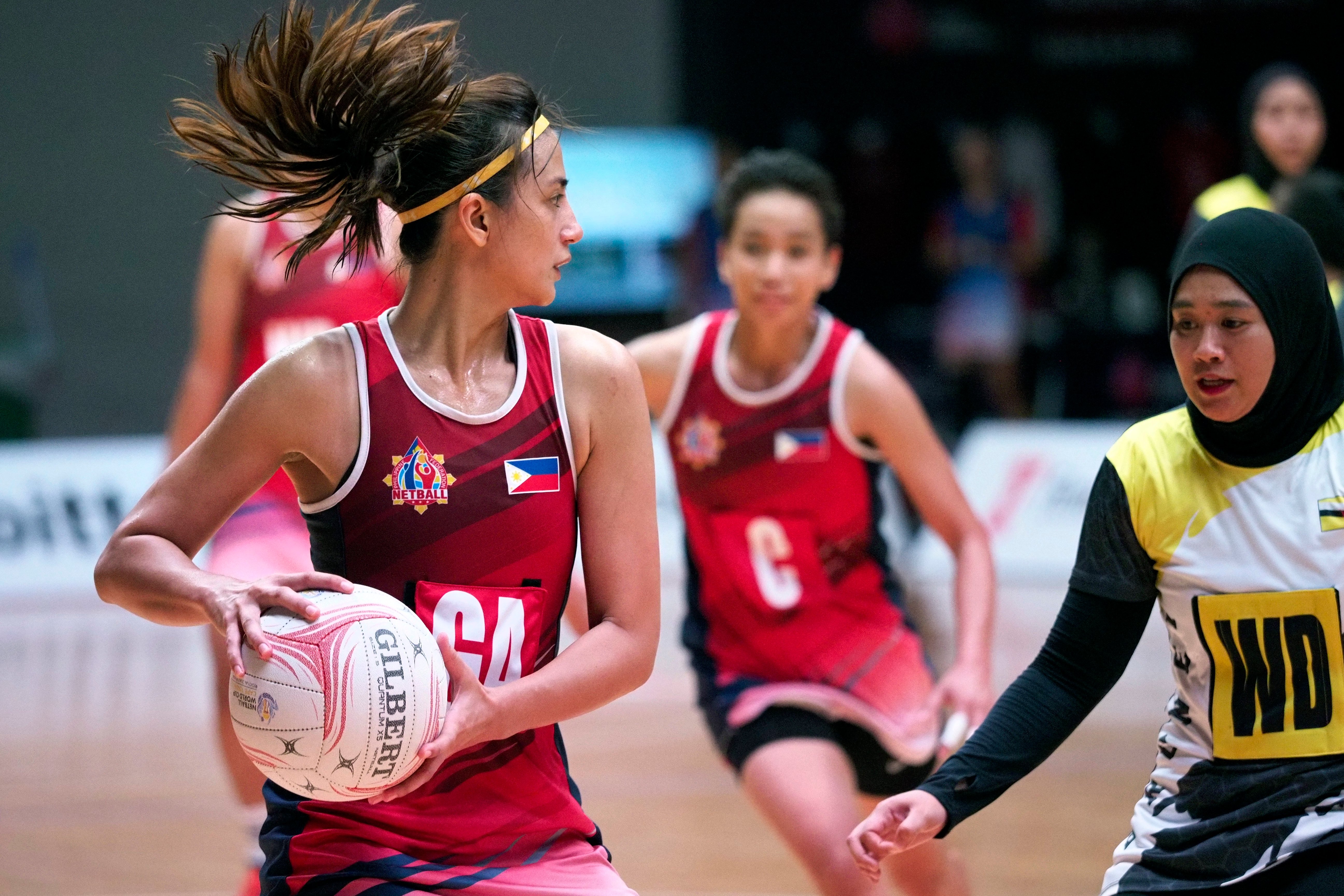 The Filipinas defeat Brunei by 4 points to claim the Plate trophy. Photo Credit : Team Nila Content Producer, Tan Yew Poo
The Philippines won the Plate competition and placed 5th overall with their 42-38 win over Brunei, while India are winners of the Bowl category.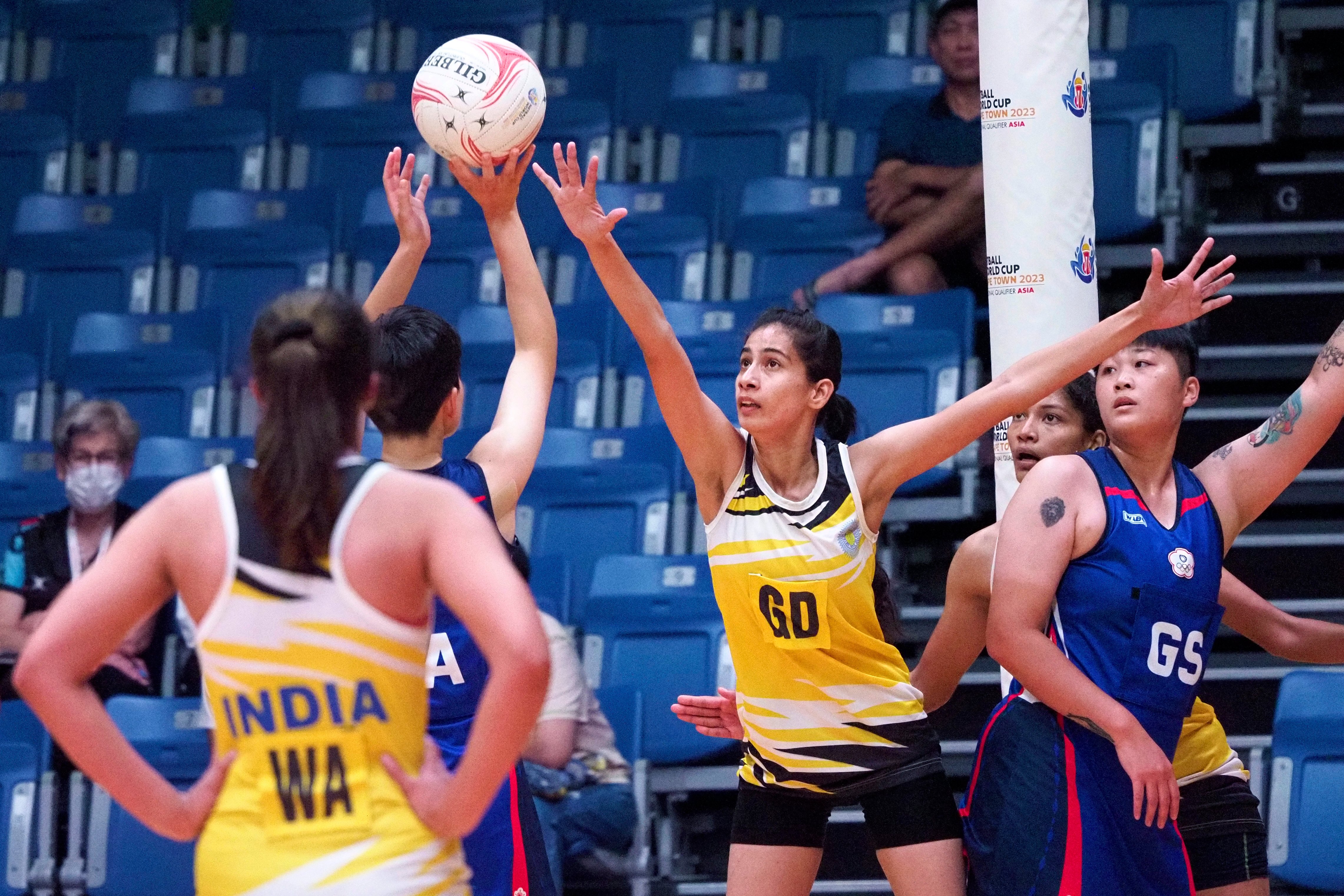 The Indians triumphed 47-33 over Chinese Taipei to settle for the Bowl title. Photo Credit : Team Nila Content Producer, Tan Yew Poo
The Asian Netball Championships 2022 concludes tomorrow, 11 September, at the OCBC Arena. The competition schedule and results are available here: https://www.netball.org.sg/event/asian-netball-championships-2022/.
Tickets can be purchased online via go.gov.sg/anc2022tickets, by phone, or by going to Ticketmaster's outlets at Singpost or The Star Performing Arts Centre Box Office. Concession prices are available for students in Ministry of Education schools, as well as children aged between 5 to 12.
You can also catch the live streaming to all Asian Netball Championships 2022 matches via Netball Singapore's Facebook page!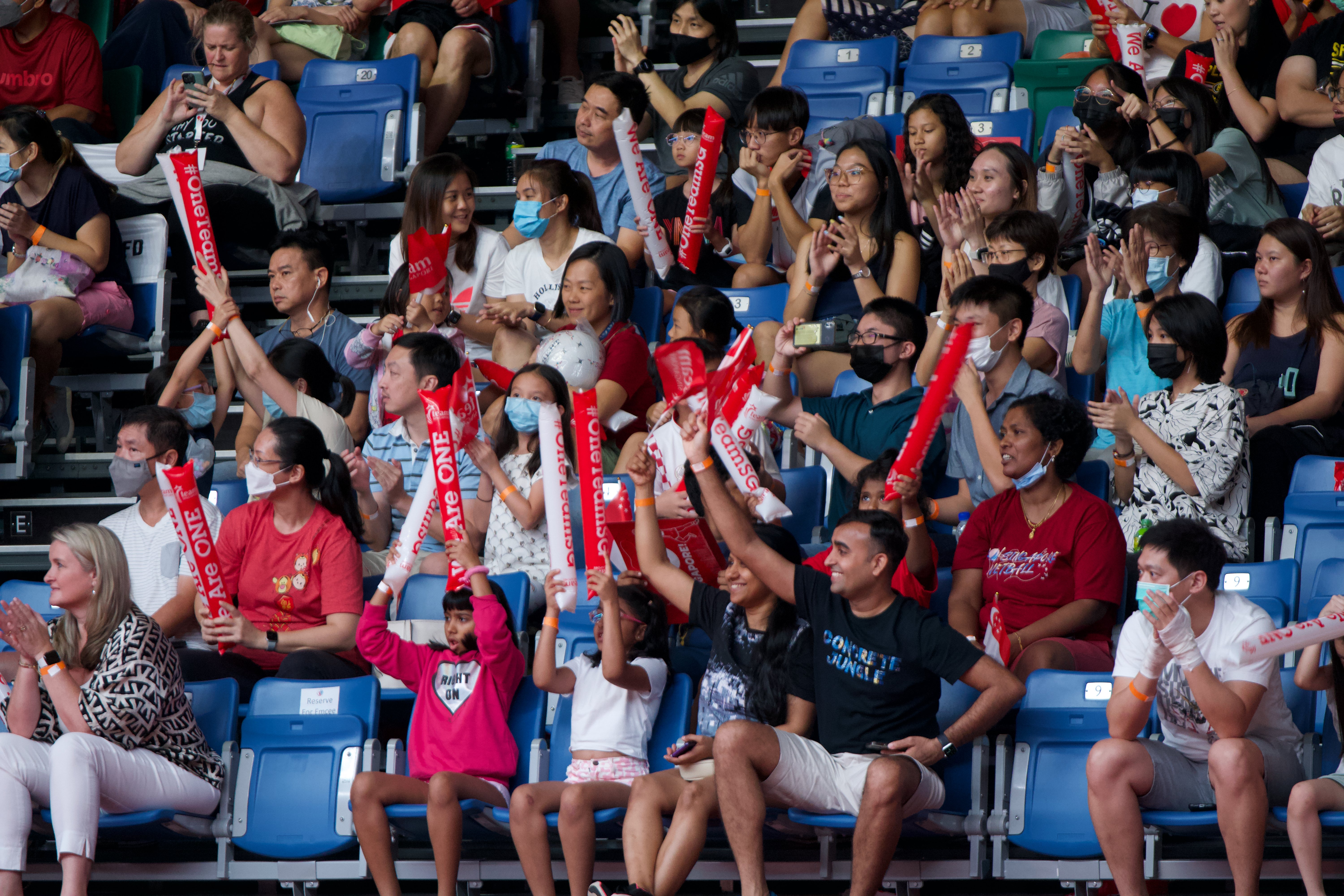 A section of the TeamSG supporters at the OCBC Arena. Photo Credit : Team Nila Content Producer, Yan Paing
Related Events & Programmes