Team Singapore
TeamSG netballers defeat Malaysia in Part 1 of Causeway Derby clash at ANC 2022!
by Circle Stories, on September 9, 2022 8:20 AM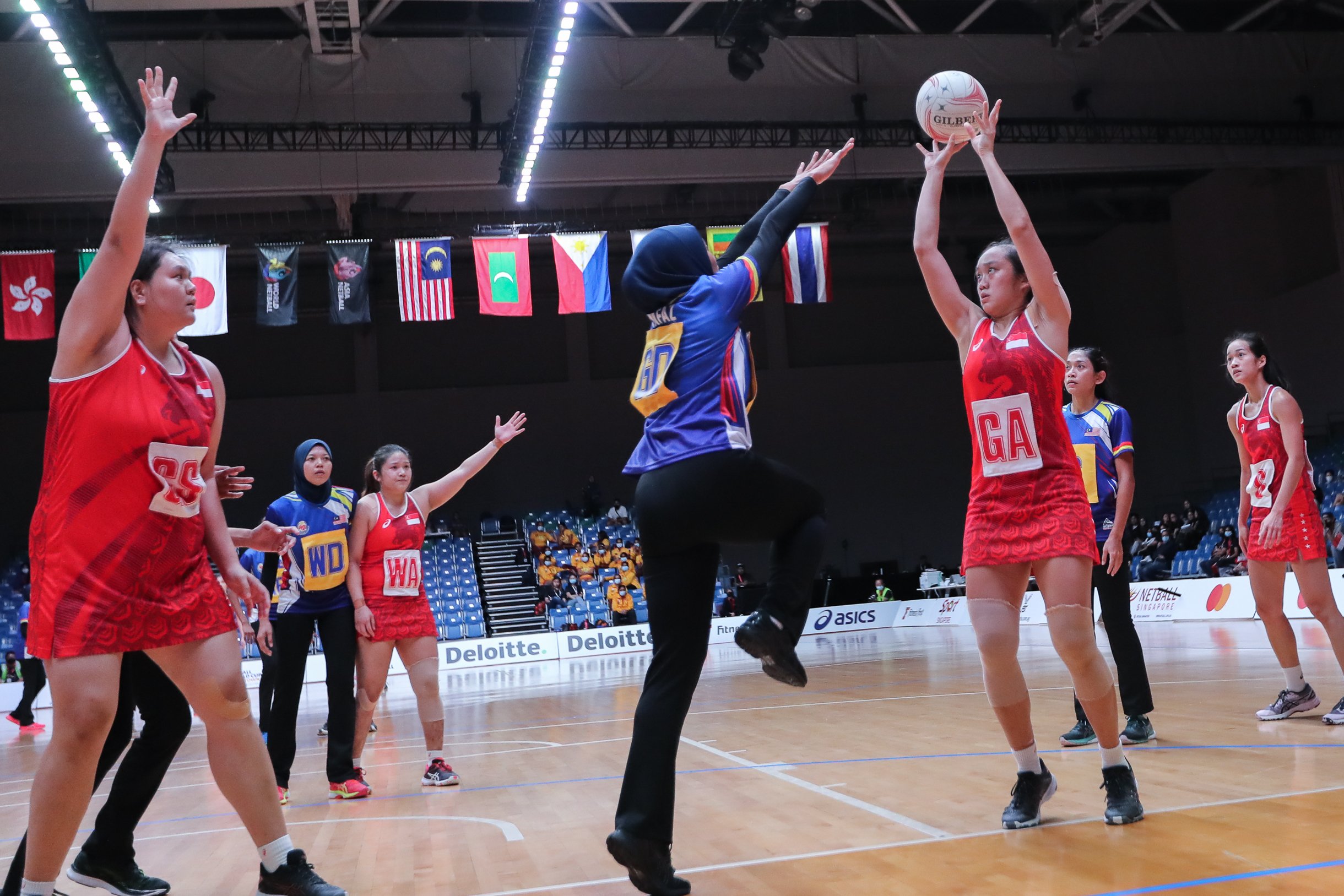 TeamSG's Toh Kai Wei attempts to score against Malaysia. Photo Credit : Team Nila Content Producer, Andy Pascua
8 September 2022 – Singapore's netball team delivered a spectacular showing to triumph over regional rivals Malaysia 56-43 in Round 2 of the Asian Netball Championships (ANC) 2022 on Thursday (8 September) at the OCBC Arena. The hosts' win means they finish second in Group E, and that they will face the same opponents in the semi-finals on Saturday for a place in the Netball World Cup. Defending champions Sri Lanka topped Group E with their 62-51 win over Hong Kong. Chinese Taipei beat Japan 96-16 in their Group G match, while Brunei (Group F) defeated Maldives 50-40.
Friday's Group G (Japan v India) and Group F (Maldives v Philippines) games are closed-door. The Asian Netball Championships continues on Saturday, 10 September with the semi-finals taking place in the afternoon. Sri Lanka will face Hong Kong in the first semi-final at 3pm, followed by a tantalising rematch between Singapore and Malaysia at 5pm.
The results for 8 September are as follows :

A fired-up Singapore side came out charging as they took the early lead, eliciting roars of delight from the home crowd at the OCBC Arena with their solid defending and steady shotmaking. The hosts led from start to finish, breaking through the tight Malaysian defence and never losing momentum throughout. The squad's newer players, some of whom were fielded in the second half, held their own and kept constant pressure on their opponents.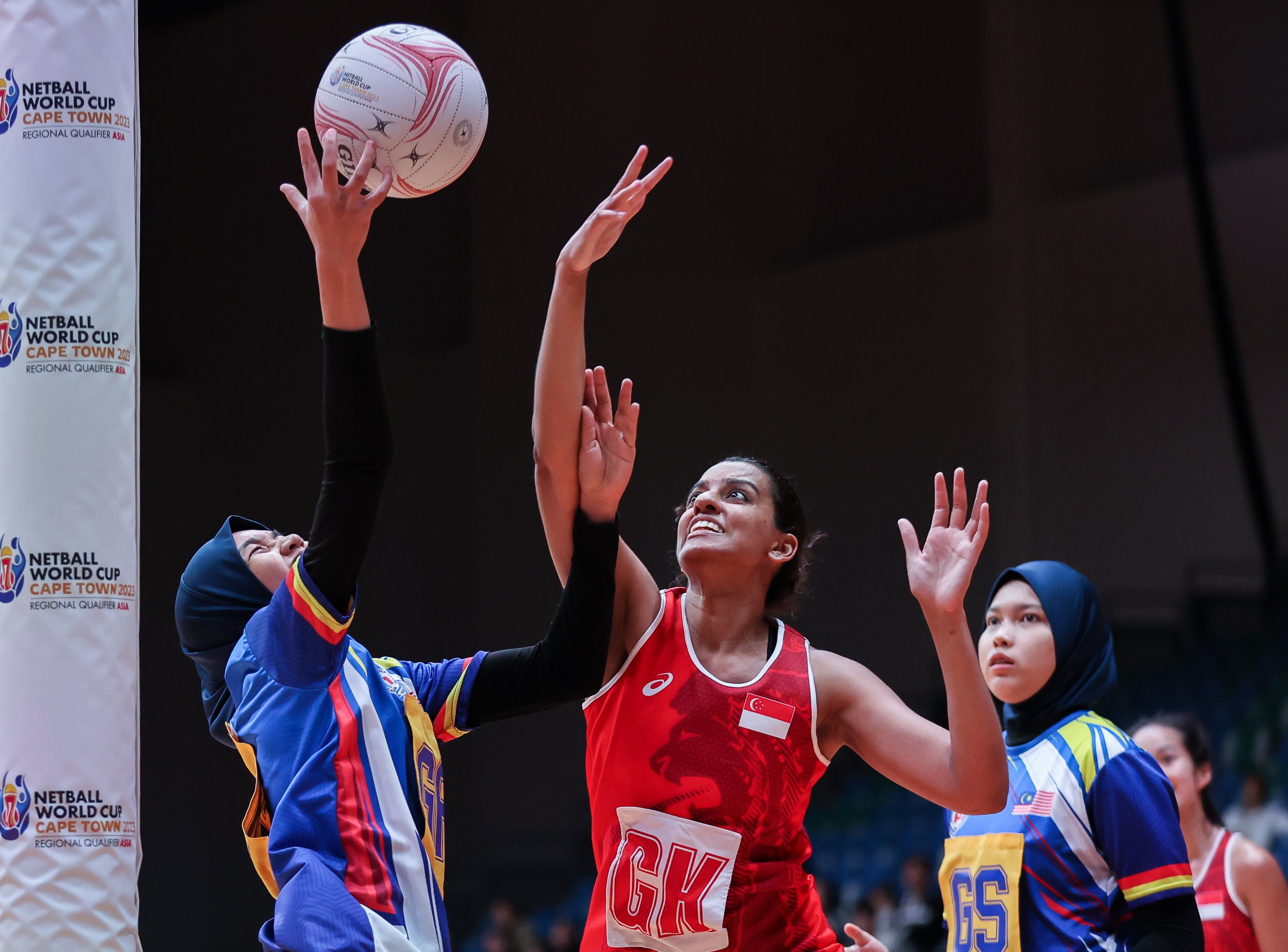 TeamSG's Sindhu Nair attempts to fight for the loose ball against Malaysia. Photo Credit : Team Nila Content Producer, Andy Pascua
Singapore co-captain Toh Kai Wei, who scored her team's 56th goal right before the final whistle, was pleased to have recorded a confidence-boosting win ahead of a crucial semi-final showdown with the same opponents and higher stakes. She said: "We just needed to keep spirits high. I felt better after making my shots and that gave my team a morale boost, and I think it works quite well against the Malaysian team. What we've learnt from today's match is that we need to start strong and steady. Compared to the Sri Lanka game, we started steadier this time; we were more composed and we looked for more options before passing. (Before the semi-final on Saturday) We definitely need to work on improving picking up loose balls, and being steady."
Goal defence Yew Shu Ning, competing in her first major international event, said: "The crowd really boosted our morale with each and every turnover. They cheered so loudly, which pushed us even more. Malaysia are quite body-on-body, so it was very important to get that experience of going up against them. It was really quite a valuable experience. As we played, we gathered momentum and that's how we won by such a great margin. The semis will be our opportunity to get into the World Cup next year, so it was good getting a win from them today."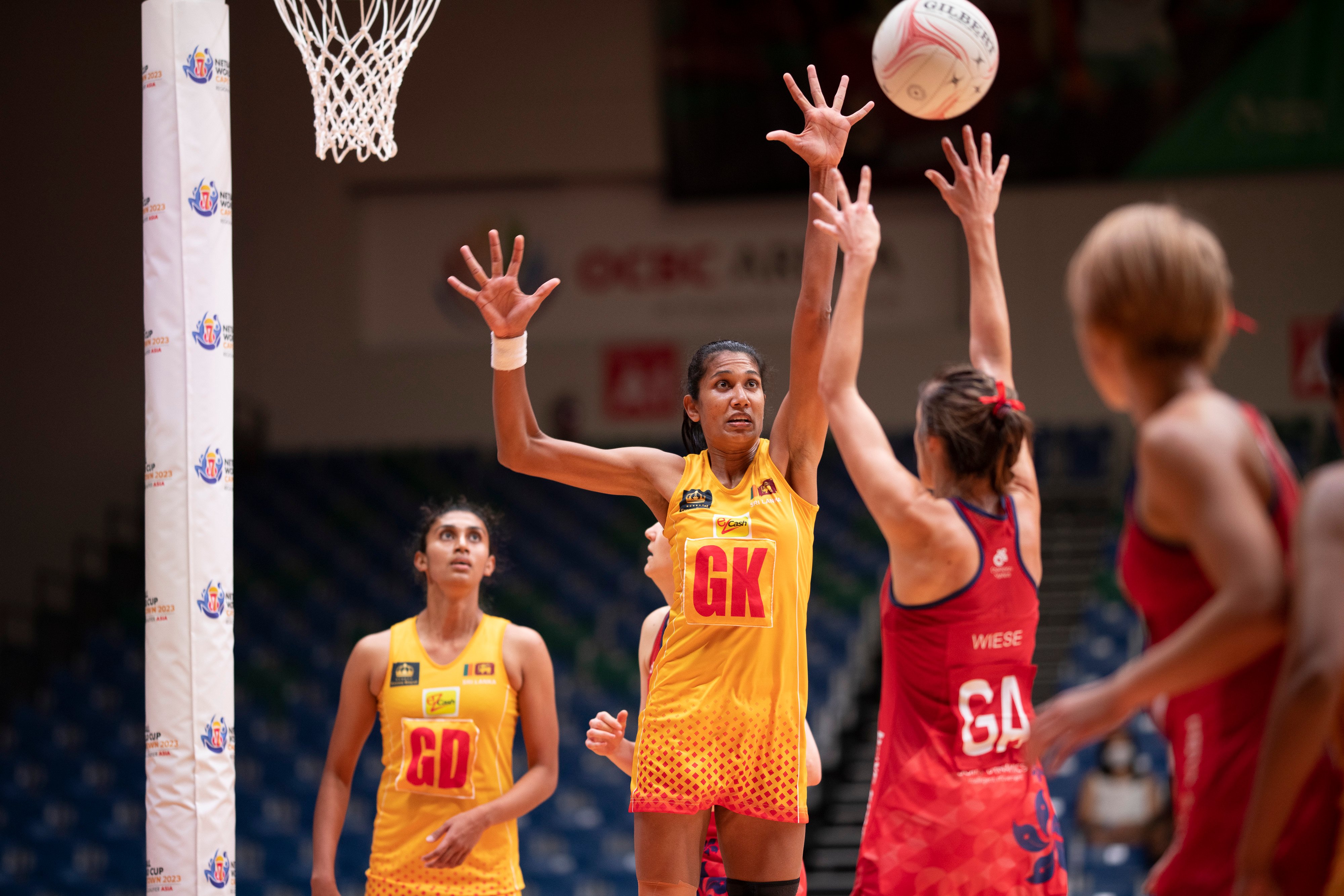 Hong Kong lost in a close battle against the Sri Lankans. Photo Credit : Netball Singapore
Sri Lanka started strong to establish a 20-9 lead in the first quarter. The defending champions extended their advantage to 37-22 at the end of the first half, with shooter Tharjini Sivalingam and goal attack Dulangi Wannithilake converting all of their shooting attempts in the second quarter. Hong Kong were dogged in their bid to narrow the gap, and found their footing to win the third quarter 16-11 as the Sri Lanka side made a series of substitutions. Hong Kong shooter Krystle Edwards was taken off court due to a fall with four minutes of play left, and though her team continued to press their opponents, the game ended in Sri Lanka's favour.
Both teams will meet again in Saturday's semi-final, and Hong Kong goal attack Elderi Eileen Bennett-Horak said: "Obviously we're disappointed that it didn't go our way. But our team definitely gave our best. Everyone kept their heads up, kept on giving them their all. So I am very happy with our performance in the sense of everyone (is on) until the right to the end. I guess we weren't focused enough (in the first quarter) maybe because we did throw some unnecessary balls away, and that cost us some of the points. In the third quarter they started making changes, so we knew they were stressing and trying to find solutions when we were gaining some points. We know we had them on the backfoot and they were stressing, so we will use that (as) confidence for us."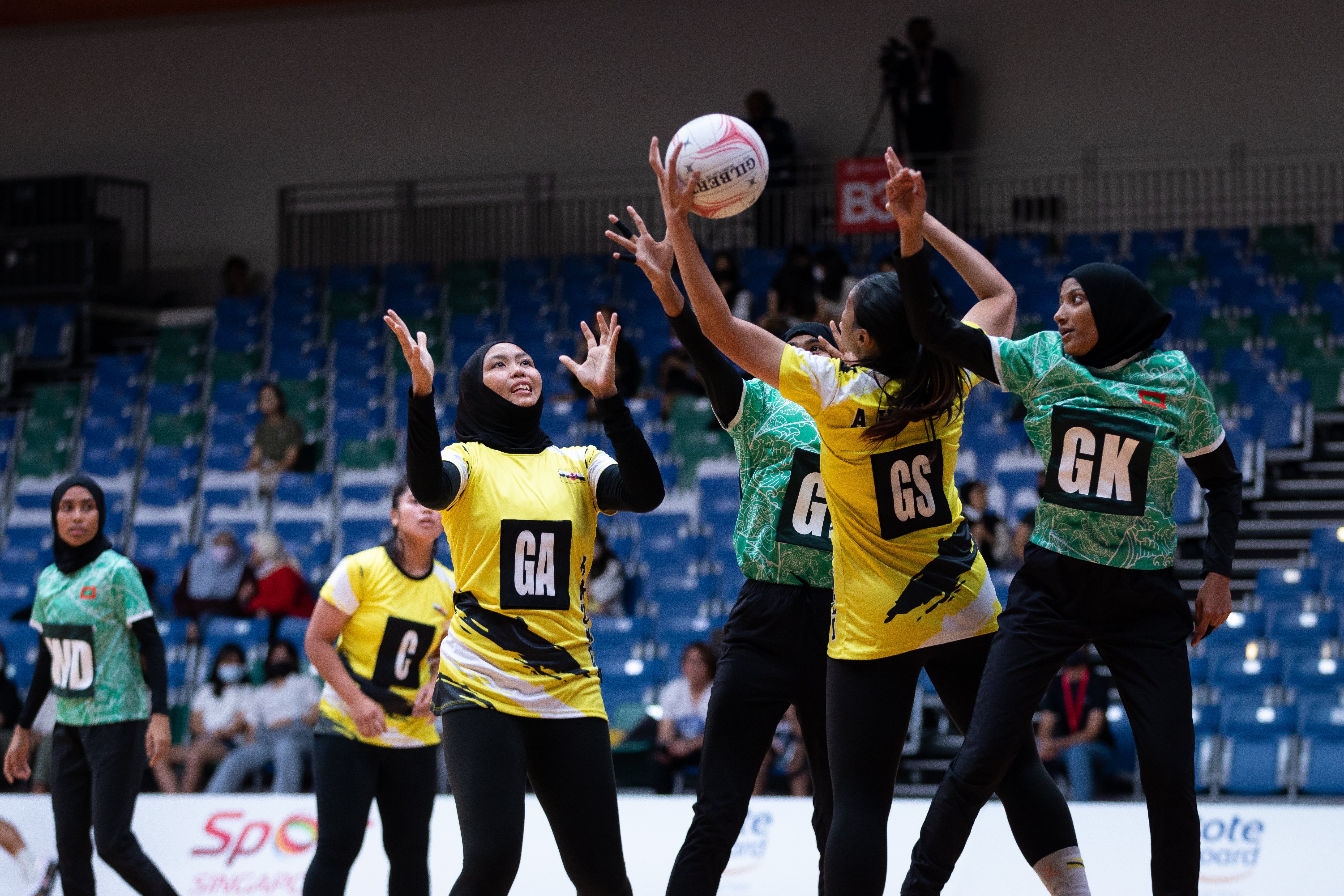 Brunei defeat the Maldives by 10-point margin. Photo Credit : Team Nila Content Producer, BP Chua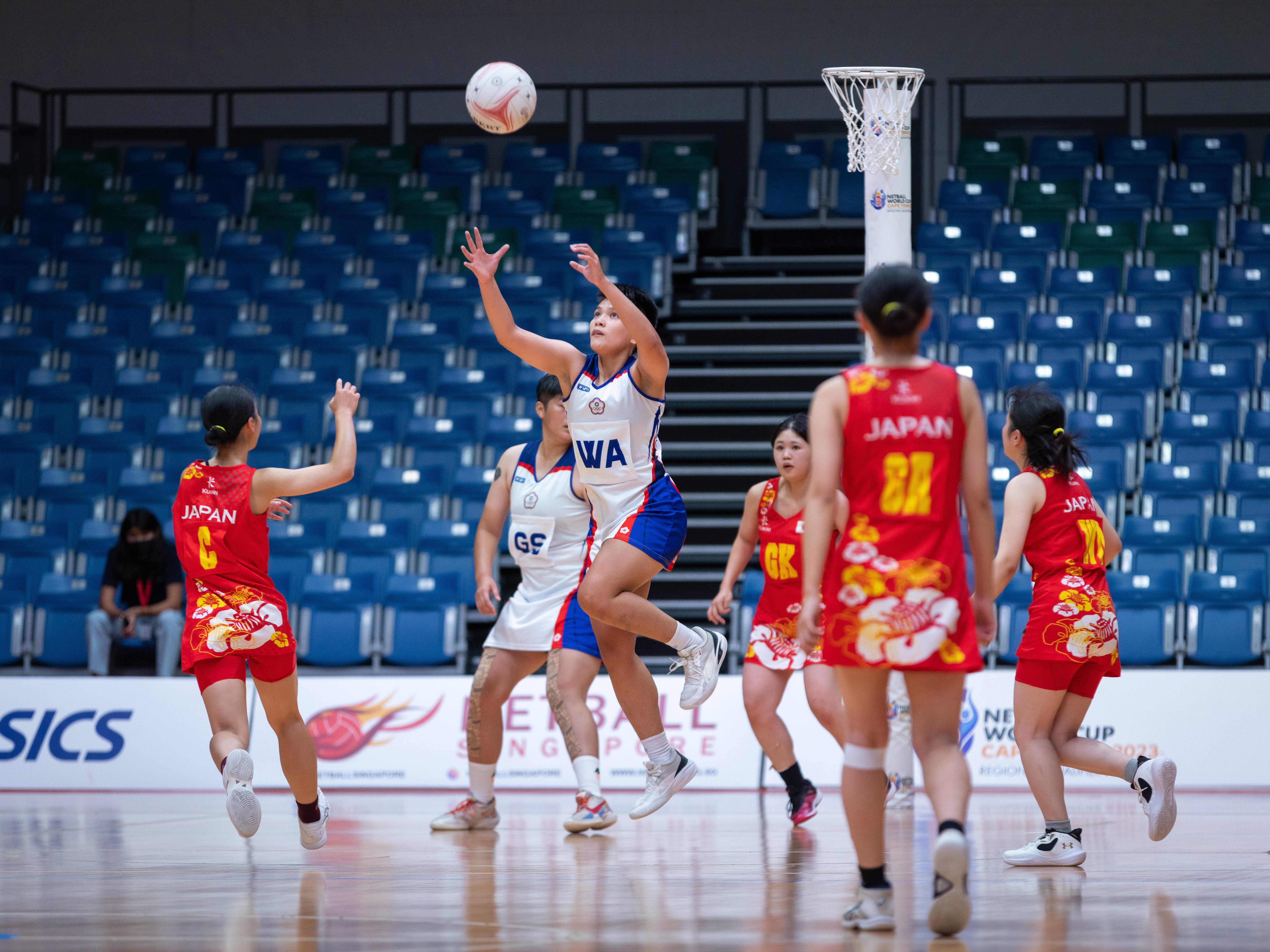 Chinese Taipei inflict another big defeat against the Japanese. Photo Credit : Team Nila Content Producer, BP Chua
The Asian Netball Championships 2022 is ongoing till 11 September at the OCBC Arena. The 11 teams in action at the biennial event are defending champions Sri Lanka, 2018 runner-up Singapore, Malaysia, Thailand, Brunei, Hong Kong, Chinese Taipei, Japan, India, the Philippines and Maldives. The top 2 finishers will attain automatic qualification to the 2023 Netball World Cup. The competition schedule and results are available here: https://www.netball.org.sg/event/asian-netball-championships-2022/.
Tickets can be purchased online via go.gov.sg/anc2022tickets, by phone, or by going to Ticketmaster's outlets at Singpost or The Star Performing Arts Centre Box Office. Concession prices are available for students in Ministry of Education schools, as well as children aged between 5 to 12.
You can also catch the live streaming to all Asian Netball Championships 2022 matches via Netball Singapore's Facebook page!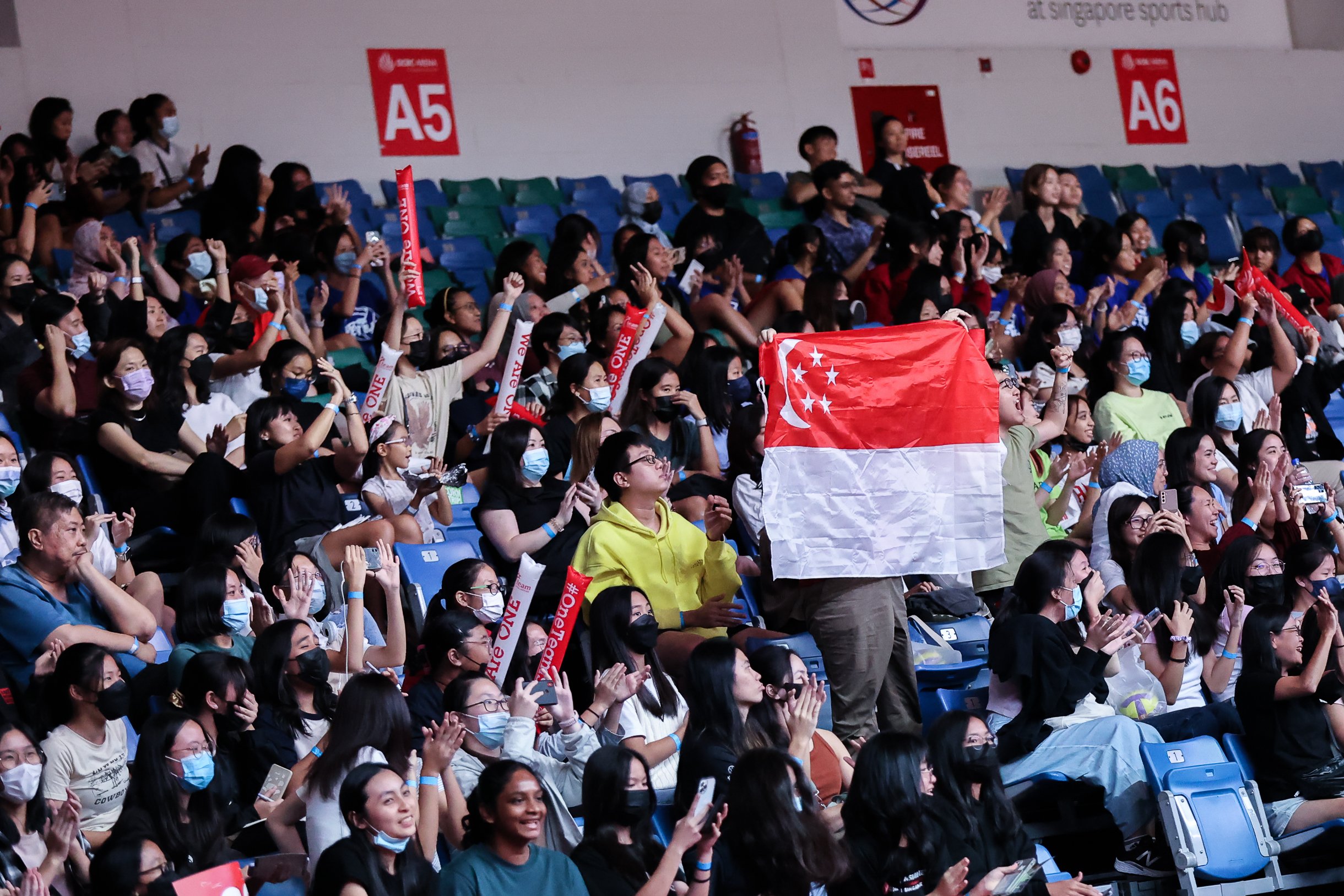 A section of the supporters at the OCBC Arena. Photo Credit : Team Nila Content Producer, Andy Pascua
Related Events & Programmes