Team Singapore
TeamSG battled NFFR (Russia) to a 5-5 draw, to keep their hopes alive in the 2021 Women's World Floorball Championships!
by Circle Stories, on November 28, 2021 16:00 PM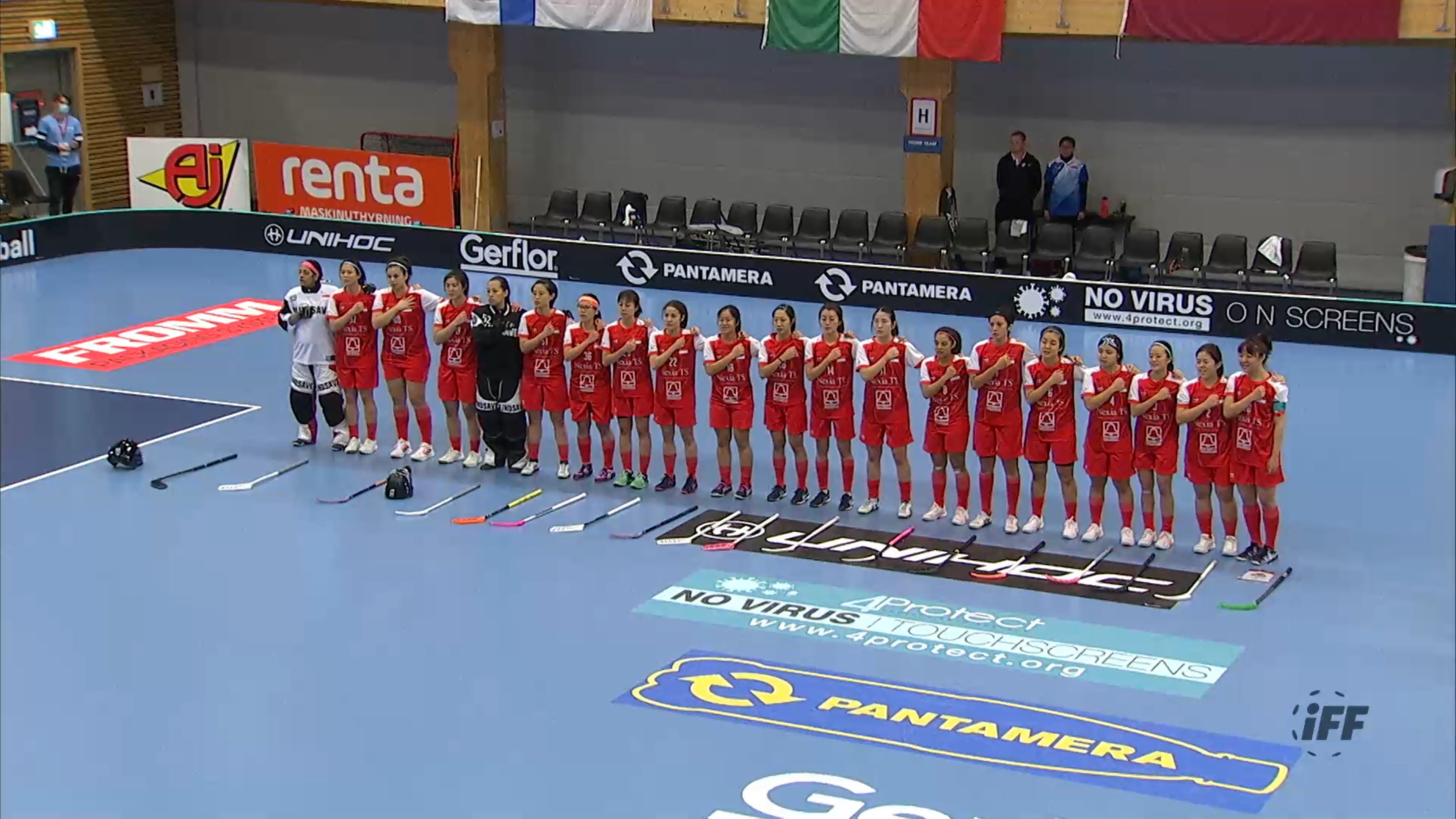 (TeamSG at the Women's World Floorball Championships 2021 : Image extracted from Live Stream)
By Gracia Sengutuvan
Having lost 4-3 to Estonia in their opening match on 28 Nov, Team Singapore knew that they needed a good result against NFFR (Russia) in their 2nd Group D clash. And on 29 Nov in Uppsala (Sweden), it was an exhilarating performance by TeamSG at the Women's World Floorball Championships. The game was closely contested from the outset, with both teams going goal for goal - ending in a thrilling 5-5 draw!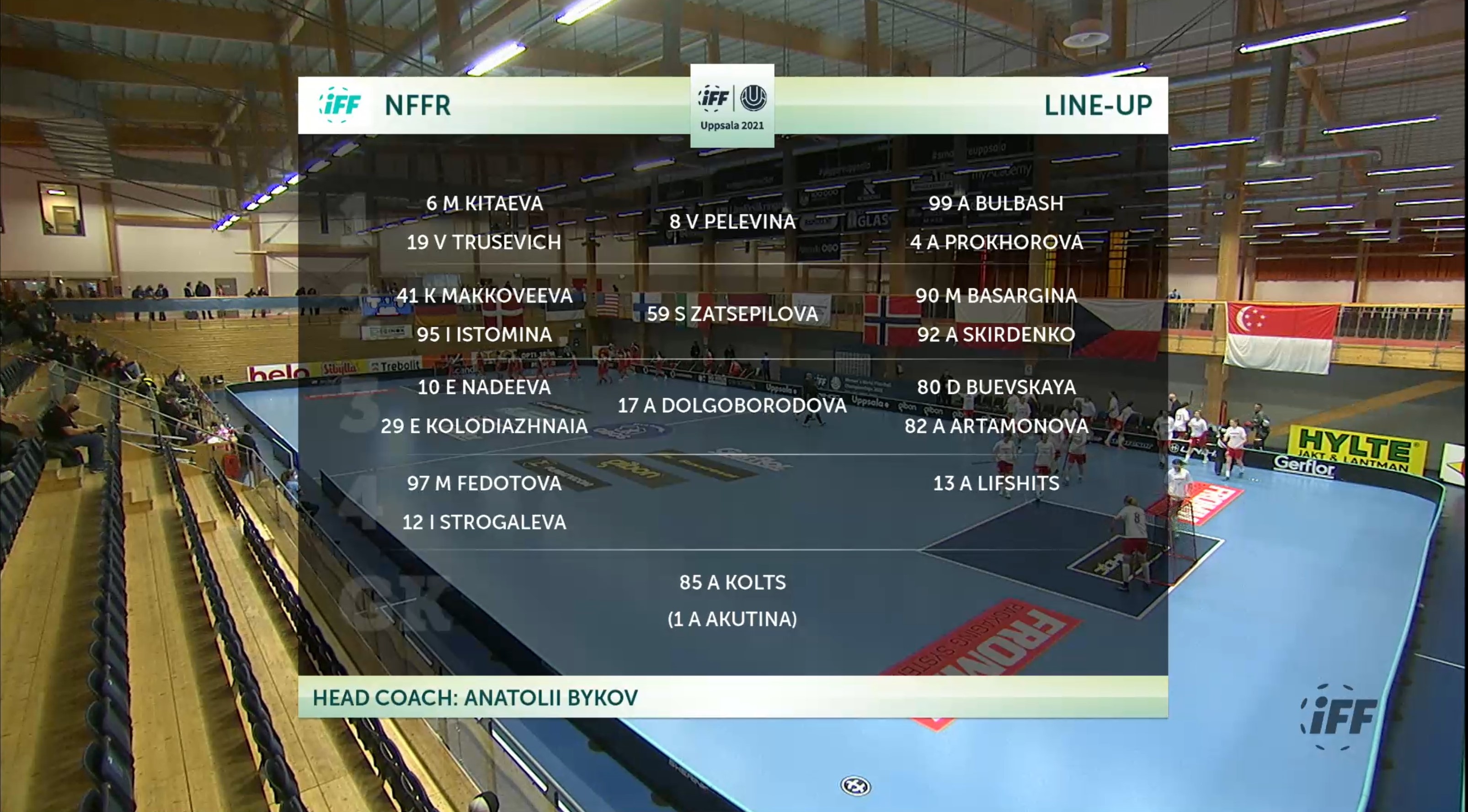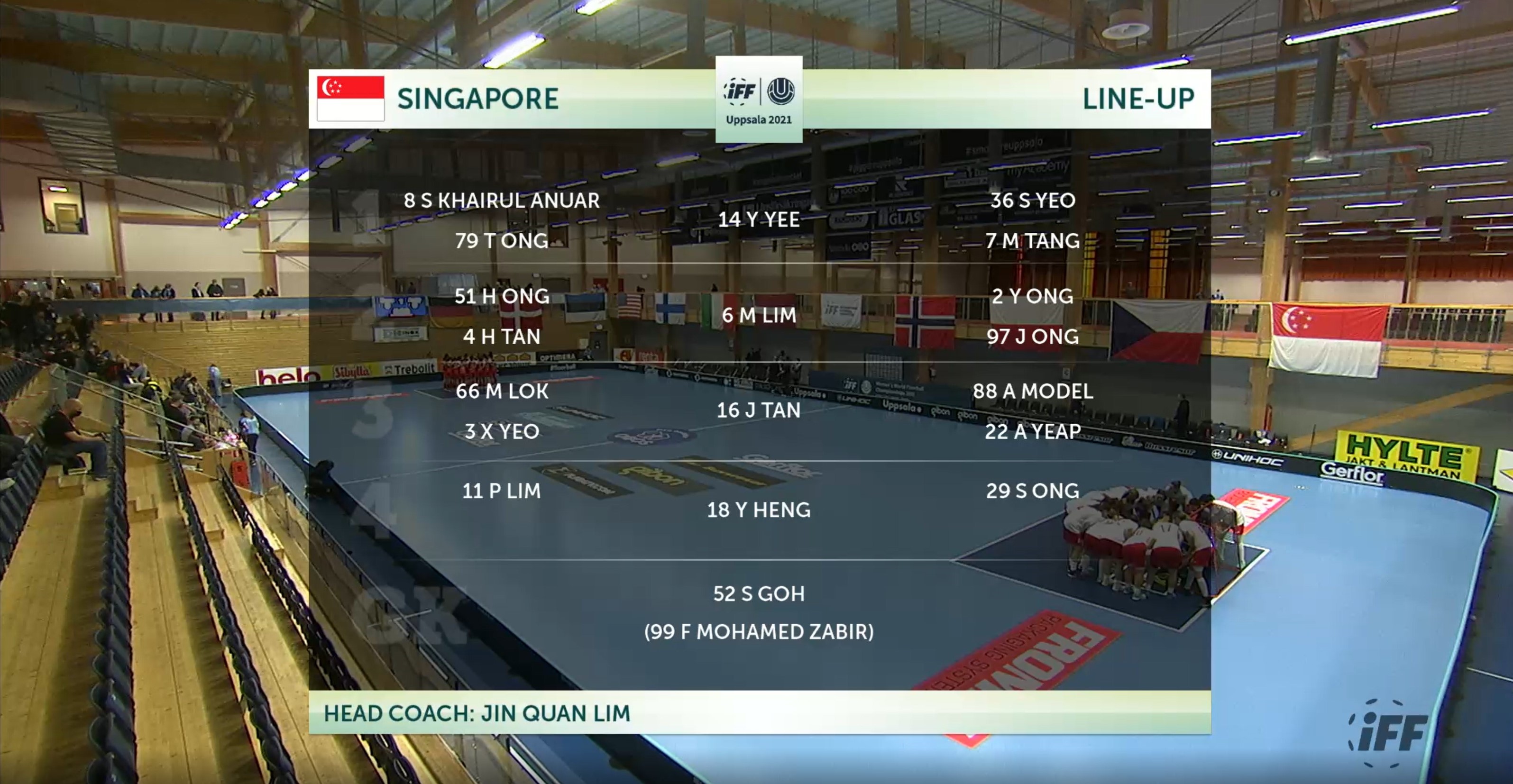 The match began rather slowly with both teams trying to size each other out with careful attacks. After a few shy attempts, NFFR took the first lunge at Singapore, 5 minutes into the game. A miscalculated pass by Singapore allowed NFFR's Diana Buevskaya to set the shot up for 19-year-old Elizaveta Nadeeva who nailed it in (1-0).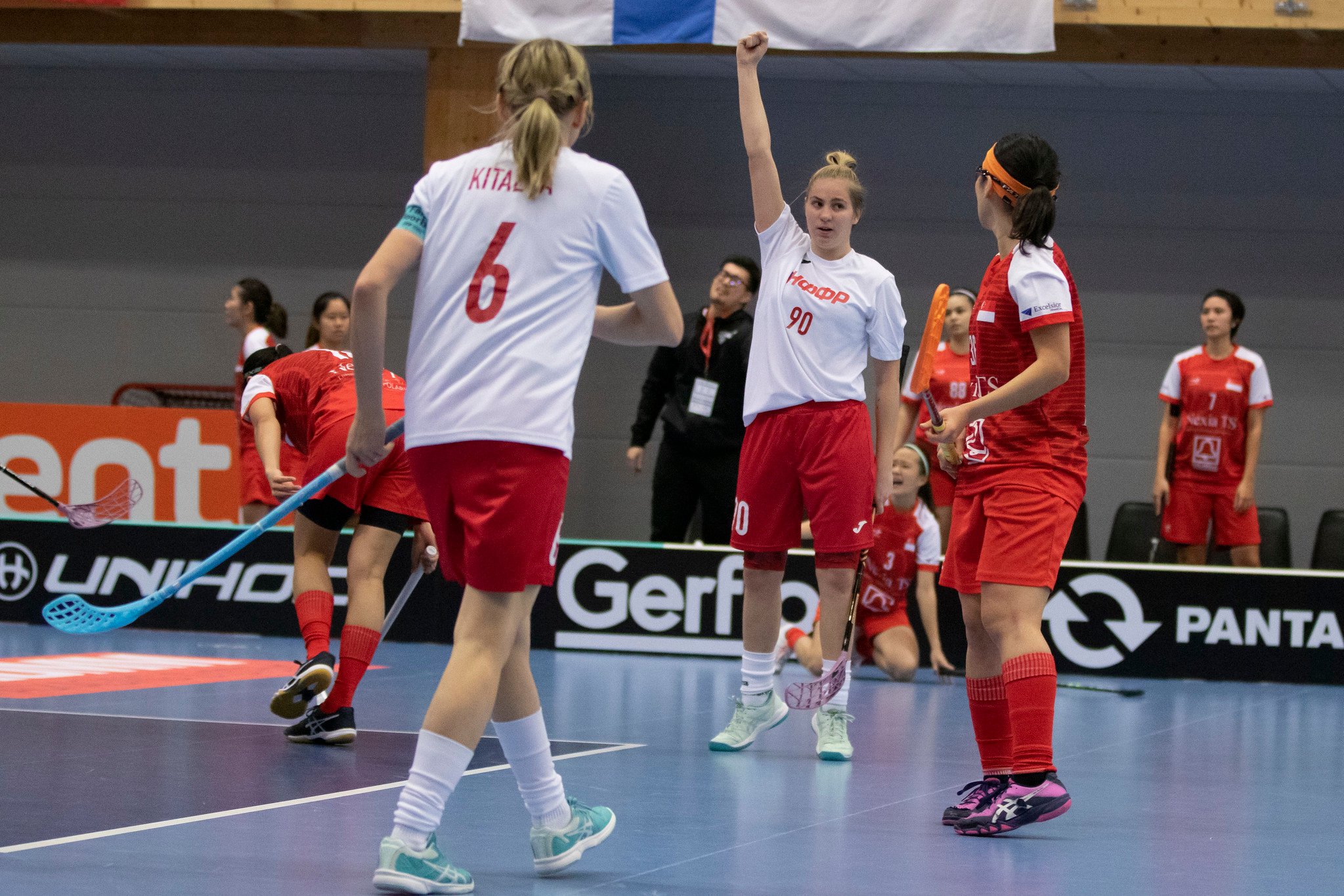 (Mariia Basargina scores 2nd goal for NFFR - Photo Credit : International Floorball Federation)
Thereafter, Singapore seemed a little jittery and would go on to concede again in the 7th minute when Mariia Basargina takes a drag shot from a distance. There was a visible shift in Team Singapore's demeanor as they became more stabilized defensively. That proved prescient at the 11th minute when Ong Ying Rui scores the first goal for Singapore, once again, through a rebound off Mindy Lim. The first period ends with a score of 1-2.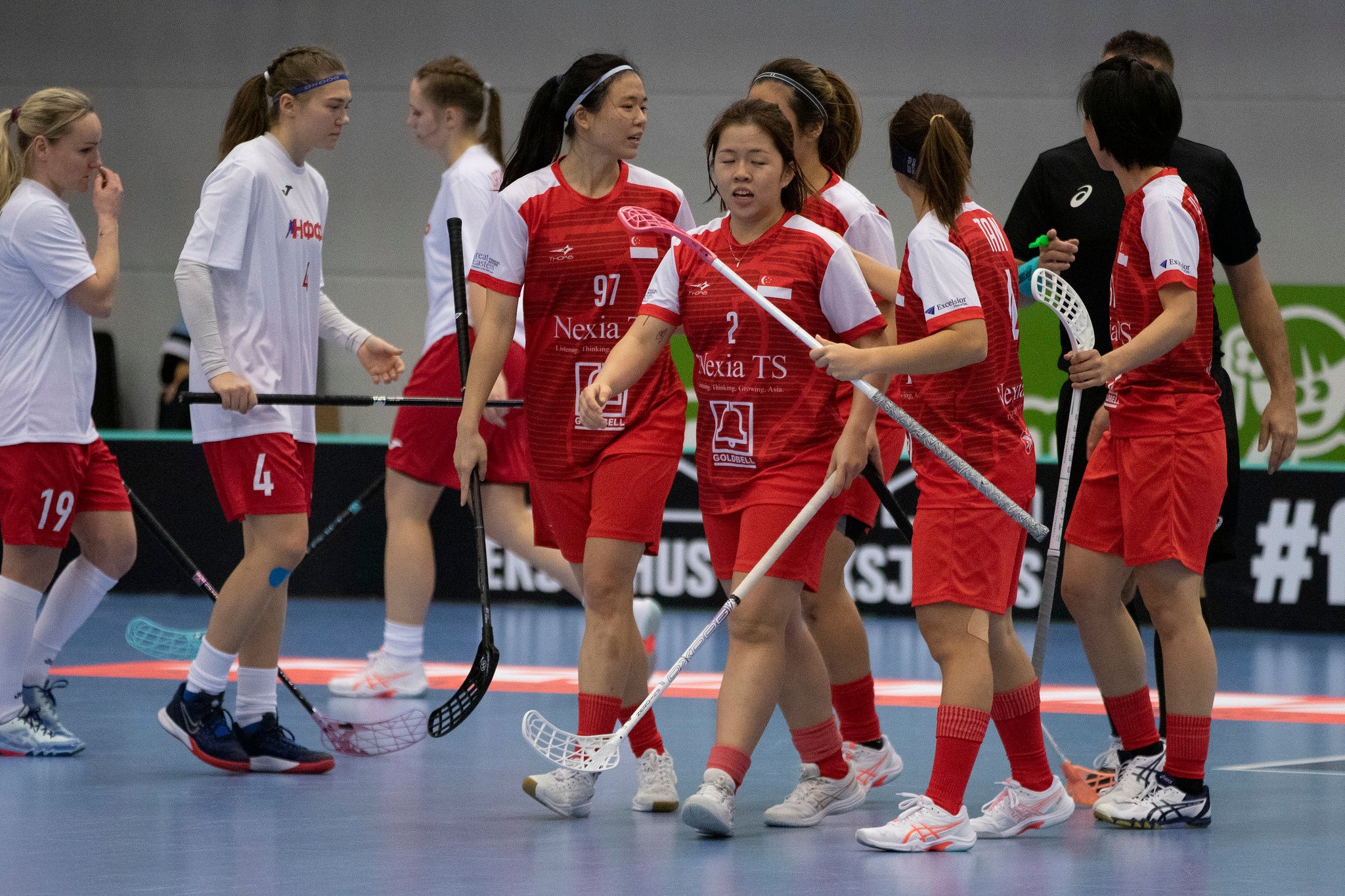 TeamSG's Ong Ying Rui (No 2) scores the equaliser. Photo Credit : International Floorball Federation
9 minutes into the 2nd period, Singapore draws an advantage for 2-minutes when Nadeeva was sent to the sin bin for repeated slashing. With a 1-player advantage, TeamSG was patient and controlled in their passes. A quick ball movement from Amanda Yeap to debutant Angela Model saw her entering the scoresheet for Singapore at 2-2. The 33 year old blasted her shot from almost 8 metres out. What a well-executed power play!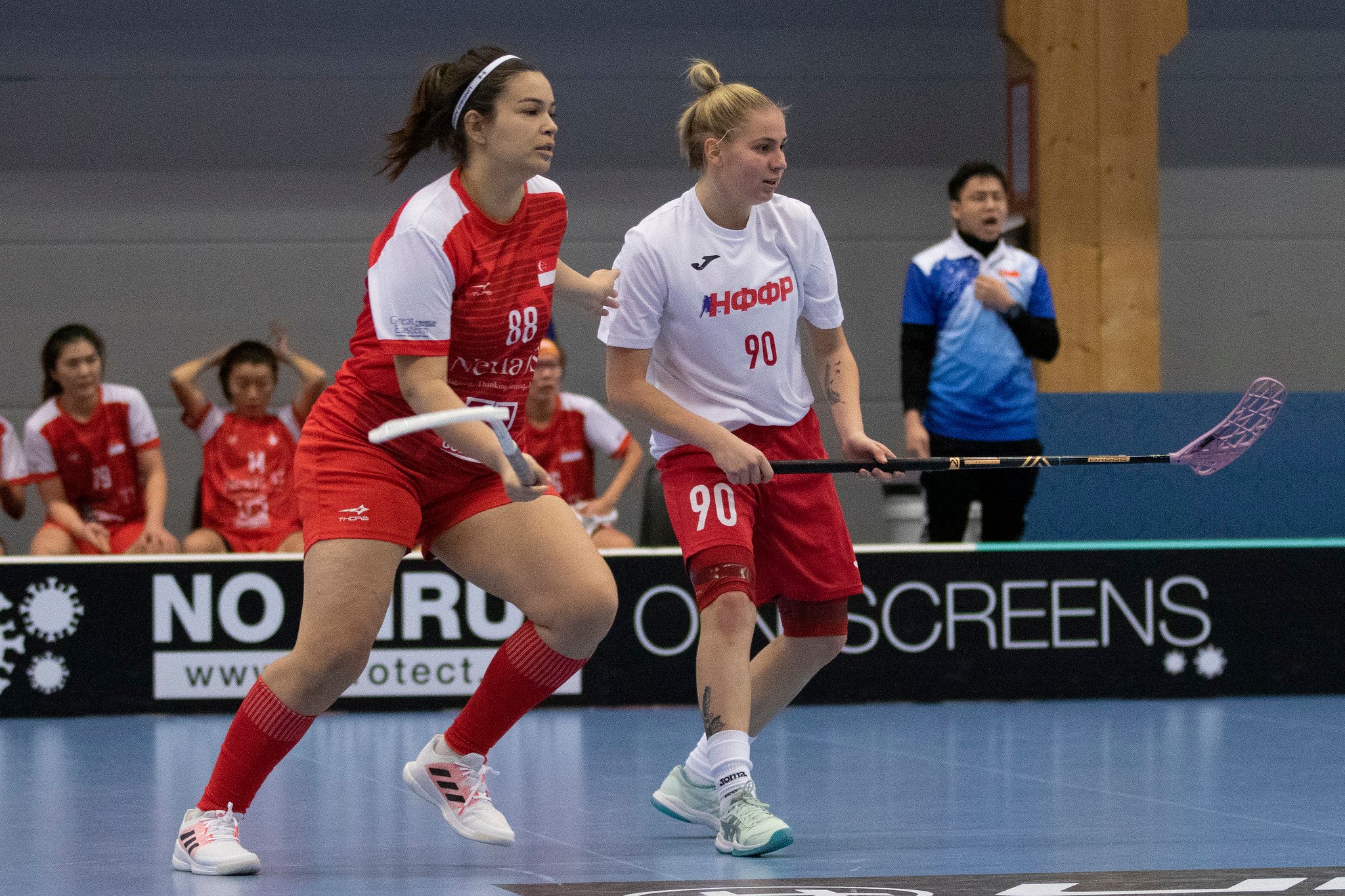 (TeamSG's Angela Model scores for TeamSG. Photo Credit : International Floorball Federation)
4 minutes after the equaliser, it was the captain Michelle Lok who gave Singapore a 3-2 lead, with a wrist shot from a loose ball. And just a minute after, Tiffany Ong sent a beautiful lob pass to Shannon Yeo who widened the gap to 4-2!
NFFR responded in kind within the same minute with a simple tap-shot-rebound combo marking Anastasiia Bulbash's first goal in the tournament. But 2 minutes before the end of the 2nd period, Tiffany Ong was given a 2-minute penalty for slashing and Singapore was down to 4-man. The Singapore goalkeeper turned aside everything NFFR threw at her goal and the period ended with 4-3.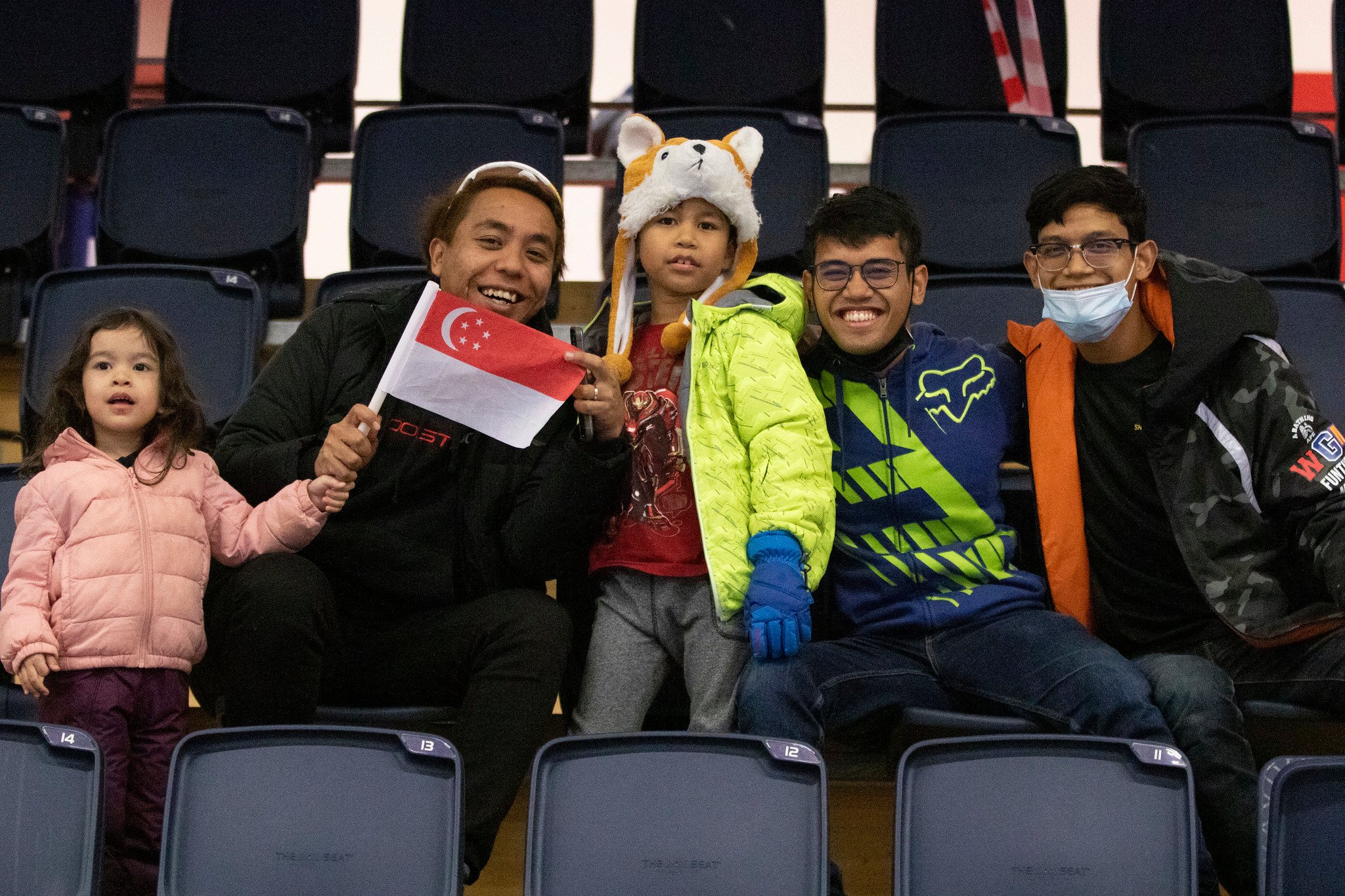 (TeamSG Supporters. Photo credit : IFF)
Having lost their 1st game against Norway 7-3, NFFR needed to beat Singapore to stand a chance to move into the Playoff round. So 9 minutes into the 3rd period, some rough-housing between both team's players, creates a loose ball that the ever-vigilant Basargina snags up and drives it in for NFFR. 4-4!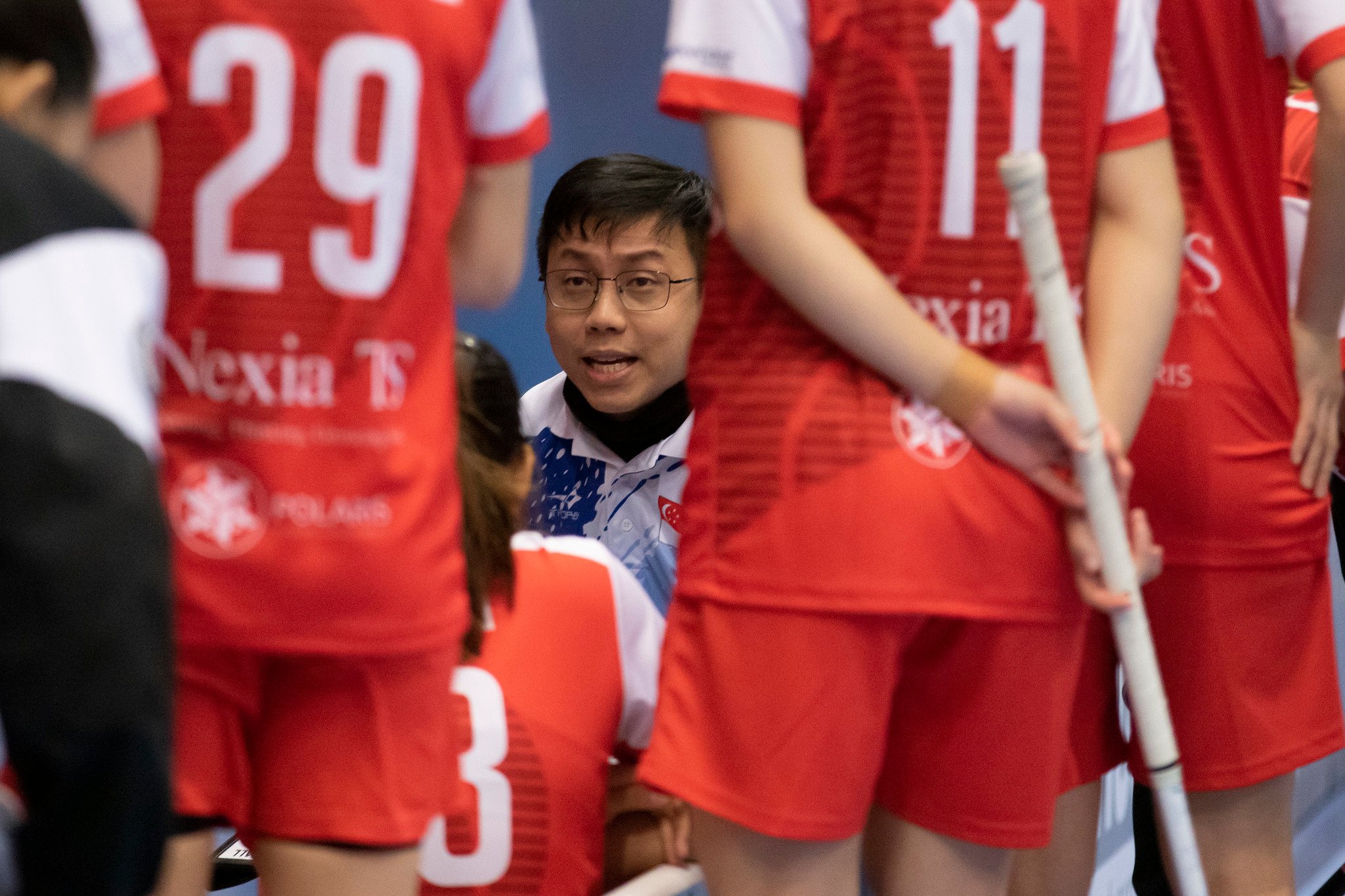 (TeamSG's Coach Lim Jin Quan. Photo Credit : IFF)
14th minute-Singapore faces another hurdle as Tiffany Ong is once again penalized. This time around, it's a heftier punishment with a penalty shot awarded to NFFR. Mariia Fedotova steps up to the plate and goes one-on-one against Fariza Begum. Everyone holds their breath as Maria inches forward towards the keeper, but the ball is swatted away by Fariza, her years of experience truly exhibited!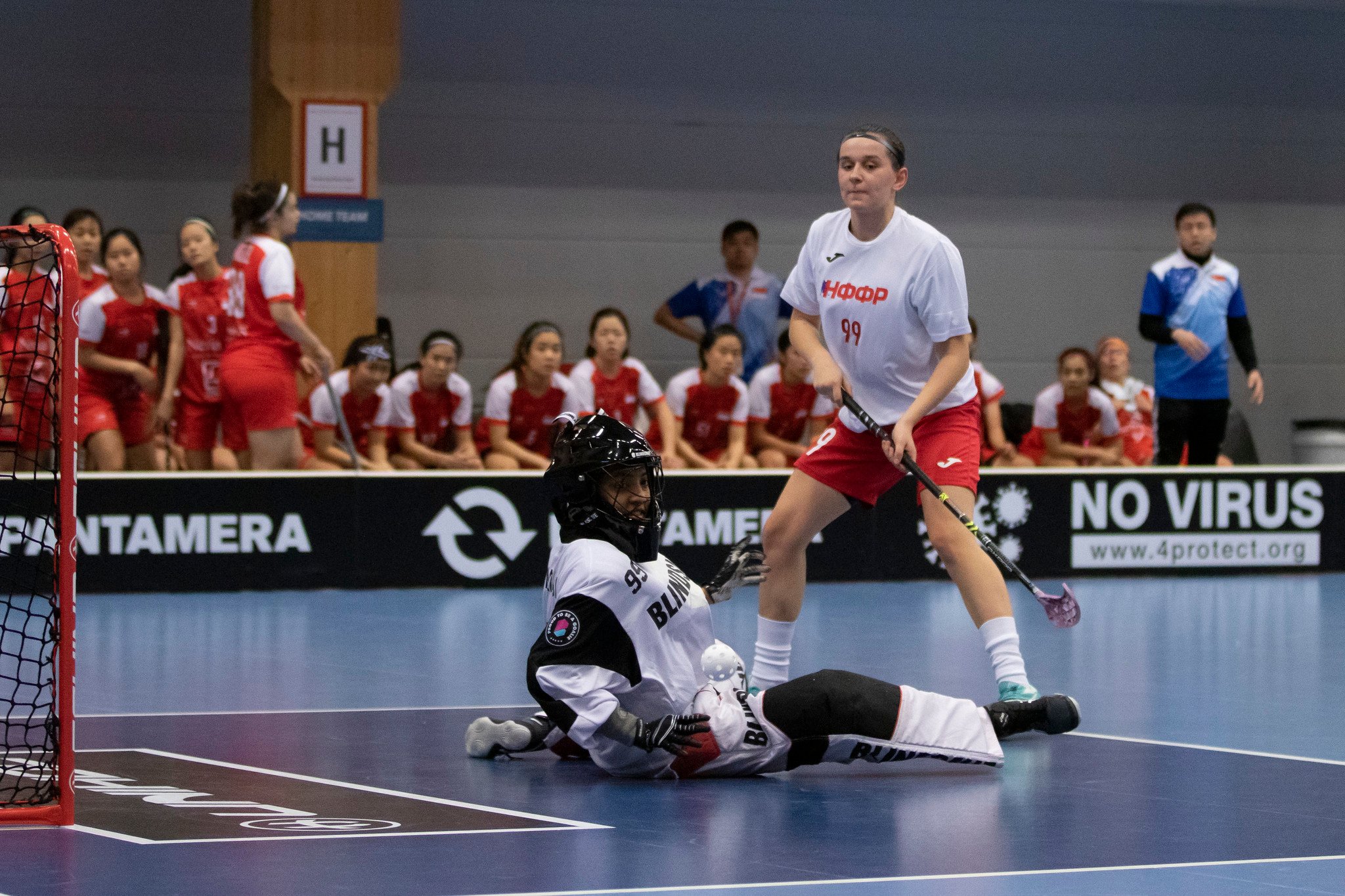 (TeamSG's Fariza Begum with the save! Photo Credit : IFF)
2 minutes left in the match and the score is 4-4. But that changed when a well-meaning cross-court pass by Singapore's Amanda Yeap is swiftly intercepted. Passes stringing Makkoveeva-Bulbash- Kitaeva results in NFFR taking a 5-4 lead with less than 70 seconds on the clock!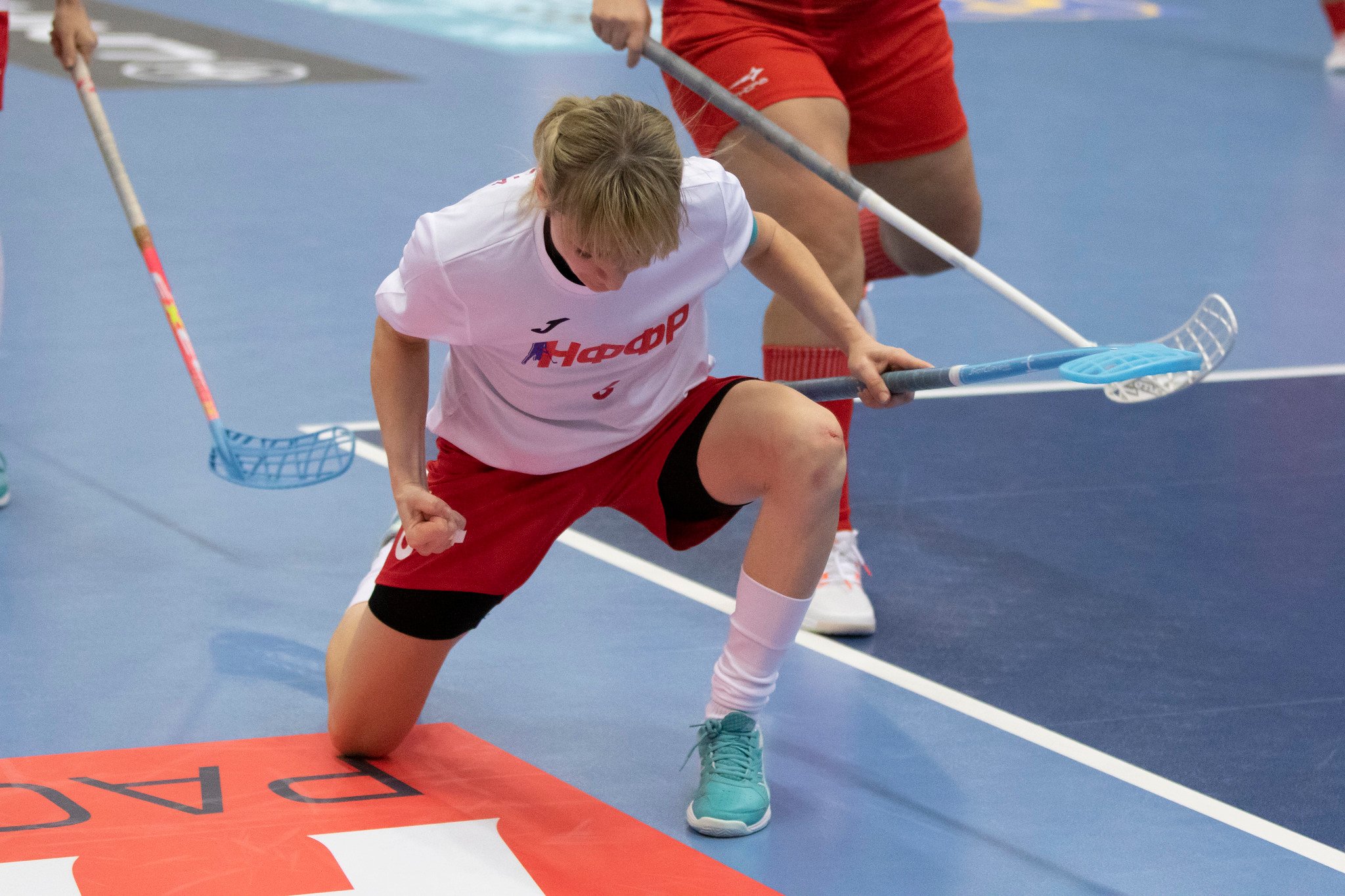 (Captain Mariia Kitaeva scores for NFFR. Photo Credit : IFF)
With the clock winding down, both sides fought aggressive as a goal for either team, could still change the outcome of the match (and their team placings). But with a mere 5 seconds left on the clock, Yeo Xuan sends an exquisite diagonal pass towards Angela Model. And the tournament debutant shot straight at goal, bounces off an opposing defender and it's 5-5!! That was the final score as both teams deservedly shared a point each.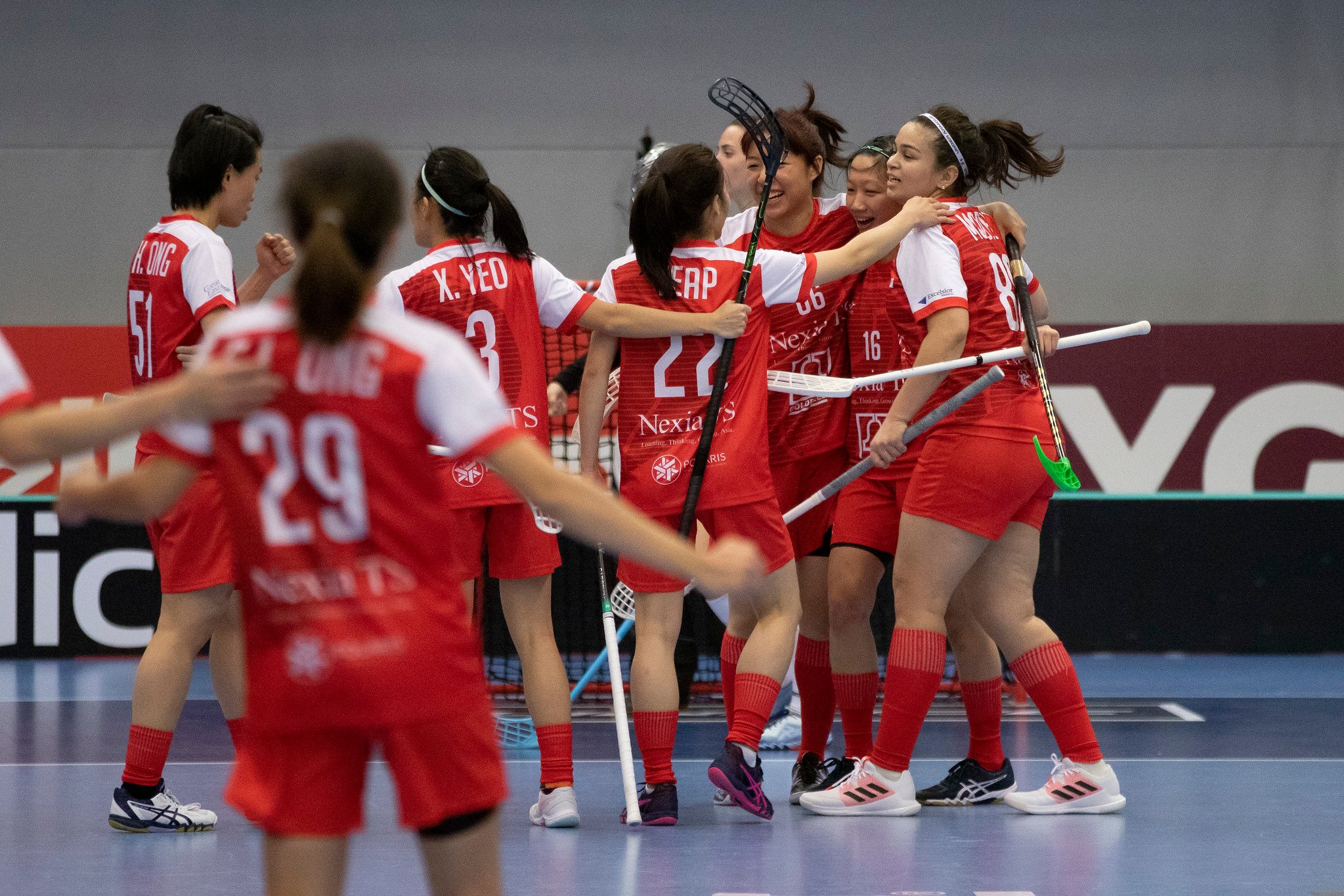 (TeamSG Celebrations after their 5th goal. Photo Credit : IFF)
Speaking to Circle News (SportSG) after the match and regarding her state of mind in those final moments, Yeo Xuan said "I was thinking of the 6 men play we did the previous game against Estonia, and I remembered the spaces available. Though the clock was left with a few seconds, I was reminding myself not to rush any passes and slowly set it up before finding the open man for the shot!"
A hard-fought game till the very end!
Team Singapore now must recuperate and prepare to meet Group D's final competitor, Norway on Tuesday (Nov 30) from 1 am onwards. Let's cheer them on! The Norwegians scored 18 goals and only conceded 4 times in their matches against NFFR and Estonia.
Click on this ActiveSG Circle link to watch the match Live and exclusive. Let's Go Team Singapore!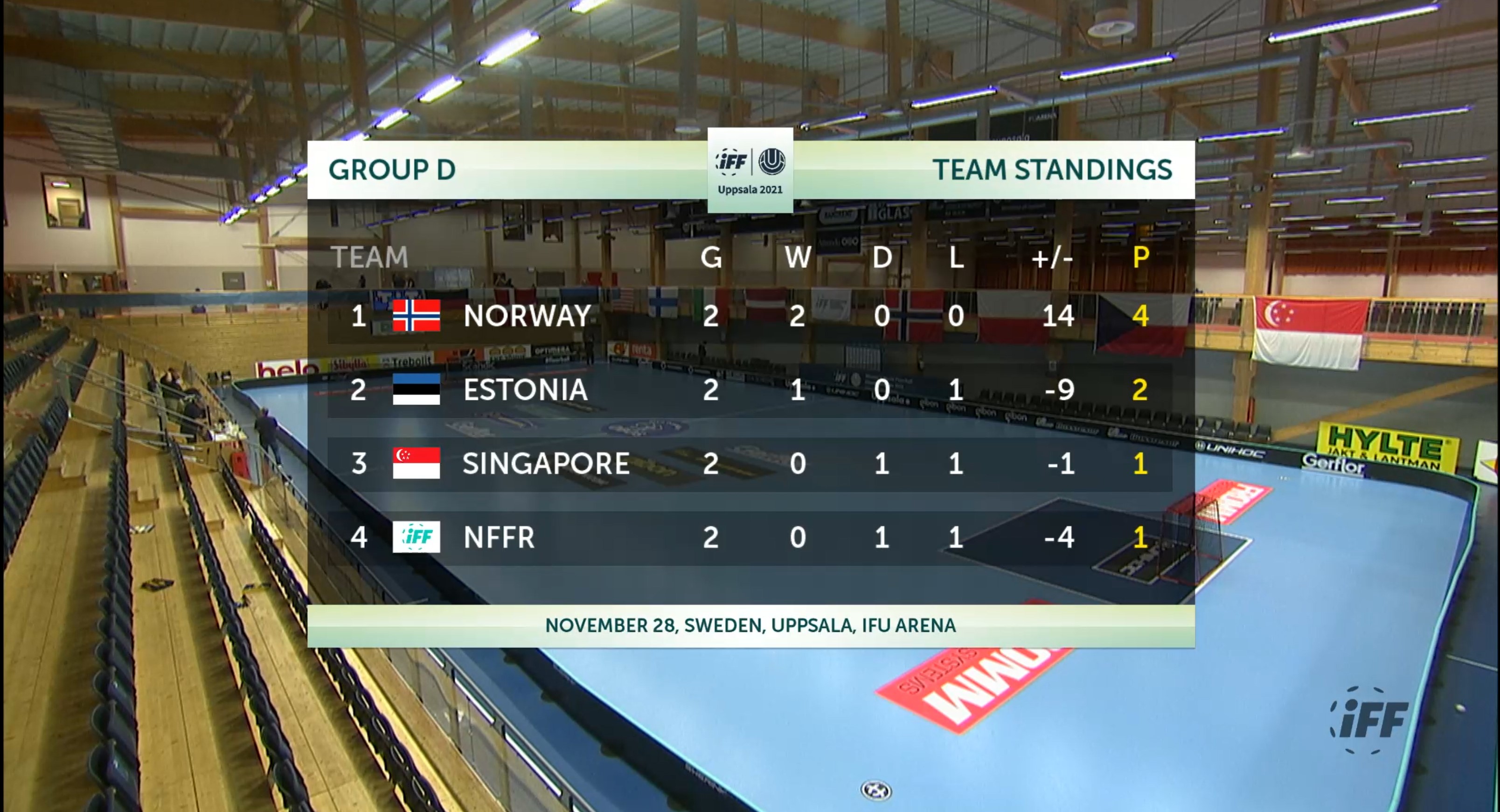 Edited by Raj Kumar
Gracia Sengutuvan was part of Team Singapore's SEA Games Gold medal winning squad in 2015! She's been playing floorball competitively for 13 years. Gracia joined Team U Sports Liitto Floorball Club straight out of secondary school and played for them till she left Singapore in 2019. She enjoys watching the NBA and her favourite player is Steph Curry. She has a good feeling that the Golden State Warriors are going to win the title this year. However, she also had that feeling last year.
Recent Events & Programmes