GetActive! Singapore
57,000 preschoolers celebrate nation's birthday phygitally via kampung games
by Circle Stories, on August 5, 2022 7:12 AM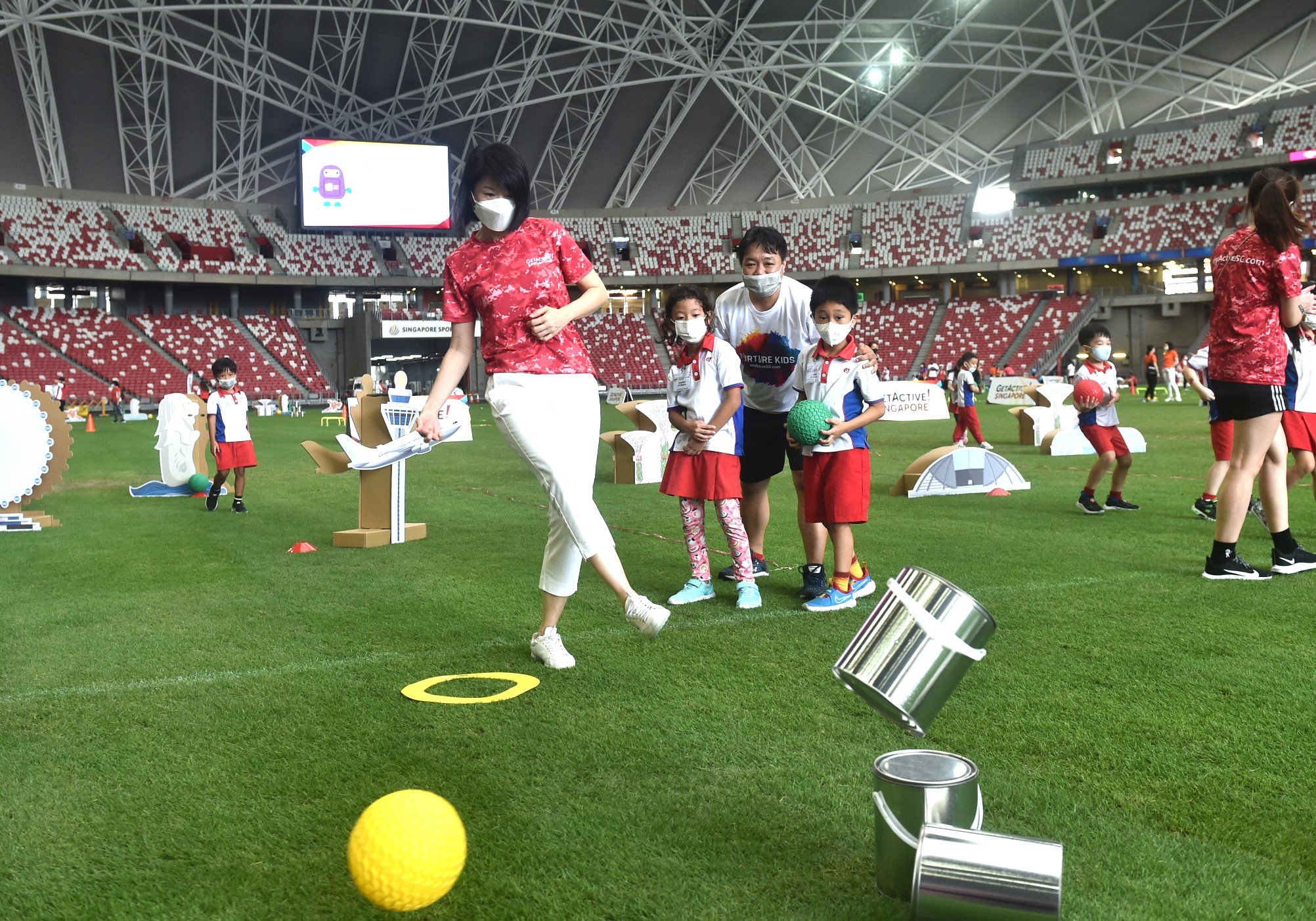 Minister of State Ms Sun trying out the 'Bola Tin' game. Photo Credit : SportSG
5 August 2022 – About 57,000 preschool children celebrated the nation's 57th birthday 'phygitally' by playing Kampung Games with a twist at the GetActive! Singapore Nurture Kids Festival. The games played at the one-day event were just a handful of the full '57 Kampung Games' collection, an activity resource guide for preschoolers that includes old school games that have been modified to incorporate fundamental movement skills. The aim is to encourage more regular physical activity and social interaction through fun games among preschool children.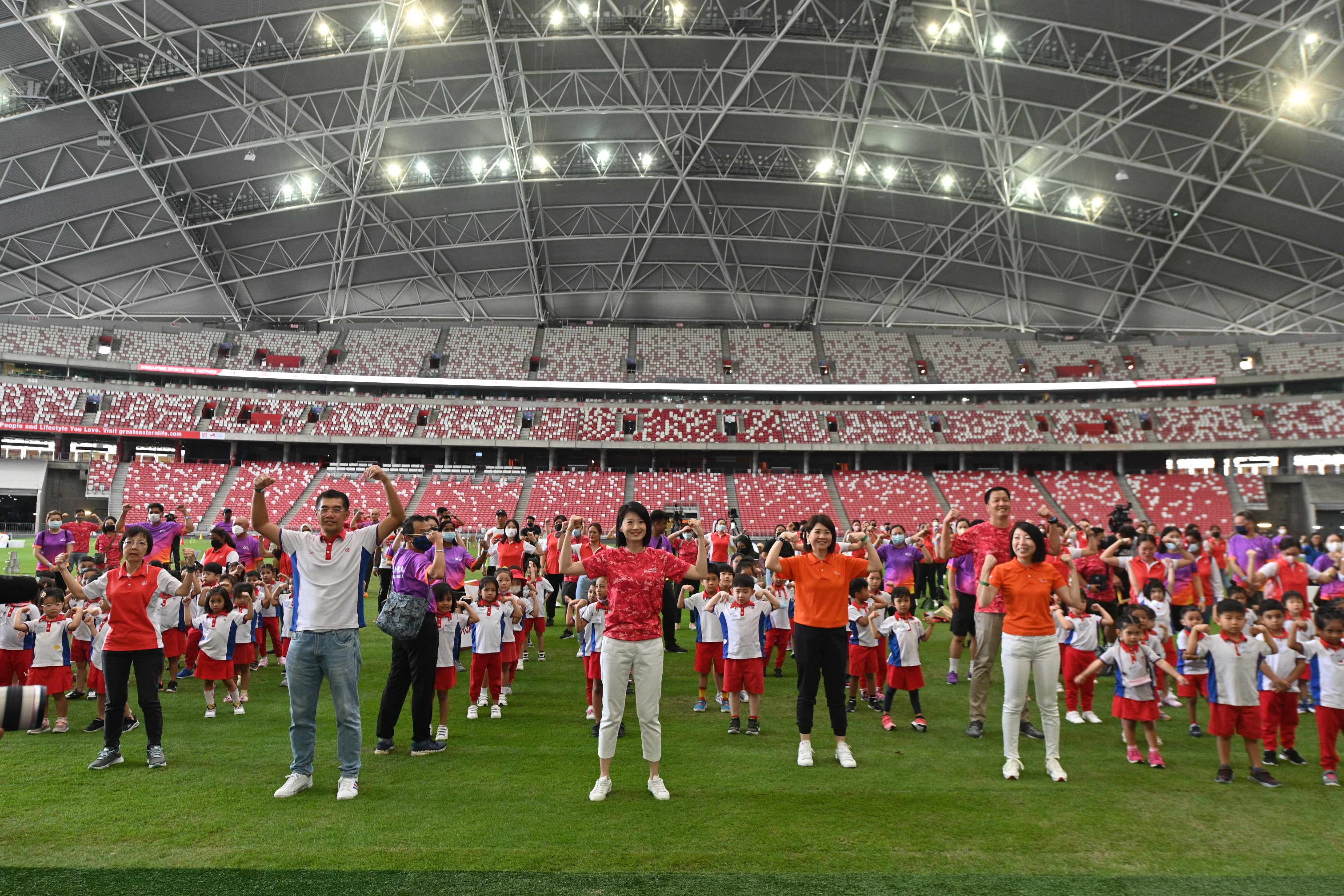 Minister of State Ms Sun participating in the GetActive! Workout. Photo Credit : SportSG
Guest-of-honour Ms Sun Xueling, Minister of State in the Ministry of Home Affairs and the Ministry of Social and Family Development, launched the '57 Kampung Games' collection, which comprise games contributed by the preschoolers themselves, as well as individuals from the sporting fraternity, including Team Nila volunteers, SportCares youths and Team Singapore athletes. This collection also entered the Singapore Book of Records for the largest collection of national day themed Kampung Games.
"It is extremely meaningful to see our young ones enjoying games of yesteryears, some with a twist, as we prepare to celebrate our nation's 57th birthday. The games allow our young ones to be active outdoors and learn through play – all of which are extremely important for their physical and socio-emotional development. At the same time, the nostalgic games evoke fond memories for those of us who played these very games when we were younger. I hope that parents and children have enjoyed themselves and strengthened family ties in the process" said Ms Sun.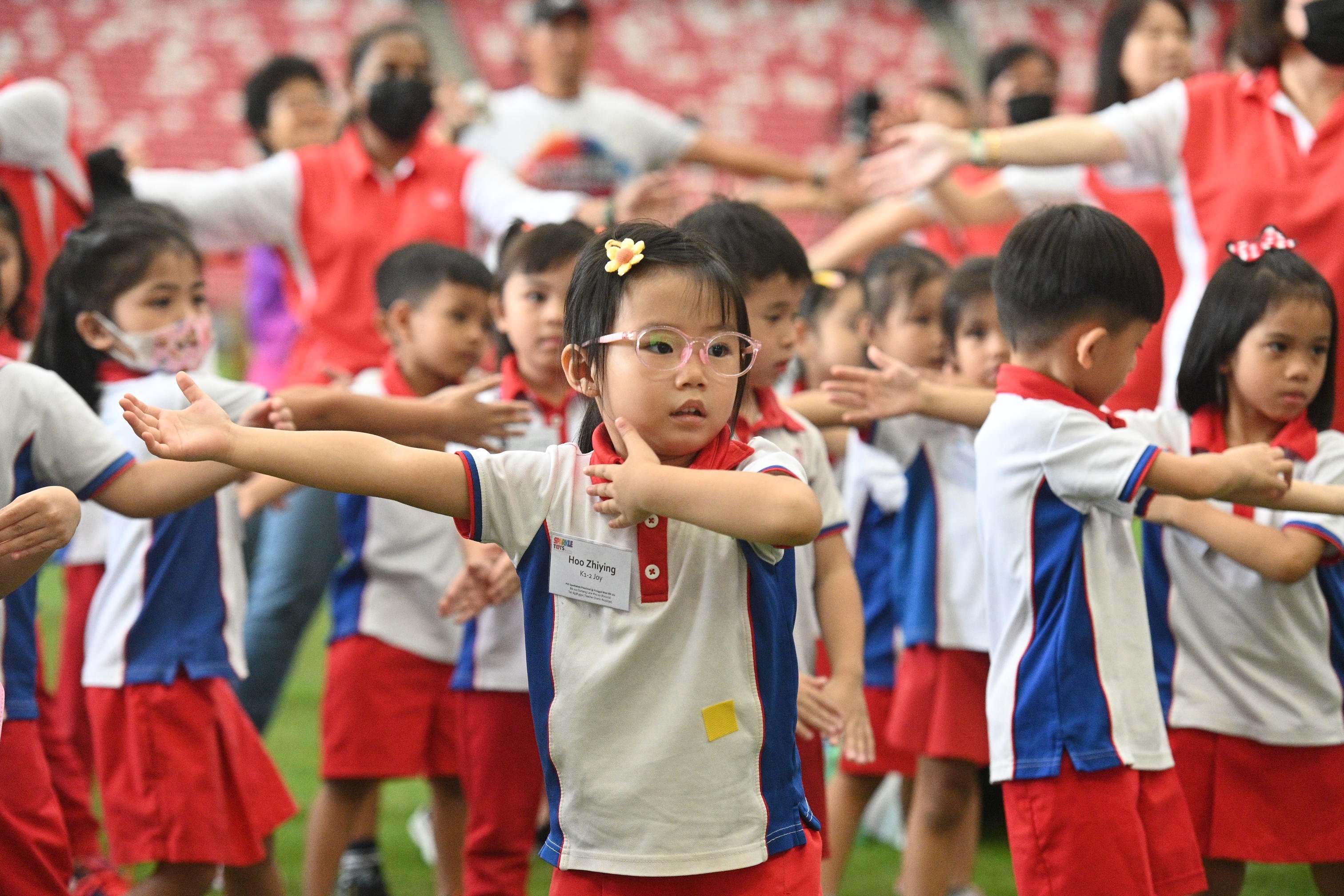 Children from PCF Sparkletots participating in the GetActive! workout. Photo Credit : SportSG
Over 1,000 preschool children and educators were on-site at the National Stadium across four sessions throughout the day, while over 56,000 children across 500 preschools joined the festival virtually. Some of the games played include a sporty version of traditional favourites like 'Eagle Catches the Chicks' involving balancing beams and zig zag movement; 'Hopscotch' involving words and pictures matching, balancing and throwing skills; and 'Bola Tin' involving counting and mini-missions such as moving like a crab and imitating an aeroplane (Videos of how the games are played can be found here: https://bit.ly/3JuXptg
Since June 2022, preschools and the wider community were invited to give a new twist to traditional Kampung Games by including elements of creative game play, opportunities for teamwork and elements of Singapore's heritage. At the same time, the games were to develop fundamental movement skills. A total of 208 submissions were received, and 57 of the most creative ideas were curated for the '57 Kampung Games' collection. The '57 Kampung Games' collection is available online at http://go.gov.sg/nk2022collection.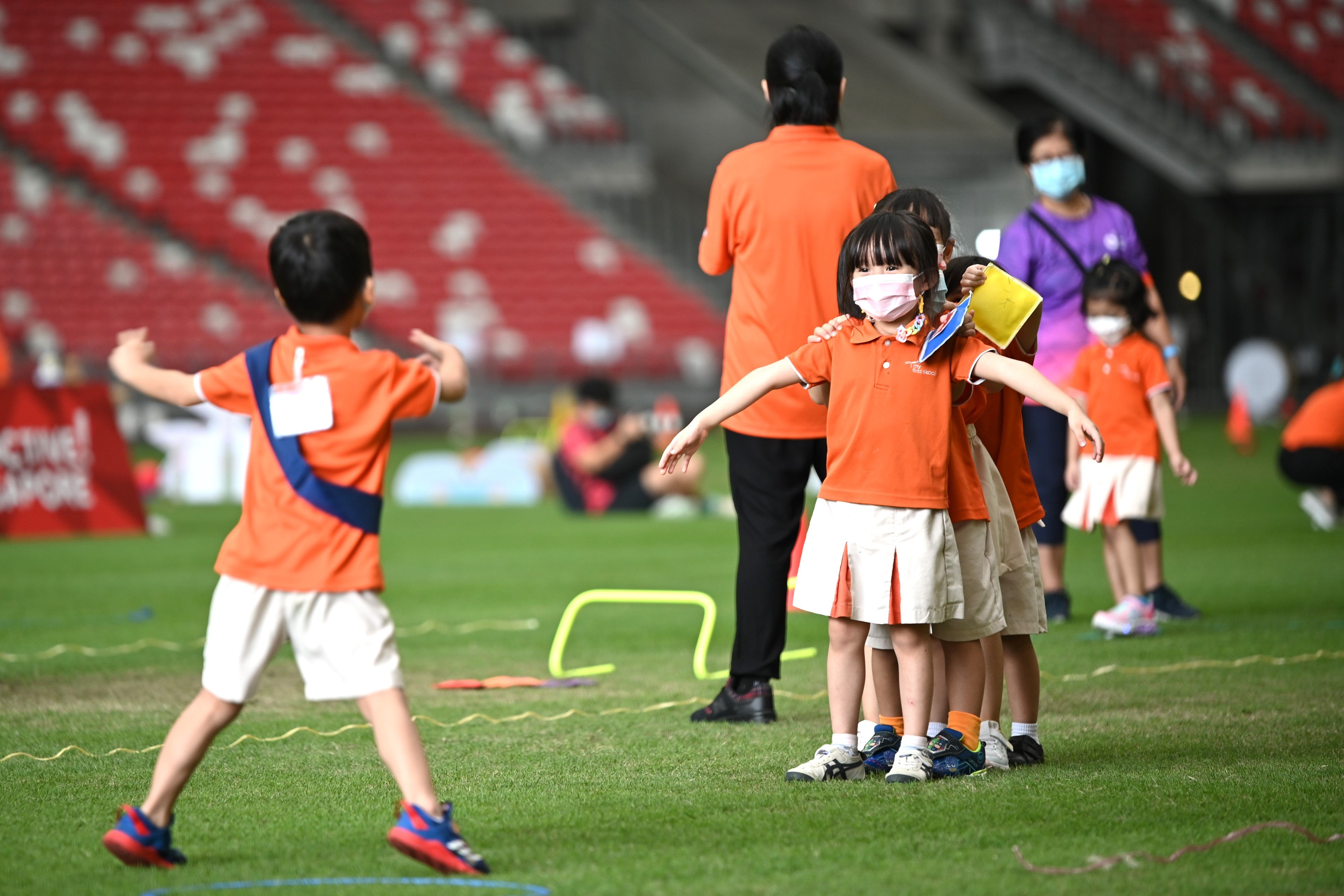 Children from My First Skool playing Eagle Catches the Chicks'. Photo Credit : SportSG


Ms Charmaine Eng, teacher from My First Skool @ 51 Fernvale Link, one of the preschools who had their game selected for the '57 Kampung Games' collection', said, "Our game 'Tic-Tac-Singapore' was inspired by 'Tic-Tac-Toe', which was chosen by the children themselves amongst the other Kampung games. As this game was designed to be played outdoors, we incorporated underarm throwing techniques to develop the children's gross motor skills. Besides playing in the preschool, the children also played the game at home with their parents, and we received feedback that the children had a lot of fun at home as well."
GetActive! Singapore is happening from now till 8 August 2022, at the Singapore Sports Hub, ActiveSG Sport Centres and selected heartland community spaces. For the full line-up of events and activities, do visit: go.gov.sg/getactive-singapore
Recent Events & Programmes