Team Singapore
Hardwork, Grit & Tenacity shown by TeamSG Floorballers, bodes well for the future!
by Circle, on November 17, 2022 12:41 PM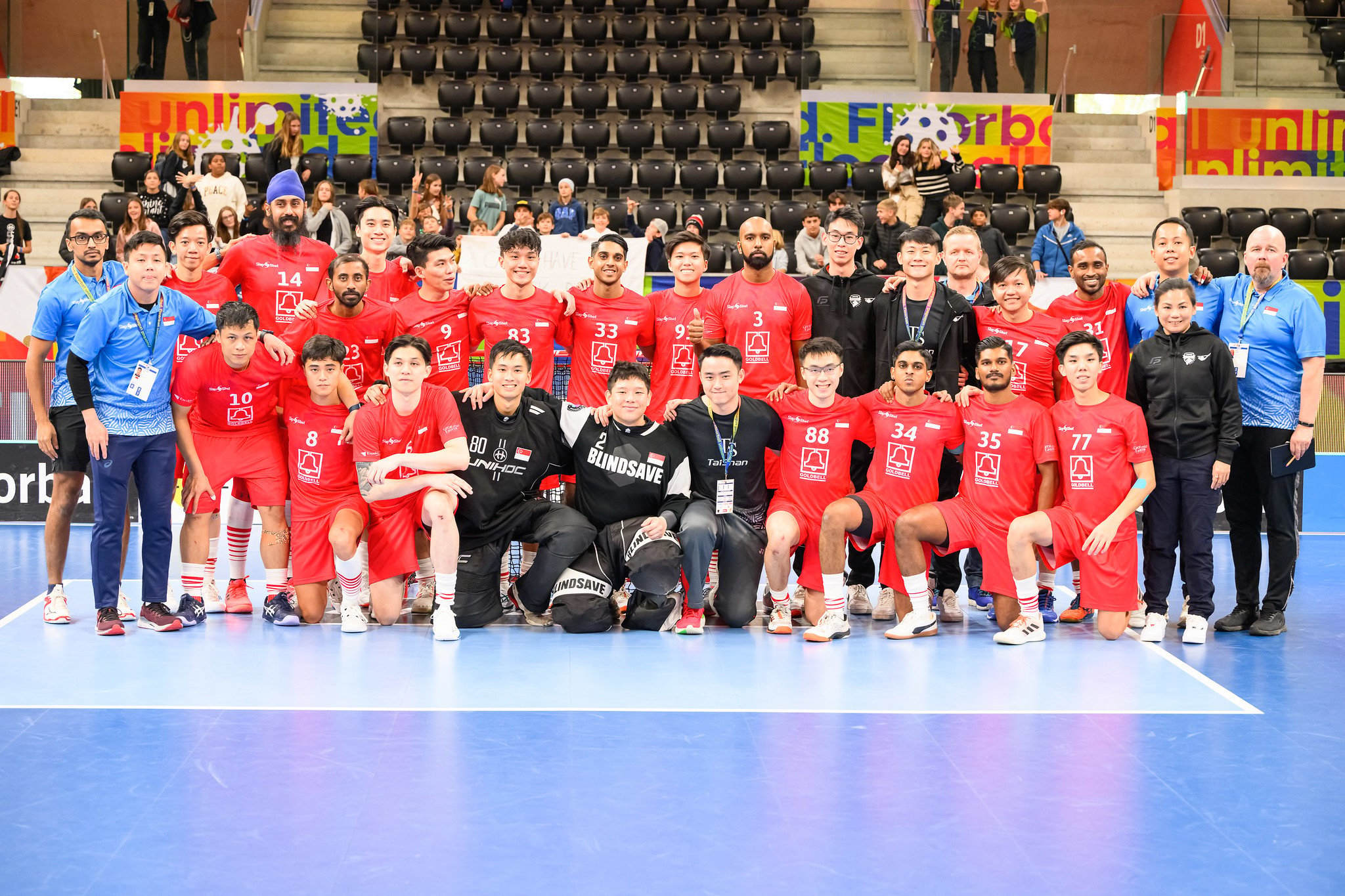 Team Singapore's final group photo at the end of the 2022 IFF World Championships. Photo Credit : IFF
It's been 4 years since Singapore's Men's Floorball Team last won a match at the prestigious IFF World Championships (WC). That came in the form of a 9-5 win over Japan in a group stage match. The biennial WC sees 16 of the world's best teams compete for the ultimate prize in floorball! Meanwhile, since that victory in December 2018 in Prague, the Republic has gone on a 10-match winless streak across the last 2 World Championship campaigns. At the regional level though, Singapore are ranked 2nd based on their silver-medal showing at the 2019 SEA Games in Manila. Floorball was excluded in the Hanoi SEA Games in May 2022.
The team's 16th place finishes at the World Championships from 2010 to 2020, compelled Men's national team coach Lim Jin Quan (JQ) to make strategic changes ahead of this November's campaign in Switzerland. The national team saw 9 changes in the players lineup in comparison to the previous WC stint last November. The last 12 months was a rebuilding phase, which saw a few senior players stepping down and making way for "new blood". And the team in transition enjoyed a stellar campaign 7 months ago, with victories over Malaysia, New Zealand, South Korea and Australia. With a 3rd place finish in the Asia-Oceania qualifiers, TeamSG booked their tickets to compete in the World Championships for the 7th time.
The overall mission for TeamSG in Switzerland was all about 1 common goal - To avoid finishing in 16th place! Based on that mindset, the team trained twice a week for well over 5 months and embarked to Zurich, for 2 friendly club matches just before starting their WC journey. Their opening match was against 8th ranked Estonia. TeamSG found themselves 4-0 down before they were able to score. And despite a tough fightback, the Republic went down 12-4!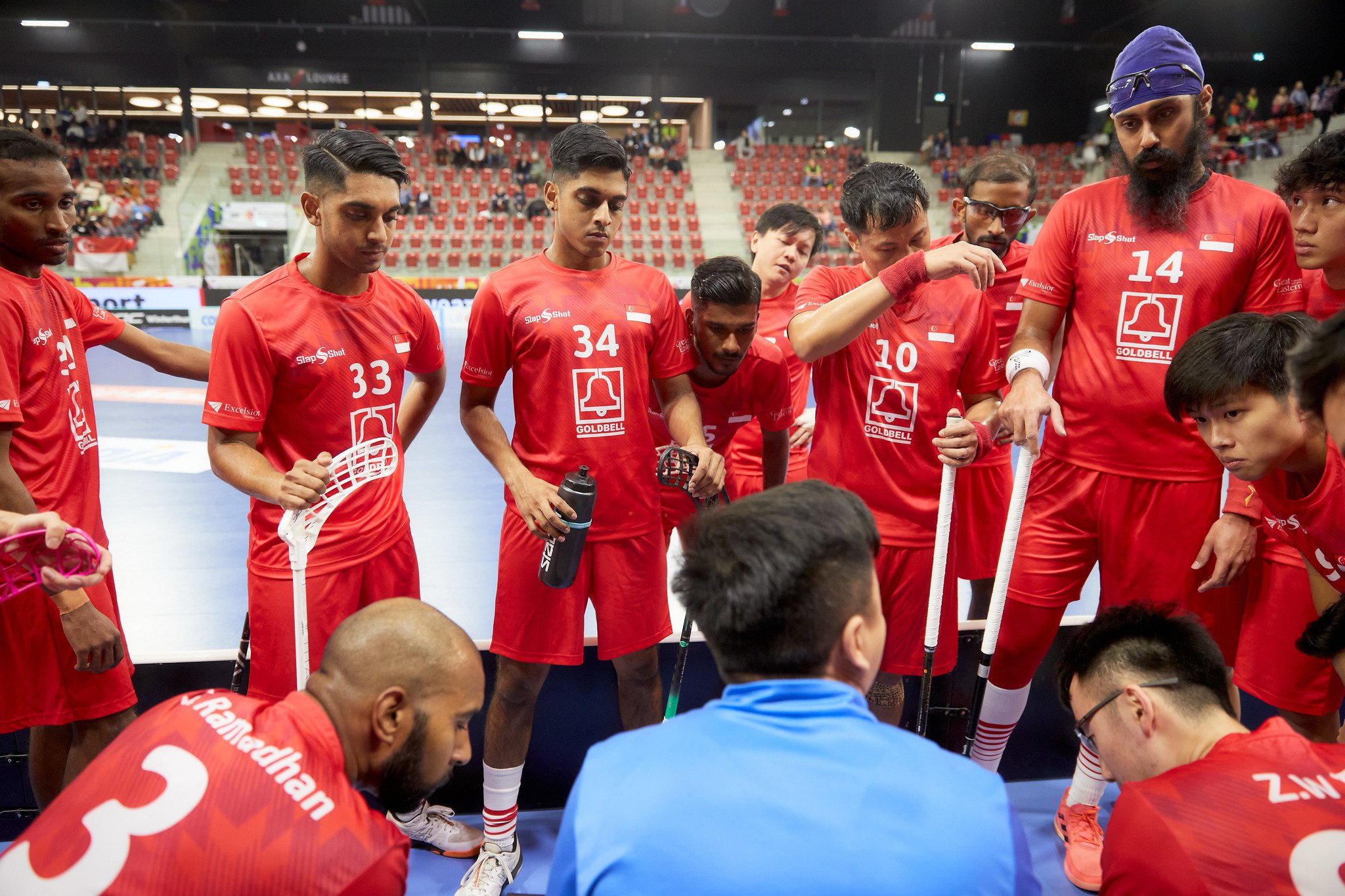 TeamSG during their opening match against Estonia. Photo Credit : IFF
2 days later, Singapore came up against their arch rivals from Thailand. With 2 losses in less than a year against the Thais, TeamSG was hoping to exact revenge. But the Thais proved their regional prowess yet again by taking the match 11-7. And a day later in their final Group outing, it was the Canadians handing Singapore an 8-4 defeat. Despite facing the overwhelming odds, TeamSG did not lose their camaraderie, focus and tenacity, as they gave it their all and followed their coach's instructions to a tee in every match!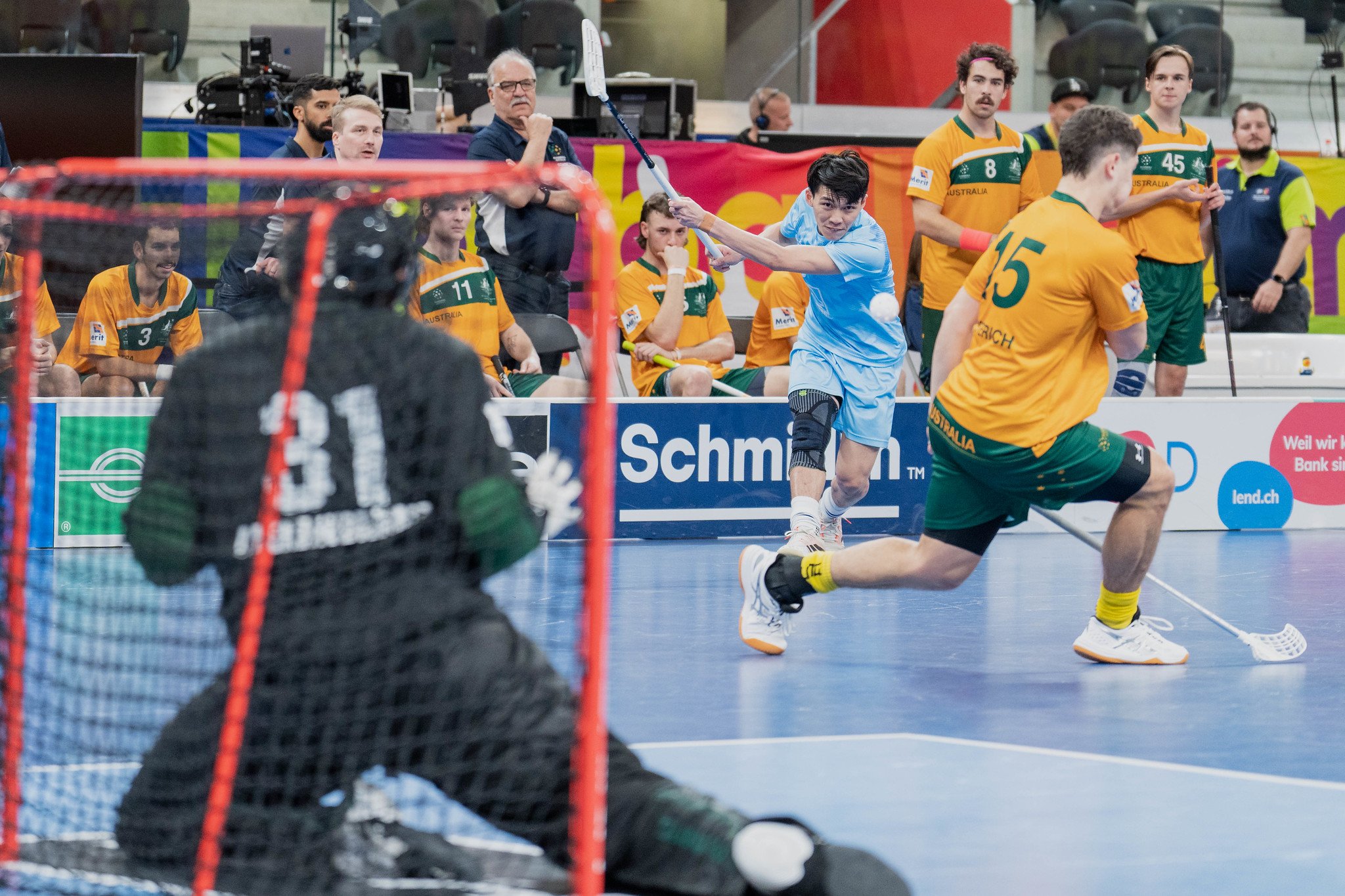 TeamSG's Nicholas Chua (in blue) attempting to score from long range against Australia. Photo Credit : IFF
Moving into the playoffs round, Singapore first locked horns with the Australians. It was another challenging match which resulted in a 7-4 win for the Aussies. And in their final outing at the WC, the Republic met another traditional adversary in the fight for a 15th place finish - Philippines! It was a see-saw battle which saw both teams "pulling out all the stops", as it ended 5-5 in regulation time. The match went into Sudden-death overtime. And just after a minute's play, it was Melvin Mendoza, who scored the matchwinner "in the blink of an eye" for the Filipinos from close range. Final score was 6-5 and Singapore finished in 16th place.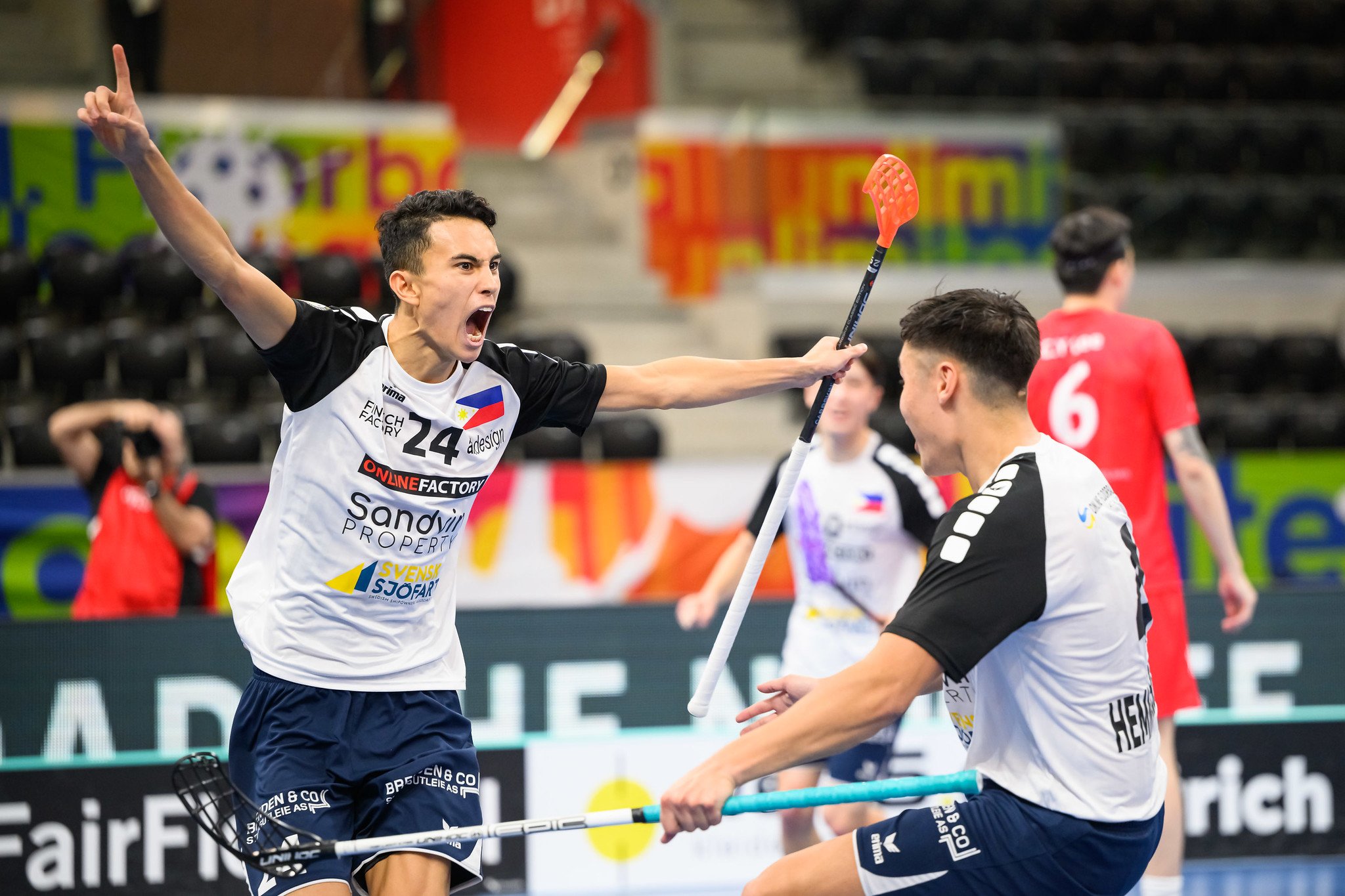 Philippines' Melvin Mendoza with the sudden-death overtime match winner. Photo Credit : IFF
President of Singapore's Floorball Association Kenneth Ho told ActiveSG Circle, that he can see the positives despite their winless WC campaign. "In terms of results, of course we are disappointed to walk away from this year's Championships without a win. However we can clearly see a marked improvement from the performance of the team as compared to the 2020 World Championship in Helsinki. The fighting spirit that our players displayed in Switzerland deserves commendation.
Our team's skills are not the best as compared to other countries, but our players are young and have prospect. I would say the team is heading towards the right direction. Floorball in Singapore is slowly picking up again and we would need to take into consideration that we had only open up our sporting scene from the pandemic in middle of the year. I would say the coaching team would take a lot of positives away from this championship and I am sure we will be able to set bigger goals for future World Championships."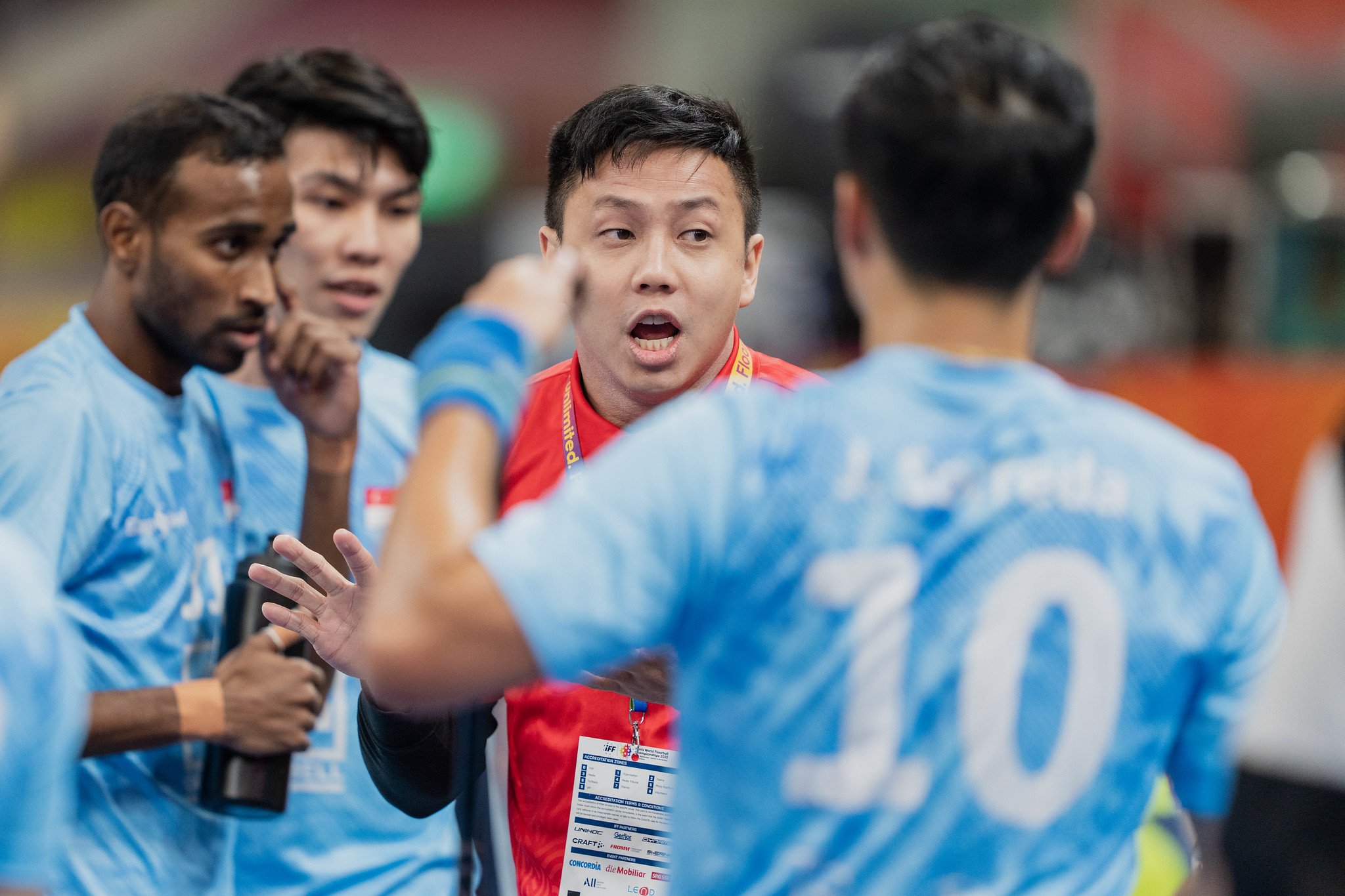 TeamSG Coach JQ at the IFF World Championships. Photo Credit : IFF
The sport of floorball will feature in the next SEA Games in Cambodia 2023, followed by Thailand in 2025 and Singapore in 2029. And Coach JQ, who's been at the helm since 2019, told ActiveSG Circle of his confidence in the Men's team's overall progress over time. "Albeit having a number of debutants in the team, I am heartened to witness the progress players have made from game to game. At the same time, I feel that we are levelling up to our regional counterparts. With more work put into our defence, I believe we will have a successful campaign in the upcoming SEA Games 2023."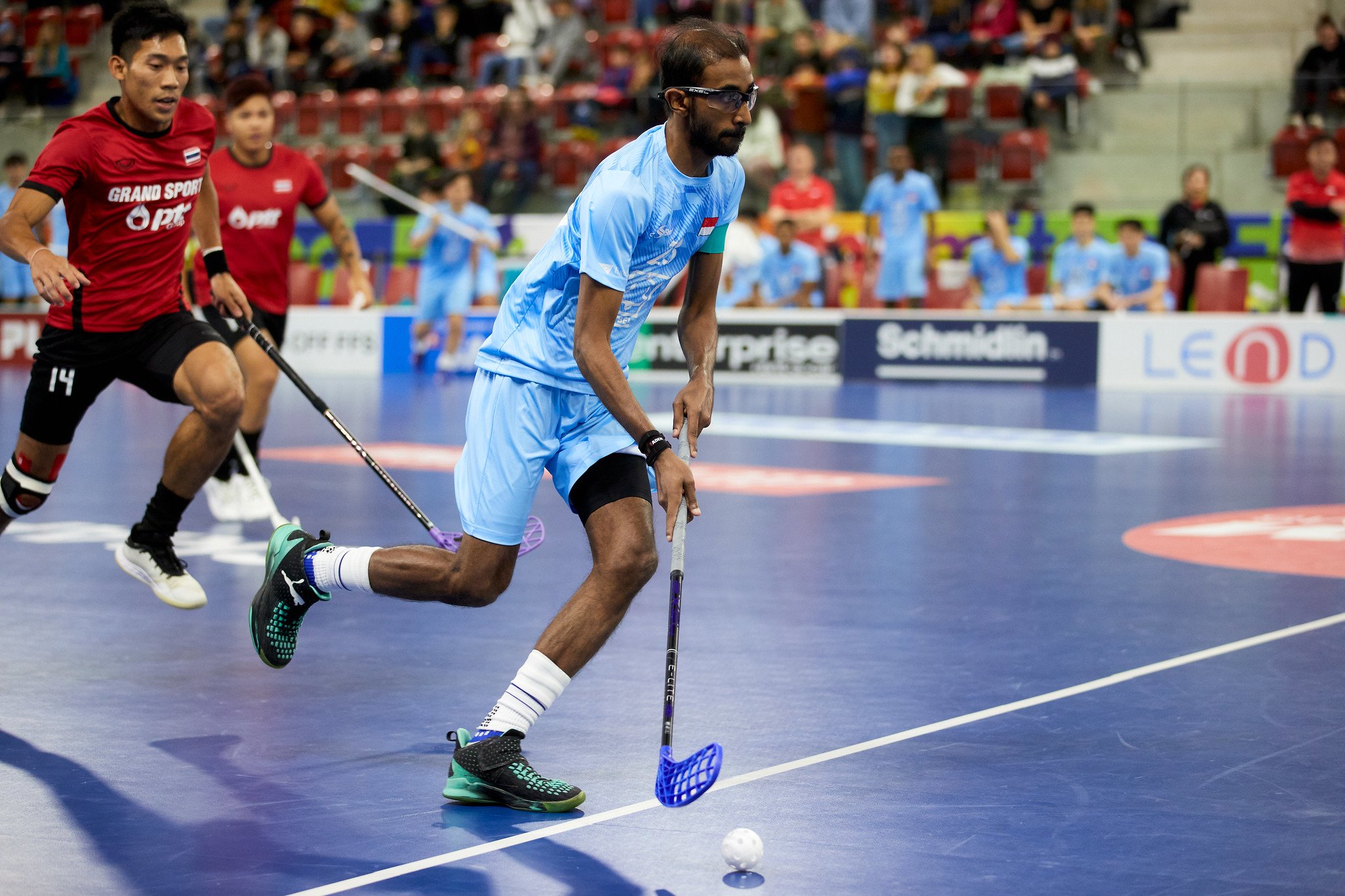 TeamSG Captain R Suria at the IFF World Championships. Photo Credit : IFF
As for specific player's performances, Coach JQ singled out the leader of his team. "I feel that Suria has really stepped up as a captain both on and off court. He's displayed great leadership by stabilizing stressful situations with his calm demeanour. And at the same time, his individual performance as an player were both consistent and brilliant, making him such a joy to watch", said Coach JQ.
Team Singapore returned home on 15 Nov and will soon resume training again, ahead of the SEA Games in 6 months with the main goal - to reclaim the GOLD medal from the Philippines! Meanwhile, for Team Singapore's full matches in Switzerland, you can catch the encore streams on this link : go.gov.sg/activesgcircle-watch
Related Events & Programmes