Team Singapore
Historic World Taekwondo Poomsae Championship Bronze Medal for Team Singapore!
by Circle Stories, on January 31, 2022 16:00 PM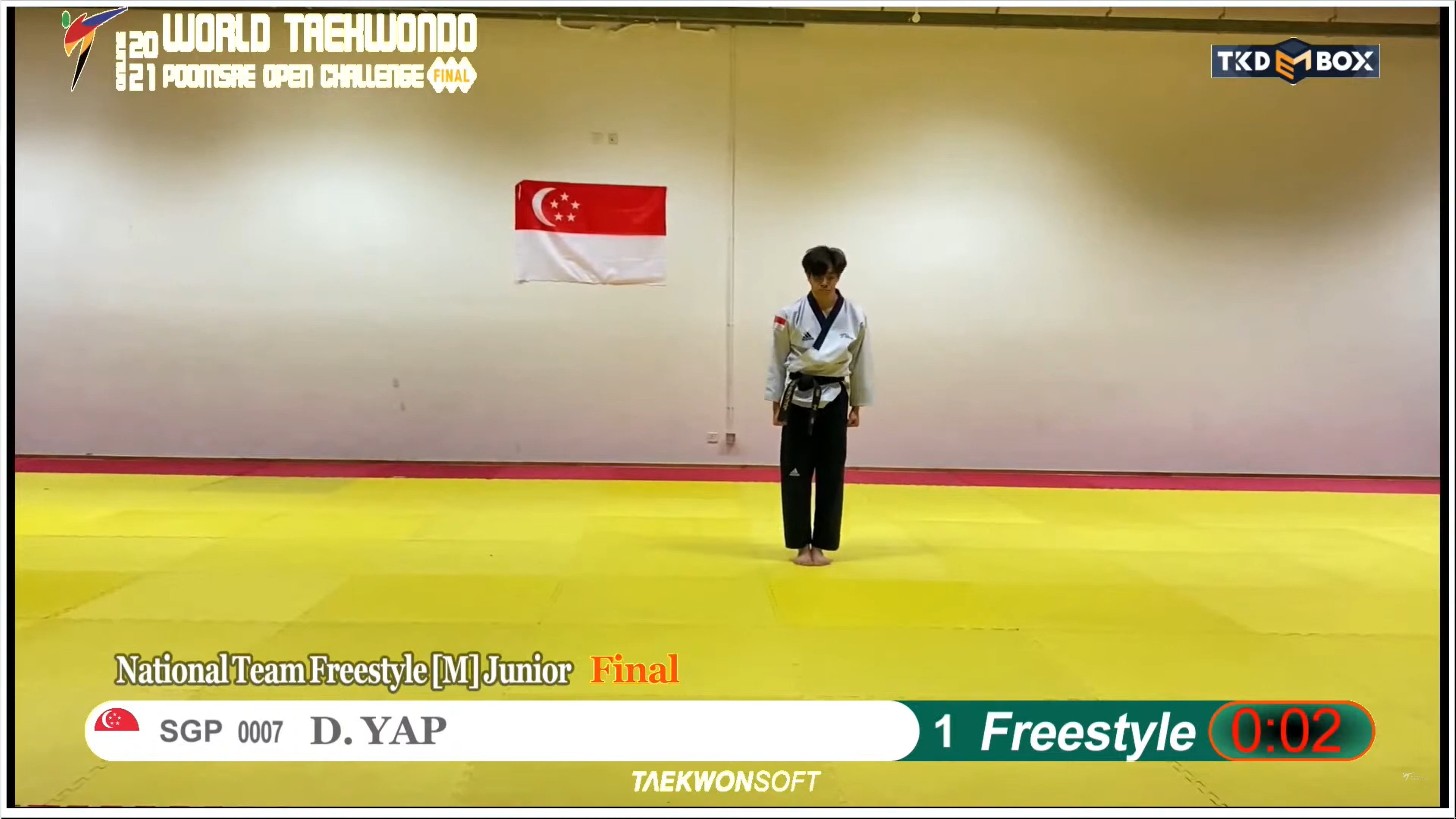 (TeamSG's Darren Yap competing in the Finals - Image from Live Stream)
By Raj Kumar
As we're about to embark on the 2nd month of 2022, Darren Yap is quietly waiting anxiously for his Bronze medal to arrive in Singapore from World Taekwondo (global governing body of Taekwondo or TKD). Towards the end of December 2021, 17 year old Darren competed in the Final round of the online Poomsae Championships. And that's after having finished in the top 8 back in April during the qualifying rounds. Fast forward 8 months later and the 2nd Dan Black Belt holder, did Singapore proud by clinching 3rd place overall, in the Grand Final for the Junior, Male, Freestyle Poomsae Event. This accomplishment marks the first ever medal attained by a Singaporean in this creative category at a global stage!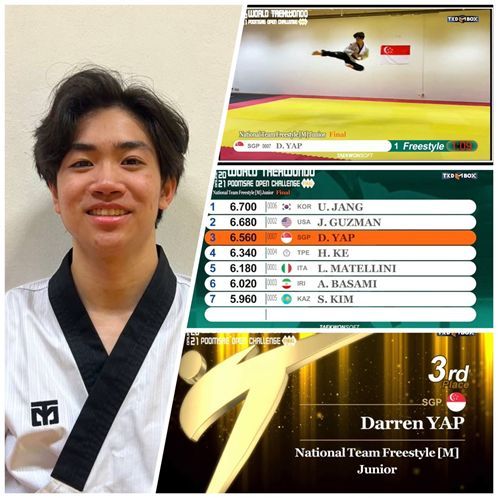 It was less than 3 years ago since Darren made his national debut and the recent campaign was his very 1st World Championships event. He was part of a 3-person team which qualified from Singapore, to compete in the Final rounds last December. Also in the team was 16 year old Nicholas Khaw, who featured in the Junior, Male, Recognised Poomsae Event and came in 6th Place. Nicholas is also the first Poomsae athlete in the Lion City, to reach the finals of the World Championships for his category. And returning as defending champion in her category was 67 year old, Linda Sim. She competed in the Over-65, Female, Recognised Poomsae Event and came in 1st Place again! CONGRATULATIONS to our TeamSG TKD exponents :)
David Koh, Acting President of Singapore's Taekwondo Federation said, "On behalf of the Singapore Taekwondo Federation (STF) Board, I would like to extend my congratulations to Darren as well as Sister Linda and Nicholas for their efforts and performances in the Online 2021 World Taekwondo Poomsae Open Challenge Finals. Their performances is a validation that STF is moving along in the right direction. Besides the efforts of the Board, the High-Performance committee team and the coaches, kudos must go to Ronnie and Gloria (parents of Darren), Derek and April (parents of Nicholas Khaw) who supported their children's dreams and hopes."
The STF chief further added, "Considering the challenges that our National Sports Association (NSA) has gone through in the last few years, their presence alone in the Finals is a big win for the fraternity. Covid-19 has severely disrupted our lives in the last two years and has affected our athletes at both the grassroots and the elite level. Thus, the stellar performances of Linda, Darren and Nicholas have done STF proud and kept the Singapore flag flying high on a global stage. Their efforts and the efforts of our coaches, Ms. Lee Na Lee and Mr. Lee Jun Seong should be applauded."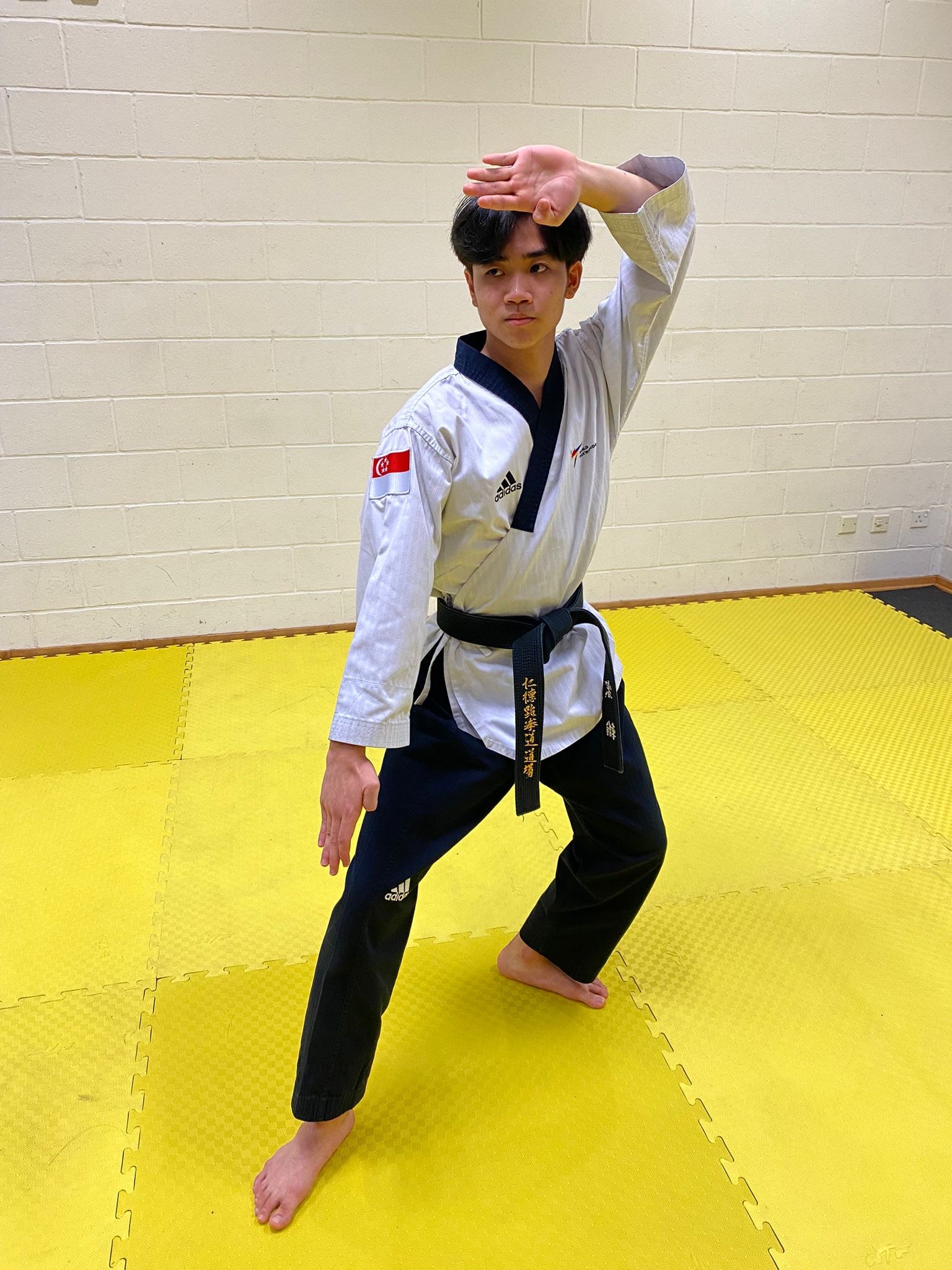 (TeamSG's Darren Yap during technical training at the OCBC Arena. Photo Credit : Darren Yap)
Circle News (SportSG) caught up with 17 year old Darren recently via an email exclusive interview.
Q : Why did you take up Taekwondo (TKD) and how many years have you been training?
D : I was 4 years old when I started learning Taekwondo. My father thought it would be a good sport for my brother and I to learn. It was a sport that all 3 of us started together. My first Poomsae competition was when I was, maybe 7 years old; and I didn't make it to the finals for that competition. This year would be my 14th year doing the sport.
Q : What is your current belt/ranking?
D : I am currently 2nd Dan Black Belt.
Q : When did you 1st represent Team Singapore?
D : I was selected into TeamSG Taekwondo in 2019. And I first represented the Republic later that same year, at the Korea Open held in Chuncheon. I participated in the 'Junior Individual Freestyle' Poomsae and 'Recognised' Poomsae events.
In that competition, I returned with bronze medals in the Junior Freestyle Individual, as well as the Recognised Poomsae Team events.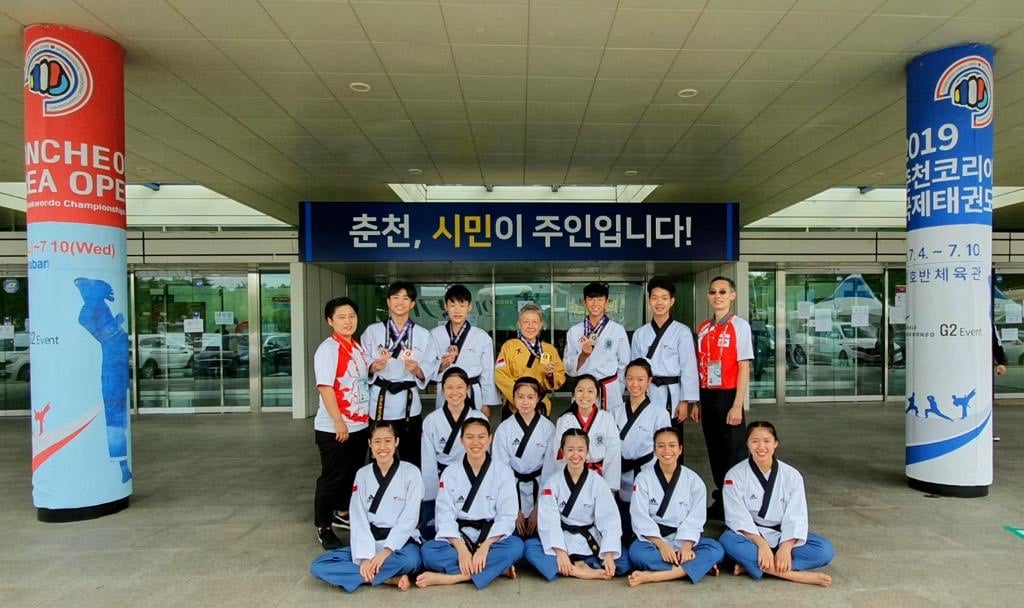 (At Korea Open Chuncheon 2019 - a group photo with TeamSG. This was Darren's first time donning SG colours in an overseas tournament. (Darren with his medals, standing 2nd from left - Back Row - next to Coach Lee. Photo Credit : Darren Yap)
Q : Can you describe the recent tournament format and what did you have to do in order to win the Bronze?
D : Due to the global pandemic, the World Championships was held online in 2021. And to cater to all the various categories, competitions were held over 3 quarters of the year.
My category was the 'Junior Freestyle Male (National Team)', and the qualifying rounds for the Grand Finals was held last April. For each category, only those who managed to reach the top 8 position in the qualifying rounds, will earn their spot in the Grand Finals, that was to be held in December. And for my qualifying round held in April, I came in 6th place which qualifies me for the Grand Finals in December.
After I made it to the World Grand Finals, my focus with my coaches was to create a brand-new routine. We saw the competition from the other countries, and I know I needed to brush up on my techniques and to work on the choreography. For Freestyle Poomsae - it is a discipline that encompasses acrobatic techniques, regular Poomsae forms and sparring techniques. We must be able to perform specific moves to score, and all these must be done in sync with music.
Training sessions were held every day - Monday to Friday, from 7PM to 9PM; with gym sessions on Saturday as well. My training included a lot of conditioning & strengthening work; as well as practicing and improving the acrobatic and taekwondo techniques. Our Head Coach always emphasizes and is adamant that conditioning is a very important part of my training. It not only makes me stronger, but also helps to minimise chances of injuries. When I am not training with the team, I would sometimes train on my own – weights & conditioning and practicing my flips in a gym or at my taekwondo club.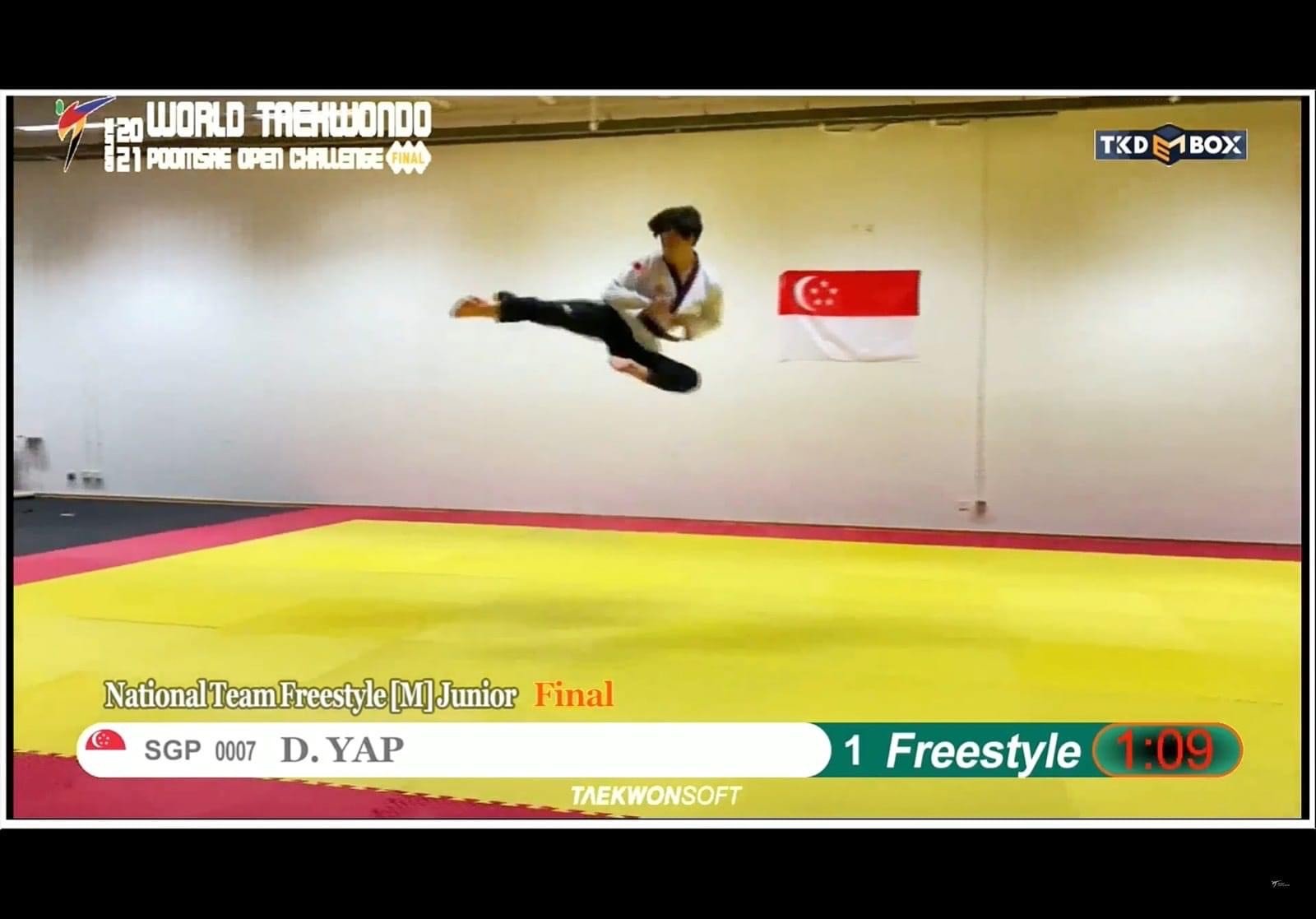 (TeamSG's Darren Yap, during his Finals Poomsae routine - Image from Live Stream)
Q : How does it feel to have created a new chapter in Singapore's TKD scene?
D : It feels amazing! To see my name on the scoreboard listed number 3 on my computer screen - it was an awesome, surreal feeling!
But I do not think I created a new chapter, instead this has given me more confidence in myself, and appreciate the training programs the coaches have put together for us over the last few years.
Also with this win, I'd like to introduce 'Freestyle' Poomsae to a larger audience. It is still a relatively new discipline and not many people know or are familiar with it. Most are only familiar with the Kyorugi (sparring) and the 'Recognised' Poomsae. So I want to show this very different side of Taekwondo, which is very exciting and entertaining to watch, and also fun to learn. I hope to be able to encourage more to join Taekwondo, so that they can also appreciate, enjoy and benefit from the sport as much as I have.
Q : Who's responsible for this historic achievement?
D : Definitely my family; and of course, my coaches.
Ever since I embarked on this journey to compete at high level competitions, my parents have committed much of their time and effort to support me. My brother, who is my biggest critic, would offer constructive feedback; and together we would discuss how I can improve my routine. It is a real family affair. Their interests and encouragement, serve to motivate me to want to do better.
Of course, I also have my coaches. My Head Coach and my mentor - Ms. Lee Na Lee, plays a very instrumental part in my growth and development for the sport. Together with the Assistant Coach - Mr. Lee Jun Seong, they would draw up the necessary training programs I needed, but at the same time, they provided me space to create my routine. They wanted me to take charge, as I would know what I could do. And during our training sessions, they provided the necessary guidance on areas to improve.
I wish to also mention the late Ex-President of STF – Mr. Milan Kwee. When I first embarked on my journey in high-level competitive taekwondo, he was both very encouraging and supportive.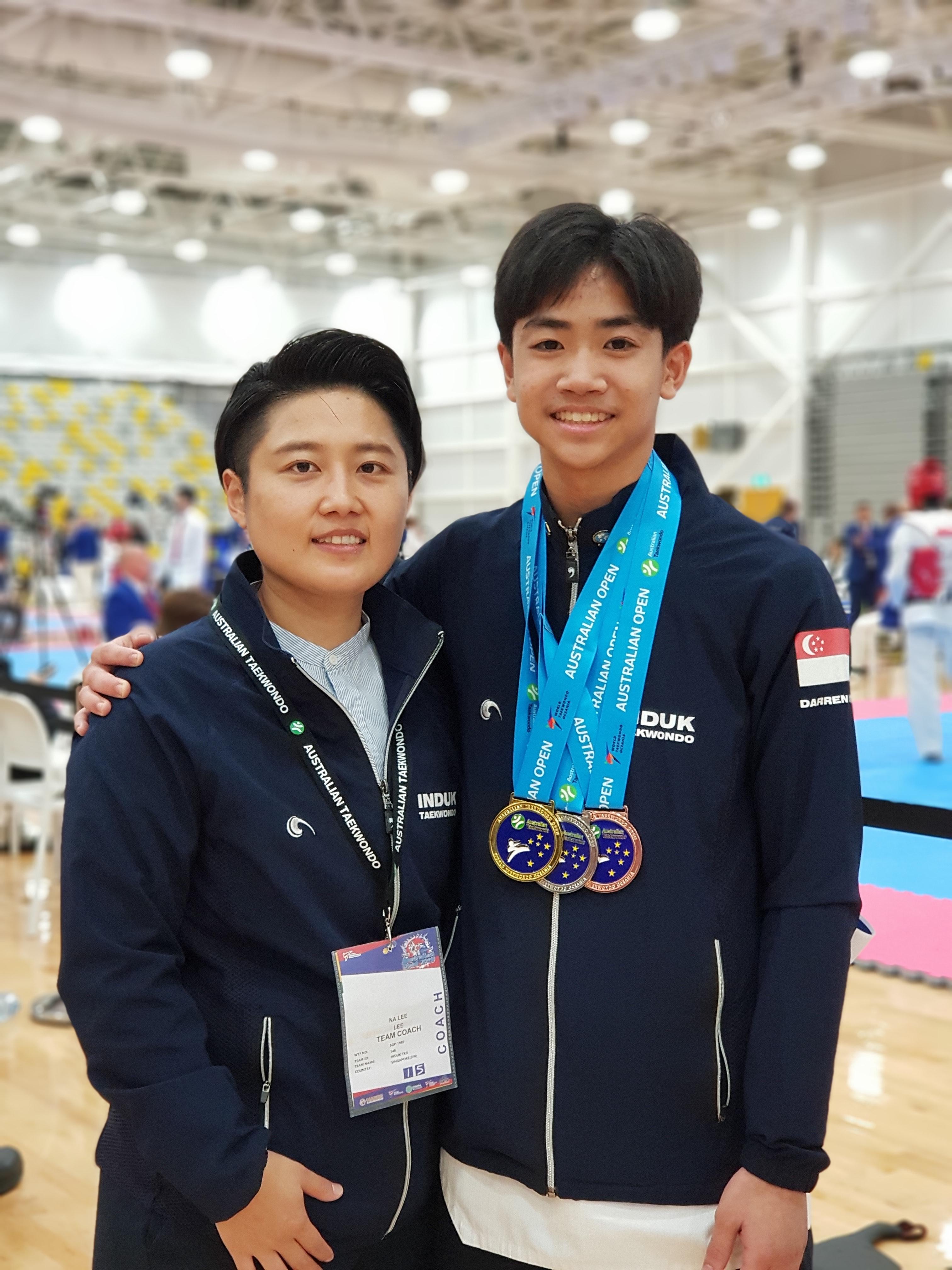 (TeamSG's Darren Yap and Coach Lee Na Lee at the World Taekwondo President Cup and Australia Open in 2019. Photo Credit : Darren Yap)
Q : Are you looking to be selected for TKD at the SEA Games in May? (If TKD is offered in Vietnam). If NO, then what are your plans for 2022 in TKD?
D : I've always wanted to represent Singapore at a Major Games. This has been my goal since I first got selected to TeamSG Taekwondo, to bear the Singapore flag on my dobok (TKD uniform), will be an honor I will not take lightly. If presented with the opportunity to do so, I'll take it without hesitation and try my best to win a medal.
The other major events in the 2022 calendar that I hope to be part of and qualify for, are the Taekwondo World Championships in Korea and the Asian Games in Hangzhou.
Q : What is your dream target in this sport?
D : I want to be able to represent Singapore at the Olympics. Currently, only the 'sparring' discipline of taekwondo is in the Olympiad. If ever Poomsae is included into the Summer Games, best believe I'll do my best to qualify and represent TeamSG!
However, for now - if given the opportunities, I will strive to be in podium position in the World Championship, Asian Games and the SEA Games.
Q : Where are you studying currently and which course/level?
D : I am currently in my second year of the International Baccalaureate (IB) Program at Anglo Chinese School International (ACS Intl).
Q : Do you support any other sport like football, the NBA etc., and do you have a favourite club?
D : Yes, I am a fan of NBA and NFL, and EPL, as well. I would follow the season and support both the Dallas Mavericks and Dallas Cowboys in the NBA and NFL, respectively. As for football, I am a Chelsea supporter.
Apart from taekwondo, in school, I play rugby and football, and basketball for leisure.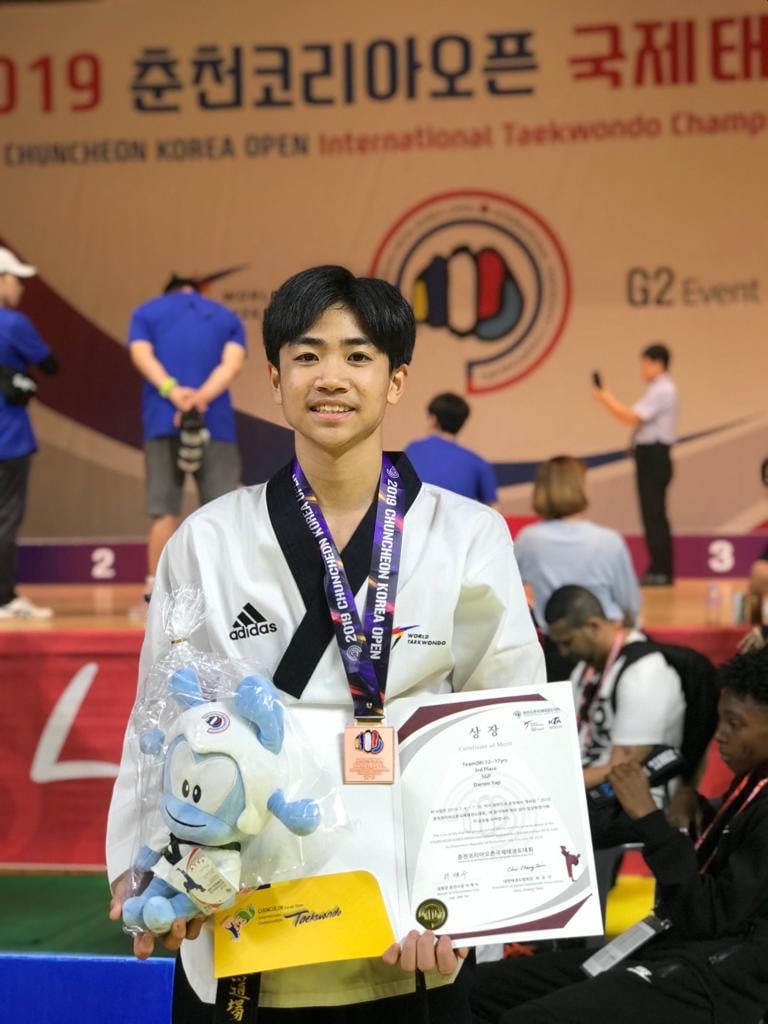 (TeamSG's Darren Yap at the Korea Open Chuncheon 2019 - with his bronze medal for the Male Junior Freestyle Individual. Photo Credit : Darren Yap)
Raj Kumar's been in Singapore's sports reporting and broadcasting scene since 1997. He was the former Sports Editor and Presenter on Power 98FM (SAFRA Radio) and 938LIVE (Mediacorp Radio). Over the years, he travelled to report on Team Singapore at the 2008 Beijing Olympics and 2012 London Olympiad, including 4 SEA Games cities. As a familiar voice and face on Radio, TV and online sports, he has produced and hosted more than 650 talkshows and programmes.
Related Events & Programmes