Team Singapore
May 2022 & May 2023 : Vietnam and Cambodia to host their respective SEA Games within a historic 12-month period!
by Circle Stories, on October 20, 2021 16:00 PM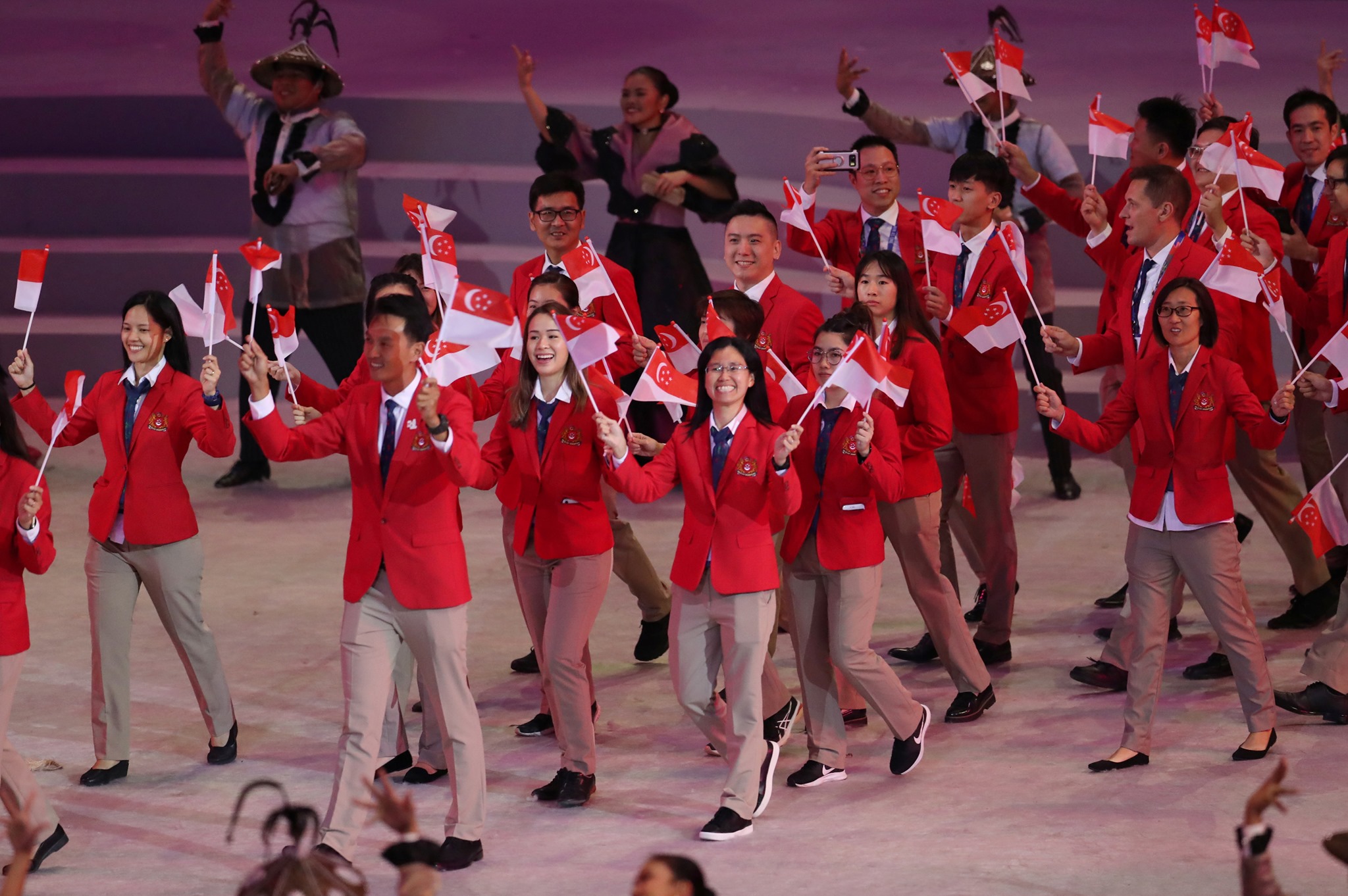 (TeamSG athletes at the Opening Ceremony of 2019 SEA Games - Photo Credit : Singapore National Olympic Council FB Page)
By Raj Kumar
For the first time in the history of the Southeast Asian Games, the biennial event will take place twice within a span of a year! That's following the recent confirmation of Vietnam's staging of the 31st SEA Games in Hanoi in mid-May 2022.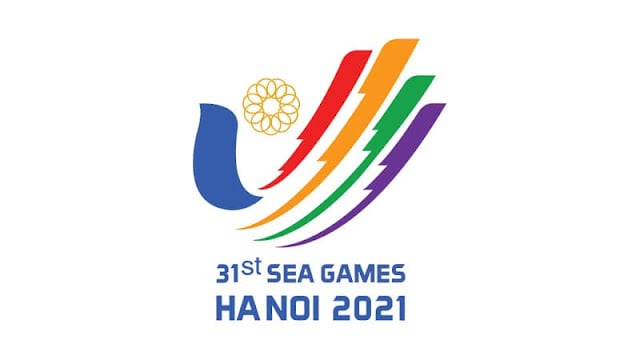 On 18 October 2021, members of the 11 ASEAN countries attended a virtual SEA Games Federation (SEAGF) Office meeting. And at this meeting, it was confirmed that the 31st SEA Games 2021 will be held in the middle of May 2022. The exact dates will be confirmed by the end of this month, following discussions between the Vietnamese government and their Games organising committee.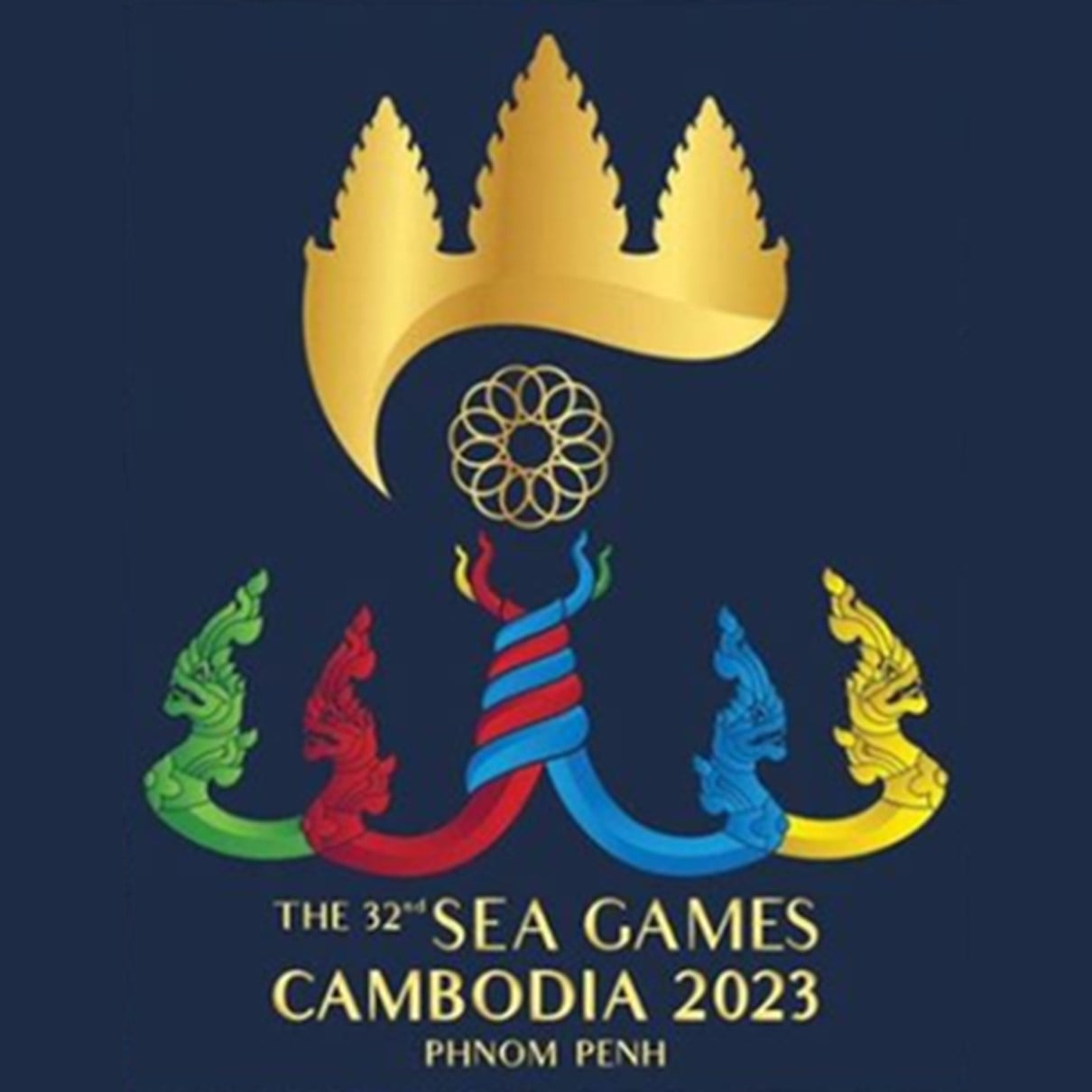 At the recent meeting, it was also decided that the Cambodia National Olympic Committee, (host of the 2023 Games) will become the co-President of the SEAGF (from Dec 2021 onwards), together with the Vietnam National Olympic Committee. This is to allow for the smooth preparations for the 32nd SEA Games which will be held from 5 – 16 May 2023. As this will be Cambodia's very 1st time staging the SEA Games, their organising committee officials will be allowed a buffer of 8-12 months, for their final preparations, following the end of Hanoi Games.
The 31st SEA Games were initially scheduled from November 21 until December 2. However, due to the ongoing pandemic situation in Vietnam, they were forced to postpone after an announcement back in July. The Hanoi Games are slated to include 40 sports consisting of 520 events.
Upon receiving the news of the Games taking place in mid-May 2022, it's been a general positive reaction from the various National Sports Associations (NSAs) in Singapore, as they now have a confirmed date to work towards selecting and getting their athletes ready to compete.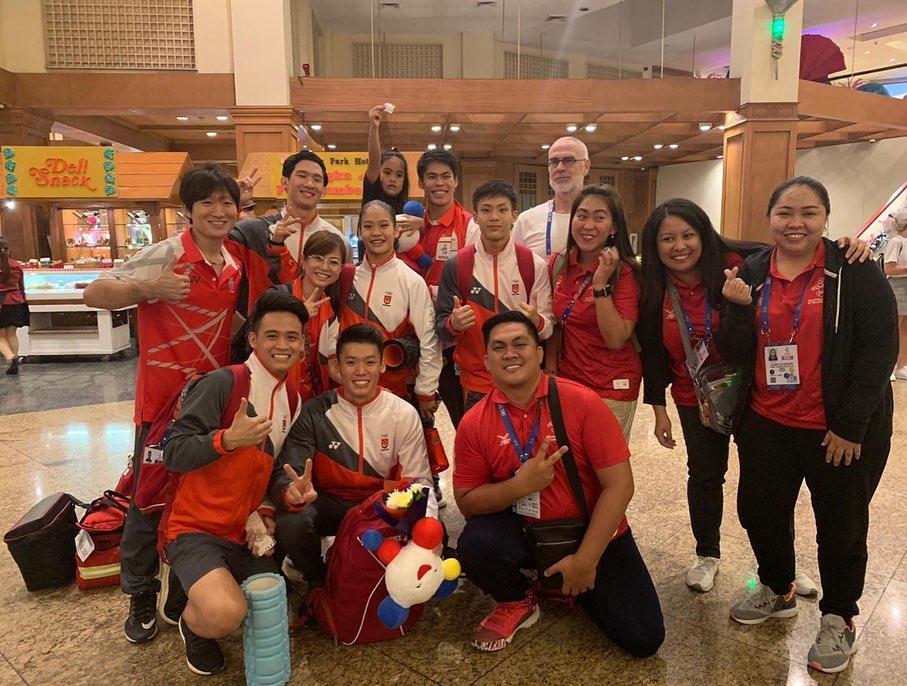 (TeamSG Gymnasts and officials at the 2019 SEA Games - Photo from SG Gymnastics' FB Page)
"Singapore Gymnastics is extremely excited to hear the announcement of the SEA Games. After more than two years of no international competition for our athletes, the SEA Games will be a terrific start to what will be a hectic year for our athletes in 2022 with the Commonwealth and Asian Games. The SEA Games is always a strategic competition for our high-performance athletes, when making their senior international debut.
Next year will be really important for all our athletes who have trained hard during this unprecedented time, staying motivated and focussed has not been easy. While there will be some nerves heading back out to compete internationally, I think the excitement and thrill of being able to show everyone what they have been training will win out!" said Karen Norden (General Manager, Singapore Gymnastics).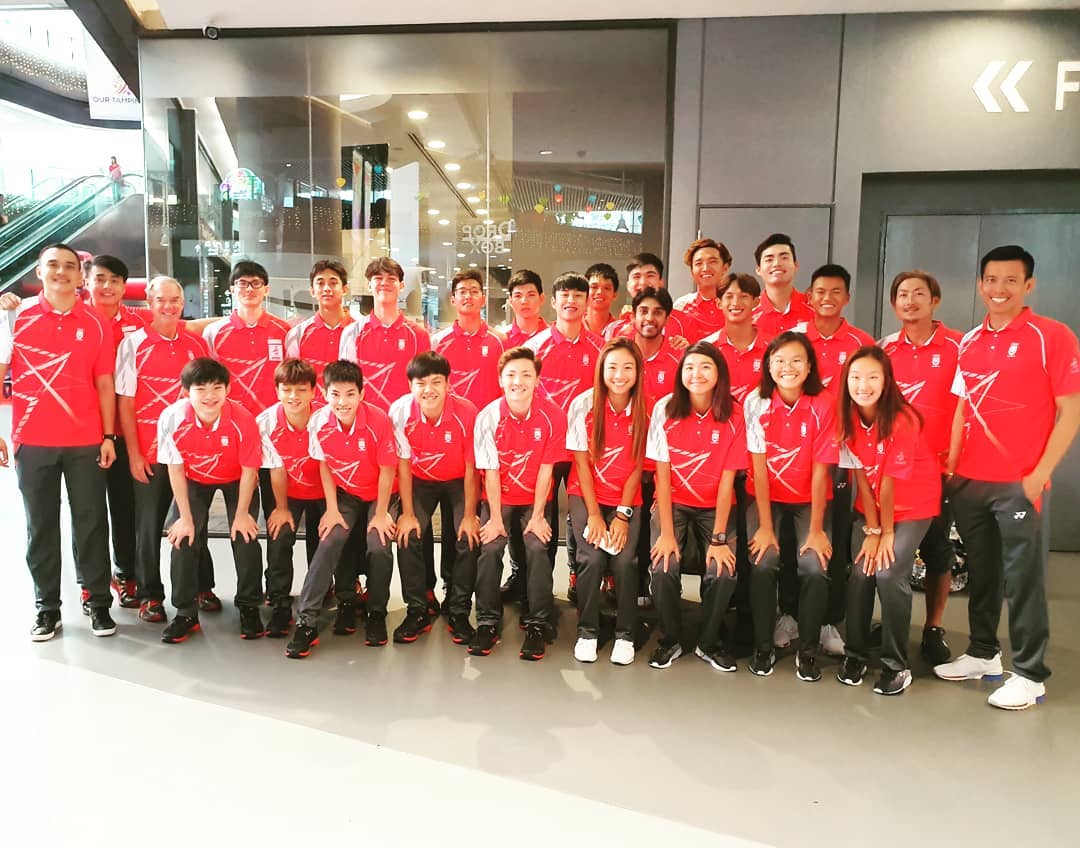 (TeamSG Volleyballers and officials at the 2019 SEA Games - Photo from Volleyball Assn of S'pore's FB Page)
Echoing Karen's sentiments was Chloe Ang (General Manager, Volleyball Association of Singapore) : "We are very excited to hear that the Hanoi Games is happening in less than 8 months. We've begun planning to prepare our athletes for SEA Games qualification, including identifying suitable competitions and sending them overseas.
The challenge remains that almost all the ASEAN countries are currently not under the Vaccinated Travel Lane (VTL) arrangements and we are a Team sport - the implications are cost and time commitment related to travelling and quarantine. However, with SEA Games Hanoi in May 2022 and SEA Games Cambodia in May '23, it means that there will be 2 major regional games within 1 year!"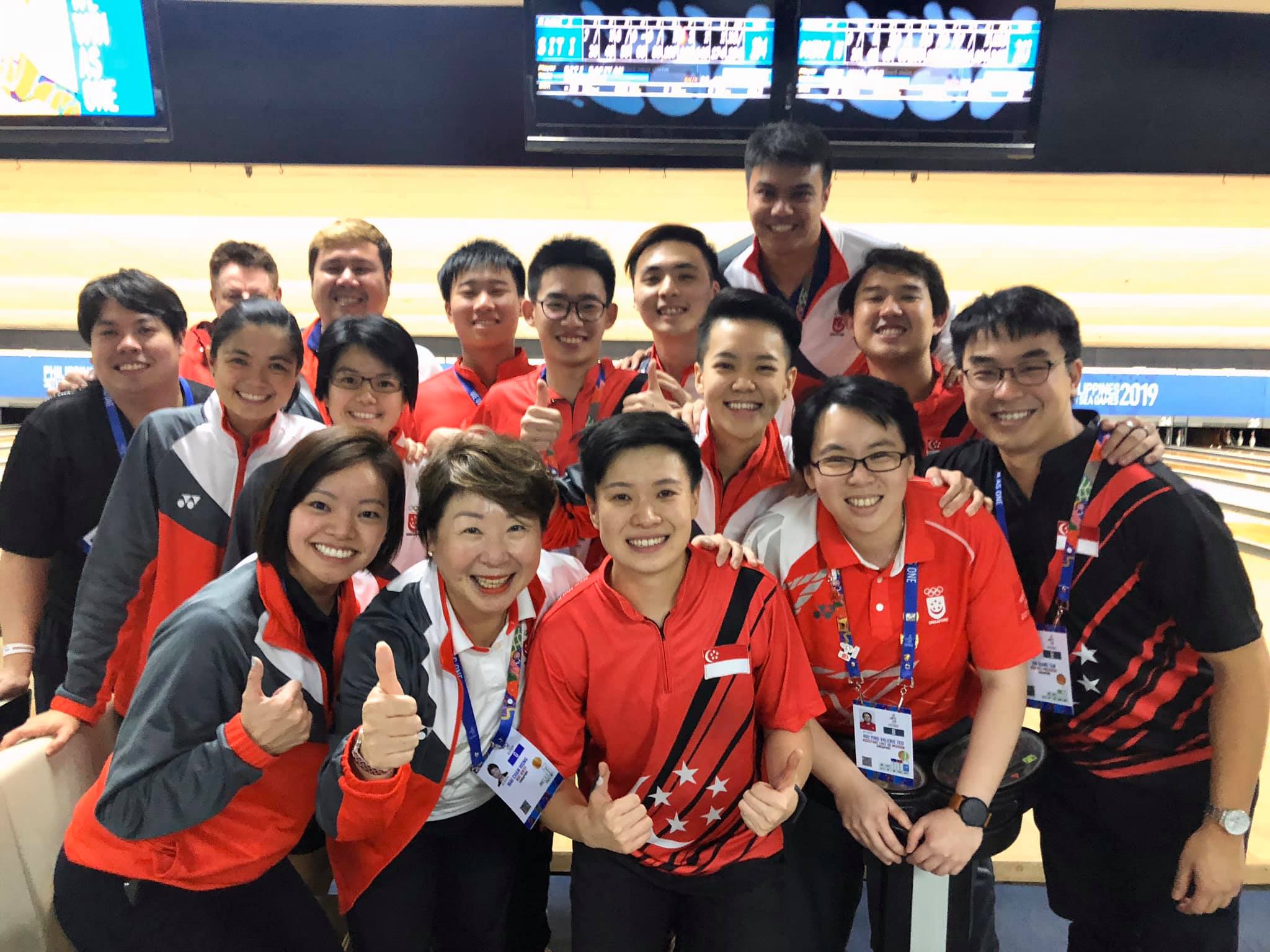 (TeamSG Bowlers and officials at the 2019 SEA Games - Photo from SG Bowling's FB Page)
Singapore's national women's bowling team was 1 of the first few (from the local sporting community) to start travelling overseas to compete, following an 18-month absence (due to Covid-19). And our keglers featured on the PWBA (US Women's Pro Bowling) circuit back in August. Come this November though, TeamSG will feature at the IBF Super World Championships in November in Dubai.

"I believe our bowlers are extremely excited about the confirmation of SEA Games going ahead in May 2022. Being able to compete with our regional neighbours is certainly a feeling that could not be replaced by just training and competing against our own bowlers back home" said Helmi Chew (Head Coach, SG Women's Team).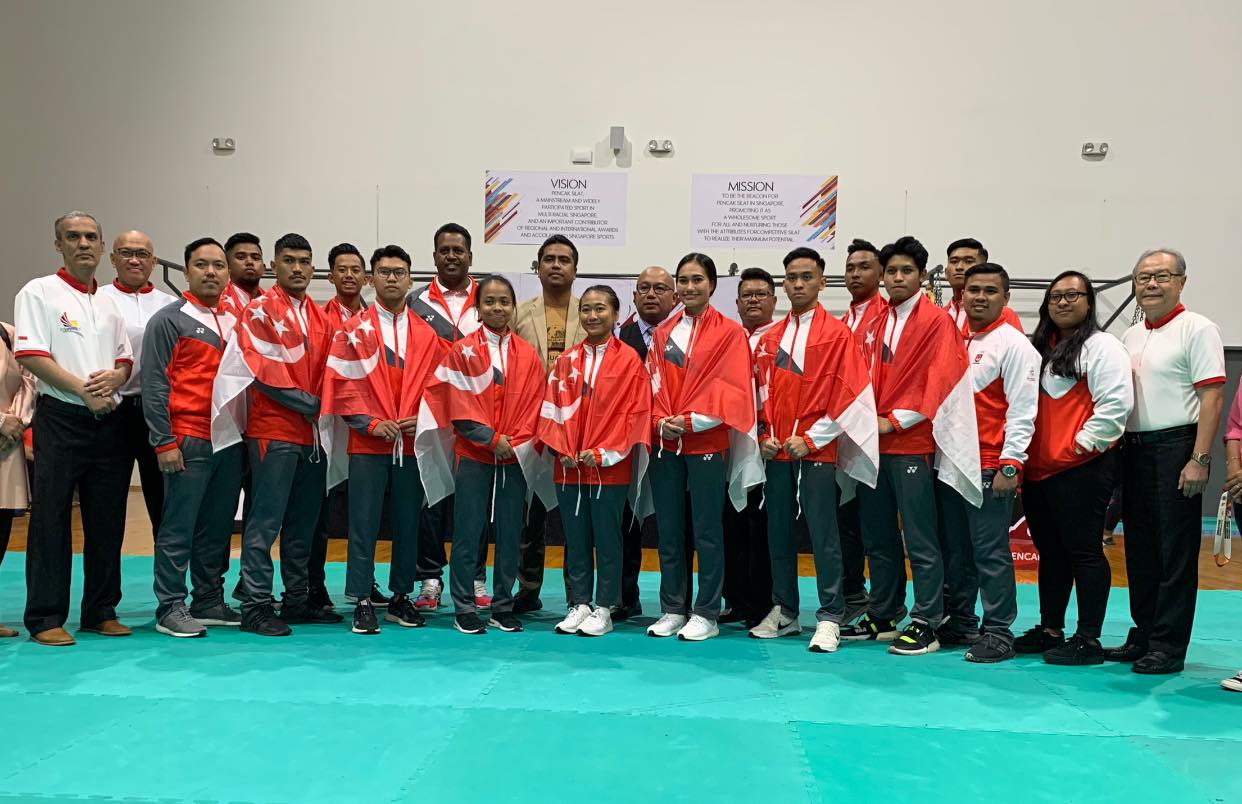 (TeamSG Pencak Silat exponents and officials at the 2019 SEA Games - Photo from Singapore Silat Federation FB Page)

"Our athletes have been training for the past 20 months, without participating in any major competitions due to the pandemic. We are always feeling restless when one sports event after another, has to be postponed due to border restrictions, or the organizer is facing a sudden surge in the number of Covid cases affecting their countries, and many other factors.
With the confirmation on the 31st SEA Games in mid-May '22, it has somehow lifted the spirit of our athletes, who've been training without direction (i.e competition). Not only the athletes but our coaches will be able to measure and take the SEA Games as a benchmarking to evaluate the athletes' strength and weaknesses" said Dr Sheik Alau'ddin Yacoob Marican, PBM (Chief Executive Officer, Singapore Silat Federation).
Back in the 2019 SEA Games, with the absence of certain weight classed that prevented his world championship-winning silat exponents from competing in Manila, TeamSG still came back with 5 medals including 2 gold in that sporting discipline.
As a former 2-time world champion, Sheik further added, "The 31st SEA Games will be the first Pencak Silat competition adopting the new rules and regulations with version February 2021, since it was last implemented. Following the health and safety guidelines that have been laid out, we are definitely anxious as it will be our first time travelling as a contingent for a competition amidst the pandemic. But at the same time, we are excited and looking forward to travel and compete, and once again representing the nation!"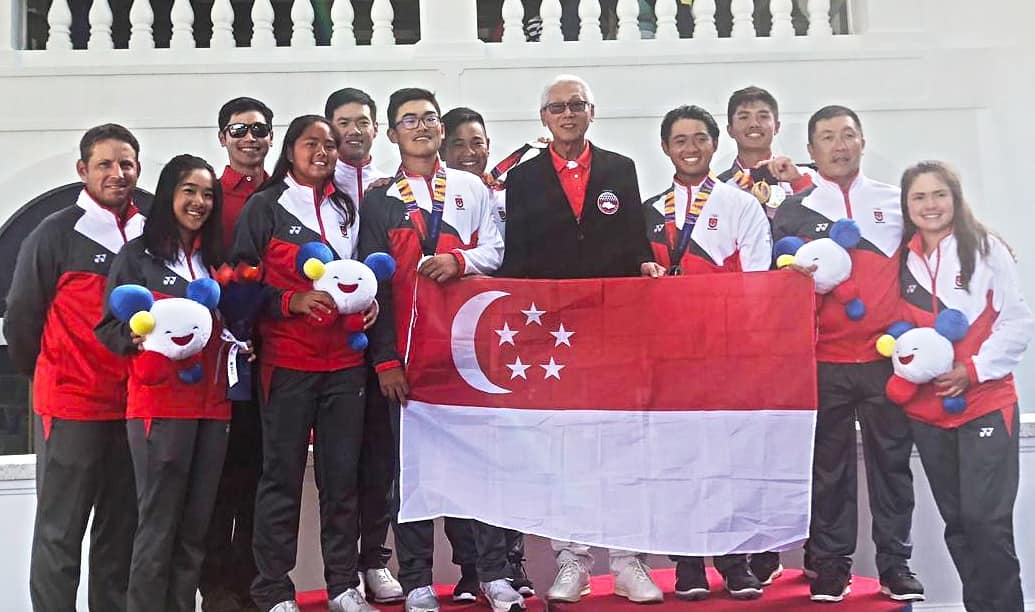 (TeamSG Golfers and officials at the 2019 SEA Games - Photo from Singapore Golf Association's FB Page)
With a Gold medal at the 2019 SEA Games, James Leow became the 1st Singaporean to win a Men's Singles title in 30 years at the event! The Men's team also performed well to bring home a silver medal. Australia's Matt Ballard was the Head coach for those historic moments, and he is now eagerly counting down to the trip to Hanoi!
"As National coach in Singapore, witnessing first-hand our National players train, day in day out during the past 2 years, many of them showing patience, they didn't know they had. They showed a resilience to train daily, without knowing when their next major event would be staged.
Many of them could have given up during this Covid time we live in, But they haven't. I am very proud of those who have stuck at it and am grateful that we seem to be coming out the other side of this pandemic. And our players dreams can be fulfilled by representing Singapore in the SEA Games in Hanoi. Let's hope they are duly rewarded for their persistence and effort, " commented Matt Ballard (Head Coach, Men's Golf Team)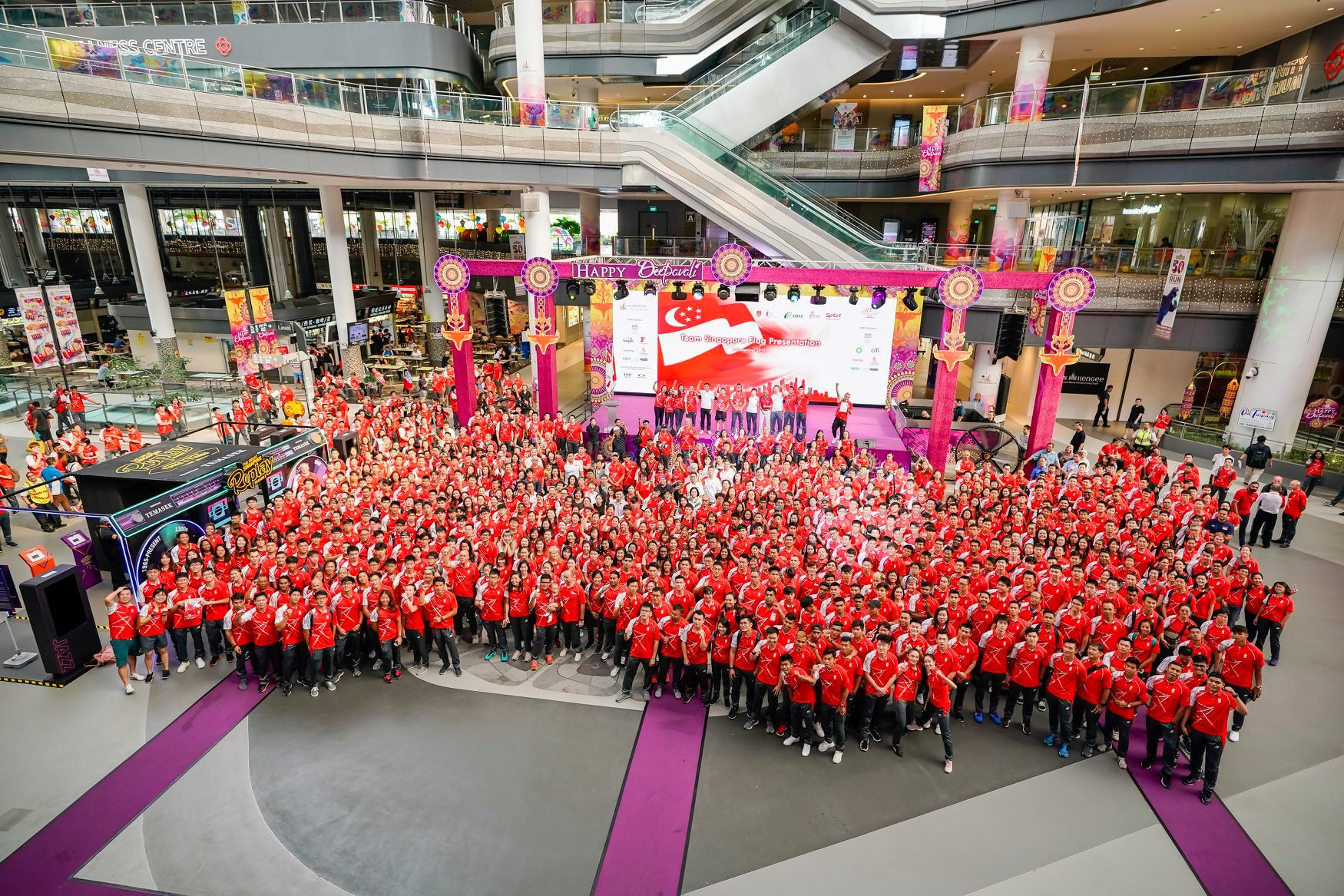 (TeamSG Athletes & Officials at the Flag Presentation event for 2019 SEA Games - Photo Credit : Singapore National Olympic Council FB)
At the last SEA Games in Manila (prior to the start of the global pandemic), Team Singapore sent more than 660 athletes to compete across 48 sporting disciplines. And they returned with a haul of 53 Gold, 46 Silver and 68 Bronze medals and finished in 6th place overall.
With the reality of 2 SEA Games campaigns taking place within a calendar year including the Commonwealth Games, the Asian Games, World Championship events, domestic competitions, pre-Olympic qualifiers (Paris 2024) etc, it is going to be a major challenge for the NSAs and our TeamSG athletes to plan, train and prepare carefully. Juggling work and studies will also be a factor to be considered for certain athletes. But with more of our national athletes starting to travel abroad to train and compete and with a well-worked calendar which allows time for recovery and rehab in between Major Games, it is possible for TeamSG to return to the international arena and perform to their level best and more!
Raj Kumar's been in Singapore's sports reporting and broadcasting scene since 1997. He was the former Sports Editor and Presenter on Power 98FM (SAFRA Radio) and 938LIVE (Mediacorp Radio). Over the years, he travelled to report on Team Singapore at the 2008 Beijing Olympics and 2012 London Olympiad, including 4 SEA Games cities. As a familiar voice and face on Radio, TV and online sports, he has produced and hosted more than 650 talkshows and programmes.
Related Events & Programmes