Team Singapore
Medal rush for Team Singapore on final day of ASEAN Para Games 2022
by Circle Stories, on August 5, 2022 7:19 AM
With the closing ceremony of the 2022 ASEAN Para Games (APG) taking place tomorrow, Team Singapore was in a rush to win some medals, yielding 2 golds, 4 silvers and 2 bronzes on the final day of competition.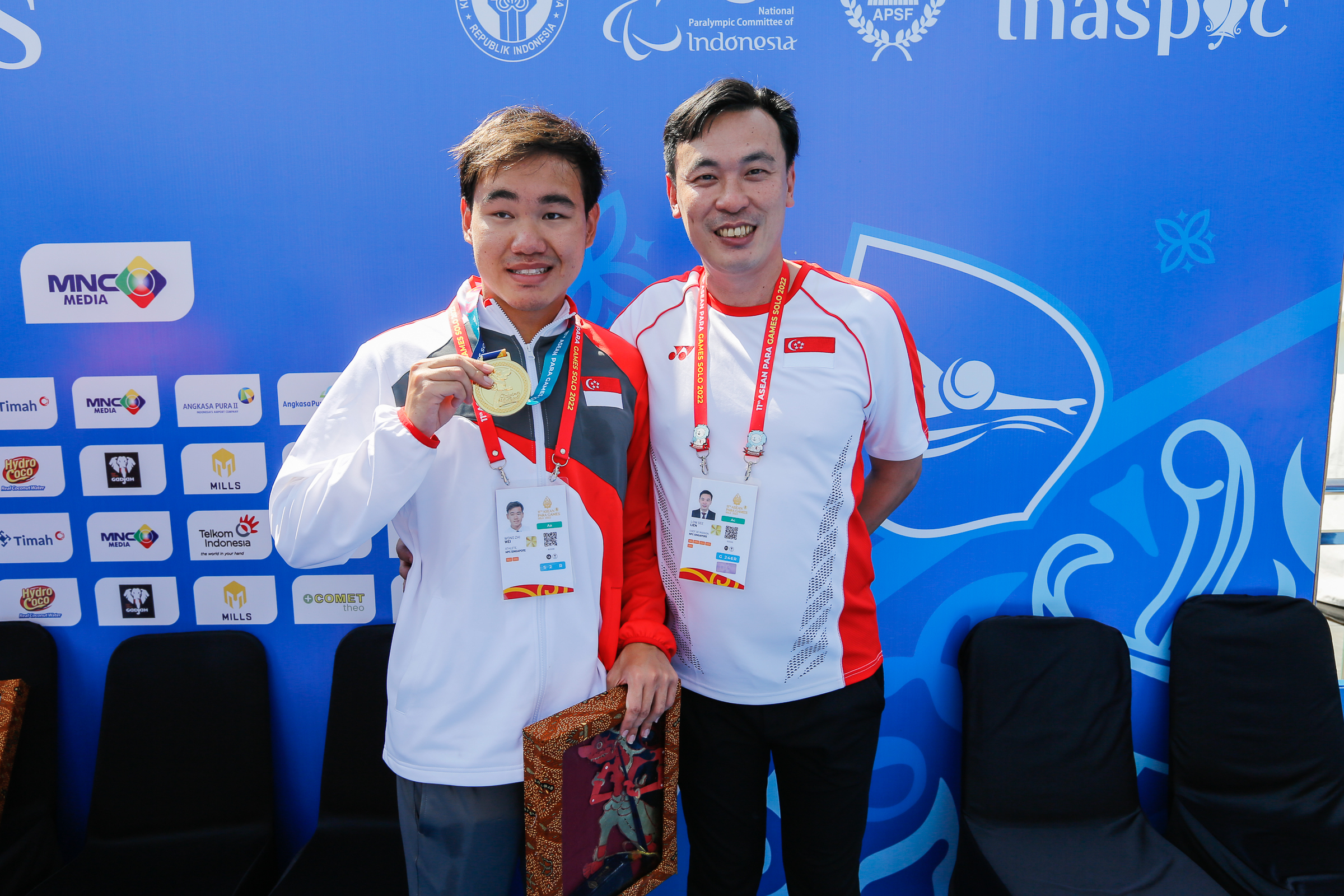 Wong Zhi Wei claims gold on the ultimate day of the competition. Photo Credit: SNPC/Andy Pascua

With most of the country's medals coming from the pool this year, it was no surprise to see Wong Zhi Wei claim yet another gold, his second of the Games after finishing in 27.22 seconds at the Men's 50M Freestyle S13 final. Like his first gold at the 100M Freestyle, Zhi Wei also broke the National Record and his personal best time in this event.
The 20 year old, who will head home with two golds and one silver, said, "I felt I earned back my prowess as an athlete because of my accomplishments and so I felt really glad to be able to bounce back from all these challenges and achieve a better timing and better results than my previous APG. I'm very happy with what I've done."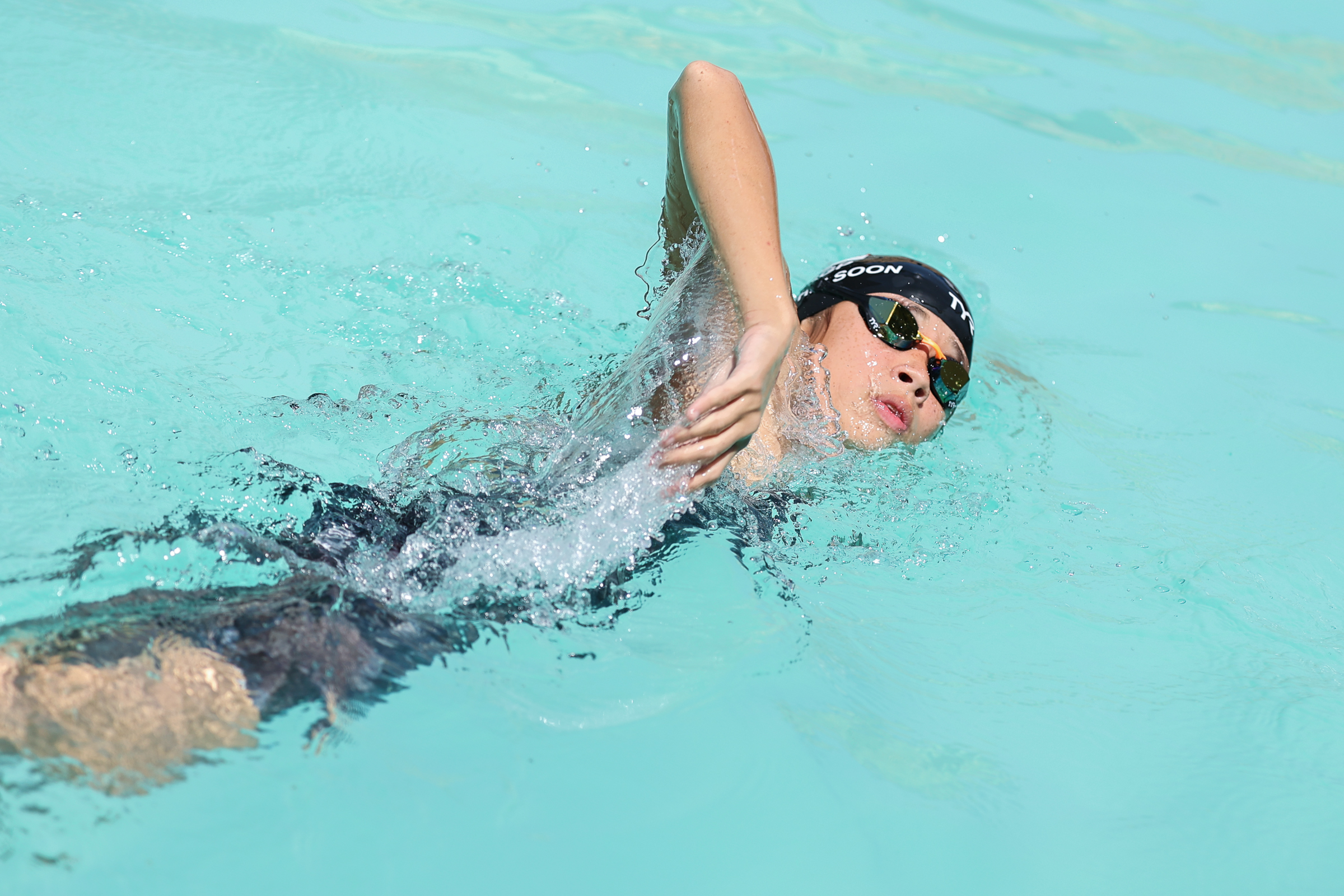 Sophie Soon's time of 33.57 seconds wins her silver in the Women's 50M Freestyle. Photo Credit: SNPC/Andy Pascua
Meanwhile, the Soon siblings added silver medals to their haul. Colin finished second in the Men's 50M Breaststroke SB12 final with a time of 33.67 seconds, while Sophie took silver with a time of 33.57 seconds in the Women's 50M Freestyle S12 final.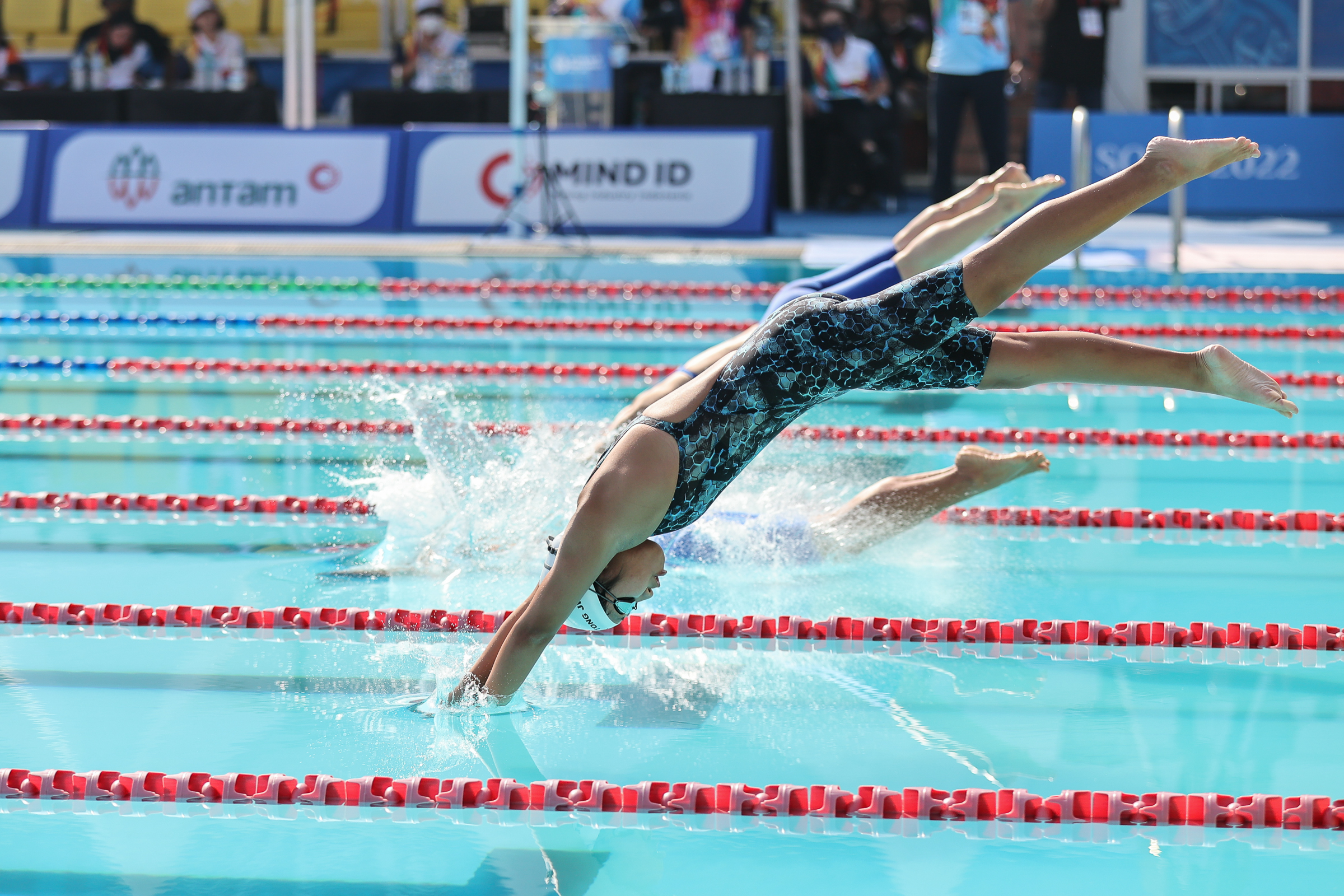 Tong Jing Xuan smashes two national records in the 400M Freestyle and 50M Freestyle. Photo Credit: SNPC/Andy Pascua
In the Women's 400M Freestyle S10 final, Tong Jing Xuan was also able to grab silver with a new National Record and personal best time of 6:28.82 minutes. Swimming in her second race of the day, Jing Xuan again broke the National Record in the 50M Freestyle S10 final but did not finish on the podium.
Danielle Moi added the cherry on a fruitful day in the pool for Singapore with a bronze in the 50M Freestyle S14 final, clocking in a time of 30.46 seconds.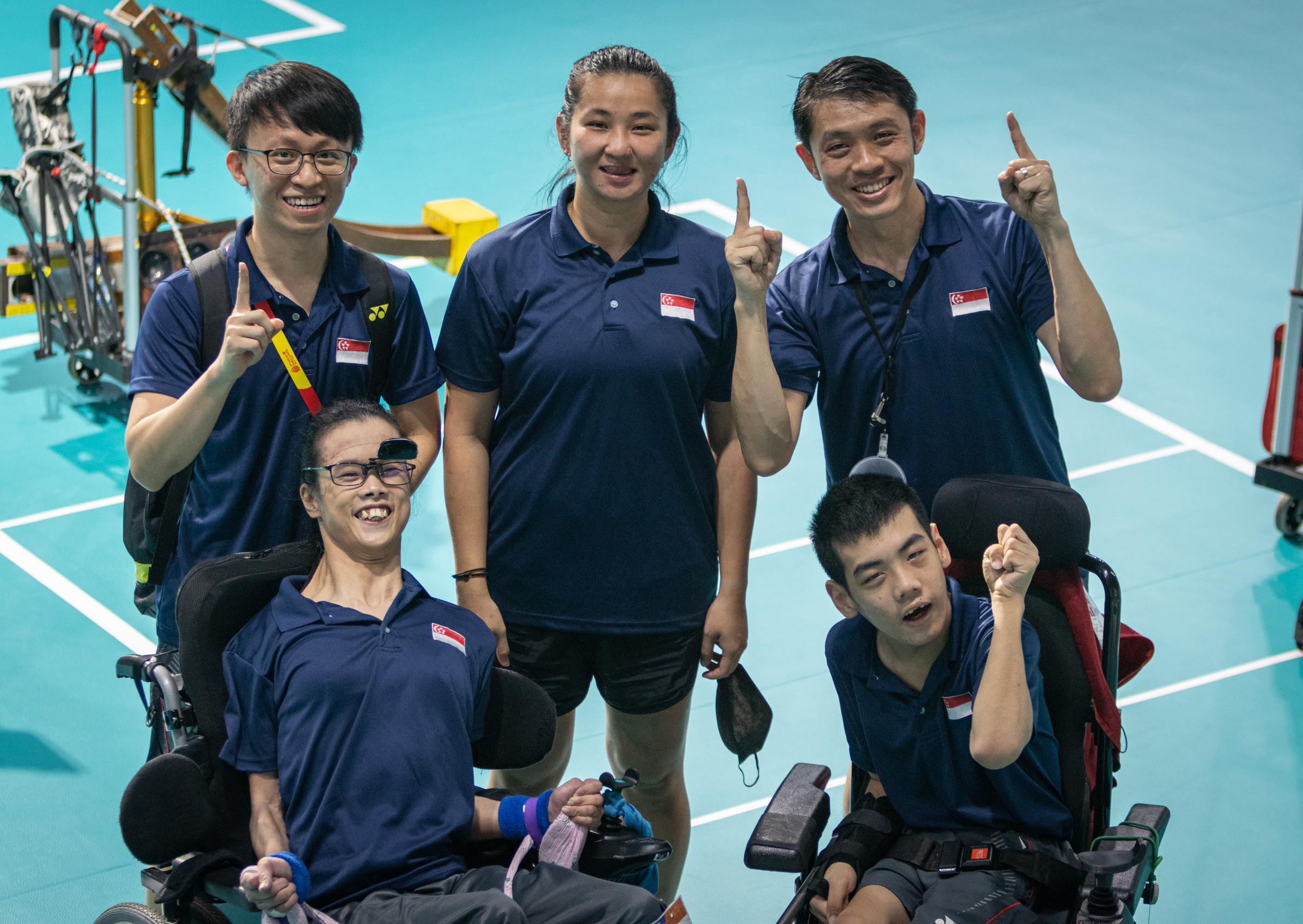 The Boccia team of Toh Sze Ning and Aloysius Gan snag gold in the Boccia Mixed Pair (BC3) event. Photo Credit: SNPC/Goh Si Wei

The second gold of the day came away from the pool in the Boccia Mixed Pair BC3 event, with Toh Sze Ning and Aloysius Gan beating Thailand 3-1 to finish first in the three-team round-robin. The pair have been partners since 2018 (Aloysius was just 11 years old) when they both took silver in the Tiger Balm Singapore Boccia Open and will be buoyed by their most recent success.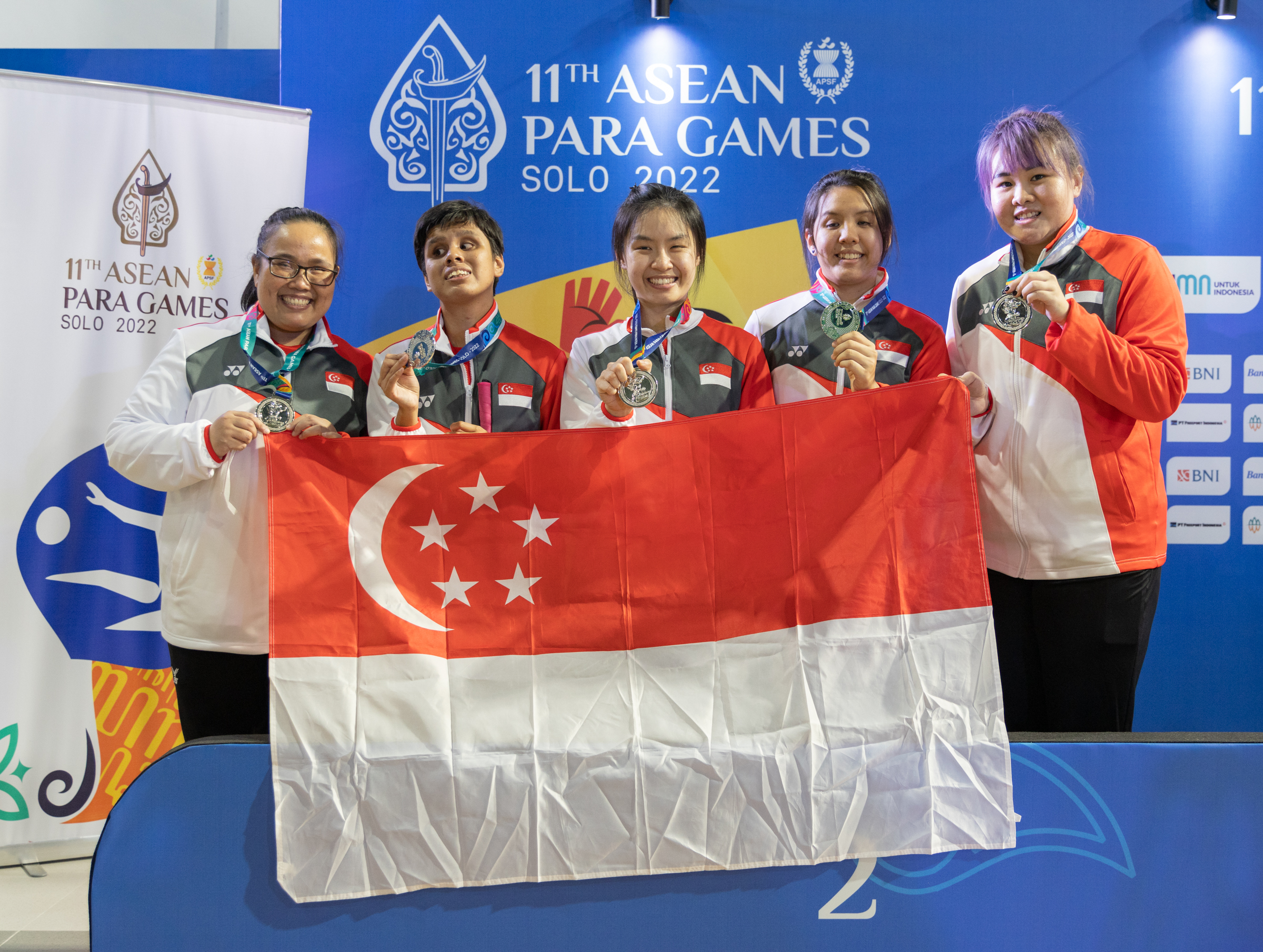 The women's Goalball team with their silver medals after the final against Thailand. Photo Credit: SNPC/Goh Si Wei
Over in goalball, Joan Hung scored the only goal in the women's gold medal match against Thailand as Singapore wound up with silver after a 7-1 reverse. Joan and the team, inclusive of sister Inez Hung, will be looking to do better in their next outing.
: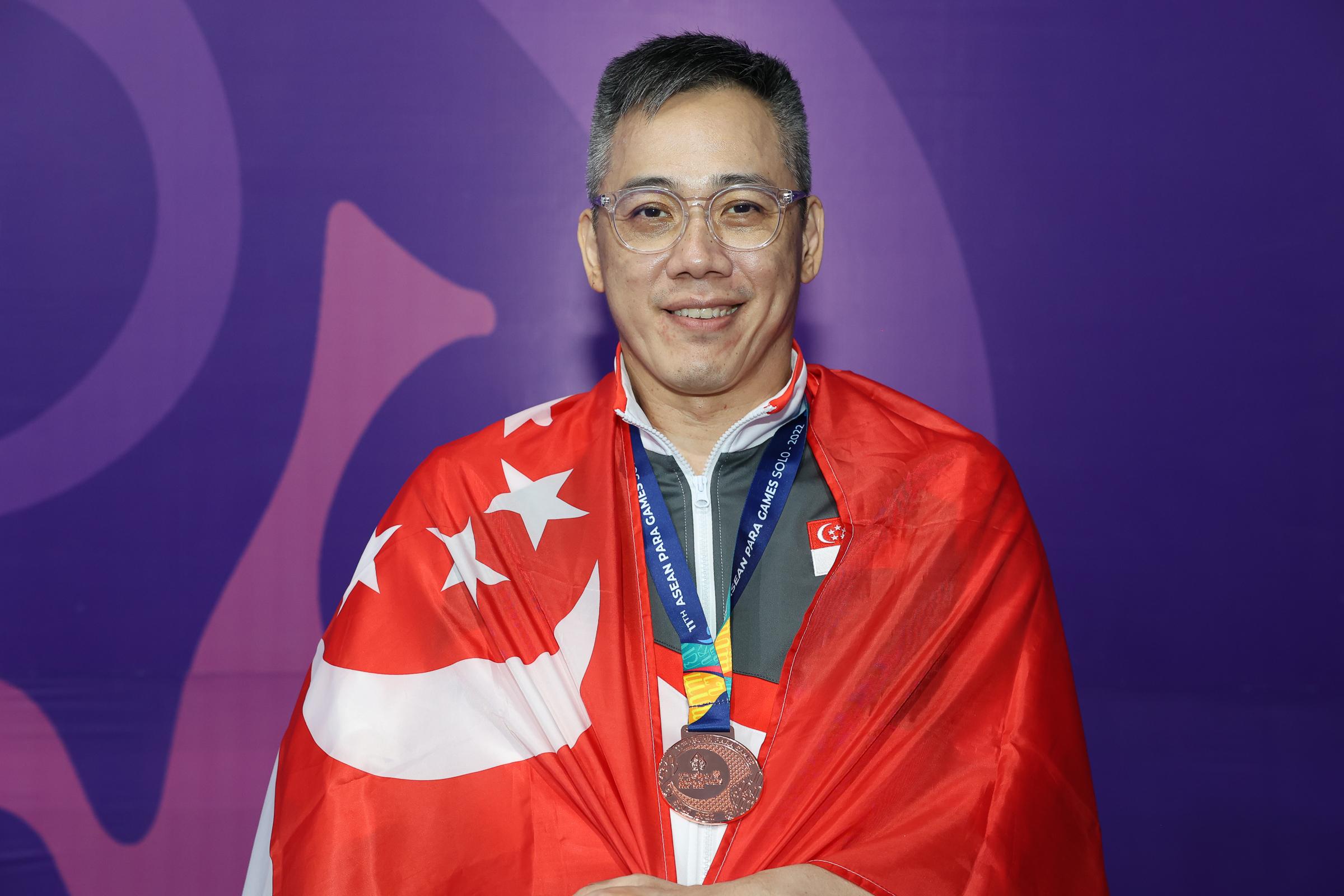 Eric Ting with his bronze medal in the table tennis Men's Singles (TT1-2). Photo Credit: SNPC/Calvin Teoh
Eric Ting also added a bronze to the final tally in the Men's Singles TT1-2 table tennis segment, finishing third out of 5.
And in Blitz Chess, Edwin Tan played five matches on the day, winning only one to settle for 9th place.
Team Singapore ends the 2022 APG with 7 golds, 9 silvers and 12 bronzes.
The 11th ASEAN Para Games is held in Surakarta, Indonesia from 30 July 2022 to 6 August 2022. For the latest Team Singapore coverage and news, follow Team Singapore on their social media channels (Facebook, Instagram, TikTok) or visit the official Team Singapore website.
Related Events & Programmes