Netball
26-time National NSG Netball Champs CHIJ Toa Payoh (Secondary) : It's all about Family!
by Circle Stories, on April 18, 2022 16:00 PM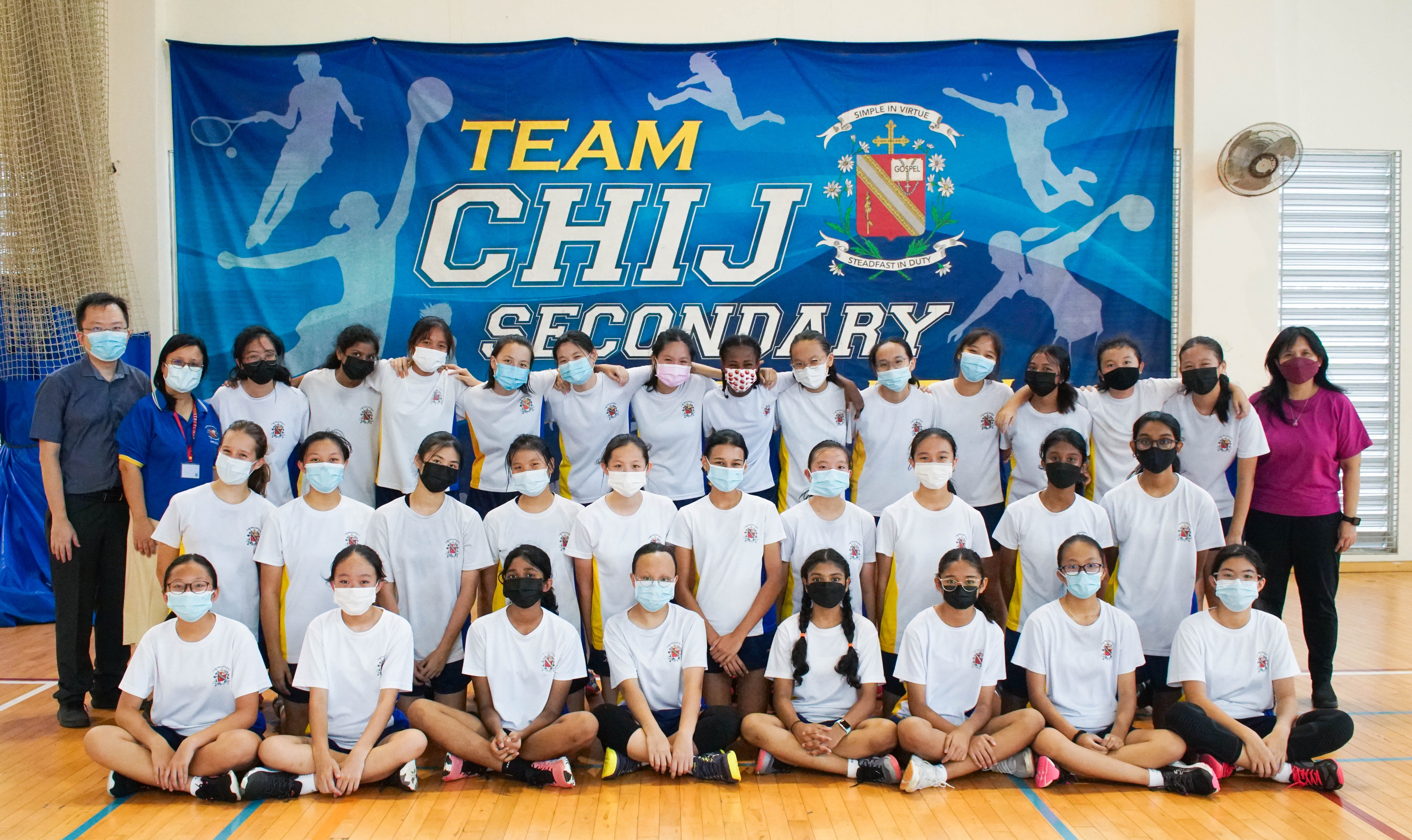 2022 CHIJ Toa Payoh's (Secondary) Netball Squad. Photo Credit : CHIJ Toa Payoh (Secondary)
By Pearlyn Koh
Since 1999, CHIJ Toa Payoh (Secondary) has managed to create its very own legacy in Netball. With a stunning 26 National School Games (NSG) Championship titles claimed in both the 'B' and 'C' Divisions since 1999, the CHIJ Netball team is excited to be back on court at this year's NSG - especially after a 2-year hiatus due to Covid-19.
Over the years, the CHIJ Netball team has managed to not only build a strong legacy in Netball, but has also formed a close-knitted Netball family. At every NSG in previous years, parent supporters would dedicate their time to specially support the team during their games. Netballers who had graduated would also return to CHIJ to help out in school events as well as spur their juniors on.
Recently, we caught up with Mdm Seng Wee Pheng, Teacher-in-charge of Netball through an email interview to find out more about CHIJ's long history in Netball. We also spoke to Naeya Sanders, captain of the 'B' Division team, through an online recorded call to better understand the team's preparations for the upcoming games (Watch Interview Below!).
(For all the news, post-match interview videos, stories, photos, fanzone details and much more from the 2022 National School Games, do visit our website : go.gov.sg/nationalschoolgames)
(Pre-Games Interview with Naeya Sanders - Captain, Team CHIJ B Division. Video Credit : Pearlyn Koh)
Email Interview with Mdm Seng Wee Pheng, Teacher-in-charge of Netball at CHIJ Toa Payoh (Secondary).
Q1: How long have you been the teacher-in-charge for Netball at your school?
5 years.
Q2: When did Netball CCA start in your school?
Netball has traditionally been a niche CCA in CHIJ.
Q3: How often is your school's Netball training?
3 times a week.
Q4: Over the years that you have been teacher-in-charge, what has been the proudest moment for you?
Proudest moment for me personally is when I see the netballers putting in their best efforts to train diligently under our experienced Coach Mun and playing every single game as if it is their very last, persevering and displaying sportsmanship. We are very blessed to be able to participate in the International Youth Netball Challenge (IYNC) organised by the Singapore Sports School where our netballers got to play with some of the top netballers from around the world for a week, during the tournament.
Prior to the onset of Covid-19, in every game there were always parents supporters who would cheer the team and bring the netballers bananas to replenish their energy levels.
Netballers who have graduated will come back to visit the coach, teachers and their juniors and will not hesitate to help out in school events such as Open House Netball Games and as NSG standby umpires. To me, Netball School Team in CHIJ is like a united big family with tight bonds.
Q5: How many NSG titles (Champions) has your school claimed in Netball?
14 C Div NSG titles since 1999; 12 B Div NSG titles since 2000.
We are happy that the netballers are able to win some NSG titles over the years but to us, what is most important is sportsmanship, character development, picking ourselves up again after losing a game and team unity displayed by our netballers. In fact, due to this interview, this is the first time we are tracking the number of NSG titles we have won over the years.
Q6: How did your school fare at the last NSG in 2019?
2019 1st runner up in C Div Nationals. Top 8 in B Div Nationals.
Q7: How has your school managed to consistently perform well in Netball over the years?
Under the guidance and expertise of our coach, Ms Kok Mun Wai, and with strong support from our school, the Netball school team has managed to consistently perform well for the past 25 years.
The coach always emphasizes to all netballers the importance of good attitude, hard work, resilience, discipline, commitment and perseverance.
As a team, we will also celebrate little successes along the way by giving out awards such as "Player of the Match" to recognise the effort and good performance of our players.
By creating a strong team culture and by instilling certain core life values, tangible successes have been achieved along the way too.
(For all the news, post-match interview videos, stories, photos, fanzone details and much more from the 2022 National School Games, do visit our website : go.gov.sg/nationalschoolgames)
Sport Singapore would like to Thank the school principal, students, teachers and parents from CHIJ Toa Payoh (Secondary) for their kind assistance and responses towards this NSG preview. This article would not have been possible without their invaluable input and comments. And we wish Team CHIJ the Best of Luck, Success and Safety in their 2022 National School Games campaign :)
Pearlyn Koh has been playing Table Tennis competitively for 9 years. She is a 4-time Champion at the National School Games, over a period of 6 years. And she's currently a member of the National Team and has represented Singapore at several major tournaments, including the 2018 Asian Games and World Table Tennis Championships. In 2019, Pearlyn was also the sole Southeast Asian player to enter the Top 16 at the Asian Junior & Cadet Table Tennis Championships. During her free time, Pearlyn enjoys reading and catching up with her friends.
Related Events & Programmes