Squash
A Final Hurrah for Outram Secondary Girls' Squash!
by Circle Stories, on April 13, 2022 16:00 PM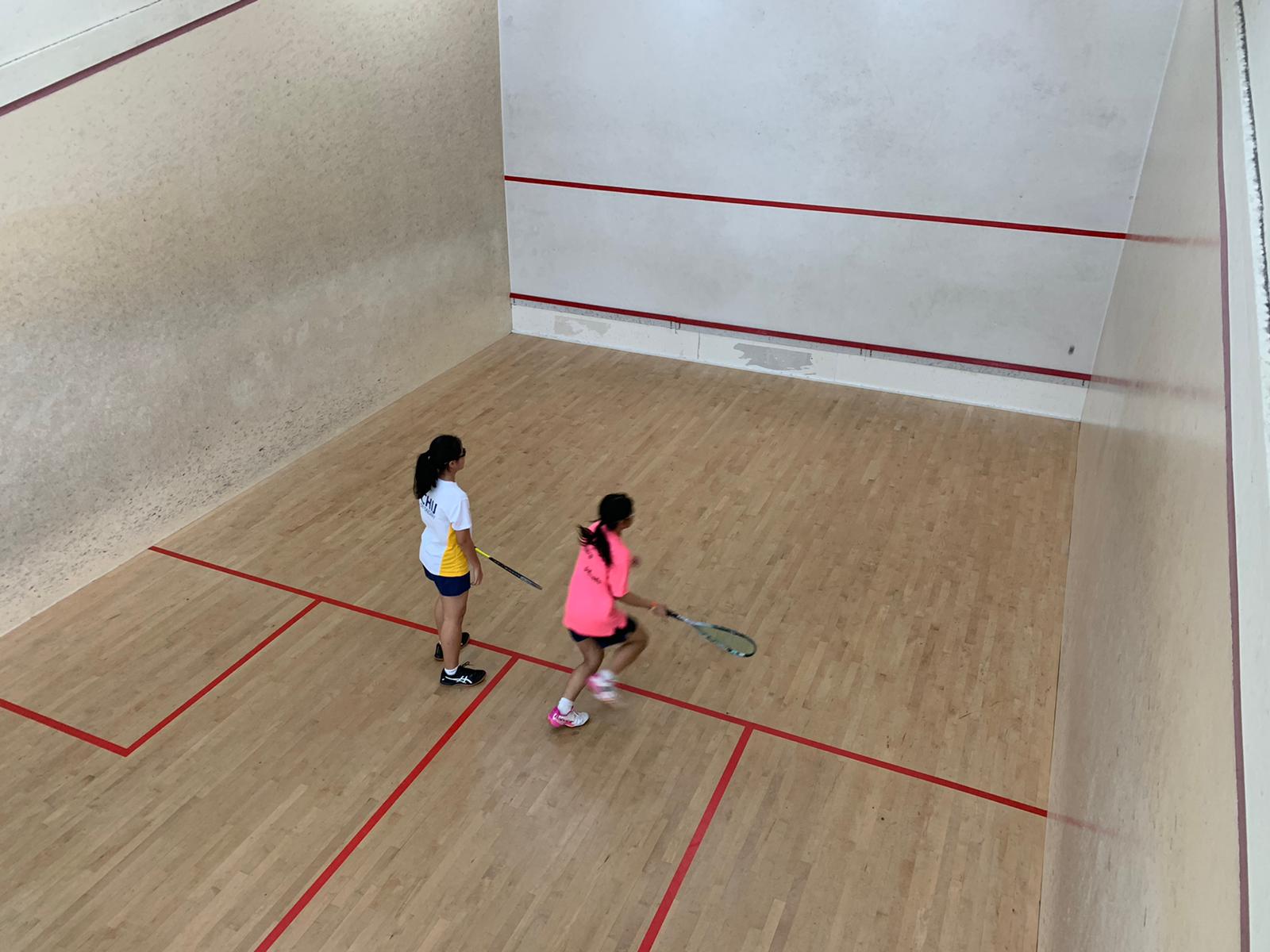 Outram Sec School (in Pink) vs CHIJ Toa Payoh (Sec) in B Girls Prelim match. Photo by Mohit Lalvani.
By Mohit Lalvani
It was bittersweet for the girls of Outram Secondary School (OSS) and CHIJ Toa Payoh (Secondary), as they took to the squash courts at the Kallang Tennis and Squash Centre on the 12th of April to do battle in the Girls B Division. The excitement amongst both teams was palpable and the significance of this game was not lost on anyone who was present at the venue, since it would be the final squash match for both teams, with their squash programs coming to an end after this match. To be on court was special enough, but a victory would be the icing on the cake and a wonderful swan song.
The first tie between Shaheera Fatima from CHIJ and Reyna Teo from OSS, gave the latter the early start they needed. Playing from off the T position, Reyna played with a sense of determination after splitting the first two games with Shaheera. She won the first 11-6 and lost the second 7-11, before taking control of the match and winning the next two 11-4, 11-2.
(For all the news, post-match interview videos, stories, photos, fanzone details and much more from the 2022 National School Games, do visit our website : go.gov.sg/nationalschoolgames)
On the other court meanwhile, Shaheera pulled CHIJ back with a gritty and hard fought 3-1 victory, that could just have easily gone the other way. Like the first tie, the first 2 games were split between Tan Dhu Hui Mary-Anne of CHIJ and Christine Chan of Outram Secondary. The third and fourth games were fought tooth and nail with the CHIJ digging deep at to narrowly win the next two for a 11-2,7-11, 12-10, 17-15 victory.
With the scores tied, the 3rd match demonstrated just how close it was between the two teams and fittingly it went the distance with Dhea Inayah from Outram Secondary holding off Le Thi Yen Nhu Mary in 5 sets gruelling sets 11-5, 7-11, 11-4, 13-15, 11-3.
The 4th tie went CHIJ's way with Ng Jing En finding comfort in a straightforward 3-0 victory over Jeslyn Kang. And with the overall fixture tied at 2-2, Janelle Chu (in the CHIJ whites) took the court against Febella Ong in the Outram pink. With the first two games falling easily to Outram, it looked like it was to be OSS' final hurrah. And even though, CHIJ provided a spirited comeback in the third with some probing cross-courts to the back wall, Febella was able to get home 11-1,11-3,11-9. With both teams grateful to be out on court and playing, the spirit and comradery could not have been more congenial.
Post-match Interview with Tan Dhu Hui Mary-Anne, CHIJ Toa Payoh (Sec). Video Credit : Mohit Lalvani
Post-match Interview with Dhea Inayah - Outram Sec School. Video Credit : Mohit Lalvani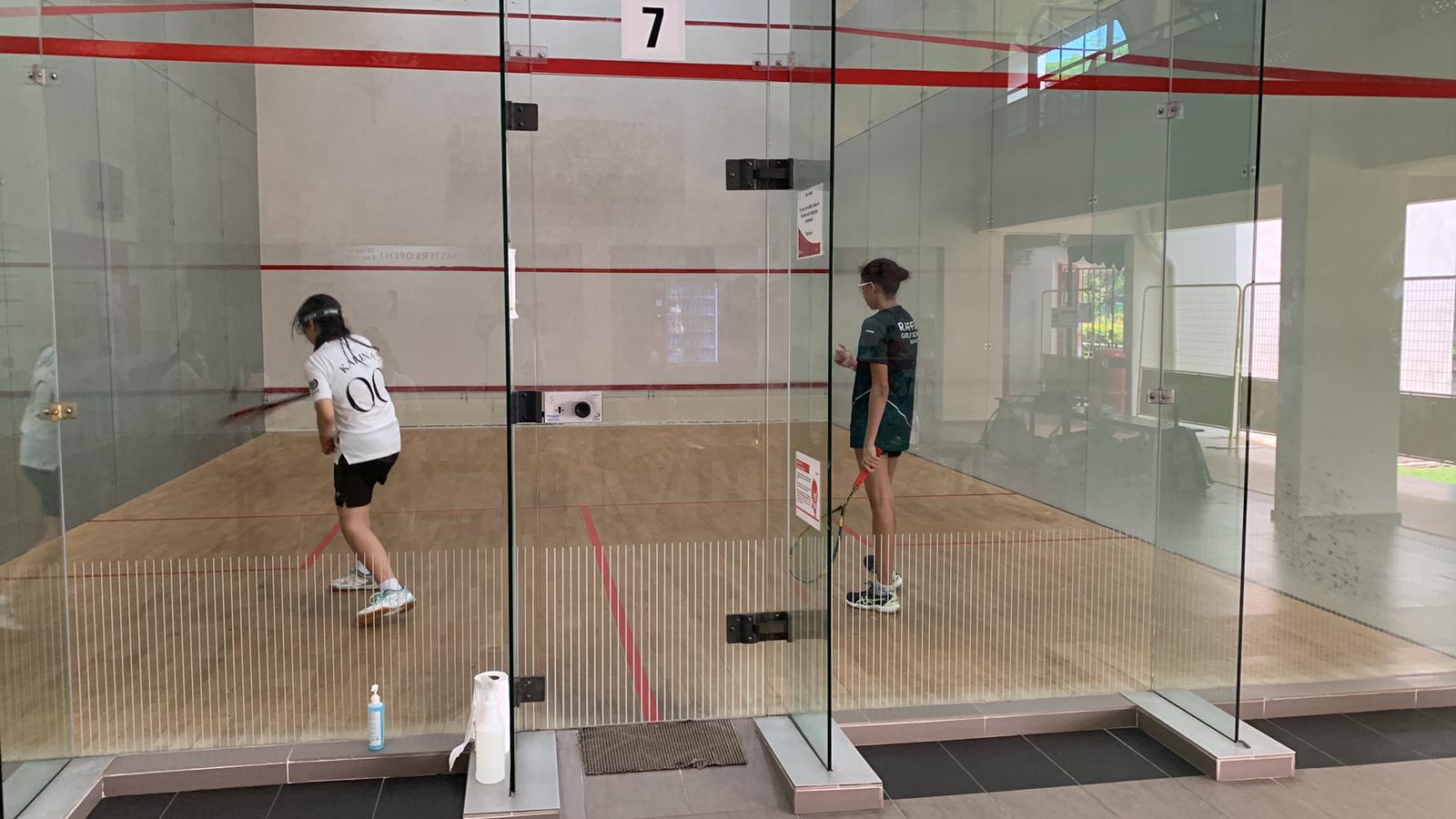 Karina Liswandy (TJC) warming up (Left) with Saiesha Ranjan of RGS. Photo Credit : Mohit Lalvani.
While the drama was playing out between OSS and CHIJ, Raffles Girls' School (Secondary) was in dominant form against Temasek Junior College, winning all their 5 matches without dropping a game. They will play Methodist Girls School in the grand final next week, a mouth-watering clash, which will be streamed live on Wednesday the 20th of April.
(For all the news, post-match interview videos, stories, photos, fanzone details and much more from the 2022 National School Games, do visit our website : go.gov.sg/nationalschoolgames)
Related Events & Programmes