Floorball
The Damaians defeat Tampines Primary en route to NSG Floorball Senior Girls trophy!
by Circle Stories, on June 10, 2022 3:17 AM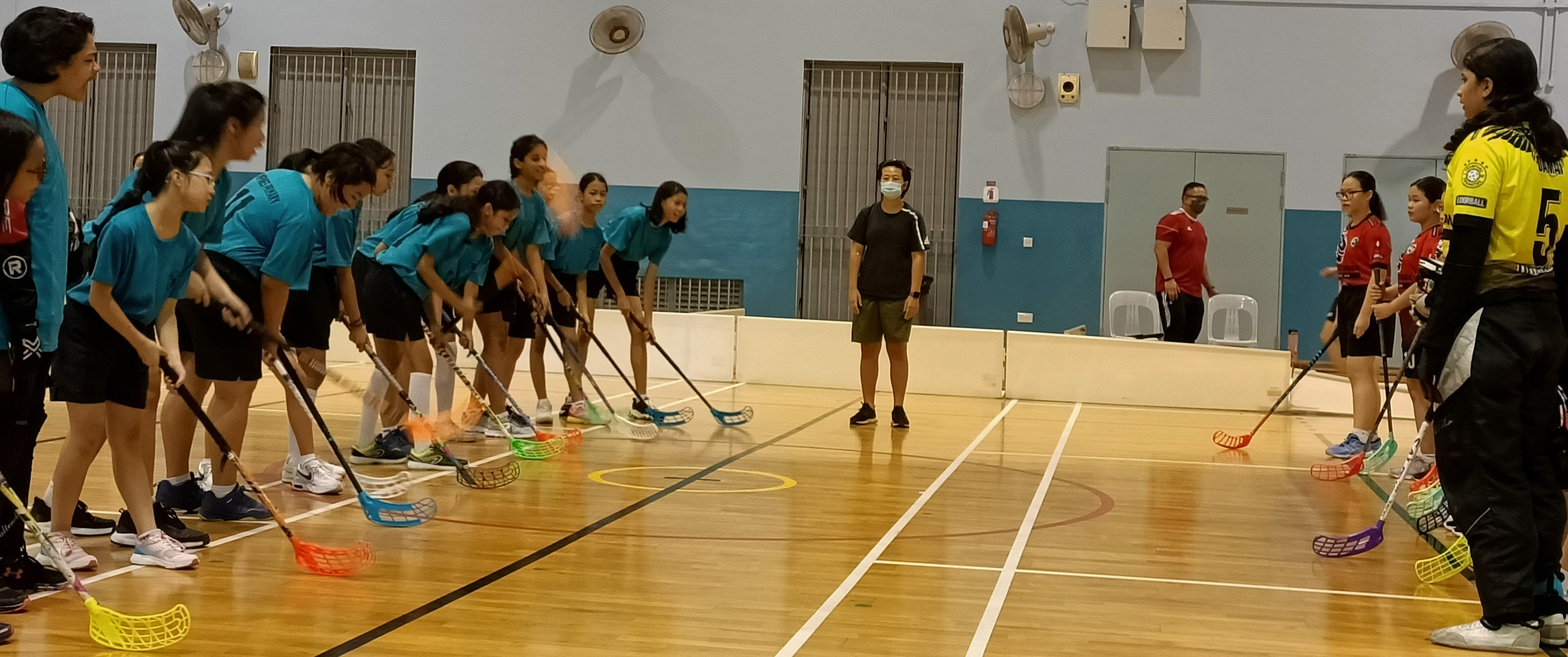 Tampines School (in blue) vs Damai School in 2nd semi-final of NSG 2022. Photo credit: Suresh Nair
By Suresh Nair
Keming Primary School (KPS) met Damai Primary School (DPS) in this year's Senior Division Girls' floorball final of the National School Games. The clash in late May saw the Damaians winning the championship trophy 6-3. Both teams though, had a tough road en route to the finals.
The two teams had to be engaged in a penalty shootout in the semi-finals played at Townsville Primary School in Ang Mo Kio. Keming were held to a 5-5 draw by Huamin Primary School, before they won via a 7-6 shootout. Damai likewise led 2-0, but were held to a 2-2 draw by Tampines Primary School before scoring twice in the shootout for a 4-2 aggregate.
Floorball is an intense sport that requires a high level of agility, precision as well as loads of teamwork. The girls showed remarkable enthusiasm in the three periods of 10 minutes each.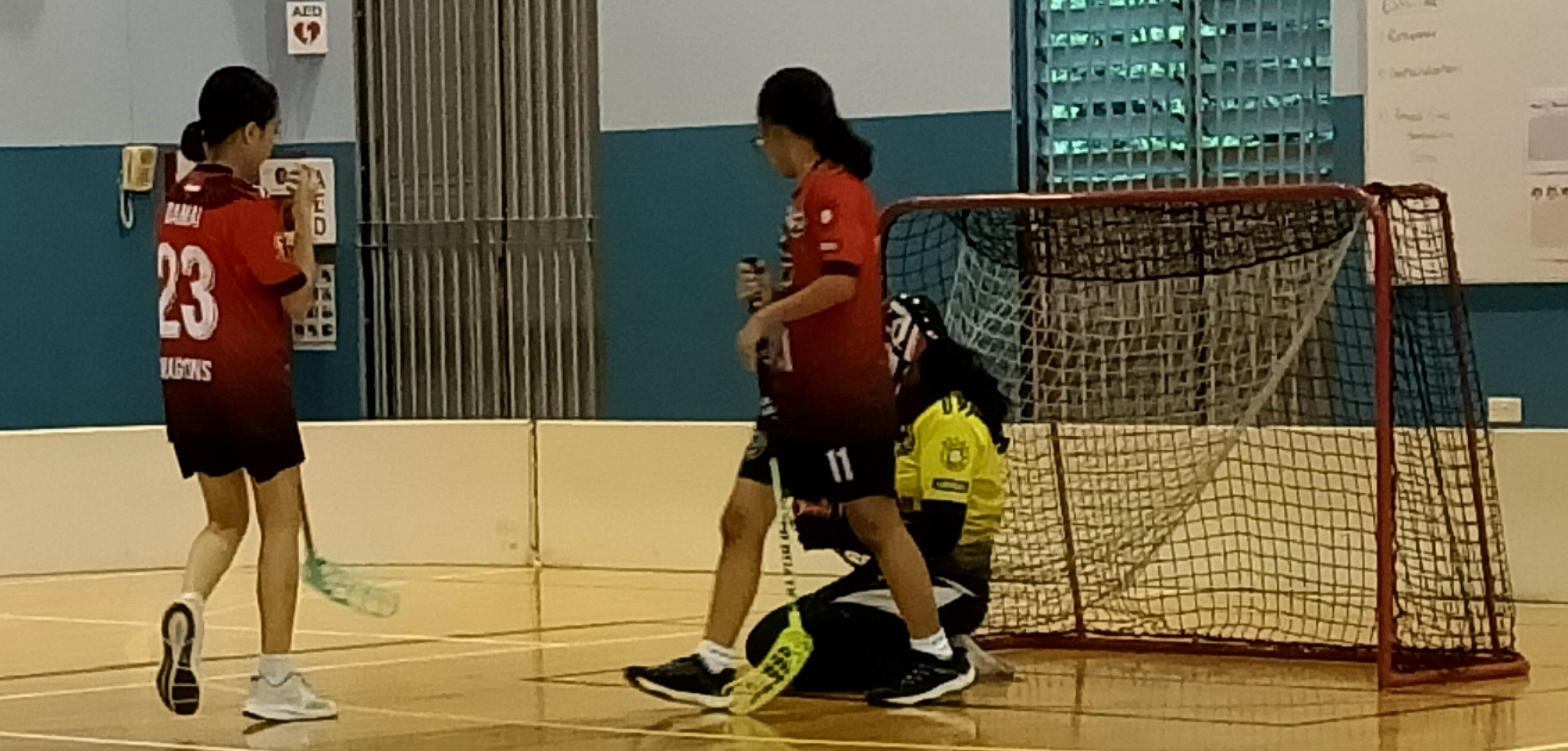 Keming Primary School players (in red) forces quick save from Huamin School goalkeeper. Photo credit: Suresh Nair


What caught my eye in this new sport to me was besides learning and training to play the game well, the girls also learned sporting values such as respect, resilience, and responsibility. I was impressed that senior members, who in particular, mentored the juniors and this helped them to acquire their ball and positional skills quickly.
The heroes in the two semi-final matches were the respective goalkeepers, who made countless saves in the match plus the penalty shootouts to decide the crucial tie-breakers.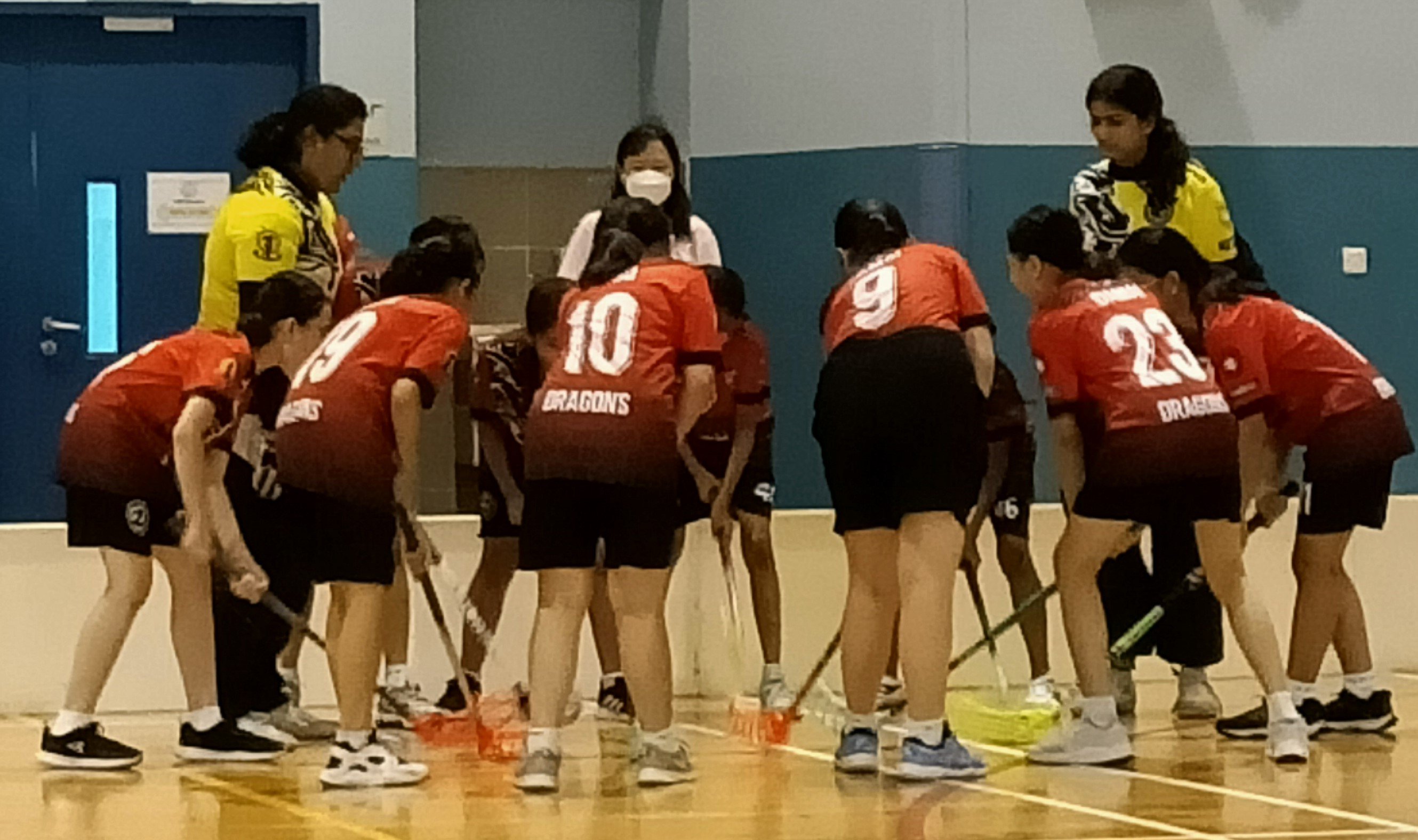 Damai team in high spirits at the brief interval break. Photo credit: Suresh Nair
"Tampines School gave us a harrowing time, much as we expected semi-finals to bring out the best in the players," says Damai skipper Chang Enxin. "We admired their gutsy fighting spirit and they battled it out until the final whistle. This now shows that my team, nicknamed Damai Dragons, is ready for tougher matches in the final."
She praised the rising popularity of floorball here which has gained tremendous traction in Singapore as it nurtures speed, agility and fast-paced strategies and thinking. She adds: "It's a sport both genders can enjoy as it emphasizes the important spirit of team building, builds camaraderie among players, bringing them closer together and encouraging a tight-knit sports community."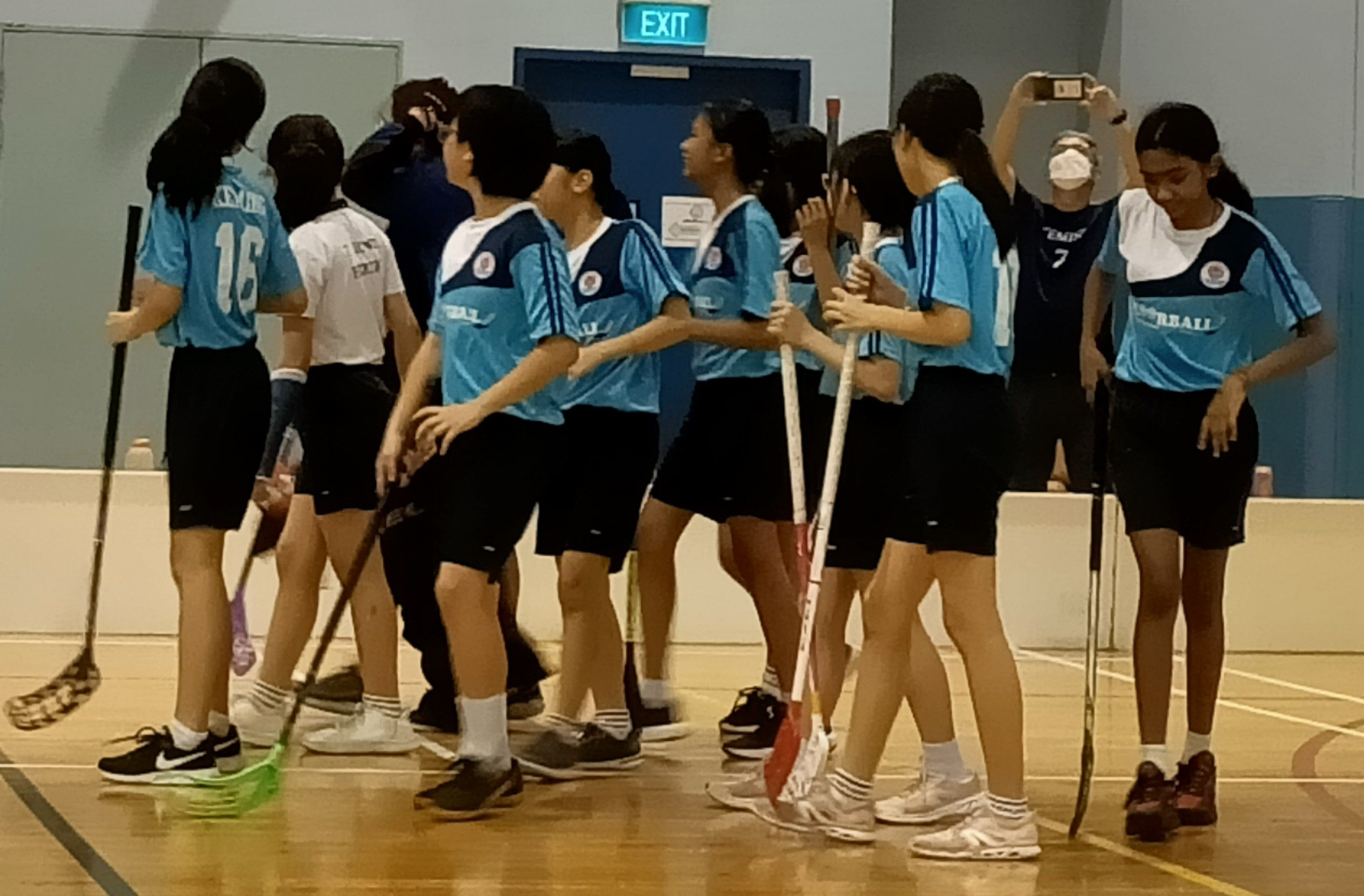 Tampines School set for the tie-breaking penalty shootout. Photo credit: Suresh Nair


It must be noted that floorball is a sport that has skyrocketed over the past few years - there are currently about 15,000 floorball players in Singapore, coming from more than 100 schools and 100 clubs.
Chang Enxin adds: "Through hard work, discipline, teamwork and skill we strive to instill in the younger players the determination to be the best that they can be. We also seek to improve the students holistically through regular training and competitions. More to it, we also provide meaningful opportunities for students to develop their leadership."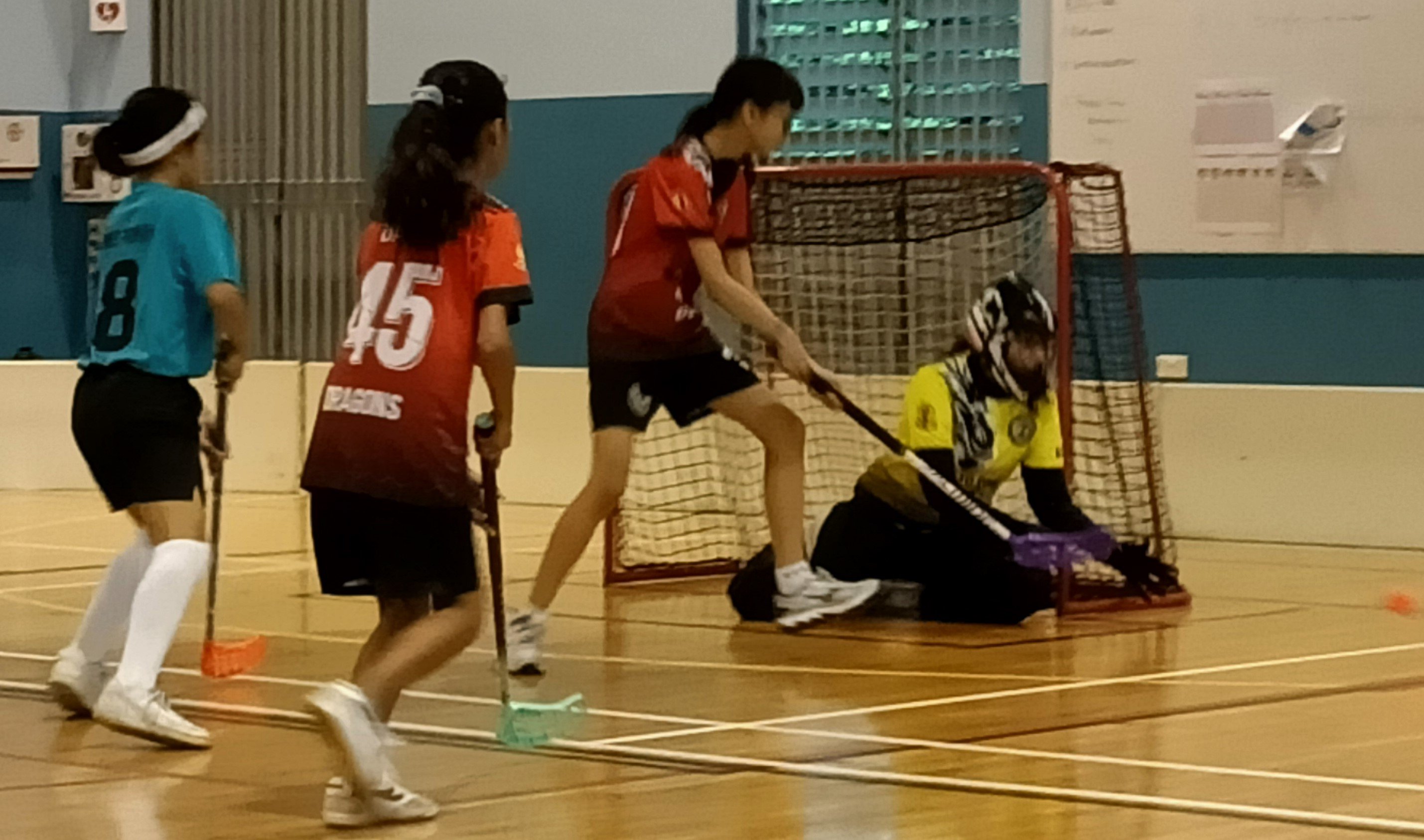 Damai School forces an outstanding reflex save from the Tampines School goalkeeper. Photo credit: Suresh Nair
(For all the news, post-match interview videos, stories, photos, fanzone details and much more from the 2022 National School Games, do visit our website : go.gov.sg/nationalschoolgames)
Related Events & Programmes