Squash
MGS' national champ Gracia Chua : Competing in the NSG is not about winning or losing, but to be in this together!
by Circle Stories, on March 26, 2022 16:00 PM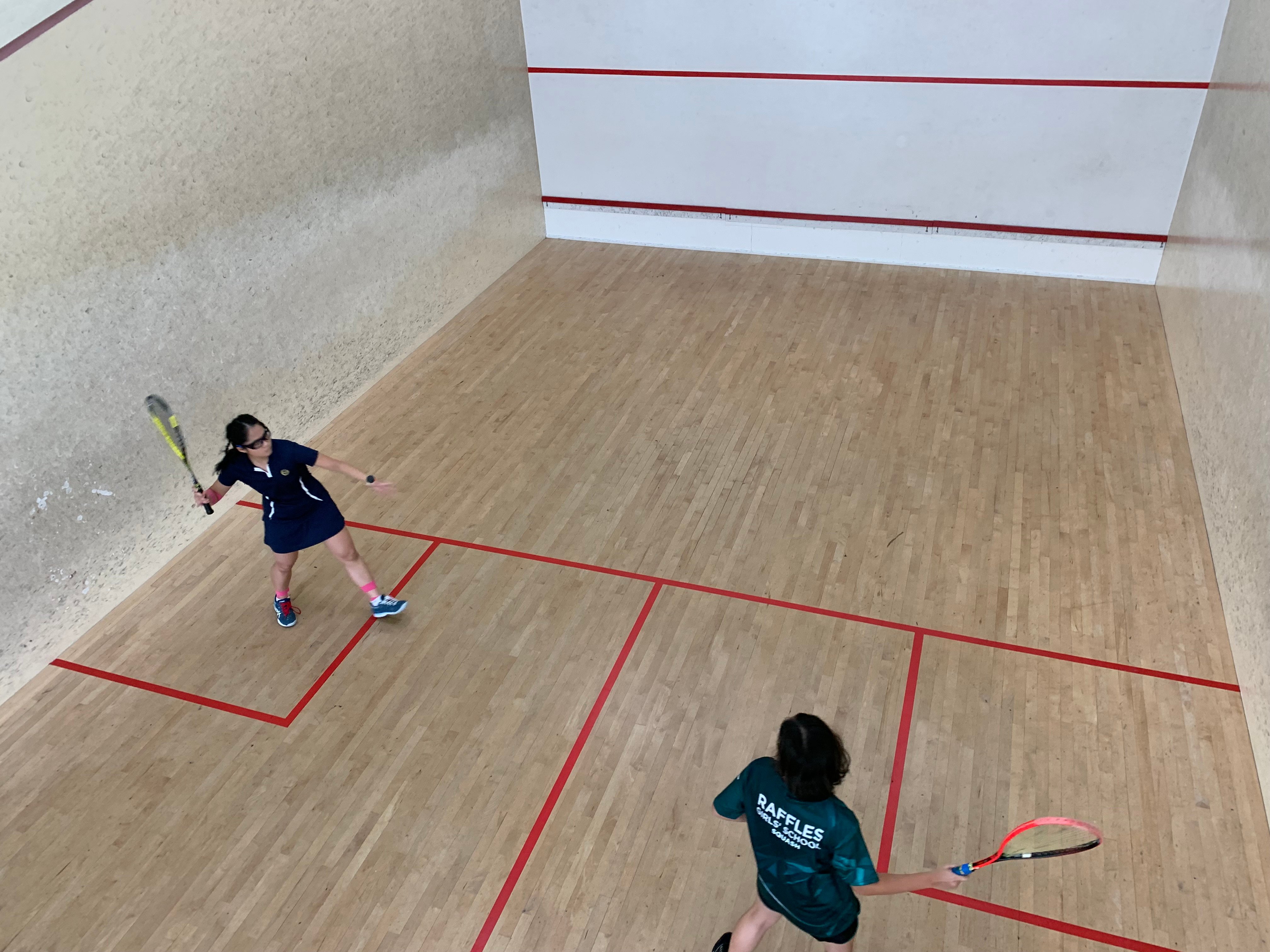 Gracia Chua (MGS) serving to Tan Kai Han (RGS). Photo Credit : Mohit Lalwani
By Mohit Lalwani
In 2003, Forbes magazine published a list of the 10 healthiest sports based on a four metrics of fitness, injury risk and energy burns, and rated the game of squash at number 1. While proponents of their own sports would argue against this, none can argue that this is a sport that tests an athlete for flexibility, strength, speed, and balance all at once.
Imagine what would happen to the body and engine of a car from having to go from zero to its top speed in seconds and come to standing stop before pivoting back instantly and this is what a game of squash puts a human body through. There is no doubt that it requires remarkable athleticism and on Tuesday afternoon (22 Mar), 20 remarkably fit athletes made their way to the Kallang Tennis and Squash Centre for the National School Games – Girls Division B.
(For all the news, interviews, results, schedules, videos, stories, photos, fanzone details and much more from the 2022 National School Games, do visit our website : go.gov.sg/nationalschoolgames)
Nestled within the Centre itself, is possibly the most visited pro-shop for squash players in Singapore. Owned by Zainal Abidin, the legends of the game will recall his stroke play when he beat the newly crowned world champion Ross Norman and had the great Jansher Khan on the ropes a couple of weeks later. No mean task and it was more than likely that some of the girls on court had been beneficiaries of this magician's wisdom and mentorship.
With 2 matches being played (from noon onwards), one of Singapore's most exciting players Gracia Chua, a national champion for her age group, and representing Methodist Girls' School (MGS) made quick work of her Raffles Girls' School (RGS) opponent, Tan Kai Han. On the next court however, Lin Zhi Lin levelled the scores for RGS with a 3-0 victory over Ria Modak. Rachel Tay, then put the MGSians back ahead, but Melanie Lim clawed her way to victory for Raffles Girls with a 5-set victory.
The match of the day, however, was between Swetha Sivakumar in MGS' colours and Saiesha Ranjan in RGS' colours. While it was Swetha who won the day, the tenacity that Saiesha demonstrated through the match saw her go down 3-1 in a match that could have easily turned the other way. Swetha looks like she has the blocks in place to become a complete player and skill apart, she has developed a very sharp squash brain over the years. Both girls compete on the national stage, and both have the promise to take Singapore into an interesting future for women's squash.
With MGS winning the day with a 3-2 victory over Raffles Girls, on the other courts Singapore Chinese Girls' School proved to be too strong for CHIJ Secondary (Toa Payoh), winning 5-0 without dropping a set.
(Post-match interview with Gracia Chua, Methodist Girls' School. Video Credit : Mohit Lalvani)
Post-match interview with Tan Shui Hui Mary Anne (CHIJ Sec, Toa Payoh) and Theng Kai Wen (SCGS), in black Tee. Video Credit : Mohit Lalwani
On Friday 25 Mar, the 6 teams played their 2nd round of Group matches. The results are pending official confirmation and will be updated here soon.
Outram Secondary School vs Methodist Girls' School (0-5)
Raffles Girls School vs CHIJ Secondary (Toa Payoh)
Singapore Chinese Girls ' School vs Temasek Junior College
(For all the news, interviews, results, schedules, videos, stories, photos, fanzone details and much more from the 2022 National School Games, do visit our website : go.gov.sg/nationalschoolgames)
Related Events & Programmes