Table Tennis
Pei Chun Public School reclaim NSG Senior Division South Zone table tennis title!
by Circle Stories, on May 31, 2022 16:00 PM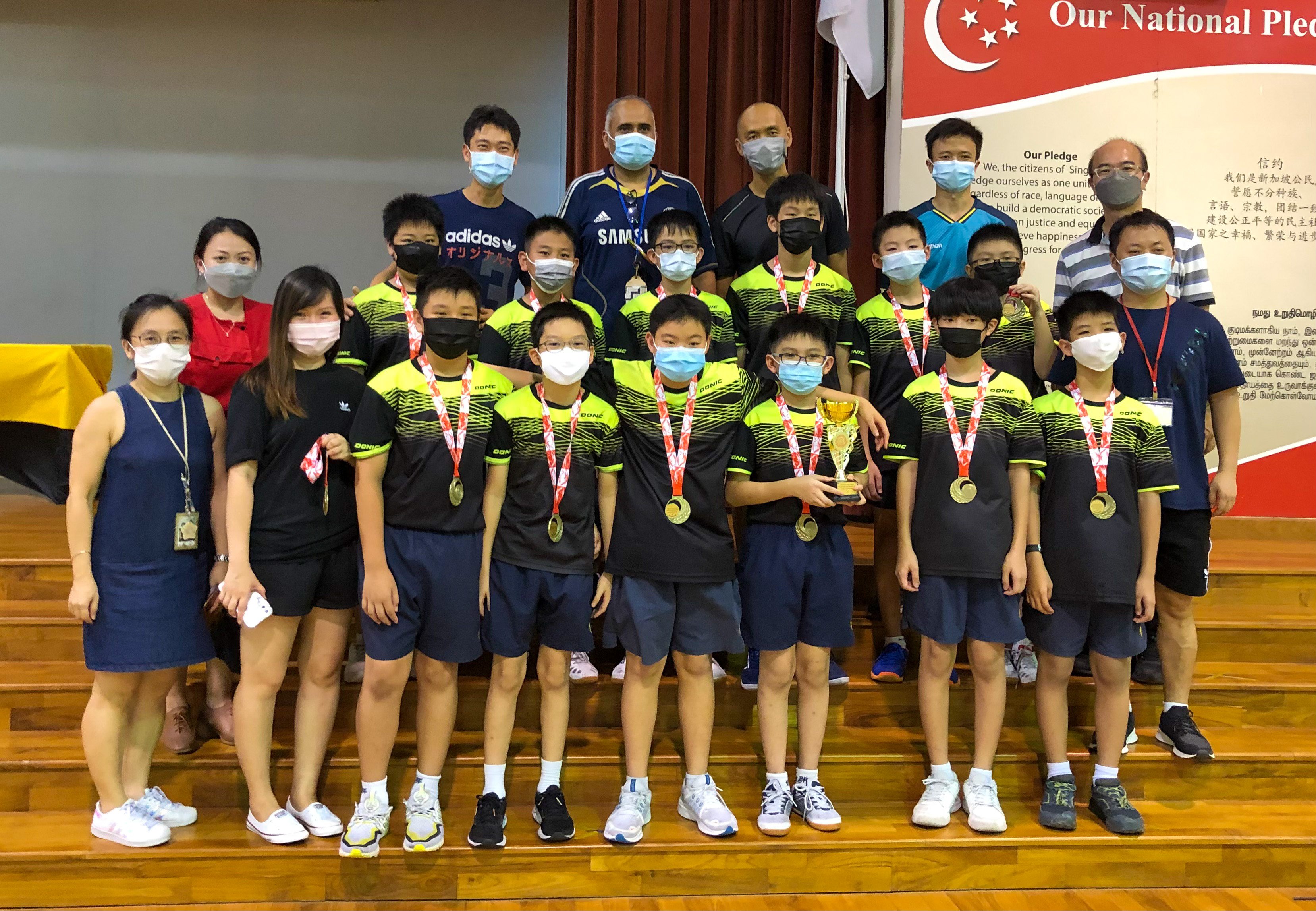 Pei Chun's paddlers pose for the victory shot after a long-awaited South Zone triumph. Photo Credit: Kenneth Tan
By Kenneth Tan
Pei Chun Public School brushed aside the disappointment of finishing runners-up in 2021, as they came from behind to defeat Anglo-Chinese School (Junior) 3-1, in the grand final of the South Zone Senior Division Table Tennis campaign of the National School Games (NSG).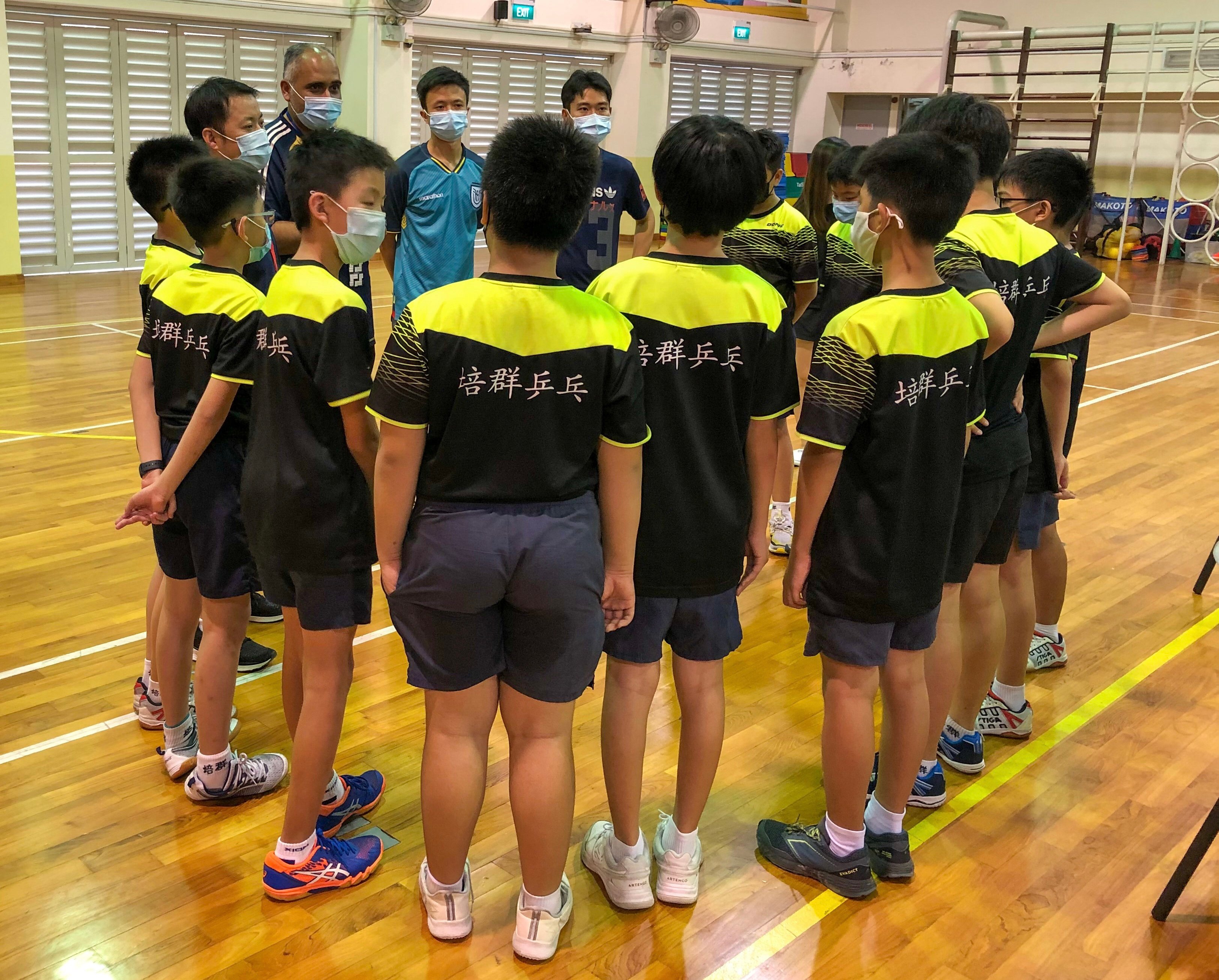 Pei Chun's teacher-in-charge Salleh B Farai Bajrai (in white stripes) addressing his players before they take to the court. Photo Credit: Kenneth Tan
Defeated by Ai Tong School in last year's final, Pei Chun had hoped to get off to a good start in the first singles match, played at Ang Mo Kio Primary School on Friday (6 May) afternoon. But captain Lee Jian Hao found the going tough against ACS Junior's Michael Wong – losing the first set 11-9. The latter never trailed at any point, as he won the second and third sets 11-1 and 11-7 respectively, to put his school in the lead.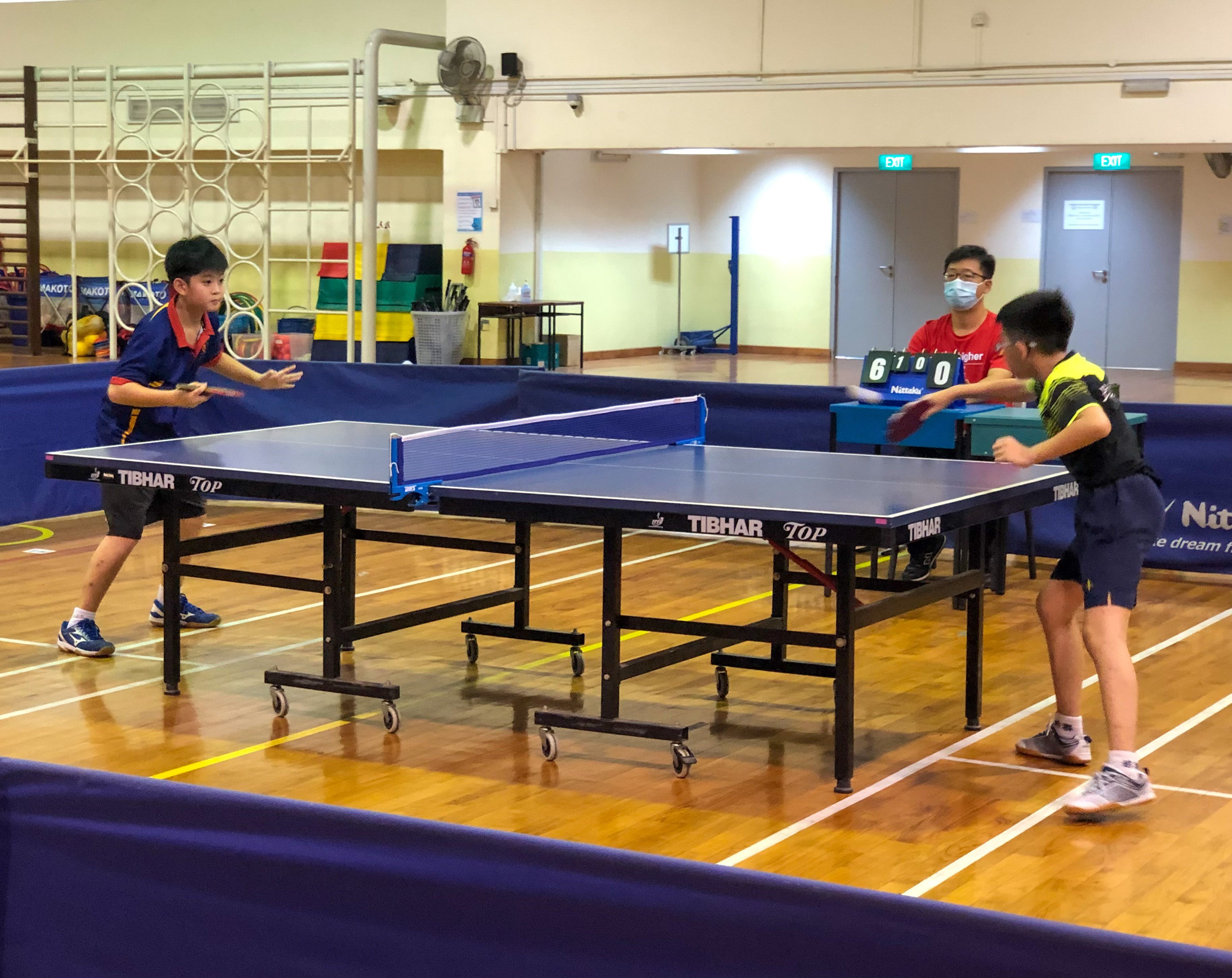 Michael Wong (left) drew first blood for ACS Junior in the first singles. Photo Credit: Kenneth Tan


That momentum was carried into the first doubles as ACS Junior's Jonathan Ho and Nathaniel Tan took the first set 11-8. However, Pei Chun's Ranen Yeo and Javier Tan reacted well in the face of adversity and clinched the second and third sets 11-6 and 11-5 despite conceding the first point in each.
In the fourth set, Ranen and Javier continued to dominate and led 3-0 before ACS Junior called for a timeout. However, the pair went on to seal it 11-0 to pull Pei Chun level 1-1 on the aggregate score.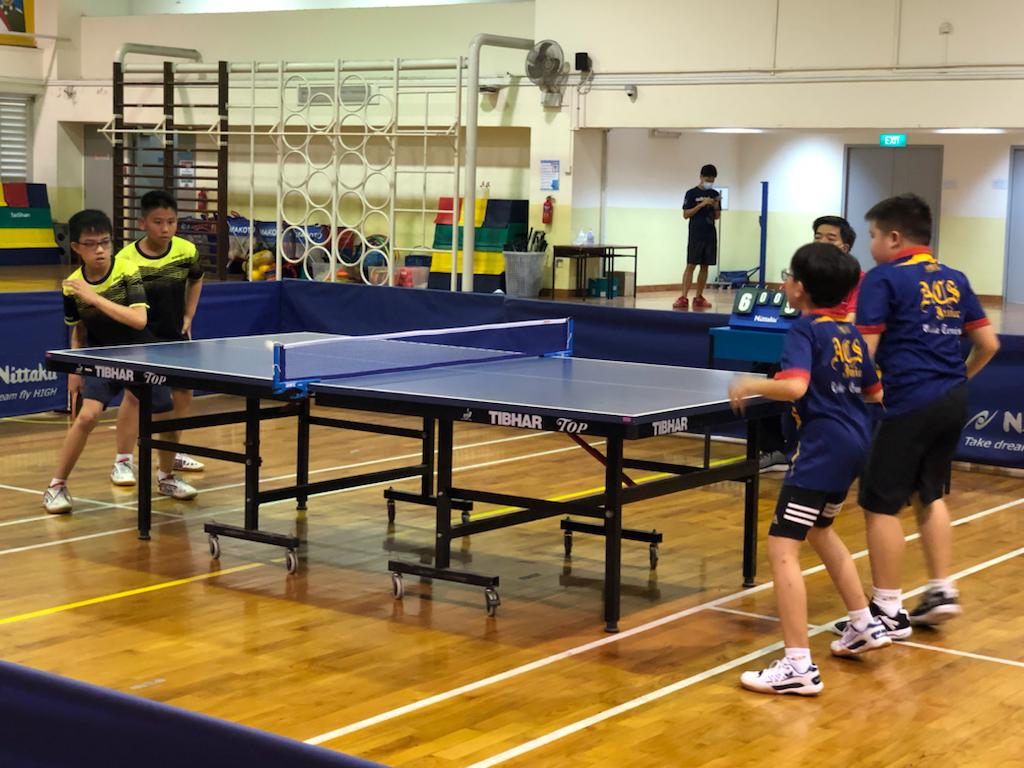 Ranen Yeo and Javier Tan (left) rallied to draw Pei Chun level in the first doubles. Photo Credit: Kenneth Tan
Benaiah Seah was next up for Pei Chun in the 2nd singles and his powerful and accurate smashes proved too hot for ACS Junior's Evan Kao to handle. After losing the first two sets 11-1, 11-2, the latter tried valiantly in the third set and pulled level at 1-1 before eventually going down 11-1, again as Pei Chun went 2-1 up in the tie overall.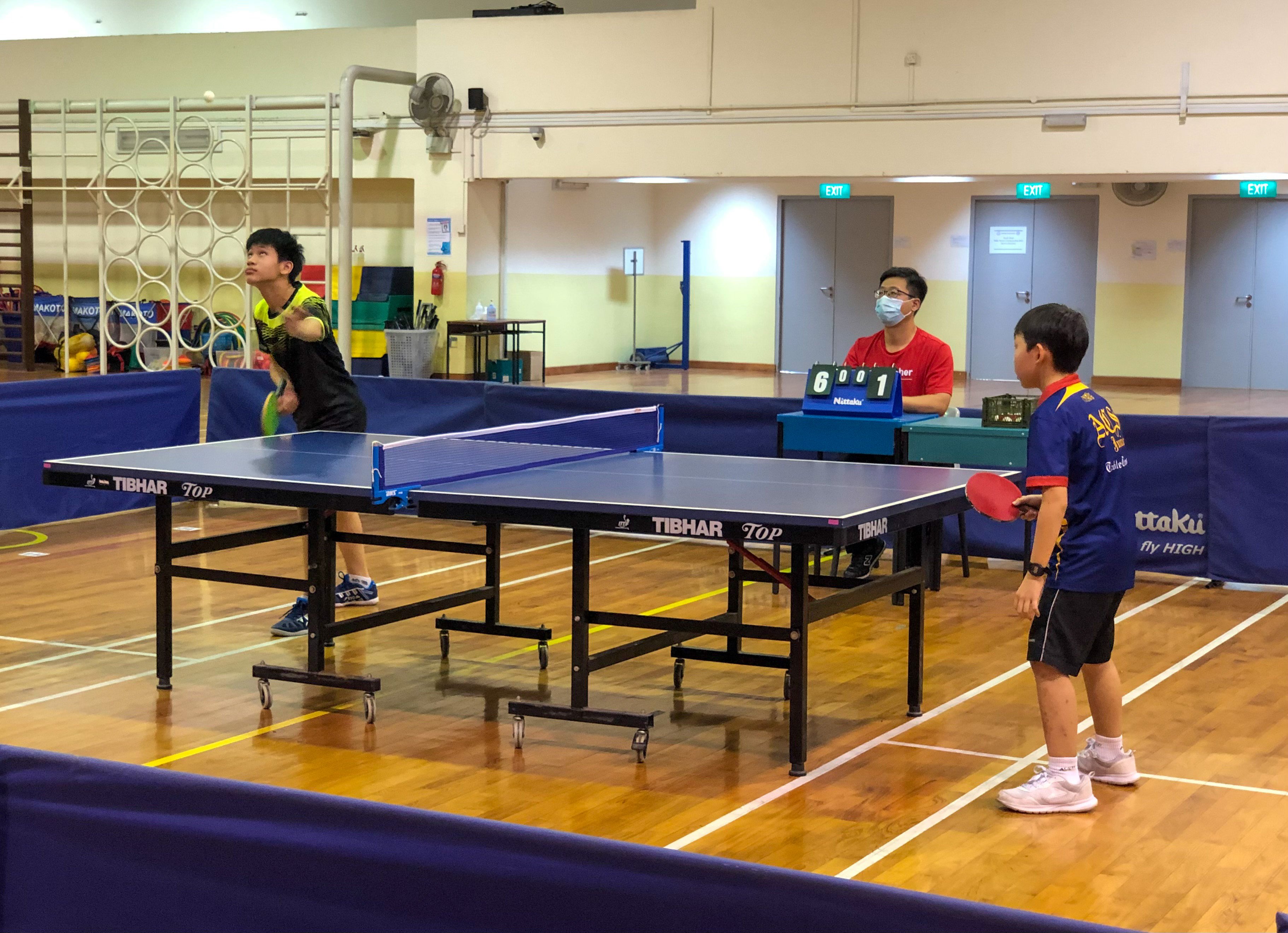 Benaiah Seah (left) was simply too powerful and cruised through the second singles. Photo Credit: Kenneth Tan
The subsequent 2nd doubles did see a much better fight put up by ACS Junior. After losing the first set 11-5, Sherwood Tan and Samuel Tan rallied and led 8-6 in the second set, but they were unable to stay on that trajectory and eventually lost 11-9 to their Pei Chun opponents.
The ACSians then displayed great combination play to lead 9-5 in the third set, but were eventually overpowered by Lim Yi Zhao and Donovan Phua – with the Pei Chun pair coming from behind to win 13-11 and clinch the overall victory for their school.
It was a sweet win for Pei Chun who had gone several years without a South Zone title, while ACS Junior can also feel proud of surpassing last year's third-placed finish.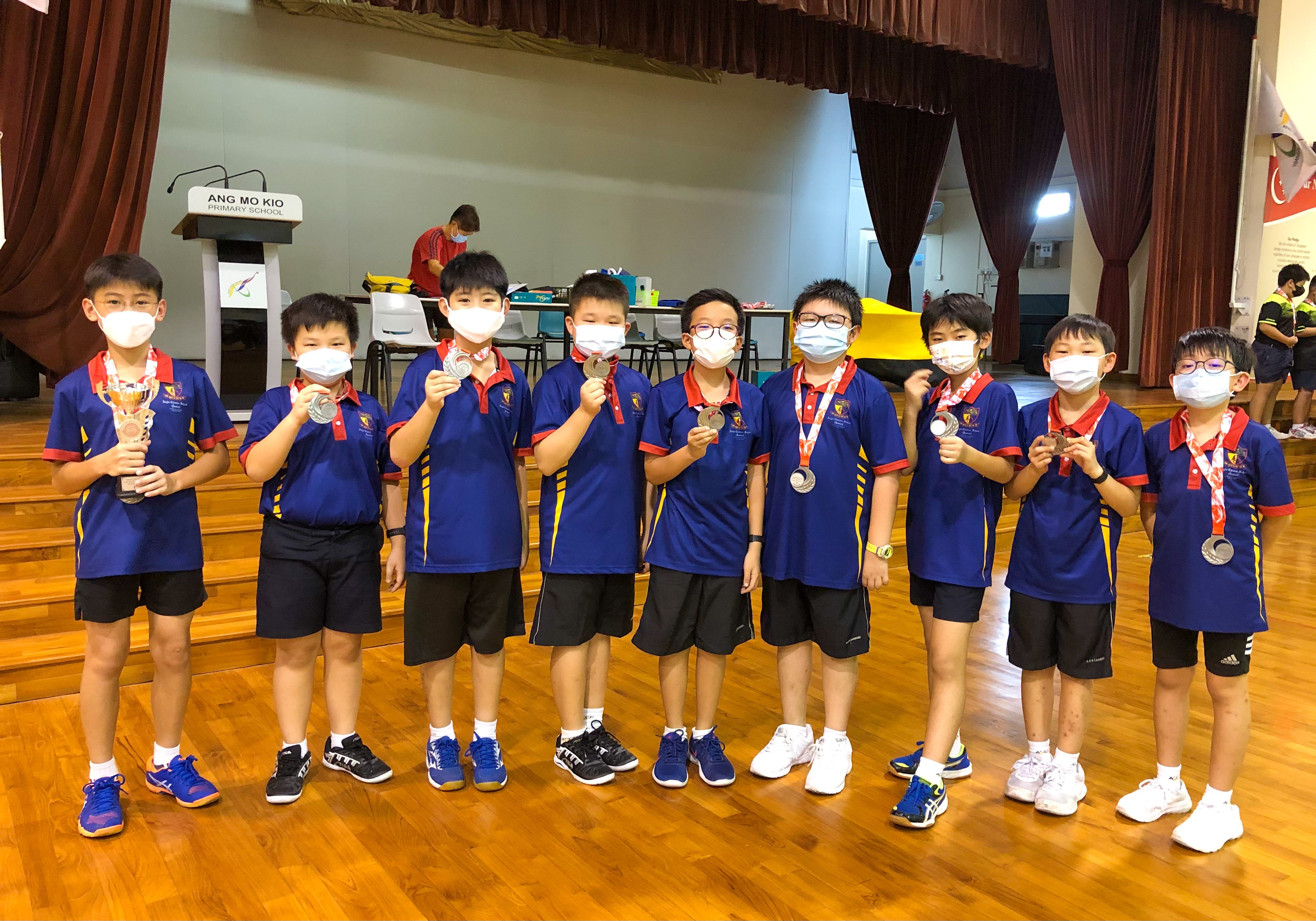 ACS Junior's paddlers pose with the runners-up trophy and medals after a great run into the final. Photo Credit: Kenneth Tan
Post-match interview with Pei Chun's captain, Lee Jian Hao. Video Credit: Kenneth Tan
Meanwhile, in an earlier match the same afternoon, dethroned champions Ai Tong School defeated Zhangde Primary School 3-0 to finish third.
(For all the news, post-match interview videos, stories, photos, fanzone details and much more from the 2022 National School Games, do visit our website : go.gov.sg/nationalschoolgames)
Related Events & Programmes