field hockey
Pre-NSG Target by Rafflesians - To defend and retain the A Division Boys' Hockey Trophy!
by Circle Stories, on May 26, 2022 16:00 PM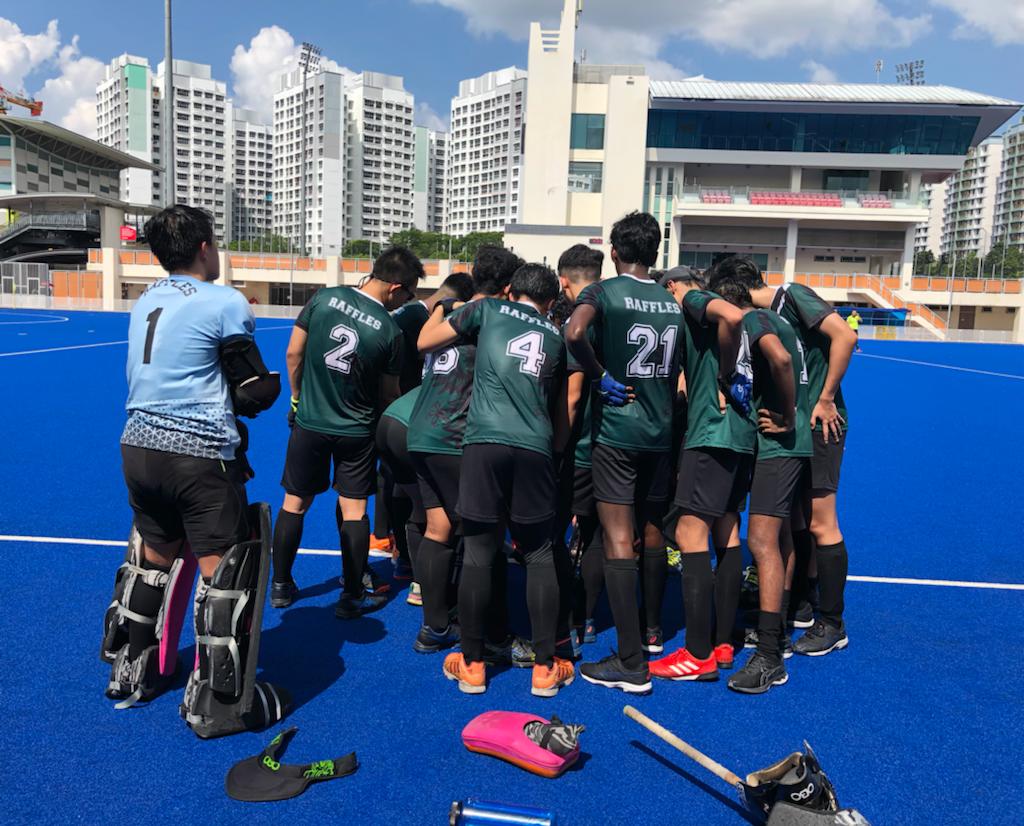 RI in their pre-match huddle before going to defeat MI 3-0. Photo Credit: Kenneth Tan
By Kenneth Tan


At the start of the National School Games (NSG) campaign, Raffles Institution (RI) had already set their eyes on regaining the National A Division Boys' Hockey Championships. And by the end of the group qualifying stage, they finished at the top and booked their tickets in the semi-finals.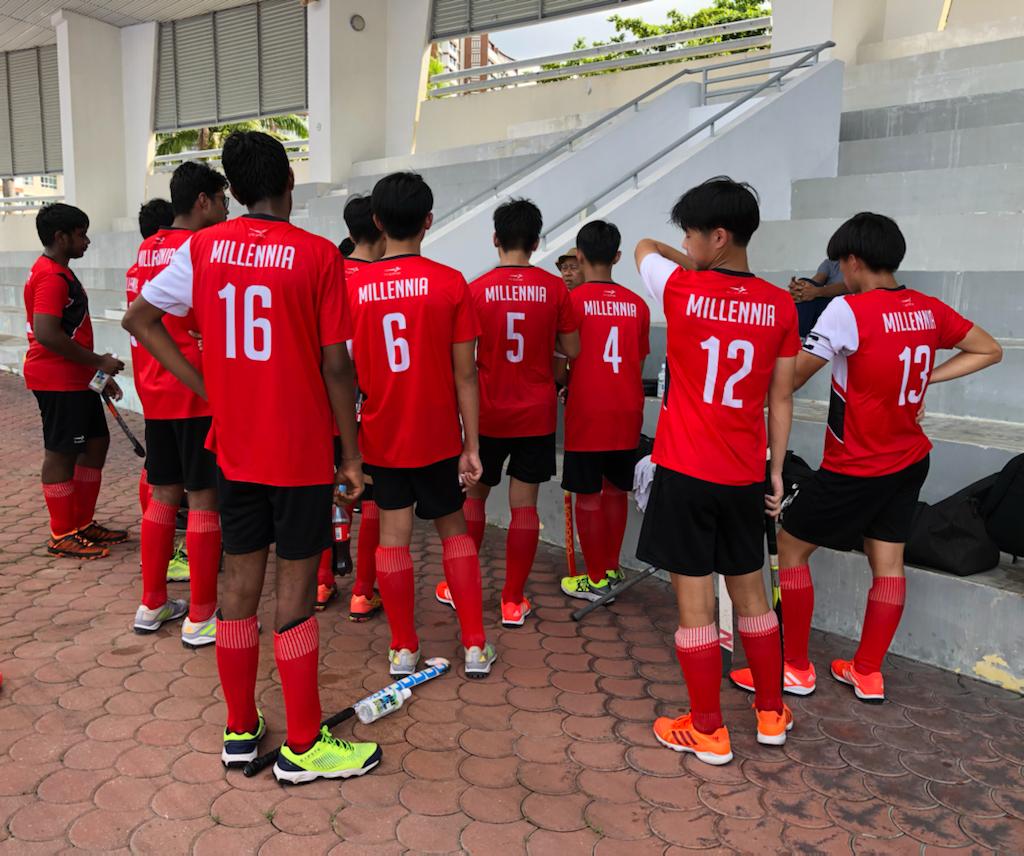 MI's players being addressed by their coach Roslan Taib (middle, in hat) after the first quarter. Photo Credit: Kenneth Tan
The Rafflesians finished at the top of Group A after dispatching Millenia Institute (MI) 3-0 at Sengkang Hockey Stadium on Tuesday (10 May) afternoon, to progress into the last four.
The hockey powerhouse will meet Group B's runners-up St Andrew's Junior College (SAJC) in the semi-finals on Wednesday (18 May), with the winner of that game progressing into the grand final the following Wednesday (25 May).
Defending champions RI will undoubtedly be the favourites for the championship again, having won it 7 out of the last nine times between 2011 to 2019. On the other two occasions in 2013 and 2016, they finished runner-ups to Victoria Junior College (VJC). NSG hockey games in 2020 and 2021 were dropped due to the Covid-19 pandemic.
RI had won their previous group games by huge scorelines, defeating Anderson Serangoon Junior College (ASRJC) 8-0 and St Joseph's Institution (SJI) 7-0. However, they knew MI would be a tougher nut to crack, with the latter going down just 1-0 to SJI and ASRJC in their first two matches.
On a sweltering afternoon where the pitch had to be watered just before face-off, the Rafflesians knew they had to be patient to breach MI's tough defense and it took them six minutes into the first quarter to find the opening goal.
Off a short corner, RI's vice-captain Harshen Koban struck an emphatic shot that went through a sea of bodies before flying in to put his school 1-0 up.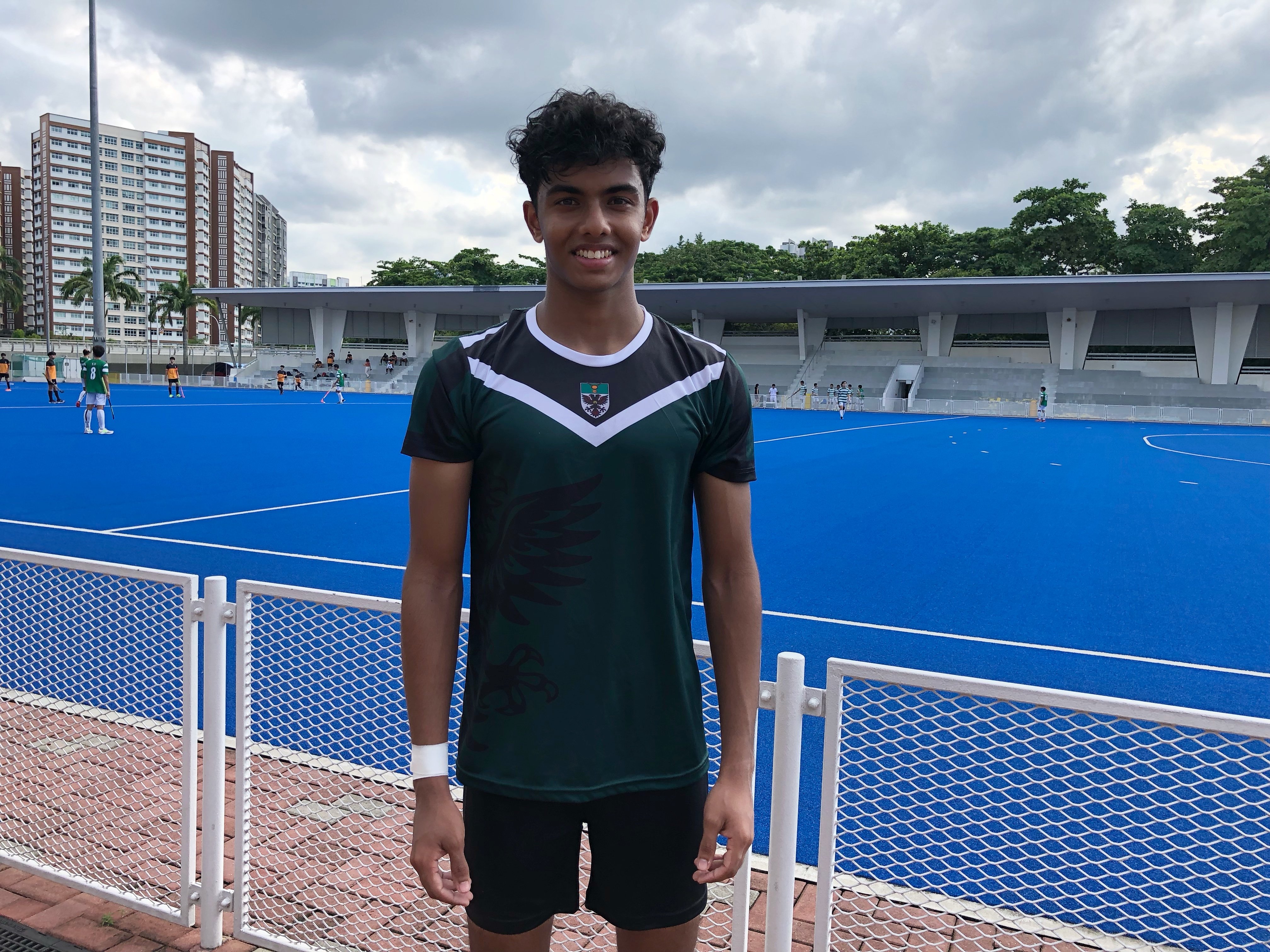 Harshen Koban scored the first goal to set RI on the way to victory. Photo Credit: Kenneth Tan
The next goal came four minutes into the second quarter through a similar route, with Hiren Koban – twin brother of Harshen – sweeping home from a set-piece to double RI's advantage.
It was virtually one-way domination throughout, with the Rafflesians camped inside the opposition half for long periods of the game while MI looked to soak and strike whenever the opportunity arose.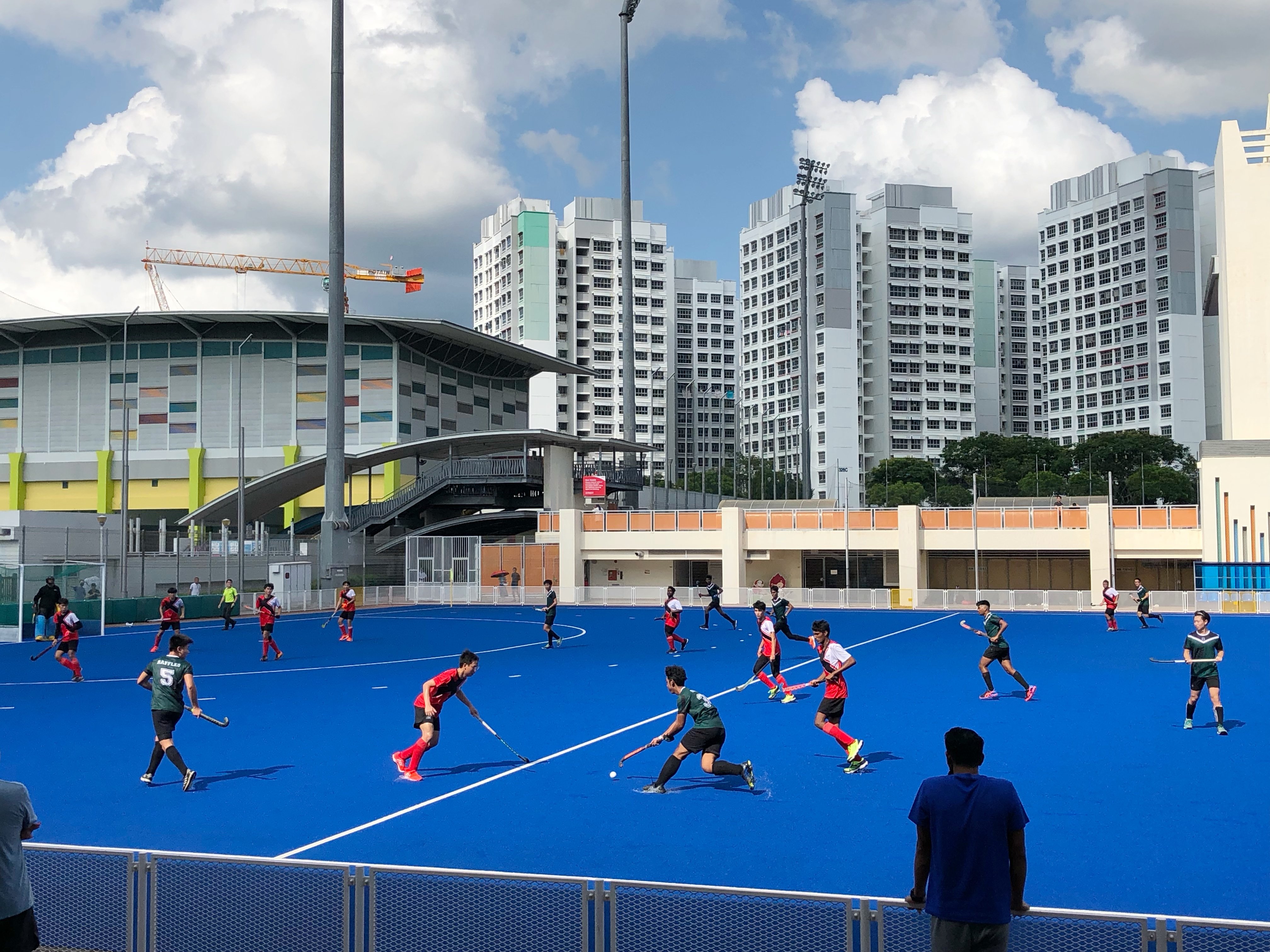 Both sets of players gave their all on a beautiful yet sweltering afternoon. Photo Credit: Kenneth Tan
In the third quarter, the Millennians did well to stem the tide with some tight marking and several good saves by their goalkeeper, as the score remained 2-0 going into the final quarter.
That prompted some soul-searching from RI during the break with Harshen calling on his teammates to play with a better structure and make well-orchestrated attacking moves.
That seemed to work as RI scored the third three minutes into the fourth quarter with Chow Jim An popping up at the back post to finish off a great team move.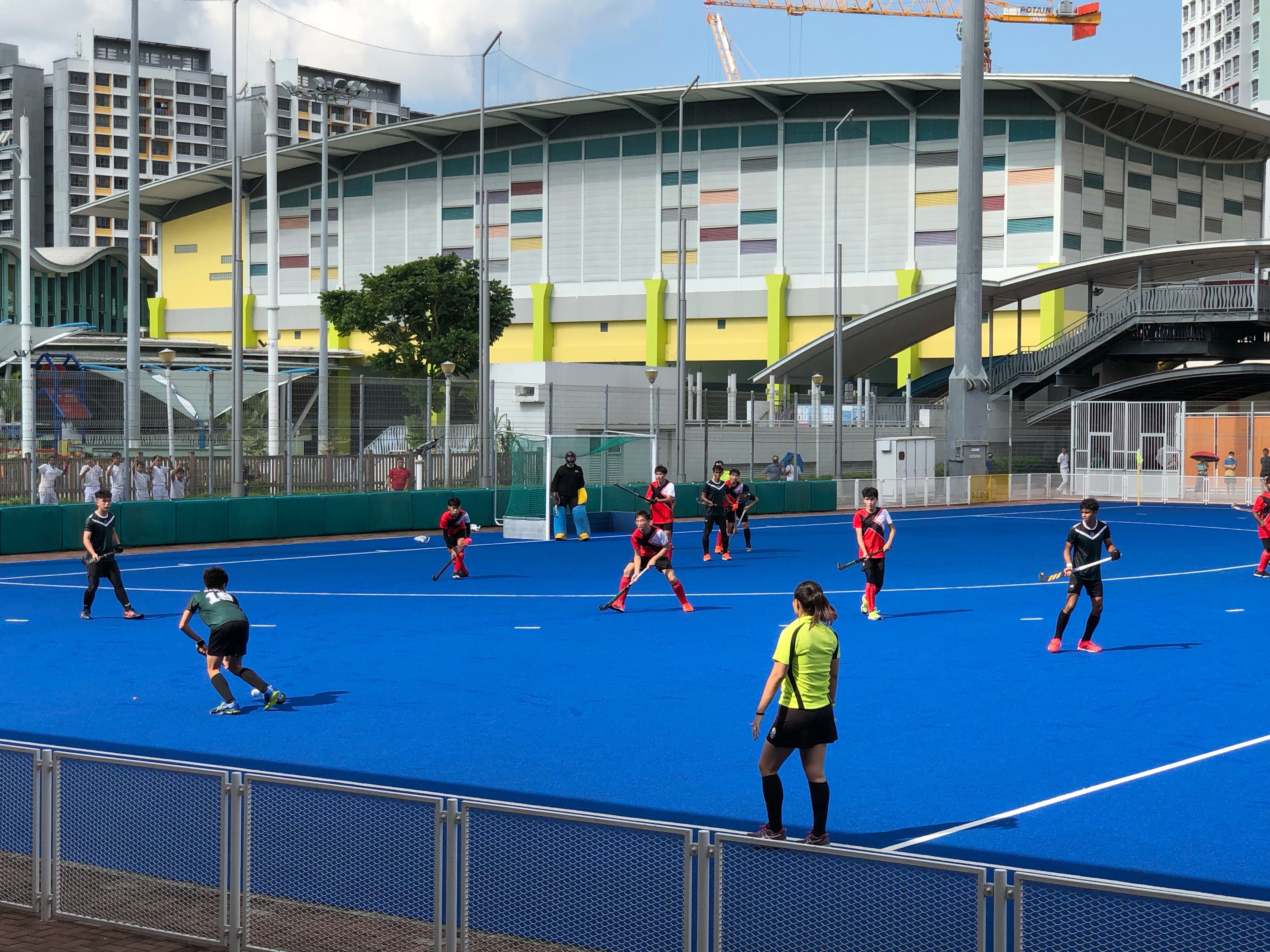 RI (in green) launching yet another attack on the MI goal. Photo Credit: Kenneth Tan
MI did make a couple of rare forays forward going into the closing stages, but it was too little too late as they finished off their campaign with their third defeat in as many games.
For RI, they kept a third successive clean sheet and marched on to set up a semi-final clash with SAJC – whom they defeated 6-0 in the 2019 final.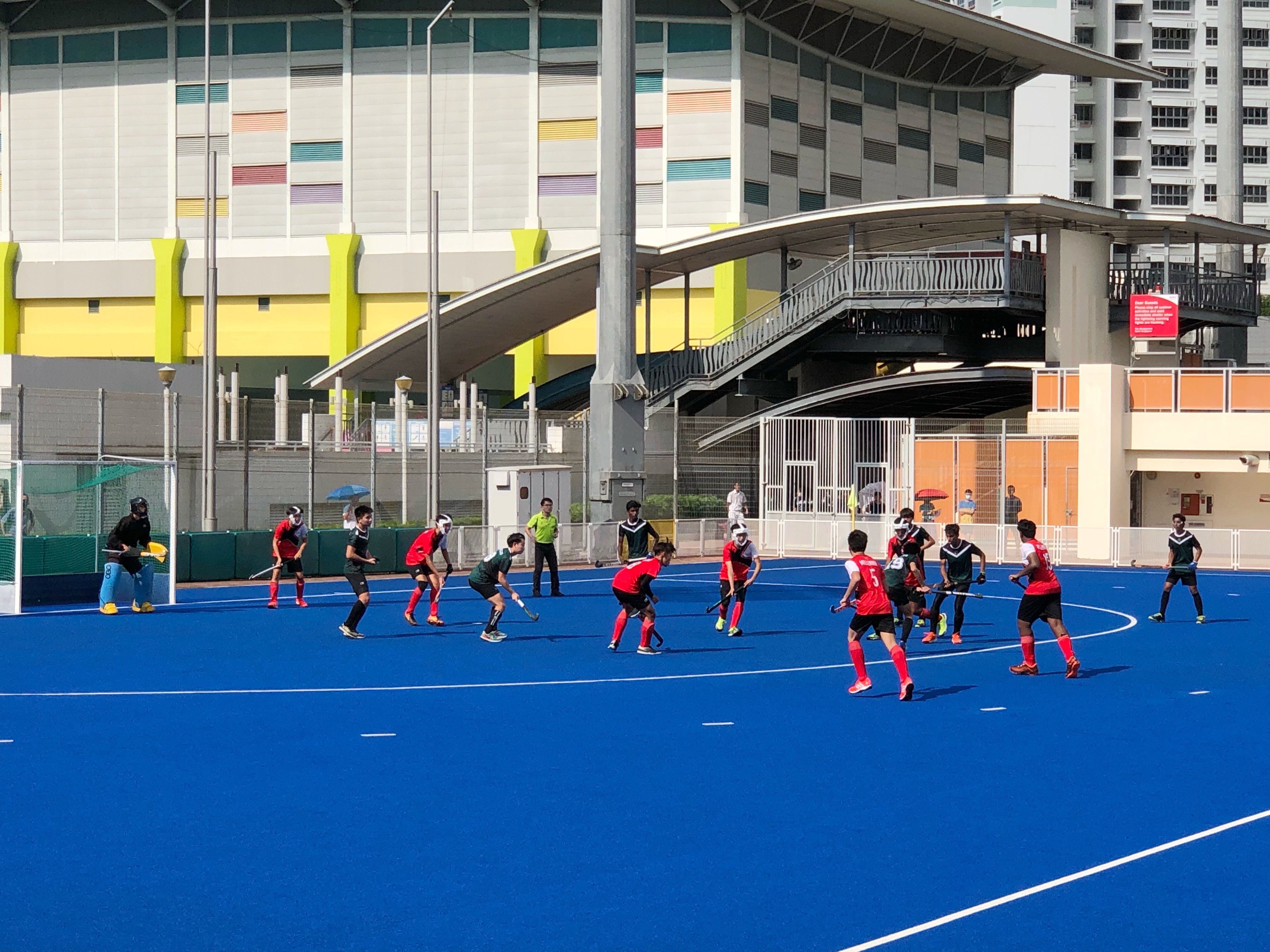 The game was played virtually inside the MI half the whole afternoon. Photo Credit: Kenneth Tan
ASRJC will contest the other semi-final against Group B's winners VJC, after defeating SJI 2-1 to finish as Group A's runner-ups in a later match the same afternoon.
(For all the news, interviews, results, schedules, videos, stories, photos, fanzone details and much more from the 2022 National School Games, do visit our website : go.gov.sg/nationalschoolgames)
Recent Events & Programmes