National School Games
NSG B Div Girls' Shooting C'ship: A stern test of focus as shooters aim for success
by Circle Stories, on April 14, 2021 16:00 PM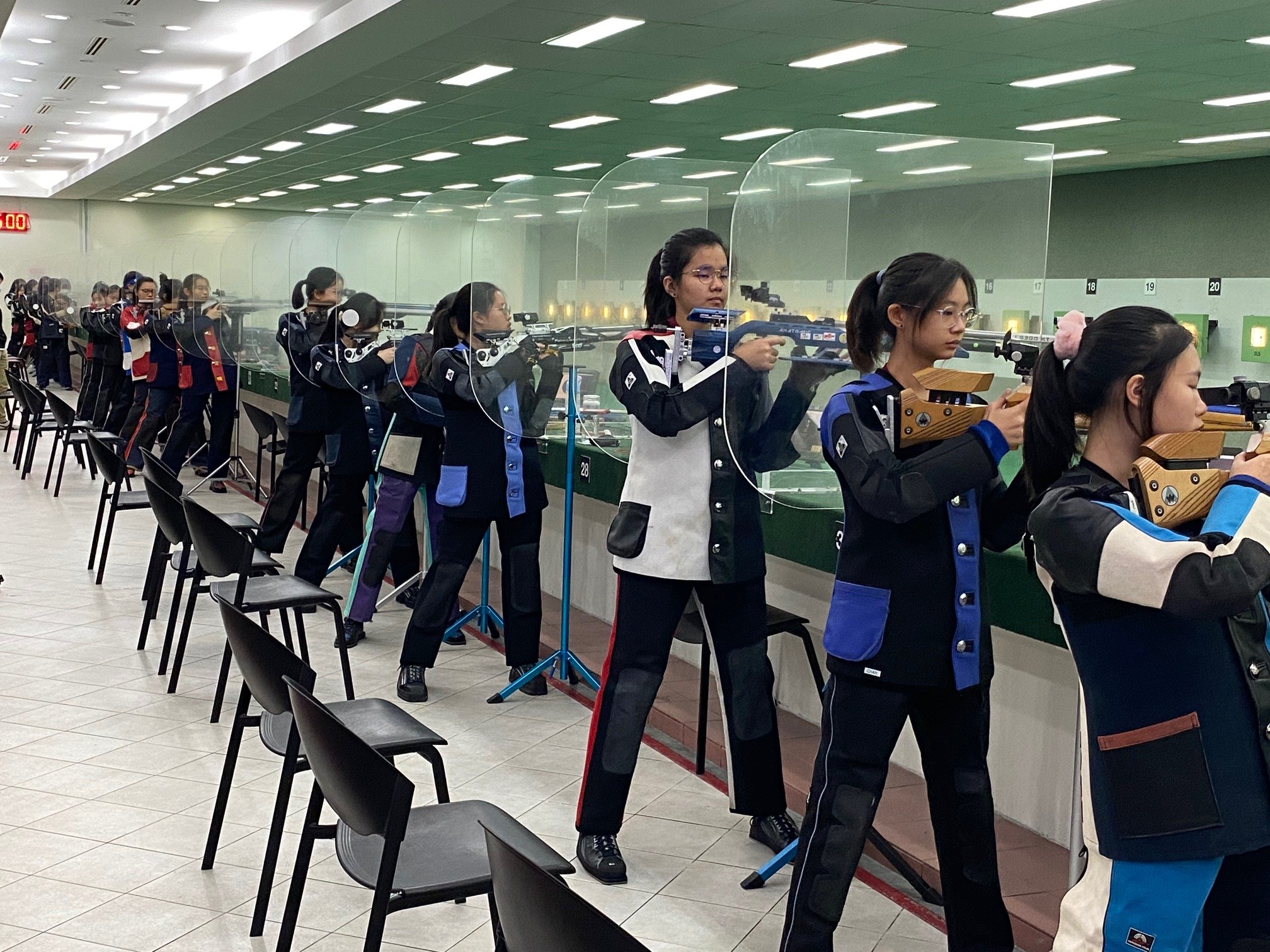 (Photo Credit : Chia Han Keong)
By Chia Han Keong
Along the 30 lanes of air rifle targets at SAFRA Yishun's indoor air weapon range on Thursday (15 April), participants of the National School Games (NSG) B Division Girls' shooting championship tried all sorts of techniques to keep themselves focused for over an hour.
These student-shooters have 60 shots to hit as close to the tiny bullseye of the target -- placed 10 metres away -- as possible. A tiny shift in their stances, and their aim would go awry. It was undoubtedly a stern test of their focus and execution of their shooting routines.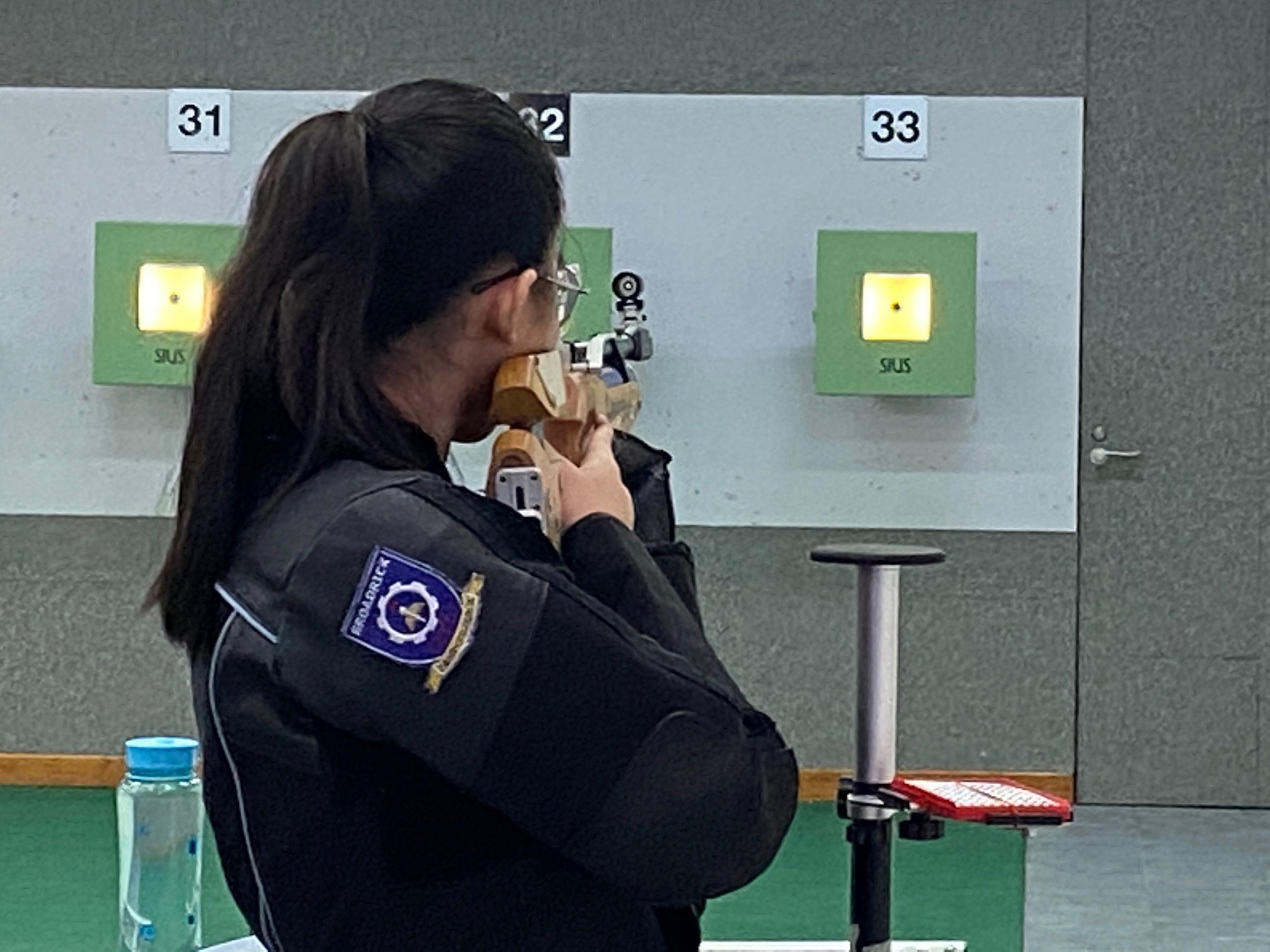 (Photo Credit : Chia Han Keong)
Some of them took deep breaths in between shots. Some of them looked at the floor in deep thought. And some of them closed their eyes in a bid to rest and recharge before the next shot.
Such was the quiet intensity amid the indoor range as the batch of shooters competed to see which of them is the best sharpshooter of all. Even the handful of officials, coaches and team managers dared not raise their voices during the competition, whispering close to each other during their chats.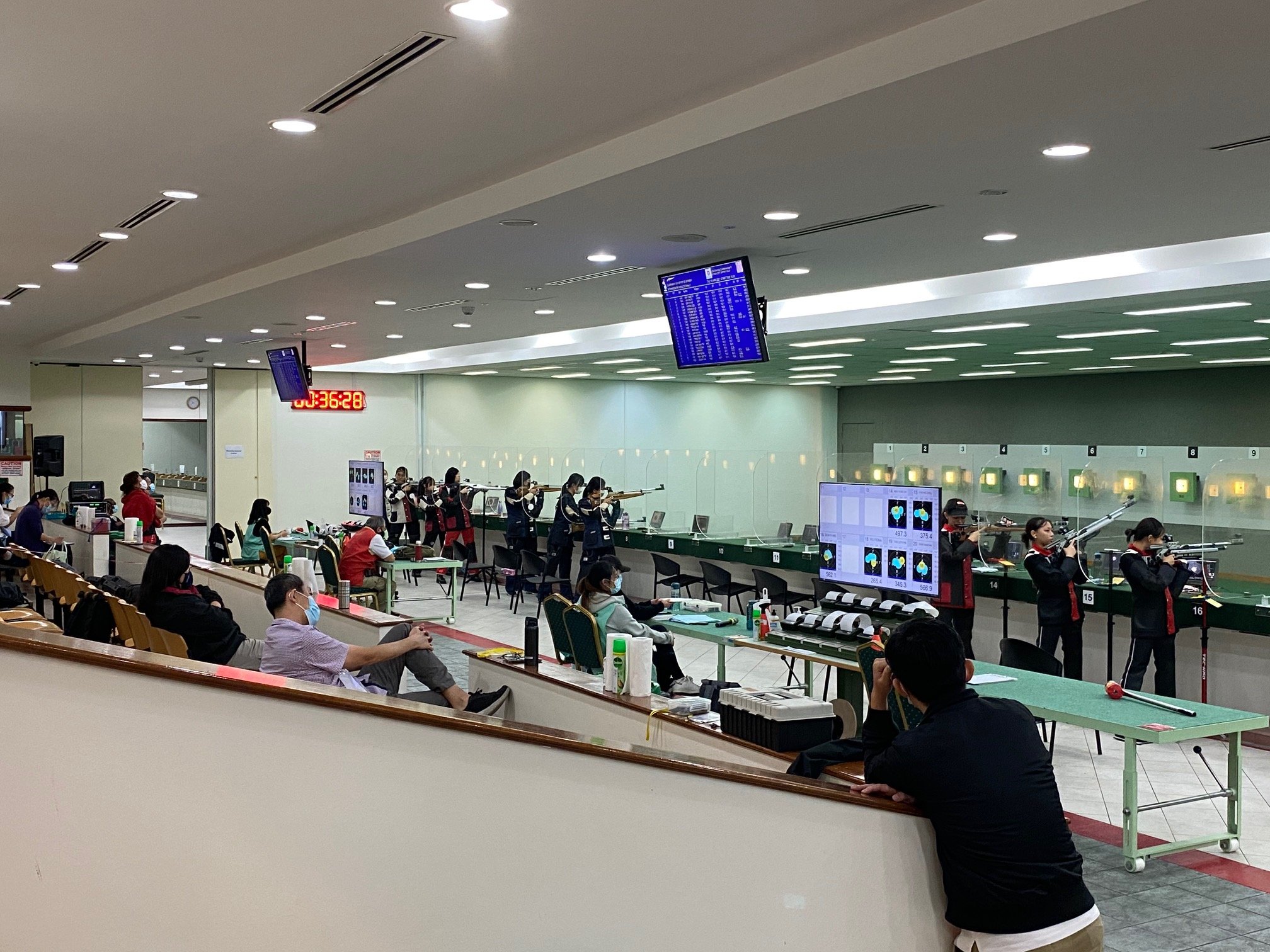 (Photo Credit : Chia Han Keong)
In a competition where winners are separated by millimetres, the shooters were lost in their world of stances, breathing routines, and triggering techniques, barely speaking to their schoolmates as they prepared to start the 75 minutes of shooting. Wearing specially-made air rifle suits designed to "stiffen up" their shooting stance, the student-athletes waddled to their respective lanes, and spent 15 minutes trying to "zero" their air rifles so that the pellet would travel to where they were aiming.
When the announcer told them to stop their zeroing, there were tense looks all around as the announcer declared the start of the competition proper.
What followed was the constant pattering of air rifle pellets hitting the target, and the electronic scoreboard registering their scores. Despite their young age, most of the shooters could consistently hit the bullseye; the challenge, really, was to get their shots as "dead centre" as possible, and score more points in the process.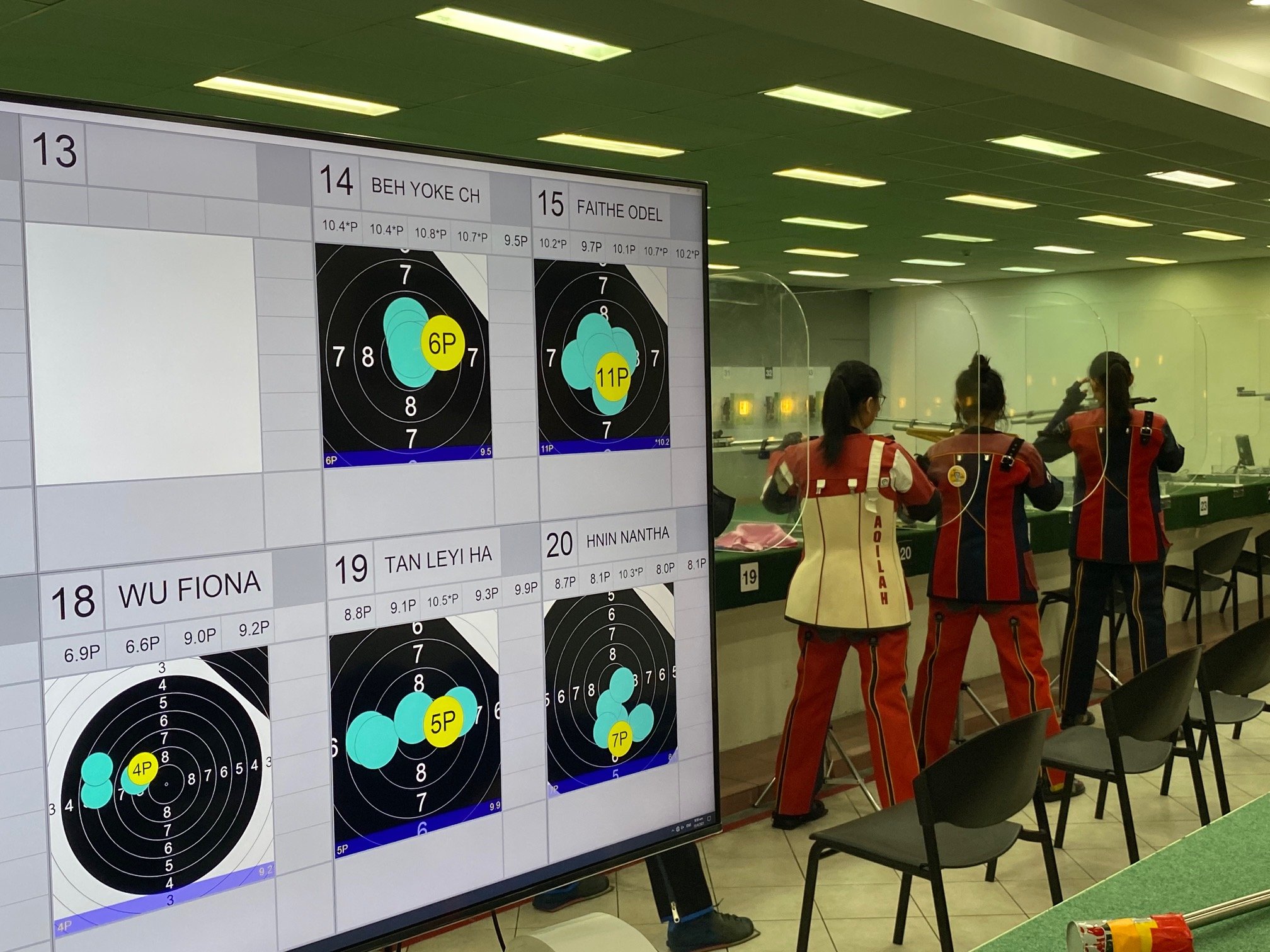 (Photo by Chia Han Keong)
Easier said than done, especially as the shooters wearily reached the second half of their shoot. By then, their eyes were tired, as were their arms which supported the weight of the bulky air rifles. Scores steadily got lower and lower, as mental fatigue set in.
This was when the coaches gently pulled their charges to the sidelines, and reminded them to concentrate on their shooting routines to battle against the tiredness.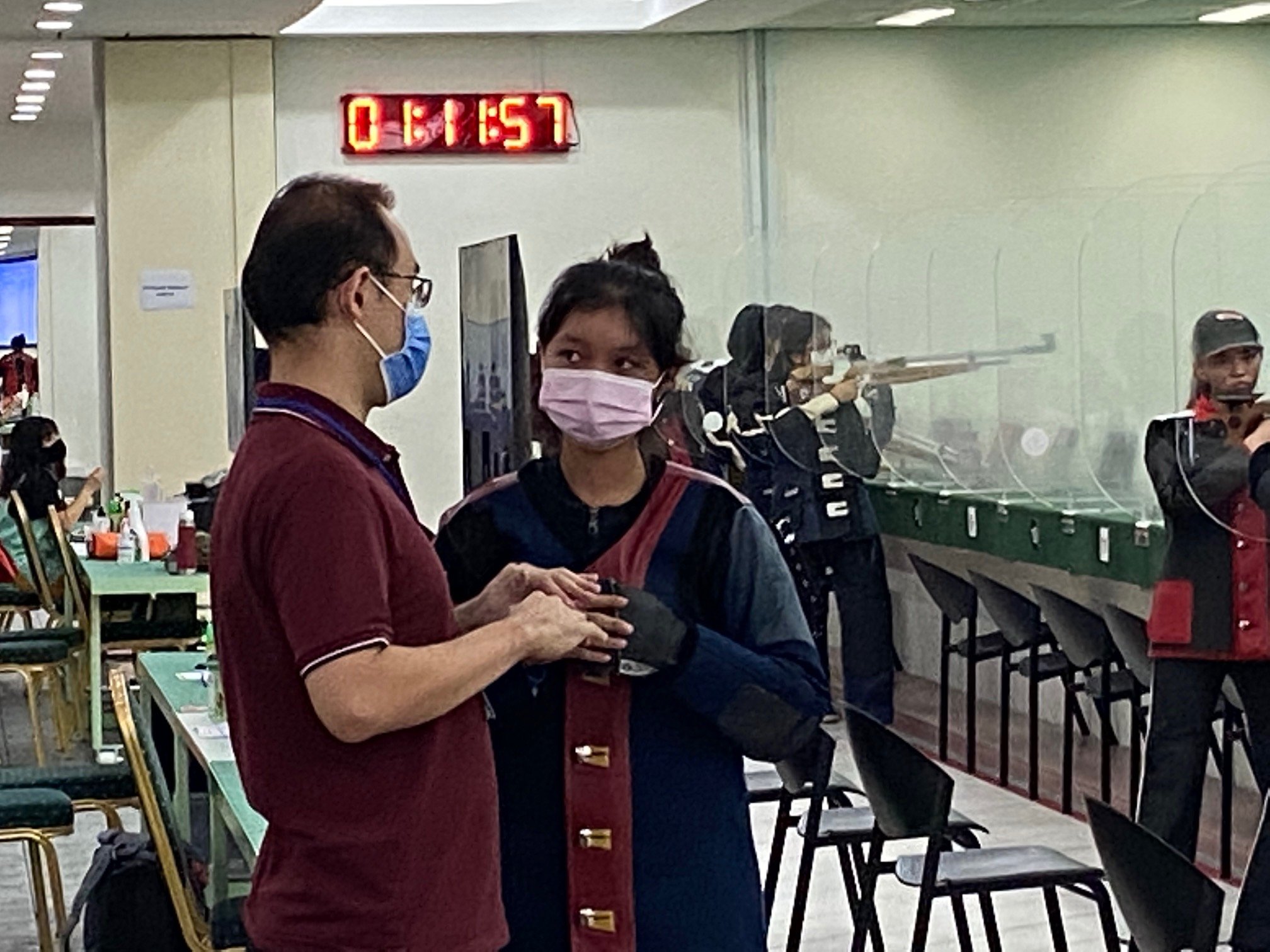 (Photo by Chia Han Keong)
As the minutes ticked down, one by one the shooters completed their 60 shots, breathing sighs of relief as they removed their air-rifle suits.
Their focus shifted to the main scoreboard, which displayed the final, accumulated scores for each of the competitors. Some were excited by their results, while others looked downcast. One shooter was even in tears, and had to be consoled by her coach and teammates. But there were more smiles than frowns, as the shooters got the immense satisfaction of getting through the test of mental focus that the shooting championship demanded of them. Hopefully, they will gain enough confidence to continue participating in this Olympic sport.
Singapore Sports School's Ariana Beh was the top scorer of the batch with 622.2 points, while her teammate Faithe Odelia de Souza was second with 614.2 points. Rounding up the top three was Nanyang Girls' High's Lim Ying Zi with 613.4 points.
Chia Han Keong is a freelance journalist who has covered both Singapore and international sports extensively for the past 18 years. He was the sports editor of bilingual tabloid My Paper, and has also worked for The Straits Times and Yahoo News Singapore. He has covered four SEA Games (2009, 2011, 2013, 2019), two Asian Games (2010, 2014) as well as the 2008 Beijing Summer Olympics. He counts himself as a massive Liverpool, LA Lakers and Rafael Nadal fan.
Related Events & Programmes