National School Games
NSG Gymnastics : Athletes light up competition with flips, twists and somersaults!
by Circle Stories, on April 20, 2021 16:00 PM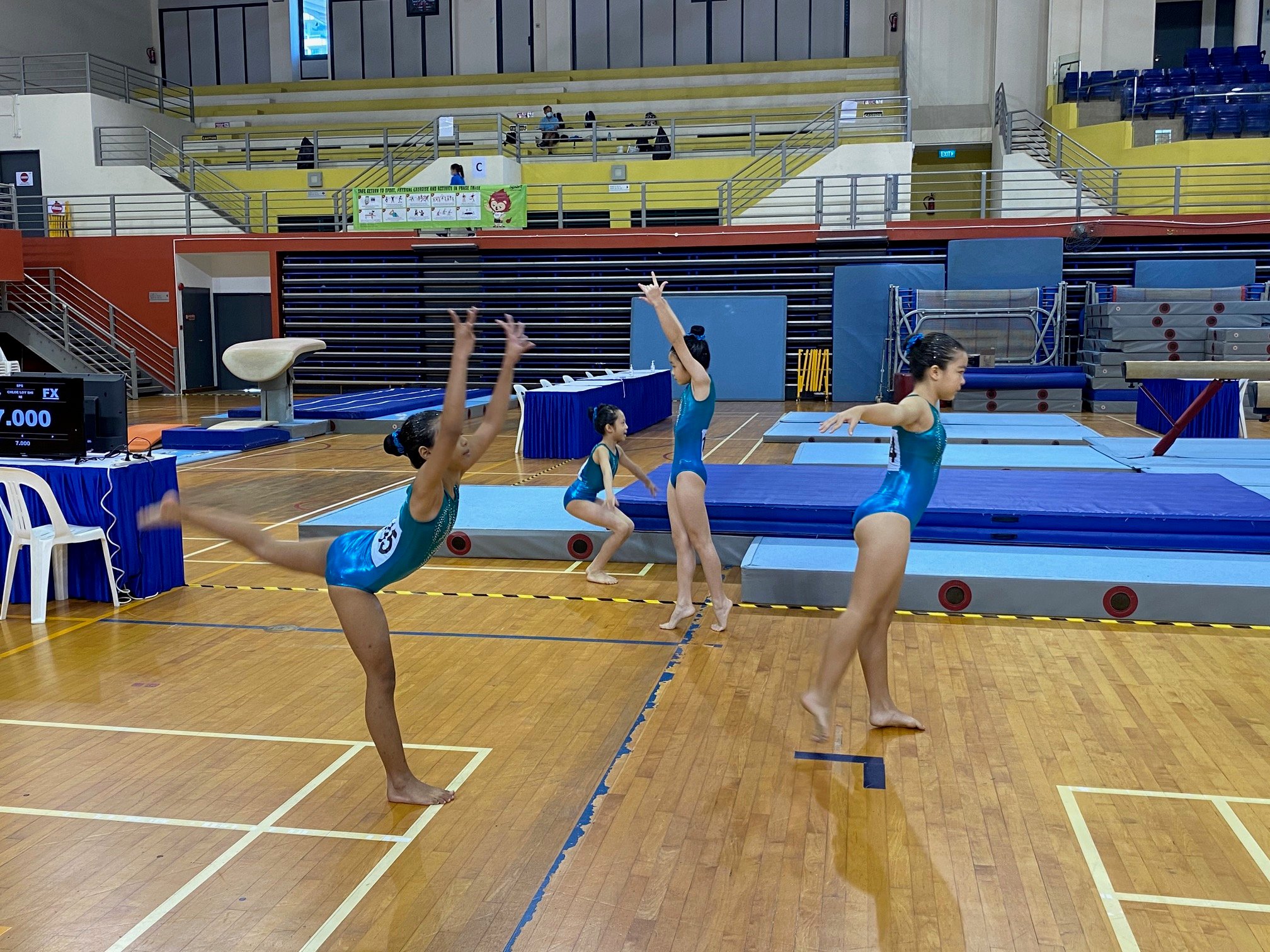 (Photo credit : Chia Han Keong)
By Chia Han Keong
One by one, the young girls stood beside their apparatus, anxiously waiting for the call to perform.
When the judges raised the green flag for them to proceed, they took a deep breath -- and transformed into agile and adroit gymnasts doing cartwheels, flips and somersaults during day 1 of the National School Games (NSG) Senior Division girls' gymnastics competition at Bishan Sports Hall on Tuesday (20 April).
The morning sub-division featured Ai Tong School, Marymount Convent School and Springdale Primary School, while the noon sub-division saw CHIJ (Katong) Primary, Methodist Girls' School (Primary) and Henry Park Primary take part. They participated in three apparatuses: Floor Exercise, Uneven Bars and Balance Beam.
(For the latest schedules on live streams, news updates and stories, do check out our official website, National School Games 2021)
Decked out in their competition attires, the gymnasts went through their warm-up routines under the watchful eyes of their coaches. A few words of encouragement among the teammates, and the competition began on the dot at 9.30am and 12.45pm for the respective sub-divisions.
While the youngsters were their exuberant and giggly selves among their teammates, they turned all serious when it was their turn to perform. Months of training and hard work -- a couple of them sported bandages on their hands and feet -- boiled down to a few minutes of execution in front of the watchful judges.
As the coaches tried their best to prepare their charges, the judges also discussed the finer points of tabulating their scores among themselves. Then, the green flag was raised, and off the gymnasts went.
As these gymnasts are still relative novices to the highly-demanding sport, the performance routines for each apparatus is fixed for the Senior Division. The girls and their coaches do not need to design their floor exercise routines, for example, leaving them focused on doing the fixed routine as best as they can.
Not surprisingly, for these inexperienced youngsters, there were wobbles and stumbles amid the performances. To the gymnasts' credit, they pressed on to finish their routines despite the errors. And once they completed the routines, the coaches were on hand to console them and offer encouragement to them to work on their shortcomings.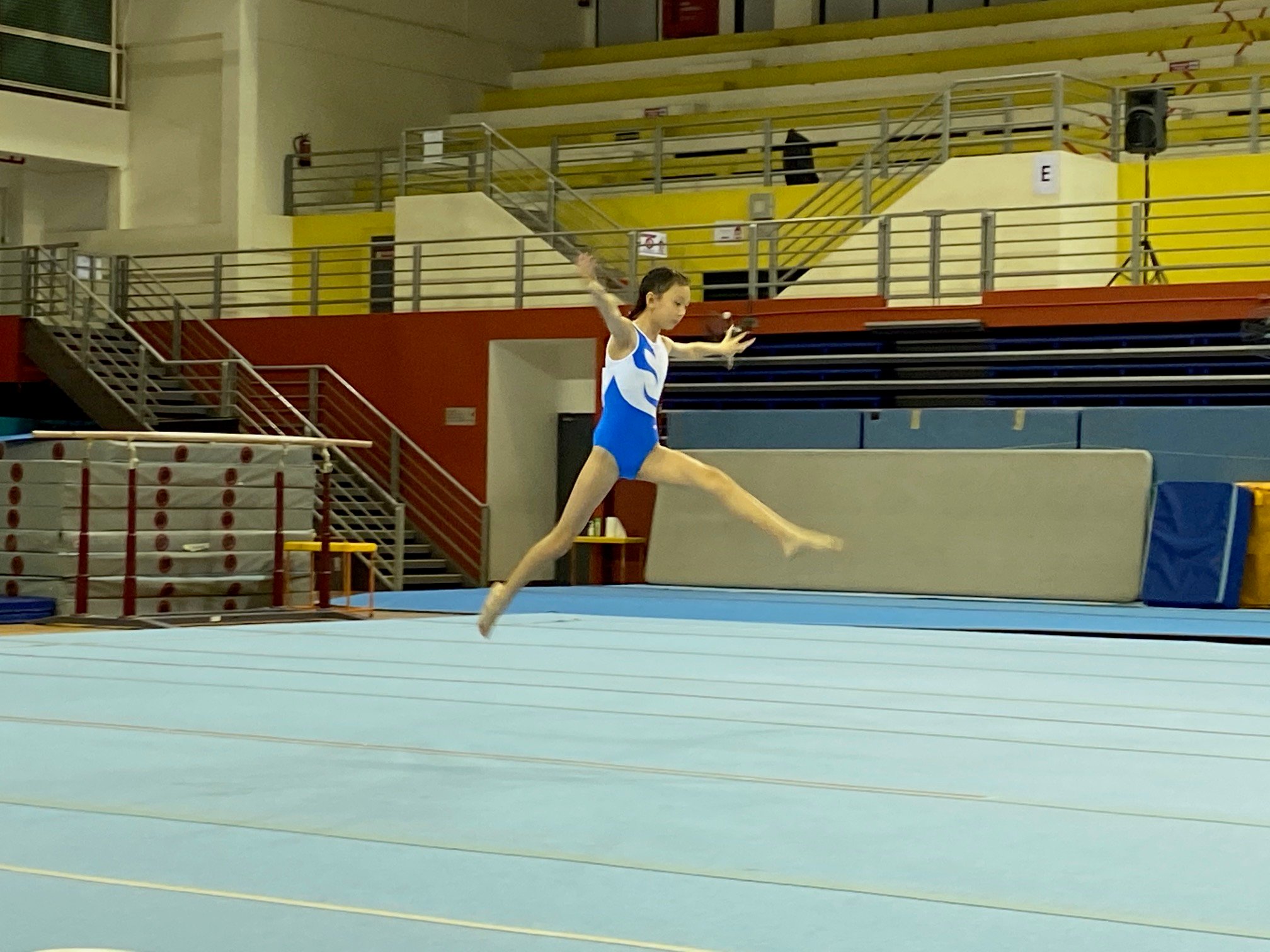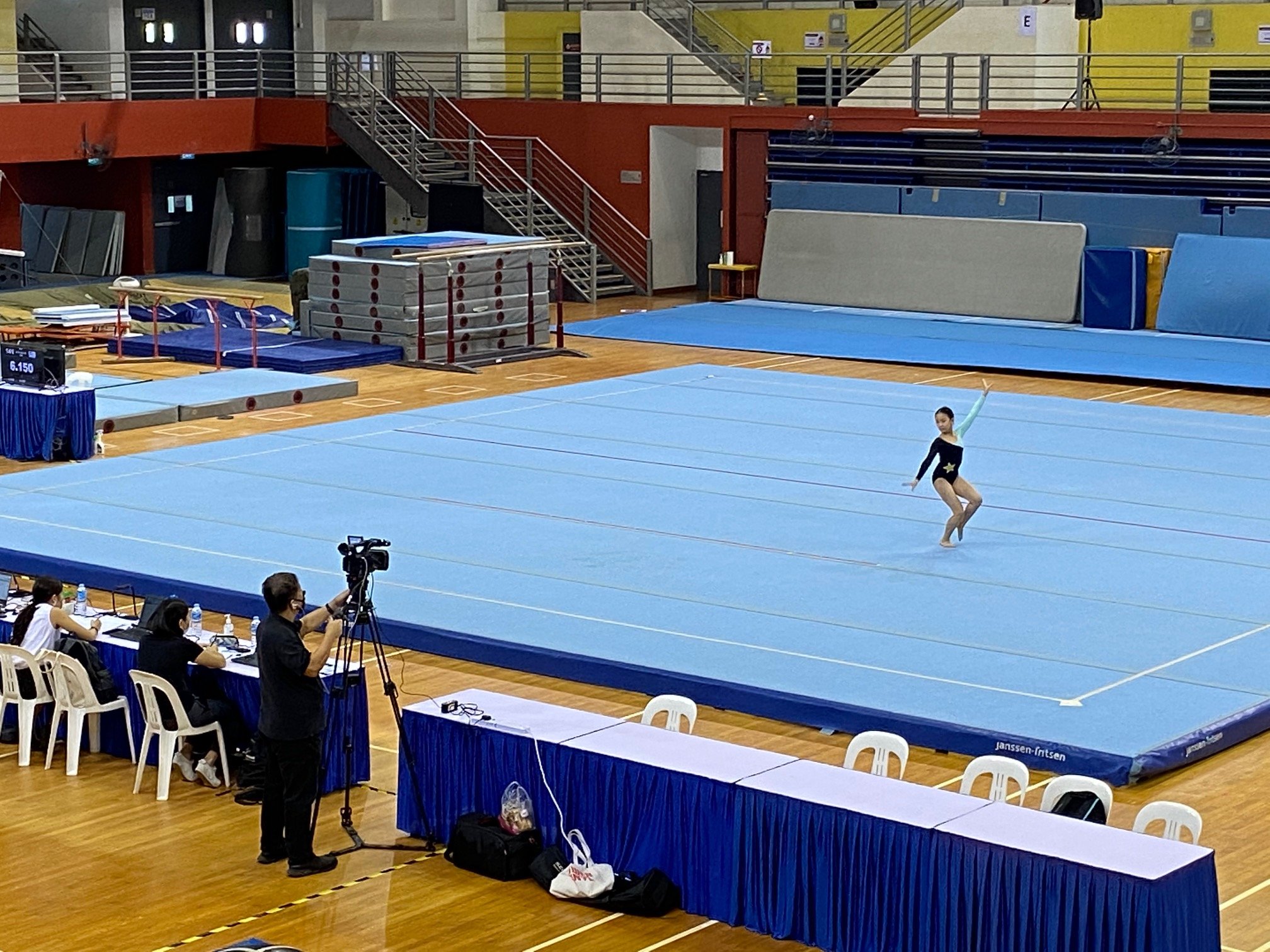 (Photos Credit : Chia Han Keong)
All participating gymnasts did the Floor Exercise, and they revelled in their opportunities to be "in the spotlight", performing with serene background music. Several of them were clearly in tune with the music, smiling amid their demanding routines and twirling in tempo.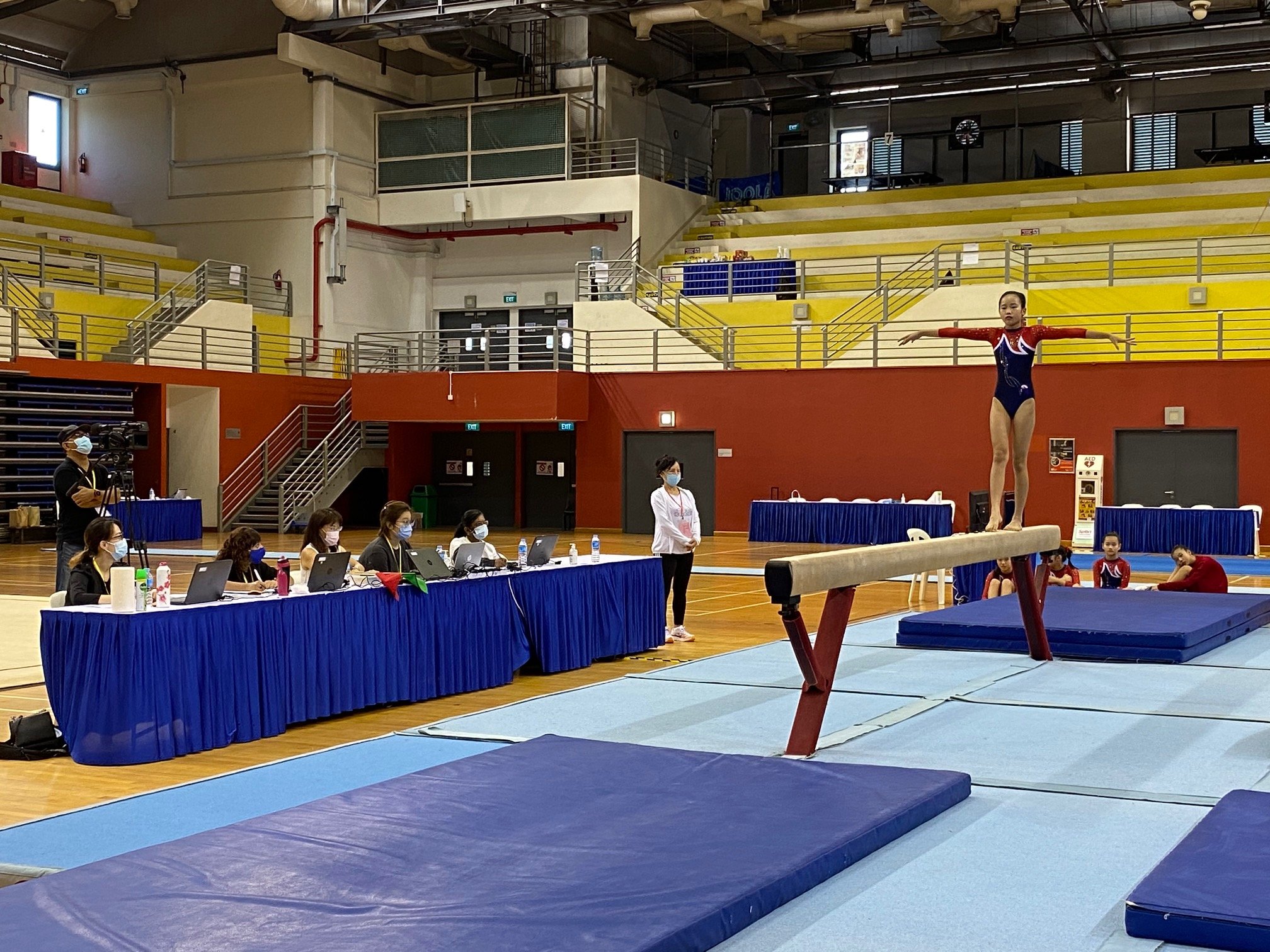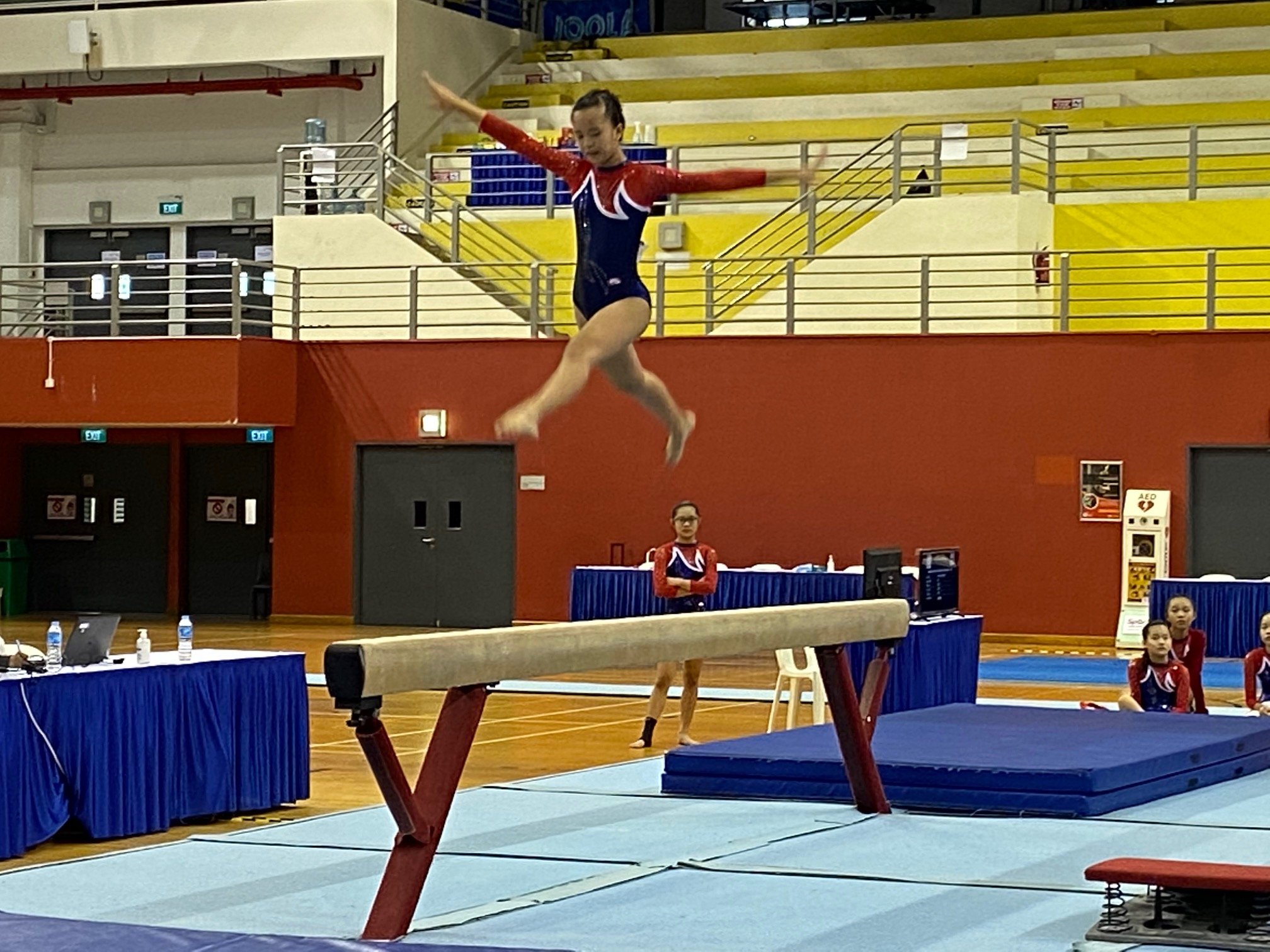 (Photos Credit : Chia Han Keong)
Over in the Balance Beam competition, it was a picture of absolute concentration up on the narrow beam. There were those who did their rolls and cartwheels with conviction and confidence, and there were those who were hesitant and tentative. It was a stern test of their balance.
On the Uneven Bars, the fixed routine was basic, and there was a coach on the side to help steady the gymnasts before they began to swing on the bars. The landing was the crucial part of this routine, and to the gymnasts' credit, most of them nailed their landings without much wobble.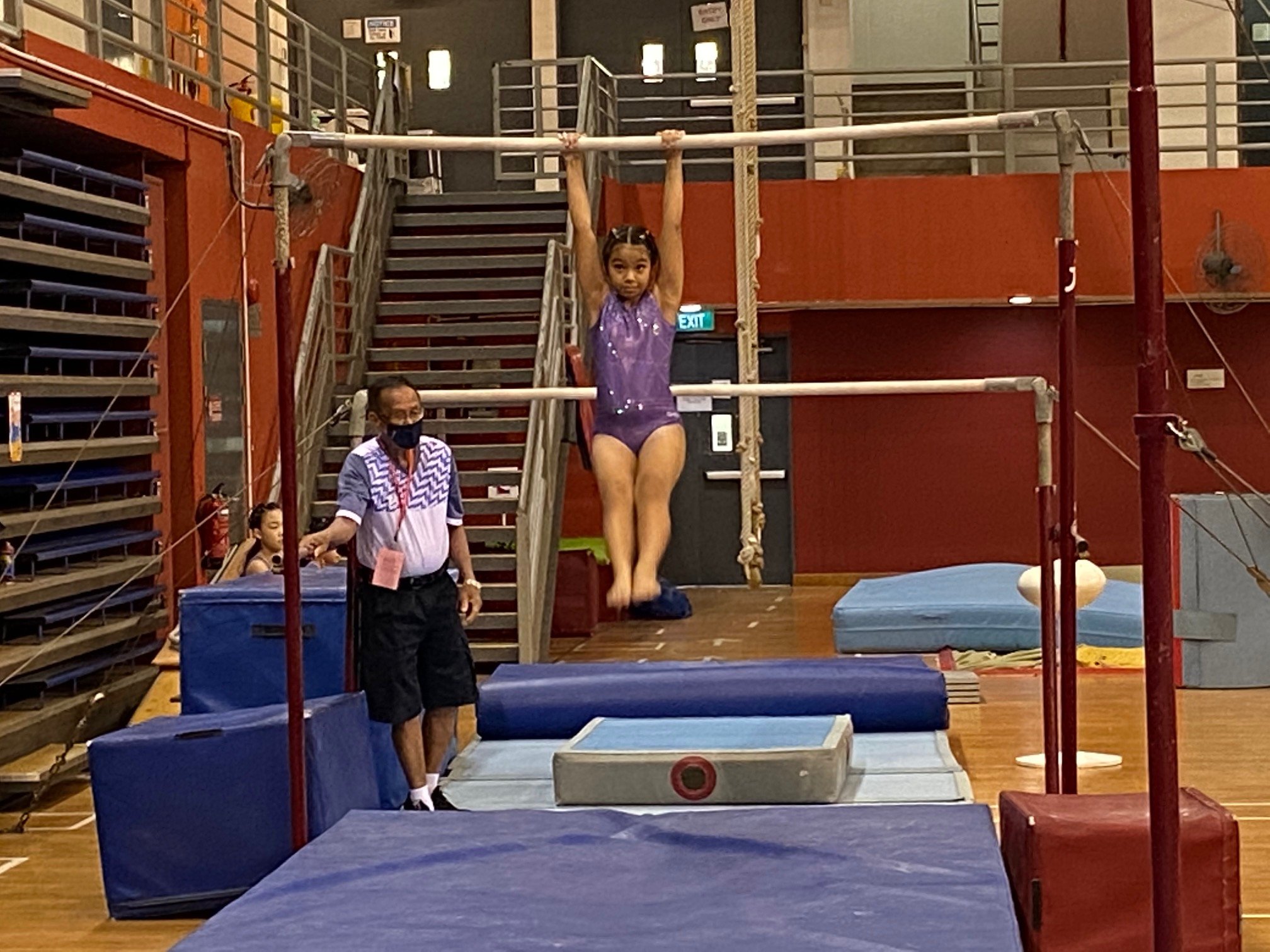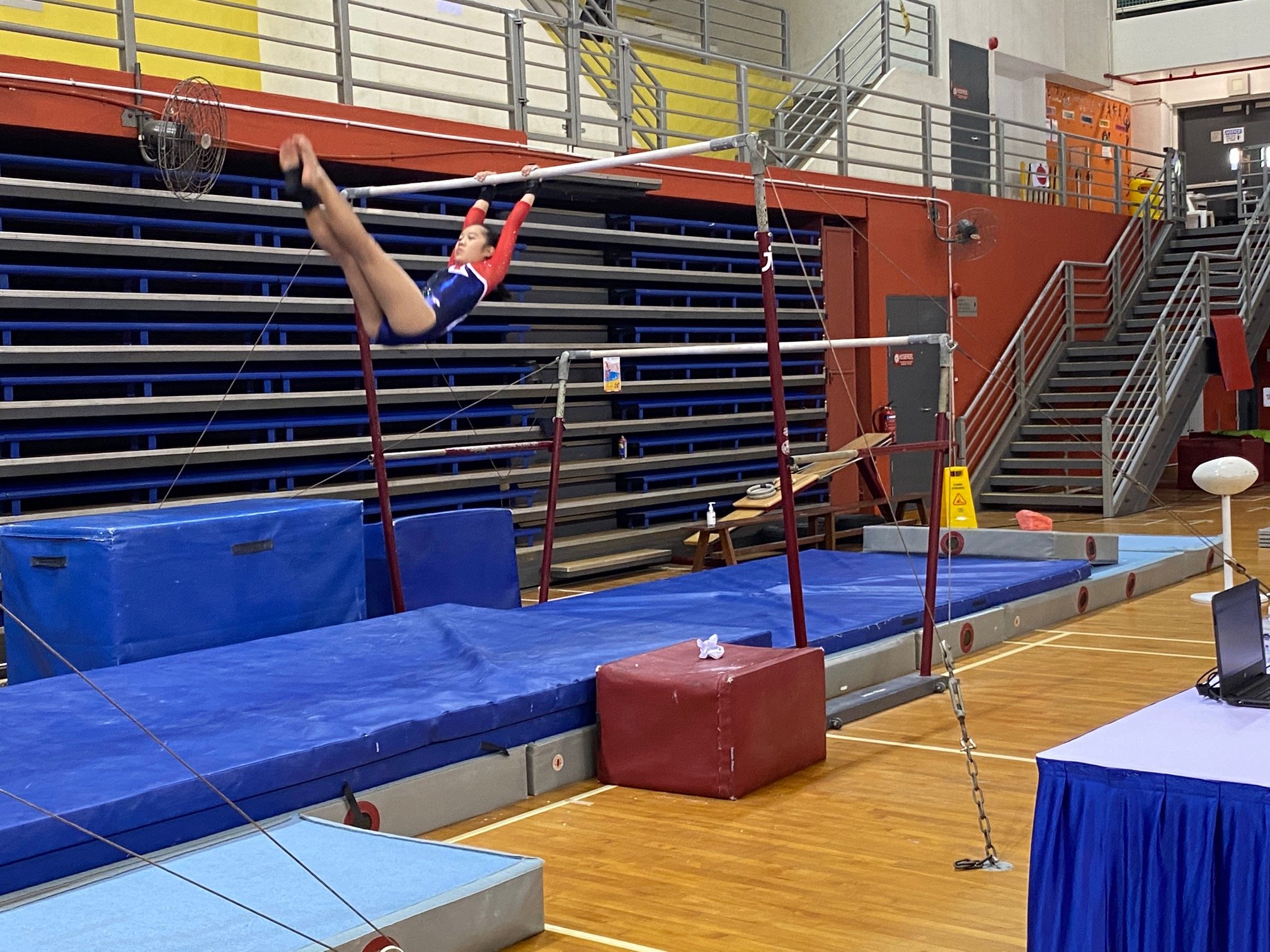 (Photos Credit : Chia Han Keong)
Relief was evident on the youngsters' faces after completing each routine, as if a huge weight has been lifted. As they chattered excitedly together with their teammates, the coaches also chimed in with words of encouragement. It was a relaxed atmosphere after the competitive performances, as the youngsters warmed down and prepared to leave the sports hall after a good day's work.
No doubt, they will be eager and enthusiastic for more of such competitions in the future.
Chia Han Keong is a freelance journalist who has covered both Singapore and international sports extensively for the past 18 years. He was the sports editor of bilingual tabloid My Paper, and has also worked for The Straits Times and Yahoo News Singapore. He has covered four SEA Games (2009, 2011, 2013, 2019), two Asian Games (2010, 2014) as well as the 2008 Beijing Summer Olympics. He counts himself as a massive Liverpool, LA Lakers and Rafael Nadal fan.
Related Events & Programmes