Team Singapore
Nur Syahidah Alim successfully defends gold, Boccia team yields silvers
by Circle Stories, on August 4, 2022 7:21 AM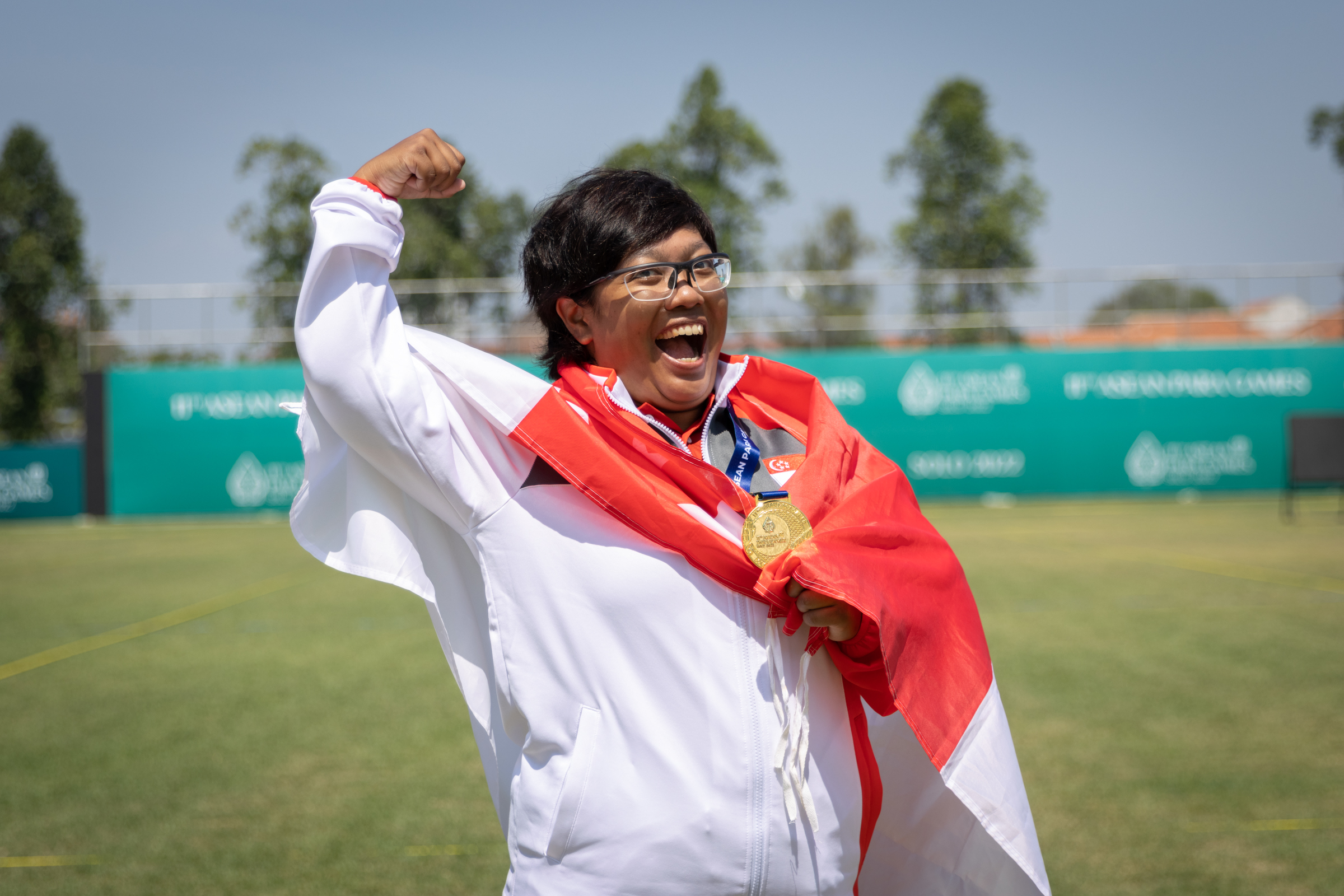 Nur Syahidah celebrates her gold medal after retaining the Women's Individual Compound Open. Photo Credit: SNPC/Goh Si Wei
Since making her professional debut in 2015, Nur Syahidah Alim has proven her pedigree in the sport of Archery. She would soon snag a gold medal in the 2015 ASEAN Para Games, as well as win medals in at least nine major Para Archery competitions, including the World Archery Para Championships in 2019 and the Fazza Para Archery World Ranking Tournament in 2020.
An early exit in last year's Tokyo Paralympics, coupled with her recent loss in the World Archery Para Championships in Dubai meant Syahidah came into the 2022 ASEAN Para Games with much pressure on her shoulders to deliver a medal-winning performance.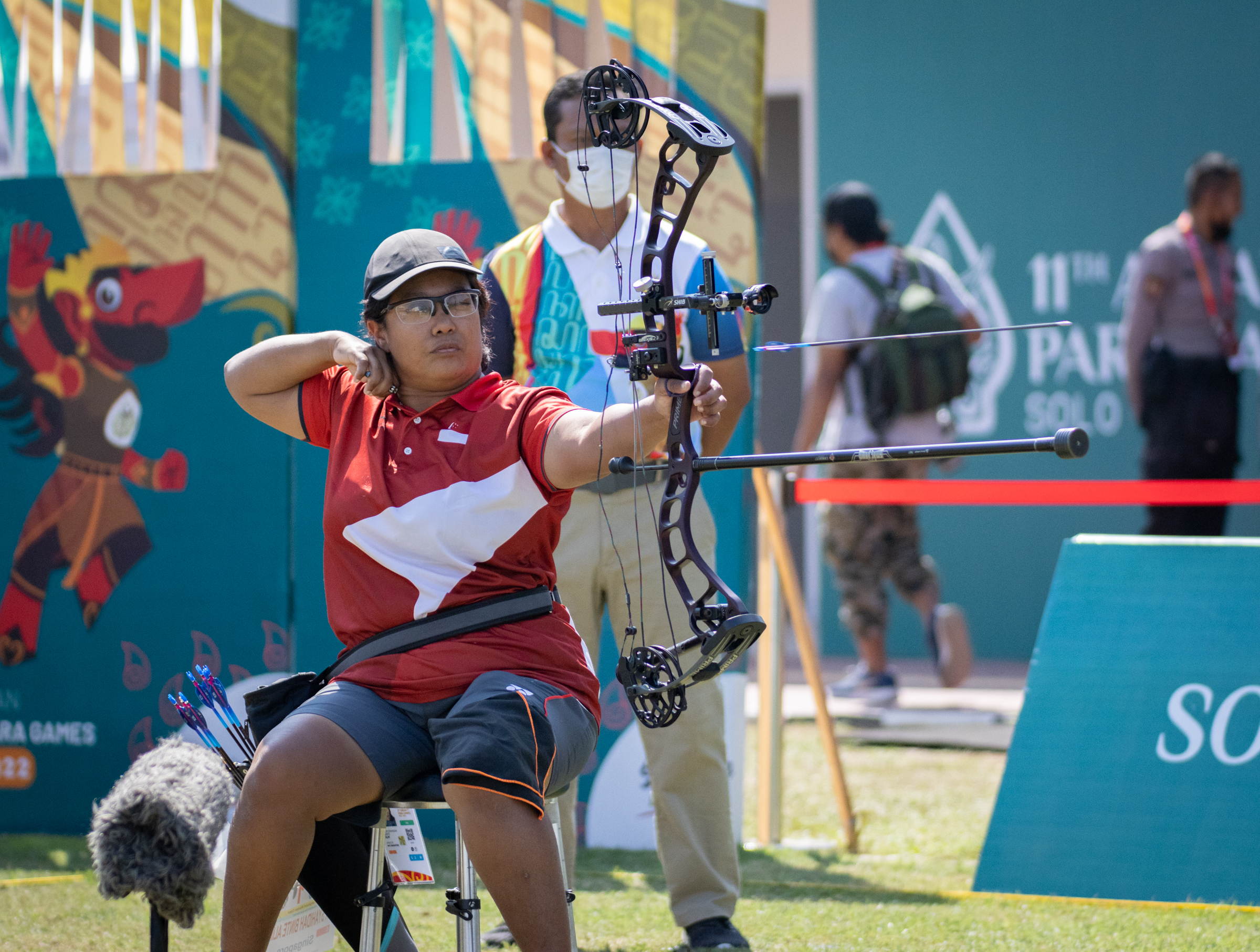 Nur Syahidah Alim en-route to a 144 on the day to successfully defend her gold medal. Photo Credit: SNPC/Goh Si Wei
There was little more to do than to climb back up towards the world number 1 spot she used to hold - And it was in this spirit that Syahidah would finish off Thailand's Praphaporn Homjanthuek 144-135 to capture her third consecutive Women's Individual Compound Open title.
With previous victories in 2015 and 2017 (the APG in 2019 and 2021 were cancelled due to the coronavirus pandemic), Syahidah understands what it takes to claim the gold medal, "I do feel a little bit of pressure especially since it's been quite a while since the last APG. But with the help of my coach and my team, they reminded me to be calm and cool, and focus on what I need to do during the shoot."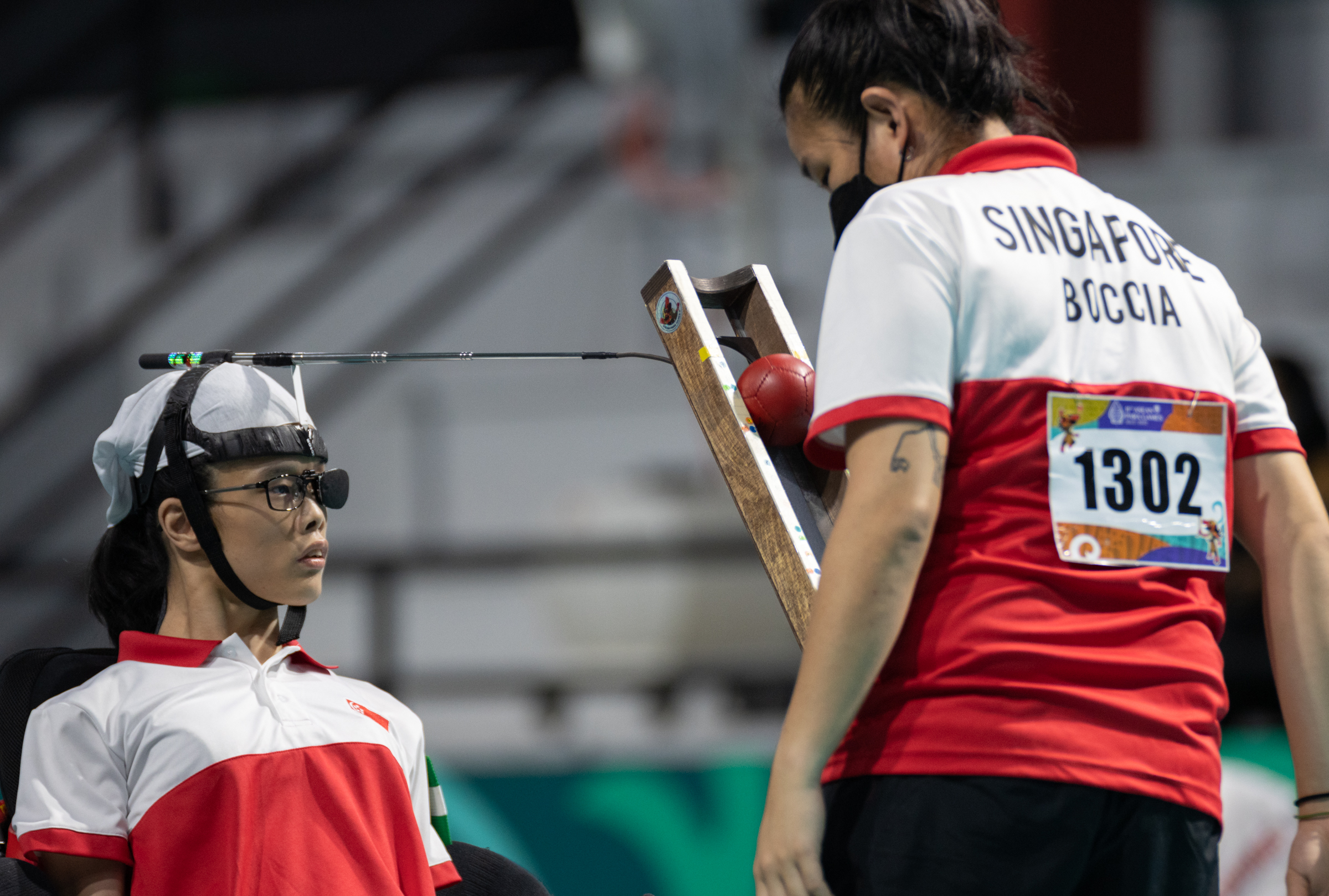 Toh Sze Ning preparing to take her shot in the Boccia Individual Female BC3 event. Photo Credit: SNPC/Goh Si Wei

In Boccia, Team Singapore added two silvers with Toh Sze Ning finishing second in the Individual Female BC3 event, while Asian Youth Para Games flag bearer Aloysius Gan achieved the same in the Individual Male BC3 segment.
Jeralyn Tan added a bronze to the medal tally after beating Satanan Phromsiri 5-1 in the Individual Female BC1 event.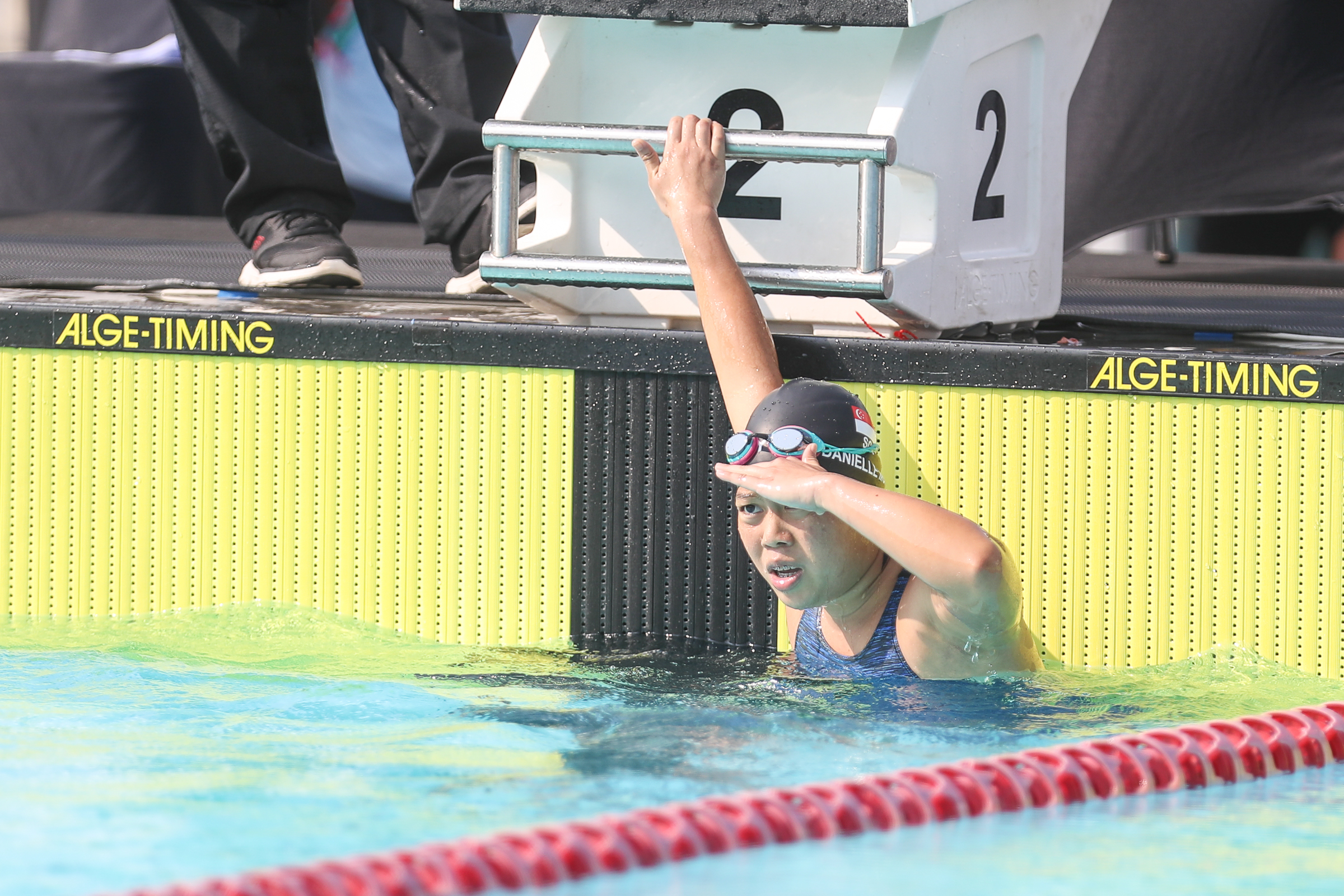 Danielle Moi looking for her score that would eventually net her another bronze medal. Photo Credit: SNPC/Andy Pascua
In Swimming, Danielle Moi took home her second bronze medal of the tournament after finishing in 2:30.68 minutes in the Women's 200M Freestyle S14 Final. The 23-year old has a healthy record at the APG and the Special Olympics and her professional career will be one to watch.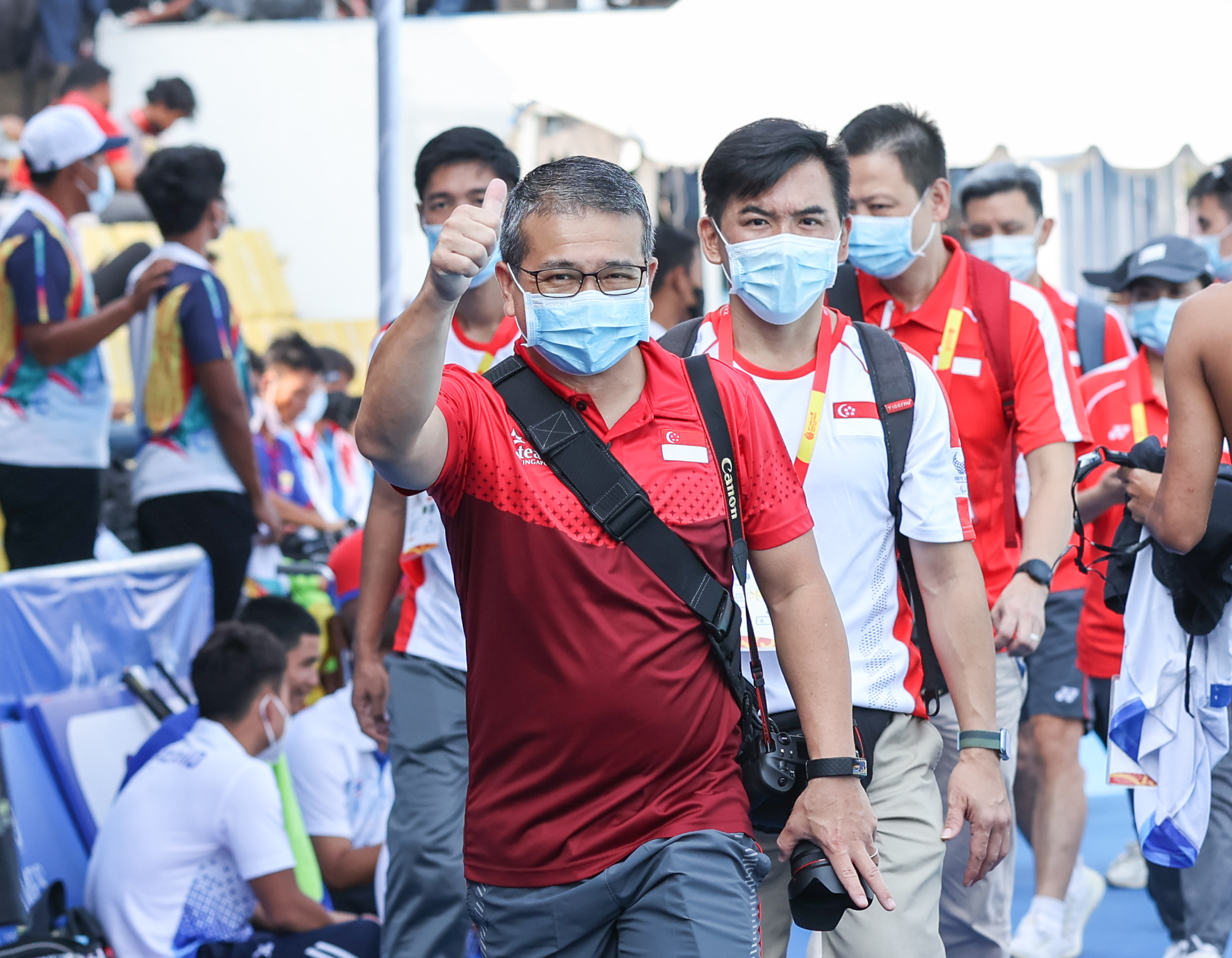 Minister for Culture, Community and Youh Edwin Tong showing support for the athletes at the Jatidiri Swimming Complex, Semarang. Photo Credit: SNPC/Andy Pascua

Over at the UNS Sports Centre, Team Singapore's Goalball squad made it through to the final of the women's event after a thrilling 4-3 win over Indonesia in extra time, with 2 goals each coming from the sisters Joan and Inez Hung.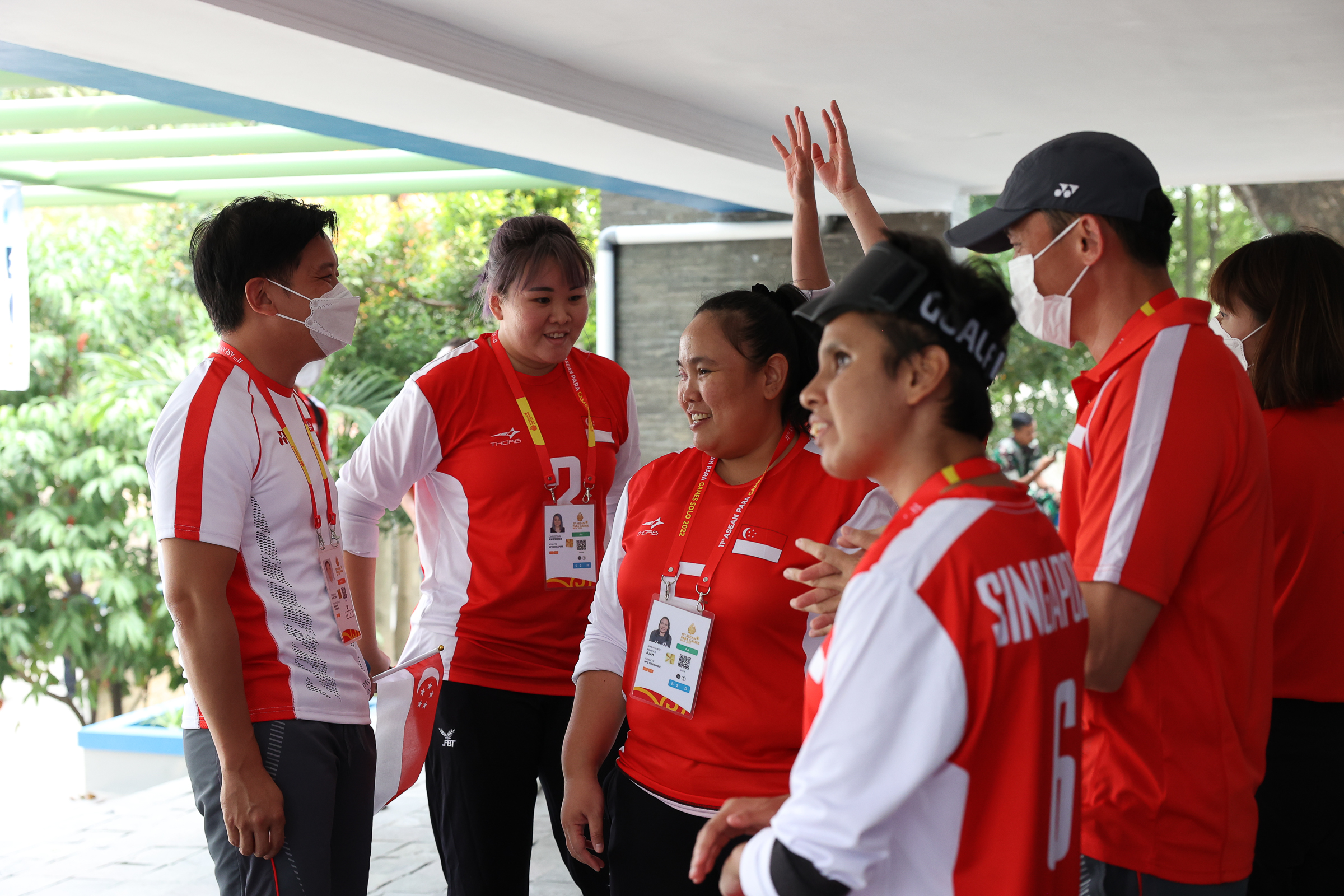 Singapore Women's Goalball team in high spirits after setting up a final clash with Thailand. Photo Credit: SNPC/Calvin Teoh
The teams were tied at 2-2 in the first half and would end the game at 3-3, but Joan would finish the games on her terms with a penalty after regulation time. They will play Thailand in the final looking to avenge a 9-5 defeat in the round robin.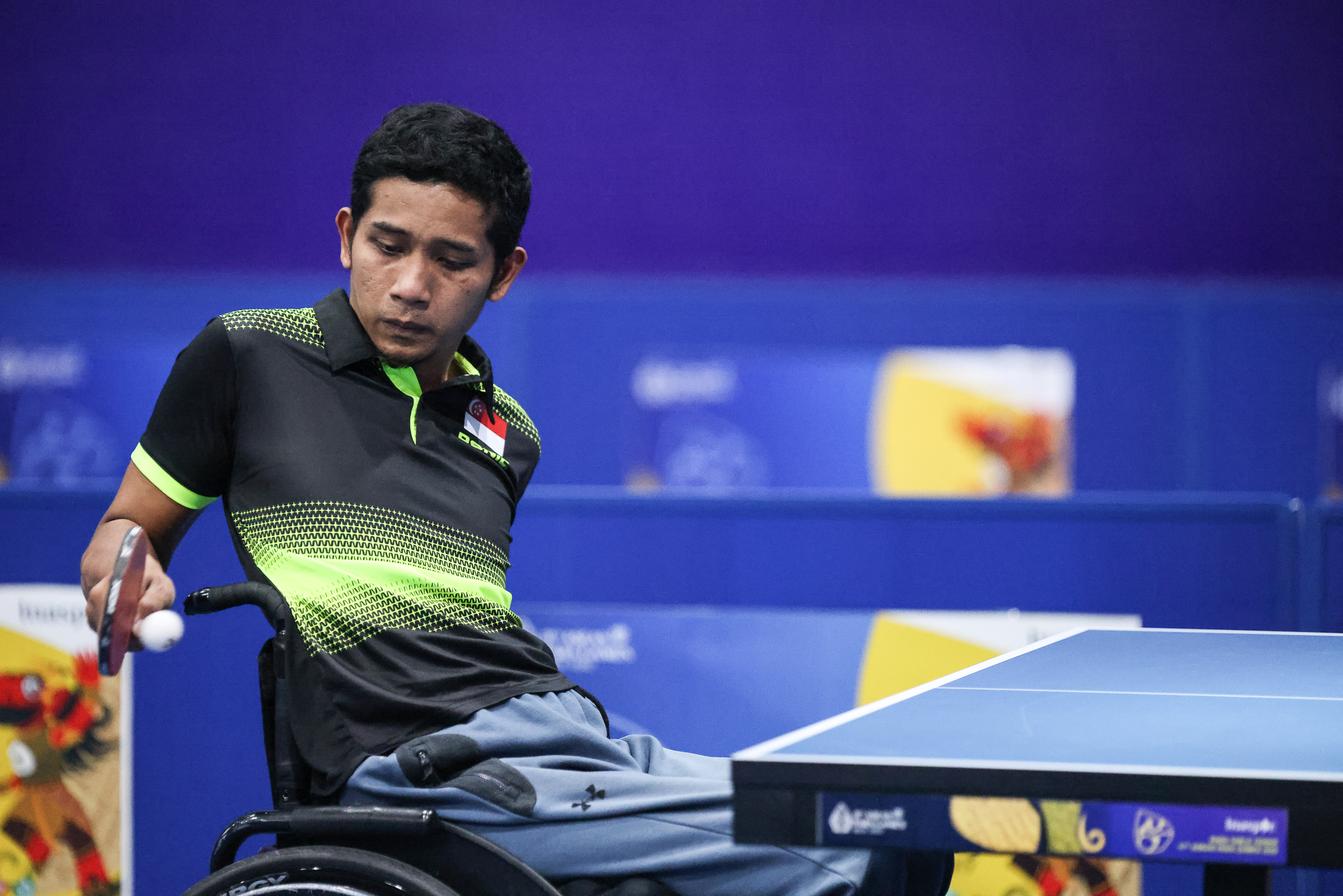 Muhammad Dinie Asyraf returning a shot to Thailand's Busree Wawaeni. Photo Credit: SNPC/Calvin Teoh
In table tennis, Muhammad Dinie Asyraf has advanced to the semi-finals of the Men's Singles TT3 event after a hard-fought 3-2 victory against Thailand's Busree Wawaeni.
In the Rapid Chess tournament, Edwin Tan ended his campaign with a victory over Bilog Cecilio of the Philippines in his third match of the day. The 27 year old ends the event seventh out of ten and will start his campaign in Blitz Chess tomorrow.
The 11th ASEAN Para Games is held in Surakarta, Indonesia from 30 July 2022 to 6 August 2022. For the latest Team Singapore coverage and news, follow Team Singapore on their social media channels (Facebook, Instagram, TikTok) or visit the official Team Singapore website.
Related Events & Programmes