Team Singapore
One Day campaign begins to inspire and resonate with Singaporeans
by Circle Stories, on April 30, 2021 16:00 PM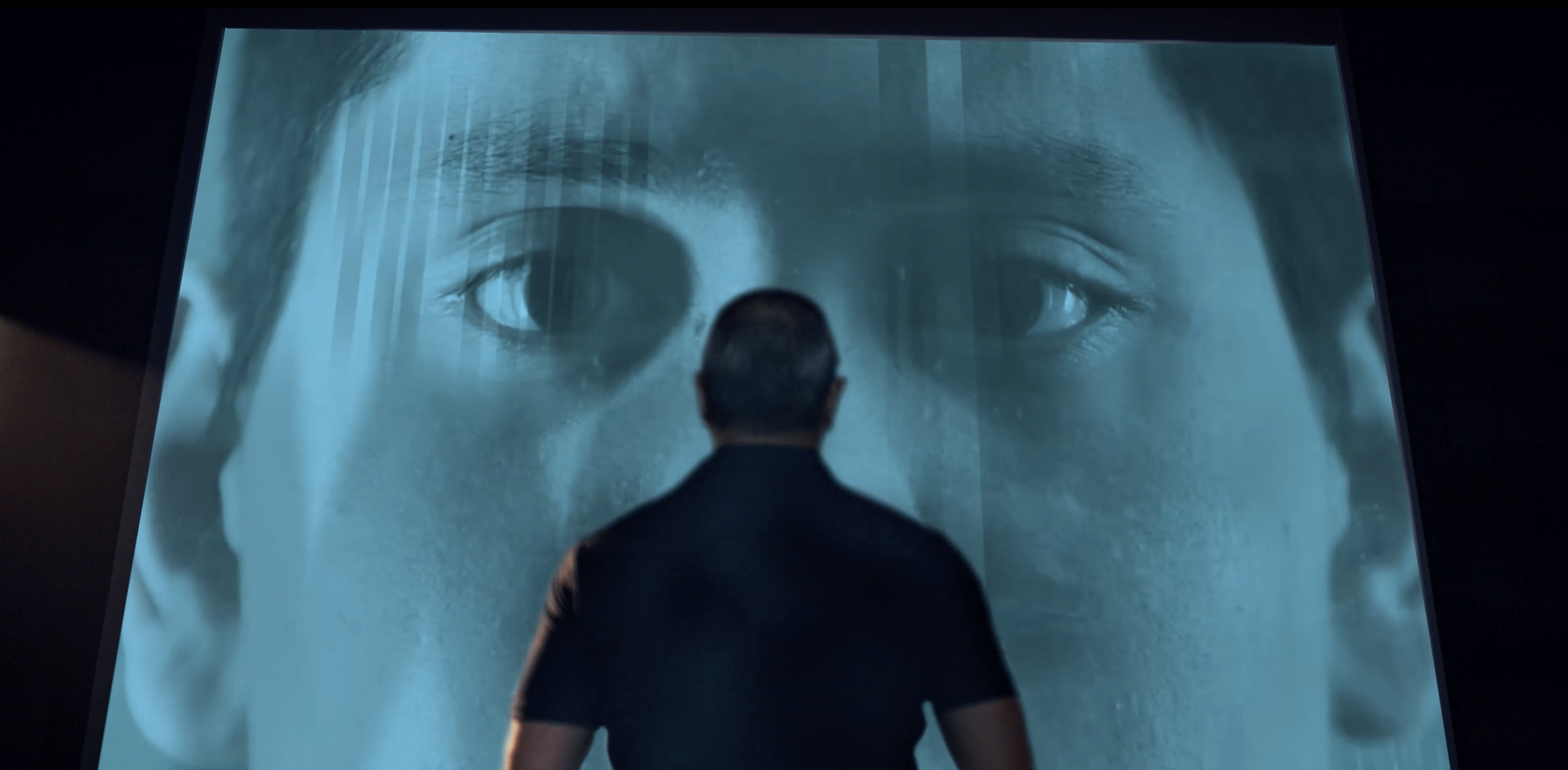 Extract from One Day Campaign's 1st Video : Singapore's swimming legend Ang Peng Siong looking/admiring at Olympic Gold medallist, Joseph Schooling)

By Raj Kumar
It's been 10 days since Team Singapore's proud unveiling of their debut video (on 20 April 2021), as part of the new "One Day" campaign. It's a culmination of more than 8 months of pre-planning, execution, post-production and finding the right time and opportunity to launch this exciting nationwide initiative (3 months prior to the start of the Tokyo Olympic Games)
So just what is, the One Day campaign?
It's a statement of empowerment and it's the ambition of a country to build successful athletes. It's also to further build upon the universal shared belief that success is about dedication, connection, perseverance, joy, the journey and not the medal! Team Singapore are also looking to showcase determination to progress, mental strength in overcoming trials, and the power of celebrating every small step.
In the first One Day campaign video, we see several familiar faces of the past and present in a 90-second segment. Backed by a strong narrative and newly filmed visuals, the video showcases the likes of Singapore's former sprint queen Glory Barnabas, Ang Peng Siong, plus current top athletes such as Martina Veloso (shooting) and Shanti Pereira (athletics).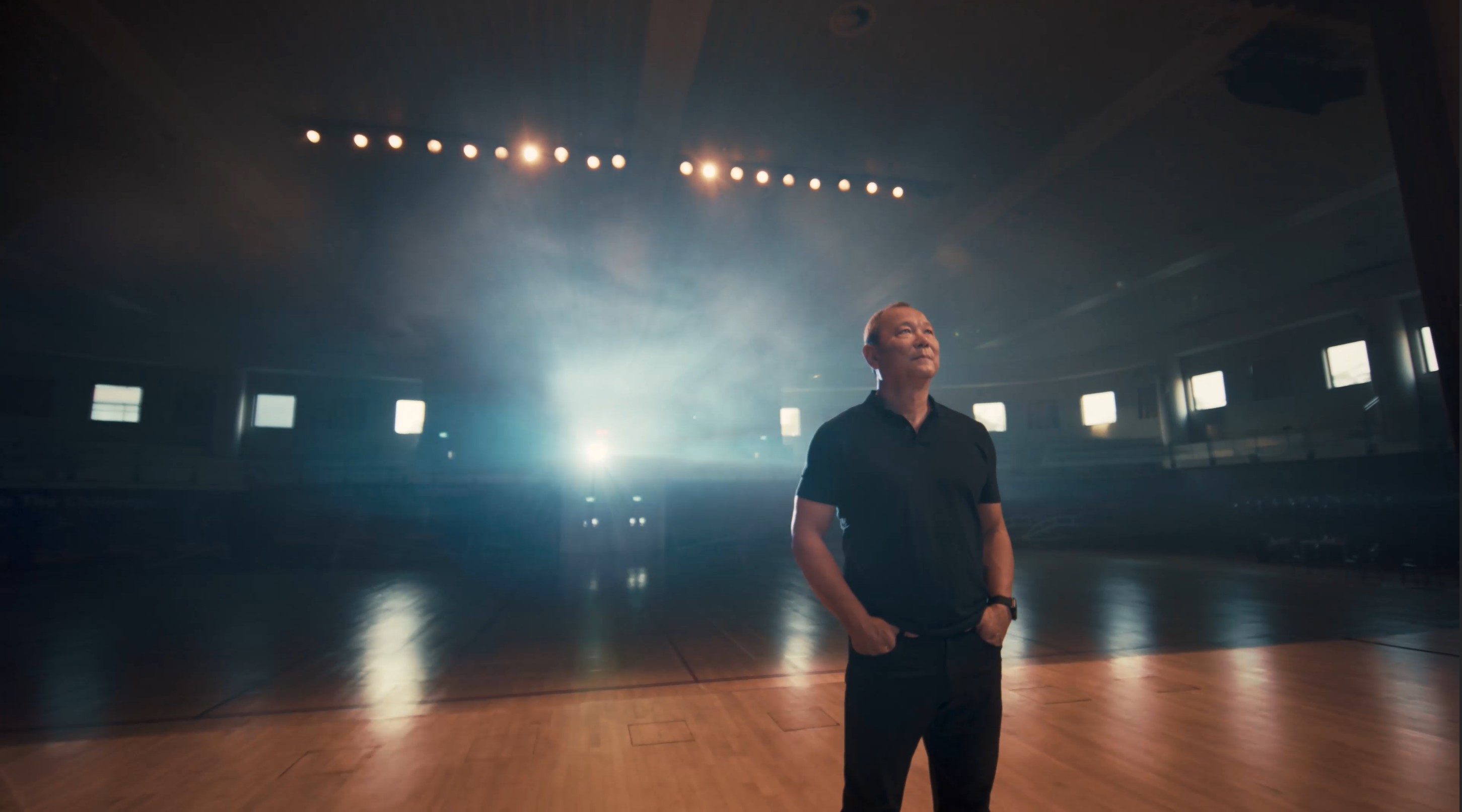 58 year old Peng Siong (above photo insert) on his role in this campaign said, "Sports has a way of connecting the fabric of our nation in many ways. Inspire and aspire as a sporting nation. Passing the baton for a better tomorrow".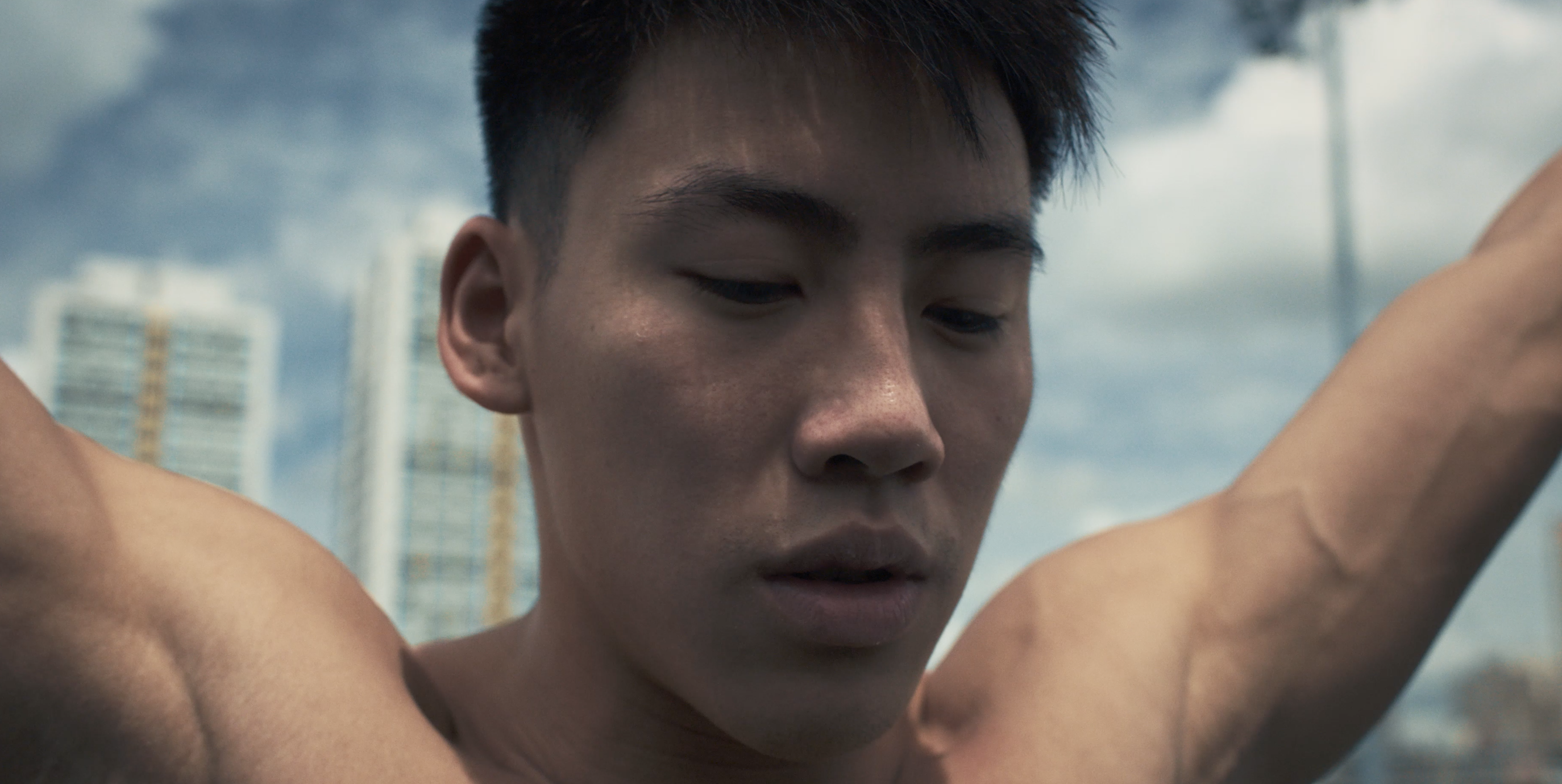 Tokyo Olympics-bound diver Jonathan Chan (above photo insert), who also featured briefly in the debut video said, "I'm honoured to be in the campaign. The video looks good and I hope Singaporeans are inspired by it. Small wins are the Best Wins!"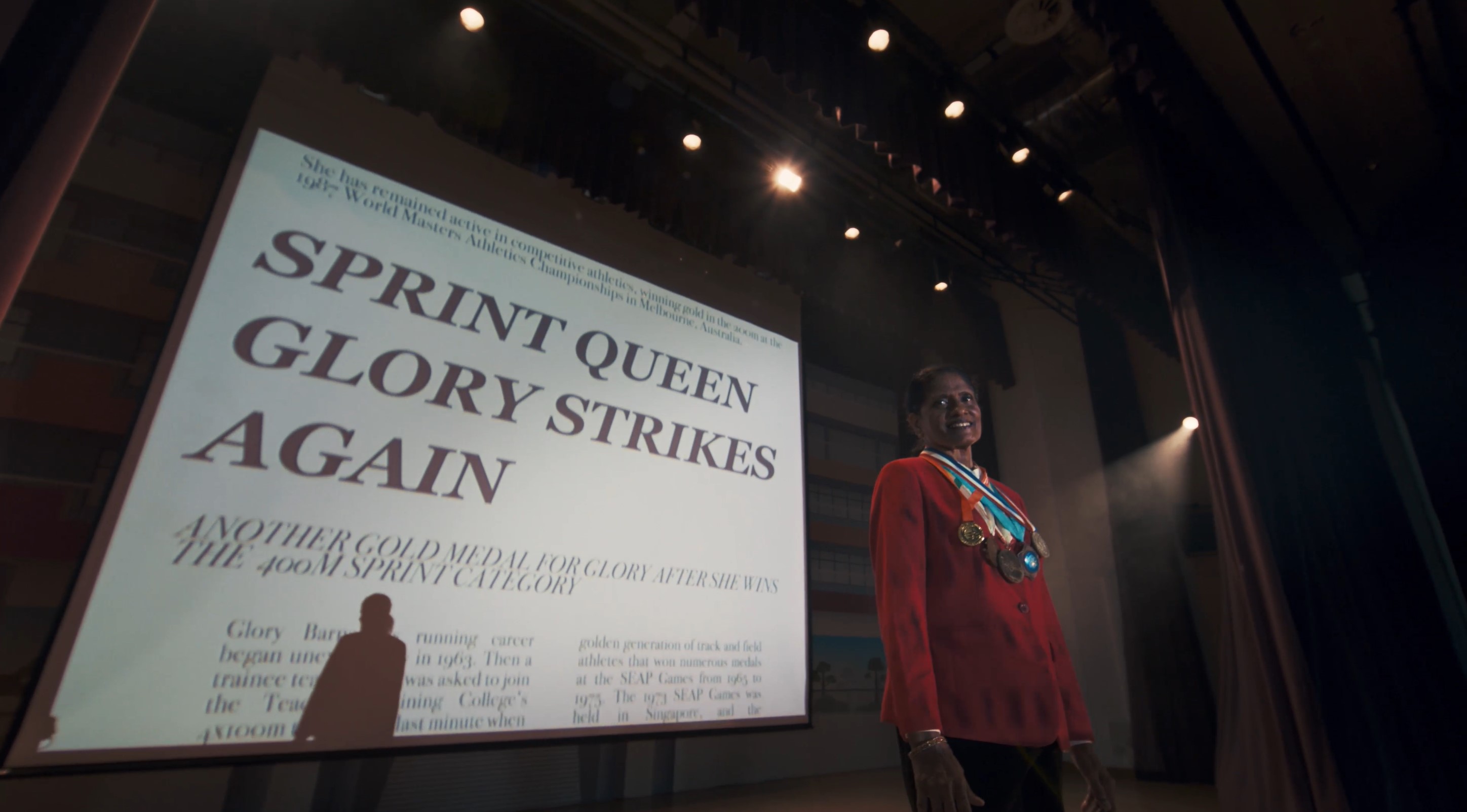 (Extract from One Day Campaign's 1st Video : Singapore's athletics legend, Glory Barnabas)
74 year old retiree D.Tiru, upon seeing Glory Barnabas in the video, was extremely excited. " I was a big fan of Glory back in her running days, when she represented the country. Her gold medals in the 200m sprint at the 1973 SEAP Games and the 4x100m relay at the National Stadium - I can still remember those golden moments when we hosted the Games. And it's truly wonderful to see "Glory the Great" in this new One Day video".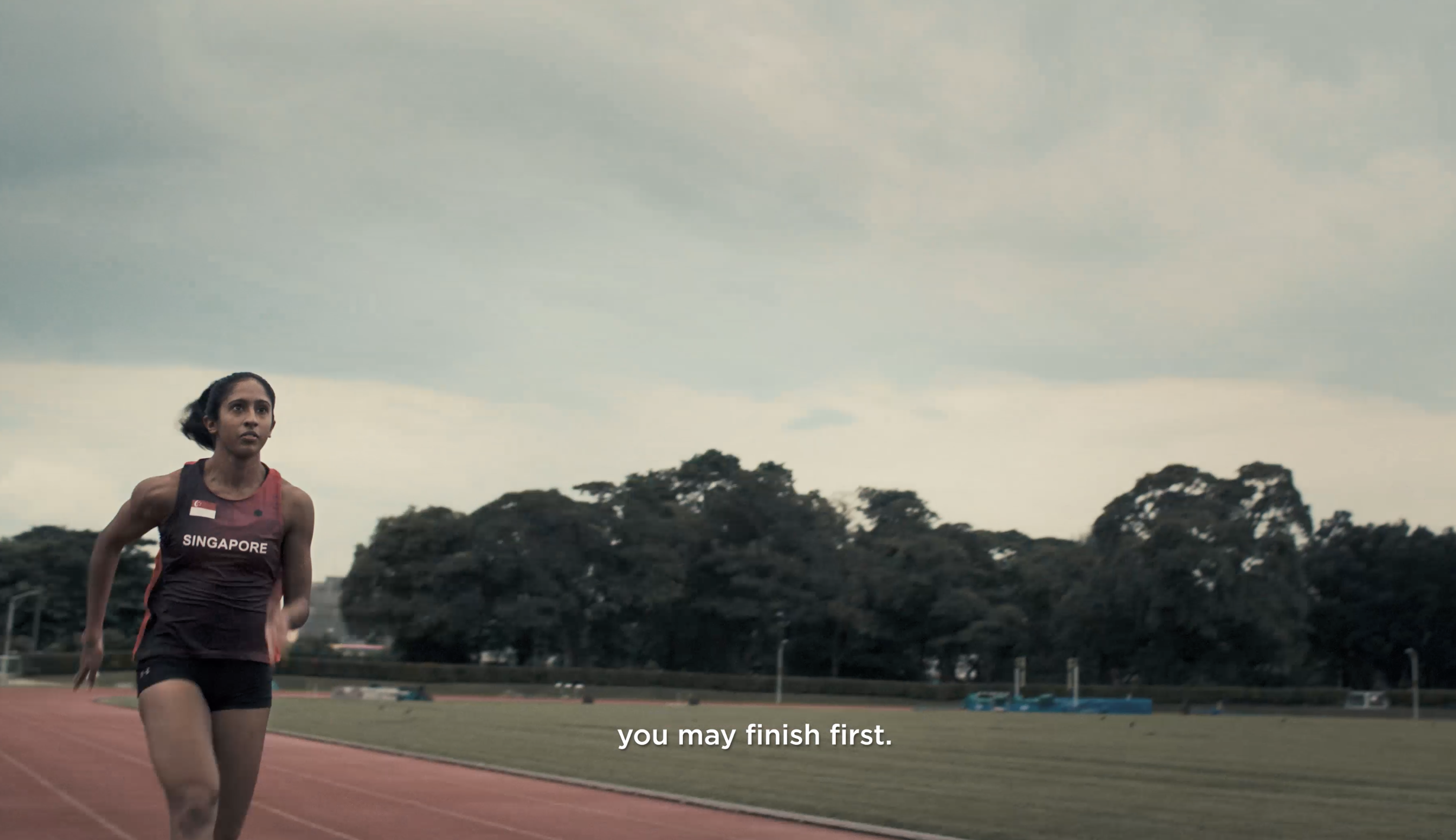 (Extract from One Day Campaign's 1st Video : Team Singapore sprinter, Shanti Pereira)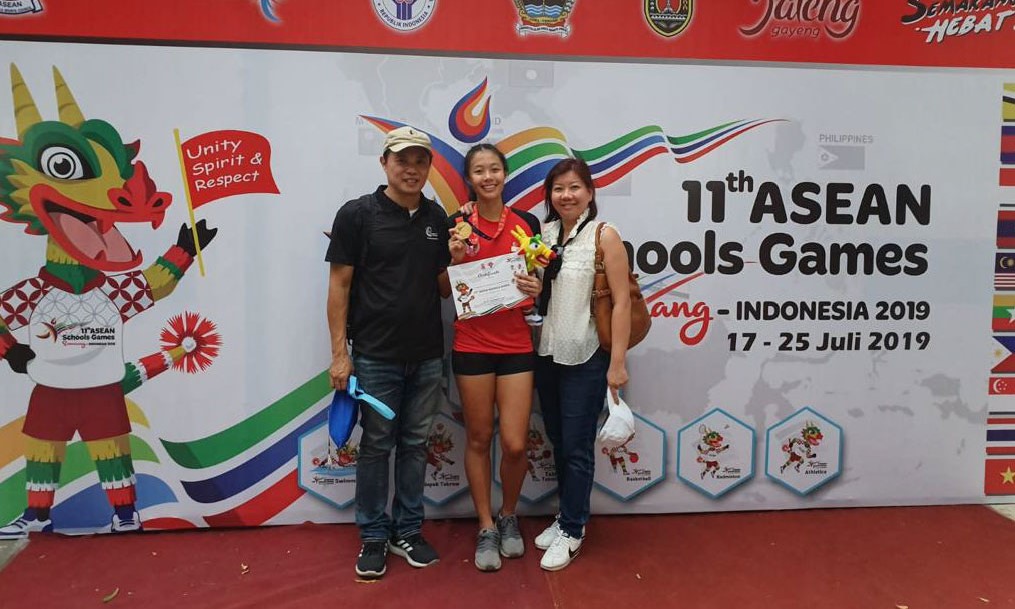 (Elizabeth-Ann Tan and her parents at 2019 ASEAN Schools Games)
She's one of the top performers in the history of the National School Games, with a total haul of 13 Gold medals/titles! Today, Elizabeth-Ann Tan is part of Team Singapore's national youth setup and rapidly rising up the ranks. And upon seeing Glory and her fellow national sprinter Shanti Pereira in the same video, the 18 year old was very moved.
"I feel very inspired to strive towards becoming a better version of myself, so that I can bring glory to Singapore, just like how Shanti and Glory did. Both of them are true embodiments of determination and focus. I hope that I can emulate Glory and Shanti, bringing back medals at major competitions. One Day, I would like to win medals at the Asian level and make Singapore proud!"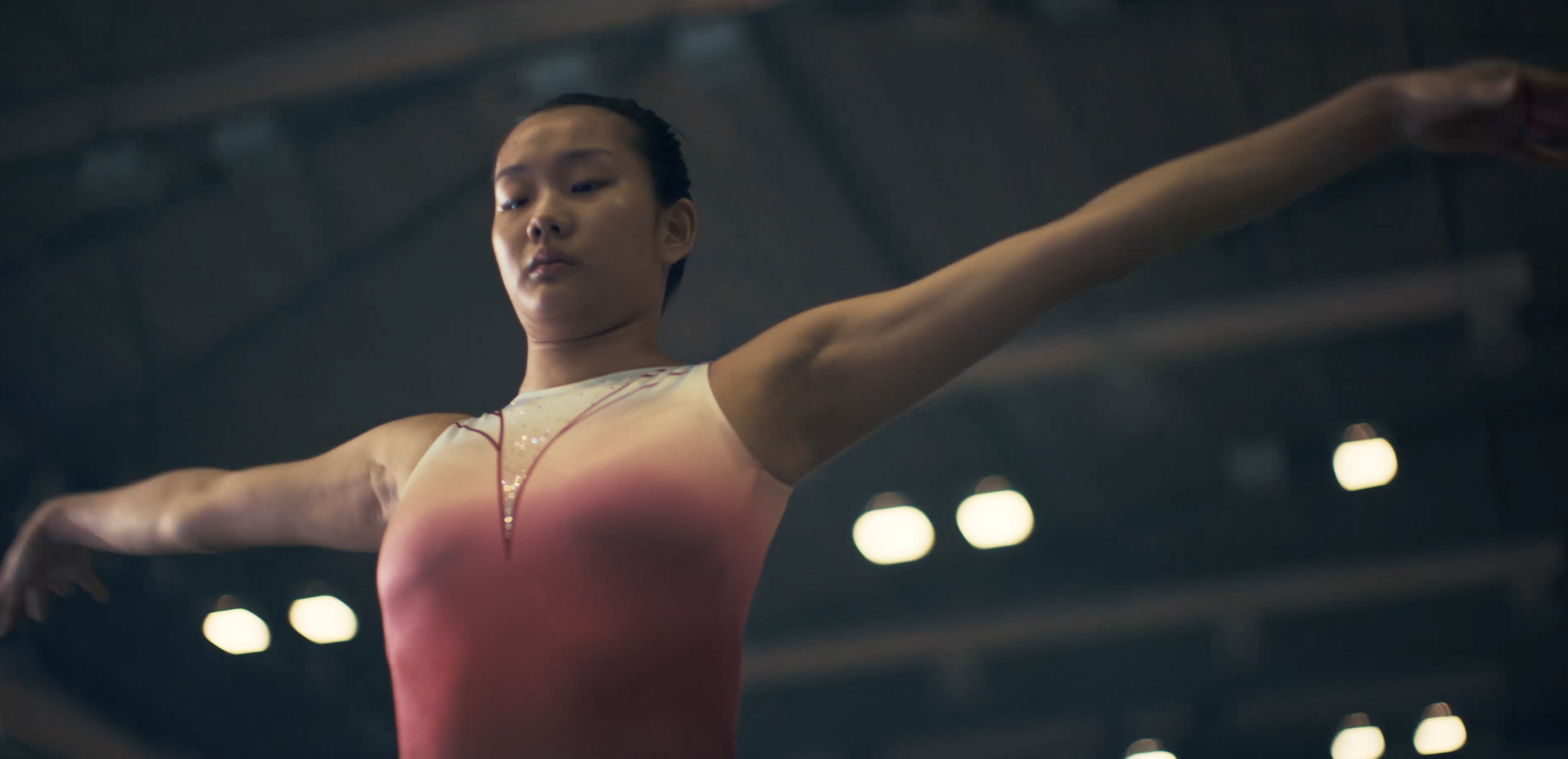 (Extract from One Day Campaign's 1st Video : Team Singapore gymnast, Tan Sze En)
37 year old housewife Agnes Lim's favourite sport is gymnastics. And she was delighted to see Tan Sze En featured in the first video as well. "We're proud for Tze En as she'll be only the 2nd gymnast in the nation's history to compete at the Olympics. And it's nice to see her included in this special Team Singapore video...hopefully it will help inspire her even further and rally support from Singaporeans as well".
Echoing her sentiments was Mdm Teo Siew Hong (Sze En's mother). "The video is very inspiring and encouraging and really speaks to our experiences. I can totally relate to this video. A few years ago when my daughter declared that her goal is to qualify for the Olympics, we did not think it was a possibility. But one never knows till one tries, persevere and do your best. At the end of the day, the goal, if achieved, is great. If not, at least you can say that you have tried, you have given your best, and that is what matters. And the message in this video is really reflective of that."
As for Sze En herself, it's been a long journey to get to the pinnacle of her sport (Olympics). But with less then 3 months to go to the Tokyo Olympiad, she's totally focused and raring to go.
"I am glad that I could be part of a campaign to provide encouragement and support to fellow athletes. The past year has been tough on many athletes as we train without really knowing when we'll be able to compete. However, knowing that many Singaporeans are behind us, helps me push forward."
Speaking from a personal point of view, back in the late 1980's and 90's as a teenager, I watched "World of Sports" on SBC's Premiere 12 channel (renamed as Mediacorp). And every Sunday morning, I'd see our local sports television presenters such as Hamish Brown, Mark Richmond, Darryl David, Grace Young, Lance Alexander, Andre Ahchak, Peter Boudewyn, Leslie Pillay, Bertrand Bartlett etc, take turns to host the 1-hour sports magazine show. It was in those developmental years of my life, when I told myself - One Day, I want to be a Sportscaster/Presenter on Television. And that lucky break came in 1997 when I joined Power 98FM as a Sports reporter etc. That marked the beginning of a 20+ year career in Sports broadcasting (in Radio and Television). And it all began with the mindset of "One Day".
Renowned Sports broadcaster and commentator Mark Richmond is currently, the Team Lead of Team Singapore :
"While the One Day campaign aims to drum up support for our Team Singapore athletes for the Olympics, Paralympics, SEA Games and Para Games, it is also a tribute to all Singaporeans who display the Olympic values in them in a show of resilience over what has transpired in the last year. Our desires to be better than yesterday mirrors an athletes quest for a personal best with the hope that One Day it will all come together. One Day is about hope. Why we wake up each morning to face the challenges of a new day. Why we push ourselves to the limit extolling the Olympic values of higher, faster, stronger. It is the hope that lives in us that keeps us going.
Through the 6 videos we have produced, you will be able to relate to the athletes hunger of fighting for the country. And you will get a sense of perspective over how long it took before Joseph Schooling, clinched us, our one and only Olympic gold medal. You will understand how sport can unify the country as it did when Joseph won that race (in Rio 2016) and how the athletes have beaten their odds to come up trumps. The campaign is about celebrating you. After all, we are all One Team Singapore. One Day, One Nation, One Roar".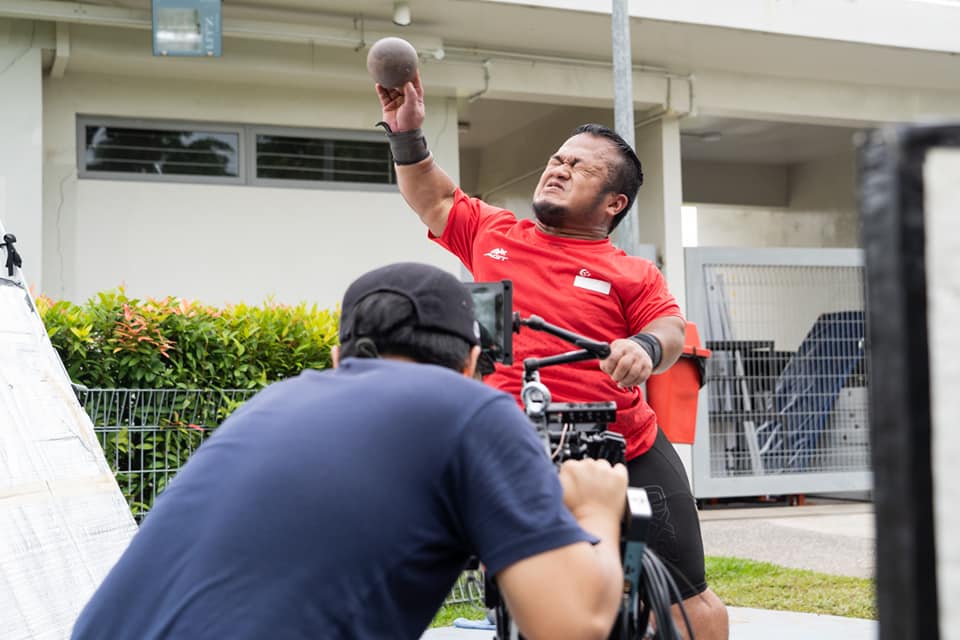 (TeamSG javelin and shot put athlete Muhammad Diroy Noordin appears in the 1st One Day video)
The One Day campaign videos can be found on Team Singapore's Facebook Page.
The first video is currently pinned to the top of the Facebook Page. Here are the dates of the subsequent 5 videos (subject to change).
2nd Video : 20 May
3rd Video : 20 June
4th Video : 3 July
5th Video : 4 Oct
6th Video : 10 Dec
Raj Kumar's been in Singapore's sports reporting and broadcasting scene since 1997. He was the former Sports Editor and Presenter on Power 98FM (SAFRA Radio) and 938LIVE (Mediacorp Radio). Over the years, he travelled to report on Team Singapore at the 2008 Beijing Olympics and 2012 Olympiad, excluding 4 SEA Games cities. As a familiar voice and face on Radio, TV and online sports, he has produced and hosted more than 600 talkshows and programmes.
Recent Events & Programmes