Squash
Rising star Ong Zhe Sim steals the show, at recent Oncocare National Junior Squash Championships!
by Circle Stories, on March 26, 2022 16:00 PM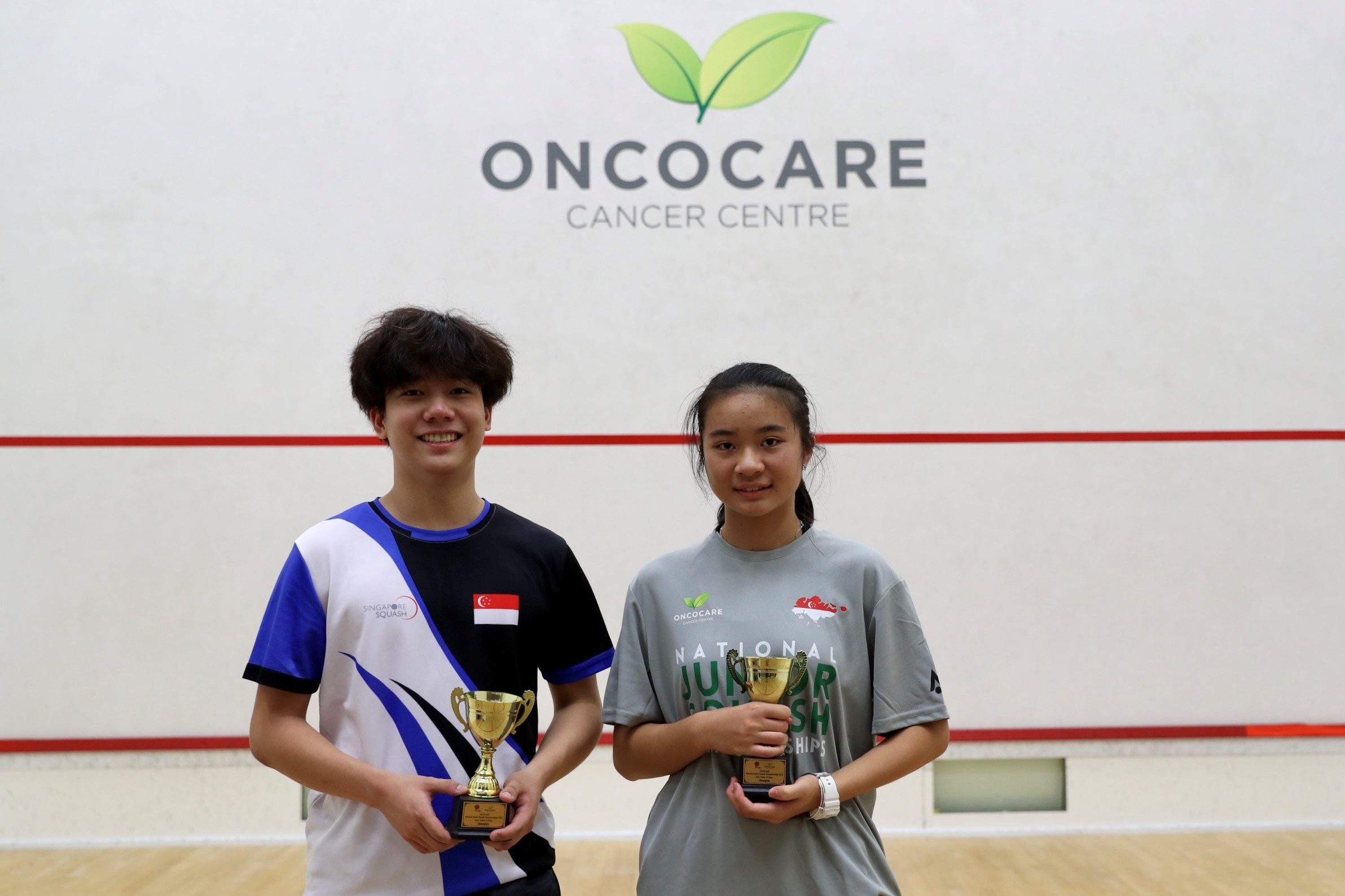 Nat Jrs 2022-U19-Winners (left) Edward Thng and Ong Zhe Sim. Photo Credit : Singapore Squash
23 Mar 2022 : A new star was born at the Oncocare National Junior Squash Championships and her name is Ong Zhe Sim. The timid Secondary 2 student from Methodist Girls School defied the odds to win not one, but both the Girls' Under-17 and Under-19 titles. Her win also marks the first time top national junior Gracia Chua had been beaten in at least the last 5 years in a local junior event.
Having been running the National Junior Squash Championships at the end of the year for the past two seasons, the event was brought back to March (2022) in a move to shift things back to normality. The event also saw the reintroduction of the younger age groups which were not competed in recent years. A total of five age groups were competed for each gender – U11, U13, U15, U17 and U19.
Ong Zhe Sim dominates the girls
Seeded joint-3rd in both the events, 14 year old Zhe Sim produced back-to-back sterling performances to upset the seedings in both the Under-17 and Under-19 semi-finals. First, she came back from 0-2 down in the Under-17 to upstage top seed Gracia Chua 3-2 and followed that up with a second upset in the Under-19, this time against 2nd seed, Au Yeong Wai Iynn.
It would not be the only loss Gracia suffered as she was also beaten by the margin by Vicky Lai in the Girls Under-19 semi-finals. Vicky, however, was unable to compete in the final after falling ill. With a title in the bag without having to lift her racket, Zhe Sim was still fired up and repeated her Girls Under-19 semi-final win a day earlier. She beat second seed Wai Iynn 3-1 again to complete her double, and was seen grinning all afternoon after the match.
When asked about her wins, she said "I'm happy with my performance today, but I think I can do a little better!" When asked if she expected to do this well, she confidently said, "Yes! I think I should get better with each tournament and this time, I just did my best in every match."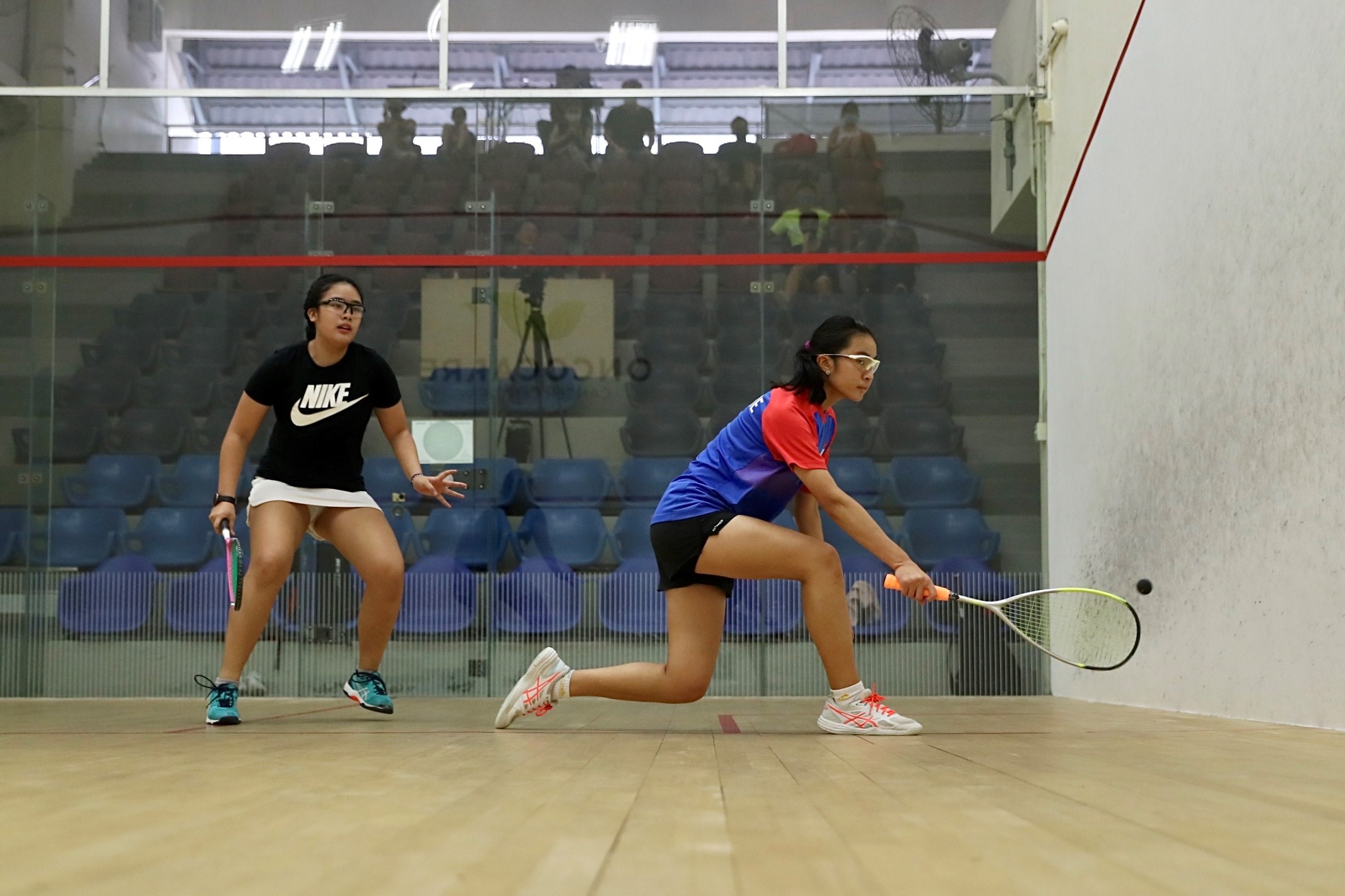 Nat Jrs 2022-GU17-Final. Ong Zhe Sim (right) returns a backhand shot enroute to her title. Photo Credit : Singapore Squash
National coach Lim Jee Nee, who Zhe Sim trains with, was full of praise for her charge: "I am extremely happy and proud of her. She deserves it. It wasn't shocking news to me as I've already predicted that it would be possible for her to win both titles after mentally prepping for the past few months. She just needed the extra push. In three to five years, with proper training and more international exposure, she will be ready for the professional circuit."
In the younger girls' categories, top seeds ruled the day as Jacintha Han, Naisha Singh and Saiesha Ranjan won their matches comfortably in the Under-11, 13 and 15 respectively.
Edward Thng still reigns supreme
Unlike the girls, there was no shift of paradigm in the boys' main Under-19 event, as Edward Thng still proved too strong for his opposition. He won rather comfortably in straight games in the final today against joint-third seed Ethan Chua. He was also aided by the fact that Ethan had to return to court barely 5 minutes after his gruelling Under-17 final against Mark Lee, which he won 3-2 after nearly an hour.
Despite that, Ethan gave a very good account of himself and remained competitive throughout the three games against Edward, which he described "plays at a different pace" when asked what he thought would be the difference between the matches just before he went on court.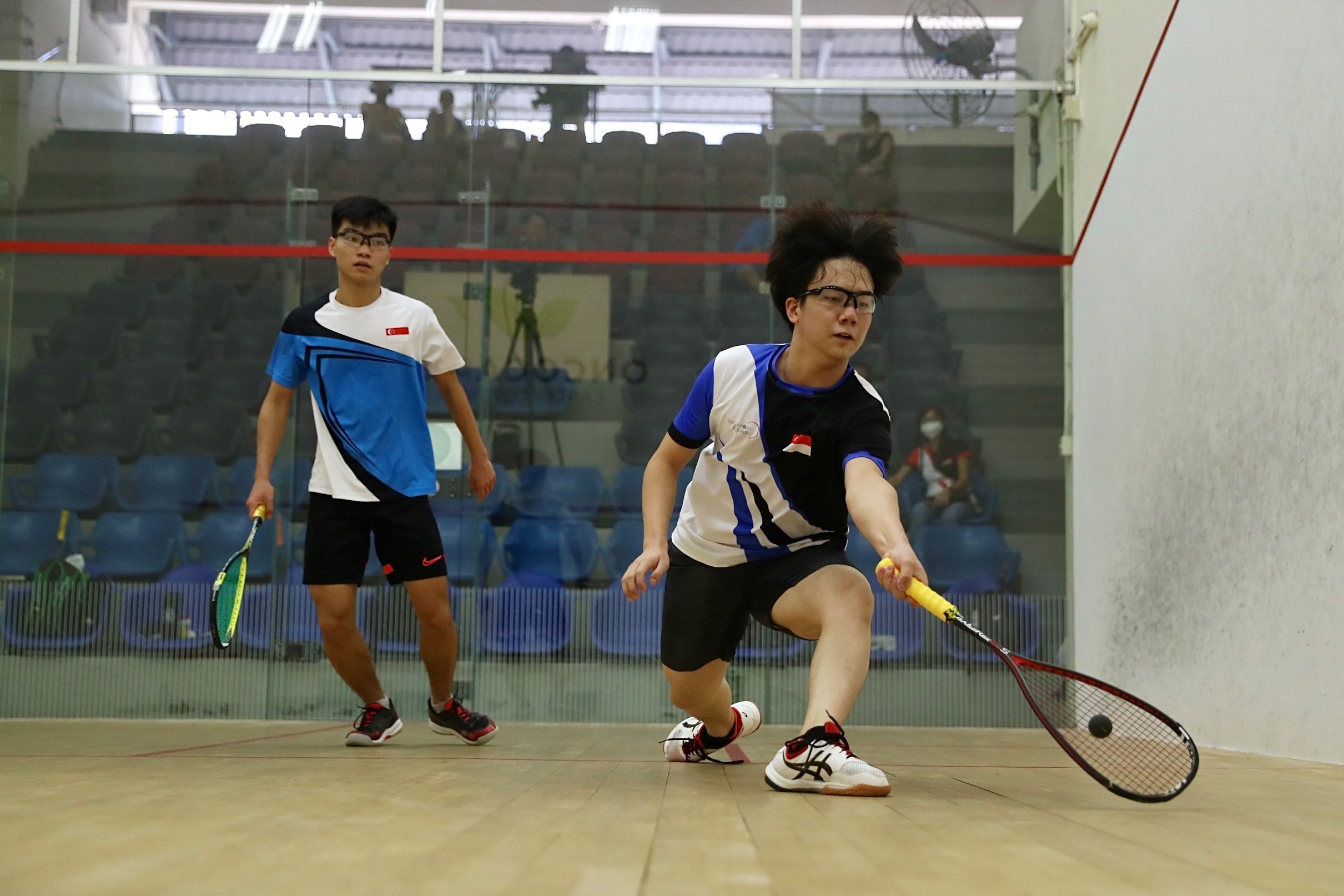 Nat Jrs 2022-BU17-Final. Edward Thng (right) plays a forehand shot to the front in the Boys Under-19 final. Photo Credit : Singapore Squash
In the Boys' Under-15 event, lefty Ethan Kuan once again reigned supreme and made it two in a row after winning the same category last year. He dominated 12-year-old Ong Zhe Hon to win in straight games. "It feels great and this is another opportunity for me to play (compete) to improve myself. It was an interesting match and I could sense than Zhe Hon has improved a lot in the past one month since I played with him.", said the champion.
Zhe Hon, however, did leave with a winner's medal when he beat Rehaan Singh 3-0 in their Under-13 final and Jackrish Sashikumar was simply a class above his opponent Jemiah Tay in the Under-11 final, dropping just three point the entire match. But credit to Jemiah, who upset two higher seeded players along the way to get this far.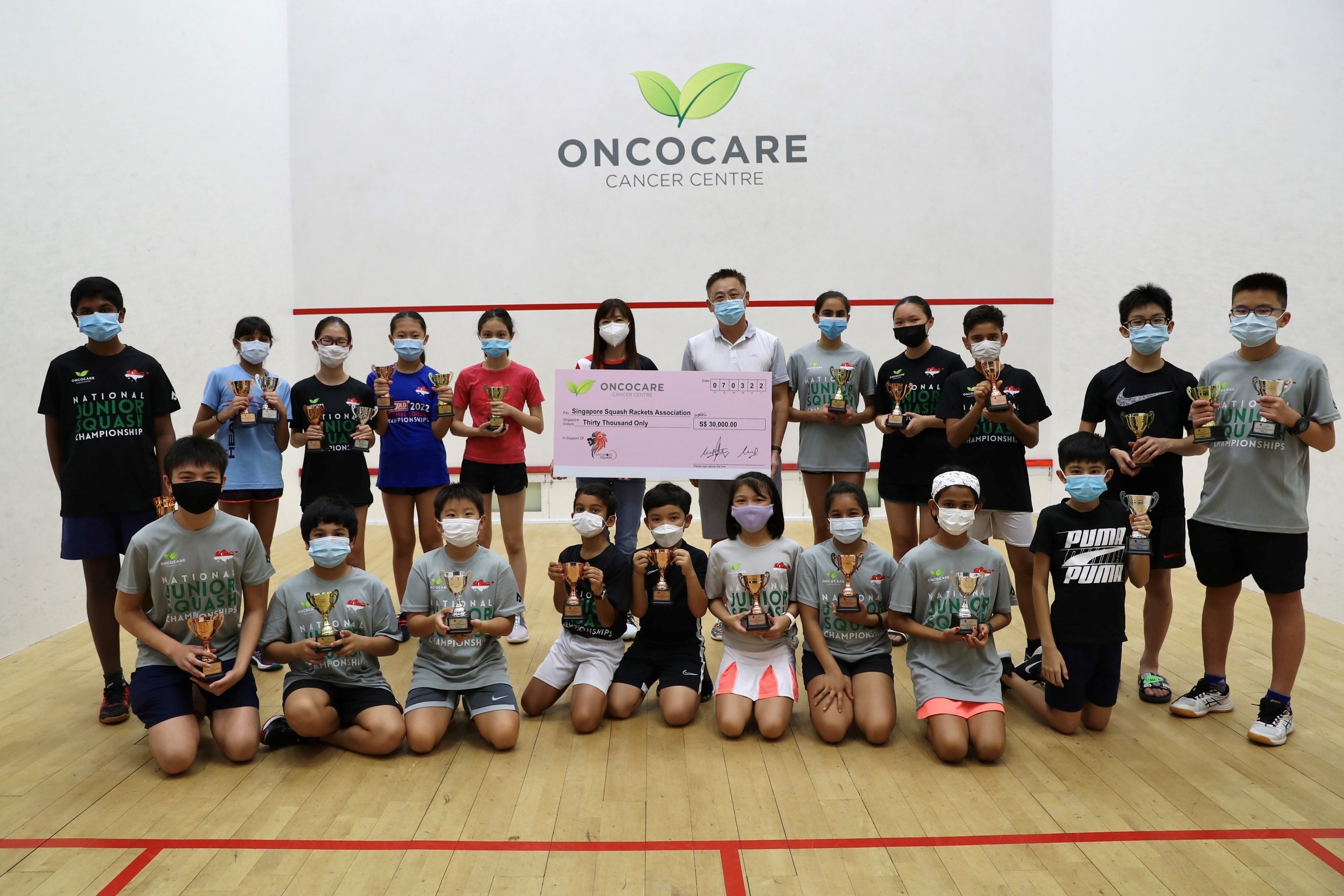 Nat Jrs 2022-Dr Tay Miah Hiang of Oncocare Cancer Centre and Singapore Squash Rackets Association Vice-President Josephine Choo, with the winners of the Under-11, 13 and 15 categories. Photo Credit : Singapore Squash.
The Oncocare National Junior Championships 2022 wouldn't have been made possible, without the continued support of Oncocare Cancer Centre, a regular supporter of junior squash in Singapore.
PRESS RELEASE
Oncocare National Junior Squash Championships 2022
Kallang Squash Centre,
13-19 March 2022
Related Events & Programmes