Team Singapore
Preview of Team Singapore - 2021 IFF Women's World Floorball Championships in Uppsala (Sweden)
by Circle Stories, on November 26, 2021 16:00 PM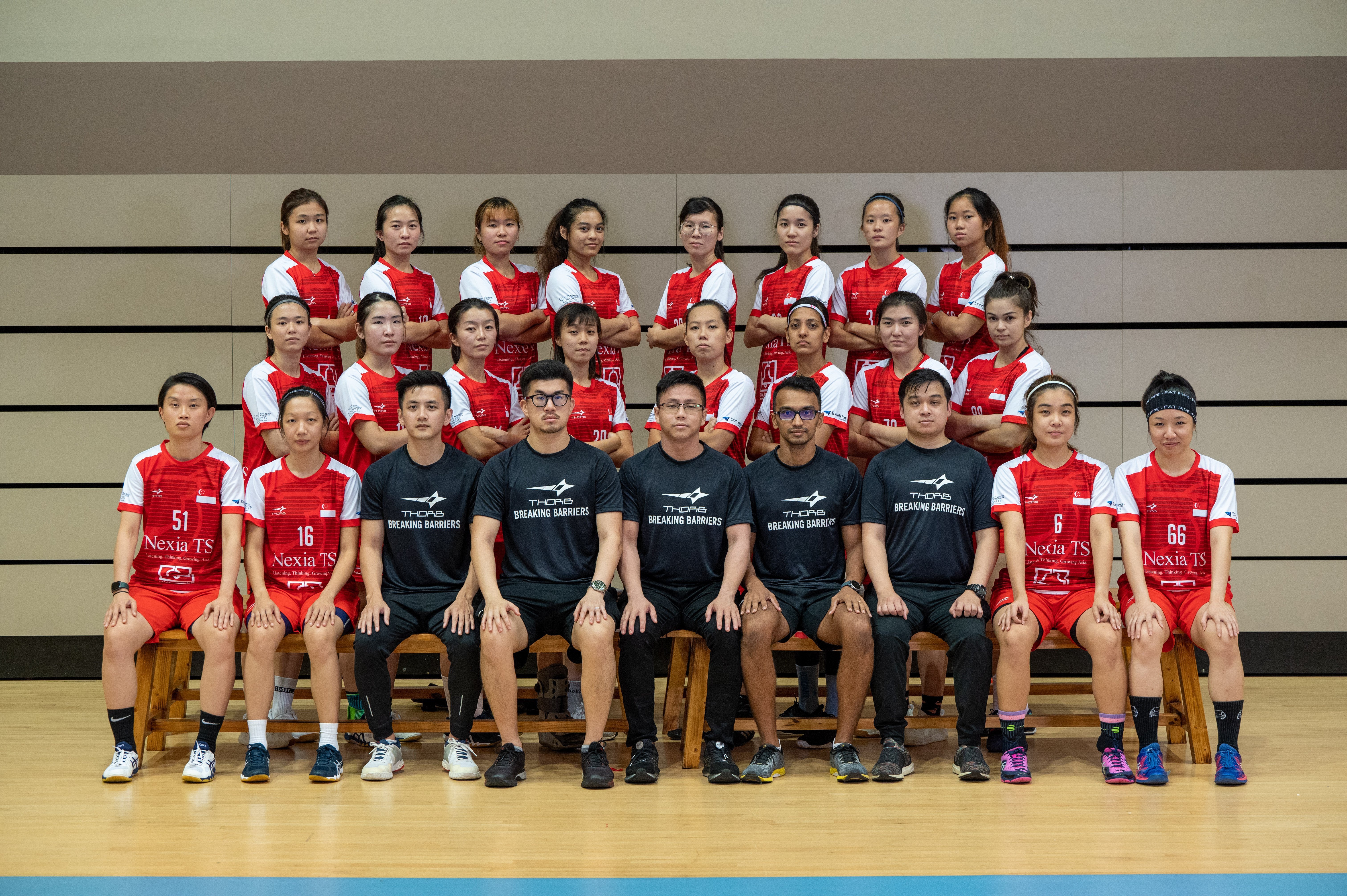 (Singapore's Women's Floorball Team at the 2021 IFF World Championships. Photo Credit : Singapore Floorball Association)
By Raj Kumar
It's the opening day (27 Nov) of the 2021 IFF Women's World Floorball Championships in Sweden. And Team Singapore's match against Estonia is the very 1st to kick off the 13th edition of the world champs event in Uppsala. For their group-stage games, world No. 14 Singapore, are in Group D with the 11th ranked Estonians, NFR (17th ranked Russian selection team) and world no 9, Norway!
It's been 2 long years (due to Covid-19), that the Singapore team last competed in a major competition. And although our national floorballers were restricted by several safety management measures to train as a full squad on home soil, it was almost "business as usual" for several of their European counterparts who continued to train normally. And that might work against the Republic as commented by Team Singapore in our 1st floorball preview article released here on 26 Nov. See this link for 1st Team Preview with quotes from SGP Coach Lim Jin Quan and Captain Michelle Lok)
Undeterred by the challenges faced over the last 20+ months though, TeamSG have "weathered the storm" and are now ready to see if they can replicate their historic 12th place finish in 2019. During their recent 10-day training trip in Finland, Circle News (SportSG) caught up (via an email interview) with Mindy Lim (Vice Captain), just before they embarked for Sweden.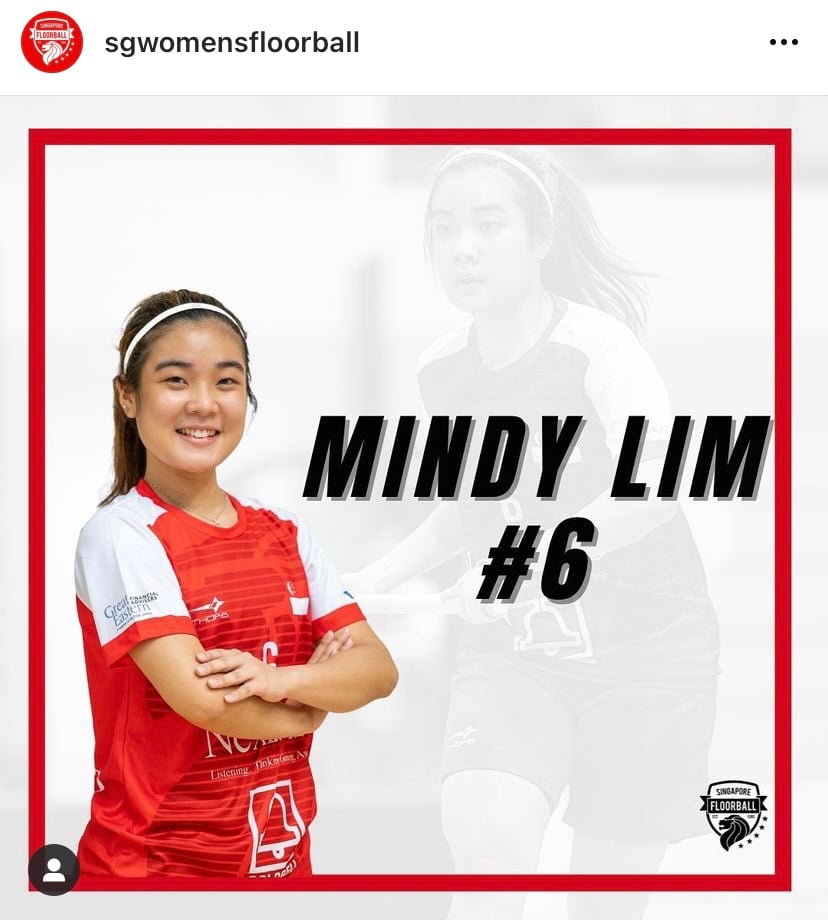 For Vice-Cap Mindy Lim
1)How did the Team train in the last 18-20 months, with all of the safety restrictions in place in Singapore?
ML : We trained accordingly to the measures put in place. Eg. During circuit breaker, we did zoom training sessions and individual skill practices at home. When measures were relaxed and we could train together as a group of 5, we continued with drills like 3v2 and 2v2. Tactically wise, we had online theory sessions until the restrictions were lifted for us to practise on court.
2)Do you feel a huge sigh of relief on the fact that you're able to travel to Finland to train, followed by the World Champs campaign?
ML : Of course! It has been 2 years since we were last able to play a friendly or a match. We are extremely grateful and appreciative of this opportunity to showcase what we've trained and to be on the international stage again.
3) This is Coach JQ's 1st World Champs outing with TeamSG. How has he helped in further developing the team's overall playing skills, since he came onboard?
ML : He has set a clear direction for the team and been demanding in his expectations of the team. At the earlier stages, he was focused on improving the technical aspects of our game, such as ball control, shooting, footwork, passing. Thereafter, he moved on to the tactical aspect of the team to ensure alignment across the entire team. He also believes heavily in reflection and constantly ensures that we reflect on our thought processes, to hone our self awareness and understanding of the game.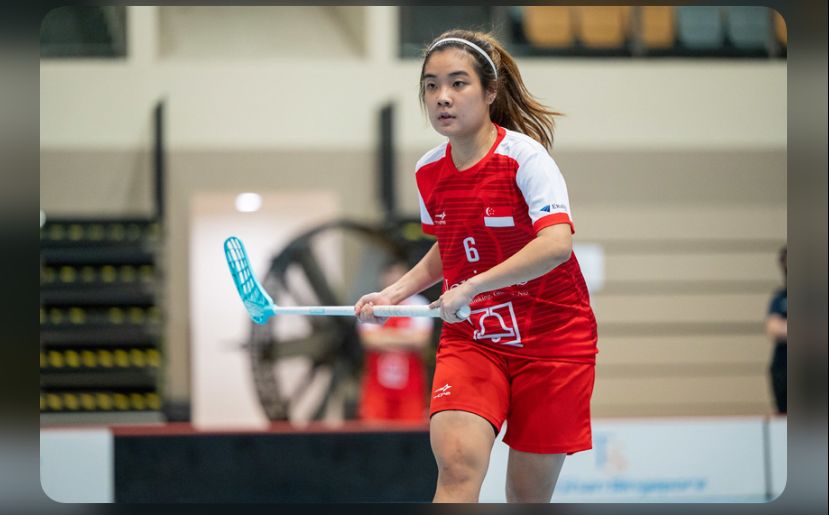 (TeamSG's Mindy Lim - Photo Credit : Singapore Floorball Association)
4) Over in Sweden, TeamSG will be up against a Russian side, Estonia and Norway in the Group stage. How well do you know these 3 teams, Mindy?
ML : Estonia and Norway have always been one of the stronger teams, physically and tactically. We last met Estonia back in 2017 and we are definitely excited to meet them again. We have not met Russia or seen how they played. But we understand they have a strong ice hockey background and there are definitely some similarities between ice hockey and floorball.
5)This is your 3rd World Champs tournament together with your skipper, Michelle Lok. How significant is the partnership between the 2 of you, especially with a few making their world champs' debuts as well?
ML : I am thankful to be at our 3rd World Champs together, as we have seen each other grow over the past 5 years since 2017. From absorbing and observing our seniors when we first debuted, to leading the team, I would say it has indeed been a fulfilling journey. We hope to provide direction and guidance to our debutants, just as how we were previously assimilated into the team.
6)With Floorball being excluded from the Hanoi SEA Games, you won't be able to defend the Gold from Manila 2019. So what's the plan for 2022?
ML : 2022 will be a crucial year for us in terms of preparation and development looking forward to WFC2023, that we will be hosting. With home ground support and advantage, we hope to inspire younger athletes and role model the attributes of bring a national athlete.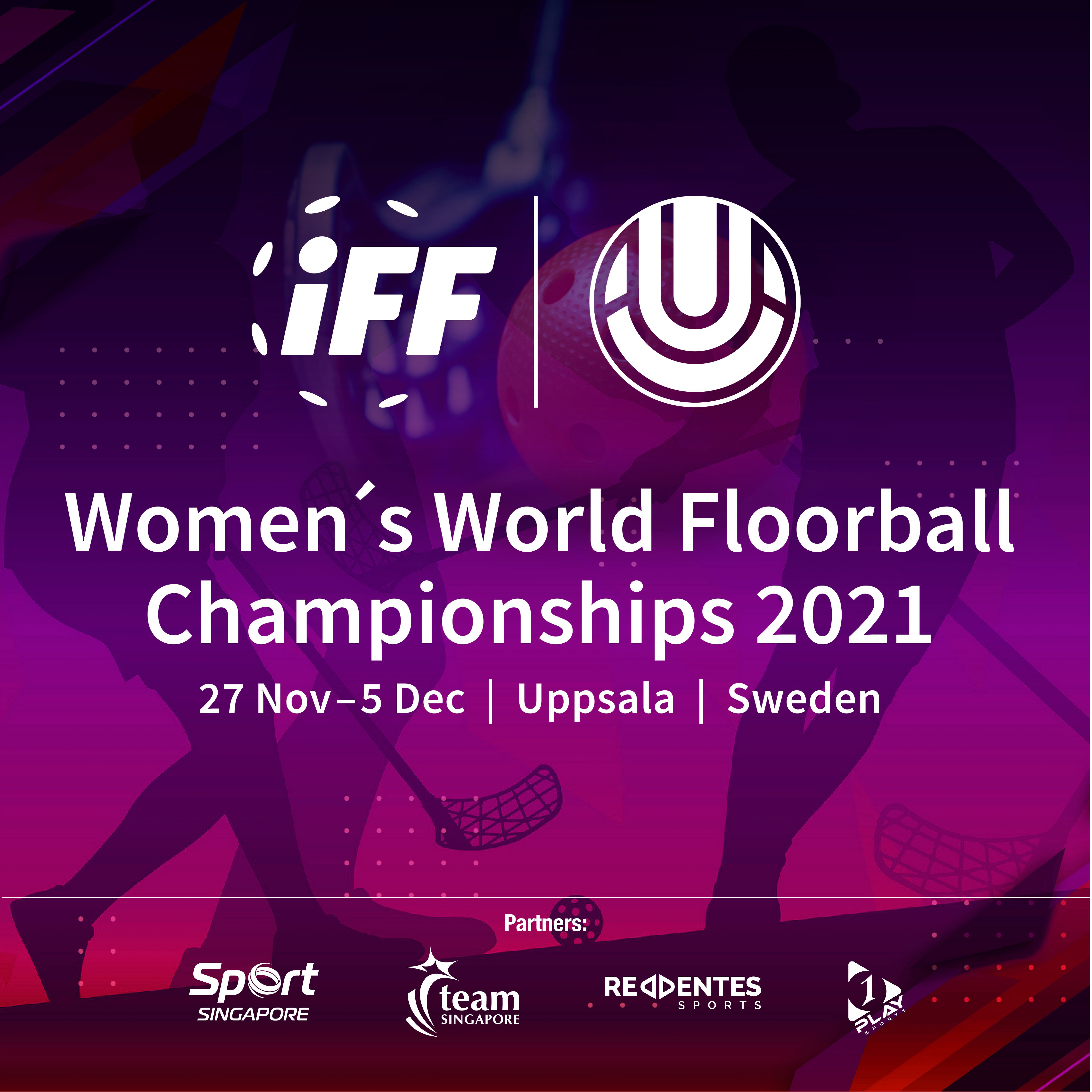 It's been 2 years since our Singapore team last competed internationally. It also marks the very first time that Sport Singapore (SportSG) will be streaming Live matches from this prestigious tournament for local fans. In partnership with Reddentes Sports, SportSG is proud to showcase Team Singapore's's best floorballers, competing on the grandest stage, exclusively on ActiveSG Circle. With the move towards competing again in the international arena, ActiveSG Circle will stream all matches involving our Team Singapore Men and Women in the respective World Championship campaigns from 27 Nov – 11 Dec 2021.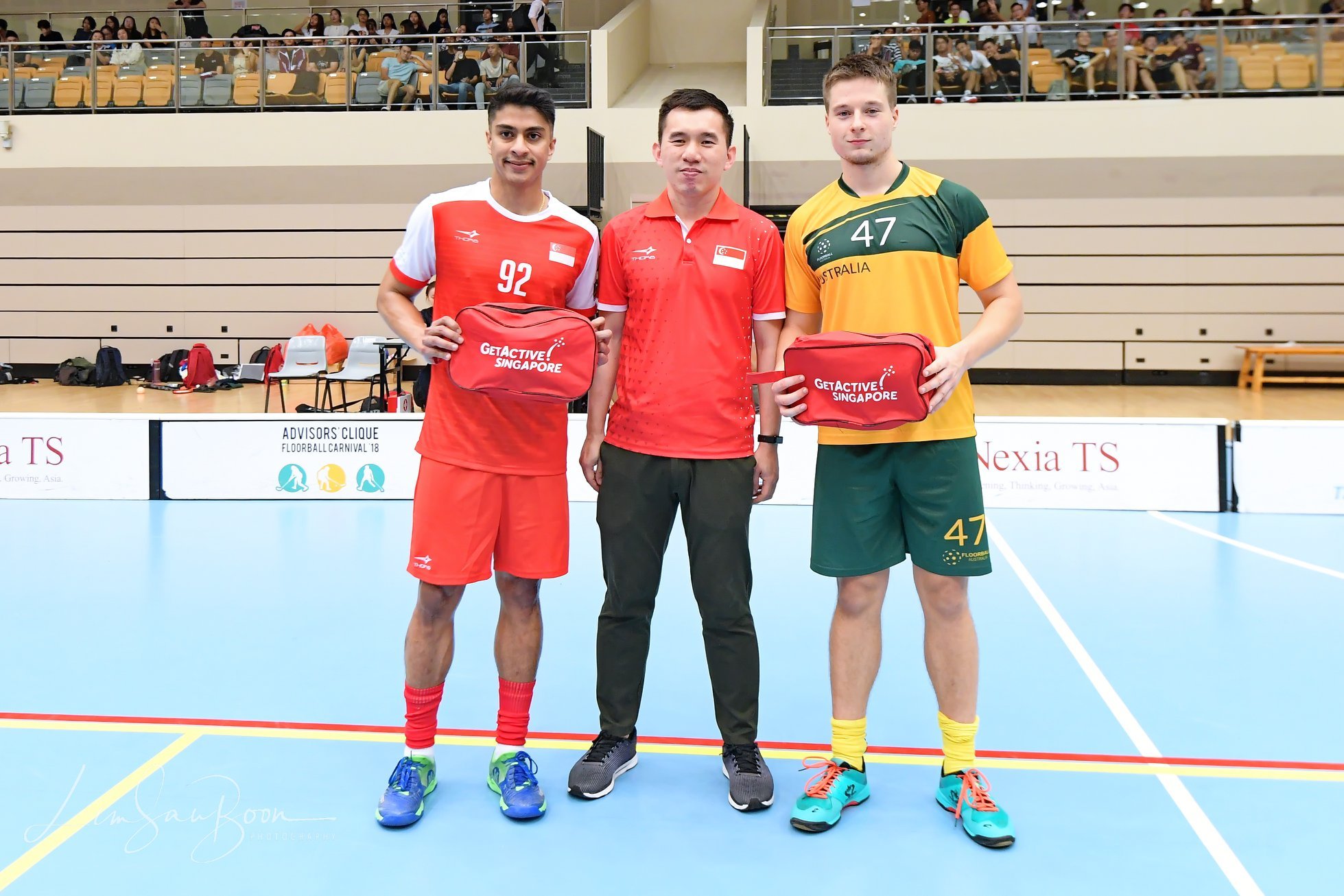 Kenneth Ho, President of Singapore's Floorball Association (in Black Pants)
President of Singapore's Floorball Association Kenneth Ho told Circle News on the eve of opening Games night, "It's been a difficult year for sports in Singapore in general and especially so with team sports like Floorball. But the team has shown great resilience over this period. They adjusted, adapted to new training regimes and fought hard to prepare for this competition. I am confident in the upcoming championship, the team will show the world what Singaporeans can do. May this team continue to inspire generations of Floorballers to come after them, to rise up, reach higher, and bring even more honor and glory to our nation. We have done it before in the World Championship 2019, we will do it again! Majulah Singapura!"
Match Schedule (SGP Time)
Singapore vs Estonia : 7pm, Saturday 27 Nov
Singapore vs NFR : 10pm, Sunday 28 Nov
Singapore vs Norway : 1am, Tuesday 30 Nov
*All TeamSG matches will be live and exclusive on the ActiveSG Circle, including matches in the semi-finals and finals.
Raj Kumar's been in Singapore's sports reporting and broadcasting scene since 1997. He was the former Sports Editor and Presenter on Power 98FM (SAFRA Radio) and 938LIVE (Mediacorp Radio). Over the years, he travelled to report on Team Singapore at the 2008 Beijing Olympics and 2012 London Olympiad, including 4 SEA Games cities. As a familiar voice and face on Radio, TV and online sports, he has produced and hosted more than 650 talkshows and programmes.
Recent Events & Programmes