Team Singapore
Preview of Team Singapore - 2021 ITTF World Table Tennis Championships, Houston (USA)
by Circle Stories, on November 22, 2021 16:00 PM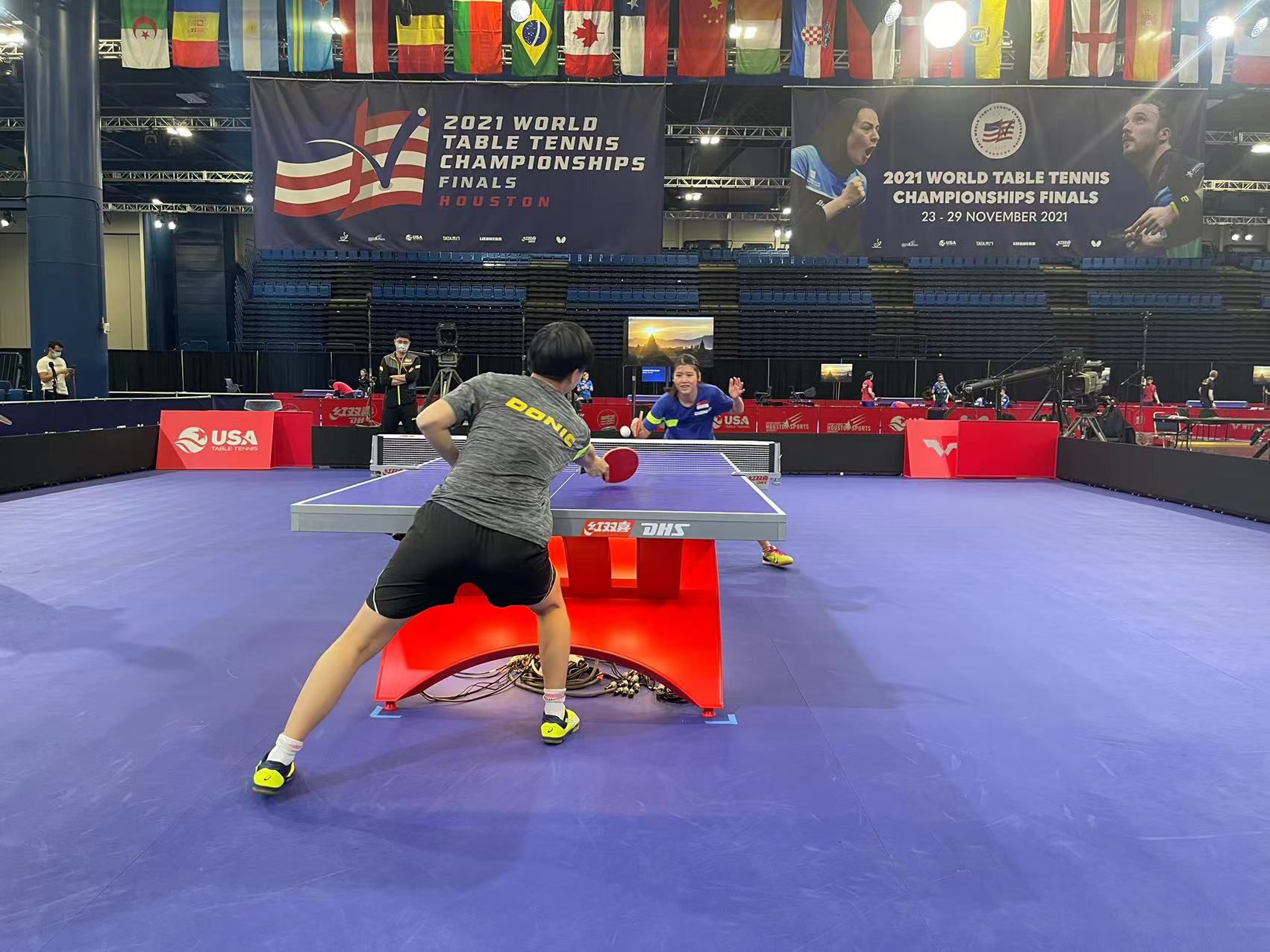 (TeamSG Padders in final training session at the 2021 ITTF World Championships in Houston 23/11/21. Photo by STTA)
By Raj Kumar
It's been 11 years since Team Singapore's Table Tennis community, last experienced the "top of the world" feeling. Back in 2010, the Republic's women's squad stunned defending champions China 3-1, to win the World Team Table Tennis Championships in Moscow. It was unprecedented and a milestone achievement for Singapore's sporting heritage. Before and after that Moscow campaign, our national paddlers also bagged 1 Silver and 2 Bronze medals at the Olympics in Beijing 2008 and London 2012 respectively.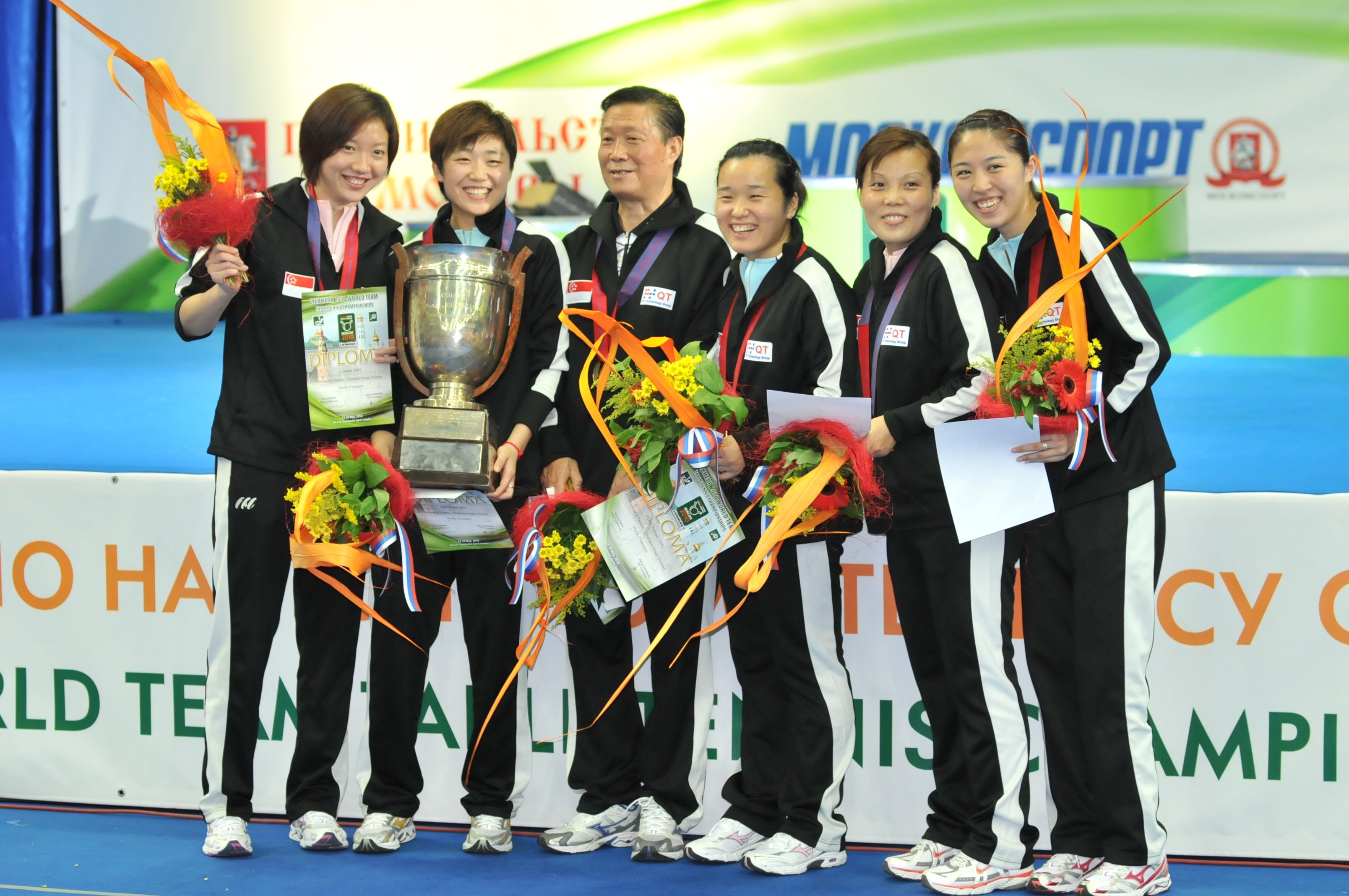 (Li Jiawei, Feng Tianwei, Coach Zhou Shusen, Sun Bei Bei, Wang Yuegu and Yu Mengyu in Moscow, 30 May 2010, after winning the World Team Championships - Photo by STTA)
Almost a decade since the famous Moscow triumph, the Republic's table tennis fraternity has witnessed a transition, with several newcomers coming through the youth ranks and staking their claim in the national team. In 2017, up and coming talents such as Lin Ye, Goi Rui Xuan and Wong Xin Ru were part of the Women's Team which won a historic Bronze medal at the Asian Championships. A year later, Koen Pang and Josh Chua clinched a Bronze at the World Junior Table Tennis championships.
That winning momentum by the youth brigade continued to the 2019 SEA Games in Manila, as we saw Koen and Clarence Chew seal the Gold and Silver medals in the Men's Singles division. Koen and Josh also secured the Doubles Silver. Lin Ye claimed the Women's Singles crown as Xin Ru and Rui Xuan finished 3rd in the Doubles.
Upon returning to Singapore, Covid-19 started to go global and our paddlers were confined to training locally for more than 18 months! That was till the Tokyo 2020 Olympics Games in July-Aug 2021. From September to November, the Republic's youth paddlers and the senior squad competed in the Middle East and Europe (mainly), in several events, winning medals of every colour. Xin Ru and Rui Xuan were also part of the Women's team, which successfully defended the Asian Championship Bronze medal.
After a 2-month overseas stint, our paddlers returned for a short break before departing for Houston Texas, for the 2021 ITTF World Championships. And during their 8-day acclimatization and training period, Circle News (SportSG) caught up (via an email interview) with the 5-member squad who're representing Singapore. And they are Feng Tianwei, Lin Ye, Koen Pang, Wong Xin Ru and Goi Rui Xuan.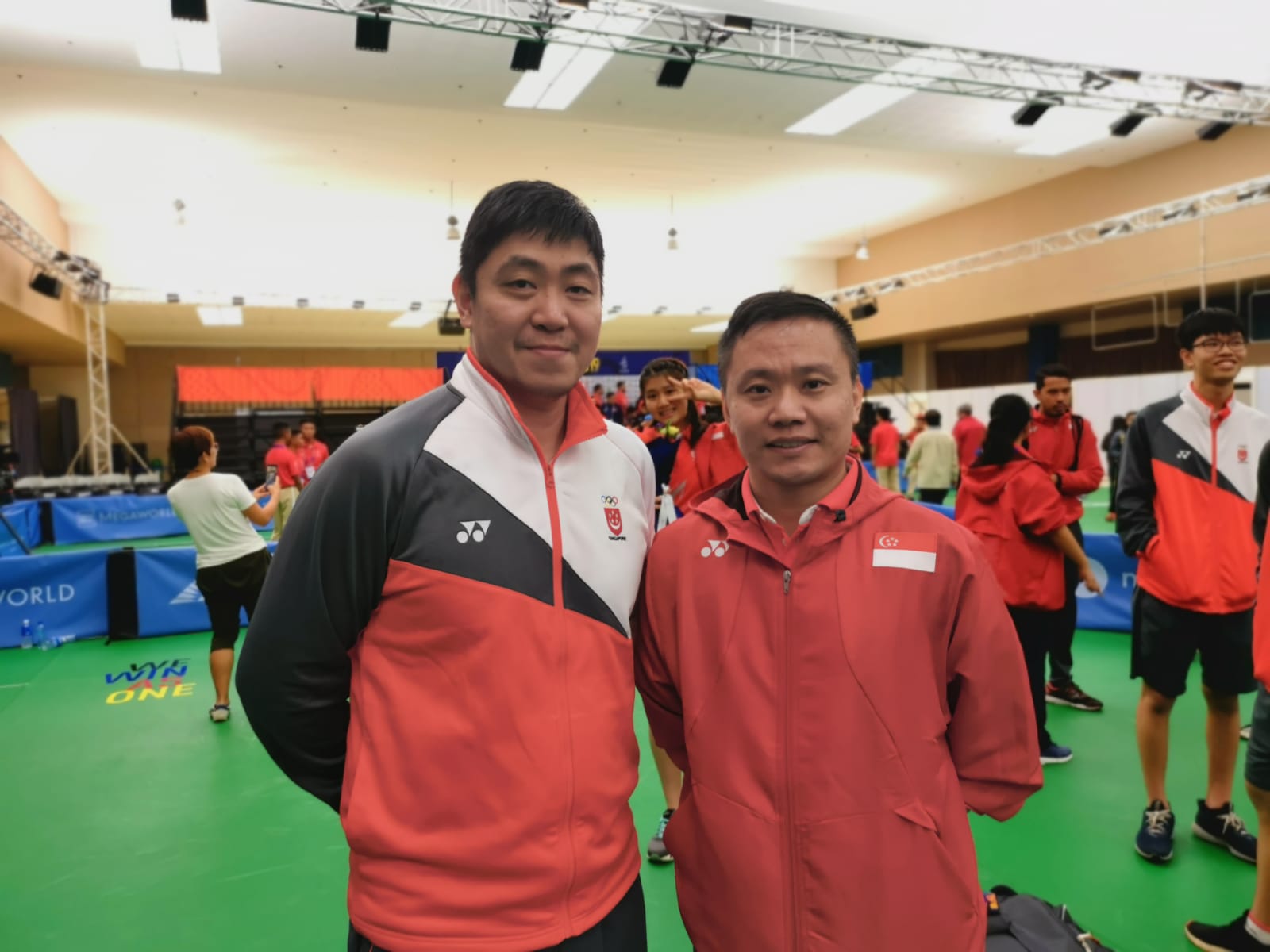 (Former TeamSG Paddler Gao Ning and Women's Head Coach Hao Anlin. Photo Credit : STTA)
Coach Hao Anlin :
Q1) This is a young team at the 2021 World Championships. And you've spent the last few months training and watching them compete internationally. Let's touch on Lin Ye first. How much has she grown since her Olympic debut in July and after competing in Asia and Europe since September?
Coach : Lin Ye competed in the Asian Championships and WTT Contender Slovenia event after the Tokyo Olympics. She has definitely matured and grown a lot from the Olympic experience. Lin has been building on her mental strength and skills over the years.
Q2) Lin Ye will be partnering Koen Pang in the Mixed Doubles in Houston. Can you describe this pairing's overall playing style?
Coach : For the upcoming World Championships, I believe both Lin Ye and Koen will stand a good chance of success. Most importantly, both athletes have the drive and are able to work closely together to reach the finish.
Q3) What can you tell us about Xin Ru and Rui Xuan, who are both making their World Champs debut?
Coach : Both Xin Ru and Rui Xuan have participated in several major tournaments. At the recent Asian Championships, our young team was able to retain the bronze medal. Wong and Goi were part of the team and they were able to showcase their full abilities in the Asian Champs' campaign.
Q4)What sort of results would you be satisfied with in the USA's very 1st time hosting the World Championships?
Coach : Our athletes will be playing in the Singles and Doubles events in Houston. And I have confidence in Team Singapore, that they are definitely capable of rising to the challenge at the World Championships!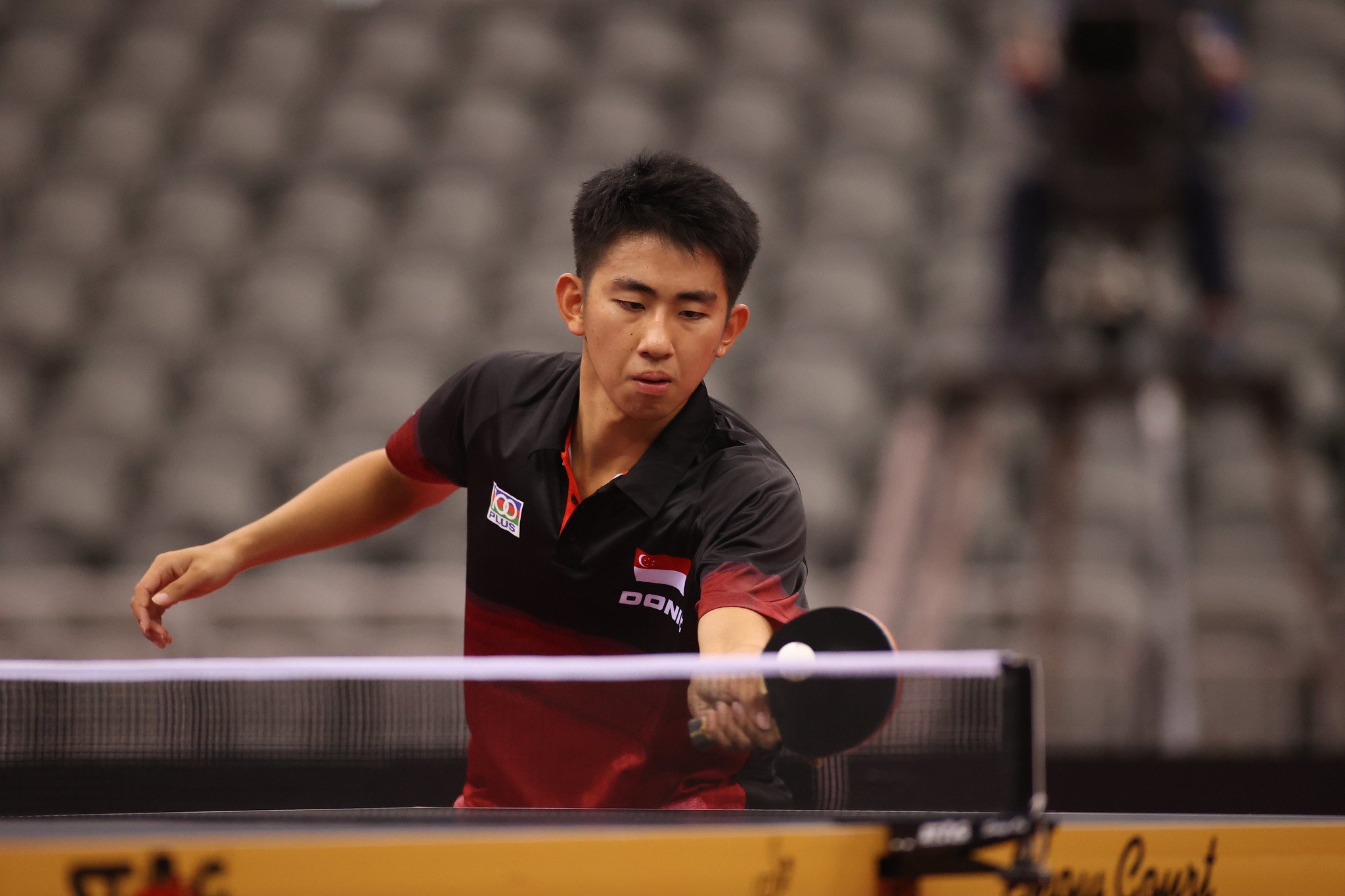 (TeamSG Paddler Koen Pang. Photo credit : STTA)
For Koen Pang :
Q1) You are still serving your National Service. Was it difficult to attain time off to train in your sport? Would you like to saw a few words about your NS Unit and the support they gave you?
Koen : I am still serving my NS, and it is still difficult to train as I only can train mostly on the weekends. That's unless I get time off to train during the weekdays. I am very thankful that my NS unit has given me the opportunity to come out to train more and play in the overseas competitions.
Q2) Back in September, you did compete at the Asian Championships in Qatar. And unfortunately, your Singles campaign ended in the round of 64. How would you describe that early defeat?
Koen : It was an eye opener in Qatar as I haven't really played many competitions during this pandemic. It is interesting to see how the game has changed and evolved.
Q3) This is your 1st World Championship campaign and you'll be competing in the Singles and Mixed Doubles. What have you done up to this point in terms of your training, to be ready for the challenge in Houston?
Koen : This is my 2nd outing to the World Champs. And for Houston, I've been preparing myself mentally and I am ready to challenge the best!
Q4) The SEA Games are in 6 months and you are the defending Singles Gold medallist. How important is it for you to do well at the World Champs, in preparation for the Hanoi Games next May?
Koen : It is important that I do my best in the world champs. But it will not mean everything, as I still have quite a long time to prepare for next year's SEA Games.
Q5) What can you say about your Mixed Doubles partner Lin Ye, who made her Olympic debut in July?
Koen : Lin Ye is a very experienced player and there is a lot to learn from her. She gives me advice on court and we are always improving our game.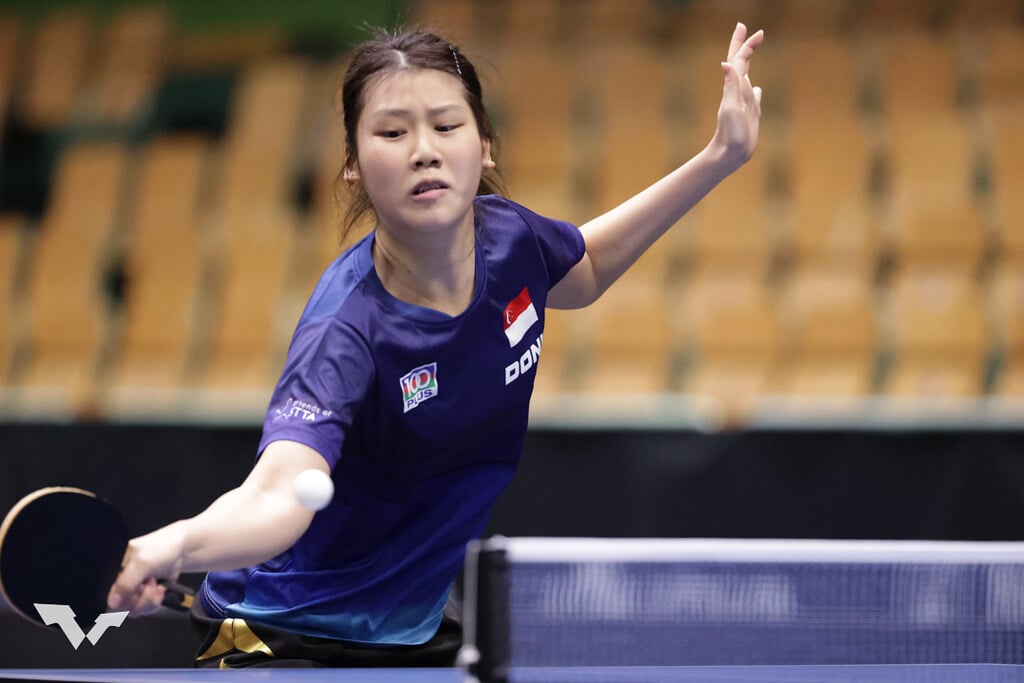 (TeamSG Paddler Wong Xin Ru. Photo Credit : STTA)
For Wong Xin Ru :
Q1)How are you feeling, now that you've arrived in Houston for your 2nd World Champs campaign?
Xin Ru : I'm feeling nervous, but excited at the same time as I get the opportunity to play with many world class players.
Q2) You were busy competing in the Middle East and in Europe over the last few months. Let's touch on the Asian Champs in Qatar first.
And together with your compatriots, you were able to defend the Team Bronze medal successfully. How do you feel about that achievement?
Xin Ru : It definitely feels great to defend the bronze medal (at the Asian Championships) we won previously in the 2017 edition, and with a new and younger team. This gives us hope, confidence, and motivation to train and compete competitively.
Q3) You did also compete in the Singles event at the Asian Championships in Qatar. And you also featured in the WTT Contender series twice in Slovenia over the last few weeks. Tried hard but just couldn't reach the last 16 in all 3 events. How would you describe your performances and what have you learnt from these experiences?
Xin Ru : Since the first competition in Qatar, I would say that my performance has been improving. I've reflected and identified my weaknesses and have worked closely with my coaches to improve. Through these efforts, I was able to progress into the main draw at the recent WTT Slovenia tournament. It is important to reflect and losing doesn't mean failing, as it's an opportunity for you to be even better. Spending time to reflect on what's lacking, and what could have been improved is very important, so that when I go back to training, I have a clear goal to attain in mind.
Q4) This is your 2nd World Championship campaign and you'll be competing in the Singles and Doubles. How do you hope to fare in Singles competition? And in the Doubles, you'll be partnering Rui Xuan. How would you describe your playing style and on-court chemistry?
Xin Ru : I am ready for the challenge at World Champs and this has motivate me to train harder. My partnership with Rui Xuan - I would say that we have clear roles in the Doubles. And there is good chemistry between us, as we've been doubles partners for quite some time. However, we have much to improve and learn in terms of doubles tactics and consistency.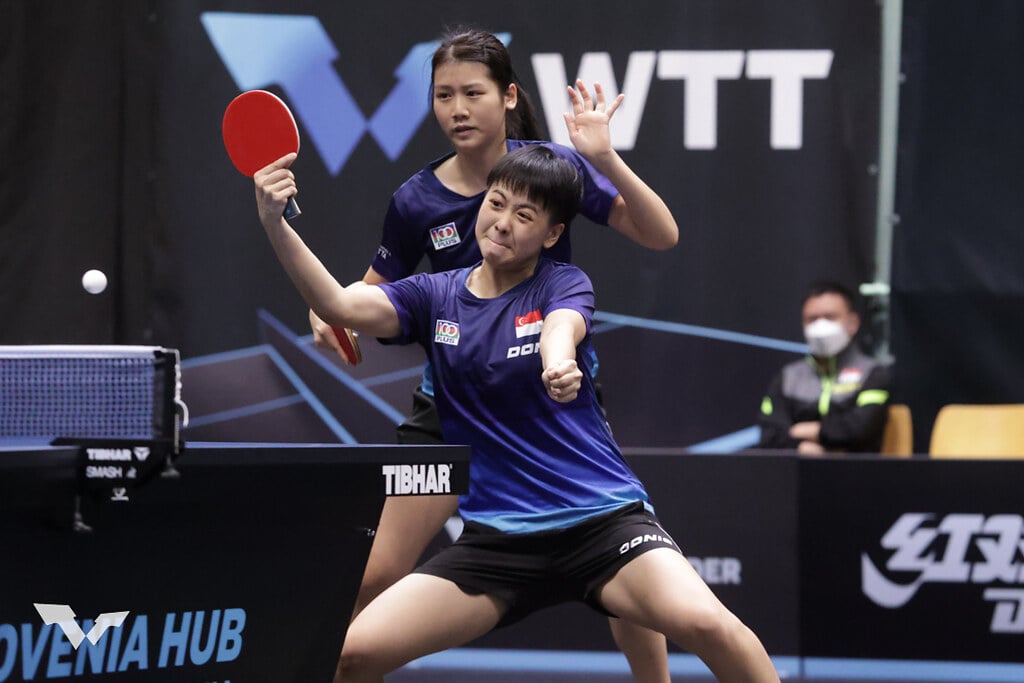 (TeamSG's Rui Xuan and Xin Ru : Photo credit - STTA)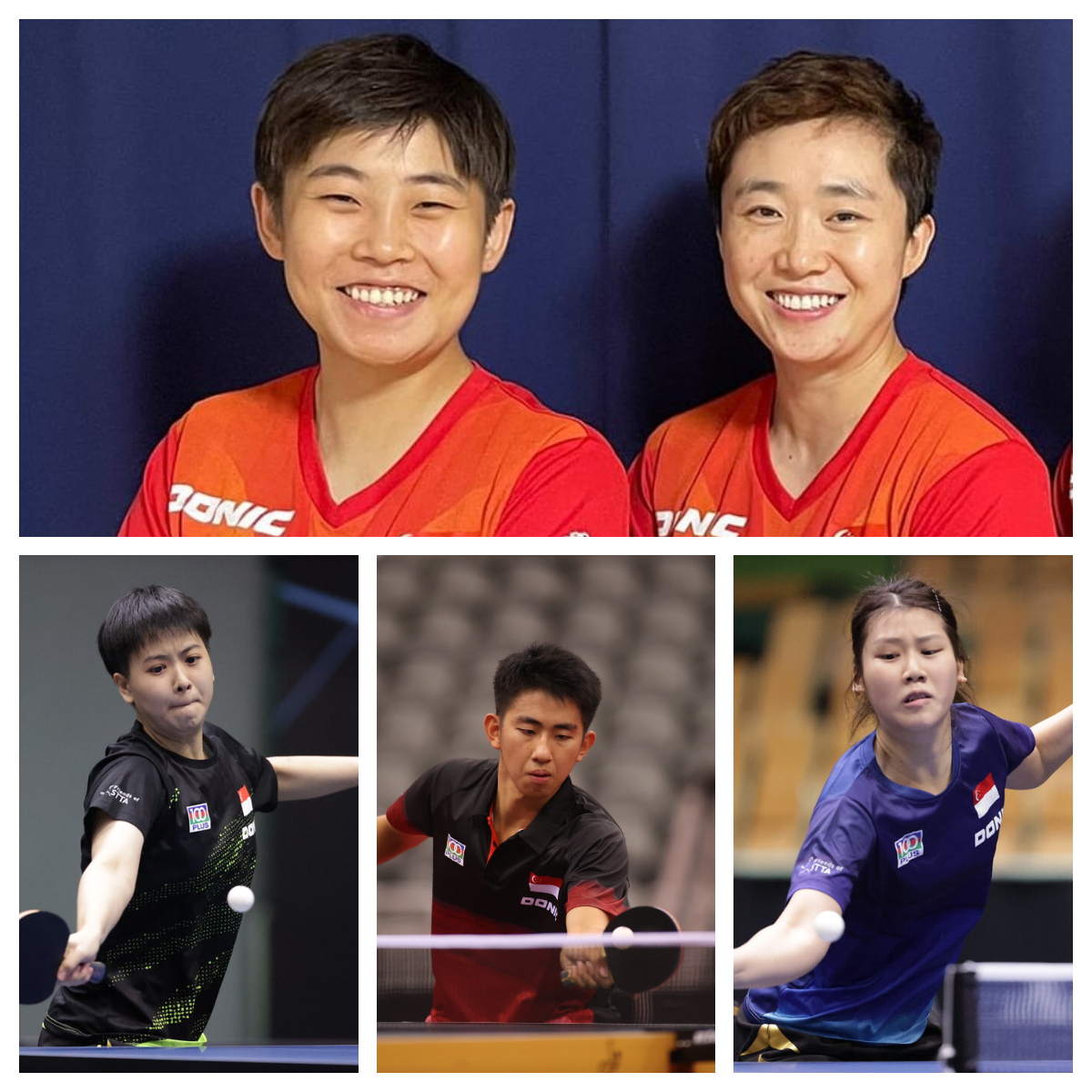 (Top L to R : Lin Ye and Feng Tianwei. Bottom L to R : Goi Rui Xuan, Koen Pang and Wong Xin Ru. Photos by STTA)
It's been a long and tough road from the 2019 World Champs campaign to the current event in Houston. A global pandemic "robbed" the athletes of being able to train or compete internationally for than 20 months. But our TeamSG athletes kept their morale up, trained within the local safety management measures. And when they finally got the green light to travel to compete in Qatar and Europe, they seized the opportunities with extreme eagerness, excitement and passion to represent the country. And on the eve of the start of the World Championships, we wish our Team Singapore paddlers, the Best of Luck, Success and Safety in the US :)
Raj Kumar's been in Singapore's sports reporting and broadcasting scene since 1997. He was the former Sports Editor and Presenter on Power 98FM (SAFRA Radio) and 938LIVE (Mediacorp Radio). Over the years, he travelled to report on Team Singapore at the 2008 Beijing Olympics and 2012 London Olympiad, including 4 SEA Games cities. As a familiar voice and face on Radio, TV and online sports, he has produced and hosted more than 650 talkshows and programmes.
Recent Events & Programmes