Squash
Samuel Kang wins DYMON Asia SGSquash circuit #1 main event, to kick off the annual squash season
by Circle Stories, on March 9, 2021 16:00 PM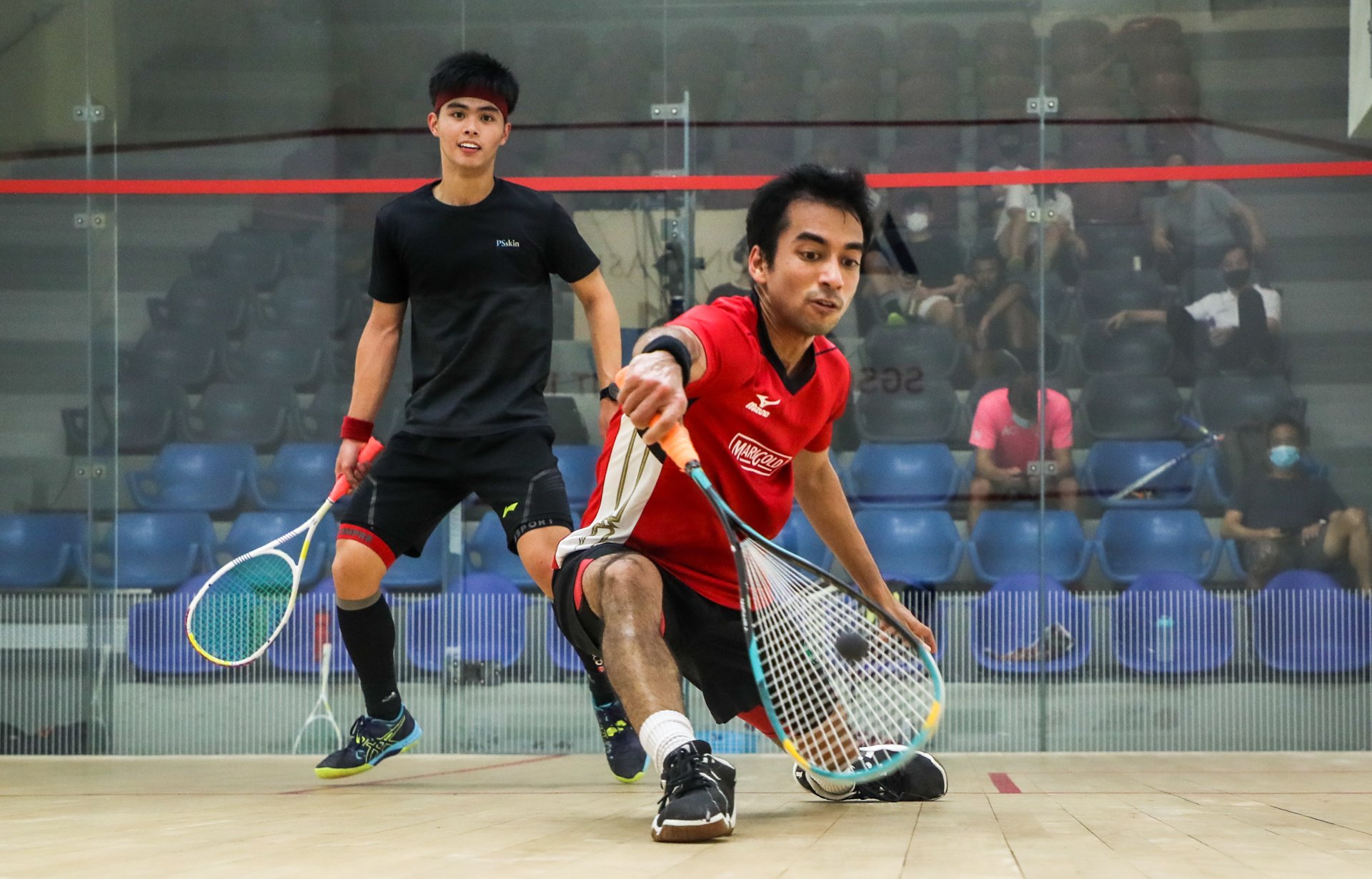 The 2021 squash calendar kicked off with the DYMON ASIA SGSquash Circuit #1 at the Kallang Squash Centre held from 27 February to 6 March. The event featured four categories for players of different levels, competing on a circuit format – all players would play the same number of matches to determine their final placing at the end.
With safe distancing measures in place, no public spectators were allowed into the venue, but the main matches were streamed live on Singapore Squash's Facebook page.
Fresh from winning his fourth national title in November, Samuel Kang solidified his status as Singapore's top player by winning the main event, the Mixed Open. The 30-year-old, who was hardly troubled on the way to the final, had his toughest test in the form of youngster, Aaron Liang.
Samuel started the match very much in control and raced to an 8 -1 lead, aided by the error-strewn attempts of his younger opponent. But Aaron slowly clawed back into the game with a much better strategy of using all corners of the court to move his opponent. He did that very well and was rewarded with eight consecutive points to lead 9-8. However, he seemed eager again once he was in the lead, trying to finish off rallies too soon, which in turn presented Samuel the opportunity to put the ball away.
The second and third games were also of similar pattern, where Samuel would open up a lead before Liang tried to catch up. But in these two games, Samuel never allowed Aaron to come back as far, finishing off the match with a two-wall backhand boast that was out of Liang's reach.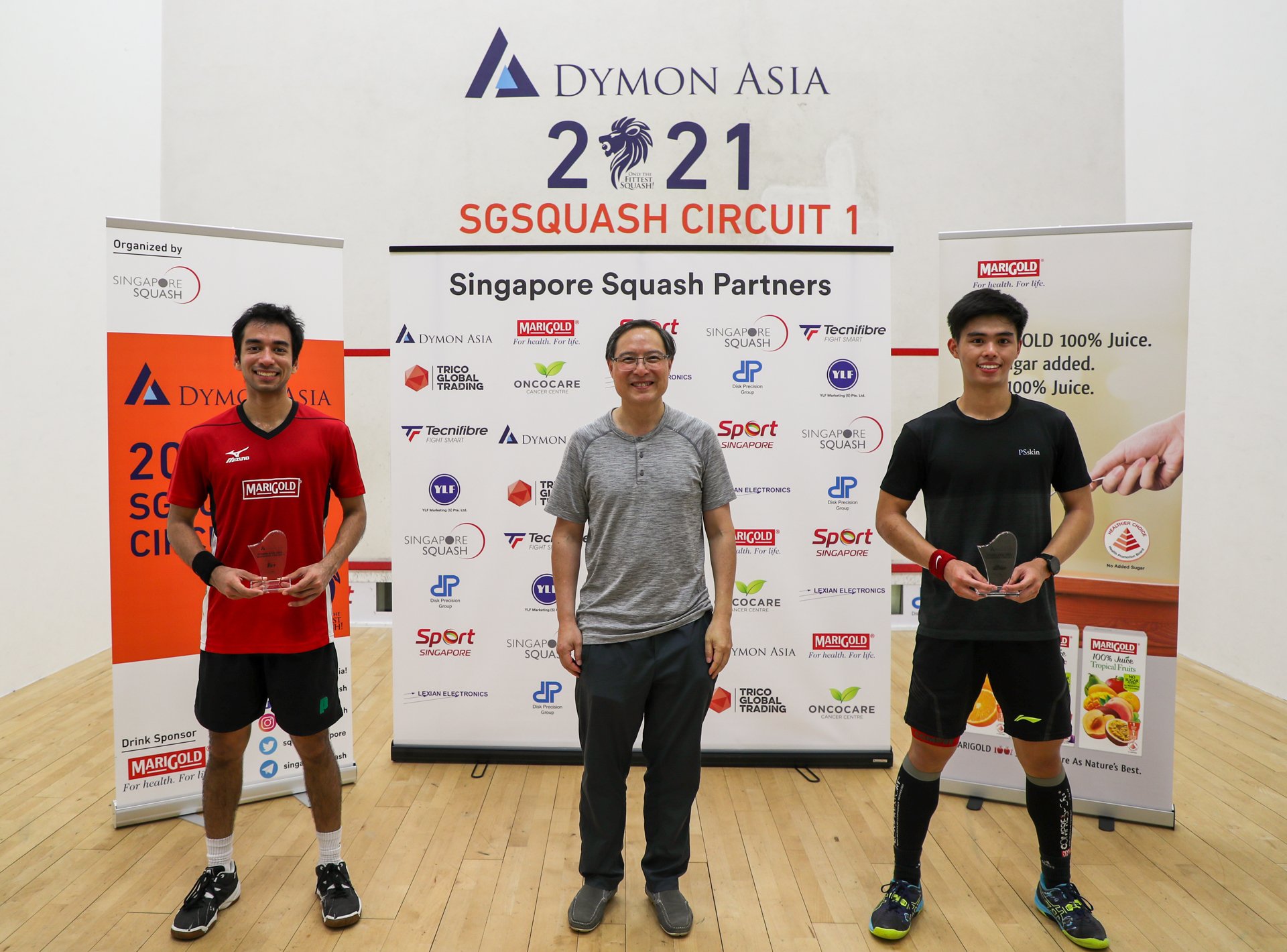 "I felt physically flat from the start and I was quite fortunate to get that lead in the first game. But a bit disappointed I didn't push on to close that. His shots were coming in after that and I knew I had to hang in there, and to play the right shots at the right time", Samuel said when asked, what went on in his head when Liang came back so strongly in the first game.
He also added, "I think we are very privileged here to be able to get on court so often and to even have a tournament. It's good for the country, it's good for the squash scene here. We saw that Singapore is trying to host a couple of sporting events like the (ATP 250) tennis event, so hopefully we can hold bigger (squash) tournaments".
Samuel's hopes on having bigger squash events on the island could well be true, given that the Singapore Squash Rackets Association is already working on a plan to host a Professional Squash Association (PSA) Gold event. If everything works out and given the scarcity of tournaments on the professional tour this season, Singapore could be hosting the world's best players for the first time in many years.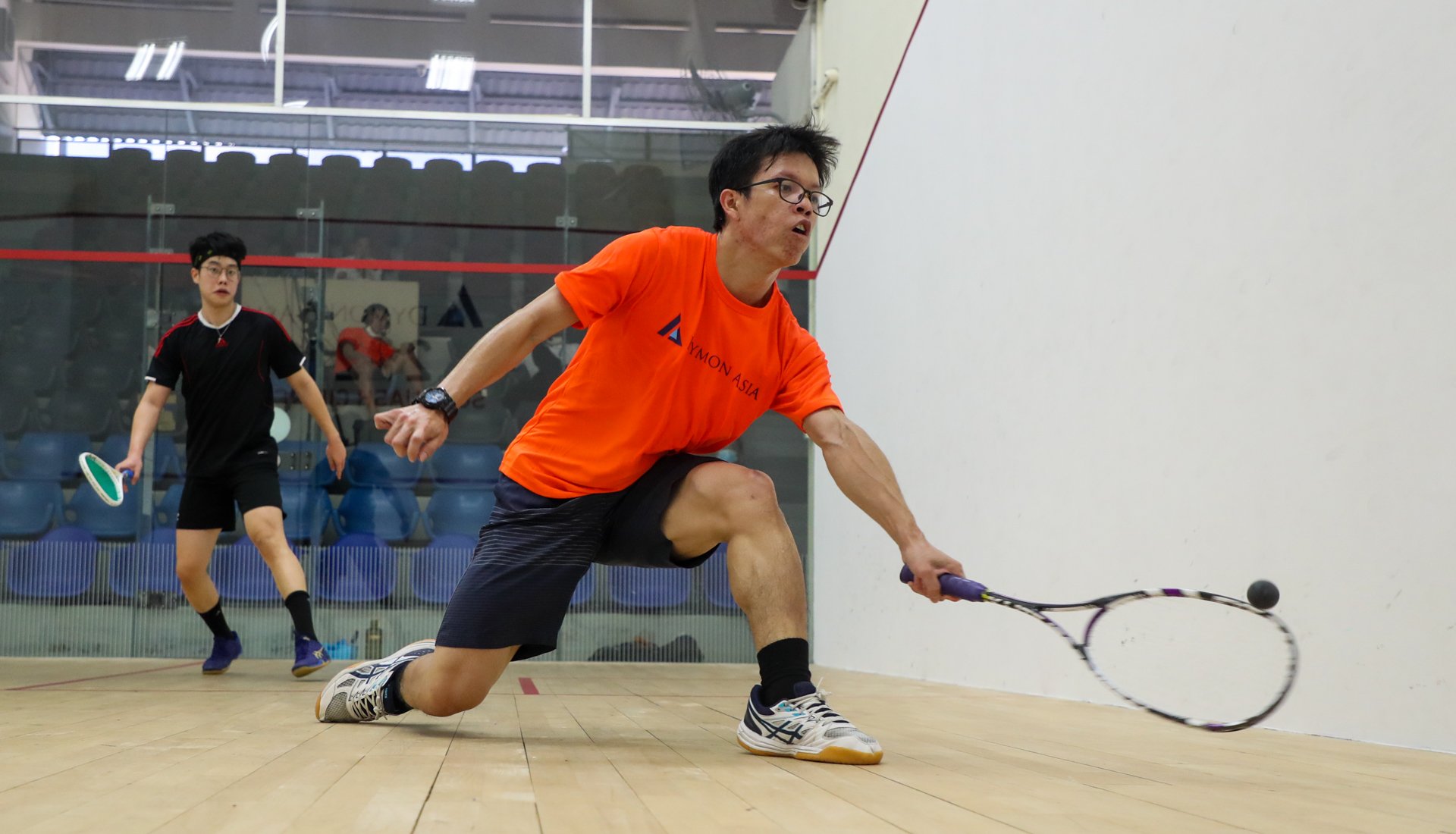 In the Men's Division 1 event, winner Jia Shen Nur Ad-Din and former national junior Tan Hua Wang produced the match of the day. The pair, neither who were seeded to play in the final, battled for close to an hour on centre court.
After dropping the first game 11-9, Jia Shen calmly took the second and snuck in the third on the tie-break for the overall lead. But his heroics took its toll in the next game, as he went down tamely and perhaps on purpose, to allow Hua Wang to draw level.
His strategy to let go of the fourth proved worthwhile as he was able to be competitive in the fifth. It was really anyone's game and match from here on, and it was apparent both were feeling the effects of their ferocious rallies. In the end, it was the lower-seeded Jia Shen who would walk away victorious after 52 minutes.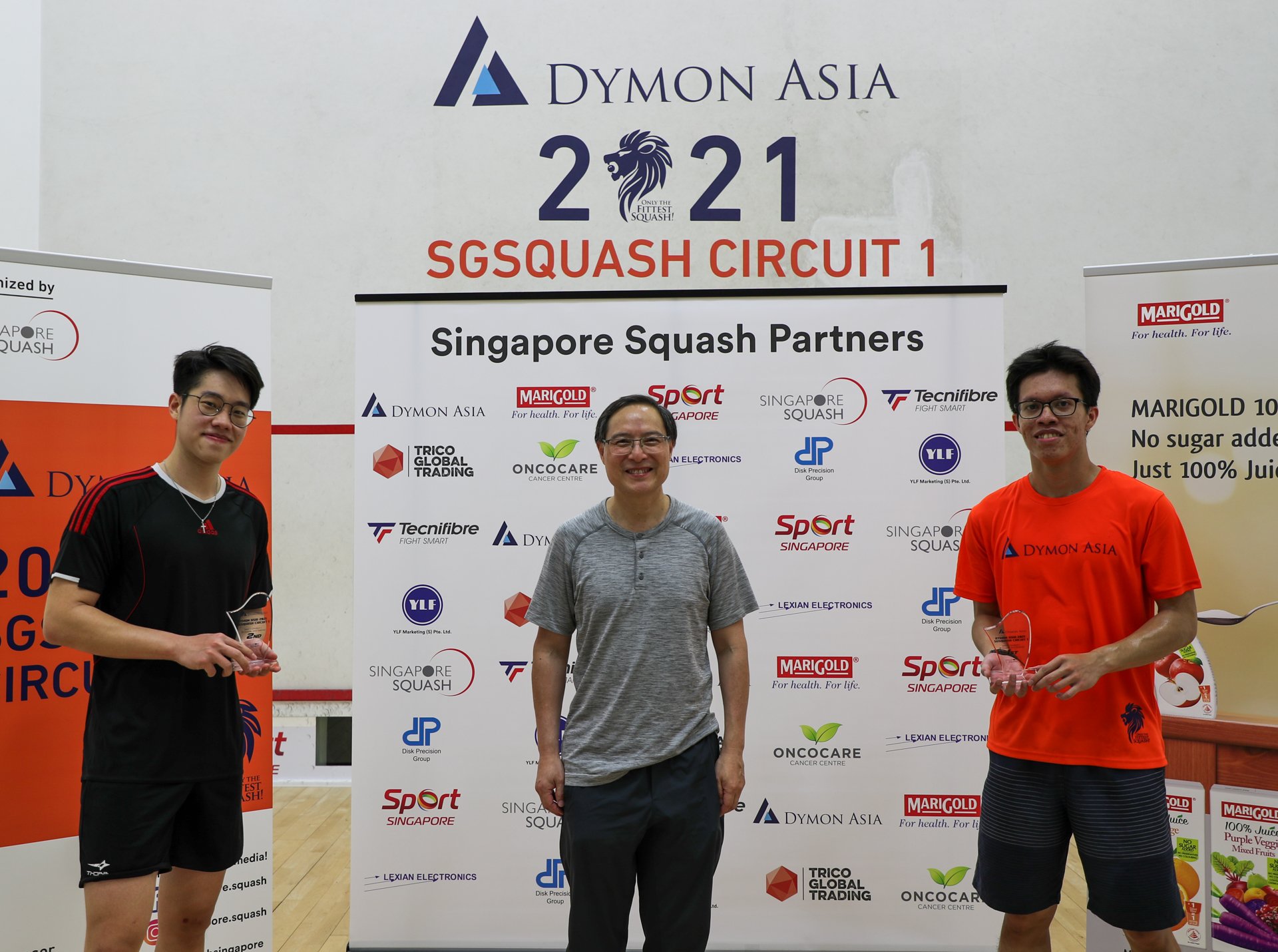 "I think towards the end of the fifth game, both of us were a little hesitant to play to the front. We kind of just kept pushing it to the back. I was just trying to pick up everything. My mind wasn't really working, and I was just going with the flow", said Jia Shen, who has also considered representing Singapore but has his reservations given his academic commitments.
In the lower Men's Division 2, unseeded Joel Tan made it five upsets in a row, after beating joint-fifth seed John Caleon in four games. In the Women's Division 2, top seeded national junior Swetha Sivakumar beat fellow national trainee Vicky Lai in four games.
Singapore Squash Rackets Association President Patrick Thio was delighted that DYMON ASIA came on board as title sponsor of the event. He also added:
"It's good that we have new sponsors coming on board as that would widen the donor base for the sport. Being the first tournament of the year, we are very thankful for the support of SportSG for allowing us to carry on, although we are limited to only 32 participants per category. Unfortunately, we had to reject some participants as we have fully maximised the participation.
"We are always trying to increase the number of squash players in Singapore and we always encourage players to bring their friends in. We will also be having a novice tournament to bring new players into squash, introduce them to the game, and widen the base of players. Hopefully, we will also find a raw diamond in this group of novices that we can groom to be a feeder to our elite pool of players.
RESULTS (All Finals)
MIXED OPEN
Samuel Kang beat Aaron Liang 11-9, 11-7, 11-5
MEN'S DIVISION 1
Jia Shen Nur Ad-Din beat Tan Hua Wang 7-11, 11-6, 12-10, 4-11, 13-11
MEN'S DIVISION 2
Joel Tan beat John Caleon 11-5, 6-11, 11-2, 11-8
WOMEN'S DIVISION 2
Swetha Sivakumar beat Vicky Lai 11-6, 11-6, 7-11, 11-8
(Report prepared by Singapore Squash Rackets Association)
Edited by Raj Kumar
Follow us on Telegram for more news and updates.
Related Events & Programmes