Team Singapore
Despite the pandemic & postponement, TeamSG athletes attained SEA Games targets!
by Circle Stories, on May 21, 2022 16:00 PM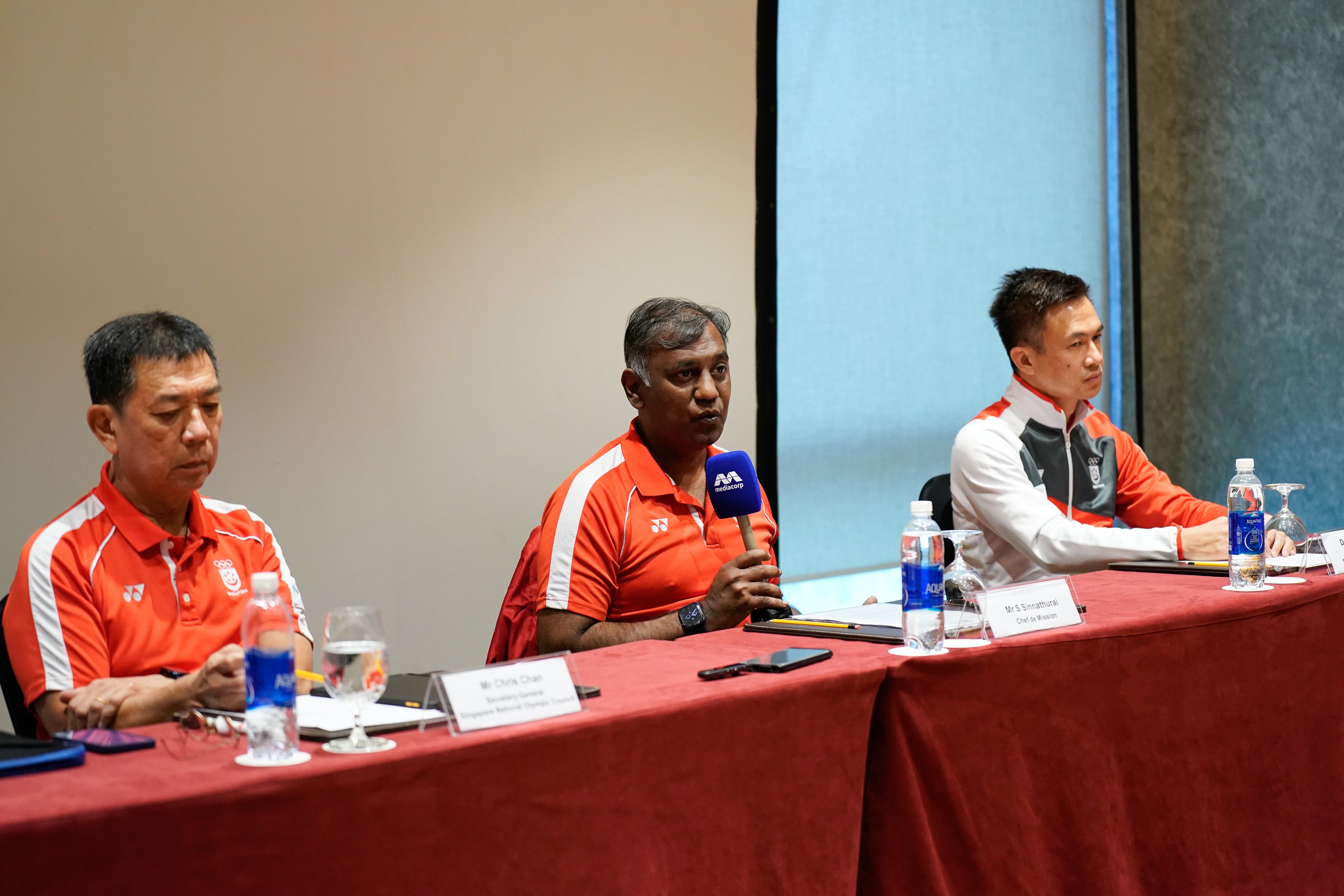 From Left : Chris Chan (Secretary General, Singapore National Olympic Council), S Sinnathurai (Chef de mission, Team Singapore) and Dr Su Chun Wei (Chief, Singapore Sports Institute). Photo Credit : Sport Singapore/ Lim Weixiang
By May Chen


Even with a day of competition still to go at the SEA Games, TeamSG has already met the internal targets set before the contingent set off for Hanoi.

Sports administrators from the Singapore National Olympic Council and Sport Singapore met with the media this morning (May 22) in its usual Games-end wrap up. And they affirmed a performance that has translated not just in the form of silverware, but also the level of grit shown.

As of Sunday evening 7pm (22 May), Team Singapore's 424-stong contingent across 33 sporting disciplines, has garnered 47 gold, 45 silvers and 71 bronze medals - a haul that has come with 5 Games records, 12 national records, and 34 personal bests.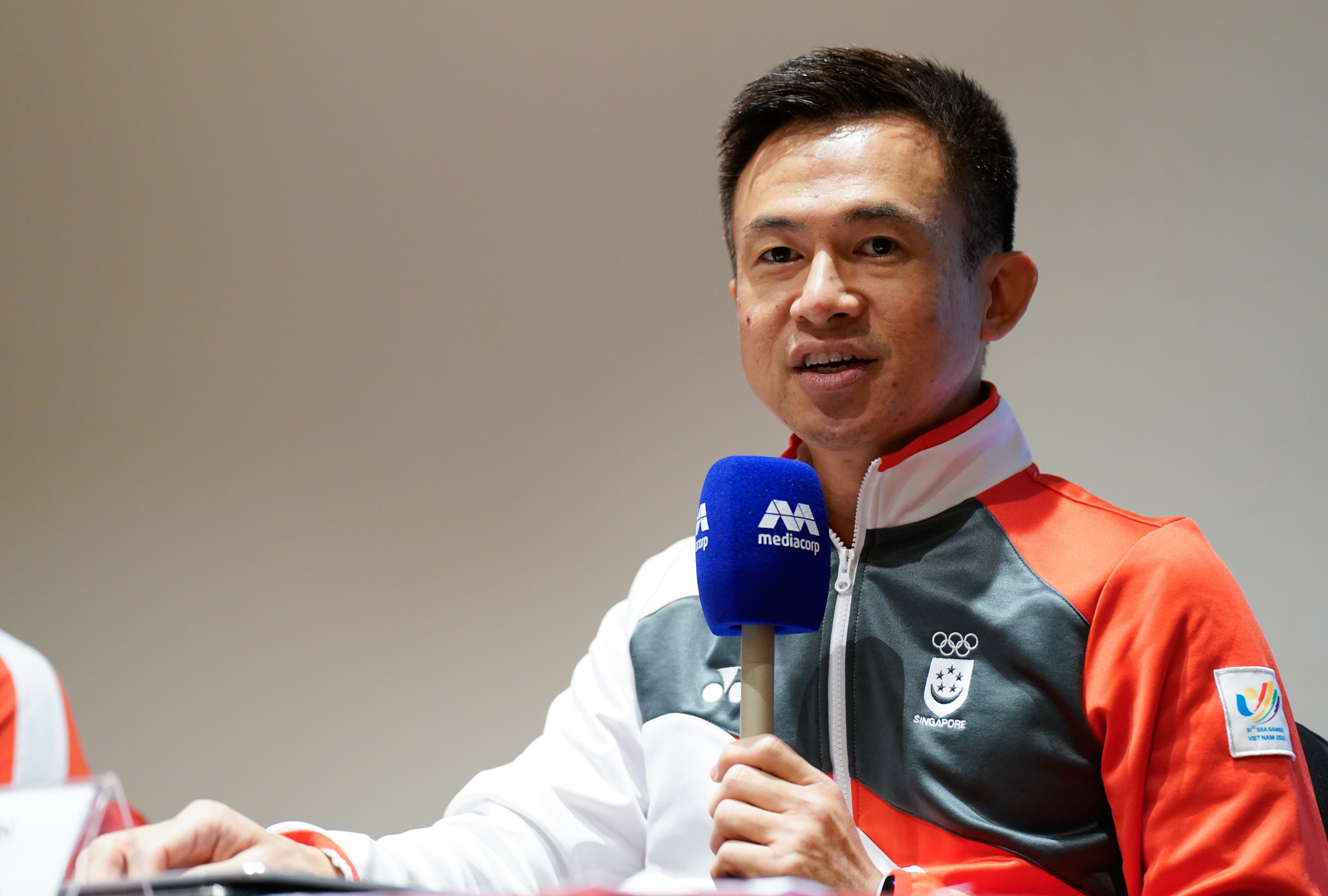 (Chief, Singapore Sports Institute - Dr Su Chun Wei. Photo Credit : Sport Singapore/ Lim Weixiang)
Dr Su Chun Wei, chief of the Singapore Sports Institute, said: "We have set ourselves expectations internally and which we hold ourselves and athletes to. We've achieved that."

The Hanoi SEA Games is coming to an end, having been postponed from late 2021 due to the Covid-19 pandemic. Other than disrupting high performance plans for National Sports Associations, the delay also largely affected training and competition schedules for athletes.

Dr Su said that TeamSG have taken all the setbacks in their stride, juggled the curveballs thrown at them, and performed despite the setbacks. Team Singapore demonstrated what it takes to win, to come here and give their best, (show) determination and resilience, perseverance and ambition to do their best for excellence. That's very admirable.

"Suffice to say, it's important to also note that Team Singapore is in good health… This is a very important takeaway," added Dr Su.

Athletes from a variety of sports – and across a wide spectrum of ages – have successfully made the podium.

Said Dr Su: "This is important to note that this demonstrates the effectiveness of our high performance system and our athlete development framework, investing in the long-term development of our athletes and demonstrates regeneration of new athletes from cohort to cohort. We'll nurture young budding athletes early and not just rely on the senior cohort."

There was special mention of sporting disciplines like swimming, which with 21 gold, 11 silvers and 12 bronzes continues to be Singapore's best performing sport at the biennial event. There was also praise for fencing and pencak silat, both of which finished with their best Games showing.

Athletics, too, was lauded for a remarkable turnaround from the last Games in 2019, when the sport won three bronzes. This time, they took home one gold, three silvers and seven bronzes – this included podium finishes in events that have eluded Singapore for as long as 53 years.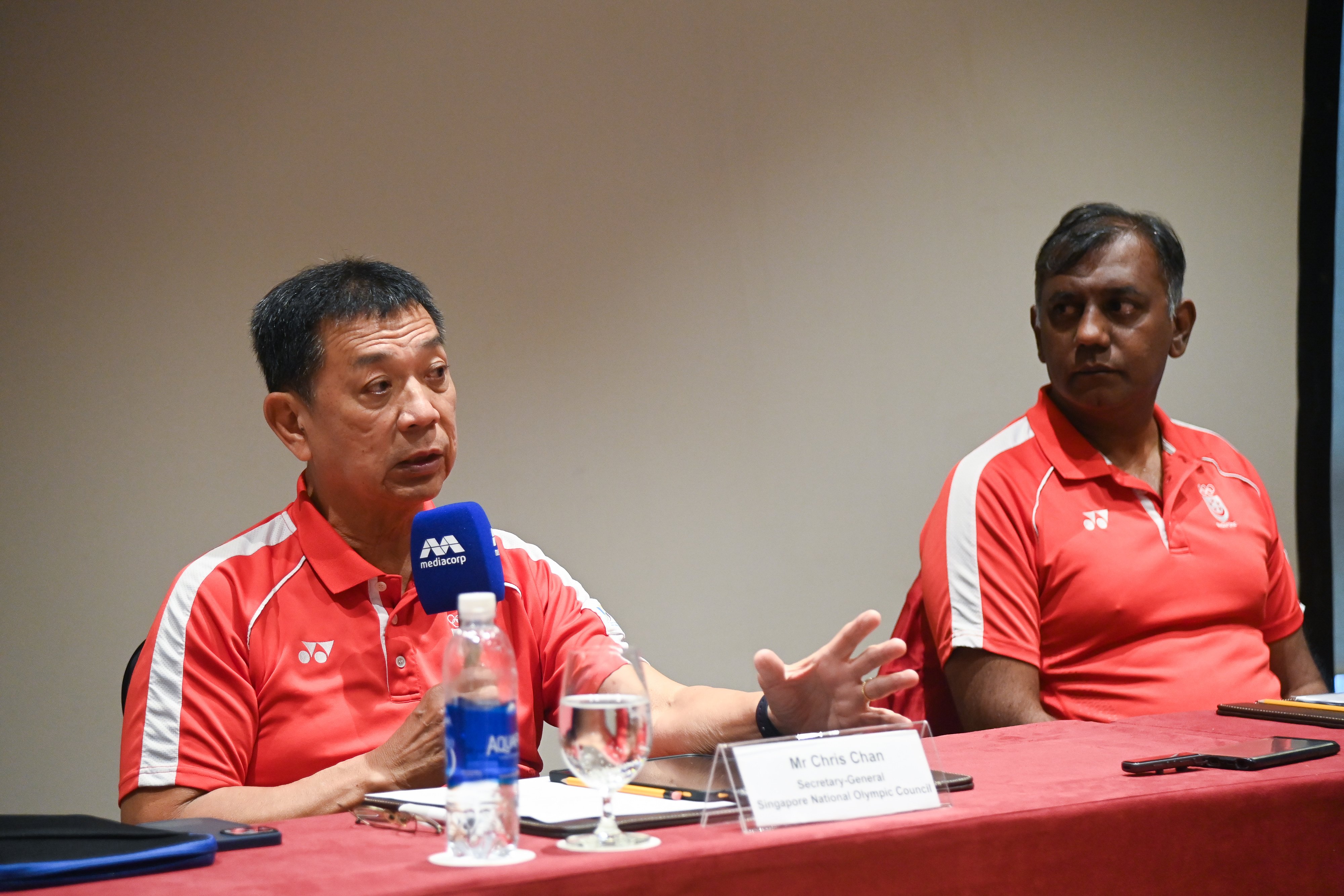 (Secretary-General, Singapore National Olympic Council - Chris Chan. Photo Credit : Lim Weixiang)

Said Singapore National Olympic Council secretary-general Chris Chan: "I'm delighted. I hope this is the spark that will stir interest in younger athletes. Looking ahead to 2025 (Thailand), 2027 (Malaysia) and 2029 (Singapore), we've got three big (National Olympic Committees) hosting the Games.

"2029 is the runway for us. Our intention is to come up with a very robust sports programme, fewer regional sports and more that will prepare the NOCs for the Asian and Olympic Games."

Still, sports administrators did name a few sports that will need to find a way to bounce back from a less-than-ideal performance in Hanoi.

Said Dr Su: "They have a lot to reflect on, to regroup and determine to do better. We're committed to do work with them and make sure that the only way is up.

"I don't want us to rest on our laurels. This is a good performance, we've met internal targets, but let's not focus on that. The focus must be on what's coming next and what is our process, and what can we do to consistently replicate that."

Meanwhile, TeamSG's 21 year old swimmer Quah Jing Wen was the best individual performer with 6 gold medals. And almost 35% of our 245 debutants managed to medal at the 31st SEA Games.
For the latest Team Singapore coverage and news, follow Team Singapore on their social media channels (Facebook, Instagram, TikTok) or visit the official Team Singapore website.
Recent Events & Programmes