Team Singapore
TeamSG bowling complete women's sweep, as swimming draws to a close in Hanoi!
by Circle Stories, on May 19, 2022 16:00 PM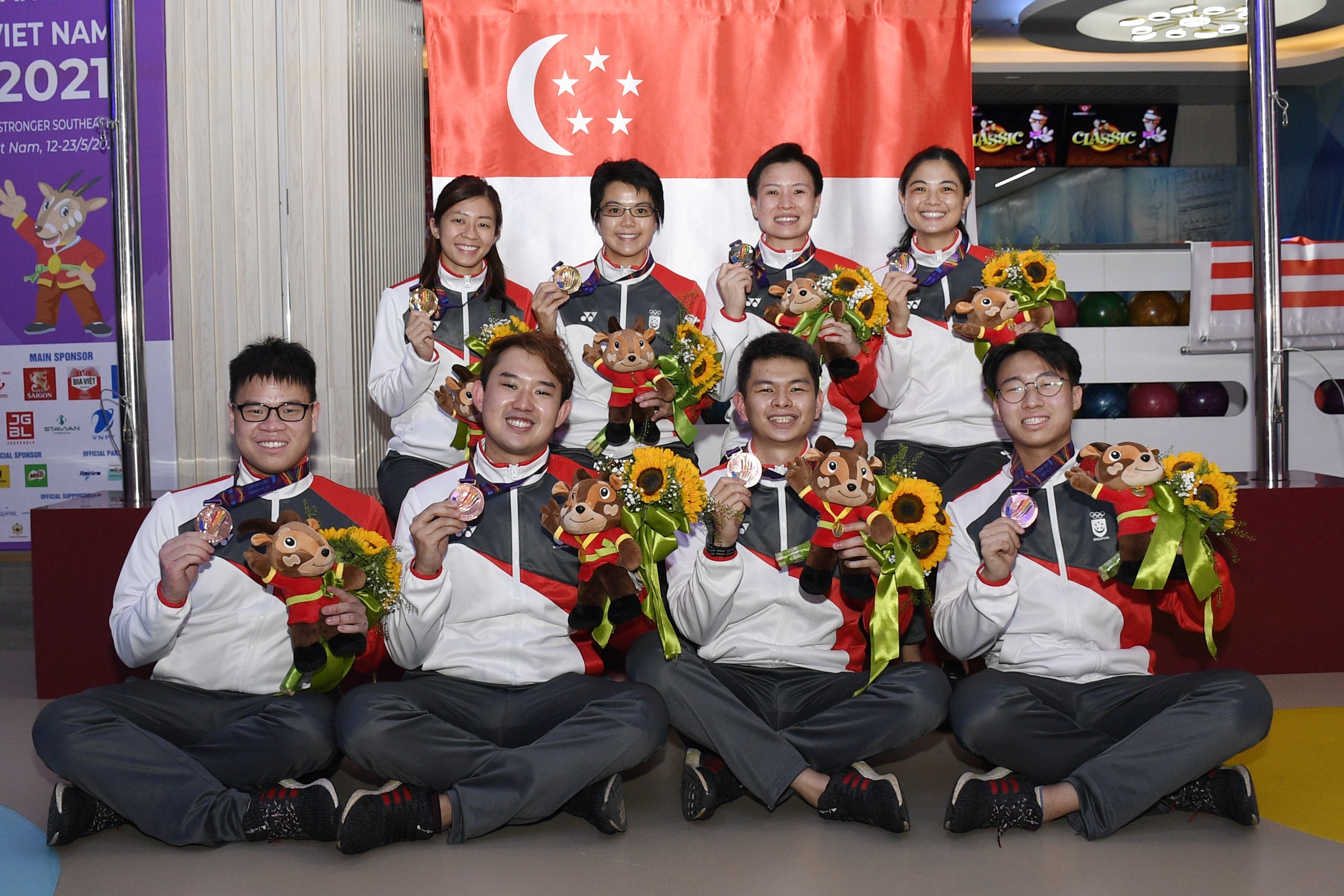 (TeamSG's Bowlers complete impressive performance in Hanoi. Photo Credit : Sport Singapore/ Alfie Lee)


By May Chen

The swimming competition came to a conclusion at the Hanoi Games on May 19, with Singapore top of the medal tally at the My Dinh Water Sports Palace once again.

TeamSG athletes across all sports that featured on Thursday collected 7 gold, 3 silvers and 7 bronzes. The contingent's overall haul, with 3 days of competition to go, stands at 44 gold, 43 silvers and 56 bronzes.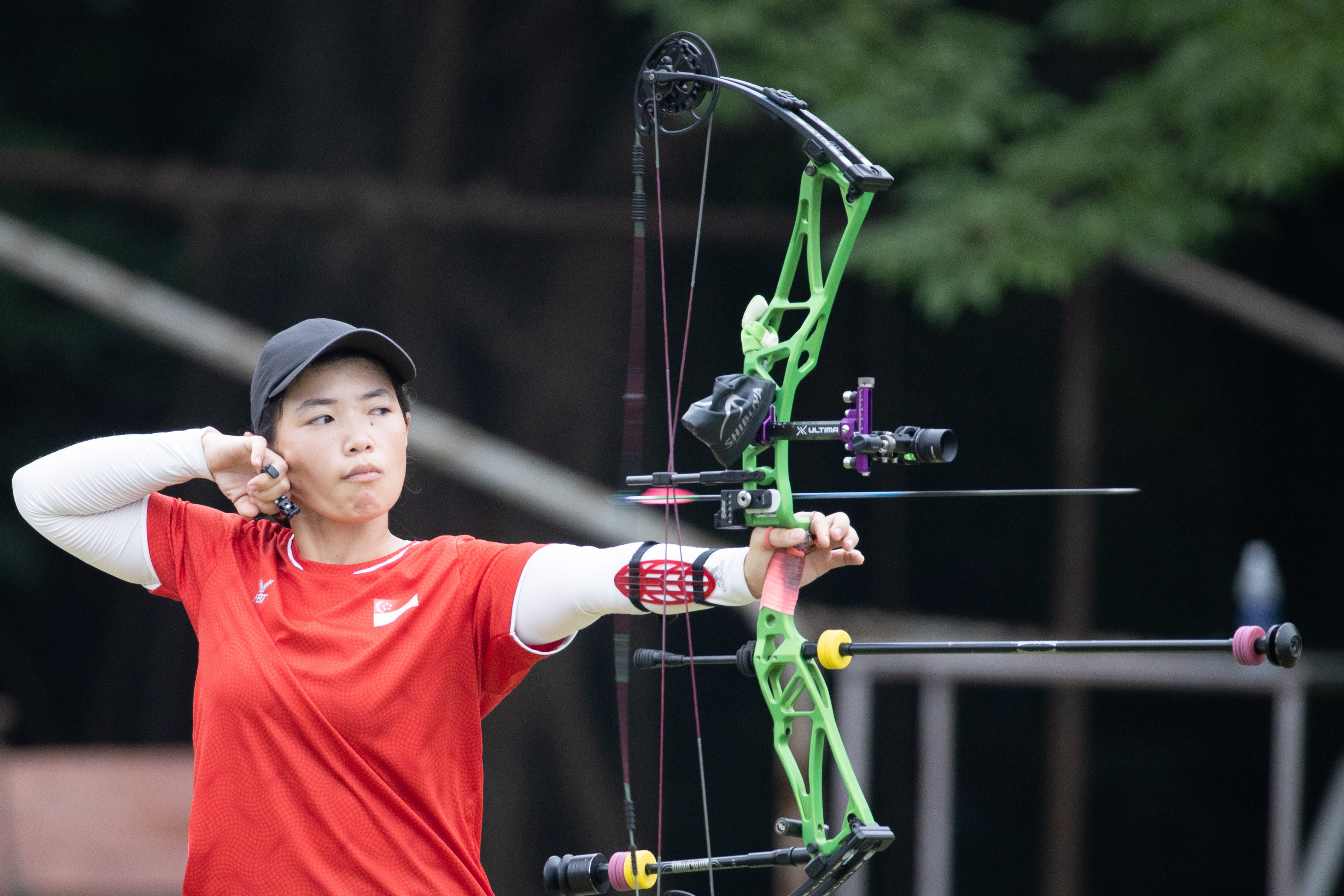 (TeamSG's Contessa Loh in action. Photo Credit: Sport Singapore/ Dyan Tjhia)

Contessa Loh right on target to win first archery gold

This was a long time coming and she finally nailed the gold on her 3rd attempt. Contessa Loh won TeamSG archery's first gold at the Hanoi Games, in the women's individual compound event. It was the first time Singapore had tasted gold in the compound discipline, while Madeleine Ong sealed the bronze medal for the Republic.

Contessa beat Vietnam's Le Phuong Thao 144-140 in the grand final showdown, while her fellow 27 year old teammate Madeleine, defeated another Vietnamese Nguyen Thi Hai Chau 146-140 in the bronze medal match.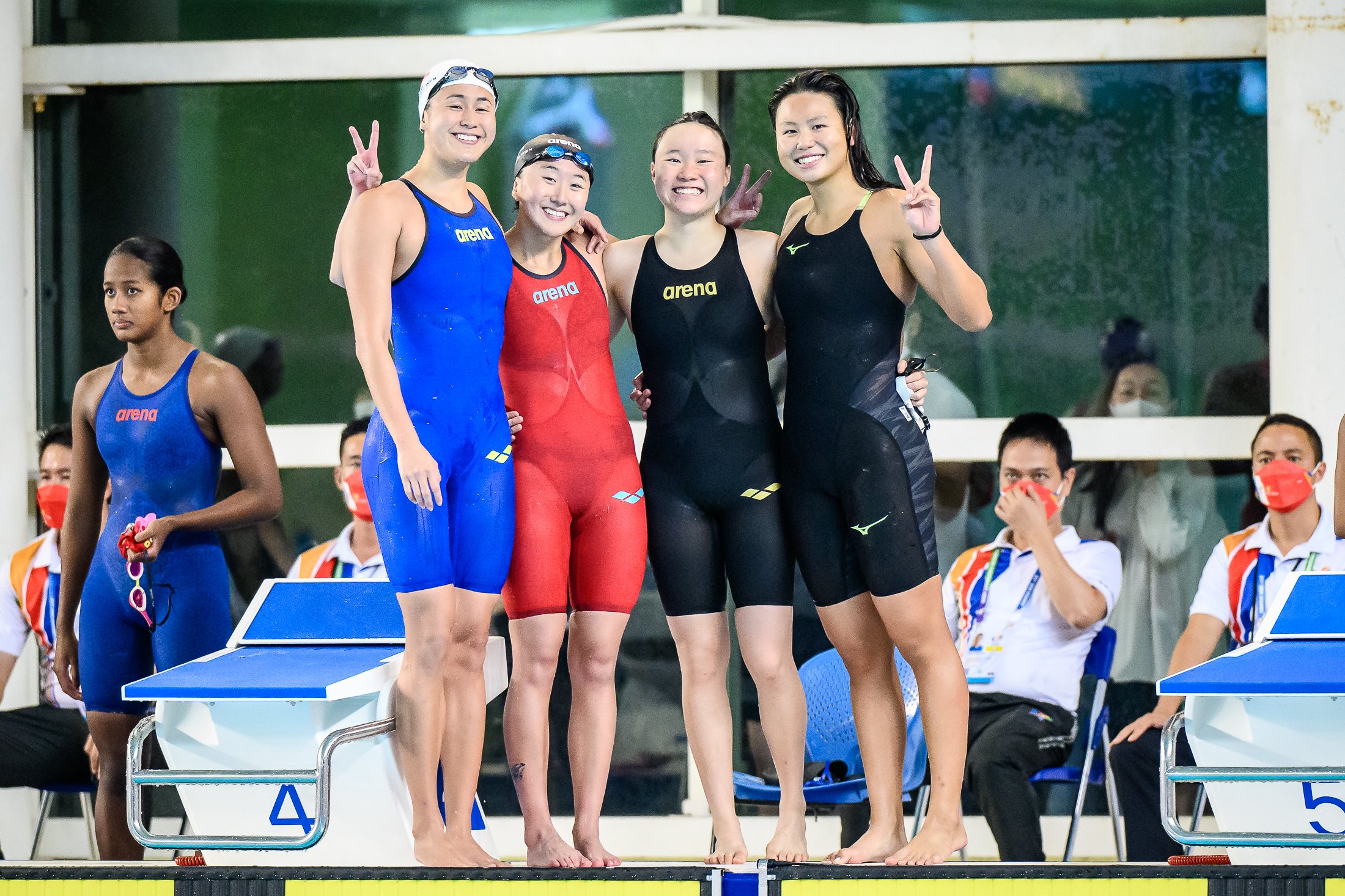 (TeamSG's Women's 4 x 200m freestyle quartet of Gan Ching Hwee, Jing Wen, Quah Ting Wen and Christie Chue. Photo Credit : Sport Singapore/Andy Chua


Swimming kingpins finish top of Southeast Asia again

Singapore swimmers showed just why they were Southeast Asia's top swimming nation, finishing the Games with an overall tally of 21 gold, 11 silvers and 12 bronzes.

The haul included some momentous titles, such as Maximillian Ang's 200m breaststroke, a first for Singapore in SEA Games history. There were also Games records, such as Teong Tzen Wei's swim on the final day of the competition, clocking 21.93 seconds (50m Freestyle final) to be the first Singaporean to dip under 22 seconds. And Quah Jing Wen is the team's most successful swimmer, with 6 gold medals in Vietnam.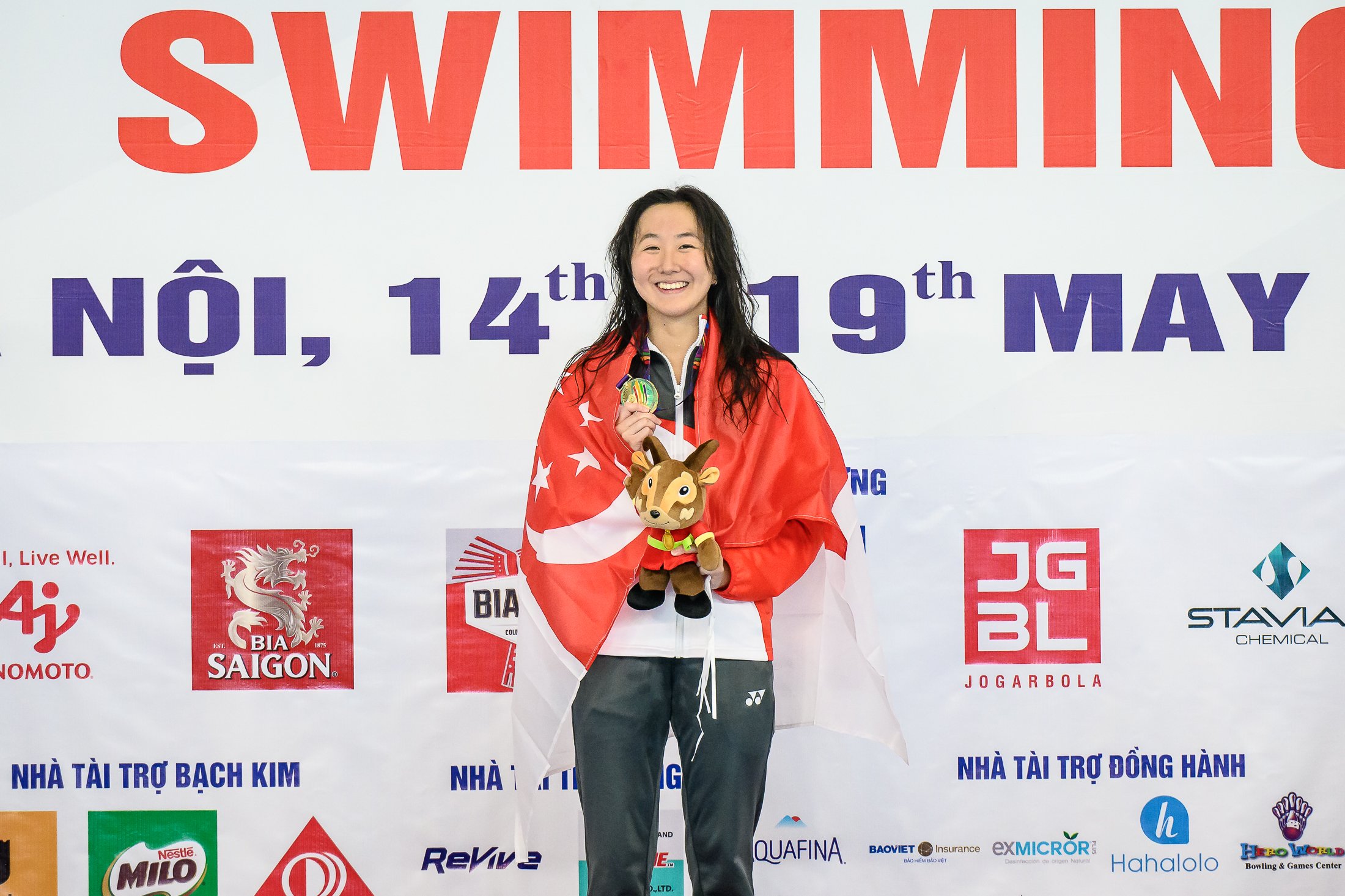 TeamSG's Quah Jing Wen with her 6th gold medal in Hanoi. Photo Credit : Sport Singapore/Andy Chua)

Women sweep titles in bowling competition

Singapore's women showed why they came to Hanoi as overwhelming favourites, sweeping all three gold medals on offer in the bowling competition. The quartet of Cherie Tan, Daphne Tan, New Hui Fen and Bernice Lim closed out their campaign with 5,409 pinfalls in the team event, leapfrogging overnight leaders Malaysia.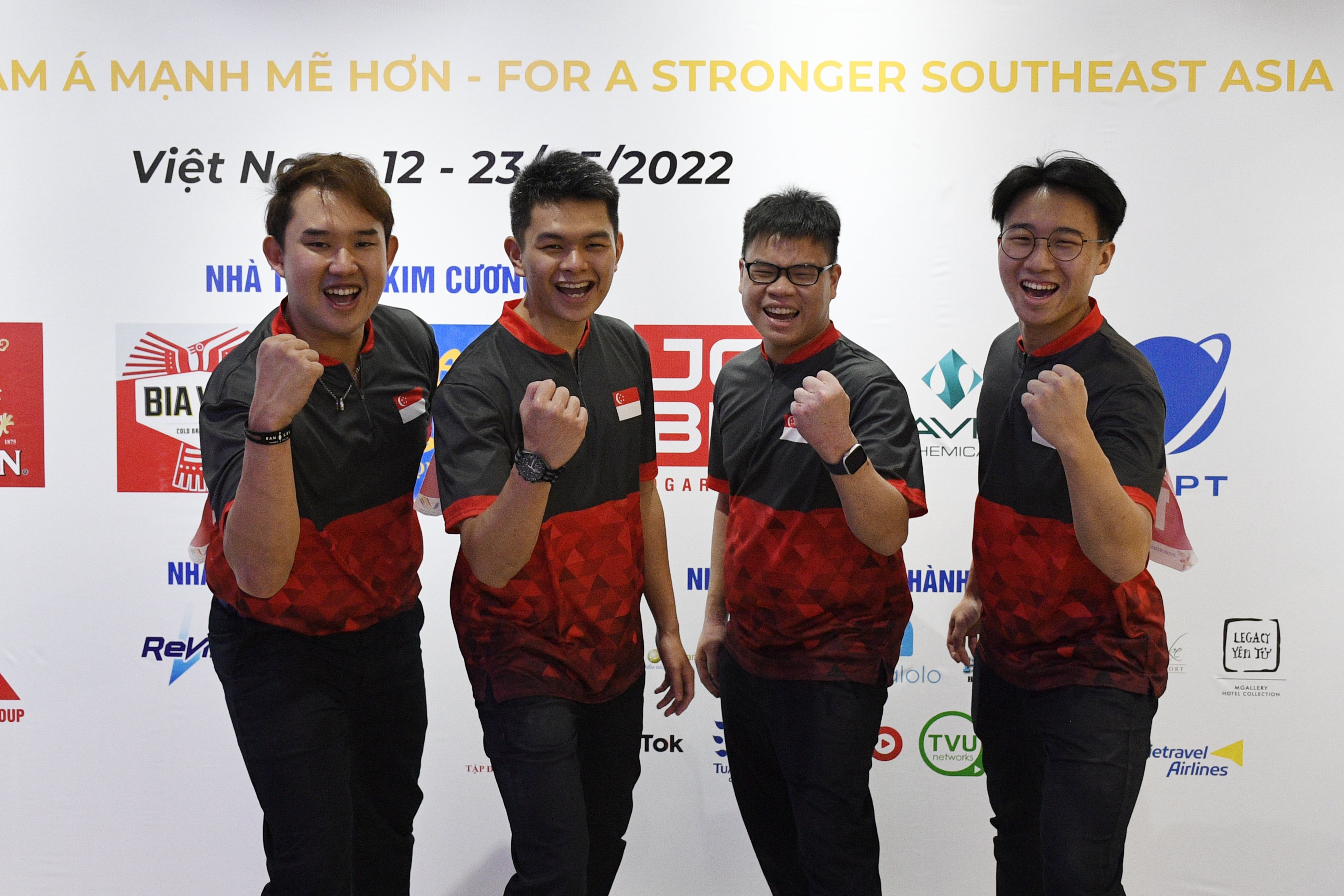 (Singapore's Men's Bowling Team. Photo Credit : Sport Singapore/ Alfie Lee)

The Women's team triumph added to the tally of two golds won previously in the singles and doubles event. In the men's team event, Muhammad Jaris Goh, Darren Ong, Timothy Tham and Cheah Ray Han took bronze.

The keglers finish their SEA Games with 3 gold, a silver and 3 bronzes.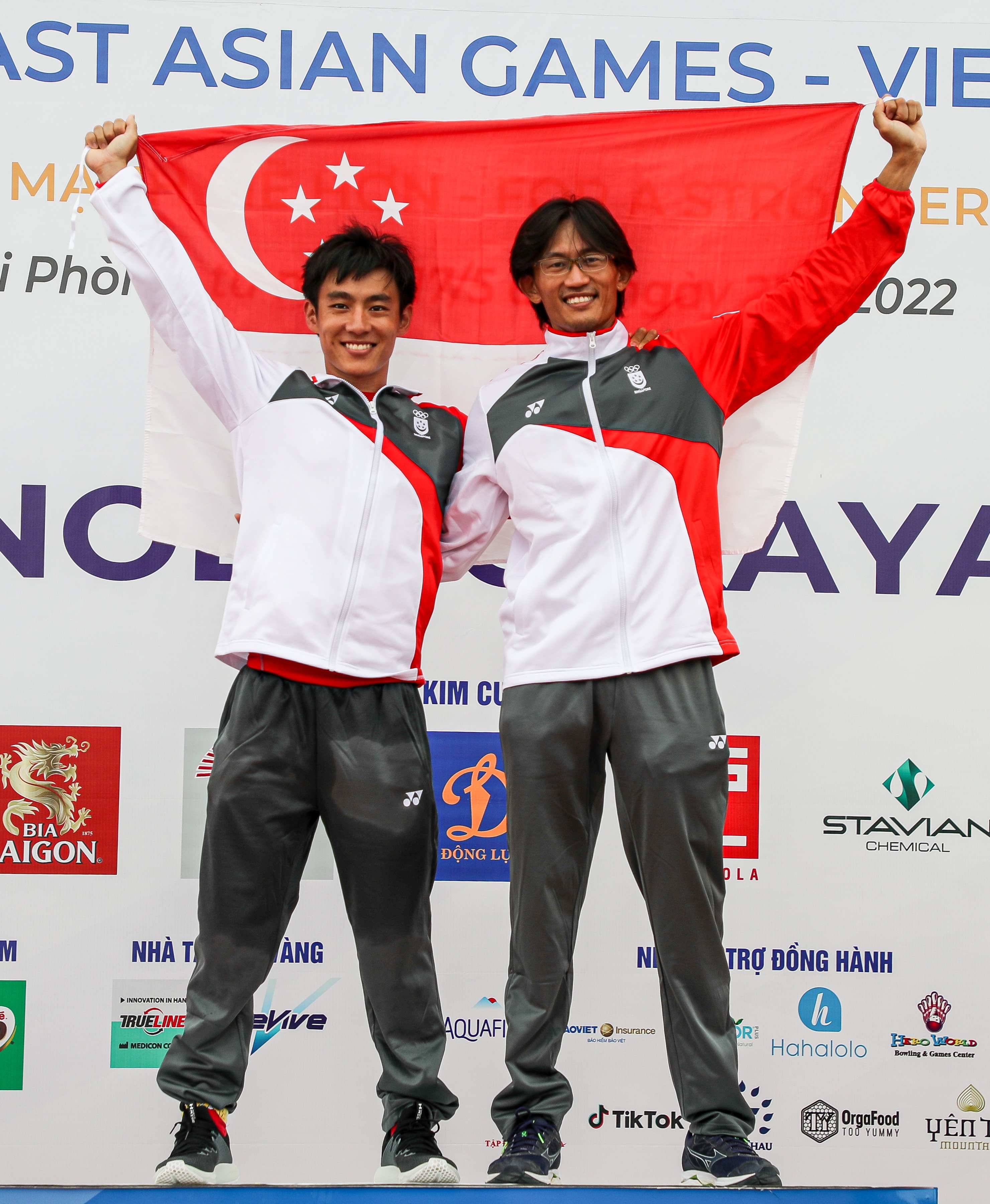 (TeamSG's Lucas Teo and Brandon Ooi take the gold in K2 1,000m event. Photo Credit: SNOC/ Kelly Wong)


Canoeist Lucas Teo masters 1,000m, this time with teammate Ooi
A day after winning the men's K1 1,000m event, Lucas Teo repeated the feat, this time in the K2 with Brandon Ooi.

The duo clocked 3:40.779 at the Thuy Nguyen Hai Phong Aquatics Centre to finish in first place out of six contenders.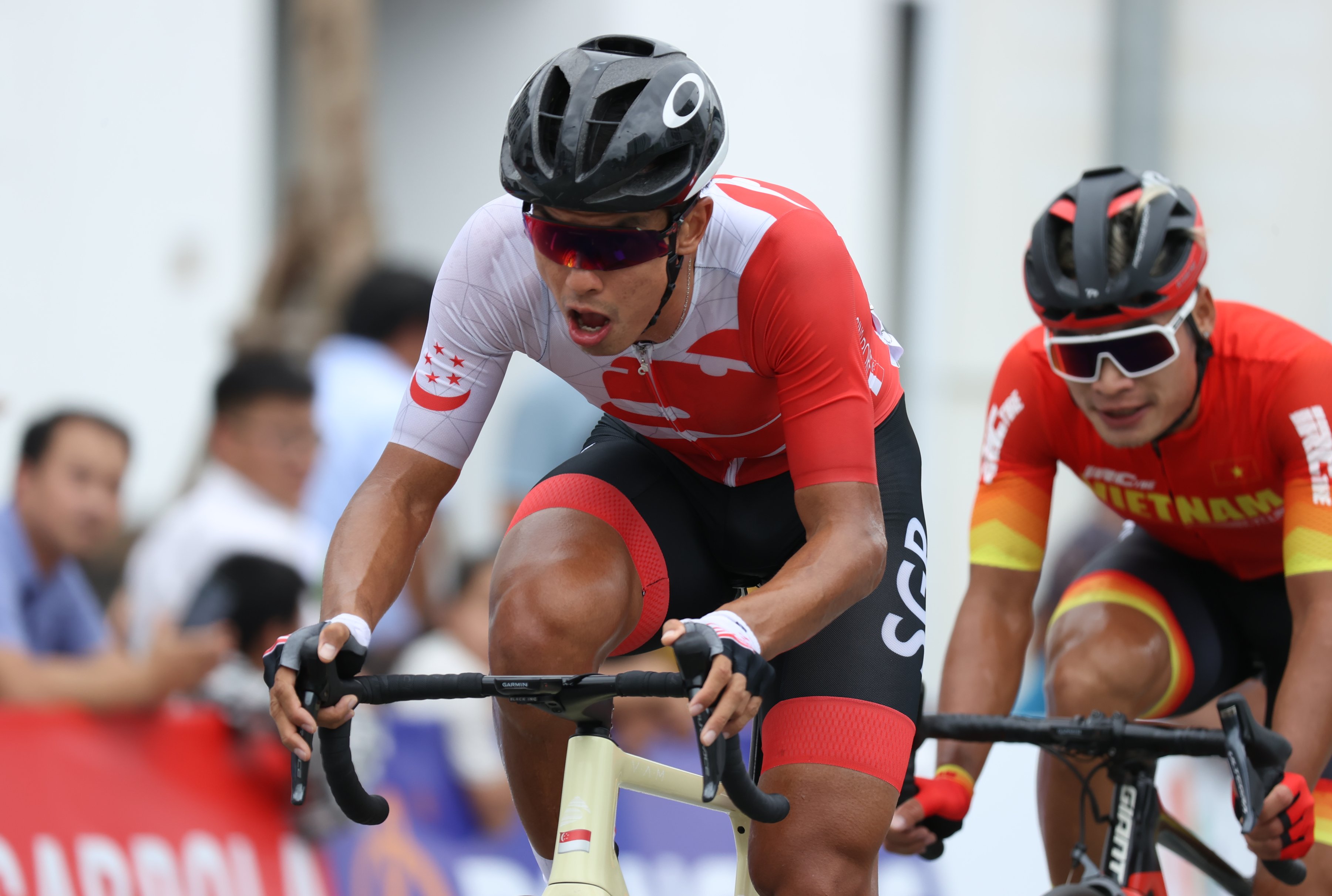 (TeamSG's Yeo Boon Kiak in action. Photo Credit: Sport Singapore/ Jeremy Lee)

Cycling wins first medal in Hanoi
TeamSG's Yeo Boon Kiak picked up cycling's first podium finish at the Hanoi SEA Games, when he came in third in the men's criterium.

The 33-year-old finished behind home favourite and gold medallist Van Cuong Quang and silver medallist Sarawut Sirironnachai of Thailand.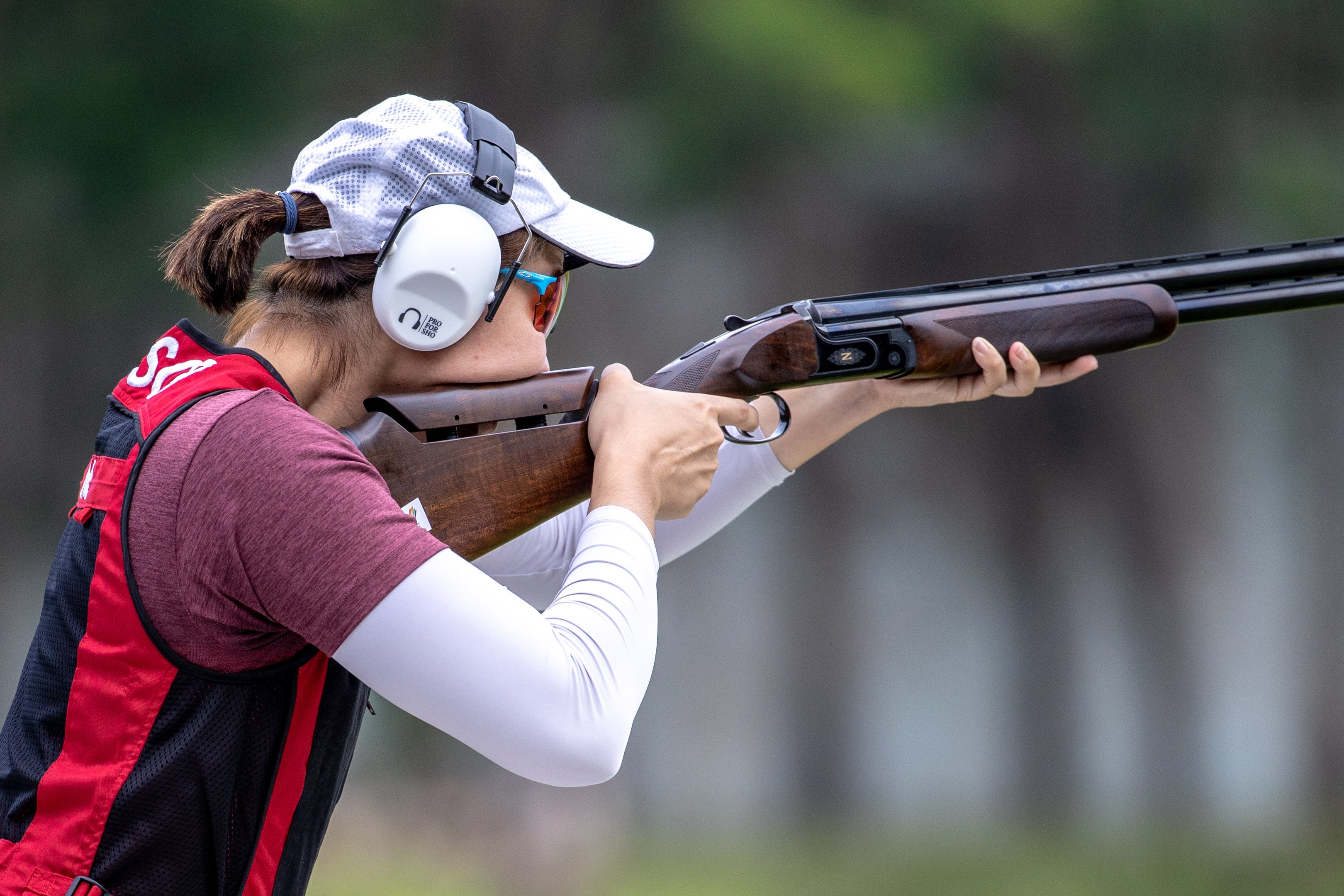 (TeamSG's Siti Mastura Rahim in action. Photo Credit: Sport Singapore/ Andy Chua)


Long-awaited trap shooting medal for women
TeamSG's Siti Mastura Rahim posted a score of 25 to win a bronze medal in the women's trap event.

This is the first women's trap medal since 2003, when Singapore won a women's team silver, and the first individual women's trap medal since Charlotte Tan's bronze in 1999.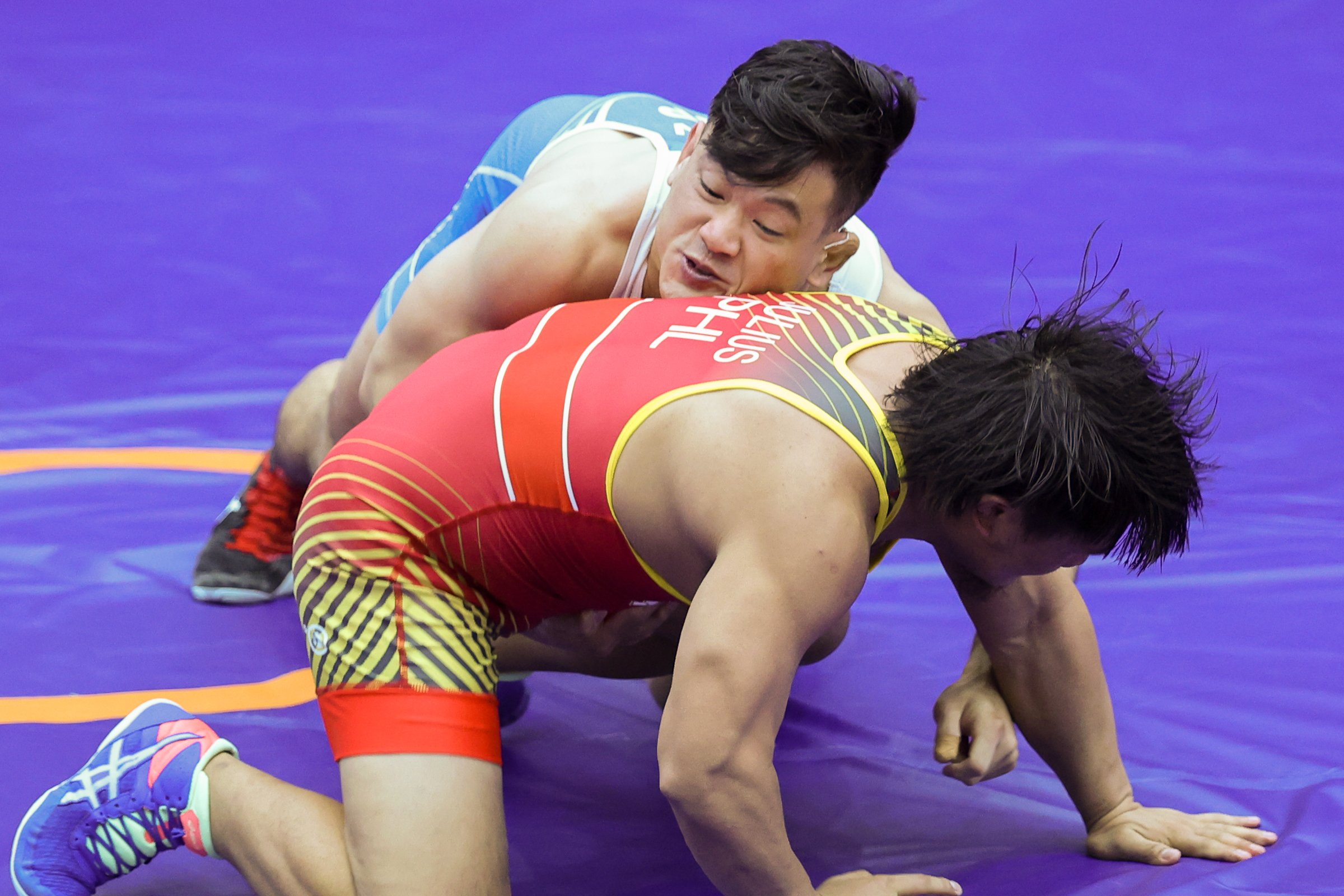 (TeamSG's Gary Chow in action. Photo Credit: Sport Singapore/Stanley Cheah)

5-time SEA Games athlete Gary Chow, wrestles a silver for TeamSG for medal in third sport

Gary Chow joined a rare breed of Singapore athletes to enjoy success across different sports at the SEA Games, when he won silver in the wrestling men's freestyle under-86kg category.

Gary had previously represented TeamSG in judo and sambo, winning medals in the former at the 2013, 2015 and 2017 Games, and in 2019 for the latter.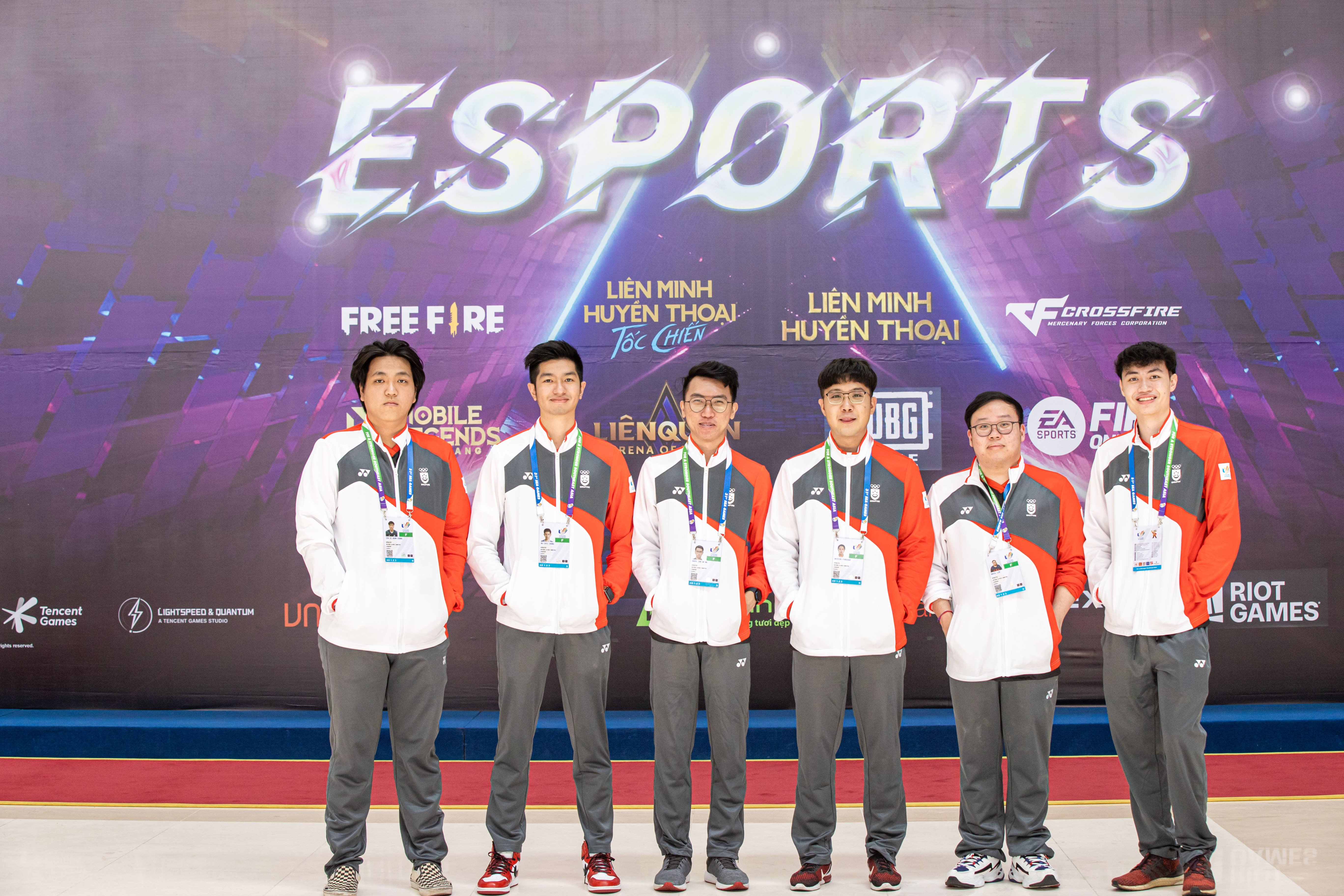 (TeamSG's Chong Jin Ee Adam, Chong Ru Chyi, Daryl Ng Jun Da, Akihiro Furusawa, Basil Lim, Remas Ker Zhen Hong of Team Singapore. Photo Credit: Sport Singapore/ Dyan Tjhia)
2nd medal in as many days for esports
Singapore's esports athletes competing in the Mobile Legends: Bang Bang mixed team event beat Malaysia 2-1 for bronze.

It is the second medal in as many days for esports, and means the sport has already surpassed its performance from 2019 (one silver, one bronze). The team's overall tally so far in Hanoi is one silver, two bronzes.
At the end of Day 7 in Hanoi, TeamSG rose to 3rd place with overall haul of 44 gold, 43 silvers and 56 bronzes.
For the latest Team Singapore coverage and news, follow Team Singapore on their social media channels (Facebook, Instagram, TikTok) or visit the official Team Singapore website.
Recent Events & Programmes