Team Singapore
TeamSG rowers gain experience and exposure with Hanoi Games complete!
by Circle Stories, on May 13, 2022 16:00 PM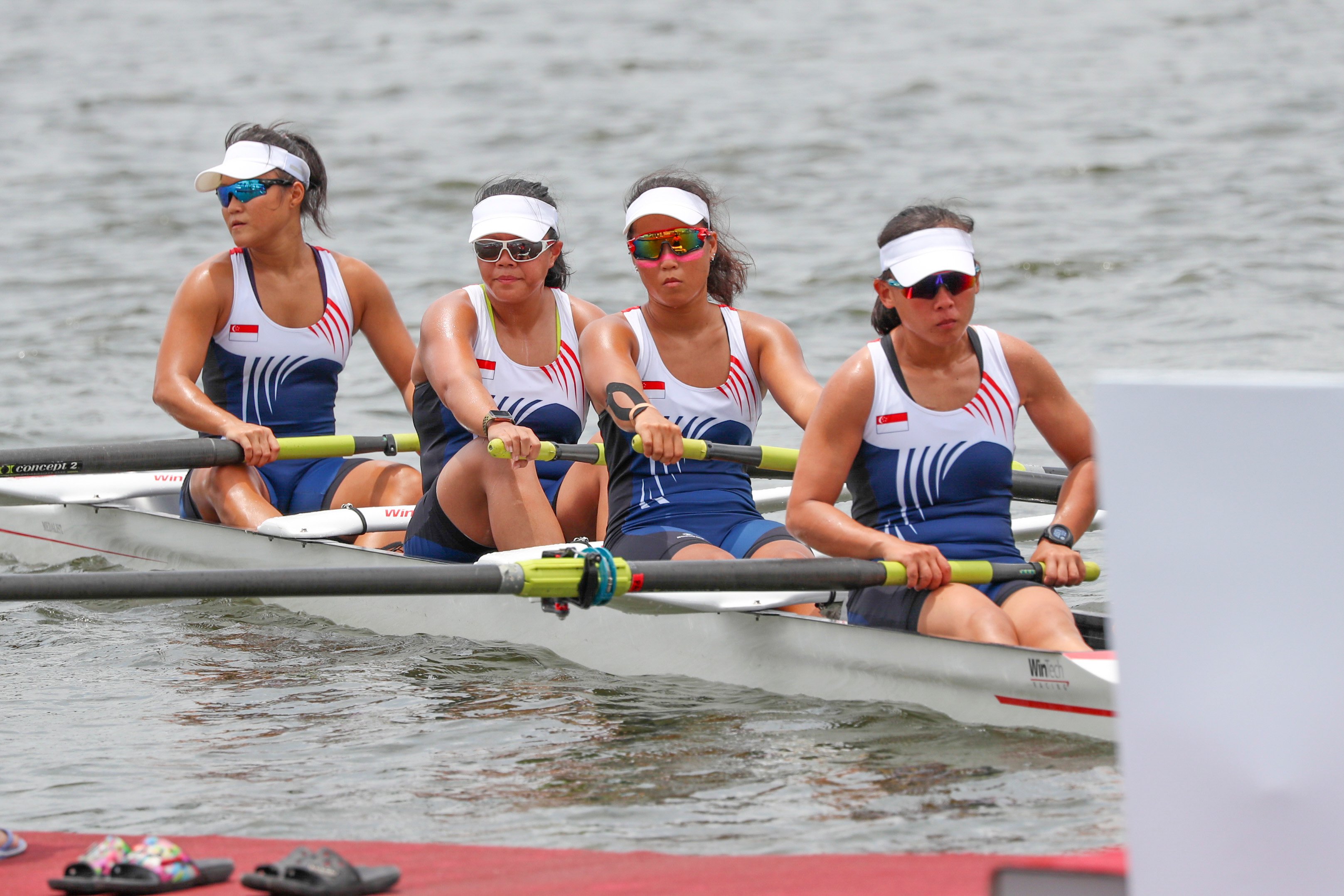 (TeamSG's women's coxless four at the Hanoi Games. Photo Credit : SNOC/ Samuel Ang
By May Chen
Team Singapore's rowers completed their campaign at the 2021 SEA Games on 14 May, leaving Hai Phong with experience and exposure gained. Perhaps most importantly, lessons learnt.

Tokyo 2020 Olympian Joan Poh rounded up the competition on Saturday in the Women's Singles Sculls, finishing in 9 min 0.262 seconds for 5th place out of six competitors.
As a 30-year-old who works as a staff nurse, Joan said: "Entering the Games, I set myself some process and performance goals on top of outcome goals. Everyone trains to win, but winning is not something we can closely control, so breaking it down to process and performance goals meant I could also focus on achieving breakthroughs in certain techniques and timing which would hopefully take me to the outcome goal.

"While I felt encouraged that I managed to achieve some technique and timing breakthroughs on a personal level, it was beyond my expectations seeing how the other competing countries have improved significantly.

"I do feel disappointed because I came to the SEA Games confident that we could come off with some medals and for rowing to come home empty-handed is actually a little upsetting for me. But it was a reality check after not having raced these opponents sufficiently or at all the past two years, and telling of the amount of work there is to be done", added Joan in her post-event comments.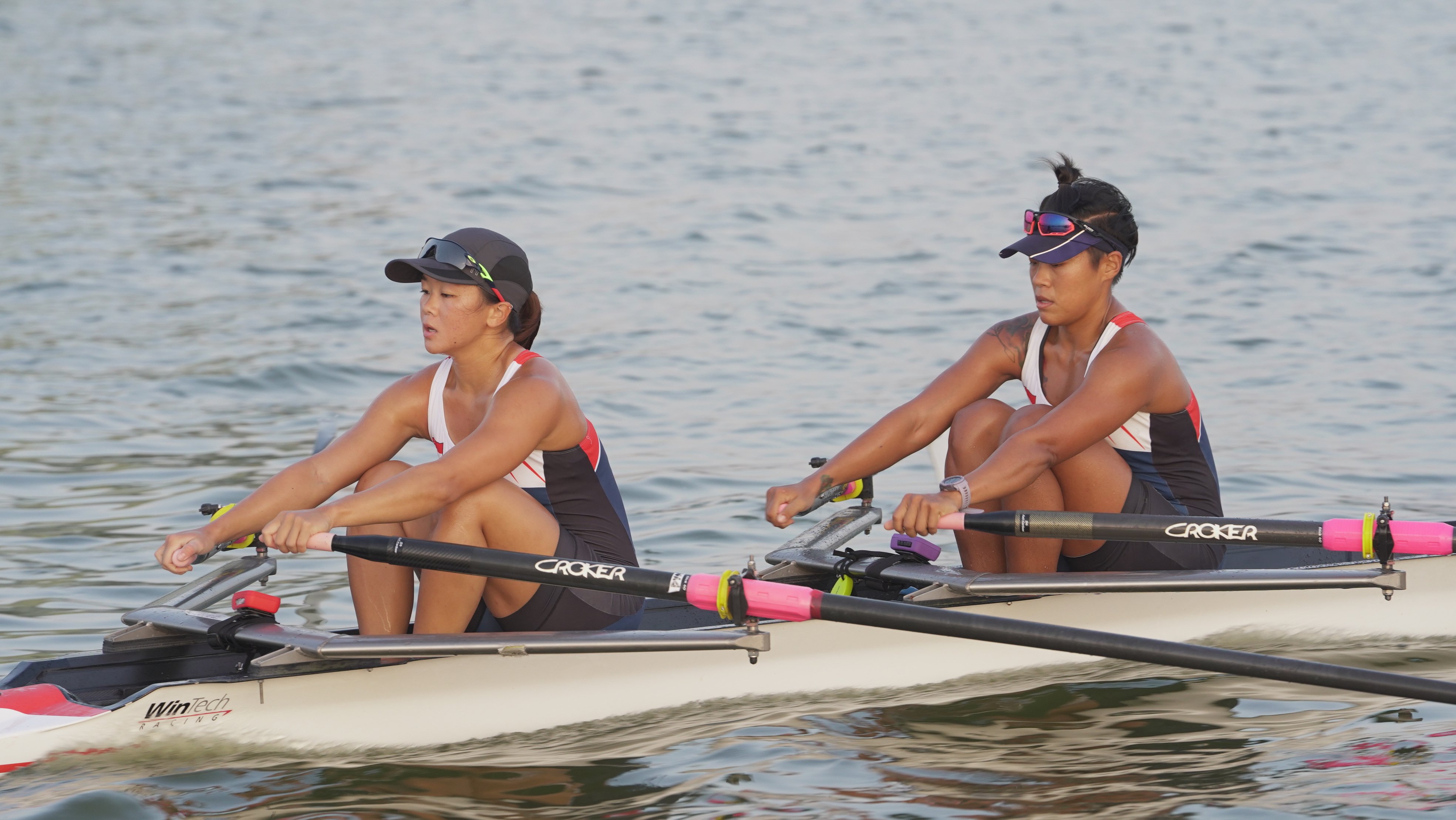 (Team Singapore's Teo Zhi Xuan and Joan Poh at training in Singapore. Photo Credit : Nick Tan)
In the Women's Double Sculls, Joan paired up with Teo Zhi Xuan to cross the finish line in 8 mins 18.64 secs, placing sixth out of as many teams. Onto the women's pair event, Joanna Chan and Kang Yu Jia posted 9 mins 8.30 secs to finish 5th out of as many sides. And in the women's coxless four of Joanna, Yu Jia, Sherdyn Teng and Shervis Teng clocked 8:06.815 to finish 4th out of four teams in the final.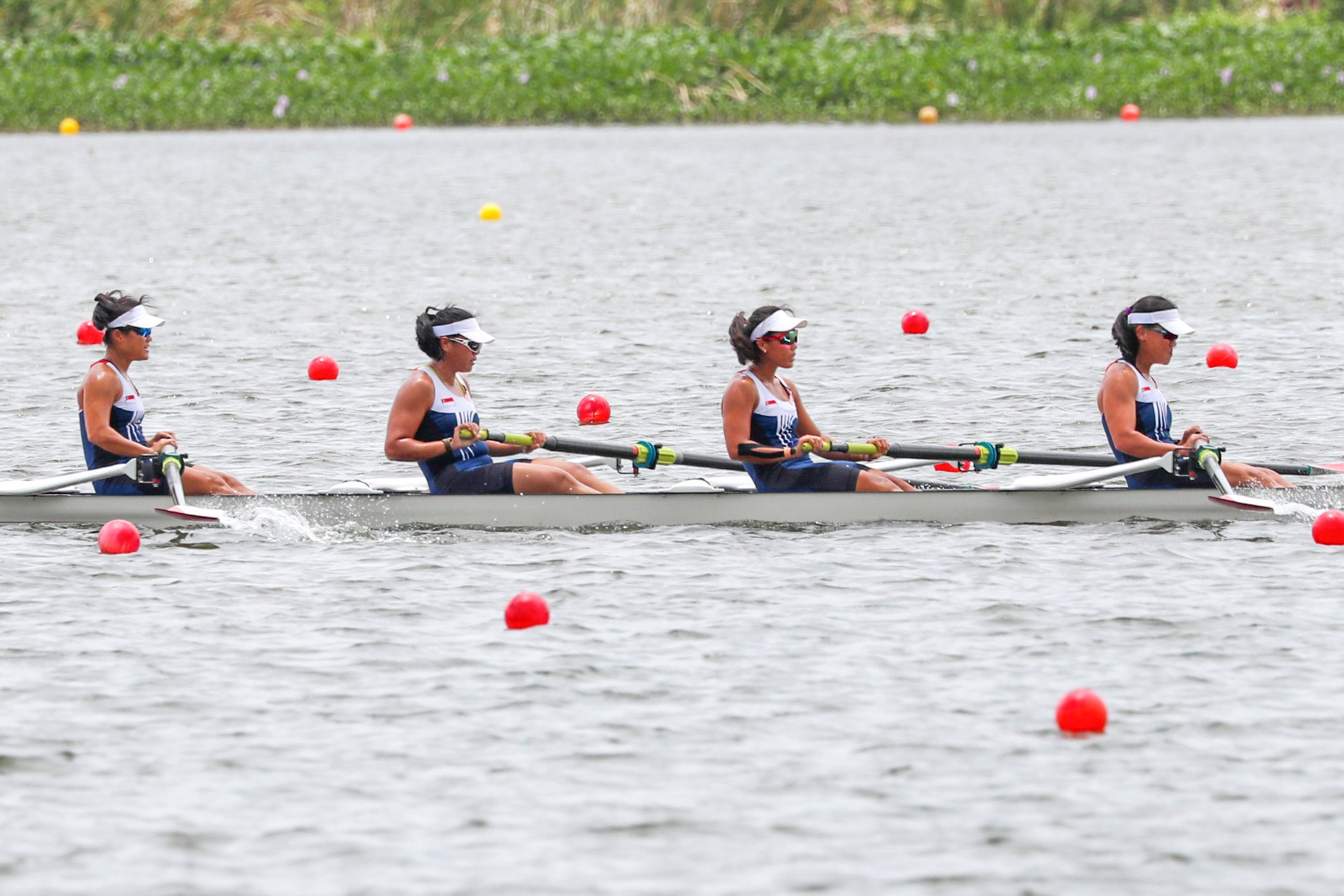 (TeamSG's women's coxless four at the Hanoi Games. Photo Credit : SNOC/ Samuel Ang)
Team Singapore does not have a storied history in rowing, and this team of 6 features four debutantes. Only Joan and Joanna have been to the biennial Games before.
Despite finishing outside of the podium, coach Budiman Osman said the team picked up precious exposure competing against their regional counterparts, but will need more experience to put the rowers in good stead for the future.

As a former national rower, Budiman commented : "Being a relatively new team put up with only one overseas competition back in December 2021, the team needs more exposure to competition to get used to the racing environment, especially for the debutantes."

Joan, in particular, will use the experience from Vietnam as inspiration that her hopes for the Singapore rowing team is not wishful thinking.

She said: "This is an experience that is prompting me to look hard and deep at everything – from technicalities to softer but very essential components like headspace and daily routines. Nations that were previously not performing in rowing have improved exponentially and become regular podium finishers during these Games. This reaffirms my hopes of building up this sport and our team – it truly is possible to rise from the ashes; it's not a mere concept and hope."
Meanwhile, here's a recap of the rowing squad's Pre-Games Zoom interview. Almost a month before the start of the Games, SportSG's Raj Kumar spoke to our TeamSG rowers Joan, Joanne, Zhi Xuan and Coach Budiman Osman, regarding their training, sacrifices, challenges during Covid-19, hopes and aspirations. (See Interview Below)
For the latest Team Singapore coverage and news, follow Team Singapore on their social media channels (Facebook, Instagram, TikTok) or visit the official Team Singapore website.
Related Events & Programmes