Team Singapore
TeamSG sprinters in both SEA Games 100m podium finishes, for the 1st time in more than 50 years!
by Circle Stories, on May 17, 2022 16:00 PM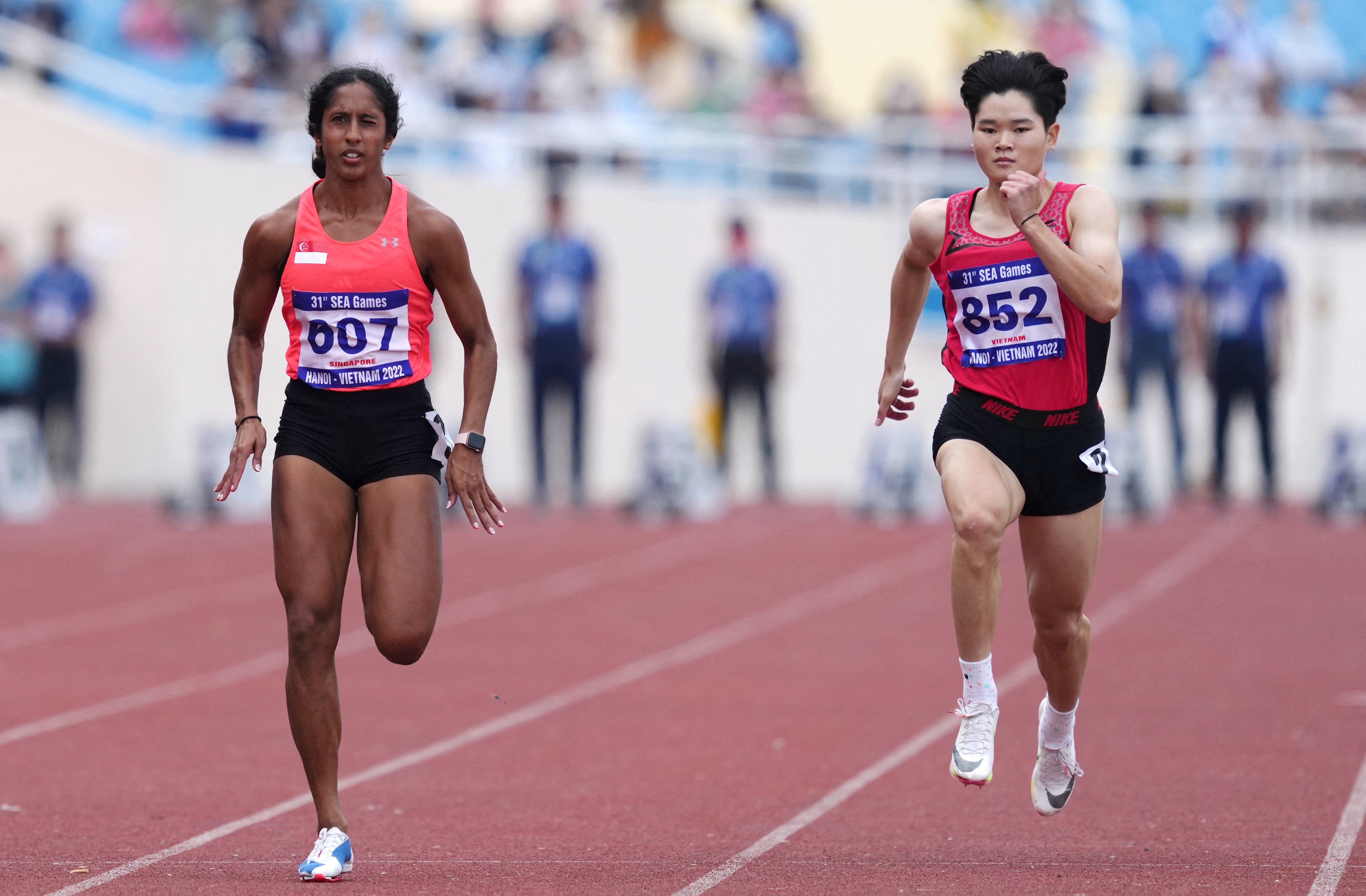 (Singapore's Shanti Pereira in action. Photo Credit: Sport Singapore/Reuters/Athit Perawongmetha)
By May Chen

With a gold and a newly earned silver medal in the bag, all Singapore sprint queen Shanti Pereira wanted was one more thing: a cup of Vietnamese coffee.

The 25-year-old clocked a season best of 11.62 seconds on Wednesday (May 18) in the women's 100m to finish second. She was just a whisker behind gold medallist Kayla Richardson of the Philippines, who clocked 11.60s. Thailand's Supanich Poolkerd was third in 11.66s.

It wraps up a successful outing at the My Dinh National Stadium for Shanti, who won the 200m final on May 14 in a new national record of 23.52s.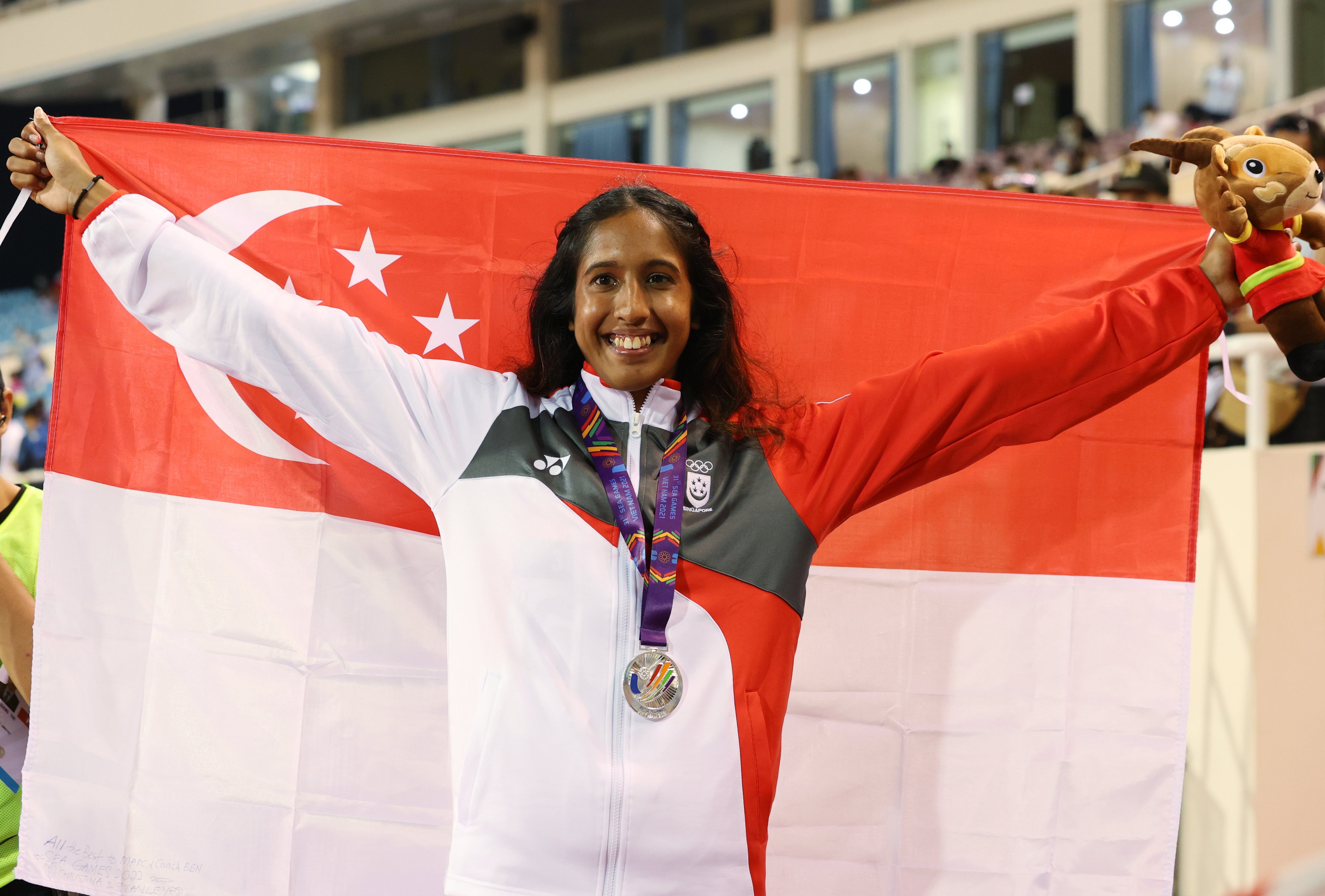 (Singapore's Shanti Pereira wins 100m Silver. Photo Credit: Sport Singapore/Reuters/Athit Perawongmetha)


She said: "The 100m and 200m are very different races. I was a bit more nervous, and I know my start isn't the best. My coach and I just had this plan to make sure I finish strong. That's where I'm better and I think I did that.

"I was definitely targeting two golds, but to be able to get silver (in the 100m) is a huge achievement for me. It's a huge confidence booster. I'm just glad I broke through some barriers that have been holding me back for a really long time. For that, I'm really proud of myself."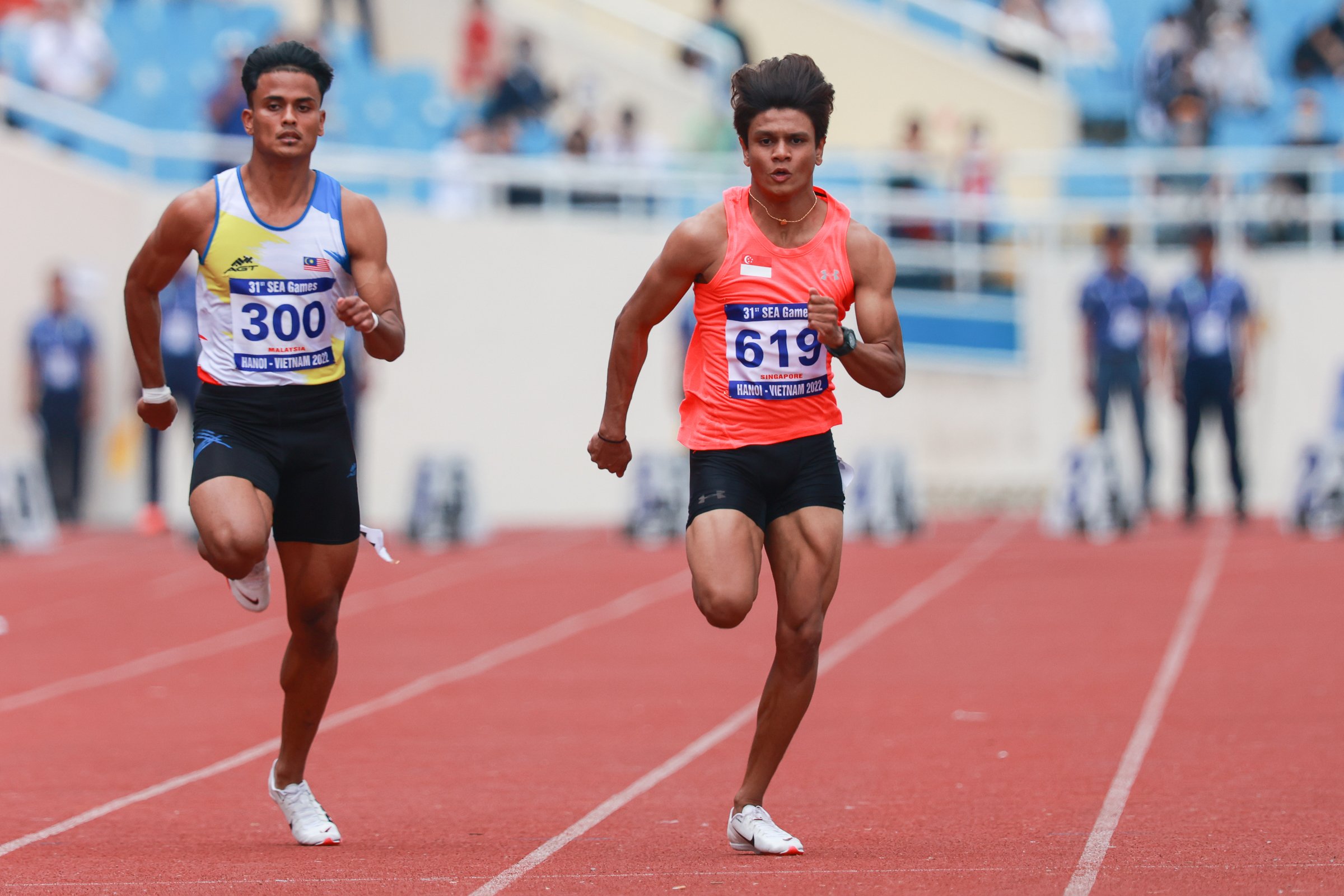 (Singapore's Marc Brian Louis in action. Mandatory Credit: Sport Singapore/ Jeremy Lee)

Teammate Marc Brian Louis clocked 10.56s in the men's century sprint for the bronze. This ensured that Singapore would be on the podium for both the men's and women's in the blue riband event for the first time since 1971.

It is also the first time since 2013 that Singapore have won a medal in the men's event.

The 19-year-old endured a lengthy wait before his third place was confirmed following a tight finish. Just 0.03s separated him and fourth-placed Lalu Zohri Muhammad of Indonesia.

He said: "I thought I didn't get it, so I was kind of surprised. The head wind was pretty strong. Before I started, I was praying for the wind to go away. I was leading out of the blocks, and I was telling myself not to panic. I think I could've run a better race, but I'm happy with the results."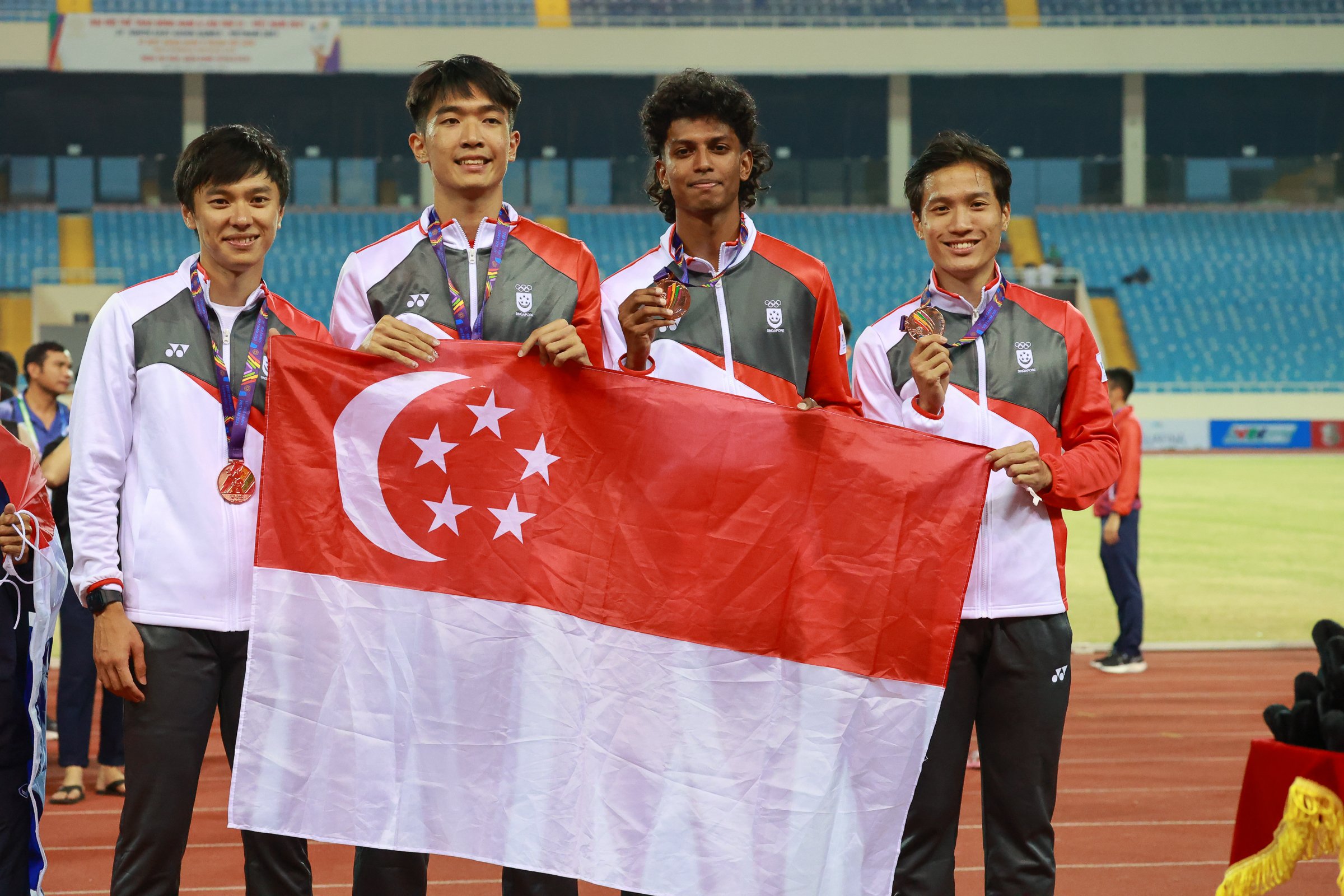 Singapore's 4x400m relay team: (from left) Tan Zong Yang, Reuben Rainer Lee, Thiruben s/o Thana Rajan and Calvin Quek with bronze. Photo Credit: Sport Singapore/Stanley Cheah

The men'x 4x400m team of Tan Zong Yang, Thiruben s/o Thana Rajan, Calvin Quek and Reuben Rainer Lee closed out the day – and the track and field events – with a bronze, winning Singapore's first medal in this event since 2011.

Zong Yang, who won a bronze in the 400m, said: "(Our relay team) is a very healthy mix. (Thiruben and Reuben) are still very young, so I really hope that the future generation will get even better. The 4x400 relay will even be better in the future."

The athletics team have enjoyed a fruitful time in Hanoi, winning 1 gold, 3 silvers and 7 bronzes so far. This includes the bronze from Goh Chui Ling in the women's 10,000m.

The haul includes several long-awaited medals, including some that Singapore have not had success in for as long as 53 years. The sport concludes its competition on May 19 with the marathon and race walk events.

Said 21-year-old Thiruben: "I think it's a sign of things to come. You can be sure that next year (at the 2023 SEA Games in Cambodia) we'll do better than this."

Added Shanti: "It's been so amazing. It's been so exciting to be able to see my fellow track mates doing so incredibly well. I'm super proud of everybody."

As for celebrations, there could well be some much craved for items on the menu.

She said: "I want to get Viet coffee – I haven't had it. I've been waiting for the last day to have pho. Now I can have it."
For the latest Team Singapore coverage and news, follow Team Singapore on their social media channels (Facebook, Instagram, TikTok) or visit the official Team Singapore website.
Related Events & Programmes