Team Singapore
TeamSG's Shanti Pereira breaks national record, to win 2nd 200m SEA Games Gold in 7 years!
by Circle Stories, on May 13, 2022 16:00 PM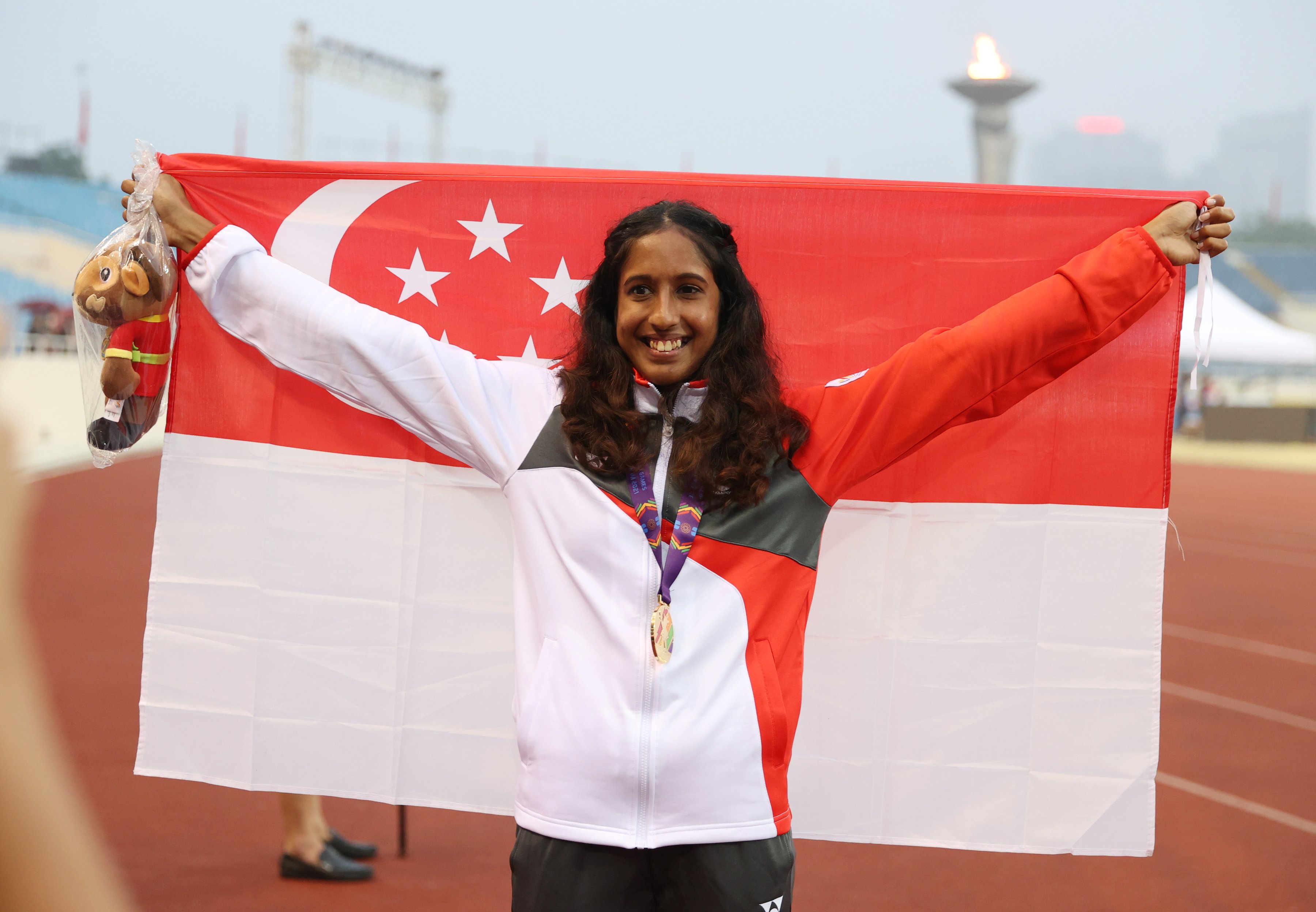 (Singapore's Shanti Pereira celebrates her Gold medal win. Photo Credit: Sport Singapore/ Jeremy Lee)
By Angelina Dass
Singapore's sprint queen Shanti Pereira made history once again. The 25-year-old clinched her second 200m SEA Games Gold medal, when she crossed the finish line in a record-breaking 23.52 seconds.
In disbelief, Shanti asked the reporters at the stadium if her medal win was real.
"Words can't describe it! I asked the reporters if it was real afterwards because I really couldn't believe it! It's been a long journey and I knew I had it in me to make a breakthrough, it was just a matter of framing my mindset and focusing up. It really took so much out of me that I'm quite exhausted".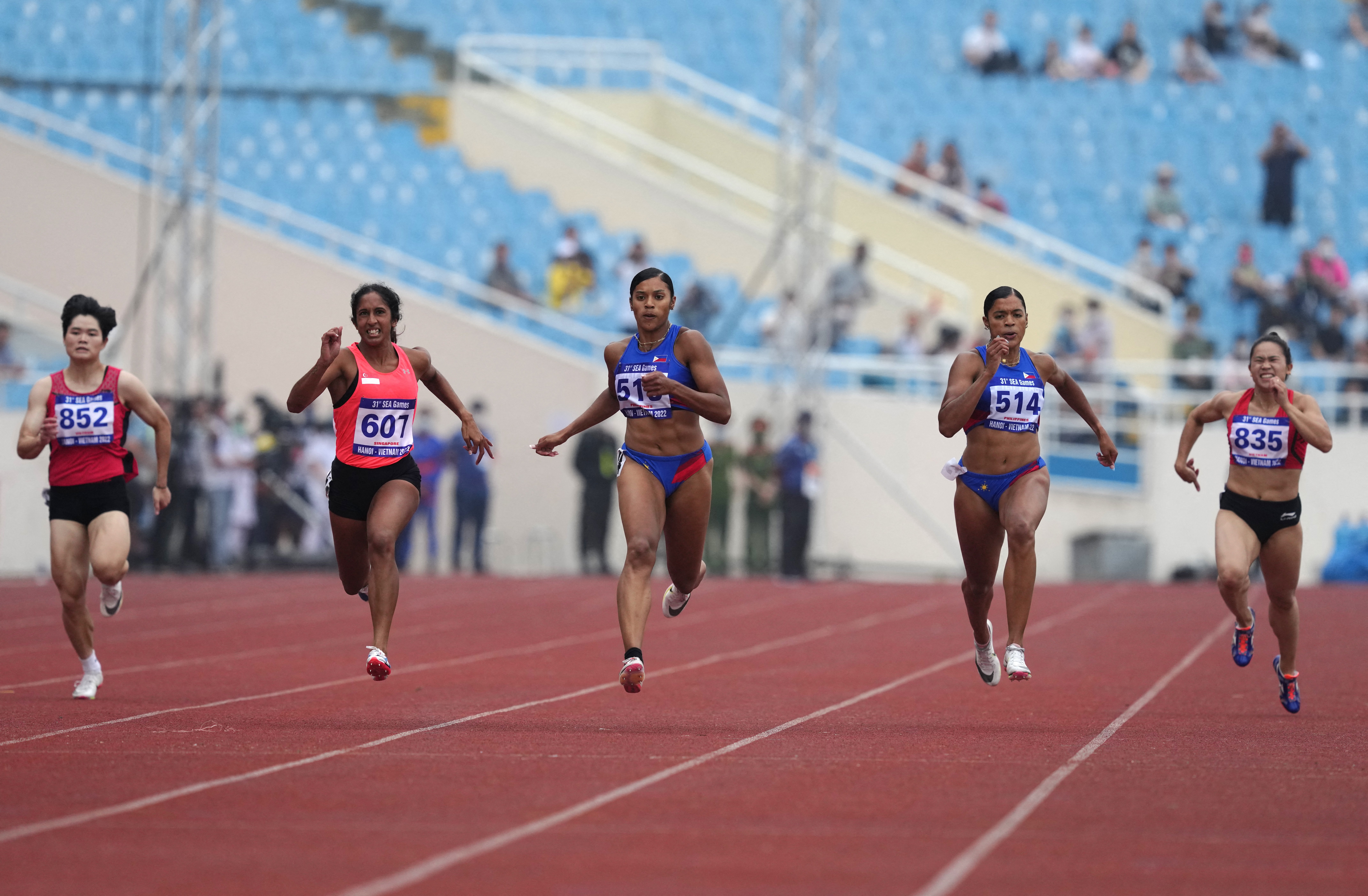 (Singapore's Shanti Pereira battles hard to keep her place at the front of the pack. Photo Credit: Sport Singapore/Reuters/Athit Perawongmetha)
The 25 year old won Singapore its first 200m Gold at the 2015 SEA Games on home ground. Back then, she had clocked in at 23.60s and had broken the existing national record.
This time, at Hanoi's My Dinh National Stadium, the Olympian came off the blocks with a strong start that got her past the Philippines' twin sisters Kyla and Kayla Richardson. As Kyla began to catch up after the bend, Shanti powered through the final meters of the race and secured her place in history in a breath-taking finish. The win is Singapore's 5th Gold medal of the Games.
Kyla and Kayla Richardson settled for the silver and bronze with timings of 23.56s and 23.87s respectively. Our TeamSG star sprinter will be back on the track on May 18, to compete in the Women's 100m event.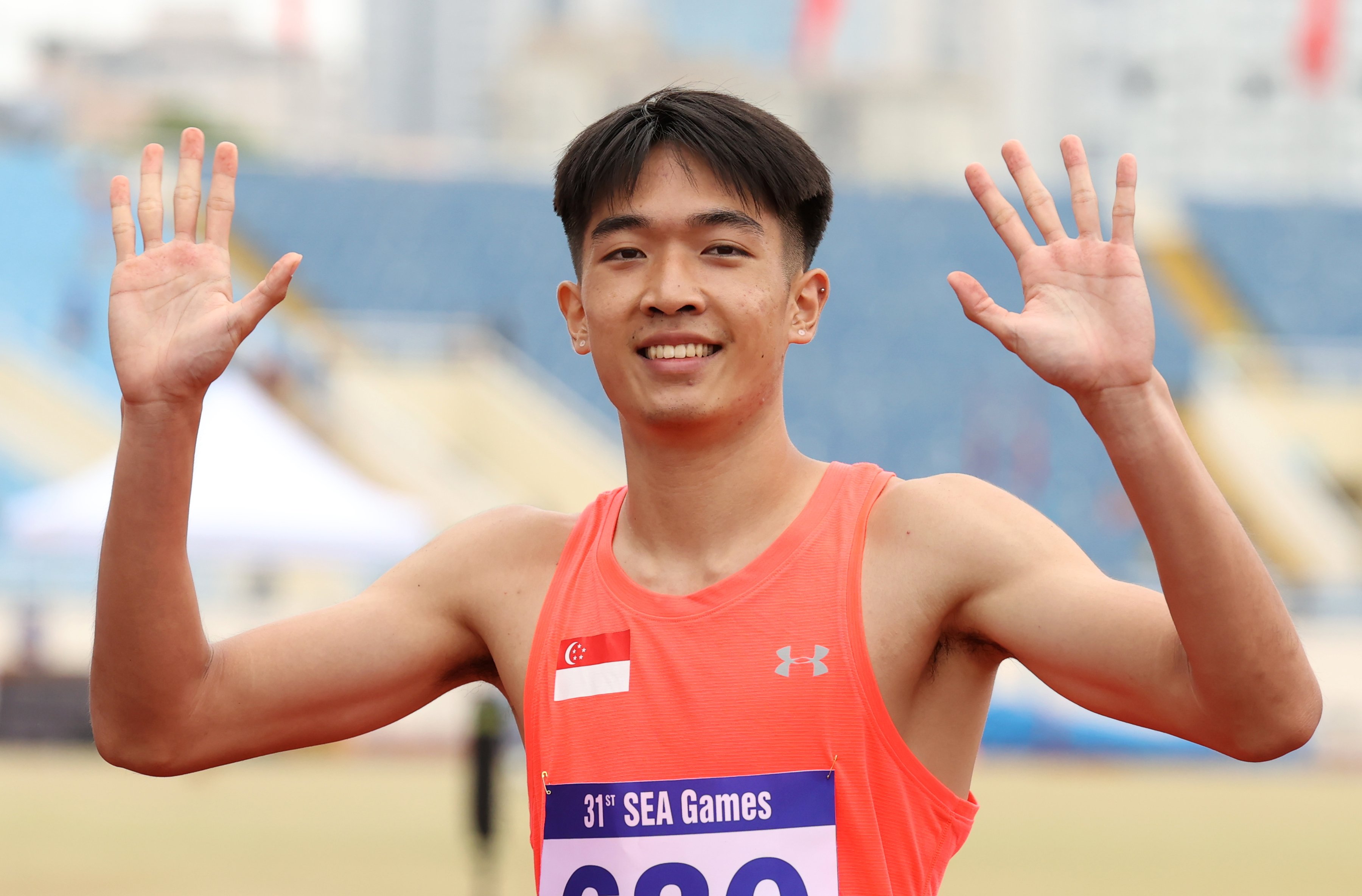 (Singapore sprinter Reuben Lee at Hanoi 2021. Photo Credit: Sport Singapore/ Jeremy Lee)
Reuben Lee breaks 35 year old Men's 200m national record
Later that evening, Singapore's Reuben Lee also set a new national record in the 200m event when he clocked in at 21.07. The previous record of 21.14s was set 35 years ago by Haron Mundir in 1987. The 19-year-old sprinter will next compete in the Men's 4x400m Relay on May 18.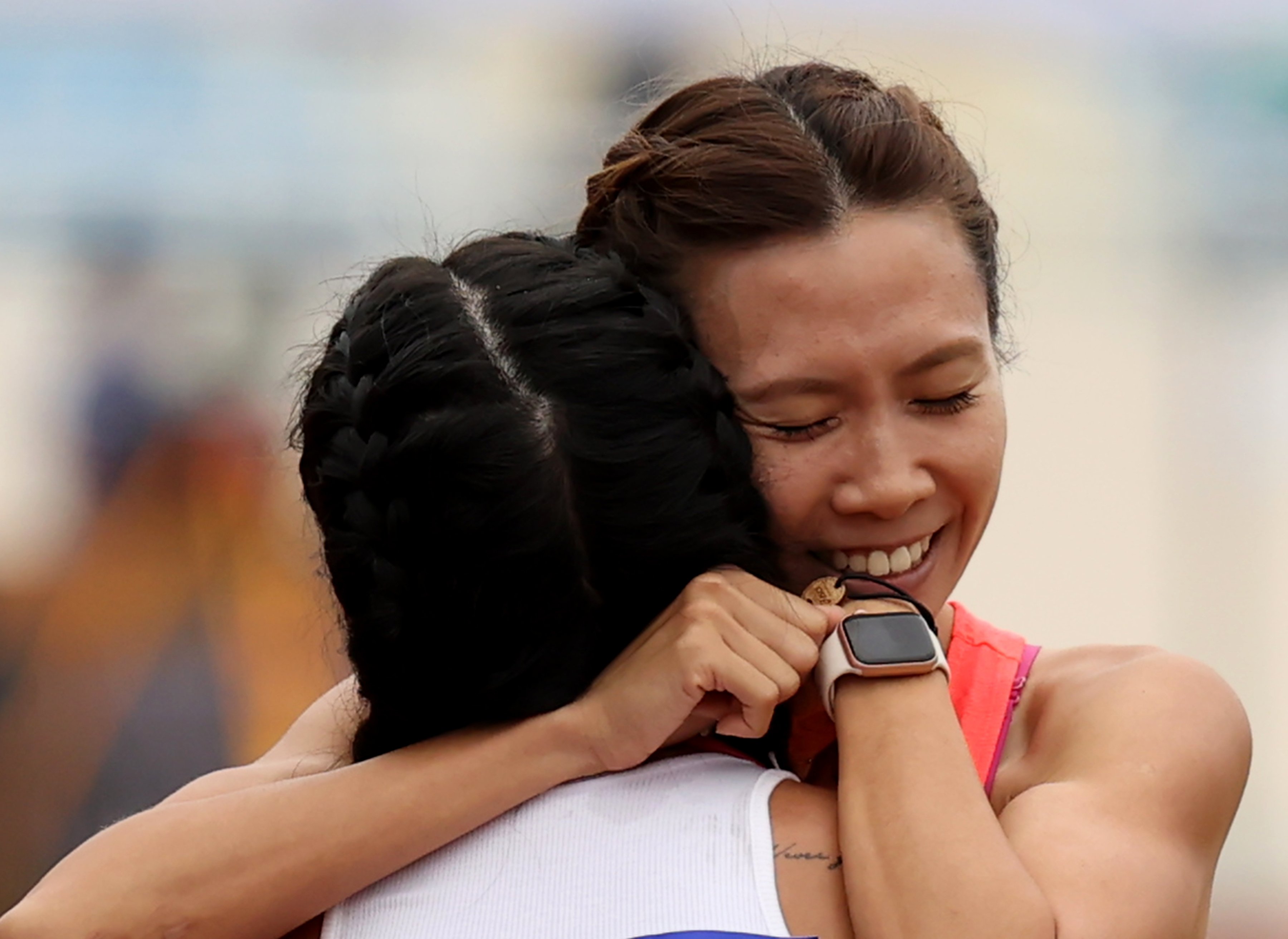 (Goh Chui Ling reacts after winning the bronze medal in the 1,500m event. Photo Credit: Sport Singapore/ Jeremy Lee)
Chui Ling wins nation's first medal in Women's 1,500m in almost 50 years
Goh Chui Ling begins her fifth SEA Games campaign with a bang. Clinching the nation's first medal in the 1,500m event since 1973, she crossed the finish line at 4:33.41 to earn herself the Bronze. Singapore last won a medal in the event in the 1973 SEA Games when Mirnigar Begum took the Bronze at 4:41.8.
"I'm really happy for a fantastic start to the games and season. This first medal will hopefully set a tone for athletics, and I am confident that there will be greater performances coming up," said the 29-year-old doctoral student.
Staying in 2nd place for most of the race, Chui Ling was overtaken by Vietnam's Khuat Phuong Anh in the final stretch. Khuat took the silver at 4:25.90, while her counterpart Nguyen Thi Oanh raced ahead for the Gold with a timing of 4:14.98.
She had earlier set a personal target of 3 medals at the Hanoi SEA Games - an inspiring one seeing that she did not win medals in the last four editions. Humbled and grateful for the bronze for Singapore, she remains steadfast on seeing through her goal.
She made the decision to withdraw from the 5,000m event, also held on 14 May, to focus on recovering ahead of the 800m on 16 May and 10,000m on 18 May.
"I am in good shape, so I need to focus on recovering well right now, and get into the zone again."
For the latest Team Singapore coverage and news, follow Team Singapore on their social media channels (Facebook, Instagram, TikTok) or visit the official Team Singapore website.
Related Events & Programmes