Badminton
Indonesian shuttlers stamp dominance on final day of Singapore Badminton Open!
by Circle Stories, on July 18, 2022 7:16 AM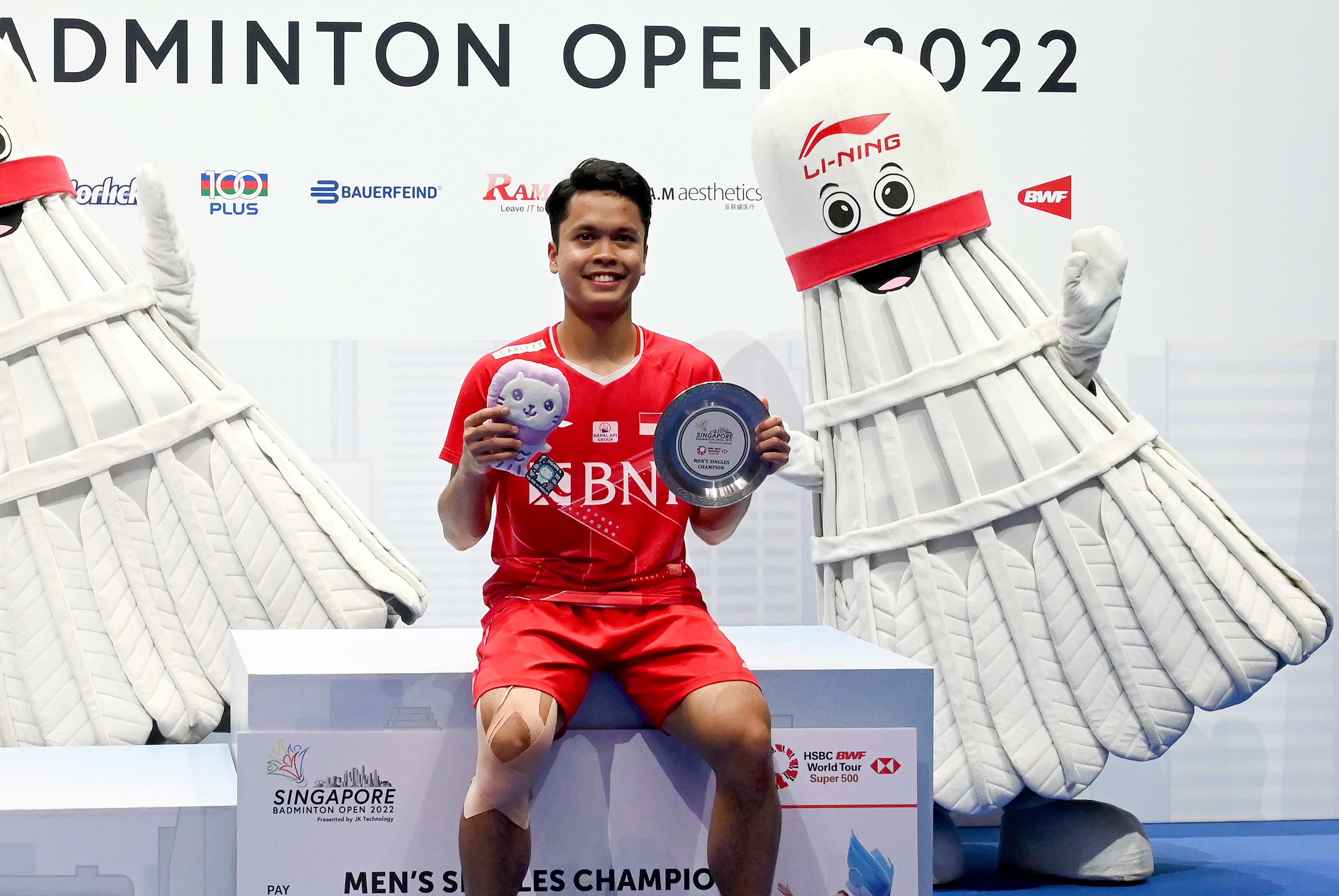 (Newly crowned SBO 2022 Champion, Anthony Ginting. Photo Credit : David Wirawan)
17 July 2022 – Indonesia were the big winners on the final day of the Singapore Badminton Open as they took 3 of the five titles on offer at the Singapore Indoor Stadium.
Two of the 3 doubles titles went to Indonesia with Apriyani Rahayu and Siti Fadia Silva Ramadhanti clinching the women's doubles title, while Daniel Marthin and Leo Rolly Carnando claimed the men's doubles title. And in a fitting finale, it was down to Anthony Ginting to notch Indonesia a hat-trick of titles.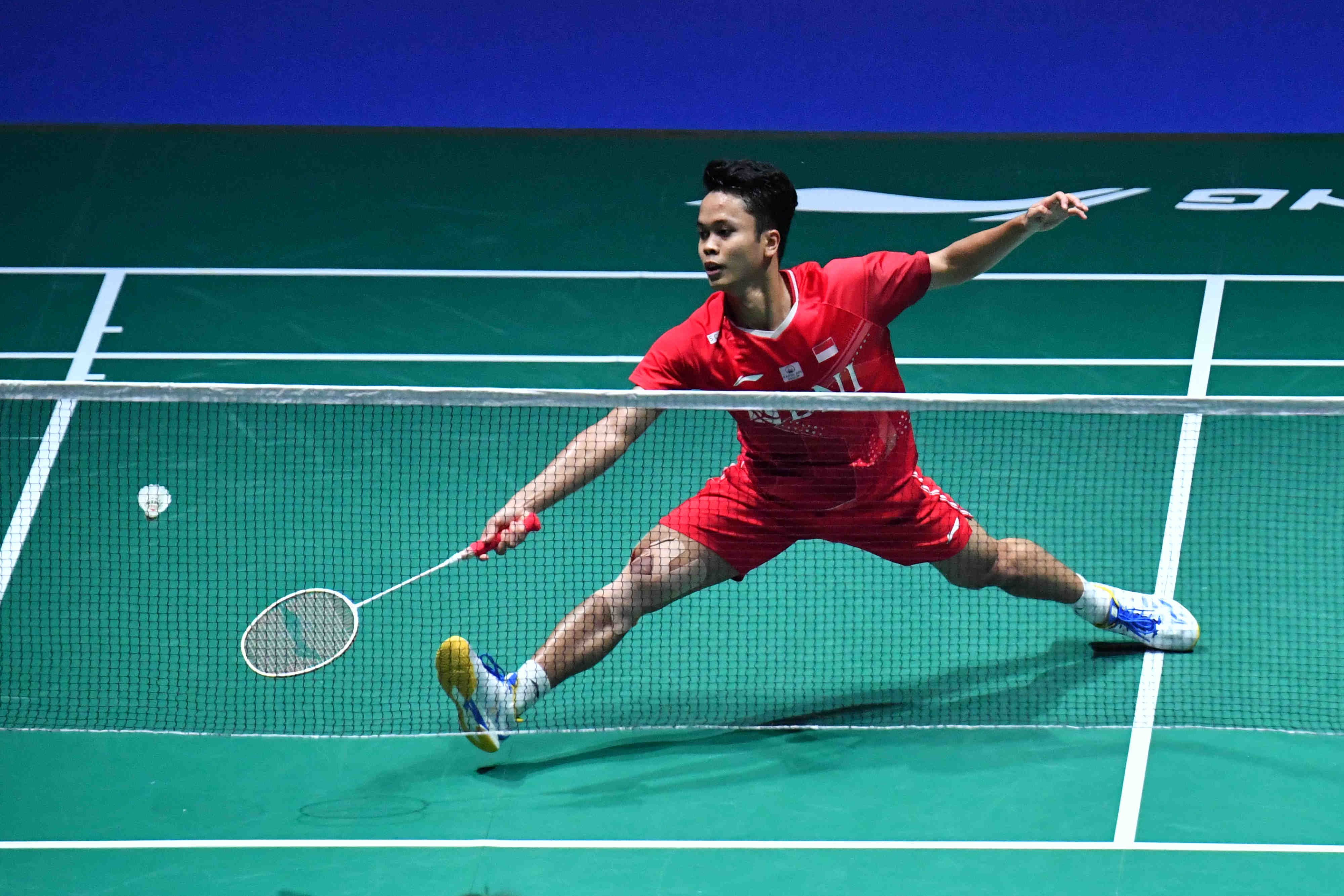 (Newly crowned SBO 2022 Champion, Anthony Ginting. Photo Credit : David Wirawan)
The World No. 6 ended the giant slaying run of Kodai Naraoka, as he edged out the Japanese shuttler 23-21, 21-17 in an enthralling men's singles final that left the crowd spellbound by the class of the two attacked-minded finalists. It was a close encounter between the pair, who were meeting for the first time. In fact, it was Naraoka who first reached game point in the opening game at 21-20. But Ginting managed to turn the tables. "I knew I had to set a very fast pace to disrupt his movement and rhythm," said Ginting. "I had to get into good positions that would give me several options to either attack or get to the net quickly. I'm so happy I managed to play an almost complete game today."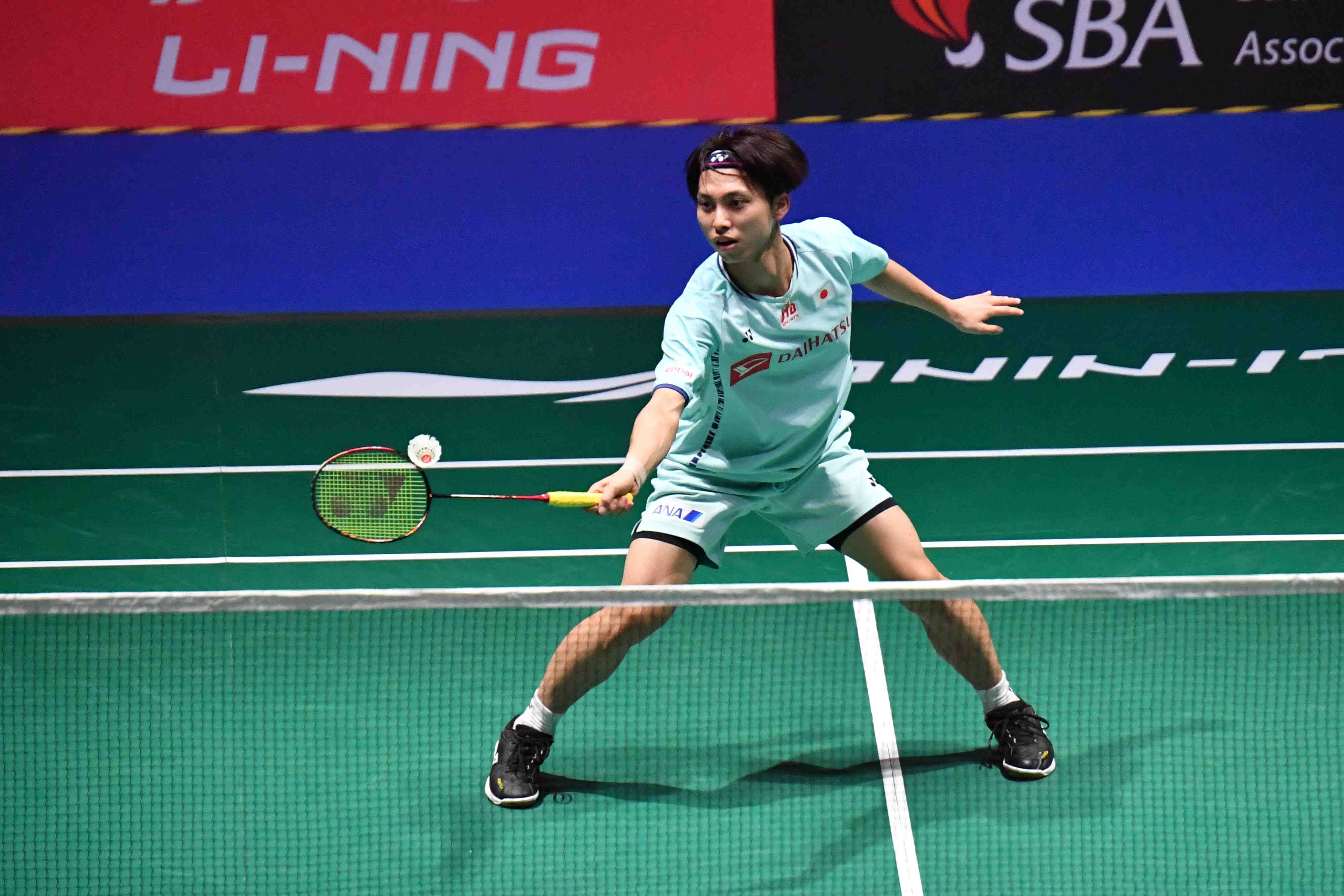 (Japan's world no 43 Kodai Naroaka. Photo Credit : David Wirawan)
Naraoka came out strongly in the second game, taking the lead on five occasions. However, it was Ginting's mental fortitude that proved to be the difference as the 26-year-old kept his composure to pull ahead at 17-17 and eventually win the second game 21-17 for his first title in two years. "This is a very emotional victory for me," said an emotional Ginting, who threw his racquet down in celebration after clinching the winning point. The Indonesian said it was a difficult time for him during his two-year slump, especially in the last six months when he was struggling at times. "But during that period, I never stopped believing in myself and knew I would come out stronger from the slump," he said.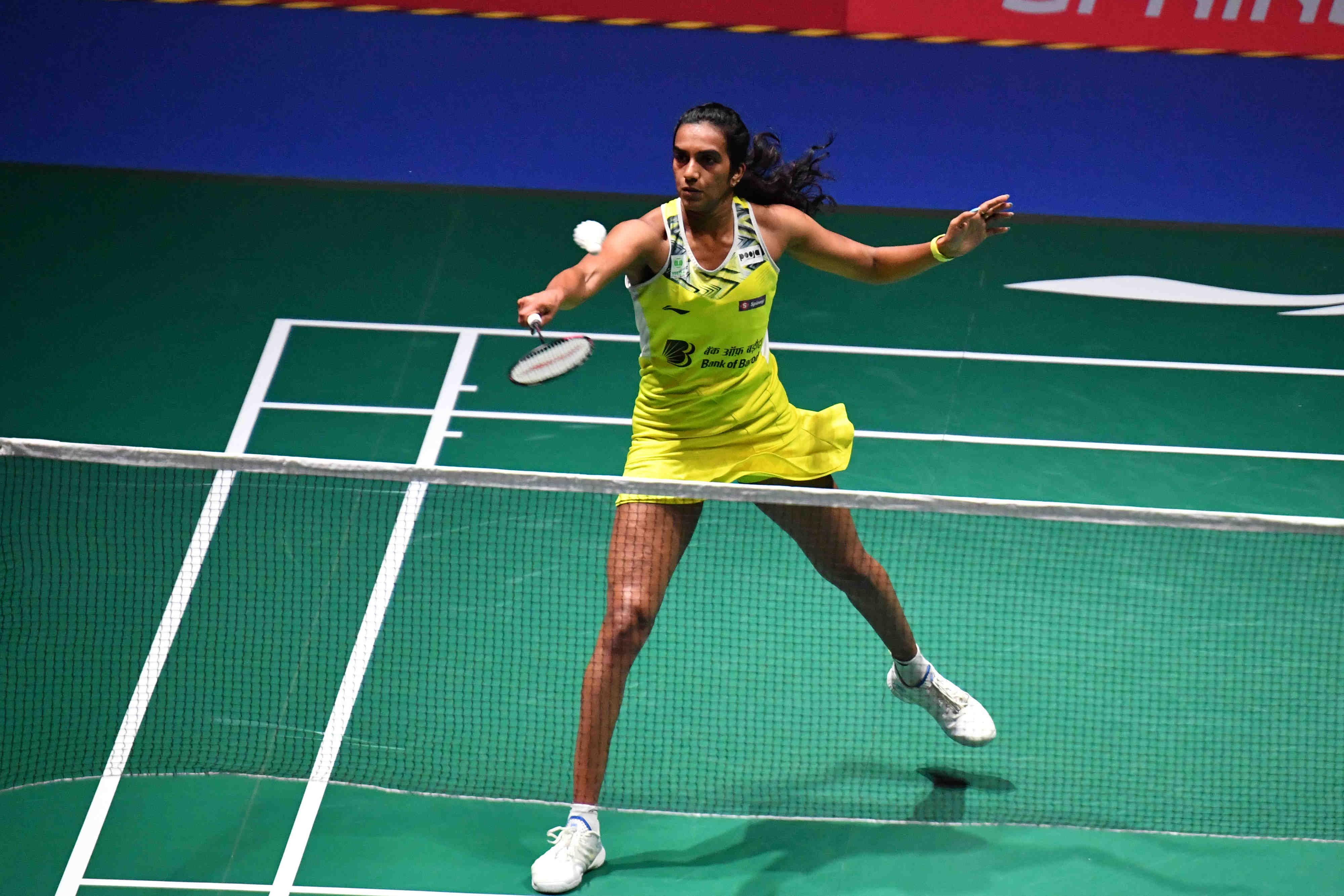 (India's world no 7 PV Sindhu. Photo Credit : David Wirawan)
World No.7 P.V. Sindhu extended her winning record against Wang Zhi Yi to 2-0 as she clinched the women's singles title with a 21-9, 11-21, 21-15 victory over the Chinese. Sindhu and Wang had only met once at the All England Open earlier this year. It was Sindhu, who fired the first salvo, winning the first game comfortably 21-9. But Wang took the contest to the rubber game after clinching the second game 21-11, in a game where Sindhu was always put on the backfoot.
Said Sindhu: "It was really hard for me to catch up in the second game as she raced to a 6-0 lead and I was always chasing the game. But in the third game, I fought for every point and made sure I could always hold a two-point lead. "I knew it was going to be a long match and I didn't take it easy. I managed to hold on until the end and getting this win is indeed very special to me."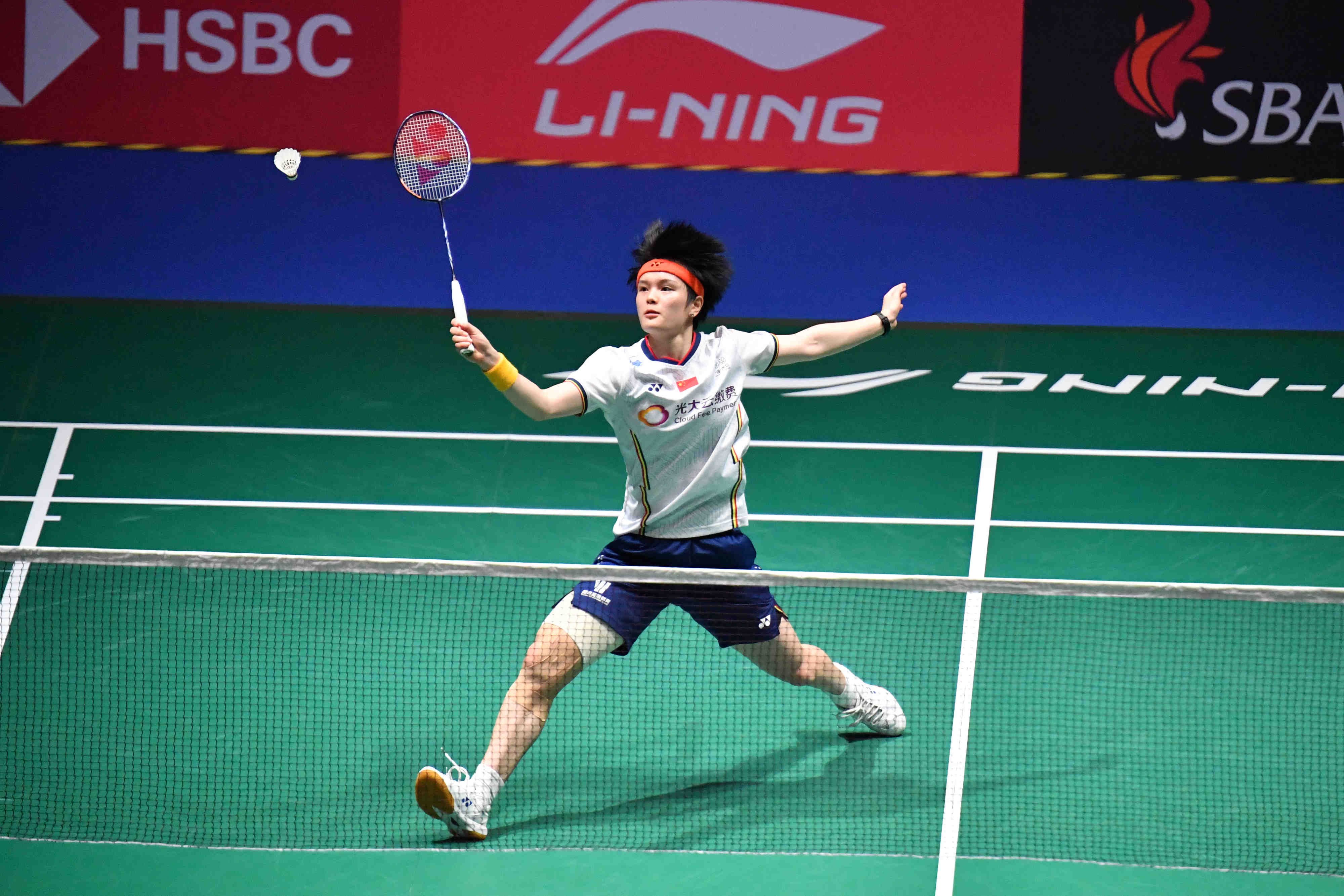 (China's Wang Zhi Yi. Photo Credit : David Wirawan)
Zhi Yi was gunning for her second win of the year following her victory at Badminton Asia Championship in Manila. But she fell short, unable to cope with Sindhu's speed and aggression. Said Wang: "Sindhu was a better player today. Her smashes were powerful and I was always on the defence. "Although I lost to her again, I feel the gap between us is closing. The last time I lost to her was quicker. But now, my game is improving and that is important for me moving forward."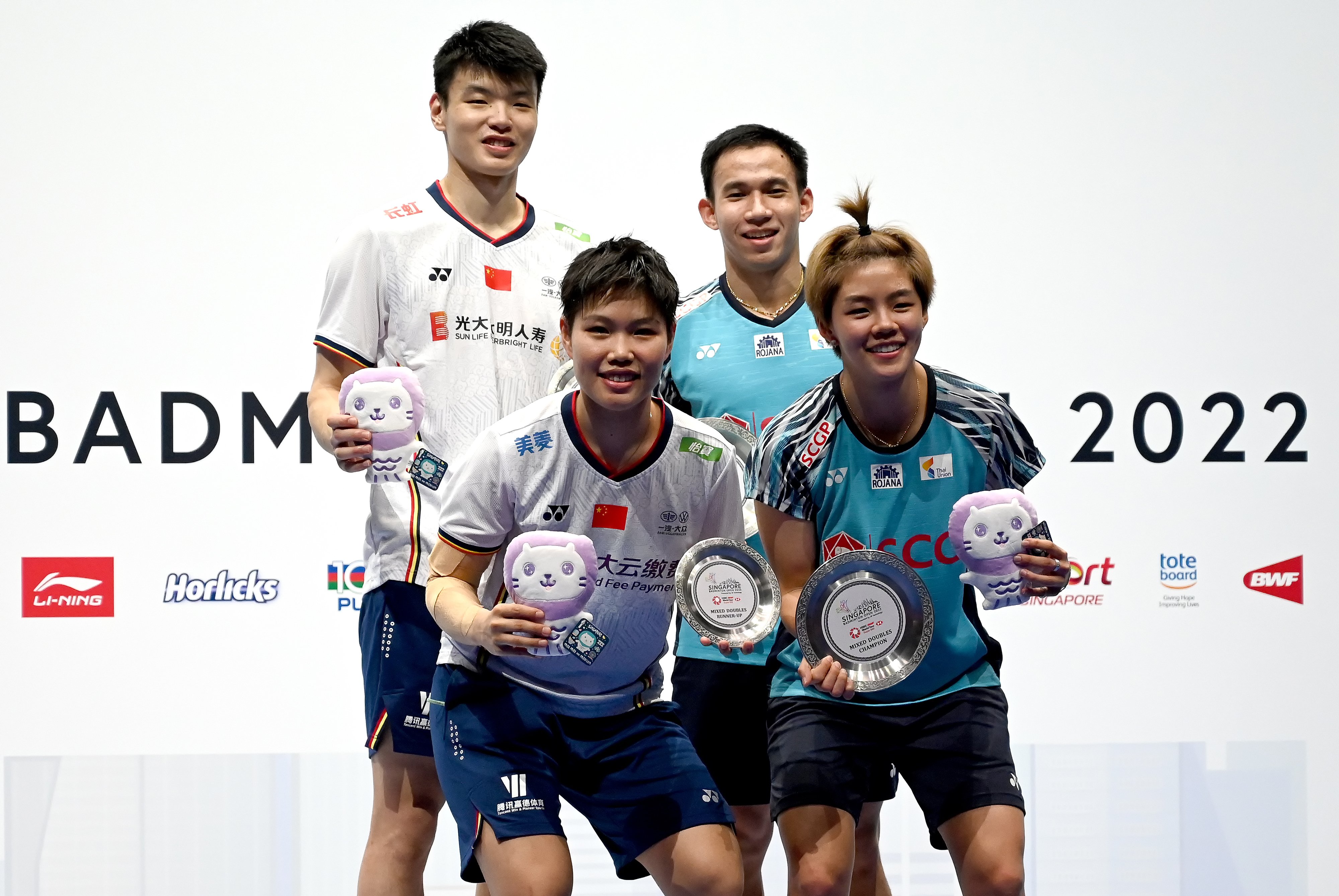 (From L to R : China's Wang Yi Lyu, Huang Dong Ping and Thailand's Dechapol Puavaranukroh and Sapsiree Taerattanachai. Photo Credit : David Wirawan)
Thailand's Dechapol Puavaranukroh and Sapsiree Taerattanachai successfully defended their mixed doubles title after they defeated China's Wang Yi Lyu and Huang Dong Ping in straight games 21-12, 21-17. The Thais started on the offensive and quickly took control of the first game after regaining the lead at 2-1. The second game was a tighter affair but the Thais eventually seized match point at 20-15. The Chinese managed to take another two points to bring the score to 20-17 before a return shot fired into the net by Wang sealed victory for the Thais, who will celebrate their triumph with a well-deserved chilli crab dinner. "We love Singapore food and what better way to celebrate our win than treating ourselves to one of the most popular dishes here," said Dechapol.
Reflecting on their match, Sapsiree said: "We did not give them a chance to attack us today. We stuck to our game plan well and it worked."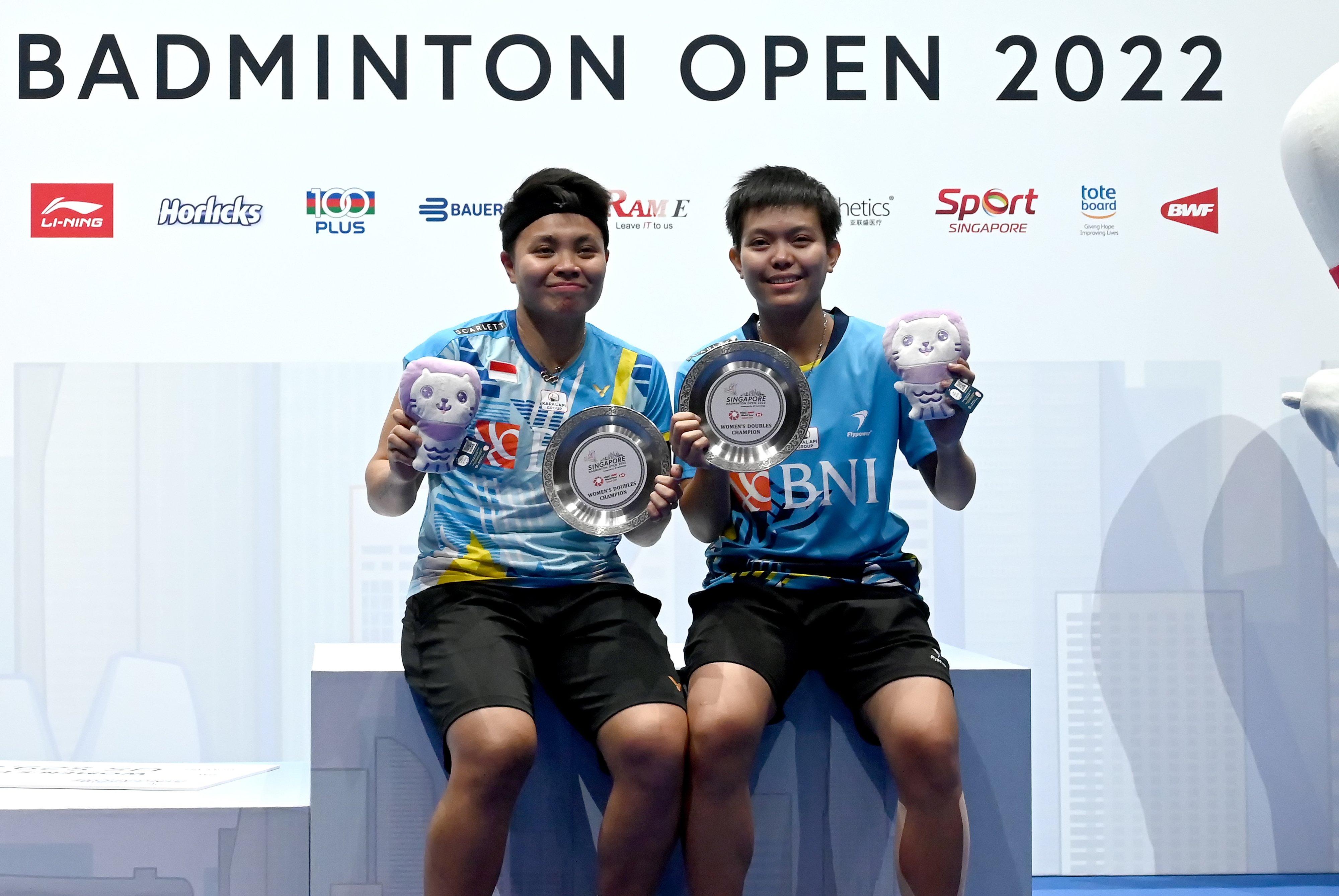 (Indonesia's Apriyani Rahayu and Siti Fadia Silva Ramadhanti. Photo Credit : David Wirawan)
Apriyani and Ramadhanti continued their remarkable partnership as they won their second title in only their fifth tournament as a pair. Taking on the Chinese duo of Zhang Shu Xian and Zheng Yu in the women's doubles, the Indonesians put up another assured performance as they fended off the spirited challenge from the Chinese, winning 21-14, 21-17.
Said Apriyani : "We tried our best not to give them any chance. We were ready for them and we anticipated their every move. We were more daring with our shots and were precise with our shot placements. They were not ready for that." Taking on a mentorship role to Siti Fadia since her former partner Greysia Polii retired, Apriyani, who won the 2020 Tokyo Olympics gold medal with Greysia, is pleased her partnership with Siti Fadia is blossoming. Said Apriyani : "I try my best to share any knowledge I have with Siti Fadia."
Added Siti Fadia : "There's still a long way to go and we cannot be overconfident. But for now, we just want to enjoy this win."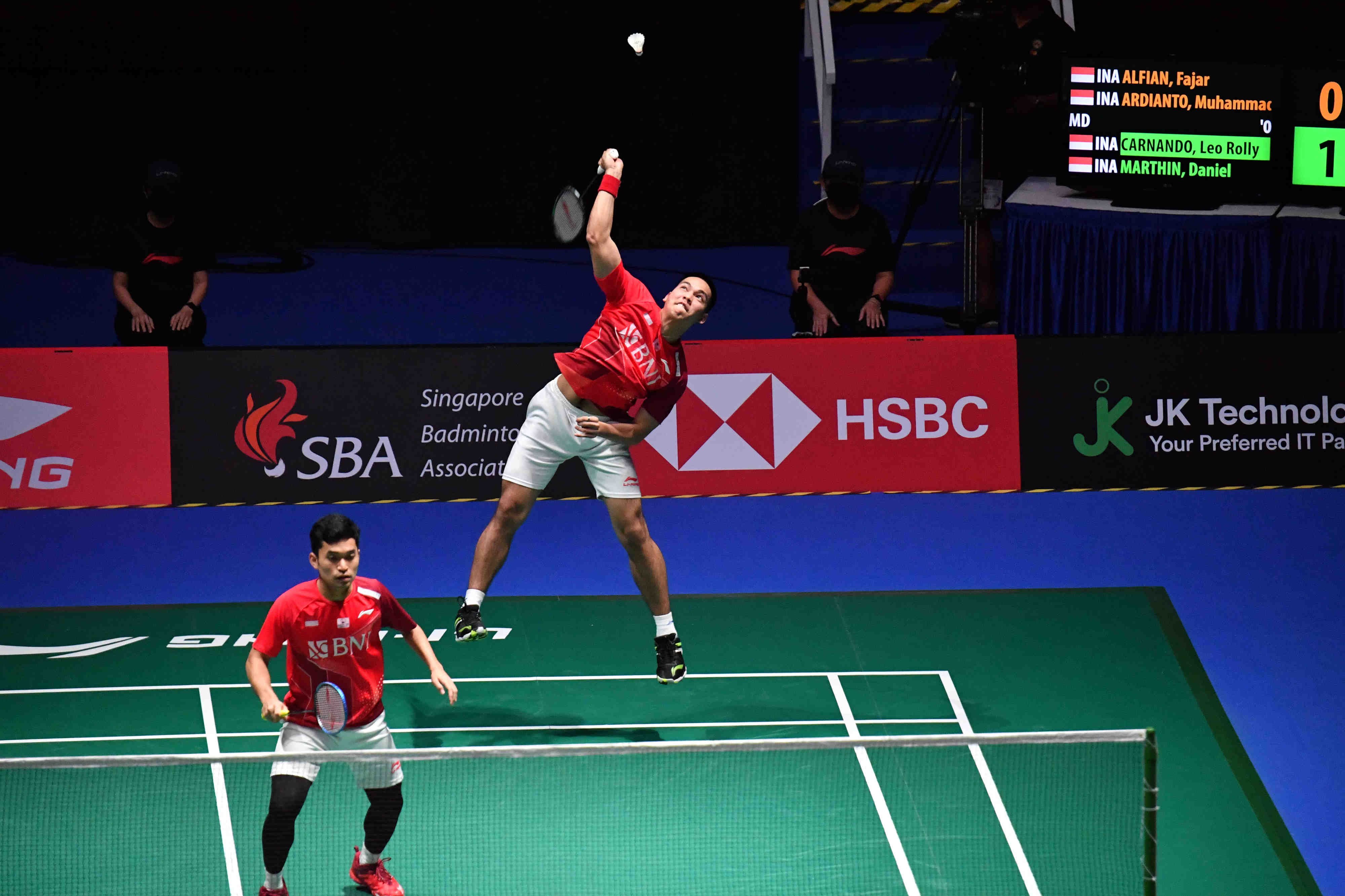 (Indonesia's Leo Rolly Carnando and Daniel Marthin. Photo Credit : David Wirawan)
In the men's doubles, Marthin and Carnando created an upset after they defeated compatriots Fajar Alfian and Muhammad Rian Ardianto, 9-21, 21-14, 21-16. Fajar and Ardianto have been the year's in-form pair, securing three titles and three runners-up finishes this season. However, they were unable to replicate their winning form in Singapore, conceding that it was their impatience that cost them the title.
Said Fajar : "We were probably too impatient in trying to finish off the match quickly after winning the first game. We committed lots of unforced errors after that and simply made too many mistakes." Marthin and Carnando, meanwhile, felt it was their underdog status that took away much of the pressure, allowing them to focus on winning each point. "We played without expectations and surprised even ourselves with this victory," said Marthin. "We just enjoyed our game out on the courts today and it helped that we played without much pressure."
Related Events & Programmes