Team Singapore
Injuries and stunning upsets on Day 2 of the Singapore Badminton Open 2022!
by Circle Stories, on July 13, 2022 16:00 PM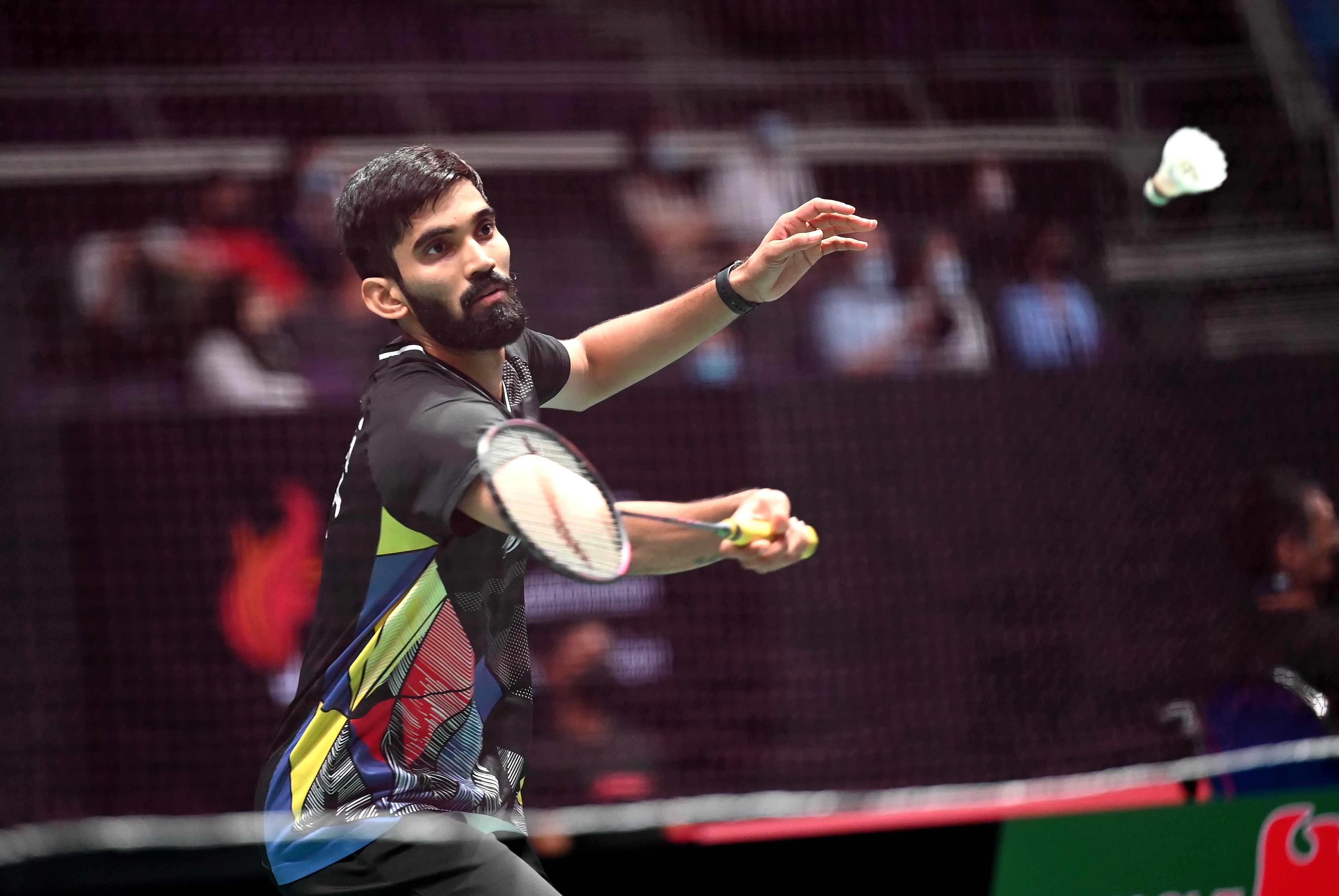 (India's 2022 Thomas Cup Champion, Srikanth Kidambi. Photo Credit : David Wirawan)
13 July 2022 – Day 2 of the Singapore Badminton Open continued to delight local crowds as they were treated to an eventful day filled with thrills, spills and talking points.
The day's first upset came in an all-Indian affair, Mithun Manjunath stunned Srikanth Kidambi as he sent the former World No. 1 crashing out with a 21-17, 15-21, 21-18 victory. Kidambi, who captained India to their historic win over 14-time champions Indonesia in the Thomas Cup this year, stumbled early when he lost the first game. He recovered well to win the second game by six points. However, it was Manjunath, who would eventually prevail in the deciding third game where lost the lead only thrice.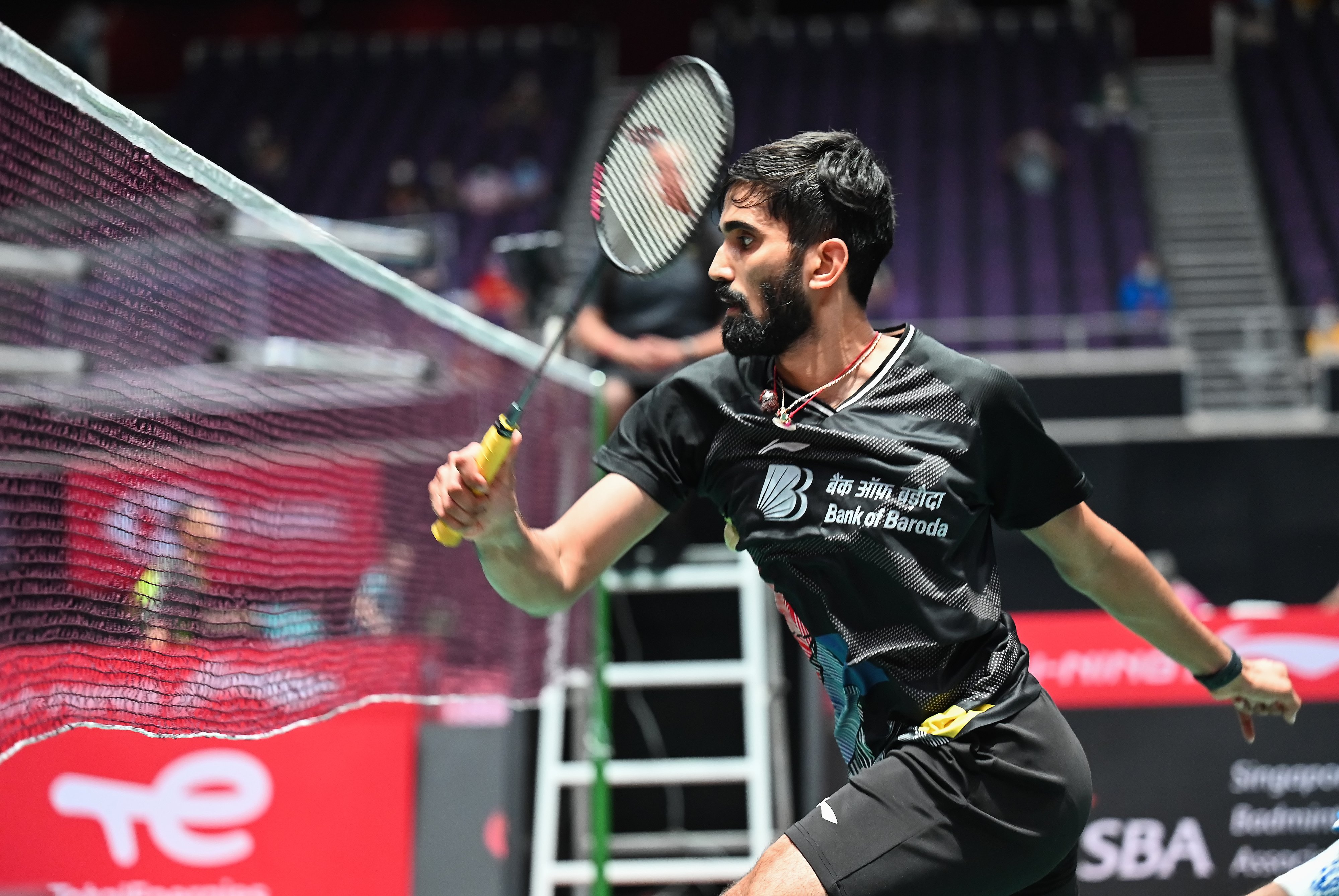 (India's 2022 Thomas Cup Champion, Srikanth Kidambi. Photo Credit : David Wirawan)
Said the 24-year-old: "It was a fantastic match for me, getting the chance to play against the best badminton player in India. He's also my favourite Indian player and getting this win over Srikanth is massive. I managed myself well on the court, kept to my game plan and was able to keep my shuttles in. That's how I won."
Sixth-seed Angus Ng Ka Long from Hong Kong also joined Kidambu as the next seeded player to fall after suffering a 16-21, 17-21 defeat to Malaysia's Ng Tze Yong. Indonesia's Chico Aura Dwi Wardoyo, who won his biggest career title at the Malaysia Masters last week, was swiftly brought back down to earth after crashing out to Canada's Brian Yang, 12-21, 17-21 in 33 minutes.
Said the Indonesian: "He (Brian) played well, better than me on the day so he deserves the victory. I wasn't tired, I just tried to play my normal game but he seemed more prepared." Yang, who trained at the Peter Gade Academy in Denmark for two months and was also a sparring partner for World No. 1 Viktor Axelsen in Dubai last year, continued to underline his growing potential on the international stage.
Said the 20-year-old: "I knew he was going to be very powerful in his attacks and I had to be ready for that. I was able to watch his games from last week and that helped a lot. But the main thing was I could control my shots really well and he struggled a bit there as his shots were not as good as they usually are."
The match between top seed Chou Tien-chen of Chinese Taipei and China's Lu Guang Zu, however, went according to the script. That's after the World Number 4 dispatched Lu, ranked 20 places above him, 26-24, 21-17.
In the women's singles round of 32, top seed Tai Tzu-ying of Chinese Taipei made light work of her compatriot Pai Yu-po with a 21-17, 21-16 straight game victory that was wrapped up in 30 minutes. Tai's joy was, however, short-lived as she was forced to withdraw from the tournament with a hamstring injury. Thailand's Ratchanok Intanon, the tournament's fourth seed, was also forced to pull out after suffering an ankle injury.
The absence of both Tai and Ratchanok means that second seed Pusarla V. Sindhu of India is now a firm favourite for the SBO crown. She made light work of Germany's Lianne Tan, easing to a 21-15, 21-11 victory in 29 minutes. The two-time Olympic medallist got the opening result she was hoping for and credited a small group of fans for helping her achieve that.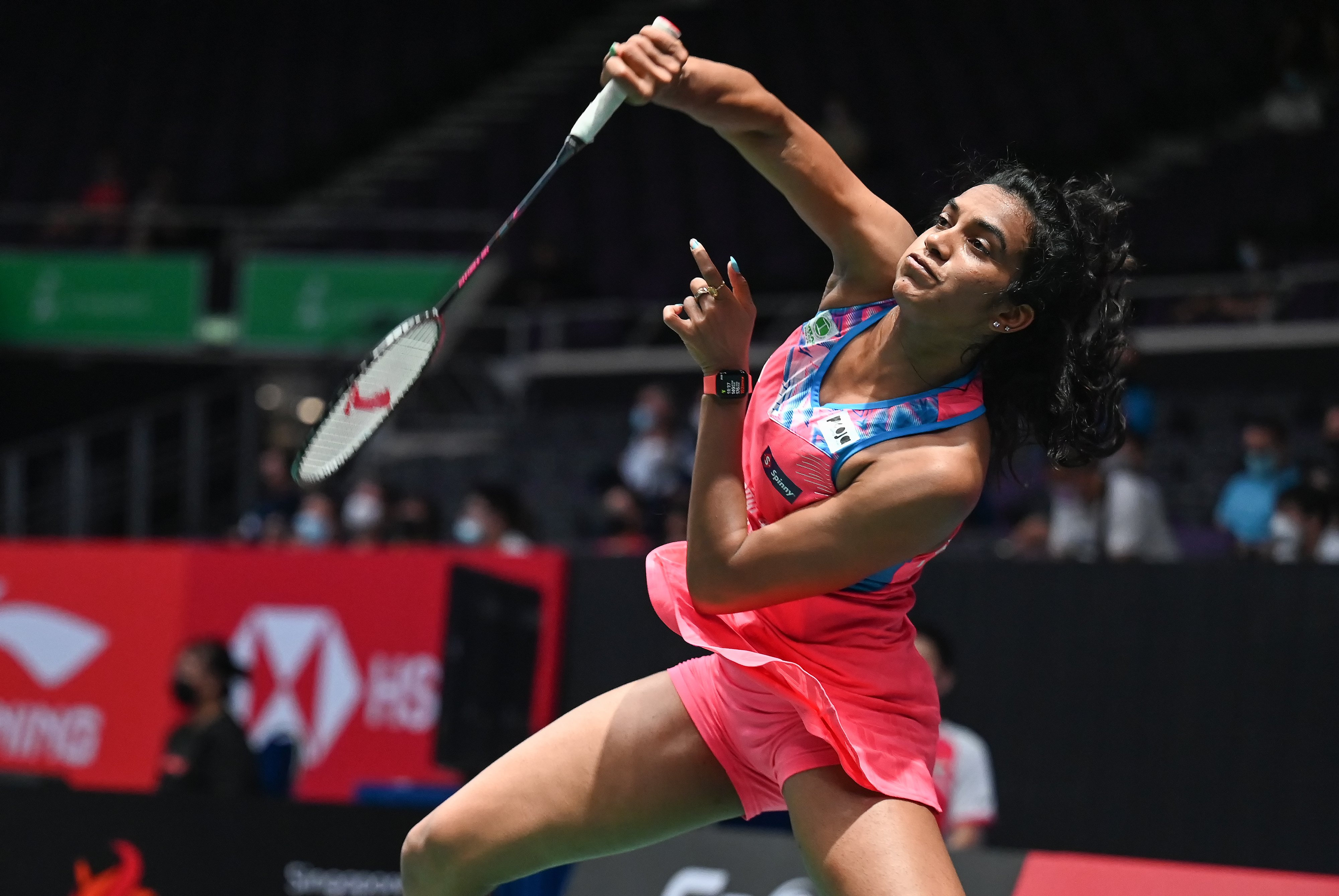 (India's second seed Pusarla V. Sindhu. Photo Credit : David Wirawan)
Said Sindhu, who takes on Vietnam's Thuy Linh Nguyen next in the round of 16 encounter: "It's very important for me to win the first game and also to understand the court conditions as it was a bit tricky. Thanks to the crowd who have been cheering me. It was really nice to see some of them here. It makes me happy and I want to prepare well for tomorrow."
Yeo Jia Min was the first Singaporean to take to the courts and the 23-year-old did not disappoint the home crowd as she extended her head-to-head record against Poland's Jordan Hart to 2-0, after recording a comprehensive 21-12, 21-9 victory in 25 minutes.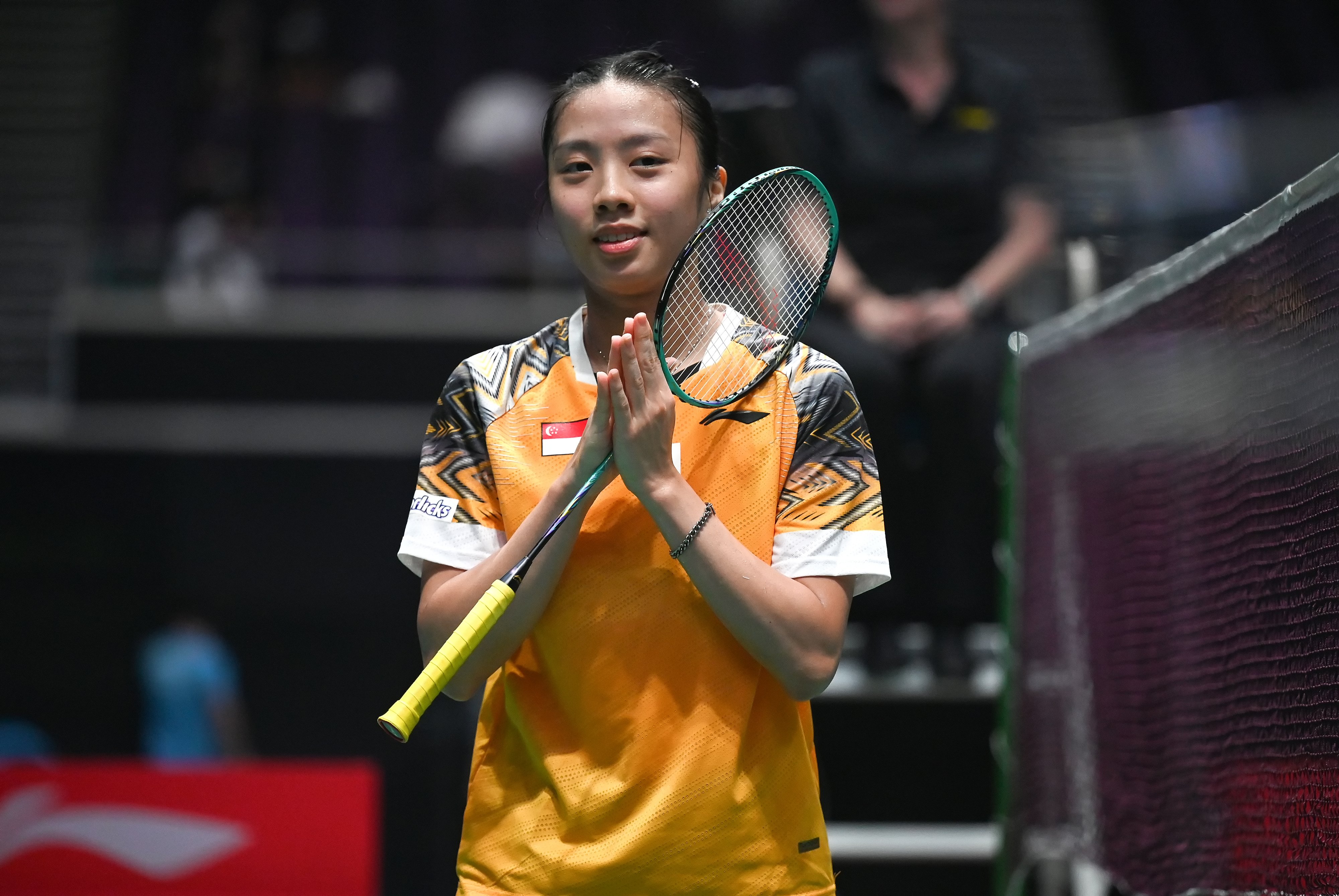 (TeamSG's Yeo Jia Min after her SBO win. Photo Credit : David Wirawan)
Said the World No. 18 women's singles player: "It's definitely a great start. It has been a few years since I last played here (Singapore Indoor Stadium) and it felt really great to know I have the whole stadium behind me. That's a huge bonus for the host country and I'm looking forward to my next match.
On her next match against Thailand's SEA Games champion Pornpawee Chochuwong, she said: "I played against her once last year and I'm a bit familiar with her style. I've to be confident going into every match that I compete in."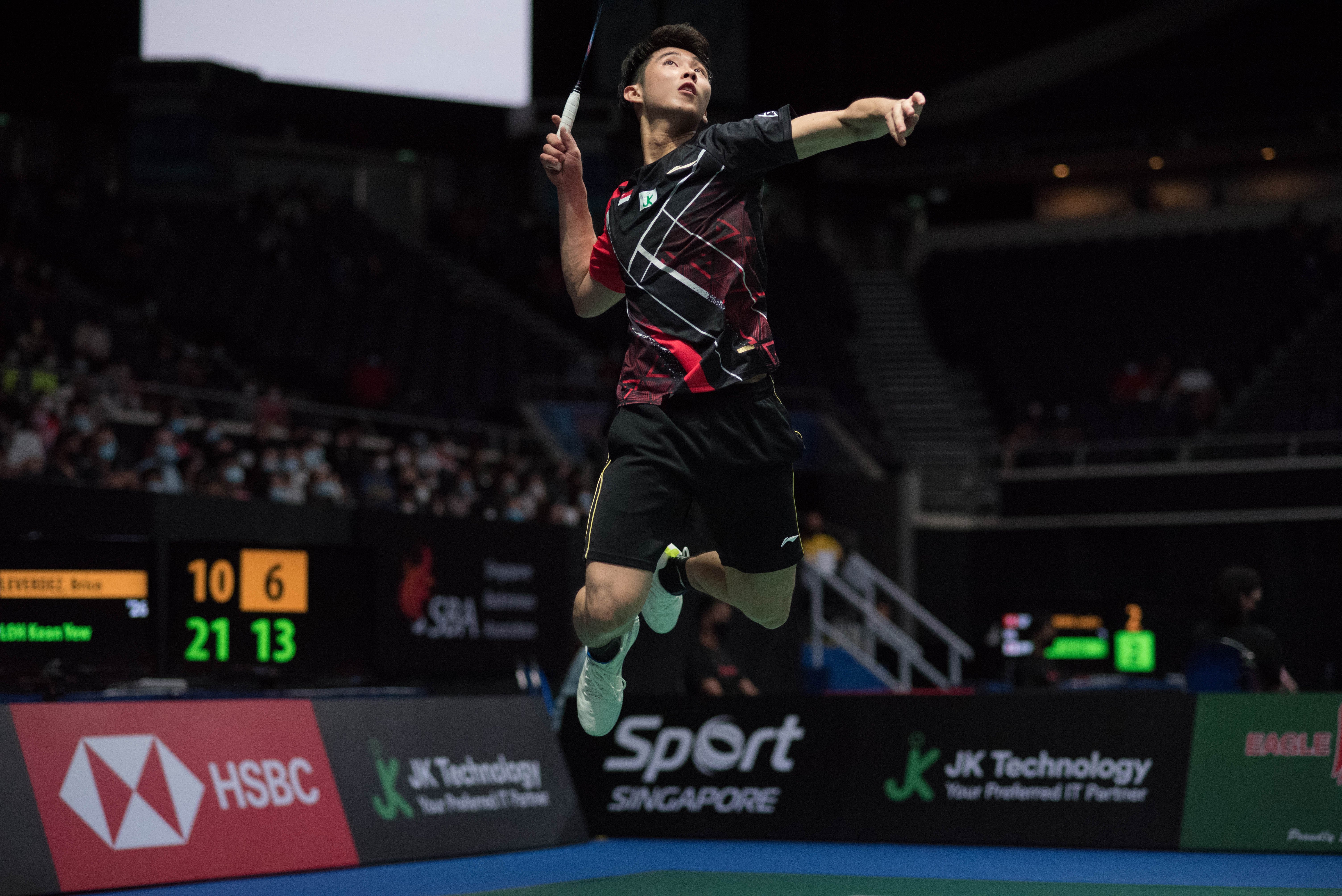 (TeamSG's Loh Kean Yew on Day 2 of the SBO. Photo Credit : Singapore Badminton Open)
Home favourite Loh Kean Yew proved too strong for Brice Leverdez as the reigning world champion simply outclassed the Frenchman 21-10, 21-11 in 31 minutes. Kean Yew dictated the high-tempo contest with a series of explosive smashes and sublime net play that left Leverdez with no answer to the Singaporean's skill and aggression.
"I'm so happy to see so many supporters here and also very pleased that I've won my first match," said Kean Yew. When asked about his next match against Indonesia's Tommy Sugiarto, in the last 16, he said: "Tommy's a very experienced player and it's not going to be easy. I have to go back and prepare, speak to my coach and come up with a solid game plan." Tommy is through to the 2nd round after having defeated SBO debutant Jason Teh (SGP) 21-12, 21-15.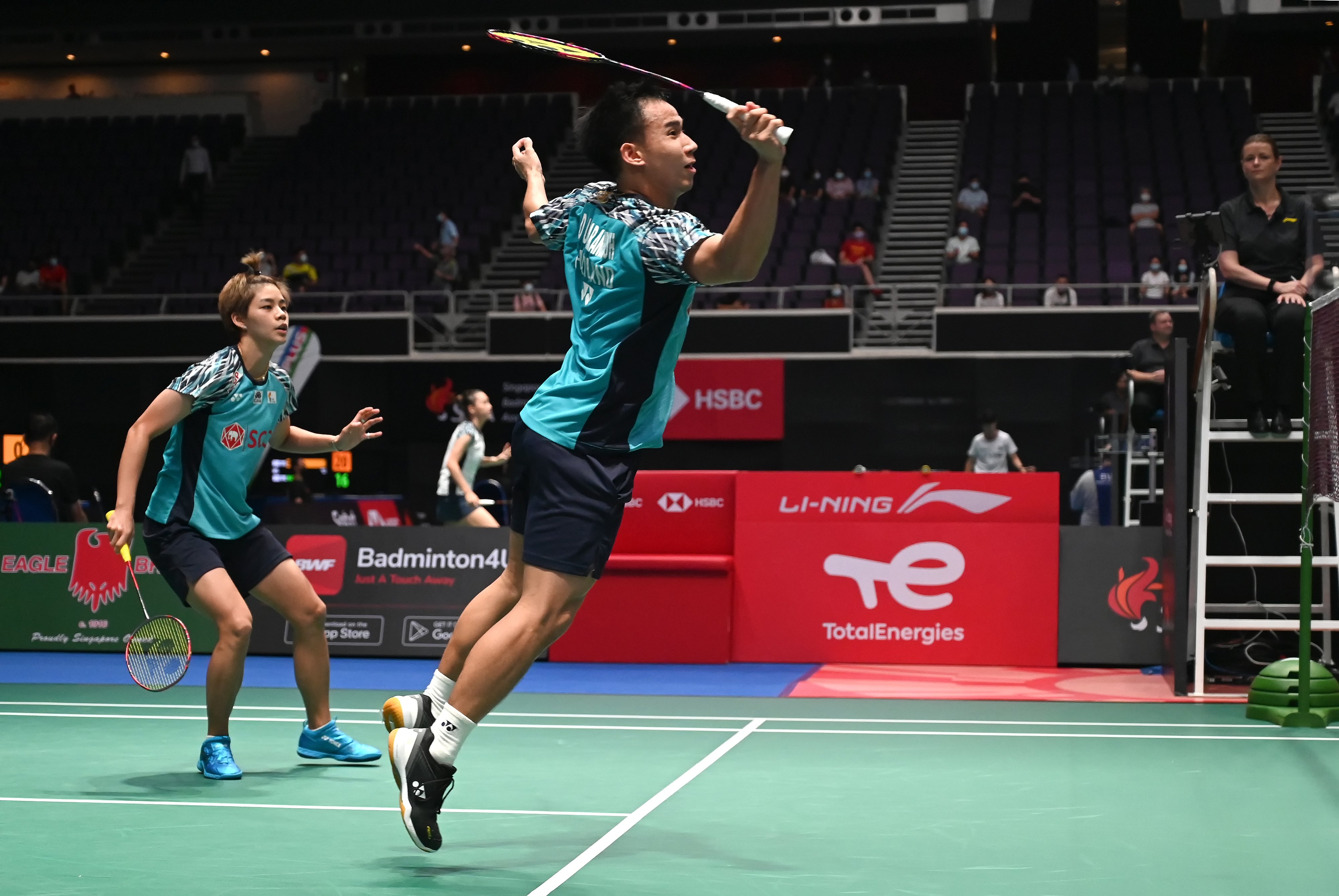 Thailand's Dechapol Puavaranukroh and Sapsiree Taerattanachai, Photo Credit : David Wirawan)
Thailand's Dechapol Puavaranukroh and Sapsiree Taerattanachai, meanwhile, started their mixed doubles title defence well with a 21-16, 21-12 win over Malaysia's Choong Hon Jian and Peck Yen Wei in the day's opening match on court one.
Said Sapsiree: "We know we are the defending champions for the mixed doubles and the goal is to defend the title. However, we do not want to put too much pressure on ourselves. We try to focus on winning every single point and that's how we managed to win today."
Related Events & Programmes